Best Sports Drinks
In a Hurry? Editors choice:
Test Winner: Gatorade

When it comes to the topic of the best sports drinks, you could spend hours on end debating whether or not they are the preferred choice over
water
. We are not here to say one way or the other as both have their advantages. The fact remains that many athletes and fitness gurus around the world can benefit from a perfect and replenishing sports drink.
That is why you are here today as you want to learn a little more about what it takes to narrow down the field to make a definitive choice, right? Understanding how to do this may be more important than you realize as sports drinks come in various flavors, formulas, servings, etc.
But, before all of that, why don't you check out some of the best sports drinks brands (down below) that you can find on Amazon and various other sites?
Standout Picks
Criteria Used for Evaluation
Use
The point of drinking this type of stuff is to replenish electrolytes and carbs lost when you sweat.
The reason why athletes and sports buffs even drink sports-specific drinks, in the first place, is what they do to combat what happens when you begin to sweat. You see, when your body begins to sweat, you lose a lot of various minerals and fluid. Did you ever wonder why you become so thirsty after a long and grueling workout?
It is because, due to the loss of such minerals, your body will dehydrate unless you replenish them (check our guide on the best hydration drinks). It is where all the options on the above list (and so many more) start to work their magic. First off, much like traditional water, they will provide you with the necessary fluid for your body. Dehydration is inevitable unless you are fueling your body with fluid.
However, athletic drinks take this even further by providing you with critical electrolytes. In short, these represent many different minerals that are found in your body (such as potassium and sodium). When you begin to sweat, these are lost, and it becomes essential to replenish them as they help balance the water content in your body.
Product Purity
If you are a health buff, you will want to buy a brand that has been made with pure ingredients.
For sure, it is never a bad idea to opt for a sports drink brand that is pure. But what on earth does this mean? While there is not one set feature that makes a specific brand pure, there are different certifications and areas that you can pay attention to. For starters, as you saw on this list, there are many options out there that are organic.
If this is something you are interested in, look for brands that have been USDA certified organic as then you know that they are legit. Additionally, many brands will be made with non-GMO ingredients, and this merely implies that the genetic materials of the ingredients were not changed or altered in any way.
Oh, and if you opt for a drink that is infused with water, ensure that the water has been vigorously filtered first. If you are not sure how to do that take time and go through our guide on the best water purification tablets. You should not have to worry about this too much, though, as not too many manufacturers will make their drinks with contaminated water. If you want to, you can also avoid any brands with artificial sweeteners or flavors.
Flavors
Without question, you need to buy a drink that has a flavor you actually like.
Outside of the actual flavor choices that will be presented to you, let's briefly talk about something else. When it comes to sports drinks, they can come in different styles. Three of the most common are liquid form, tablet form, and powder form. Regarding which one is superior, it mostly comes down to personal preference.
Then again, the advantage that fluid and powder drinks have is they usually provide you with essential carbs when you are working out. If you do have a personal liking for tablets, though, you can combine them with a food that has just enough carbs for your workout.
Okay, so now let's get into flavor choices. Speaking of personal preference, that is what this is all about. No matter how effective a specific sports drink is at replenishing electrolytes and carbs, if you despise the flavor, you may not be able to drink it.
Thankfully, most sellers will not leave you short-handed. As you saw on the above list, there is typically going to be a wide variety of flavors for you to select from. Then again, most of them will be fruit-flavored (lemon-lime, strawberry, grape, orange, etc.).
Taste
Much like with the flavor choices, you will probably want to go with an option that tastes to your liking.
This is somewhat of a byproduct of the previous section, but it is something that needs to be talked about separately. The reality of the situation is that even if you buy a flavor that you typically like, it does not mean that the brand will do it justice. For example, peach mango may be one of your all-time favorite drinks, but it could be disappointing in a specific sports drink.
Whether it is watered down or naturally too sweet, it may not be what your taste buds are looking for. Now, it also needs to be mentioned that the primary purpose of sports drinks is not for them to taste good. At the same time, it will be a lot more difficult for you to stomach a brand or flavor that you do not like drinking.
Many times, unless you are buying Gatorade or Powerade, the drink you buy is going to be an acquired taste. Much like coffee, tea, or even beer, it could be something that you need to get used to.
Value
When assessing value, take into consideration price and quantity.
It can't be stressed enough that when you are trying to analyze the value of a product, you can't just base it off the price tag. Yes, the price can be important, but you also need to take into consideration the quantity. And, that is where the value of these types of drinks comes into play.
There is no reason to sugarcoat it; some brands are downright expensive for what you get. Now, most sellers offer their drinks in large quantities (8, 12, or even 16 packs). The only downside to this is if you want to sample a specific brand merely, it becomes impossible unless the seller offers it in smaller quantities.
Of course, there is another option for you. While you will certainly not be able to find all these drinks at your local department stores, some of them can be found rather easily. Popular drinks such as Gatorade, Powerade, and Propel will not be hard to come by. And, typically, the value will be much better when you buy them at Walmart as opposed to Amazon.
Our Top Picks for the Best Sports Drinks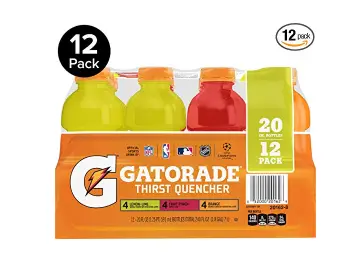 There is a high likelihood that the first brand that popped into your mind when you thought of the best sports drink was Gatorade. You could almost consider them the Nike of such drinks as they are arguably the biggest name in the game and for good reason.
Read more
Use
As with most of the brands on this list, what Gatorade excels at is restoring several electrolytes that get lost as you begin to sweat. It is called a thirst quencher for nothing.
Purity
What you can take the bank about Gatorade is the fact that each bottle is backed by loads of scientific data and top-level testing. You are not getting the cheap knock off stuff here, in other words.
Flavors
One of the advantages of Gatorade is the fact that it is offered in a wide array of flavors. From orange to lemon-lime to fruit punch to grape, good luck not finding a flavor you like.
Taste
For most people, this is not a drink that is hard to get down. Gatorade is flavorful even if you drink it casually and when you do so after you begin to sweat, it is as refreshing as it gets.
Value
As you are fully aware, this is not a rare drink to come by as you can find it in virtually any store that sells likeminded products. This is important because when ordering online, the value is not as good.
Overall
Not enough good things can be said about this brand of sports drink. There is a reason why this brand is the official sports drink for so many organizations out there (NFL, NBA, etc.).

2

. Roar Organic Infusions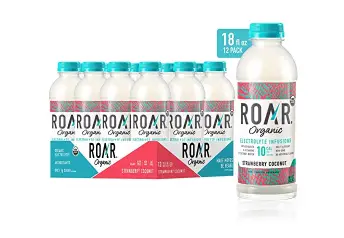 What makes this sports drink stand out is the fact that it has been formulated with a unique and proprietary blend of electrolytes. It has also been infused with organic coconut water which produces a refreshing and clean taste.
Read more
Use
As noted, this has been engineered with a completely unique blend of electrolytes and when coupled with organic coconut water, makes for a drink that will keep you properly hydrated.
Purity
In addition to the fact that this drink is USDA certified organic, it has also been made with non-GMO ingredients and is also gluten-free.
Flavors
With six different flavors for you to choose from (such as strawberry coconut and mango clementine), you should be able to find one that you like.
Taste
As this has coconut water in it, it may take some time to get accustomed to the flavor. With that said, the producing taste is subtle, refreshing, and not overbearing.
Value
For the high price, you get 12 bottles that each have 18 fluid ounces. Yeah, this is a pretty pricy option but depending on how often you work out, it could last you a decent amount of time.
Overall
High price aside, this is one of the best brands out there and one of the better healthy sports drinks options to go with. Just get used to the flavor and you should be fine.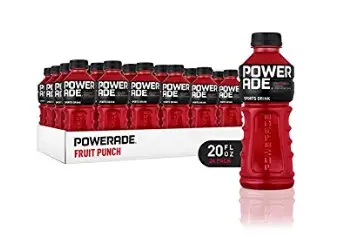 Powerade and Gatorade are often compared with one another but as you can see with both their placements on this list, they both are exceptional for athletes. However, traditional Powerade sports drinks do tend to have a lot of sugar.
Read more
Use
What is unique about Powerade is it is powered, no pun intended, with ION4. This is an advanced system of electrolytes that delivers what is lost when you begin to sweat.
Purity
If there is one thing about Powerade, their drinks tend to have a lot of sugar. That is one of their downsides but they are also packed with several B vitamins.
Flavors
As with Gatorade, you will find Powerade in a plethora of different flavors. The variety is excellent and even if you do not find your preferred flavor online, you may find it in a store.
Taste
If you like the taste of Gatorade then you will probably be fond of Powerade. While they do not taste the same, they both have very similar tastes.
Value
To enhance the value, this may be a brand to buy offline and in various stores. Sure, you can buy different package options online but the cost goes up quite a bit.
Overall
Several of you probably already drink Powerade on a weekly basis if you are a fitness junkie. Outside of the high sugar content, its unique electrolyte system and flavor set it apart.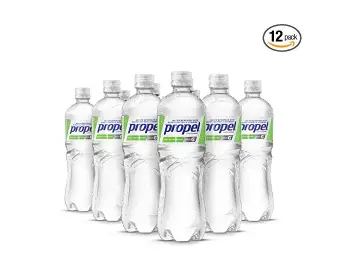 If you are torn between the best sports drinks and water then you may want to look very closely at this next option. True to its name, Propel is a sports drinking water that offers the best of both worlds.
Read more
Use
More or less, this is Gatorade water. It packs the same electrolytes that power Gatorade drinks, so you know it is highly capable in this area. Then again, the potassium content is pretty low.
Purity
Outside of the vigorous filtering process that the water goes through, this drink also features no sugar and no calories too.
Flavors
Though this is basically just flavored water, it does come in a variety of different flavors. All in all, there are 11 of them that you can choose from (which is excellent).
Taste
Without question, this kind of thing is an acquired taste. At first, you may want to spit this stuff out but if you give it some time, you may be able to tolerate it better.
Value
This is another brand that can easily be found in inappropriate stores so you do not have to buy it online. With that being said, on Amazon, you get 12, 16.9-ounce bottles for a pretty good price.
Overall
Some of you will just prefer standard drinking water over this type of flavored water and that is fair. But, the benefit with Propel is your body receives the electrolytes that fuel Gatorade drinks.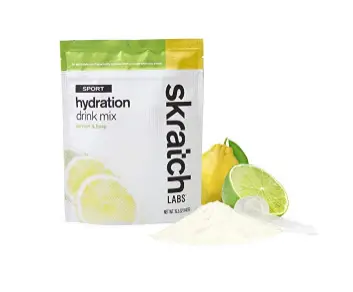 What is nice about sport drink mixes such as this is you can simply prepare your drinks as you need them. And, given how this mix was engineered specifically for athletes, it is quite fitting for this list.
Read more
Use
Combing the lost electrolytes this provides, this drink mix helps boost your energy with its ideal ratio of glucose and sodium. For athletes, it will be just what the doctor ordered.
Purity
This is an all-natural formula and it is free of gluten and dairy. Additionally, it has been verified non-GMO and is also organic.
Flavors
It is hard to be upset with the flavors here. The variety is quite excellent with options for hot apple cider, lemon and lime, and strawberries, just to name a few.
Taste
A lot of sugar has been added to this drink, so be cautious of that. In spite of this, there have actually been some users to claim that the resulting flavor was a bit too bland for their tastes.
Value
Multiple sizing options are available but the value is not utterly incredible here. The quality of the drink makes up for it but there are certainly cheaper options out there.
Overall
In regard to just performance and results, this is one of the better options on this list. It is a little pricy and the flavor is not unbelievable but those are sacrifices that some of you will be willing to make.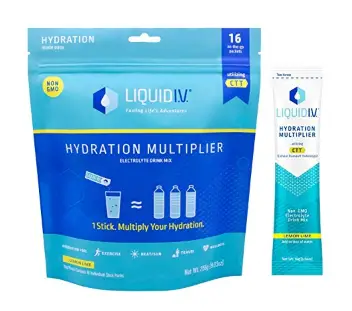 Being a powder, this is designed to be mixed in with water. Thanks to the science and hours of research that backed up this formula, however, the powder produces one powerful sports drink.
Read more
Use
As noted, this is a powder, but thanks to the science of Cellular Transport Technology, it is able to hydrate your body with excellent efficiency and effectiveness.
Purity
On top of the fact that this includes 11 best vitamins and minerals, it also comes with half the sugar content of typical sports drink brands.
Flavors
Admittedly, the different flavors are not readily accessible as you need to search through Amazon for them. Still, there are different ones you can find (such as lemon-lime).
Taste
Even though a minimal amount of sugar was added, this can still come off as too sweet. It does not lack flavor, however, so that can be seen as a positive.
Value
From somewhat of a sample size to an overabundance of the drink, there are many different options you can go with. As is normal, the higher you go up the better the value is.
Overall
Again, your willingness to go with this brand really comes down to your tolerance level of the flavor. Of course, the fact that this is a powder will also play a role. Either way, it is good stuff.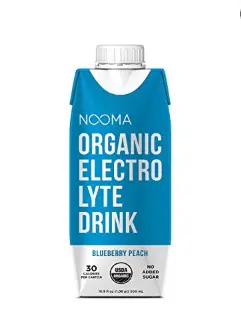 As opposed to various other sugar-filled options on the market, NOOMA takes a little different approach. Their one of the healthier options for athletes but the flavor suffers a little because of it.
Read more
Use
This formula is pretty simple, but that is where its charm is at. It includes sea salt for sodium and coconut water for potassium.
Purity
Take comfort in knowing that this is a certified brand. Its purity comes from the fact that it is certified gluten-free, organic, and non-GMO.
Flavors
While you can get a variety pack, you can also select individual flavor options. You have choices of chocolate mint, lemonade, mango, blueberry peach, and watermelon lime.
Taste
Though no sugar has been added, you can definitely taste the stevia sweetener that was added. Coupled with the sea salt, the resulting flavor is one that some of you will not be fond of.
Value
Either way, you go, this is a pricy option. If you just wanted to sample this stuff, though, you could opt for the 4-pack instead of the 12-pack.
Overall
This is a bit different. It is ideal for athletes but the flavor could be too off-putting for some of you. The lack of sugar could be seen as a necessity, however, so that is a strong benefit.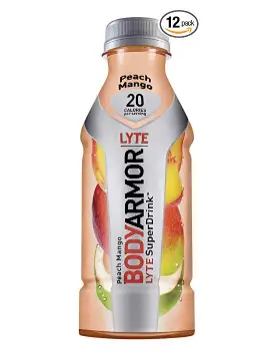 Look, some best sports drinks are vastly overpriced online but if you are only willing to spend a certain amount, you should highly consider this option here. It is one of the best values on this list for sure.
Read more
Use
In short, this is going to provide you with ideal hydration by combining coconut water, vitamins, and electrolytes into one formula.
Purity
You will not need to worry about artificial sources or anything like that with this sports drink. Instead, it only features natural sweeteners and flavor.
Flavors
There is not an overabundance of flavors for you to choose from but the ones that are available are nice to have. Peach mango and orange citrus headline what is a solid selection overall.
Taste
Though you will need to get used to the rather potent aftertaste, this tastes better than the average sports drink. Just make sure you get a flavor that you actually like, clearly.
Value
No matter which way you go, the value is pretty good here. You have two choices as you can either get a set of 12, 16-ounce bottles or a set of 8, 12-ounce bottles.
Overall
The combination of the flavor, hydration, value, and purity of this formula makes it one of the best in the business. Not enough good things can be said about it, really.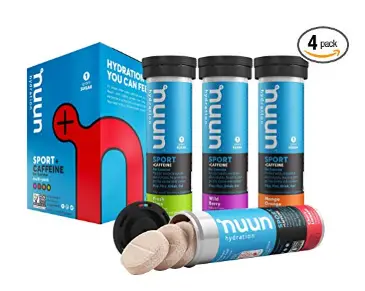 As opposed to many of the other options on this list, these are actually tablets that need to be diluted in water for consumption. They provide excellent benefits for all of the fitness junkies out there but just be prepared that you will need to prep them.
Read more
Use
At the end of the day, these tablets perform what many of the other best options do in that they manage to replenish the critical electrolytes in your body that are lost when you sweat.
Purity
Past the organic tea extract and all the high-quality electrolytes, there are also no artificial sweeteners or no artificial flavoring at all that you need to worry about.
Flavors
While you do not get to pick the flavors you get, this conveniently comes with four different tubes. The flavors you get are mango orange, wild berry, fresh lime, and cherry limeade.
Taste
As one tablet is one serving, it is rather unfortunate that the flavor is as watered down as it is. It is weak and there is no other way around it.
Value
All in all, you get 40 servings with each tablet serving as one (each tube has 10 tablets in it). When you factor in the price, the value is not too shabby (though not amazing).
Overall
Sure, these tablets do not produce drinks that are as flavorful as Gatorade or Powerade but the benefits are aplenty. Plus, you can mix them only when you need them.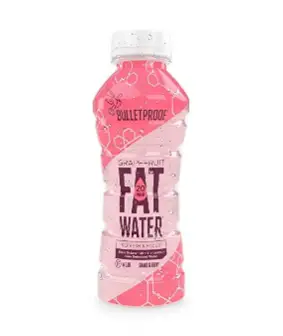 Alright, this sports drink is a bit different. This formula actually consists of Brain Octane oil and, in short, is designed to provide you with energy to get through your event or activity.
Read more
Use
Indeed, this sports drink is actually designed to give you energy and this is thanks to the inclusion of Brain Octane oil. By the way, this oil has been sourced from coconut oil.
Purity
In addition to the fact that no sugar or stimulants are included in this formula, the water has also been passed through a specialized filter to remove ions.
Flavors
This is offered in a variety pack but you can also pick between individual flavors. If you go with this option, you have choices from lemon, grapefruit, and pineapple.
Taste
As you will find out, FATwater drinks lack a substantial amount of flavor. They are far from terrible but you may find yourself preferring the taste of straight-up water.
Value
Alright, so this is an expensive option. The good news is even though it is not clearly stated in the description, you do get 12 bottles of water with your purchase.
Overall
If you already have a sports drink that can replenish your lost electrolytes then you may want something like this. The flavor is not amazing but the results are well worth it.

Subscribe to our Newsletter