Best Water Purification Tablets
In a Hurry? Editors choice: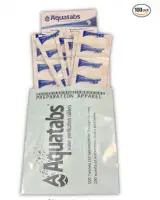 Test Winner: Aquatabs AQT100 Tablets

How important do you think it is to have access to clean, purified water at all times? Let that question soak in for a second as it identifies what this buying guide is all about. The reality is whether you are out camping or even if an
emergency presents
itself, there may not always be fresh water available.
However, you can change that with water purification tablets. For the record, there are all sorts of water filter systems and
water purifiers
available. But, for this guide, the focus is strictly on water purification tablets (not drops or powders, either).
The best tablets will not only
remove all sorts of bacteria
from the water, but they will do so without adding unpleasant flavoring. This is just scratching the surface, though, so let's get this thing rolling.
Standout Picks
Criteria Used for Evaluation
Effectiveness
What you need to analyze is the main active ingredient as this will dictate performance.
The best way to determine the effectiveness of any given tablet out there is to assess what the main active ingredient is. Generally speaking, this active ingredient is either going to be iodine, NaDCC (a form of chlorine), or chlorine dioxide. All three of them are commonly used for water purification.
Speaking for iodine, this is a chemical compound that is incredibly effective when it comes to eradicating parasites, viruses, and bacteria. Also, it has been known to be effective against giardia (when allowed to sit for at least 50 minutes) but not crypto. Of course, you will also commonly see NaDCC.
As noted, this is just a form of chlorine, but it is often seen in water purification tablets. While chlorine is another agent that has been known to be ineffective against crypto, it destroys many other micro-organisms. It naturally can't combat crypto because of the parasite's protective shell.
However, you then have chlorine dioxide tablets, and these are probably the most powerful. Unlike iodine and chlorine, chlorine dioxide can kill both giardia and crypto. So, if you want to kill as many micro-organisms as possible, go with chlorine dioxide. The only downside, as you will find out, is these tablets will take longer to purify your water thoroughly.
Taste
Ironically, this section is more based on the importance of tablets not adding flavor.
Another reason why it is vital to pay attention to the active ingredient is that it will play a massive role in this next section. Clean and purified water is not only safer but will also result in better-tasting water. However, different active ingredients can yield differing flavors.
For instance, with iodine tablets, you may notice a slight taste of iodine. Thankfully, as you saw on this list, there are specific tablets that can combat the added iodine flavoring. While this will increase the wait time, it will be well worth it.
As for chlorine, it is not as if adding these tablets will make your water taste like pool water. At the same time, you may notice a faint smell of chlorine (as that is not uncommon). But, once again, this is where chlorine dioxide tablets reign supreme.
In addition to having fewer side effects, these tablets will also not alter the taste of your water negatively in the slightest. Then again, all three of these active ingredients typically will not yield unbearably tasting water, so be aware of that.
But, it is never a bad idea to glance through user feedback to see what others have had to say about a particular brand.
Product Purity
There are some important things to keep in mind for this section so pay close attention.
There are many levels to this section, but the first is whether or not the brand you go with is currently used by military organizations and professional agencies around the world. While this is far from mandatory, the trust you can place in brands like this is almost unmatched.
If you know that significant agencies (such as the World Health Organization) and militaries are using a specific brand that you buy, you can take comfort in knowing that it is most likely extraordinarily effective and safe.
Of course, maybe you are someone who needs to know that the water purification tablets you buy are registered by the Environmental Protection Agency (EPA). That is entirely fair as no one is going to blame you. Anyway, indeed, you will see some brands sport EPA registration, and this means that the tablets were rigorously tested beforehand.
Oh, and one last thing, it is also not a bad idea to look for tablets that are individually sealed. This way, until you open them, if stored properly, they will be good for years to come.
Value
How much water do you think you will need to be purified? Answering that question will help you figure this section out.
Alright, so now it is time to dive into some mathematics (everyone's favorite subject). Let's get the easy part out of the way. You first need to assess how many tablets are included with your purchase. Some sellers will consist of 20, some 50, others 100, etc. This is the first number you want to get in your head.
Now, moving on, you need to figure out how much water one of those tablets will purify. Most sellers will provide this information to you on either the packaging or their official product page. Typically, most water tablets will purify around one to two liters of water per tablet. Also, as a side note, one quart is roughly one liter (you will sometimes see them labeled in quarts).
Alright, with that out of the way, let's put these numbers in perspective. Let's look at the most common size for a commercial water bottle (which is 16.9 ounces). Do you have that picture in your head? 16.9 ounces works out to roughly half-a-liter. So, if you bought tablets that each purified one liter of water, one of them would be able to clean two standard water bottles fo hiking.
This is to give you an idea of what you can expect. After all, the potency you need will depend on how much water you will be drinking and using.
Ease of Use
While all brands will be fairly easy to use, some of them will require longer waiting times.
What is nice about water purification tablets, in general, is that they are all reasonably easy to use and convenient. For the most part, they all work in the same manner as you need to drop them into the specified amount of water that is required.
However, what will be different from brand to brand is the waiting time for the tablets. This is where iodine and chlorine have an advantage. Both of these ingredients only need around 30 minutes to purify water thoroughly. Then again, if giardia is present, then iodine and chlorine tablets will need to sit for 15 to 20 extra minutes.
For chlorine dioxide tablets, however, the wait time is significantly longer. Typically, it will take these tablets at least four hours to purify completely. Then again, these will rid waters of crypto so it makes sense that it will need longer to perform their magic. For most of you, this waiting time is going to be worth it; though it does depend on the severity of the water, you need purifying.
Our Top Picks for the Best Water Purification Tablets
1

. Aquatabs AQT100 Tablets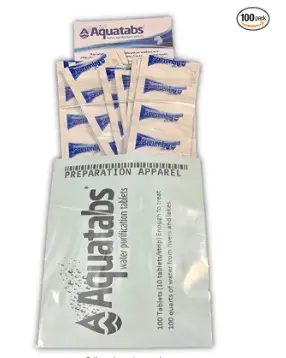 The primary reason why this option tops the list is that it has been trusted by several mid aid agencies and even military organizations around the world. You will quickly understand why.
Read more
Effectiveness
The active ingredient in these tablets is NaDCC. This is a form of chlorine that is commonly used for disinfecting water. And, overall, it allows these tablets to kill all types of micro-organisms.
Flavor
Based on user feedback, it does not appear that these leave any bad aftertaste in your water. So, you can enjoy the pure, refreshing water.
Purity
As was noted, these water tablets have been trusted by several major agencies around the world. This includes military organizations and also NATO. For certain, you can trust this brand.
Value
While it would have been nice for these to be offered in larger sizes, this is a pack of 100. And, in total, this pack can treat up to 200 quarts of water.
Convenience
Another reason this is such a loved brand is that it is rather fast-acting. In just around 30 minutes, your water will be purified and ready to consume safely.
Overall
There is little doubt about it; these water tablets are as good as it gets. With these in your pack, you will never need to worry about drinking dirty and unpurified water again.

2

. Katadyn MicroPur Tablets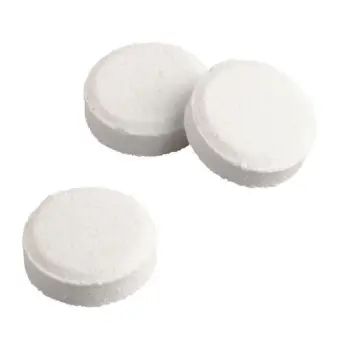 These are technically known as chlorine dioxide tablets and they are some of the most efficient in the world today. They are also individually sealed and this allows them to have a longer shelf life.
Read more
Effectiveness
The chlorine dioxide that is released from these tablets allows them to kill just about anything. They can remove viruses, bacteria, crypto, and giardia from any water source.
Flavor
Chlorine dioxide is the same substance that is used in municipal drinking water plants. What this means is you can expect your water to taste insanely good.
Purity
In addition to the fact that these tablets are EPA registered as a microbiological water purifier, they are also individually sealed. You can open them when you are ready.
Value
Alright, so each tablet is only going to purify one liter of water. Also, there are 30 tablets in total. So, if you can do basic math, it means that you can purify 30 liters of water in total.
Convenience
The amount of time you need to wait depends on what you are trying to remove from your water. For basic bacteria and viruses, only five minutes will be necessary. However, for really bag crypto, you may need to wait around four hours.
Overall
In spite of the fact that these tablets can only purify a limited amount of water, they work as well as any other model out there. They also produce wonderful flavor, which is also important.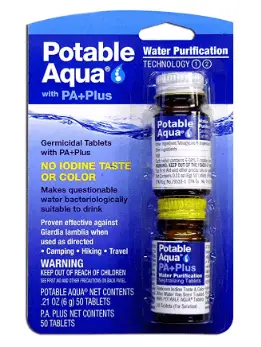 As you can see from the photos, this actually comes with two different bottles. They need to be used in conjunction with one another and, when done properly, will result in clean and fresh drinking water.
Read more
Effectiveness
Firstly, you treat the water with the Potable Aqua tablets and this will rid it from viruses, bacteria, and cysts (not crypto, though). From there, you then use the PA Plus tablets to neutralize the iodine aftertaste.
Flavor
Even though the PA Plus tablets are supposed to neutralize the iodine aftertaste of the Potable Aqua tablets, a few buyers have noted that an iodine-type taste can still be noticed.
Purity
Because these are used by relief and military organizations all around the world, it is easy to put your trust in this brand.
Value
It actually takes two tablets to treat just one liter of water. It then requires two PA Plus tablets to treat the water. And, also, there are 50 tablets in each bottle.
Convenience
In total, the entire process of utilizing these tablets is going to take around 30 minutes (probably a few minutes more).
Overall
Sure, there are options that offer superior value. But, in regard to its effectiveness, few brands do it better. The PA Plus tablets could have worked slightly better, though, admittedly.

4

. Expedition Research LLC TAC-H20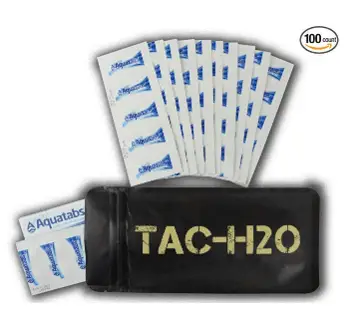 In addition to the fact that these tablets are more potent than others, they have also been meticulously packaged to remain ready to go for months to come.
Read more
Effectiveness
The active ingredient in these tablets is NaDCC and it effectively kills all different types of micro-organisms in water. As such, this can prevent typhoid, dysentery, and other waterborne diseases.
Flavor
Based on feedback, it does not seem that this will add any unpleasant flavoring to your water. If anything, you may notice a faint chlorine smell but that will not affect the taste.
Purity
NaDCC is an EPA approved ingredient so you know you can trust it. As for the tablets themselves, they can be stored in a heat-sealed, four-layer thick Mylar pouch for optimal protection.
Value
As noted, these are a bit more potent than other brands. One tablet is going to effectively treat up to five liters of water. And, with 100 tablets in total, you can purify up to 500 liters of water.
Convenience
The wait time is going to be roughly 30 minutes for these water tablets. After which, you will be able to enjoy refreshing and purified drinking water.
Overall
In spite of the chlorine smell that some users have complained about, this is one of the most effective brands out there. Its potency will also be appreciated by several of you, as well.

5

. Aquatabs Water Tablets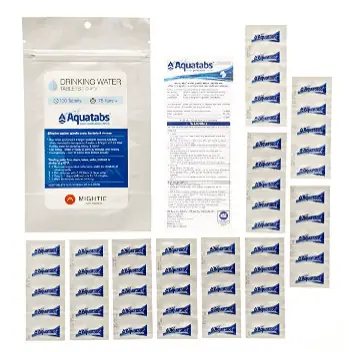 As was noted earlier, Aquatabs is one of the leading brands when it comes to water purification tablets. These are individually sealed and will last for quite a long time.
Read more
Effectiveness
Each of the tablets that you receive contains a concentrated dose of NaDCC. This allows them to remove all types of waterborne diseases such as cholera, typhoid, and dysentery.
Flavor
As noted by a few different reviewers, these tablets leave a slight aftertaste. However, it does not appear to be anything too appalling so that is a good thing.
Purity
Indeed, each of the tablets has been individually sealed for maximum longevity. Additionally, these tablets also sport NSF 60 certification. Oh yeah, they are also used by the World Health Organization.
Value
One of these tablets is going to purify two quarts of water. When compared to other options, this is one of the better values out there.
Convenience
As with several other tablets on this list, these will have your water ready to consume within 30 minutes. The longer you wait, the better, though.
Overall
At the end of the day, you just can't go wrong with Aquatabs. These water purification tablets will do wonders for you and are almost a necessity to tag along while camping or hiking.

6

. Potable Aqua Chlorine Dioxide Tablets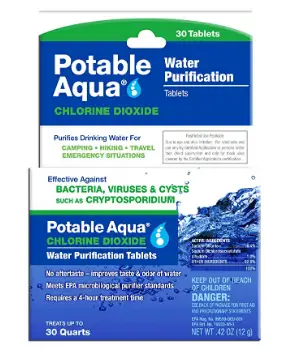 Due to the fact that these next tablets release chlorine dioxide, they are proven to inactivate crypto cysts. That alone makes these an incredibly compelling option, quite frankly.
Read more
Effectiveness
As just mentioned, these are effective against crypto cysts. They are also effective against plenty of other bacteria and viruses (such as giardia and lamblia) as well.
Flavor
The only thing these are going to do, regarding the taste, enhances it. You will be left with no unpleasant aftertaste after drinking your water, count on it.
Purity
Past the fact that these tablets are individually packaged, they are designed to release chlorine dioxide. This is an EPA approved ingredient and is one of the best out there.
Value
For the record, there are options available for both 20 and 30 tablets. Now, either way, one tablet is going to be able to treat one quart of water. This is about normal, to be honest.
Convenience
Alright, so several of you are not going to like this. As opposed to others, these tablets require a four-hour wait time to treat the water effectively.
Overall
With tablets like these, you will need to allow them to perform their magic for a few hours. They work great, though, and have the advantage of being effective against crypto cysts.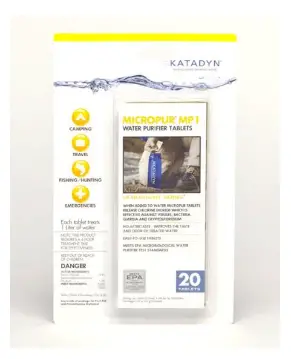 As you can see by their second appearance on this list, Katadyn gear is another highly trusted and reputable brand. Their MP1 Tablets meet EPA standards for water purification and that really says it all.
Read more
Effectiveness
These water purifying tablets are effective against all micro-organisms. They will attack whatever is currently present in the water and that you can take the bank.
Flavor
As with some of the other best brands out there, you will be provided with fresh-tasting water after using these tablets. You can expect there to be no lingering aftertastes.
Purity
Again, one of the reasons this is such a trusted brand is because Katadyn is dedicated to making the most effective products possible. As such, their MP1 tablets are EPA approved.
Value
No matter which option you go with (either 20 or 30 tablets), each tablet has been pre-measured to treat one full liter of water.
Convenience
In addition to the fact that these are a bit of a pain to open, they require a four-hour treatment time. For sure, while great, this is not the most convenient brand out there.
Overall
Truthfully, about the only "issue" that prevents these tablets from being even higher on this list is the fact that they are not incredibly convenient to use. They get the job done with flying colors, however.

8

. El Chlor Water Tablets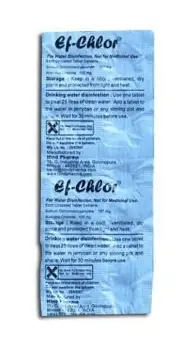 What is utterly amazing is the fact that these tablets were engineered to purify up to 50 gallons of water. And, you only get 10 tablets. Do the math on that one.
Read more
Effectiveness
These suckers are effective against loads and loads of parasites and bacteria. This includes fungi mold, yeast, protozoa, mycoplasmas, and hydrophilic viruses.
Flavor
Though a slight odor may remain after these tablets do their job, it will not be anything that will affect the taste too much. And, these are designed with an effervescent additive to help eliminate the chlorine, in the first place.
Purity
What makes this somewhat sketchy is it is not as reputable as other brands. It has also been known to expire quicker than their 36-month shelf life would indicate.
Value
Yeah, in case you did not already figure it out, each tablet can purify five gallons of water. Clearly, this makes these tablets incredibly potent and more ideal for larger quantities of water.
Convenience
After you place a tablet into the water you want to be purified, you will need to wait around 30 minutes. After which, your water will be ready to go.
Overall
Yeah, this is better suited for those of you will need larger quantities of water. It is not the most reputable brand out there, though, so be aware of that.

9

. Coleman Potable Aqua Treatment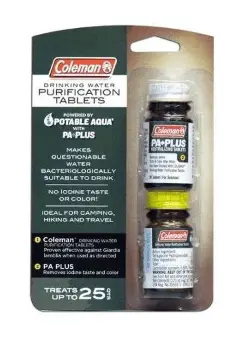 This is yet another time-tested option that has been proven to work. It also comes with PA Plus tablets to remove both coloring and iodine flavoring from your purified water.
Read more
Effectiveness
The combination of the main tablets and the PA Plus tablets do wonders in just about any water source out there. They do their job effectively against untreated water, let's just say that.
Flavor
A few previous buyers have made mention of the fact that this can leave somewhat of a chalky taste to your water. It is nothing too drastic, however.
Purity
Indeed, this is a time-tested option that is both simple to use and also incredibly effective to use.
Value
Each bottle you get has 50 tablets. And, you will be required to use two tablets of each bottle to treat one quart of water. What this means is, in total, these bottles will treat up to 25 quarts of water.
Convenience
If you want the flavor of the water to be good, you will need to be patient. While the purifying process takes around 30 minutes, it takes extra time to remove the iodine taste afterward.
Overall
This is just another fantastic option from a long-list of them. It does not provide the best value but it gets the job done extremely well.

10

. Coghlan's Water Tablets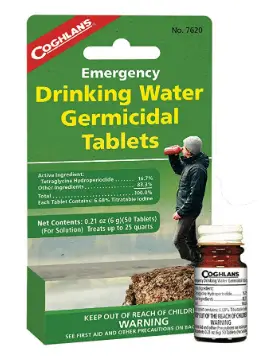 This is an iodine-based compound and while it does leave a slight aftertaste to your water, it is nothing too bad. And, it works incredibly well and just as directed.
Read more
Effectiveness
For sure, this is an excellent method for microbial extermination. It has also proven to be effective against giardia.
Flavor
You can expect there to be a slight aftertaste when using these tablets. Again, as noted, this aftertaste is not going to be anything unsettling enough to make the water undrinkable.
Purity
This is not a top-name brand but that is simply okay. The effectiveness makes up for it that is for sure.
Value
Let's just address the elephant in the room; this is one of the least potent options on this list. The 50 tablets you are provided with will only treat up to 25 quarts of water.
Convenience
It is recommended that you wait around 30 minutes to allow the tablets to purify your water. But, honestly, the longer you wait the safer the water is going to be to drink.
Overall
While less potent than others, this is still an excellent option. Due to the potency, though, it is better served for emergency situations and such.

Subscribe to our Newsletter