Best Paddles for SUPs
In a Hurry? Editors choice: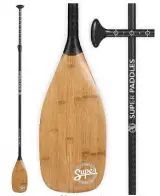 Test Winner: Super Paddles Carbon Fiber Paddle

Stand up paddleboarding (otherwise known as SUP) is an incredible water activity but are you aware that your personal experiences could be even better? How so, you may ask? Well, it is quite simple, really; all you need to do is invest in a high-quality paddle.
You see, the best paddles for SUPs are not going to be your
kayak or canoe paddles
or oars. No, the best models out there will be specifically optimized for SUPs. Of course, there are also several factors to consider (such as weight, materials, and size).
If you stick with us throughout this entire process then we promise that you will be okay. Today, we present with a detailed buying guide that will cover everything you need to know when choosing the best sup paddle for you.
Standout Picks
Criteria Used for Evaluation
Materials
It is actually amazing how important this section is. Do not overlook it, let's just say that.
As with most water equipment and gear, the best way to assess the quality of a SUP paddle is to analyze its materials. And, quite frankly, paddles for SUPs can actually be made with a plethora of different materials. Certain ones are better than others for specific reasons.
Just for the record, even though this list did not have any, you can find wooden paddles on the market. However, these are much heavier than other paddles and they can't be adjusted. So, several of you will not be too drawn to them. Anyway, if you are on a very tight budget, you can go with plastic paddles.
Paddles of this nature will often be made with durable plastic (such as polycarbonate) but will not offer the performance benefits that many of you will be looking for. Taking a step up from plastic is both aluminum and fiberglass paddles.
Out of the two, fiberglass paddles will offer smoother strokes. With that said, fiberglass blades, in specific, can crack and ding rather easily if you are not careful. Aluminum, while not the lightest of options, is also an inexpensive and solid way to go.
If you want premium then you need to go with paddles that sport carbon fiber shafts. In addition to the fact that carbon fiber itself is incredibly lightweight and stiff, it is also very, very strong. And, typically, paddles of this nature will also be built with reinforced nylon blades (which are also really nice).
Effectiveness
The materials, along with various other factors, will play a role in this section, as well.
In case you did not already put two and two together, this section plays directly off of the last one. Indeed, the utilized materials will have a huge impact on the performance of any given SUP paddle out there. And, to get the best out of the way first, this is where carbon fiber reigns supreme.
Again, it all comes down to the stiffness and lightweight nature of the material. This stiffness will result in fantastic power transfer when you are paddling in the water. And, the lightweight nature will result in less arm fatigue. Of course, fiberglass shafts can also perform decently well.
Fiberglass is pretty darn stiff, as well, which can also yield admirable power transfer. As for aluminum, it is not quite as stiff and, quite honestly, is better served for beginners or casual paddlers. Let's also talk about the design of the blade for a hot second.
Not only will the size of the blade affect performance but so will the shape. For instance, paddles with larger blades will move a lot of water and therefore be more powerful. On the other hand, smaller blades will not require as much water to be moved and will be easier to utilize over longer stints.
As for the shape of the blade, this is merely the same concept. Tear-drop blades will provide more power (and will require more force) while rectangular blades will be much easier on your body.
Adjustability
It is up to you; you can either go with adjustable or fixed-length paddles. But, the former is often preferred.
Alright, so, first and foremost, you need to ensure that you go with a model that is optimized to work for you. This will be determined by your height. You will hear some experts say to get a paddle that is around 8 to 10 inches taller than your height. But, there is a performance difference between longer and shorter paddles.
Shorter models will be better for beginners and anyone who needs to exert little strength. Longer models, on the other hand, are generally preferred for better control and power in the water.
Of course, you also need to ask yourself if you want an adjustable or fixed-length paddle. While fixed-length paddles can offer slightly increased weight savings and performance, adjustable models will be preferred by several of you.
Clearly, they are popular due to the simple fact that they can be adjusted to work for different users. However, models of this nature will sport different adjustment mechanisms. And, as you would expect, some will work better than others.
Comfort
Ask yourself, do you really want to use a paddle that will be uncomfortable in a few minutes?
Alright, earlier, it was discussed how important the performance is when looking for a SUP paddle. In a technical sense, this section is related to performance. But, it is so important that it deserved its own special section. Now, with that out of the way, let's talk about handling and comfort.
It is as simple as this; most of you will want to feel comfortable when paddling on your board. In order to ensure this, you need to focus on two important SUP paddle characteristics. The first of which is the design of the grip.
Whether you want a palm grip, T-grip, or simply just an ergonomically-designed and contoured grip, it is all up to you. T-grips are nice, in specific, as they provide you with improved sturdiness. However, others will prefer palm grips due to their natural feel and comfort.
Once again, this is where the weight comes into the fold. The lighter the paddle is, the longer you will be able to use it. Again, this is where carbon fiber is so nice as it is much lighter than both aluminum and fiberglass.
Portability
If you need to travel to access a body of water, you may want to look for a paddle that is portable.
Paddleboarding is an incredible activity but one of the factors that you need to account for is it will require you to travel. Unless you own property on a lake, you will probably need to travel to a specific destination to paddleboard. So, this means that you may need to transport all your paddling equipment (including your paddle).
That is where this section comes into play as you may want to go with a model that is portable. And, you guessed it; this is where adjustable paddles for SUPs become so nice. In addition to the fact that they will be able to be adjusted to their shortest length, some of them will also break down into multiple pieces.
When space is limited for you, paddles of this nature will probably appeal the most to you. Oh, and you also may want to keep an eye out for sellers who include dedicated carrying bags with your purchase.
As seen on this list, some paddles will come with bags that are designed with closed-cell foam padding and also heat-reflective interior linings. Of course, if not, you could always buy something of this nature separately.
Our Top Picks for the Best Paddles for SUPs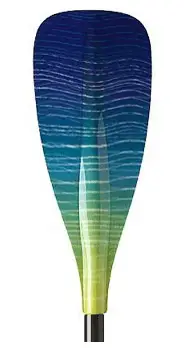 Even though this is not the most popular sup paddle on the market, it is hard to claim that it is not one of the best. And, as you can see, we think pretty darn highly of it.
Read more
Materials
In addition to the fiberglass blade and the 100 percent carbon shaft, Malta was hand-crafted by professional paddling enthusiasts.
Performance
Combined with the hand-laminated fiberglass blade is a comfortable grip. Overall, Malta reacts the way you want it to and also has a highly effective stroke.
Adjustability
First off, there are different sizes that are available for you to choose from. Additionally, there are two pieces and they can be adjusted to account for different users.
Handling
Since the grip has also been made of 100 percent carbon, it is comfortable to hold. What also helps is the fact that this same grip has been contoured.
Portability
This clocks in at 20 ounces. And, if you know anything about carbon fiber, you would know that this is just about right.
Overall
This SUP paddle is living proof that the most popular kid in the class is not always the best. From top to bottom, this design is nearly impeccable in every way.

2

. Super Paddles Carbon Fiber Paddle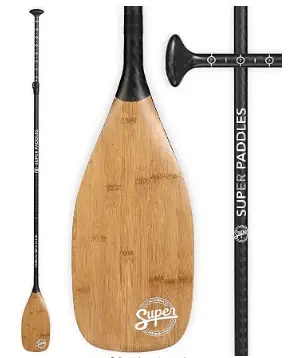 As with the top model, this is not the most affordable option on the market. Then again, sometimes it will be in your best interest to prioritize quality over price.
Read more
Materials
For certain, this paddle was engineered with premium materials. This includes the carbon fiber shaft, stainless steel screws, and nylon blade. Without question, this is a rugged design.
Performance
Along with the anti-twist channel that allows this to stay aligned while in use, it is also incredibly lightweight in nature. This makes it a lot easier to maneuver that is for sure.
Adjustability
This is a three-piece design and it can be adjusted from 72 to 86 inches. This range allows the paddle to be optimized for users of varying heights.
Handling
Overall, the carbon shaft that this is designed with makes for a comfortable hold. When compared to inferior designs, you will notice how much less fatigue your arms will experience.
Portability
One of the best aspects of this paddle is the fact that it comes with a fully-padded carrying bag. The bag sports a rugged nylon exterior and also closed-cell foam padding.
Overall
How else do you summarize this SUP paddle other than saying it is utterly incredible? Its construction is top-notch, comes with a well-designed carrying bag and performs insanely well.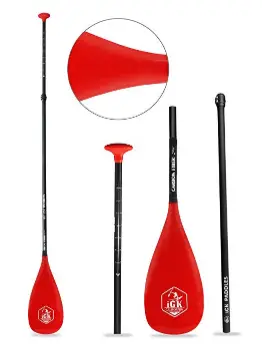 The reason this is another one of the best paddles for SUPs is the fact that it is made of carbon fiber and comes with a rugged and padded compartment bag.
Read more
Materials
Since the shaft of this paddle has been engineered of carbon fiber, it makes it both incredibly stiff and also lightweight. All in all, it weighs right around 1.5 pounds.
Performance
The design of the blade is easily one of the best parts of this paddle. It is a dihedral and double-concave design that eliminates blade flutter while also adding stroke stability.
Adjustability
While adjusting this has been known to give some users somewhat of a fit, this is a three-piece design that can be adjusted from 72 to 86 inches. All in all, it will account for pretty much anyone over five feet tall.
Handling
In addition to the lightweight nature of this paddle, it also sports an ergonomically-designed handle. This helps reduce the fatigue your arms will feel while operating it.
Portability
This is another option that comes with a rugged carrying bag dedicated specifically for this paddle. A tough nylon exterior and interior foam keep your paddle well-protected.
Overall
Again, what more is there to say about this SUP paddle? It will be an amazing addition to your SUP board and will take your experiences to another level.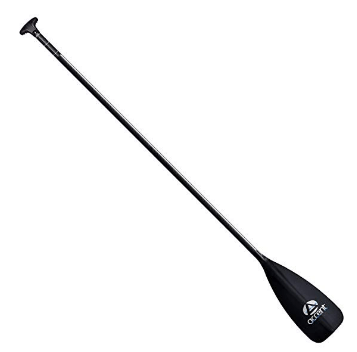 Though this may not be the most well-known SUP paddle on the market, it remains one of the absolute best. It sports a carbon fiber shaft with a durable nylon blade, after all.
Read more
Materials
Indeed, this sports a durable nylon blade with a carbon fiber shaft. All in all, it clocks in at 27 ounces; making it both durable and lightweight.
Performance
In addition to the fact that the blade is both tall and narrow to provide great catch in the water, it is also designed in a manner that increases stability. Oh yeah, and it also prevents blade flutter.
Adjustability
Thanks to the Level Lock adjustment system, this will suit paddlers from five feet to six feet six inches in height. In total, there are 16 inches of leeway for you to adjust.
Handling
This is designed with a unique and special grip. It is an Ergo palm grip and combined with the carbon fiber shaft, it makes for a SUP paddle that is unbelievable to handle and control.
Portability
While this does not pack down as compactly as some of you may desire, it can at least reduce in size somewhat. Overall, it will not be too cumbersome to transport.
Overall
The durability, lightweight nature, performance and handling of this paddle make it one of the best in the world. You want to talk about an incredible collection of attributes.

5

. ISLE Surf and SUP Paddle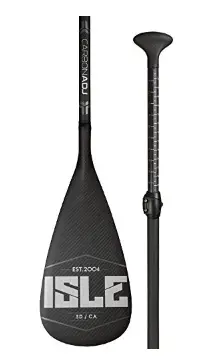 While the adjustment system on this paddle could have been executed a little better, it is tough to argue with the overall quality of this model. It is built extremely well and is easy to travel with.
Read more
Materials
There really is no need to worry about the durability of this model. It has been engineered with high-end carbon fiber and is going to withstand the test of time.
Performance
Due to the stiffness of carbon fiber, you can achieve great speeds with this paddle. Overall, this is a paddle that is optimized for serious riders who are looking for response and speed.
Adjustability
Now, there are both one-piece and two-piece models available, for the record. But, as noted, the adjustment system is somewhat flawed as it loosens too easily. As a result, the paddle can spin in your hands.
Handling
As with so many of the other best carbon fiber paddles for SUPs, this is incredibly easy to maneuver due to its weight. The design of the handle also makes things easier on your hands, as well.
Portability
In addition to the fact that this is adjustable, it can also be broken down into two pieces. As you would expect, this makes it much easier to transport.
Overall
In spite of the adjustment system (which is still good), this is a near-perfect design. It is also backed by a one-year warranty, just in case something does go drastically wrong.

6

. Stage Double-Bladed Paddle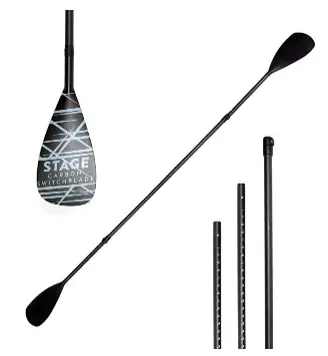 What makes this model unique is the fact that it is double-bladed. One advantage of this design is the fact that you do not have to swap hands when you switch sides.
Read more
Materials
Now, you can actually choose between aluminum, carbon fiber, and combo versions of this paddle. For serious enthusiasts, it is recommended to go with the carbon fiber version.
Performance
While the blades are a little large (which is not ideal for high cadence paddling) there is one on each side of this paddle. This not only makes operation more convenient but also aids in maneuverability.
Adjustability
With two quick cam-lock adjusters, this paddle can be adjusted to account for users of varying heights.
Handling
While you may not be used to the extra weight of the additional blade, this handles really well. It just may take some time for you to get accustomed to it.
Portability
For the record, you can break this down into multiple pieces. While this will not change the weight, clearly, it will make it more compact to transport.
Overall
To be honest, this is a type of design that you will either love or hate. Some of you may not want the extra weight of an additional blade but it sure does add convenience.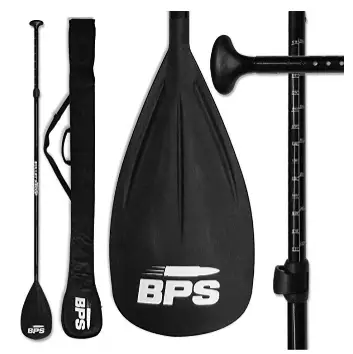 While not perfect, this is another well-designed option that many of you will be compelled to buy. It is also available in either a carbon fiber or fiberglass shaft.
Read more
Materials
As noted, you can either go with a fiberglass or carbon fiber shaft. Either way, both shaft types come with a durable nylon blade that weighs just less than two pounds.
Performance
The good news is the angled nature of the blade allows it to achieve great propulsion. However, the not so good news is this paddle does not move as much water as others.
Adjustability
Even though it is really nice that this can be extended from 70.86 to 83.85 inches, it is somewhat difficult to adjust. The reason for this is it does not lock in place as well as it should.
Handling
This is not necessarily hard to handle but it is worth noting that the adjustable portion can slip from time to time, as alluded to previously.
Portability
An added bonus is that a dedicated paddle bag is included with your purchase. It comes with a heat-reflective lining and also a Velcro strap for easier carrying.
Overall
As you can see, this SUP paddle is far from flawless. You better believe that when you are out on your stand up paddleboard this is going to work very well.

8

. Own the Wave Adjustable Paddle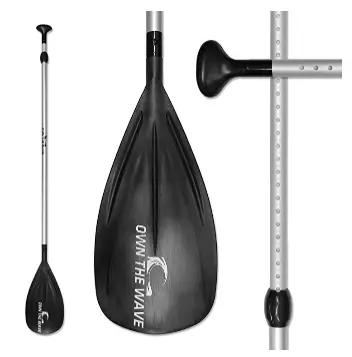 Now, this paddle is actually made with an aluminum shaft. Due to this, it is one of the most affordable options on this list. But, it is not the best option for saltwater use.
Read more
Materials
Indeed, this is made with an aluminum shaft and is not the best option for saltwater use. In addition to this, the blade is made with nylon composite material.
Performance
While this will not perform quite like a carbon fiber paddle, it still will reduce your fatigue due to the lightweight nature.
Adjustability
Since this can account for almost any paddler, it is excellent for a family or for any beginners out there. And, even better is the fact that it is easy to adjust.
Handling
The handle on this paddle has been ergonomically-designed to ensure optimal grip and comfort. Additionally, the entire paddle is lightweight making things even easier.
Portability
In just mere seconds, this can be broken down for easier storage and transport. This minor and subtle design feature makes this much more portable.
Overall
Not too many of you will feel that this is superior to carbon fiber paddles for SUPs. But, at the same time, it is affordable and effective for what it is.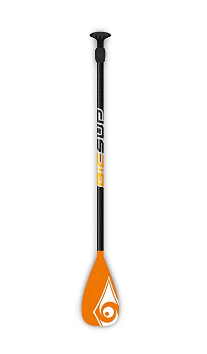 Now, this model is actually not offered in carbon fiber but that is okay. Aluminum and/or fiberglass are fine alternatives to carbon fiber, so it is not too big of a deal.
Read more
Materials
Indeed, the choice is yours from either an anodized aluminum shaft or a fiberglass shaft. Either way, the shaft is matched with a polycarbonate blade.
Performance
Both of the shafts perform pretty darn well. Also, the polycarbonate blade offers low stress on your joints and also mid-range flex.
Adjustability
This is unique in the fact that it is offered in three different sizes. You can find the size that suits you best and, for the record, one of the sizes is suited for kids.
Handling
To allow for a better grip and therefore more control, this is designed with a polycarbonate T-Grip. And, this same grip sports a rubberized texture for improved comfort.
Portability
If you do require a paddle that can be taken apart, then you need to choose the two-piece option. This makes both storing and transporting it much easier.
Overall
Even though carbon fiber models are often preferred, they also come at a price. If you are looking for a cheaper, yet high-quality alternative then you should look closely at this model.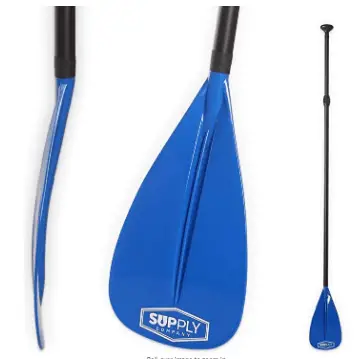 Due to the fact that this paddle can be broken down into three separate pieces, it is an excellent choice if storage space is at a premium for you. Also, it can be adjusted to account for users of many different heights.
Read more
Materials
This was engineered with the combination of an aircraft-grade aluminum shaft and a polypropylene blade. While not the most impressive build out there, this paddle is far from cheap.
Performance
Both the feel and weight of this paddle will be appreciated by virtually anyone. It does not sport the performance of carbon fiber but it will still work well for most of you.
Adjustability
Now, this can be adjusted from 67 to 85 inches and, as alluded to, this is going to account for many different users. However, at the same time, the actual adjustment process can be a little tricky.
Handling
An improved grip would have really helped this model, to be honest. As is, when this handle gets a little wet, it can occasionally slip out of your hands. But, you could always add a custom grip if you wanted to.
Portability
Without question, this has been optimized for portability. As noted, it can be broken down into three pieces. And, just for the record, the longest piece is only three feet in length.
Overall
It is fair to assume that some of you will not feel the need to spend a ton of money on a new SUP paddle. For occasional paddlers out there, this is actually a really, really good choice.

Subscribe to our Newsletter