Best Surfboard Racks
In a Hurry? Editors choice: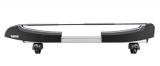 Test Winner: Thule Board Carrier

Surfboards or even paddleboards, for that matter, are great to own but you are doing yourself a disservice if you do not
store or transport gear properly
. The question is how do you do so?
Well, that is where this buying guide comes into play as those very issues can easily be resolved for you. All you need to do is invest in some high-quality surfboard rack. Now, to transport your boards, you may want to look at roof racks and to store them, you may want to look at wall mounts.
Thankfully, we will be covering both types of racks in this buying guide. Stick with us because, before too long, you will have the confidence to know the exact surfboard racks that will work for your needs. But, firstly, let's check out some of the best options on the market today.
Standout Picks
Criteria Used for Evaluation
Style
What you need is going to be the most important rack for you to buy for, right?
Alright, as was noted at the beginning, this guide is being focused on two different types of surfboard racks. Of course, this is alluding to both roof racks and wall mounts. But, both of them are very different and require different analysis, quite frankly. Let's start with roof racks.
There are actually a few different styles that you can find on the market. The two most common are soft and hard racks. Speaking for soft racks, these are nice in the fact that they will not require you to have crossbars or roof rails on your vehicle. Instead, these systems will utilize some sort of strap system.
However, hard racks will require you to have either crossbars or roof rails and will often be more difficult to install. At the same time, though, they offer better security and tend to be able to carry more weight than their soft counterparts. Either way, both styles can do the trick.
As for wall mounts, these will also be offered in many different shapes and styles. What you prefer all comes down to your personal preferences, quite frankly. After all, there are many different types of horizontal and vertical wall racks out there for you to choose from.
Durability
No matter which style you need to buy, it will be in your best interest to pay close attention to this section.
Regarding roof racks, one of the most important specifications you need to analyze is their load capacity. As noted, hard racks will typically be able to handle much more weight than soft racks. Still, it will be in your best interest to get a rack that can handle the weight you need to load on it.
Now, switching over to wall racks, they are most commonly made of either metal or wood. Concerning which material is better, it is tough to say one way or the other. However, both of these materials have their advantages and disadvantages.
For metal racks, their greatest strengths (literally) are durability and strength. No matter if it is steel or aluminum (though steel is stronger), most metal racks will withstand the test of time. Yet, at the same time, when you are talking about metal, you have to take corrosion into play.
Indeed, metal can corrode and (if the iron is present) can even rust. If you go with metal racks, be sure to keep them away from humid environments. As for those made out of wood, they will also be incredibly strong but also add a nice décor in the process. However, wood can also be subject to cracking, bowing, and warping if it is not properly finished.
Ease of Use
Your tolerance level of installing things of this nature will play a huge role in this section.
Let's just say this; installing wall racks and installing roof racks are two entirely different animals. In all honesty, neither one of them is going to be too grueling. There are still some factors to cover, though.
For starters, either way, you go, it is always nice when detailed and well-written instructions are included. This will not always be the case, however, so you may need to access the global juggernaut known as the internet.
Speaking for roof racks, this is something you just need to get the hang of. As mentioned, soft racks will typically utilize some sort of strap system (which should not be too tricky to wrap your head around). Again, for hard racks, it will be a bit more complicated of a process, on the other hand.
As for wall racks, some basic handyman skills will typically be all you need. Most models will come with proper hardware and even pre-drilled holes to make your life easier. You will just need to know how to access the studs in your wall.
Protection
Surfboards are not cheap so look for racks that will protect them from damage.
As many of you are fully aware of, top-end surfboards are not exactly cheap pieces of equipment. As such, you will probably want to do everything in your power to protect them from damage, right? Well, why would this be any different when you go to store them or place them on the roof of your vehicle?
So, look out for any type of rack that offers protection to your boards. For wall racks, it can be as simple as the support arms being designed with foam padding. This simple addition will prevent any scratches or dings from forming on your boards.
The same concept applies to roof racks, as well. Soft racks will be safe for both your vehicle and your boards. As for hard racks, look for rubber protection strips that run down each side of them.
Versatility
Would it shock you to know that most racks of this nature will be quite versatile?
Even though surfboard racks are designed to hold your surfboards, they are much more versatile than that. And, this is for both roof and wall racks, quite frankly. But, they are versatile in different ways (and also in the same ways as odd as that sounds).
Anyway, most wall racks will be able to be installed in many different locations. Indeed, this is one of the best aspects of them. Whether you want to install them in your living room, dining room, garage, bedroom, etc. it is entirely up to you.
In addition, they often can account for several other types of boards. This can include your wakeboards, snowboards, etc. But, it does depend on the size and weight of the individual boards that you try to mount.
As for roof racks, most of them will be able to handle all different types of small vessels and boards (such askayaks and canoes). Again, however, it does come down to the load capacity and what the rack can handle.
Oh, and one last thing, look for surfboard racks that can hold what you need them to (in regard to how many boards you need stored or transported).
Our Top Picks for the Best Surfboard Racks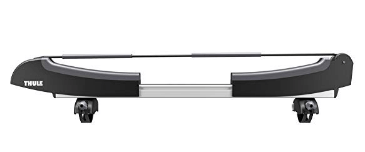 This list kicks off with one of the best models you can find. While you will need to check to see if your vehicle is compatible, this carrier is designed to fit most factory racks.
Read more
Style
In addition to the fact that this is going to fit on most factory racks, it will also work well with Thule rack systems (not a bad option to be paired with).
Build Quality
Thanks to the overall quality of the build (including the steel-reinforced webbing) this has a load capacity of 55 pounds. It will be suitable for all types of surfboards and paddleboards.
Ease of Use
Alright, so the speed-link mounting system that has been equipped here allows for tool-free mounting. With that being said, the included instructions are nothing more than pictures and the mechanics of the rack will require a bit of strength.
Protection
You can take comfort in knowing that your surfboards will be nice and safe on this rack. It sports an easy-to-use locking cam and also heavy-duty reinforced webbing.
Versatility
If you need to, you could stack two surfboards or paddleboards on this rack. If you wanted to use it for a kayak, you could but the kayak would need to lie flat.
Overall
Now, this is one of those surfboard racks that is not going to function by itself. If you either have factory racks or a Thule rack system installed on your vehicle, though, you will be able to enjoy its security and protection.

2

. Vault Roof Rack Crossbars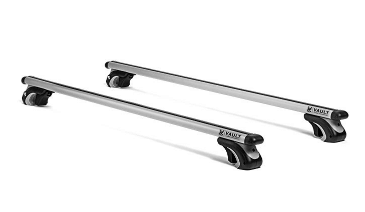 These roof rack crossbars are some of the most popular available on the market today. For the most part, they live up to the hype and will serve you well.
Read more
Style
While you will need to ensure that these crossbars will fit on top of your vehicle, they are designed to do just that. And, for the record, these will fit rails up to 47 inches apart.
Build Quality
It is noted that these have a load capacity of 150 pounds. One user, however, noted that they noticed a slight bend in the bars with around 40 to 50 pounds onboard.
Ease of Use
With just one tool, these can be removed from your roof when you are not using them. As for actually installing them, the process should not take you longer than 30 minutes.
Protection
To help protect your surfboards, each crossbar has been equipped with rubber strips that run down the entire length of them. Also, the clamps themselves are padded.
Versatility
In addition to being able to mount surfboards, these crossbars are also suitable for canoes, cargo racks, wind fairings, kayaks, and more.
Overall
It is not too hard to see why this option is one of the most popular on the market. If you need a reliable way to transport your surfboards from one location to the next, look no further.

3

. T-Rax Vertical Wall Rack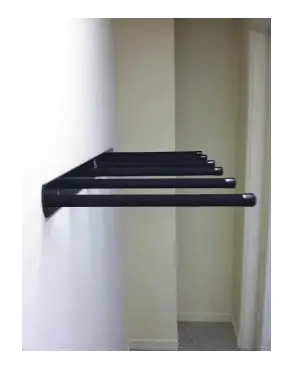 Taking a break from roof racks for a moment, this next option is actually a vertical wall rack. As you would see in a typical surfboard shop, this rack stands several of your surfboards straight up.
Read more
Style
This is actually really simple in concept. It is just a horizontal rack that sports six support rods. These support rods allow any of your surfboards to be stored vertically on the wall.
Build Quality
There are no wooden or plastic parts present as this is simply a solid aluminum construction. Treat it with care and it should last you for many years to come.
Ease of Use
In addition to the fact that three pre-drilled holes are present, you also receive stainless steel hardware. The included instructions, as well, are pretty nice to have.
Protection
Now, there is foam padding that has been integrated here. However, you do need to be cautious as the back of the rack has no such foam padding.
Versatility
A few users have asked if this could be mounted vertically to allow for horizontal storage. While this is certainly possible, you would need to buy two of them. There is no need to, however, as the company does make a rack that is designed to be mounted vertically.
Overall
Admittedly, this is not going to be for everyone. Many of you will want your surfboards to be elevated and off the ground. But, this rack will make retrieving your boards a lot easier.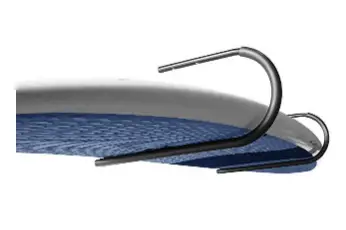 In regard to where this rack can be installed, it is one of the most versatile options on this list. It is not going to be for everyone, though, as it is a rather unique design.
Read more
Style
As you can see from the photos, you simply get two separate arms with your purchase here. As such, they are not going to quite mount flush on your wall so be aware of that.
Build Quality
In addition to the fact that the arms are made from galvanized steel, the included screws are marine-grade stainless steel. Let's just say that the quality of the materials is superb.
Ease of Use
The instructions that are included with your purchase were actually written by the engineer behind this design. And, for the most part, the installation process is short and sweet.
Protection
First off, each of the support arms has been designed with foam padding. Additionally, rounded tubing was utilized to ensure that there would be no square edges that could cause damage to your boards.
Versatility
Indeed, this is an incredibly versatile design. Not only can it hold other types of activity boards but it can also be mounted virtually anywhere you want it to be.
Overall
As great as this storage rack is, it is not going to be for everyone. Also, unless you want to stack your boards on top of one another, it will only hold one surfboard.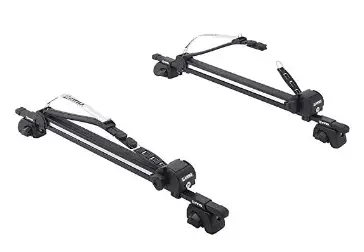 This is yet another surfboard car rack and even though it is somewhat large and bulky, it is built extremely well and will easily secure your surfboards and other such items.
Read more
Style
To use this mount, your vehicle will need to have compatible crossbars. The good news, though, is that this does sport a universal mounting system and will fit most factory-supplied crossbars.
Build Quality
There is no questioning that this rack is built incredibly well. However, you will also notice right away that it is very bulky. When not using it, you may want to take it off of your roof.
Ease of Use
While some users have had slight installation issues, it is made to be simple with the floating strap system and the included clamp-on hardware.
Protection
Not only have rubber cushions been implemented for protection but locking covers and keys have also been included. Oh yeah, the ratcheting straps also deliver security for your gear.
Versatility
Past the fact that this can be used for a different type of gear, it can also hold up to two longer boards or three shorter boards at once.
Overall
Again, you can't just buy this rack and magically expect it to install on your roof. If you have to, contact the seller to ensure that it is going to. It is worth doing so due to the quality of this rack.

6

. StoreYourBoard Wall Rack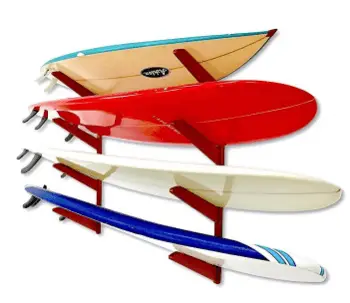 Variety is the spice of life and if you are someone who owns multiple surfboards, you may be looking for a surfboard wall rack that suits your needs. Well, that might be this model right here.
Read more
Style
Indeed, this is a surfboard wall mount and it comes equipped with four different levels of storage. Each level, additionally, sports nine inches of clearance to fit any surfboard out there.
Build Quality
One buyer did make mention of the fact that they noticed some knots in the wood. This is made from natural hardwood, though, and is available in two different finishes.
Ease of Use
While some basic handyman skills are going to be required, mounting this is not going to be too tricky. Just make sure you access the studs in the wall and you will be good to go.
Protection
To protect your surfboards from any scratches, each support arm features a protective cork inlay.
Versatility
Honestly, this rack will work tremendously for anything that will fit on it. If you have wakeboards, snowboards, skis, etc., it will work great for them too.
Overall
This wall rack is going to look great in any room you install it in. It is also extremely functional and will not damage your surfboards.

7

. OrionMotorTech Roof Rack Pad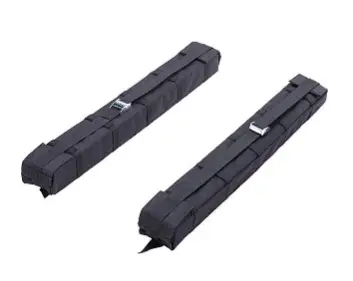 It is safe to say that some of you who are reading this are fairly anal about your vehicle in that you freak out whenever it gets scratched or scuffed. With this roof rack pad that is definitely not going to be an issue.
Read more
Style
These are a bit different as they are actually roof rack pads. They will fit most vehicles (with or without gutters) thanks to the universal car fitment. But, as the straps need to run through your car, this is not the best option when it is raining.
Build Quality
What is rather impressive is that these pads can support up to 165.3 pounds of weight. Overall, they are not cheaply built and it shows.
Ease of Use
Admittedly, the included instructions could have been written a little better. If you end up confused, you can always reference online tutorial videos, however.
Protection
As these pads are designed with soft materials, they are not going to scratch or scuff your vehicle. As for the aircraft buckles and straps, they secure your luggage quite well.
Versatility
Really, these pads are not just limited to holding surfboards. They can handle canoes, kayaks and even different types of accessories altogether.
Overall
Points need to be awarded to this option for its uniqueness alone. It is a little flawed when it is raining but, overall, is a rather ingenious design that is executed quite well.

8

. Pro Board Surfboard Rack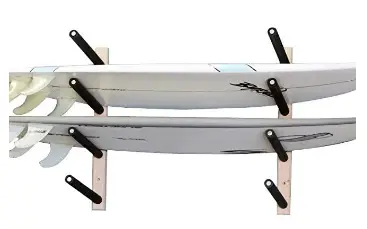 Admittedly, there have been some previous users who have been unenthused about this particular rack. But, it is functional, well-padded, and very easy to install.
Read more
Style
From top to bottom, this measures 36 inches. Additionally, each of the arms has been angled at 15 degrees. And, in total, there are eight arms (four on each rack).
Build Quality
Further attention to detail would have helped this design a bit. The solid pine construction is nice but the lack of a quality finish can be noticed.
Ease of Use
Mounting and installing this rack will be quite simple. Included is the mounting hardware you need, as well as the instructions.
Protection
Each of the arms has been padded with ¾-inch foam padding and also sport removable black end caps.
Versatility
If you can find a board that properly fits on this rack then it can be used with it. This includes wakeboards, surfboards, paddleboards, kiteboards, snowboards, etc.
Overall
Even if you come to the decision that this is not your cup of tea, it is backed by a lifetime warranty with hassle-free returns. Many of you will like it, however.

9

. StoreYourBoard Minimalist Rack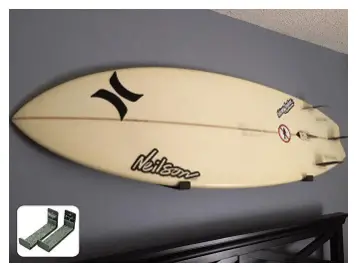 Perhaps you are looking for a wall mount that does not take away from the natural beauty of your surfboard. With its minimalist design, this rack is going to blend right in.
Read more
Style
This is known as a minimalist surfboard wall rack and it is not difficult to see why. It sports an incredibly slim and compact design that allows your surfboard to take center stage.
Build Quality
Each arm has been engineered with a single piece of aluminum to eliminate any possible issues with welds. It also means they will not rust (as aluminum will not) if you store a wet surfboard on them.
Ease of Use
Alright, so the actual assembly process of this rack is pretty darn easy. But, the included plastic wall anchors are pathetic. However, this should not stop you from buying this rack. You just may want to run to the hardware store to get some metal wall anchors.
Protection
Each arm bracket has been equipped with felt padding. As you can guess, this padded lining is going to help protect your surfboard from damage.
Versatility
Once again, this is a wall rack that is not just limited to surfboards. But, it is also only designed to hold one board, so do be aware of that.
Overall
If you go out and buy some superior metal wall anchors, you will probably be thrilled to have this rack. It is well-designed in virtually every other area.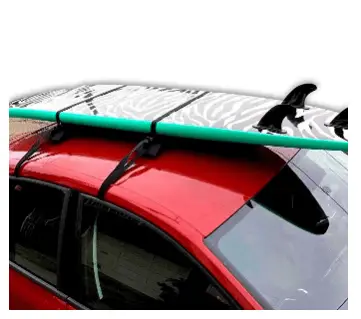 Most user experiences have been above-average with this roof rack. One of the primary reasons why is due to the universal fit as it merely straps and tightens around your roof.
Read more
Style
This is similar to another roof rack on this list in that it tightens around your roof and through the inside of your car. As such, it is a universal design.
Build Quality
It is going to be in your best interest to store this after you are done using it. It is built well but it will last a lot longer if you clean and dry it and then store it.
Ease of Use
With the instructions that are included, it will be tough to figure out how to install this on your roof. Thankfully, you can just access online YouTube videos to make your life a lot easier (as it is really not that hard to install it).
Protection
The heavy-duty straps and buckles will secure all your cargo. The pads will also not damage your vehicle in any way.
Versatility
These pads are going to be able to hold two to three surfboards at once. Of course, this does depend on the physical size of your surfboards.
Overall
What makes these so nice is the fact that they are pretty much universal in their design. They are not perfect but they will do exactly what they need to do.

Subscribe to our Newsletter