BRS 3,000T Camping Stove
Eating crackers and drinking water for a multi-day hiking expedition isn't going to cut it. A nice cup of joe, a nighttime tea, and a warm meal will make the experience all the more incredible.
If you are a person who travels light, the BRS 3,000T camping stove is for you. It is incredibly lightweight, small, and easy to use.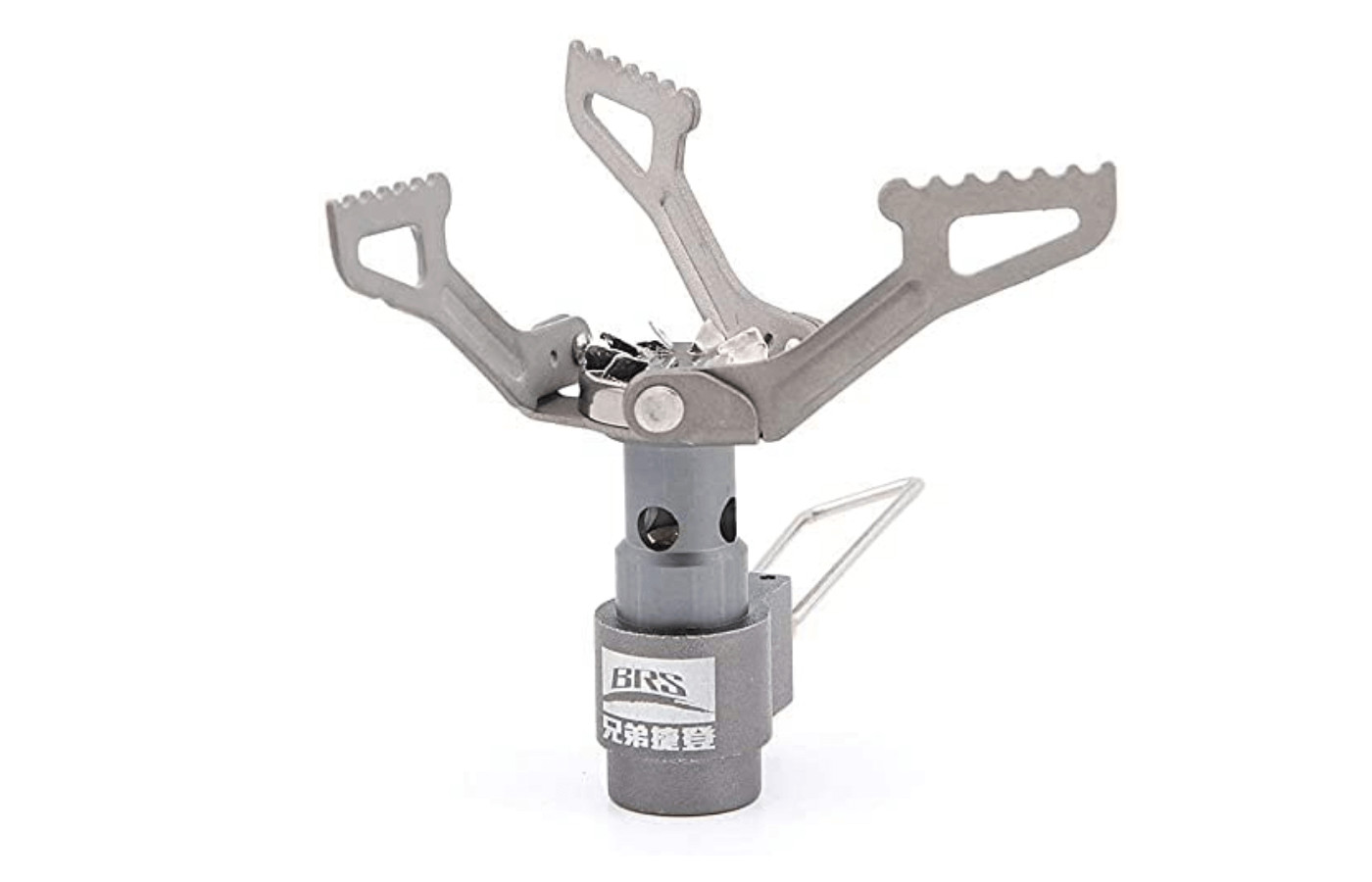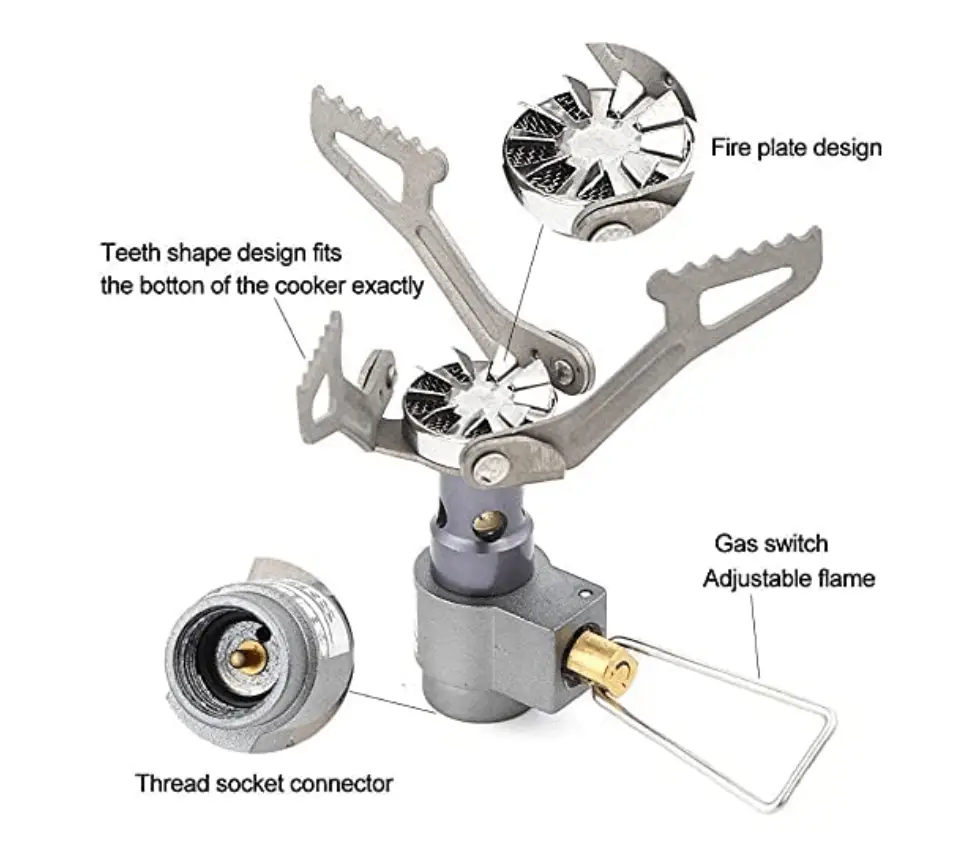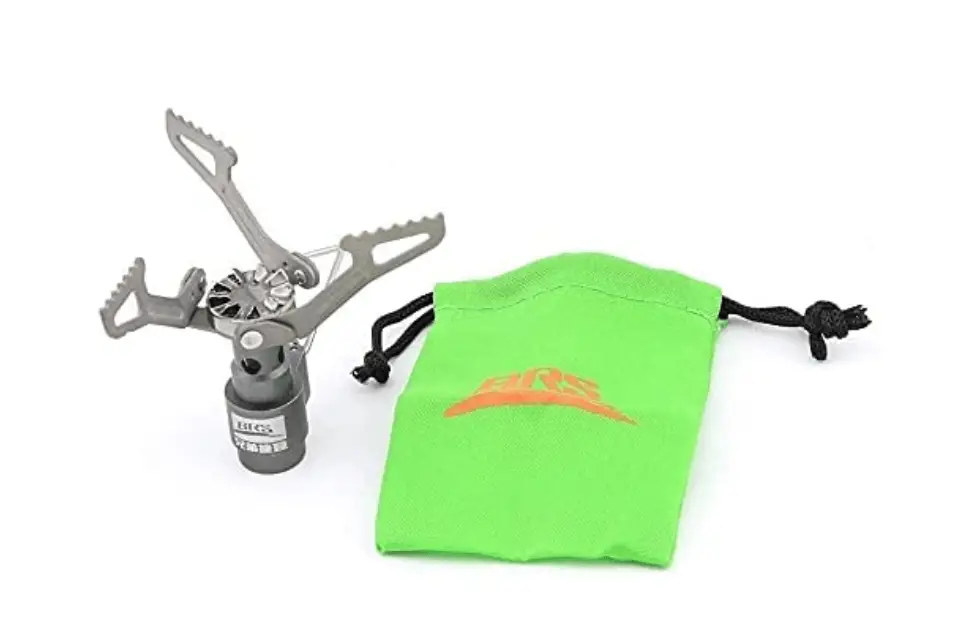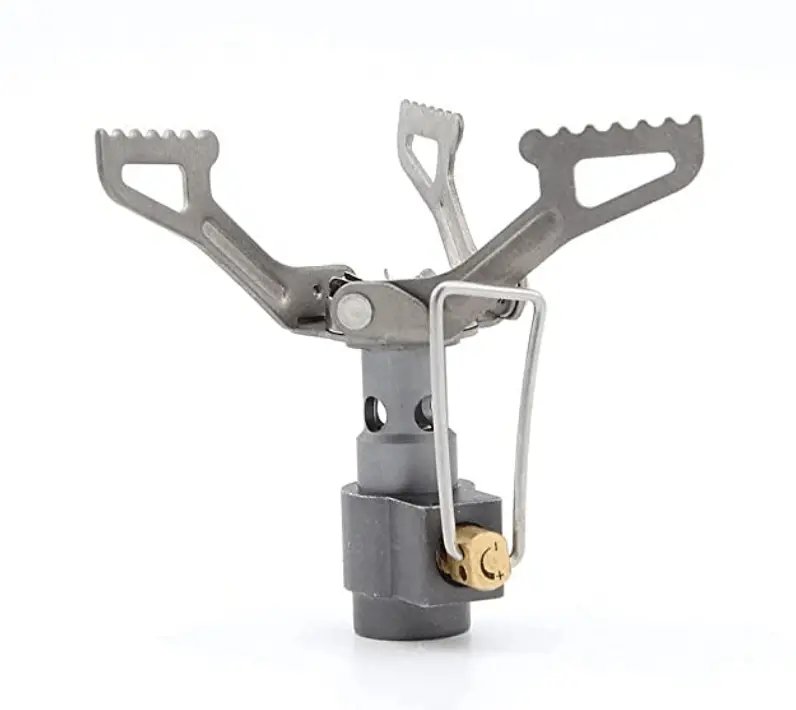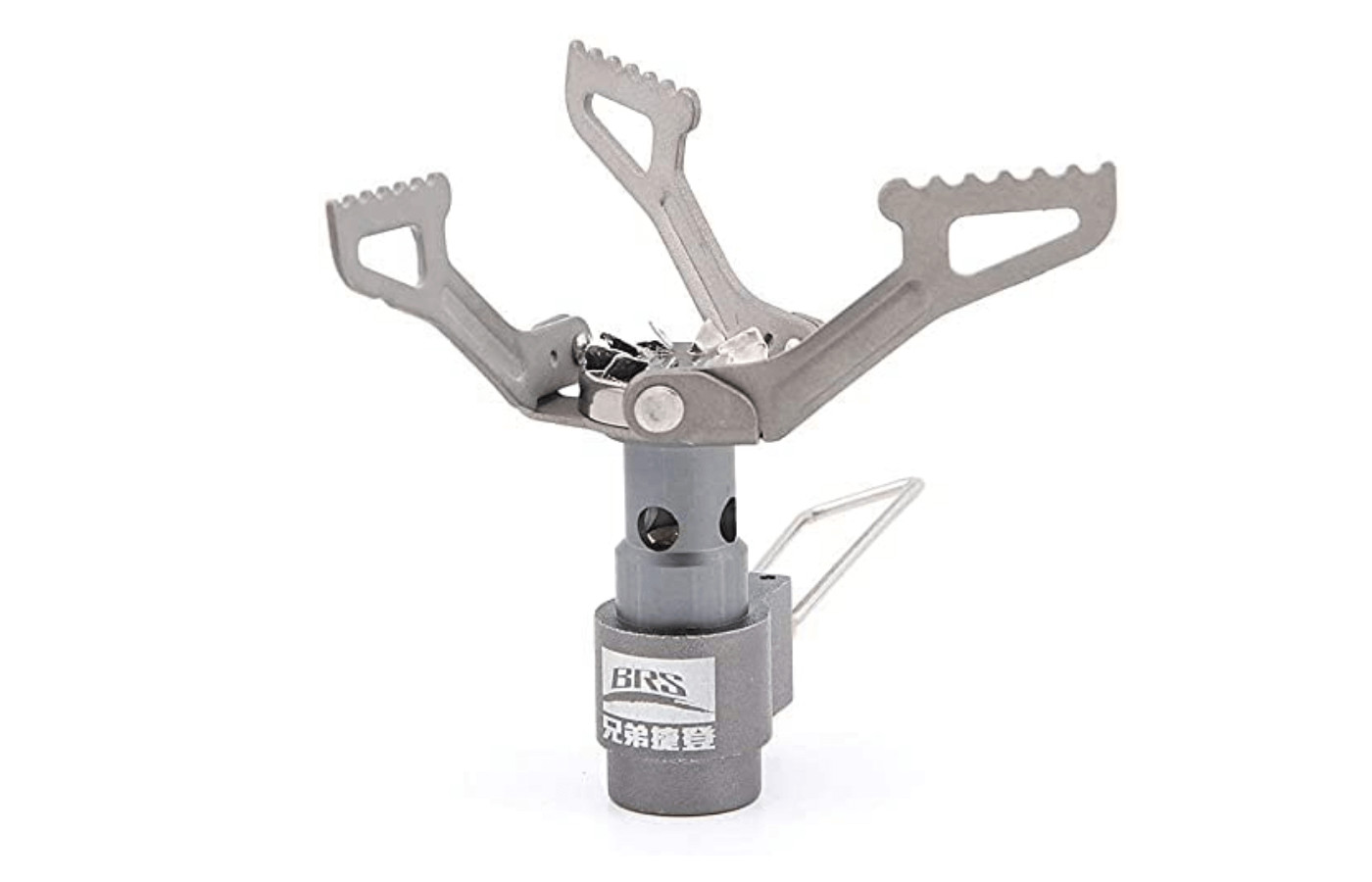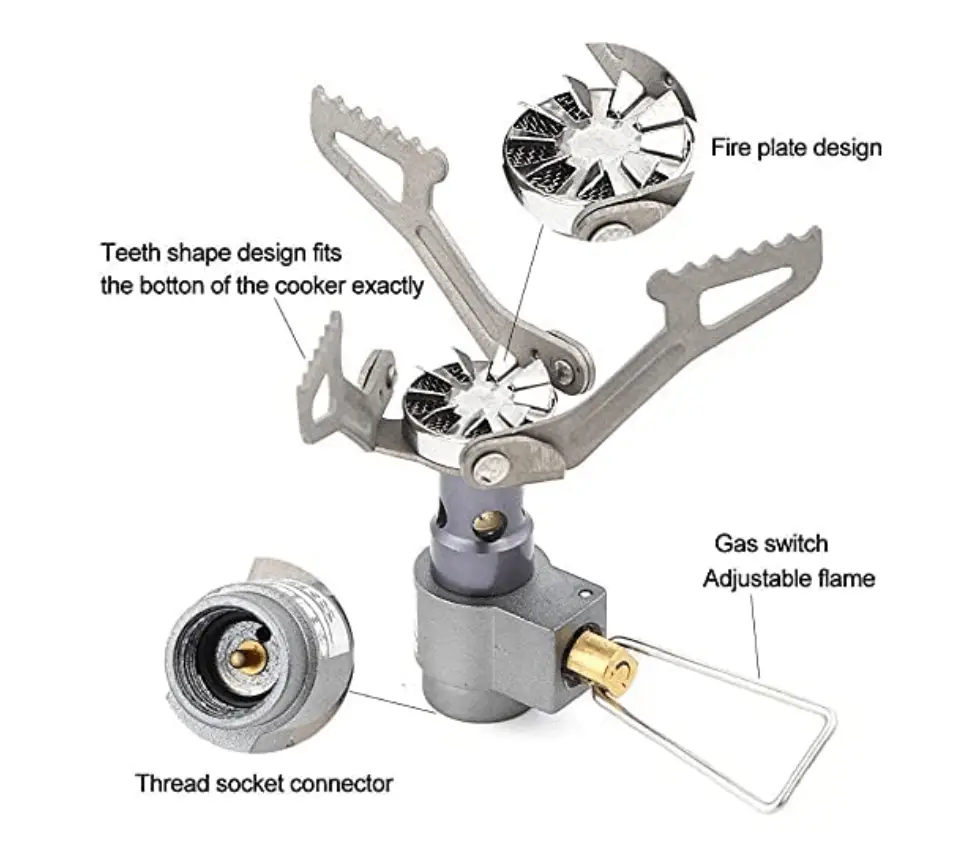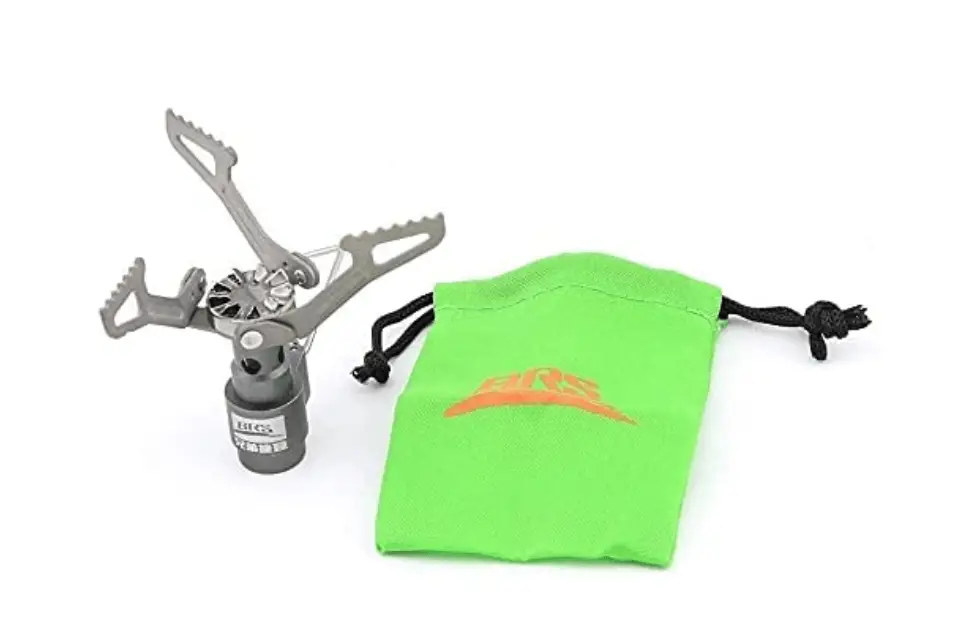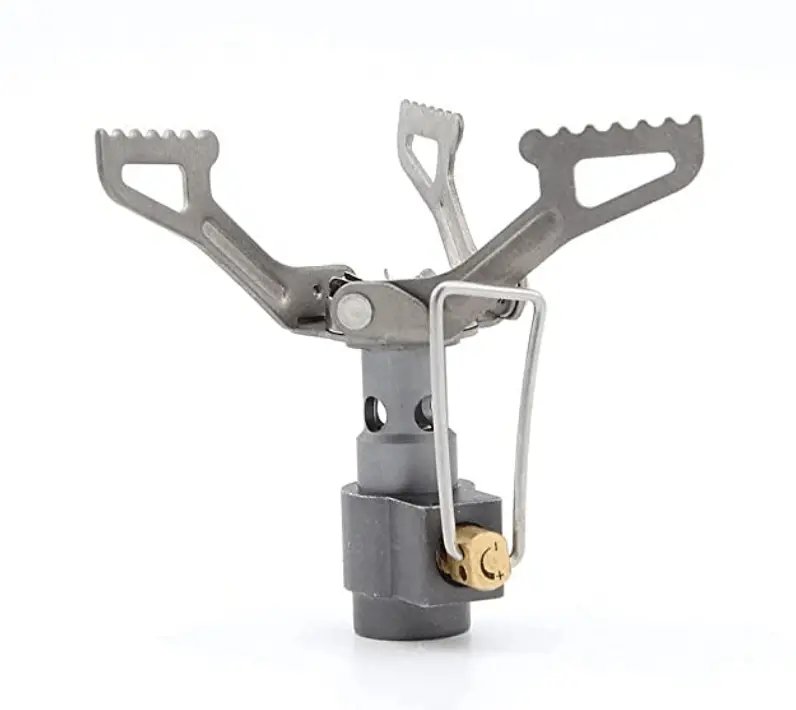 Our Conclusion
Because of its size, it is best used with small cookware and small amounts of liquids or food. If you push this little guy over the edge, rumor has it that he might have a literal meltdown.
Overall, this small device packs a big punch at an affordable price. Continue reading to learn more about this pocket-sized
camping stove
.
Pros & Cons
Has grip on legs to hold pot safely
Produces small and large flames
No included wind barriers
Key Features
Key Features
Portability
The most noticeable feature of this camping stove is its size. It is undeniably small. It measures only 1.18 by 1.97 by .98 inches when folded down. When opened, it measures 3.2 by .98 by 5.5 inches. As you would guess, it's also lightweight, weighing only 26 grams or .06 pounds. A bright green carrying pouch is included. This color is convenient because it could easily get lost.
A popular way to travel with this device is to pack it up with the gas canister inside the small pot you will use to cook. When you are living out of a
backpack
, each small corner of space is gold.
Ease of Use
To get cooking, you just need a gas canister, the BRS 3,000T, a cooking/boiling container, a lighter, and, of course, food. The stove is easy to open and screw onto the top of the liquid petroleum gas container. The device also cools down quickly, so it is easy to pack away right as you finish eating or drinking.
The control valve is placed far enough below the flame to avoid becoming too hot to touch. It is easy to move and allows you to create a small candle-like flame or a larger flame. Unfortunately, there is no built-in ignition nor a piezoelectric lighter included. You will need to rely on a good old-fashioned lighter.
Because the BRS 3,000T is so small, it functions best with other small items. It can handle two kilograms of weight or two liters of water without an issue. As you start to increase the weight and volume, the stove will still work, but not as well nor as quickly.
It is made for simple backpacking meals or beverages. If you insist on using a larger pot, you may need additional support. For example, you can balance the handle of the pot on a nearby surface.
Features
With a maximum output of 2,700 watts, this is a pretty strong little stove. On average, it consumes about 140 grams of gas per hour.
On a smaller scale, it uses about 8 grams of fuel to boil two cups of water. Of course, all of this depends on the strength of the flame you are using.
One thing that could be improved, but would increase the weight and size, is that there are no wind barriers. You can still get a flame in the wind, but it will take a very long time to cook something.
However, because the stove is so small, it's not difficult to create makeshift wind barriers with a backpack or by strategically placing the stove-carefully, of course.
Timewise, it takes approximately four minutes to boil one liter of water.
Durability
Depending on how you use this camping stove will largely affect its durability. While it claims to be made of titanium, it is definitely mixed with steel. For this price and weight, there is no way that it is 100% titanium. Because of this mixture, it is prone to melting if used at too high of a temperature for too long.
Unfortunately, the customer service of BRS seems to be lacking. However, the price of this item is quite cheap. Either way, use it wisely.
Comparison to Similar Camping Stoves
One of the biggest competitors of the BRS is the
MSR Pocket Rocket 2
. It costs nearly double the price of the BRS and looks very similar, but larger. It weighs 2.6 ounces or 74 grams and measures 3.1 by 1.7 by 1.3 inches. To boil one liter of water, it takes approximately three and half minutes.
This device is equally as easy to use-pop the legs out and screw it onto the gas canister. The MSR also has textured grips to hold the pot securely in place. Over the years, this product has proven to be more durable than the BRS. Additionally, it comes with a hard carrying case that helps to protect it when traveling.
The
Soto Windmaster
is, as you may have guessed, a great option for windy circumstances. On average, it boils one liter of water in four minutes. It weighs 2.3 ounces or 65 grams and measures 5.7 by 3.8 by 1.3 inches. In terms of price, it is about four times the price of the BRS- but keep in mind, the BRS is priced very affordably.
It holds the pot closer to the flame, allowing for less wind interference. Another great advantage is that the Soto is able to handle larger pots than the other two options mentioned here. If a few extra grams and space is not an issue for you, this is the most versatile and sturdiest of the bunch.
Verdict
Whether you want to use this as your main source of fire, or as a backup, it's an impressive little piece of equipment. It works best for heating food and liquid for just one person at a time, especially considering its small size. For the price of this item, you will be surprised by its abilities.

If BRS decides to release an upgraded version that is made from 100% titanium, we would jump on it. Overall, is it the best camping stove? No, but it is impressive, incredibly portable, and functions quite well. I think it's worth the small investment.
Subscribe to our Newsletter