Best Cold Weather Tents
last updated:
Feb 10, 2020
Let's face it; your lightweight, three-season tent is just not going to cut it in the winter. As a whole, these tents (or four-season tents) are designed primarily for use in the winter. While some of them can still be somewhat suitable in the fall and spring, three-season tents are the way to go during these seasons.
Yes, the tagline "four-season tents" is ridiculously misleading. These types of tents are designed with superior protection against the natural elements that come around in the winter. If you know you will be battling these types of conditions you will want to search for high-quality, cold weather tent.
To do so, you will need to educate yourself about what makes them great. Thankfully, we will provide that education for you. First, take a look at some of the best cold weather tents available right now.
This is the best product on our list that is currently in stock: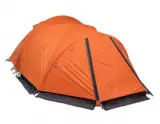 Marmot Thor Tent
Why is it better?
It is a true four-season tent
It comes with a repair kit
Sports incredibly durability
In a
Hurry? Editors choice: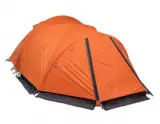 Test Winner: Marmot Thor Tent

4
Researched Sources
89
Reviews Considered
3.25
Hours Researching
21
Products Evaluated
Weather Resistance
Size
Ease of Use
Features
Portability
By Default
Our Top Picks for the Best Cold Weather Tents
Criteria Used for Evaluation


Weather Resistance
This section is simply just too important for you to overlook. It means everything.
There is a lot to dive into for this section so strap on it for the ride. Without question, the most important purpose of cold weather tents is to keep you warm when the weather turns frigid. All in the meanwhile, these types of tents need to be able to combat the wind, snow, rain, sleet, etc. Additionally, if you plan to camp when the temperature hits below zero then you will not want to search for premium options.
Now, regarding where you can begin, let's talk about the rainfly. This is the outer layer of the tent and, for winter models, it needs to come at least halfway down. As you may have guessed, indeed, winter tents should be designed with multiple layers.
The rainfly along with every other component of the tent also needs to be waterproof. This is utterly huge as when the snow melts, it turns into water. So, even if it does not rain, you will need the waterproof construction to combat snowfall (which can get pretty intense). Look for models that sport sufficient waterproof coatings and also fully-sealed seams. You do not want any water to seep through the seams, after all.
One last note, it is also a good idea to see what other users have had to say about a specific winter tent. This will allow you to accurately gauge how well a specific model will work for your needs.


Size
As you need to buy a model that protects you from the elements, it also needs to be big enough for you.
As with any other tent you ever go to buy, you need to make sure that you buy a cold-weather tent that can sleep as many people as you need. If you are buying only for yourself then you will have more options at your disposal (as you can always go larger). But, you may need to account for your spouse, friends, or even your entire family.
Either way, you will want to pay attention to how many people cold weather tents are rated to sleep. Thankfully, manufacturers will provide you with this information. Models can vary significantly in this department (some will only sleep one while others will be rated to sleep up to nine or ten).
However, there is something else you need to think about here. Due to the natural elements of winter weather, you may spend more time in your tent than you normally would. Plus, you may need to pack more gear with you. What this is getting at is you may need more space than you think.
So, it may be a good idea to buy a tent that sleeps one more person than you have. For example, if you need to sleep three, go with a tent that is rated to sleep four.


Ease of Use
While this section will come down to your skill level, in a way, there are certain features that you can look for.
Here is the reality of the situation; assembling cold weather tent is almost like riding a bicycle. At first, it can be really tricky to get the hang of it. But, after some practice and dedication, you will begin to get a feel for it. Then, before you know it, you will have mastered the craft.
Basically, the point is, the more times you set up a tent the better and more efficient you are going to be at it. And, the same goes for four-season tents. Then again, certain models can make the process easier than others.
With the addition of color-coded poles, well-designed hardware, and competent instructions, certain tents will be much easier to assemble. Of course, when speaking for larger tents, it is always going to be easier if you can get a helping hand or two.
Even if you are paranoid that you will not be able to figure out how to erect your shelter, you could always practice in your backyard (even in the summer) to get the feel for it a little bit.


Features
Indeed, there are actually quite a few incredibly important features to keep in mind.
Though it may seem odd, one of the most important features for any well-designed cold weather tent is for it to sport ample ventilation. While you would think that would allow the interior heat to escape, it is actually used to combat condensation. Without proper ventilation, your body is going to create moisture and this is going to condensate on the tent.
Then, if the weather is cold enough, this will transform into frost. After all of this, this same frost will eventually melt inside your tent. To prevent this, look for the interior walls to sport full-zippered vents. The reason it is important to look for the vents to be fully-zippered is so you can control the climate with superior efficiency.
Past proper ventilation, you may also want to look for models that sport two doors. A second door can come in handy in case of emergencies or if more than one person needs to enter or exit the tent.
Additionally, you can look for models with vestibules (which can be used to store your snowy winter boots) or even interior storage pouches and such.


Portability
This may or may not pertain to you and what you need a winter tent for, quite frankly.
There is something very important that you need to ask yourself. Do you plan to camp in the winter or do you plan to go backpacking in the winter? Even better, do you want to go on an expedition in the winter? Figuring out which activity you plan to partake in is going to help with this section mightily.
We are not going to sugarcoat it; if you want to go hiking or backpacking, your options will be much more limited. As you will need to physically carry around the four-season tent you buy, it can't weight too much. In general, you can expect four-season tents to weight a little bit more than others.
Their added protection against the elements will come at the cost of extra weight, unfortunately. If you are camping and can simply store your tent in your vehicle, the weight will not matter as much.
Also, some sellers will include carrying bags with your purchase. When it comes to tents, you should definitely look for this sort of feature as it can make things much, much easier for you.
Expert Interviews & Opinions
Most Important Criteria
(According to our experts opinion)
Experts Opinion
Editors Opinion
Users Opinion
By Default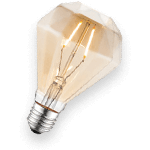 Weather Resistance
To be honest, probably around 50 to 60 percent of your time should be dedicated to this section. Indeed, it is literally that vital and important to you. At the end of the day, you need a winter tent to be able to protect you from the elements (and keep you warm in the meanwhile). This is especially true if you plan to use them in below-zero climates.
Size
If you have ever shopped for tents then you understand the importance of this section. Without question, you need to buy a model that will comfortably sleep the number of people you need it to. But, there is also something else you need to keep in mind for this section.
Ease of Use
For the most part, as will be discussed in this section, your own skill will dictate how easy you find assembling most four-season tents out there. Then again, there are certain areas where designers and engineers can make things simpler for you. Of course, never forget that practice makes perfect for something such as this.
Frequently Asked Questions
q:

What is the difference between a three-season and four-season tent?

a:

Due to their names, you would think that a four-season tent would be designed to work in all four seasons and that a three-season one would not be. Well, it is true that three-season tents are designed for only three seasons (spring, summer and fall).

However, as was alluded to before, four-season models are really just optimized for use in the winter. Technically, you could use them in other seasons, though. With that said, do yourself a favor and avoid using four-season models in the summer (as you will overheat).
q:

Do you actually need a winter tent?

a:

Oh boy, this is the million-dollar question, is it not? Is it really going to be necessary for you to pack a winter tent? Well, it is actually feasible to use tents that are not designed for the winter in the winter. But, it does depend on how cold the nights will be.

If below-freezing temperatures are headed your way then you may not want to mess around with anything but cold weather tents.
q:

How do you keep your water from freezing?

a:

Camping in the winter makes everything harder, quite frankly. And, one of those instances happens to be your water freezing over during the night. You do have a few options at your disposal to try to prevent this, though.

For starters, if you are using a thermos, store it inside your sleeping bag overnight. If you do not want to do this, store it upside down in a snowbank. While this seems ludicrous, the snow will act as an insulator and hopefully prevent the top half from freezing.
q:

What about other gear you need to keep you warm?

a:

If you are reading this then it can only be assumed that you have an interest in winter camping or backpacking. This then means you should know about some other winter camping gear that can help you on your adventure.

While an entire guide could be dedicated to this, you should consider bringing along space heaters, heavily-insulated sleeping bags, and even sleeping pads (just to name a few things).
q:

Is it too cold outside to camp?

a:

You are the only person that is going to be able to answer this question. It is like asking somebody if they think it is too hot to run. Everyone has a different tolerance to the weather, after all. It also depends on what gear you tag along, however.

If you buy a skimpy tent with skimpy sleeping bags and pillows, you may freeze your little tail off even during mild winter nights. This is why it is so vital to actually research what the weather is supposed to look like for your trip. While it can always change, you should at least have an idea.
q:

Can you use electric heaters inside tents?

a:

Whenever you use electrical items inside a tent, you need to be careful. While you will see some experts abide against using heaters in tents, it depends on which ones you go with. Ideally, go with those where the flame is not exposed.

Of course, there are also cold weather tents available that sport stove holes. As was seen on this list, such designs can account for wood-burning stoves to allow you to be warm and cozy without ever leaving your tent.
Subscribe to our Newsletter