Best Cold Weather Tents
In a Hurry? Editors choice: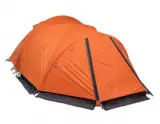 Test Winner: Marmot Thor Tent

Let's face it; your lightweight,
three-season tent
is just not going to cut it in the winter. As a whole, these tents (or four-season tents) are designed primarily for use in the winter. While some of them can still be somewhat suitable in the fall and spring, three-season tents are the way to go during these seasons.
Yes, the tagline "four-season tents" is ridiculously misleading. These types of tents are designed with superior protection against the natural elements that come around in the winter. If you know you will be battling these types of conditions you will want to search for high-quality, cold weather tent.
To do so, you will need to educate yourself about what makes them great. Thankfully, we will provide that education for you. First, take a look at some of the best cold weather tents available right now.
Standout Picks
Criteria Used for Evaluation
Weather Resistance
This section is simply just too important for you to overlook. It means everything.
There is a lot to dive into for this section so strap on it for the ride. Without question, the most important purpose of cold weather tents is to keep you warm when the weather turns frigid. All in the meanwhile, these types of tents need to be able to combat the wind, snow, rain, sleet, etc. Additionally, if you plan to camp when the temperature hits below zero then you will not want to search for premium options.
Now, regarding where you can begin, let's talk about the rainfly. This is the outer layer of the tent and, for winter models, it needs to come at least halfway down. As you may have guessed, indeed, winter tents should be designed with multiple layers.
The rainfly along with every other component of the tent also needs to be waterproof. This is utterly huge as when the snow melts, it turns into water. So, even if it does not rain, you will need the waterproof construction to combat snowfall (which can get pretty intense). Look for models that sport sufficient waterproof coatings and also fully-sealed seams. You do not want any water to seep through the seams, after all.
One last note, it is also a good idea to see what other users have had to say about a specific winter tent. This will allow you to accurately gauge how well a specific model will work for your needs.
Size
As you need to buy a model that protects you from the elements, it also needs to be big enough for you.
As with any other tent you ever go to buy, you need to make sure that you buy a cold-weather tent that can sleep as many people as you need. If you are buying only for yourself then you will have more options at your disposal (as you can always go larger). But, you may need to account for your spouse, friends, or even your entire family.
Either way, you will want to pay attention to how many people cold weather tents are rated to sleep. Thankfully, manufacturers will provide you with this information. Models can vary significantly in this department (some will only sleep one while others will be rated to sleep up to nine or ten).
However, there is something else you need to think about here. Due to the natural elements of winter weather, you may spend more time in your tent than you normally would. Plus, you may need to pack more gear with you. What this is getting at is you may need more space than you think.
So, it may be a good idea to buy a tent that sleeps one more person than you have. For example, if you need to sleep three, go with a tent that is rated to sleep four.
Ease of Use
While this section will come down to your skill level, in a way, there are certain features that you can look for.
Here is the reality of the situation; assembling cold weather tent is almost like riding a bicycle. At first, it can be really tricky to get the hang of it. But, after some practice and dedication, you will begin to get a feel for it. Then, before you know it, you will have mastered the craft.
Basically, the point is, the more times you set up a tent the better and more efficient you are going to be at it. And, the same goes for four-season tents. Then again, certain models can make the process easier than others.
With the addition of color-coded poles, well-designed hardware, and competent instructions, certain tents will be much easier to assemble. Of course, when speaking for larger tents, it is always going to be easier if you can get a helping hand or two.
Even if you are paranoid that you will not be able to figure out how to erect your shelter, you could always practice in your backyard (even in the summer) to get the feel for it a little bit.
Features
Indeed, there are actually quite a few incredibly important features to keep in mind.
Though it may seem odd, one of the most important features for any well-designed cold weather tent is for it to sport ample ventilation. While you would think that would allow the interior heat to escape, it is actually used to combat condensation. Without proper ventilation, your body is going to create moisture and this is going to condensate on the tent.
Then, if the weather is cold enough, this will transform into frost. After all of this, this same frost will eventually melt inside your tent. To prevent this, look for the interior walls to sport full-zippered vents. The reason it is important to look for the vents to be fully-zippered is so you can control the climate with superior efficiency.
Past proper ventilation, you may also want to look for models that sport two doors. A second door can come in handy in case of emergencies or if more than one person needs to enter or exit the tent.
Additionally, you can look for models with vestibules (which can be used to store your snowy winter boots) or even interior storage pouches and such.
Portability
This may or may not pertain to you and what you need a winter tent for, quite frankly.
There is something very important that you need to ask yourself. Do you plan to camp in the winter or do you plan to go backpacking in the winter? Even better, do you want to go on an expedition in the winter? Figuring out which activity you plan to partake in is going to help with this section mightily.
We are not going to sugarcoat it; if you want to go hiking or backpacking, your options will be much more limited. As you will need to physically carry around the four-season tent you buy, it can't weight too much. In general, you can expect four-season tents to weight a little bit more than others.
Their added protection against the elements will come at the cost of extra weight, unfortunately. If you are camping and can simply store your tent in your vehicle, the weight will not matter as much.
Also, some sellers will include carrying bags with your purchase. When it comes to tents, you should definitely look for this sort of feature as it can make things much, much easier for you.
Our Top Picks for the Best Cold Weather Tents
1

. The North Face 2-Meter Dome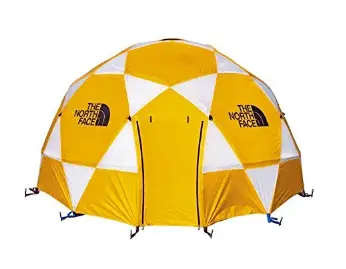 To say that this thing is an absolute beast is an understatement. This is an eight-person tent and, quite frankly, is best used for expeditions due to its weight and price.
Read more
Weather Resistance
Without question, this is as heavy-duty cold weather tent as it is ever going to get. Even in literal freezing temperatures (down to the negatives), this is easily going to keep you warm and protected from the weather.
Size
This is an eight-person expedition tent. Indeed, it is not designed for just a few people on a hiking trip. In addition to sleeping eight, the internal height reaches 81 inches.
Ease of Use
Now, due to the sheer size of this winter tent, it is going to be easier to assemble with multiple people. Let's just say that this is not the tent you would want to set up and take down often.
Features
In addition to the three total doors that have been designed into this model, it also sports two exterior windows. These windows can help prevent condensation from forming.
Portability
As noted a few times, this is an expedition tent and is simply not designed for hiking or backpacking. It weighs 51 pounds in total. So, yeah, it is a beast.
Overall
Due to the price and the practicality of this winter tent, it is not going to be for everyone. However, if you are going on an expedition and require the most premium protection possible, here is your ticket.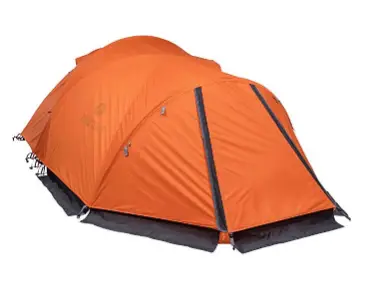 Indeed, the Marmot Thor Tent has an appropriate name as it is designed to withstand literally everything that comes your way. Its bomber construction ensures that.
Read more
Weather Resistance
Thanks to the double-wall design and the rugged and tough materials, this is a true four-season tent. This is for those of you who are serious about your winter camping.
Size
Marmot rates their Thor tent to sleep up to three people. Its physical size, for any of you who are wondering, is 43 by 56 by 93 inches.
Ease of Use
Overall, setting this bad boy up is not too taxing of a process. Granted you have a little time to attach some anchors and guidelines, you should have this puppy up in no time.
Features
Even if the snow and wind are howling, there are two D-shaped doors that allow for easy entry and exit. Also, this comes equipped with a poled vestibule to keep your gear safe and dry.
Portability
In total, this is right around 10 pounds in weight. For backpackers, this may be a bit too heavy. For campers, however, this weight should not be too much to deal with.
Overall
If you are not looking for something quite as extreme as The North Face 2-Meter Dome Tent then this is an excellent alternative. It boasts nearly as impressive a protective core, in fact.

3

. Black Diamond Eldorado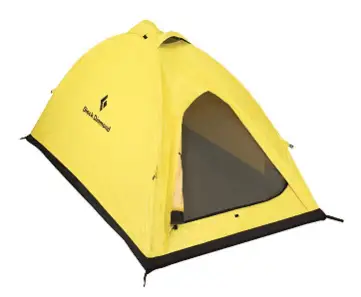 Everything about the design of the Eldorado was well-thought-out and given it was designed by Black Diamond that should not come as much of a surprise to anyone.
Read more
Weather Resistance
Thanks to the 100 percent seam taped and overall four-season design of the Eldorado, it will have no problems keeping you nice and cozy during those cold winter nights.
Size
Though this is rated to sleep two people, it is better suited for one if you like to have an adequate amount of space. For the record, this sports 30.8 square feet of area.
Ease of Use
What is really nice about the Eldorado is the fact that you can set it up from the inside. And, with the simple two-pole design, the actual process is also quite simple.
Features
With two vents located in the roof, it is very easy to vent this tend when need be. Additionally, it sports a single-door entry and also an optional vestibule.
Portability
Clocking in at just over five pounds, this is going to be suitable for backpacking in winter. And, for anyone else, it will be just as suitable.
Overall
For two smaller adults or possibly one adult and a few kids, the Eldorado will do wonders for you. It is built to withstand the coldest winter nights and is one of the better options out there.

4

. ALPS Mountaineering Tasmanian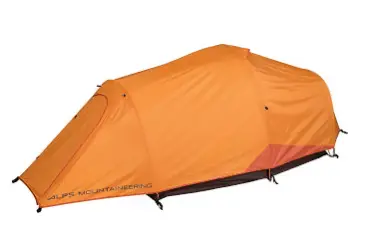 As with most cold weather tents, the Tasmanian Tent is a bit heavy for backpacking. However, it is one of the most protective tents you will ever sleep in, count on it.
Read more
Weather Resistance
Both the polyester fly and taffeta floor sport weatherproof coatings. And, in addition to the factory sealed seams, it is safe to say that this is one of the most protective cold weather tents on the market.
Size
This is rated to sleep up to three people, for the record. It is quite spacious but if you and a friend have a lot of gear to store, it may actually be better served for just the two of you.
Ease of Use
When the wind is not howling and the weather is calm, setting this up will be a breeze. However, admittedly, a second-hand does make the process much easier (especially during inclement weather).
Features
Being fully equipped with two doors (that both sport zippered mesh windows), mesh storage pockets, and two vestibules for additional storage space, this sports all the goodies.
Portability
As a whole, this weighs just less than 10 pounds. While certainly not unbearable, this tent is probably going to be a little too heavy for backpackers.
Overall
Leave it to ALPS Mountaineering, right? Their Tasmanian Tent is one of the best in the business and is jam-packed with features and amazing integrations.

5

. Mountain Hardwear Trango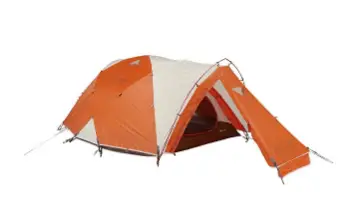 In addition to the full watertight and waterproof construction of the Trango, it sports mesh and canopy ventilation to prevent condensation from building up. Overall, it is just another brilliant cold weather tent.
Read more
Weather Resistance
Indeed, this is a fully watertight construction and it is also equipped with snow flaps to help seal out wind drifts. According to various buyers, it is perfect for wintertime use.
Size
This is the Trango 2, for the record, and it is rated to sleep two people. However, with two full-grown adults inside this sucker, there is not going to be much room for anything else.
Ease of Use
Due to the well-thought-out design of the Trango, it is fairly easy to assemble. It comes with reflective guy-out loops, zipper pulls, and color-coded starter tabs for easy pitching. However, the included spikes could be replaced for superior ones.
Features
The canopy and mesh doors allow this tent to be vented to prevent condensation from developing. Additionally, there are also large dry-entry vestibules that you can utilize.
Portability
When packed, this clocks in at just less than 10 pounds. For a well-designed four-season tent, this is about what you would expect.
Overall
This is another incredibly designed winter tent from another incredible manufacturer. At the end of the day, can you ask for much more than that?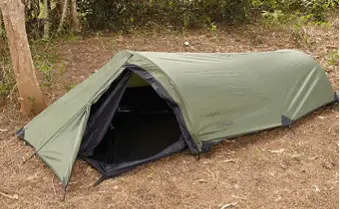 Alright, so let's say that you only need to account for yourself. The Lonosphere is designed to sleep one person and is actually compact while protecting you from the elements.
Read more
Weather Resistance
While you still may be a little cold when the temperatures get into the negatives at night, this works well for average winter nights. The waterproof flysheet provides very good protection for you.
Size
This is truly only designed for one person and when you see the photos, you will see why. It only stands three to four feet off of the ground, in fact.
Ease of Use
No, this is not a self-standing tent and stakes will be required. Due to the press-fit connectors, anodized poles, and compact nature, however, this is rather easy to set up.
Features
Despite the fact that this is a rather simple design, one of the best features is actually that you receive a repair kit. This is nice if you need to make quick repairs on the fly.
Portability
At least on this list, here is the winner for the most portable tent. It is only designed for one person, though, so it does make sense. For the record, it only weighs 2.5 pounds.
Overall
If you are only shopping for you and you alone then the Lonosphere may actually end up being your favorite option on this entire list. This is especially true if you want to do some backpacking in the winter.

7

. Geertop Backpacking Tent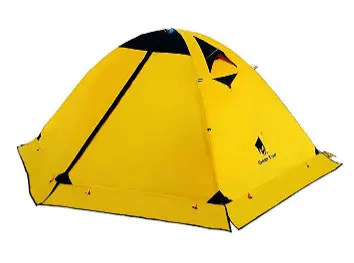 There are not too many of cold weather tents available but this tent is actually a somewhat suitable four-season, backpacking tent. It is not super lightweight, however, so do be aware of that.
Read more
Weather Resistance
The double-stitched seams provide an enhanced seal and the waterproof coatings are the icing on the cake, so to speak. The durable Oxford fabric is also a nice touch.
Size
There is enough room in this tent for two adults. Anything more than that and you are going to be pushing your luck, quite frankly.
Ease of Use
Overall, there have not been too many complaints in regard to the set up of this tent. Even just by yourself, you should be able to get this assembled in no time.
Features
As with other cold-weather tents, this is a double-layered model that sports both an inner and an outer tent. The inner tent sports two doors and multiple mesh windows. Also, there are plenty of interior pouches for you to utilize.
Portability
Yes, this is marketed as a backpacking tent. It weighs just over six pounds and comes with a lightweight carrying bag.
Overall
For all you backpackers out there looking for incredible two-person tents that are designed for winter, you might as well just stop looking right now. Yep, that pretty much says it all.

8

. Snow Peak Amenities Dome L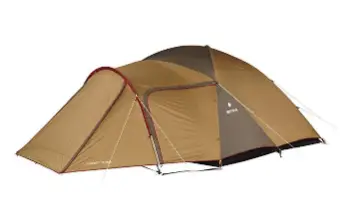 Though this is far from one of the most popular options on the market, this six-person tent is extremely well-designed. It is a great solution for those of you who need to sleep your entire family.
Read more
Weather Resistance
Indeed, the Amenities Dome L is a cold-weather tent that is ready for your winter adventures. It sports water-repellent coatings and was designed with a unique dome structure.
Size
The interior of this tent is not as irregular as the actual shape of the exterior is. And, it is rated to sleep up to six people. But, it can still be seen as a good solution for three to four people.
Ease of Use
If there is any confusion on how to assemble this beast, there is an instruction manual included. To make things easier, the poles are color-coded.
Features
When you need to vent this out, you can thank the mesh that has been implemented in the inner tent.
Portability
Even though a carrying case is included with your purchase, this is still not exactly portable. It weighs over 23 pounds and is not going to be suitable for backpackers.
Overall
When compared to more popular options, it is safe to say that this gets swept under the radar. It deserves more popularity, though, because it truly is fantastic.

9

. PlayDo Cotton Canvas Tent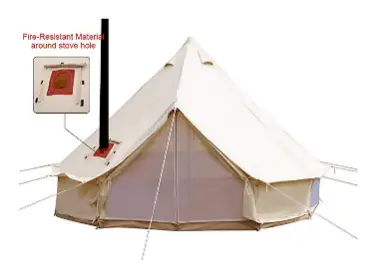 What makes this such a compelling and unique choice is the fact that it has been equipped with a stove hole. It is also breathable and waterproof, too, so that always helps.
Read more
Weather Resistance
Not only have the seams been taped but, overall, this entire tent has been treated with waterproof coatings. It is equipped to handle the elements, let's just say that.
Size
There are actually multiple sizes that you can select from. There is enough of a variety to buy almost any size for any situation you have.
Ease of Use
Now, though many users have noted that this is simple to assemble, a few buyers never received all the components. If this happens to you, be sure to contact the seller immediately.
Features
As mentioned, the most unique feature implemented into this tent is the hole for camping stoves. For the record, it also sports an electric cable hole if you feel the need to use it. Also, just to note, the actual wood-burning stove is not included with your purchase.
Portability
A carrying bag is included with your purchase. But, because you will probably want to tag along with a wood-burning stove, this tent is better served for campers.
Overall
If you do not want to go outside to have a fire then you may want to consider an option such as this. The stove hole is going to direct the smoke outside of your tent to make this possible.

10

. Terra Four-Season Tent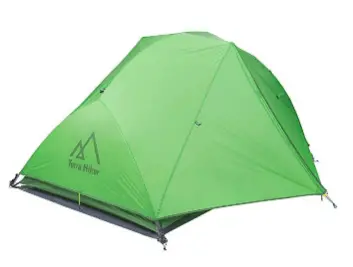 Overall, this is simply another highly compelling choice if you need to sleep at least two people. You may want to buy some better stakes, however.
Read more
Weather Resistance
Speaking for the double-layered protection of this tent, it does its job incredibly well when it comes to keeping you both warm and dry. The waterproof coatings also help.
Size
There is enough room inside this model to comfortably fit and sleep up to two adults.
Ease of Use
Most users have agreed that this is easy to set up. Both the poles and straps can easily be identified by their color-coding. With that said, the included stakes should be replaced for heavier-duty ones.
Features
Featured in this design are a mesh vent and also two doors. There is a door located at both the front and back for easy and quick entry and exit.
Portability
The combination of the weight (4.73 pounds) and included carrying bag make this one of the most portable units on this list.
Overall
Indeed, this is a really, really good cold weather tent. Just do yourself a favor and head to your local hardware store to pick up some superior stakes and you will be good to go.

Subscribe to our Newsletter