Merrell Alpine Sneaker
Not only do these alpine sneakers look great with their retro vibe and modern colors, but they also pair comfort, durability, and grip to create a well-rounded alpine sneaker.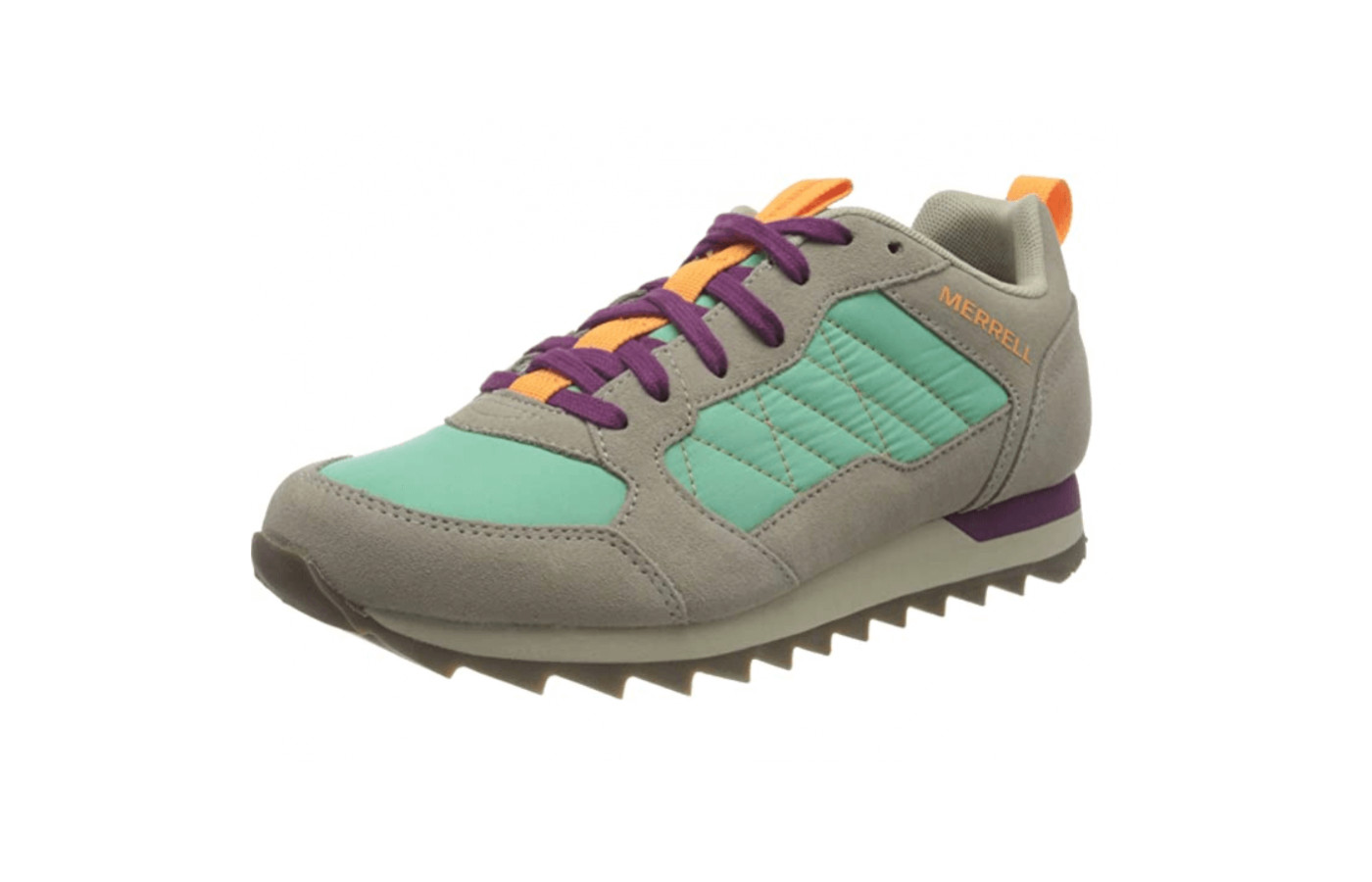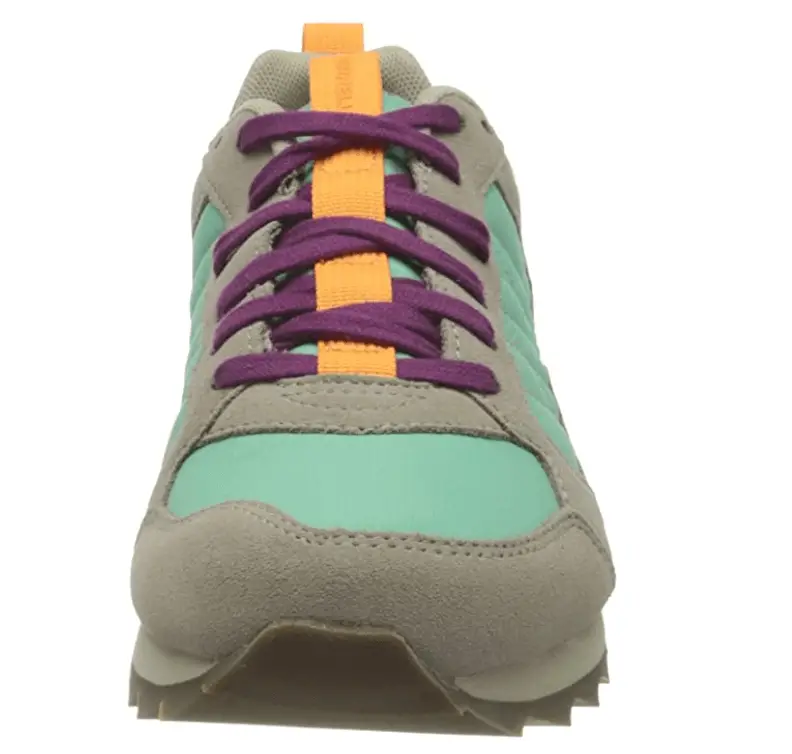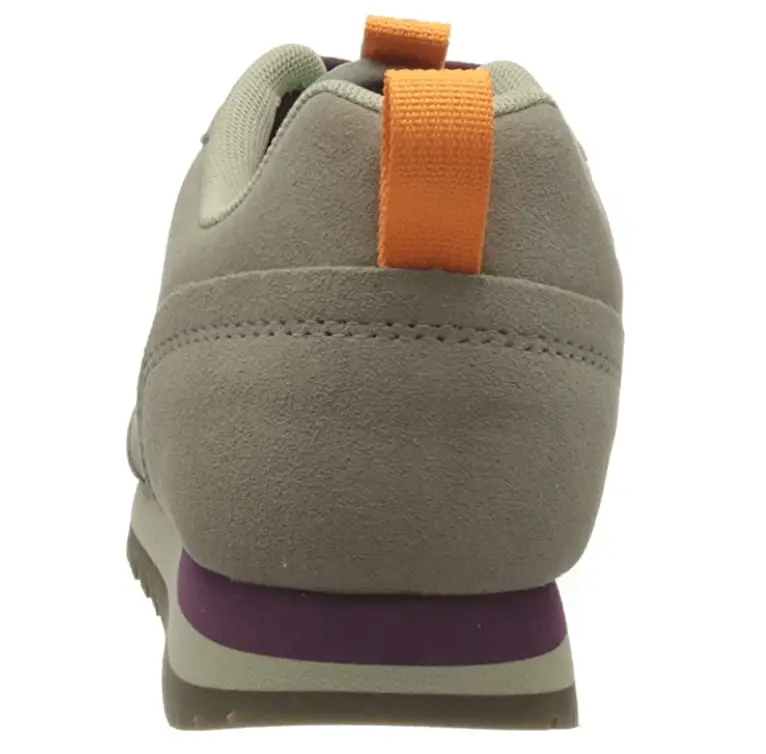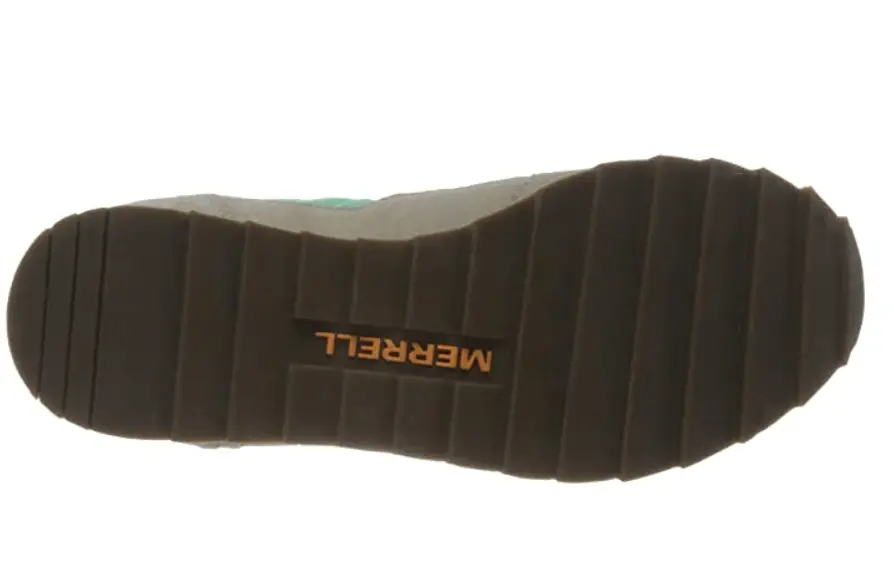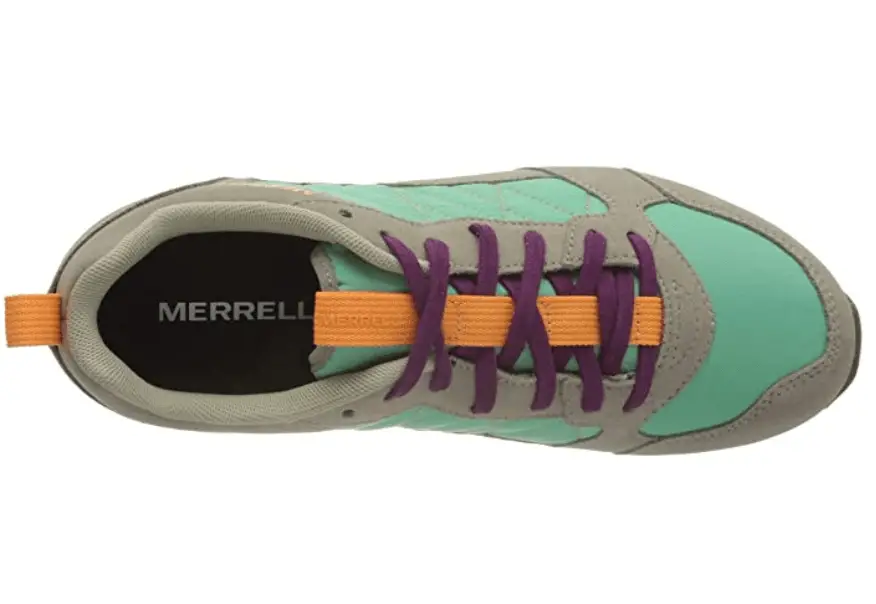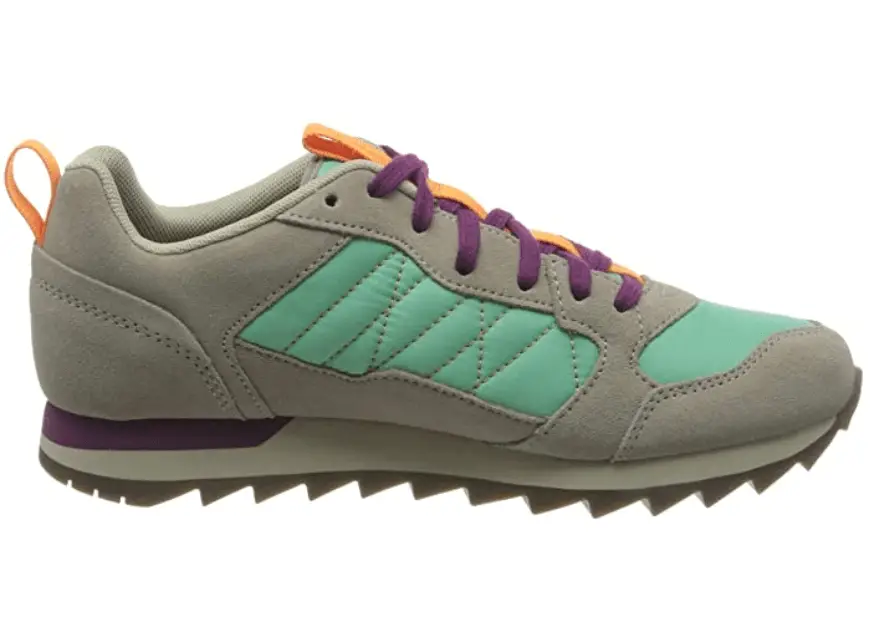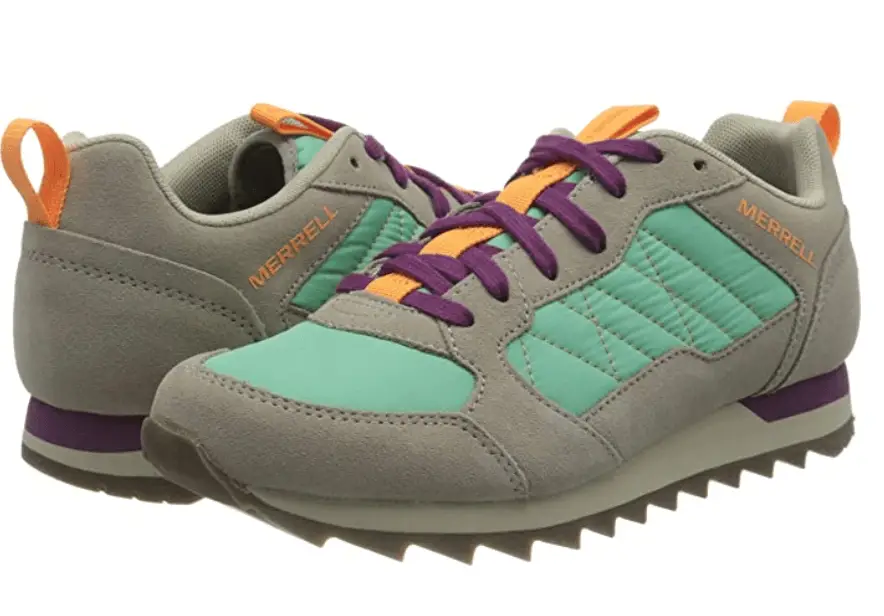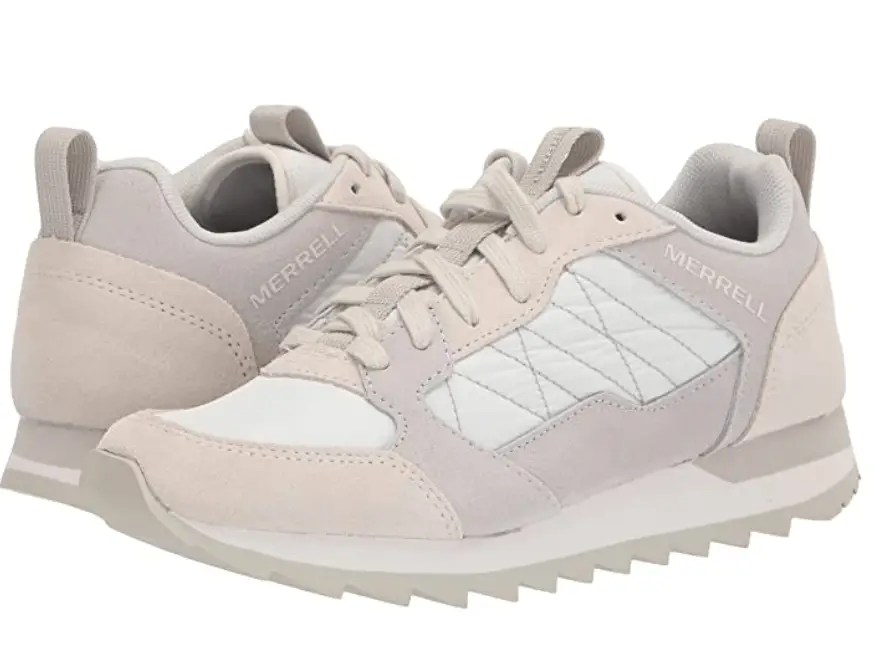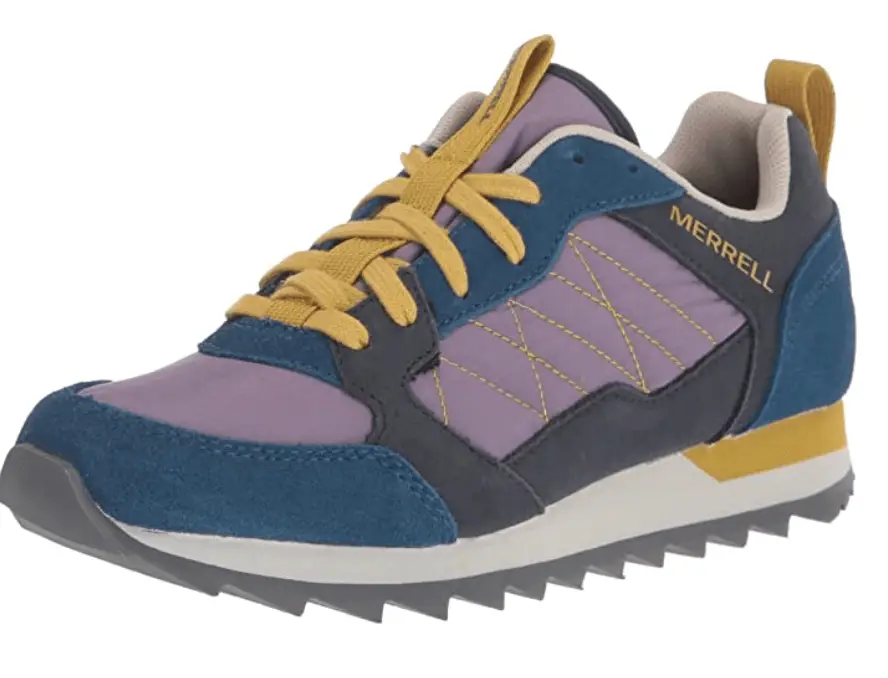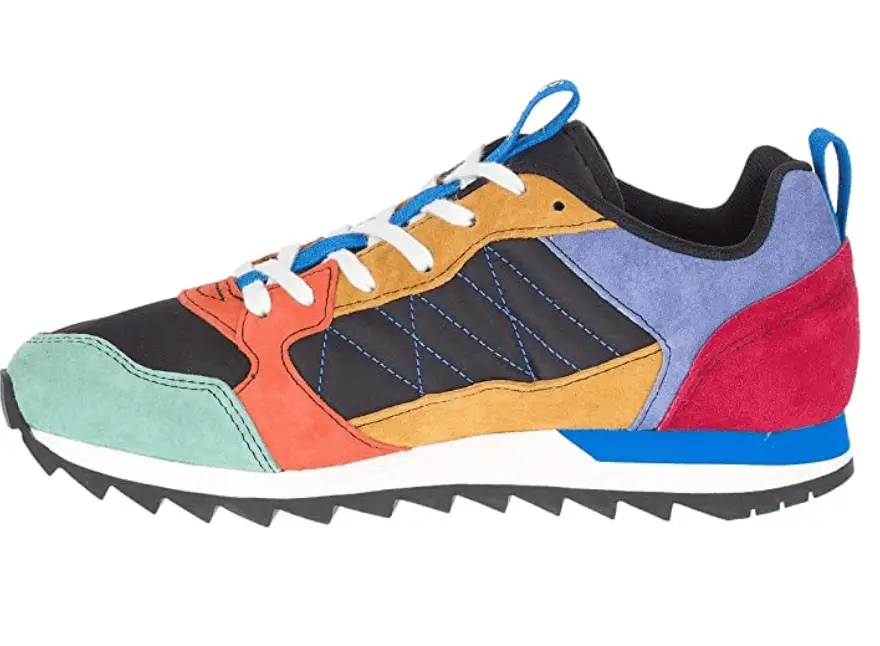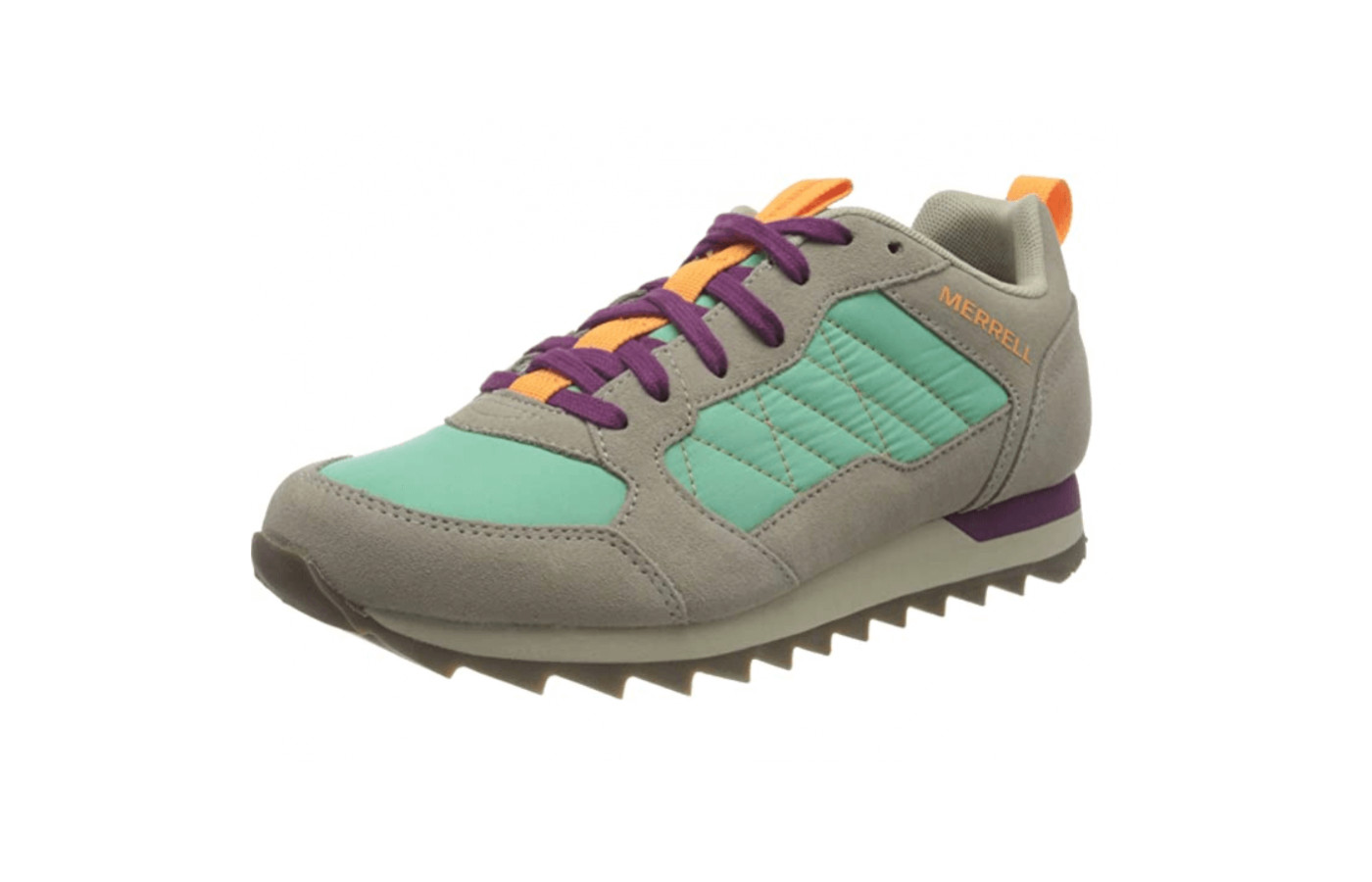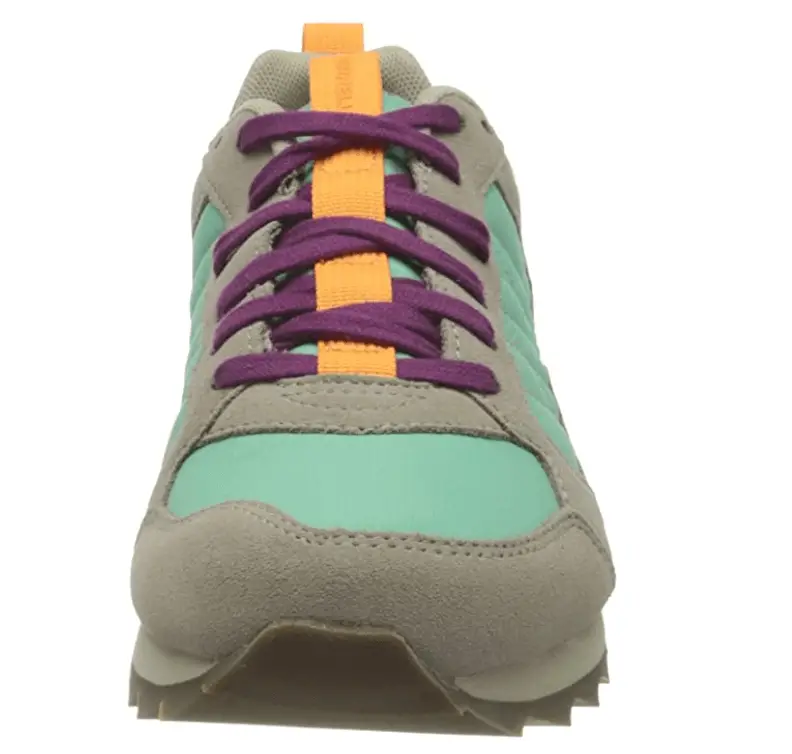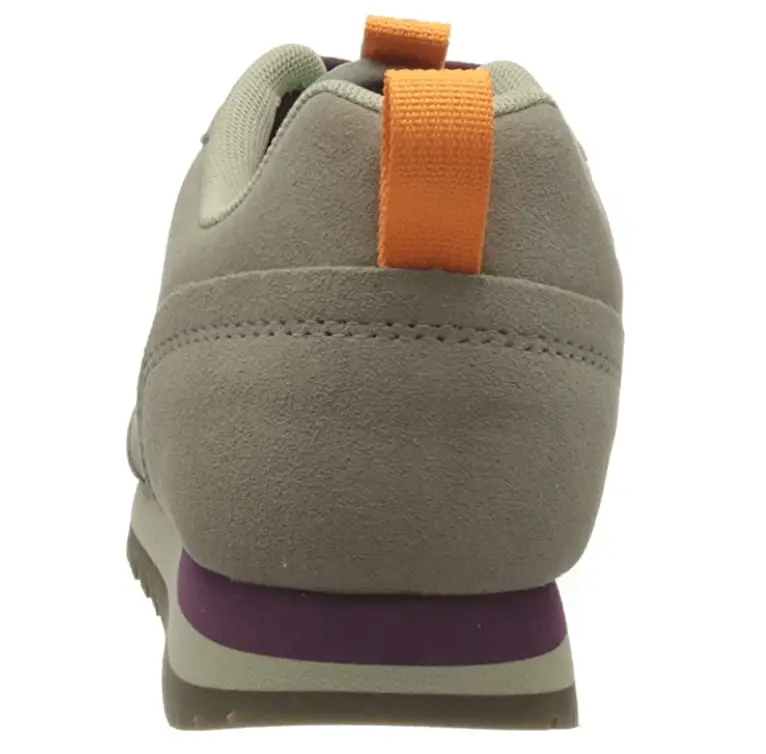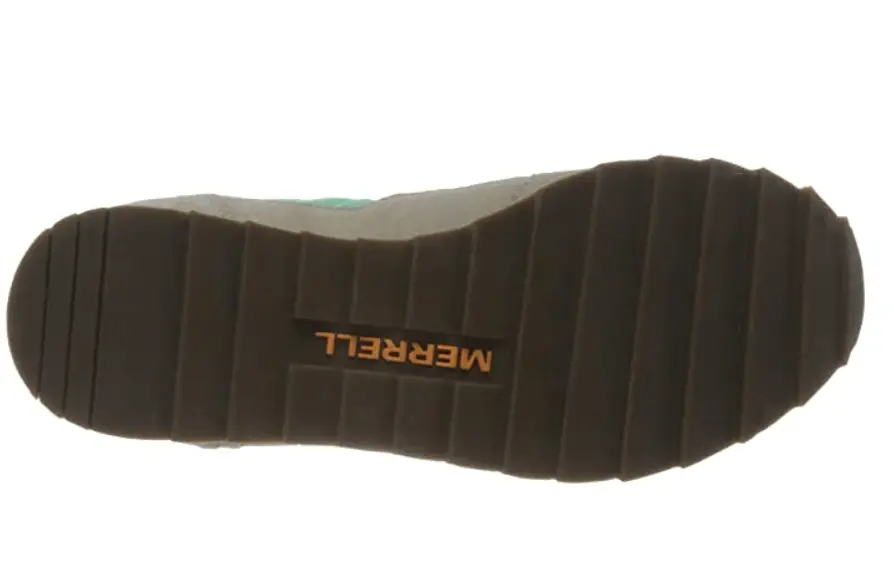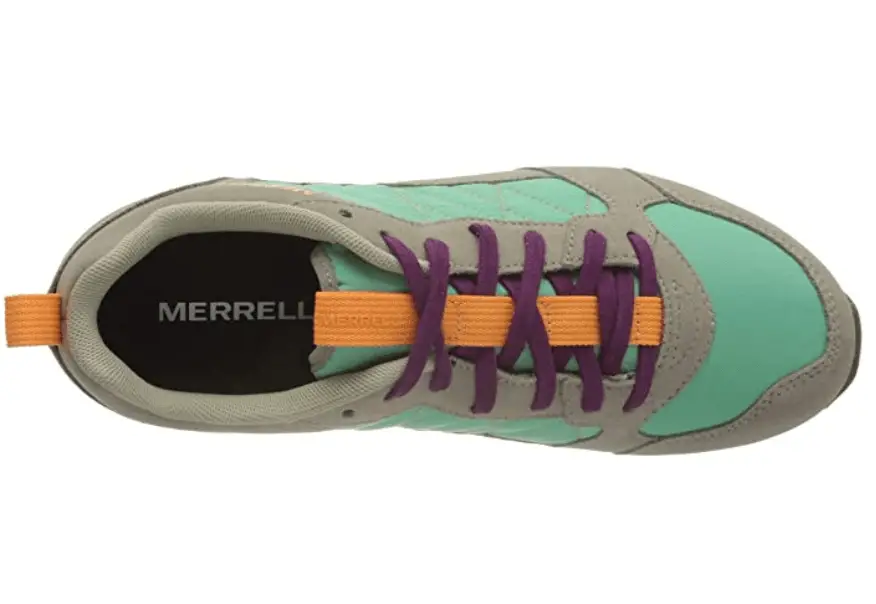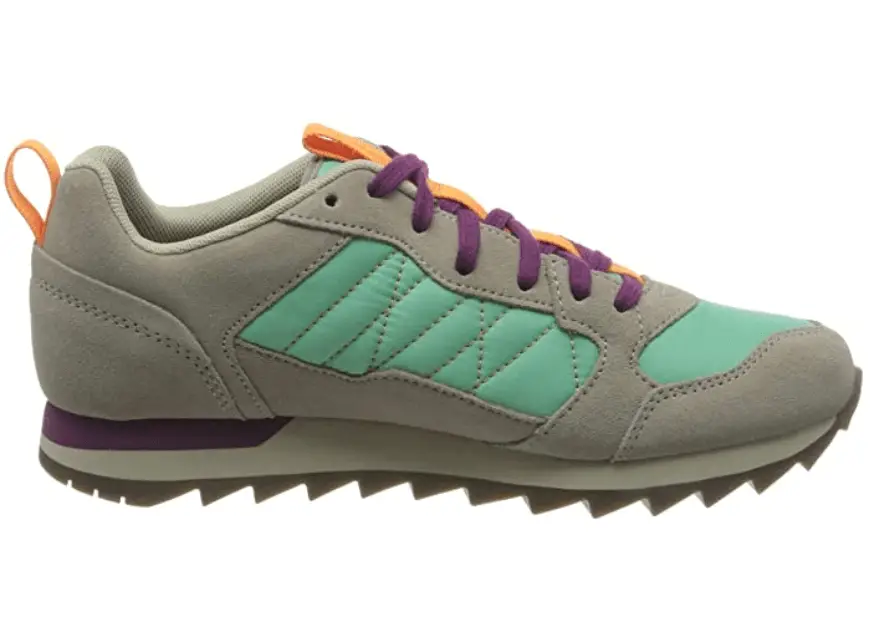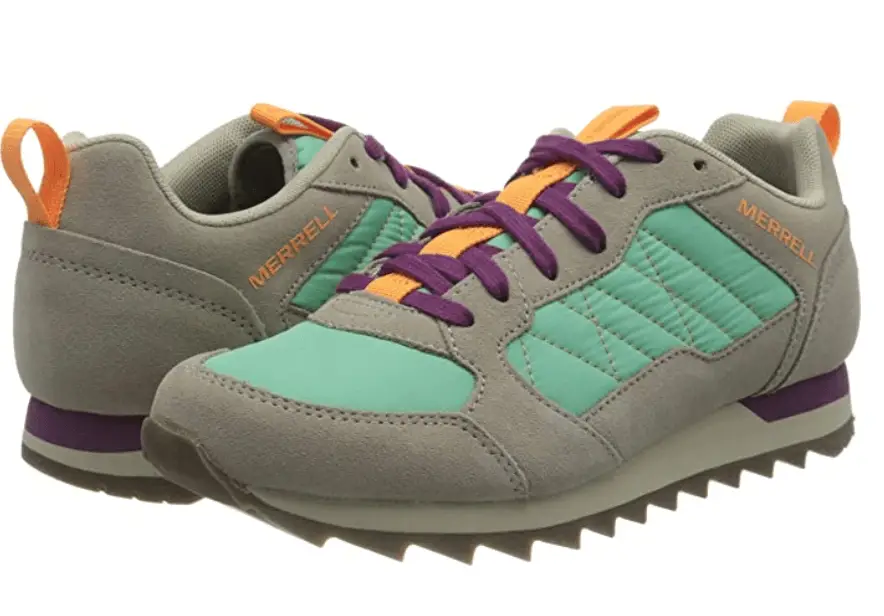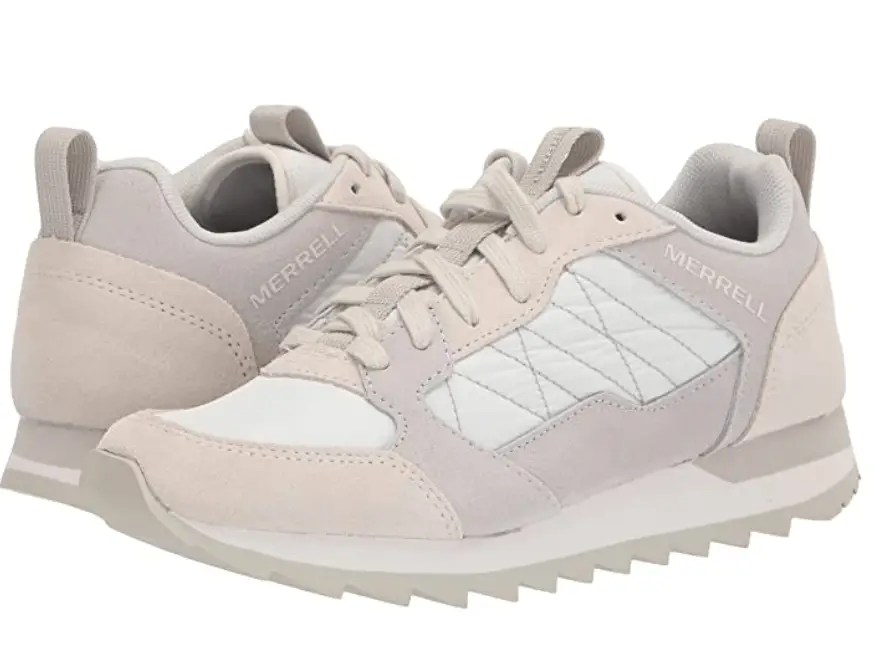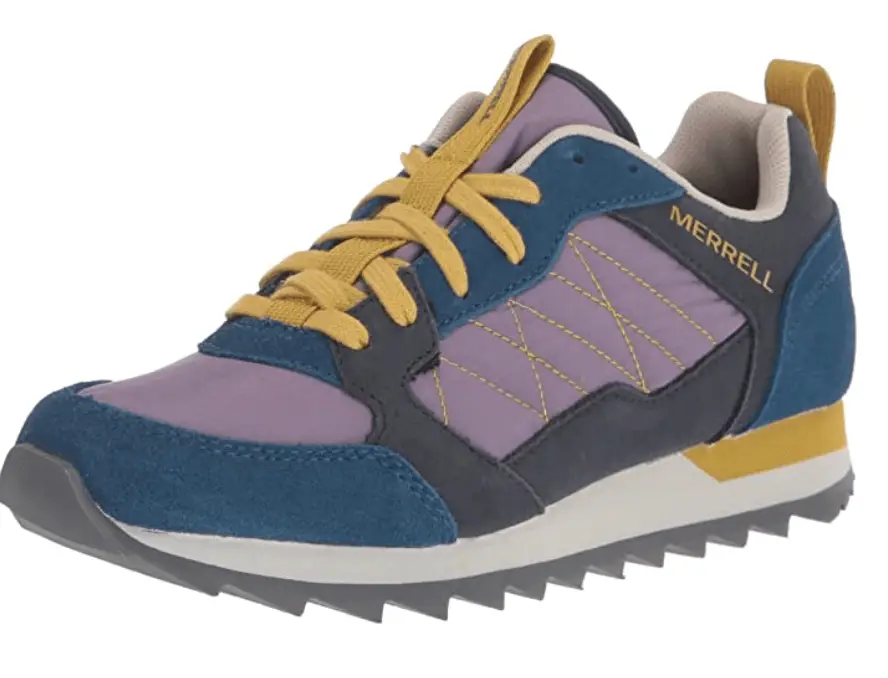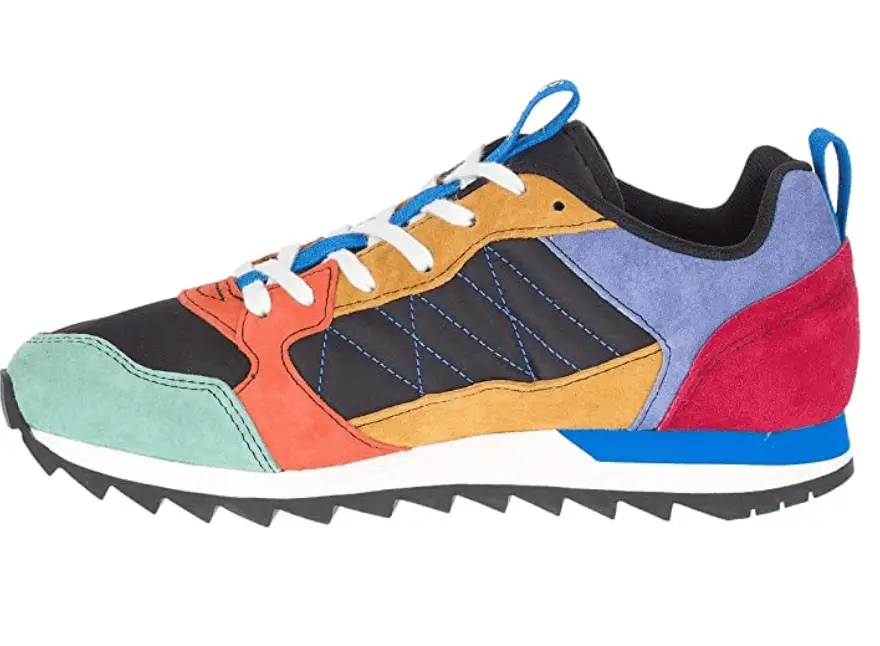 Our Conclusion
Putting on the Merrell Alpine sneakers means walking on clouds with the comfort and cushioning they provide. Unlike classic sneakers, Merrell sneakers always equal comfort and durable use.

The happy, raving customers online make it obvious this alpine sneaker is tough to beat. Combining style and comfort all in one go makes the Merrell Alpine sneakers suited to all of Merrell's customers.

Not only do these shoes look and feel great, but they're also versatile enough to use over most landscapes or activities. So, if you're after something to style up or down, these babies are also for you.
Pros & Cons
Men's and women's versions are available
Not suitable for backpacking
Not supportive enough for harsh mountaineering
Key Features
Key Features
Design
It's easy to see why customers love the Merrell Alpine sneaker, mainly due to its versatile and easy-to-use design. Making use of the removable Kinetic Fit™ insoles (with breathable mesh lining) ensures plenty of flexible support for the protected movement, letting your feet move far and fast. This clever lining also keeps your feet free from odors.
In general, this Merrell Alpine sneaker performs well on all-day hikes or just all-day use because of its lightweight design. However, you won't get the most stability because this is a low-cut and lightweight alpine sneaker.
Perhaps they are not the best suited for backpacking trips or technical hiking. For the most ease of use, keep things light.
Comfort
Whenever I'm checking out the reviews for Merrell products, there never seems to be an issue with comfort. The comfort levels they put into their
hiking shoes
are always out of this world. The heel ensures essential ankle support and cushioning for starters, while the slightly padded tongue adds extra comfort and keeps out debris.
Those with flat arches seem to find that the Merrell Alpine Sneakers help relieve the feet pain that often comes with classic sneakers. However, because Merrell utilizes the famous EVA foam for the midsole, you'll get extra stability and comfort for all-day use.
What's more, the Merrell brand is famous for its Kinetic Fit™ BASE removable contoured insole, which has been added to the Merrell Alpine Sneaker. Not only does this insole create extra support, but it reduces the chance of smelly feet.
Materials
Merrell always impresses with the superior materials that go into their shoes. Combining a removable Kinetic Fit™ Base and EVA midsole shows a commitment to the wearer's support and stability and comfort on the move.
The breathable mesh lining also adds extra cool comfort on hot days, which the rubber sole does an excellent job of protecting your feet and the longevity of these alpine sneakers.
Of course, you will get compliments when wearing these technical sneakers due to their stylish suede leather and textile upper, which also come in several striking colours.
Durability
Buying from Merrell never gives me pause for concern. They have a long-standing reputation for providing superior adventure footwear, and the Merrell Alpine sneaker appears to be no different.
Even though the Alpine sneaker looks and feels lightweight, it's also incredibly well put together. The materials and construction feel sturdy enough, and I've seen no other complaints online regarding durability.
What's more, using materials like a robust rubber outsole and reliable suede leather upper guarantees these alpine shoes will last for ages.
Comparison to Similar Alpine Shoes
I always think Merrell shoes come reasonably priced. They are not the cheapest hiking shoes, but not the most expensive either. When you consider the level of quality, they're great value for money.
If you're still sold on the Merrell brand and price,
Merrell Catalyst suede track shoe
is another excellent option for mountaineering, hiking and general everyday use.
These
mountaineering shoes
have a similar shape and design to the Alpine sneaker and offer superb traction and durability for extreme outdoor adventuring. Feeling secure and supported is also possible with the resilient suede outer plus robust lacing system.
Similar to the Merrell Alpine sneaker, the Catalyst Suede shoes from Merrell can also be dressed up or dressed down to tackle a meal with friends or a trek through the woods.
But if you're not entirely sure of the Merrell brand, why not try the
Salomon Oubound Prism GTX everyday trainer.
Sporting a revamp of their original outline shoe creates a trainer that has you covered for most occasions.
These shoes are perfect for short trips to the shops, gardening, pottering around town, walking the dog, or a stroll around the coast or up a mountain as a perfect everyday trainer. A light, comfortable and contemporary design creates this versatility that means you have everything you need in an outdoor shoe.
Although, for all this versatility, waterproofing, traction, and protection, you'll need to pay more than the Merrell brand.
Verdict
Bringing style, stability, and comfort in such a stylish shoe makes the Merrell Alpine sneaker pretty hard to beat. But then the Merrell brand is usually tough to be beaten. That's because wearing shoes like the Merrell Alpine sneaker ensures all the comfort, grip, and support you need.

This Alpine sneaker by Merrell is ideally suited to everyday use, moderate trails, or working all day on your feet. With lightweight hiking shoes like these, there's more than enough protection and support to see all of their customers happy.

You can't deny the retro-style design and colors (coming in multiple color options), which won't have you standing out from the crowd at the same time.
Subscribe to our Newsletter