NORTIV 8 Waterproof Hiking Boots
Buying a new pair of boots when things are tight is easy with the entirely affordable yet durable, comfortable, and high-performing NORTIV 8 waterproof hiking boots.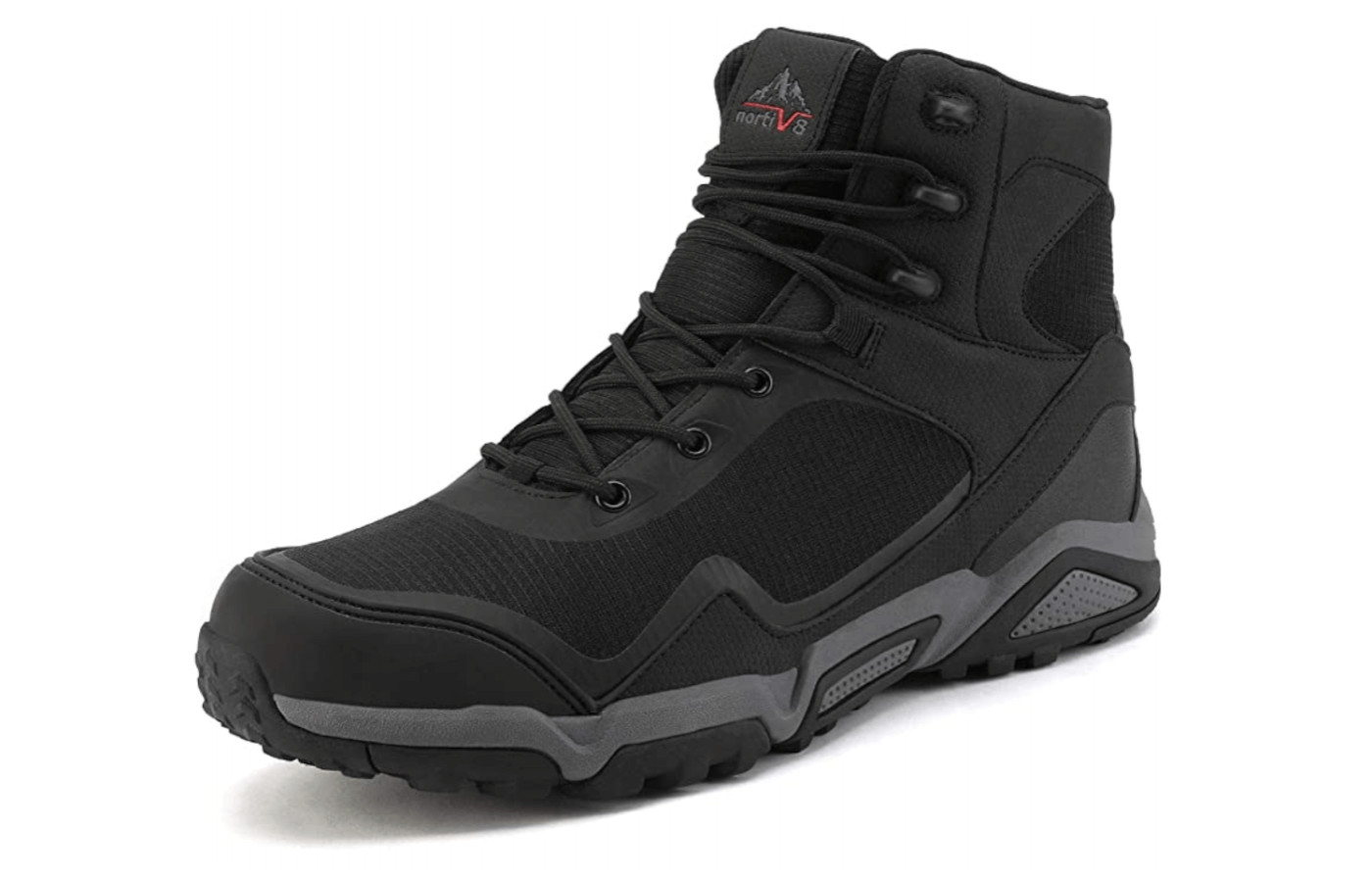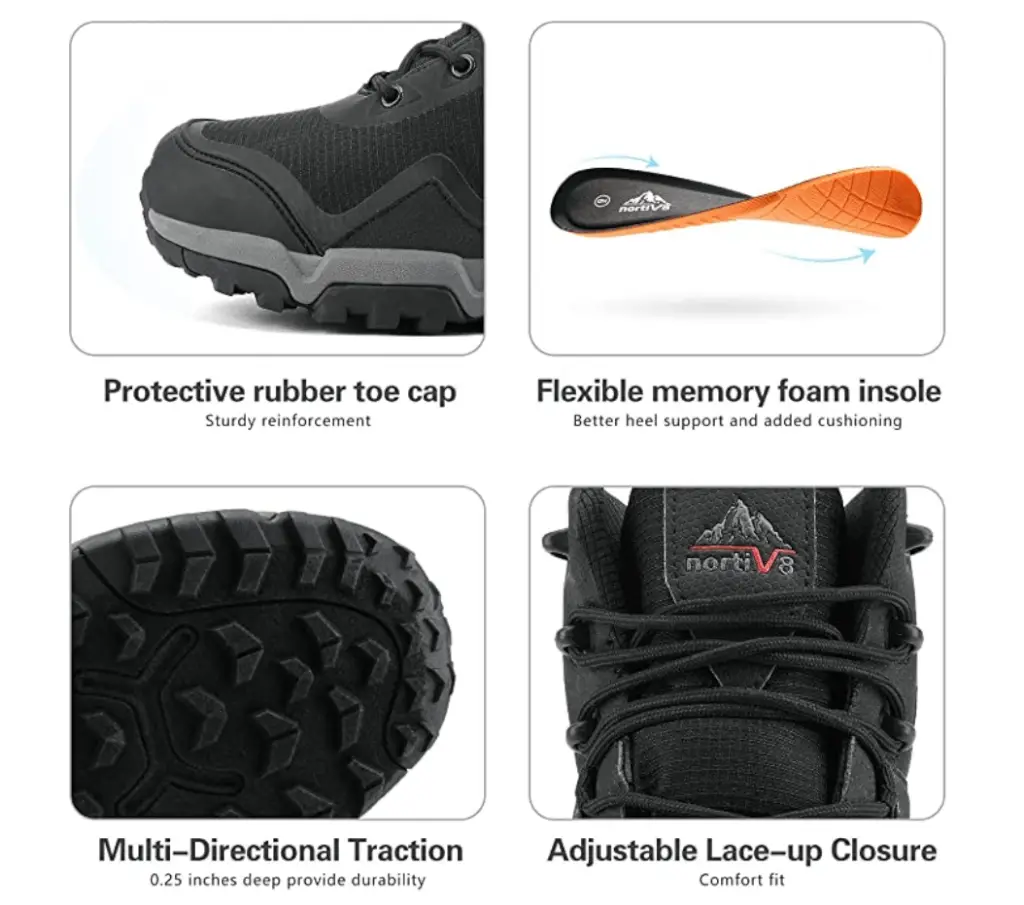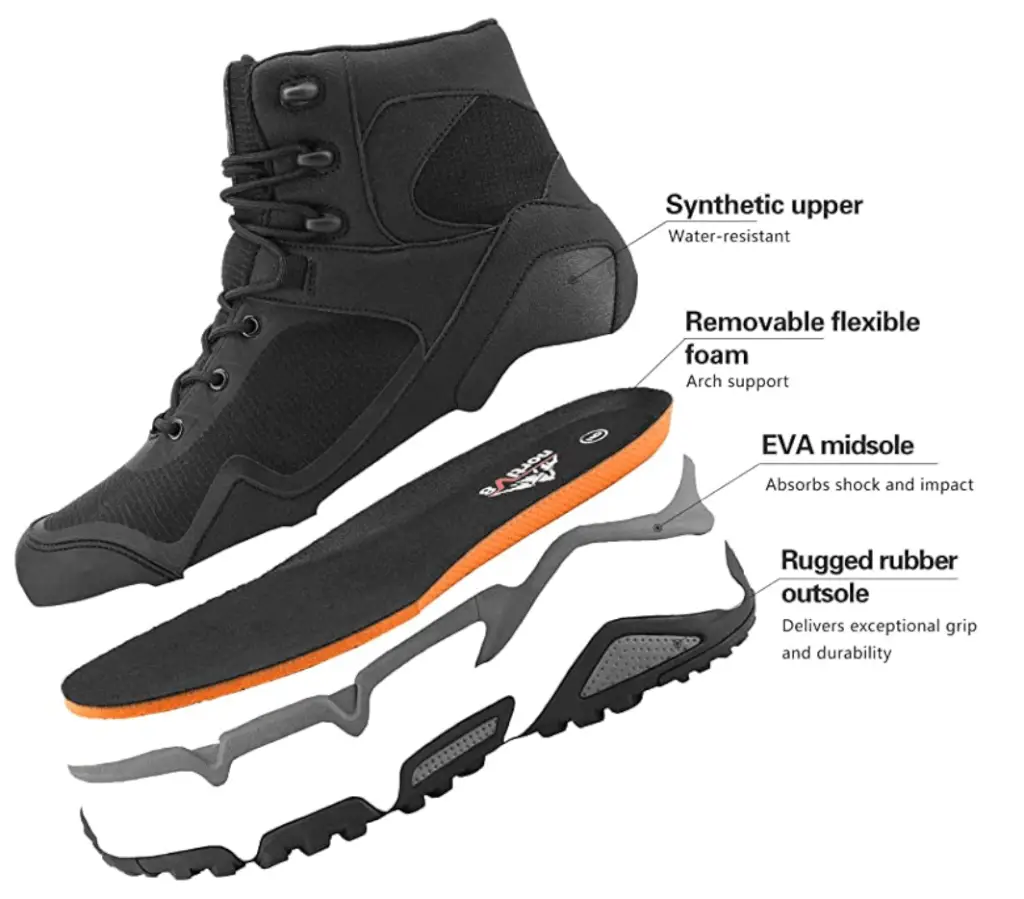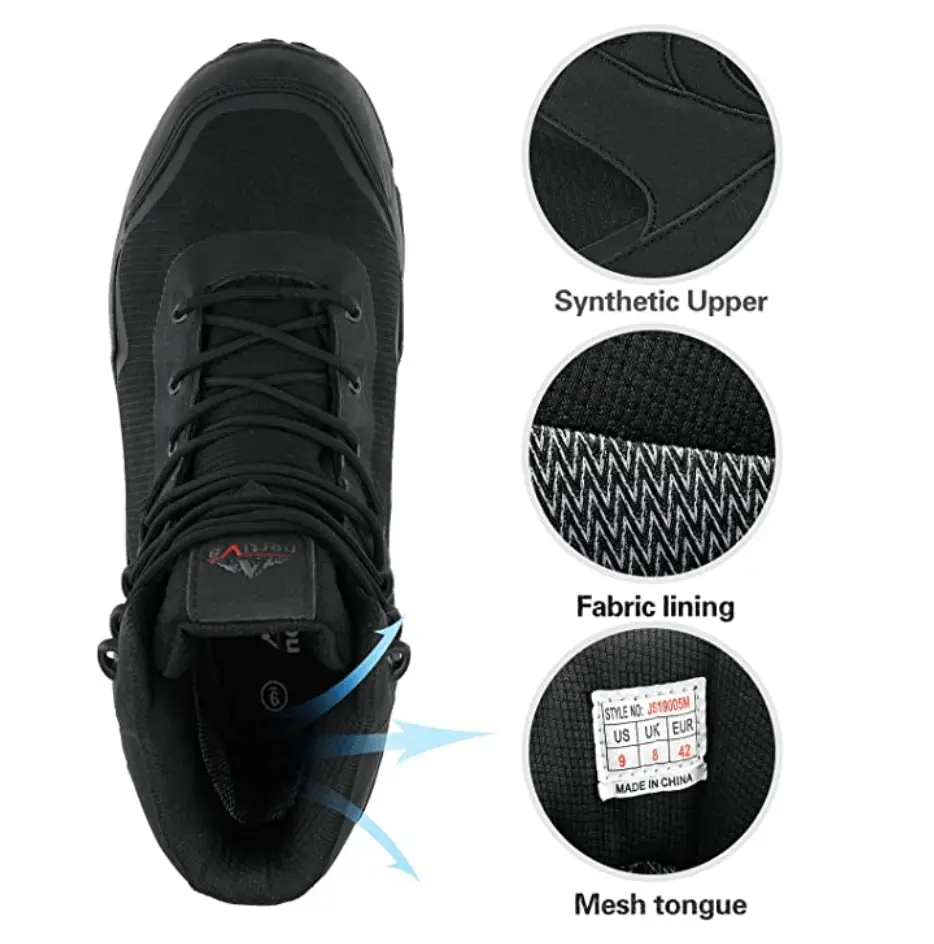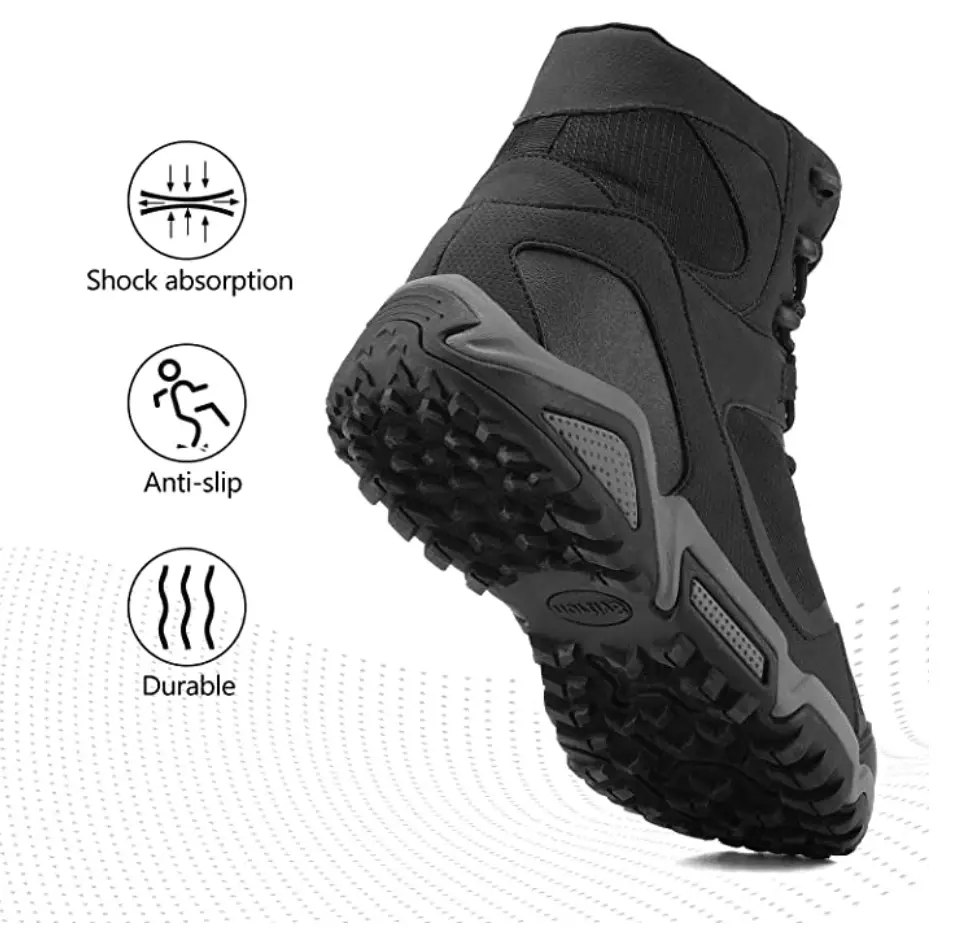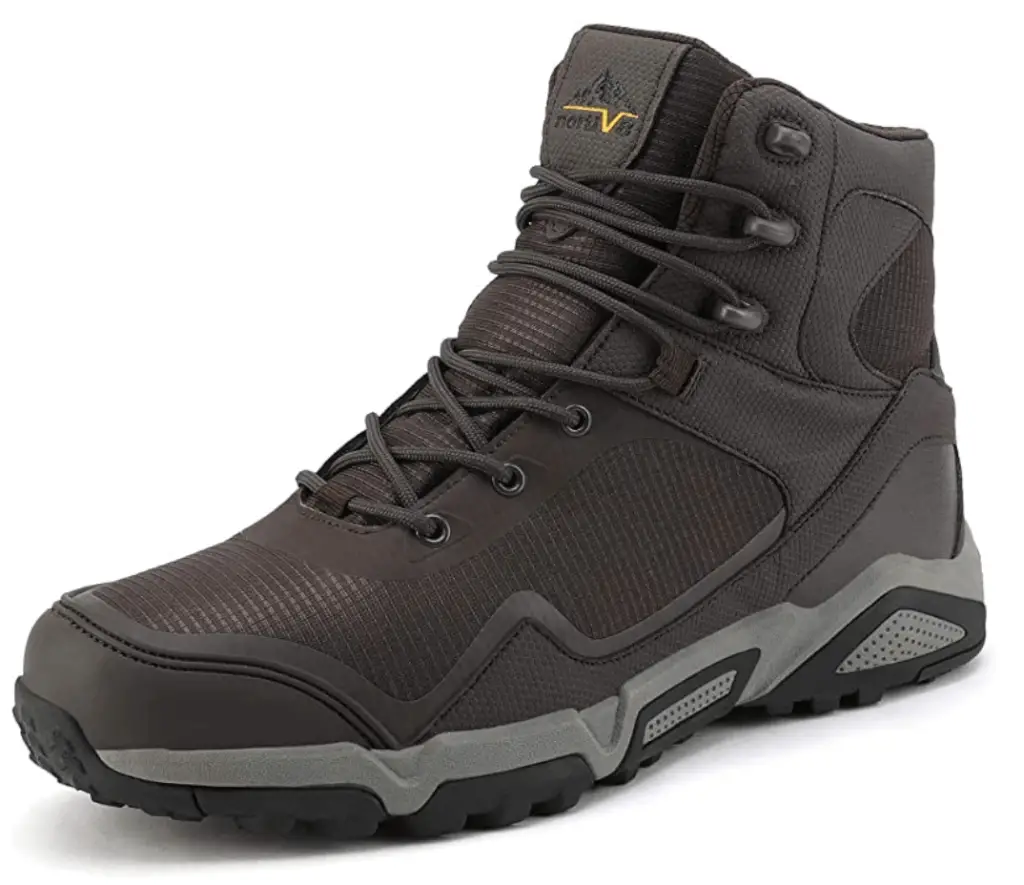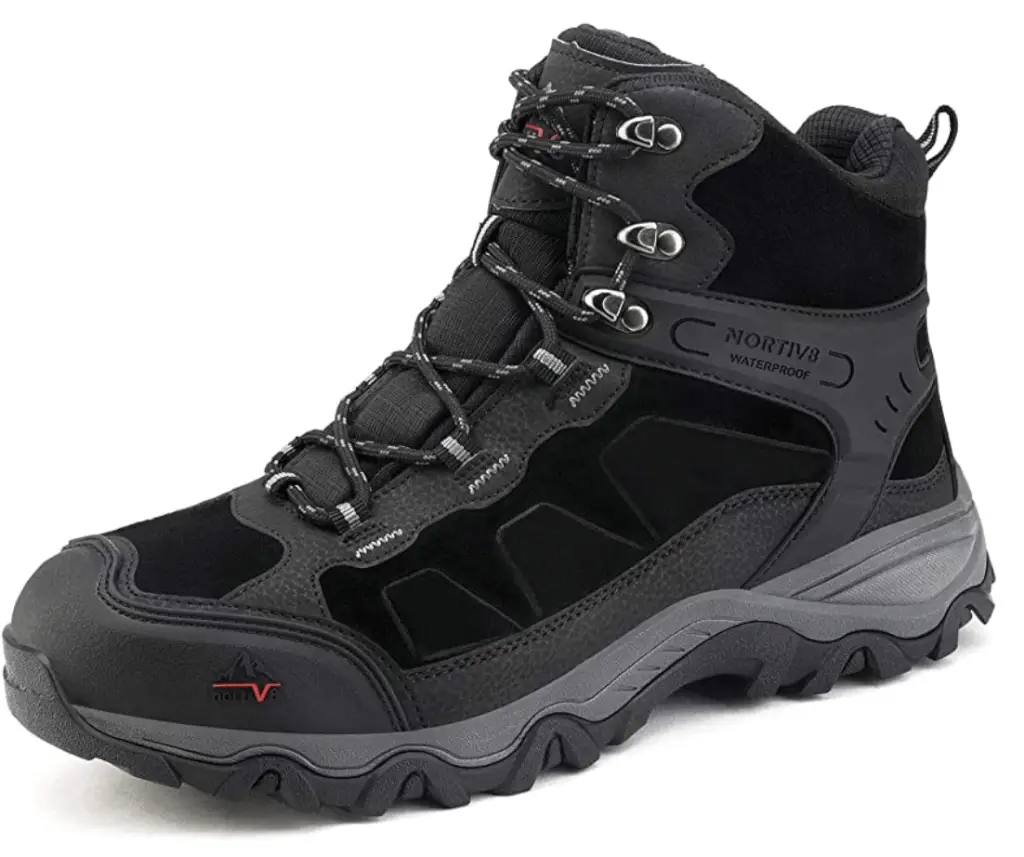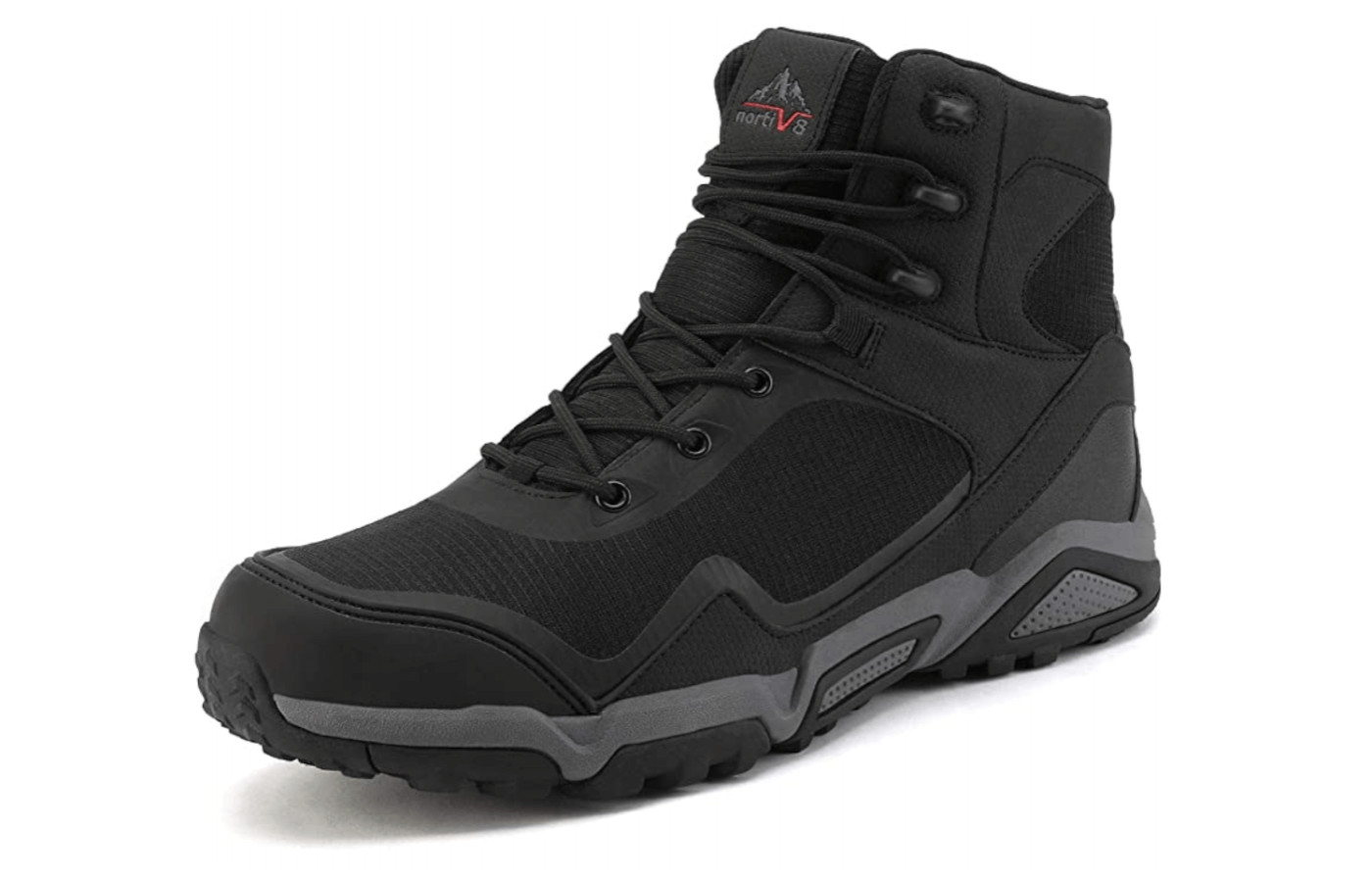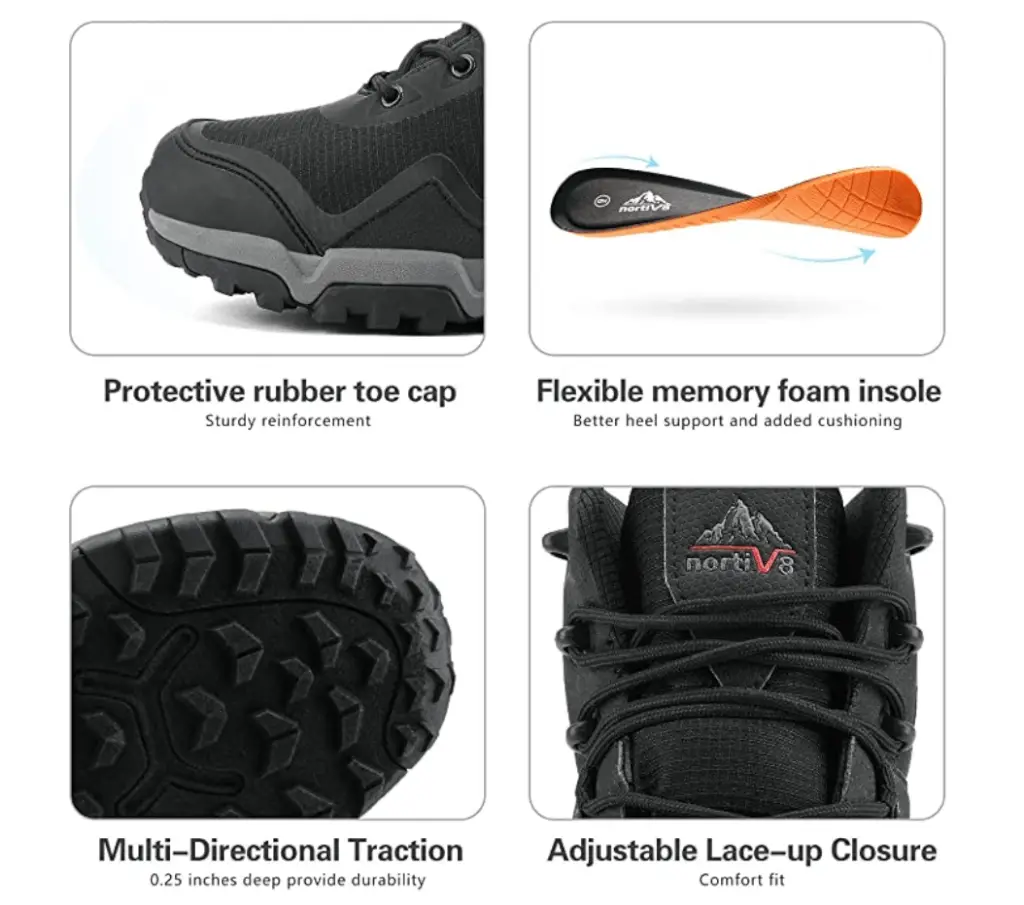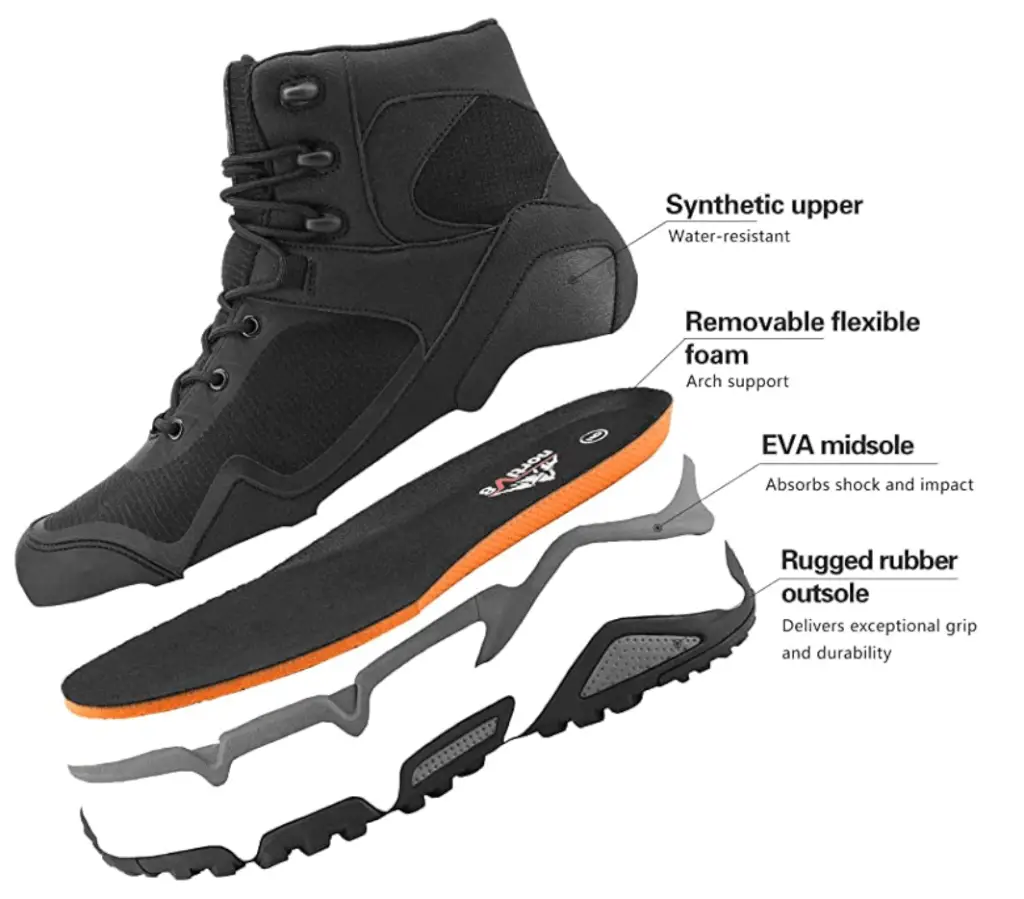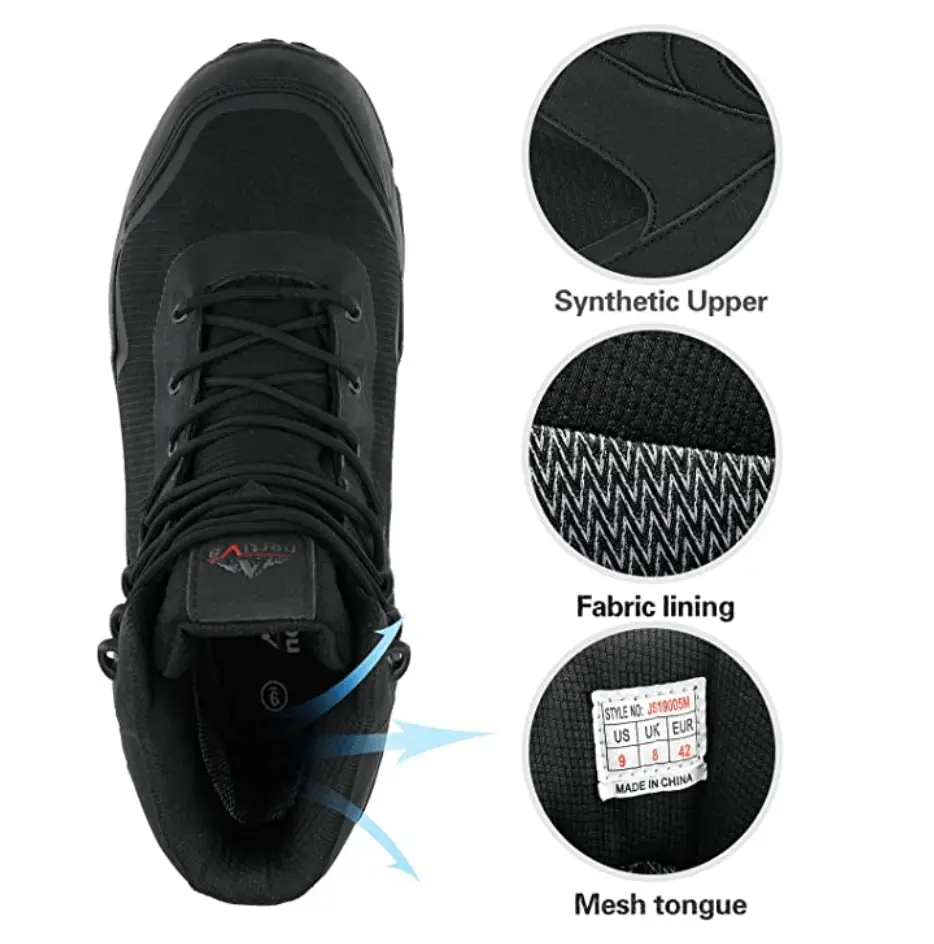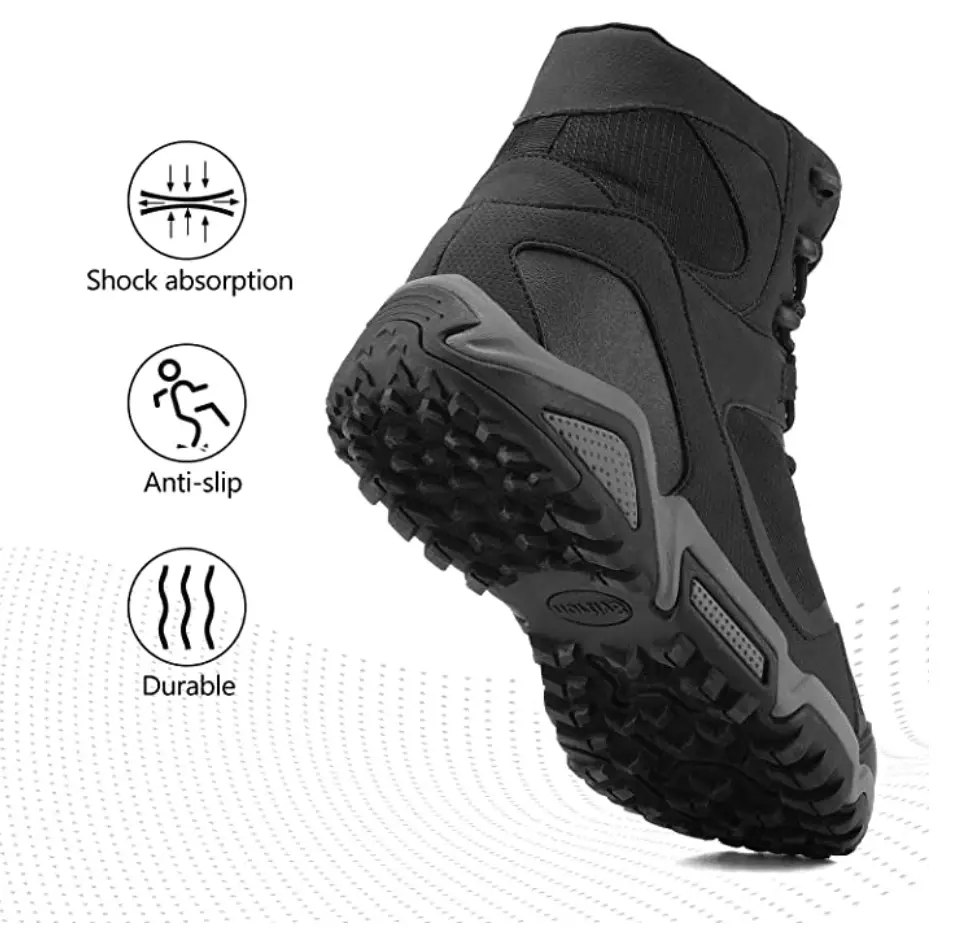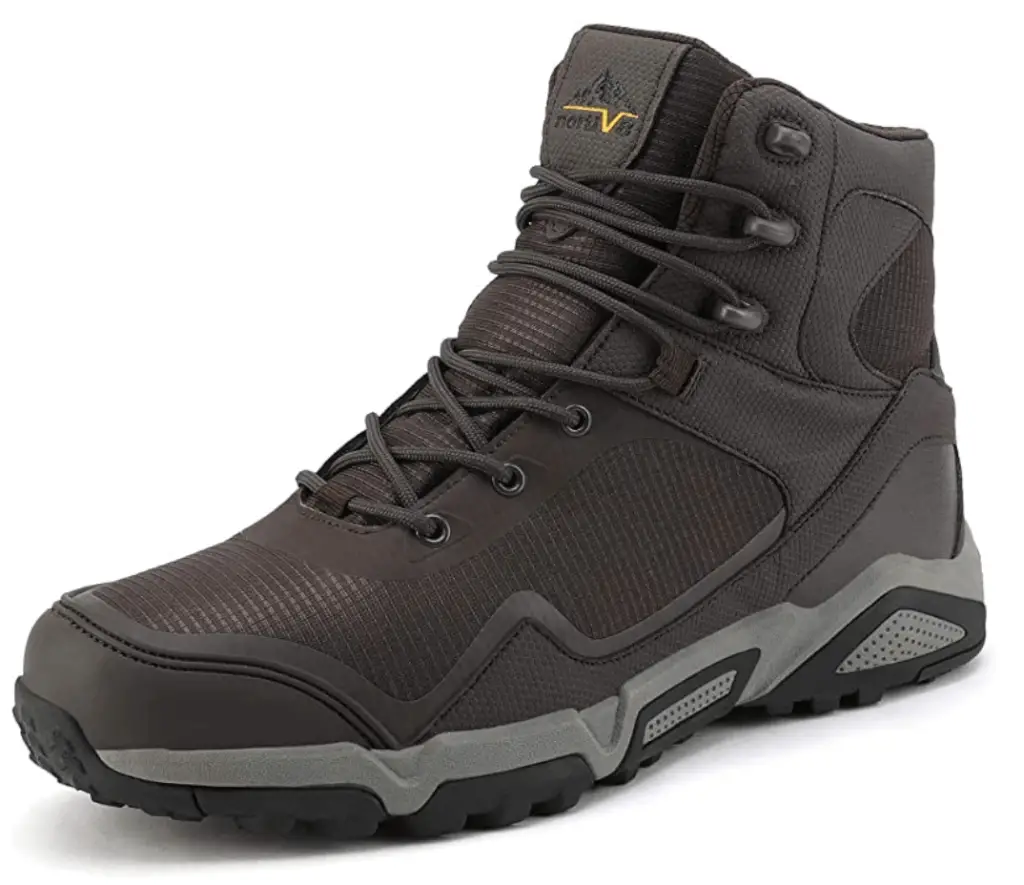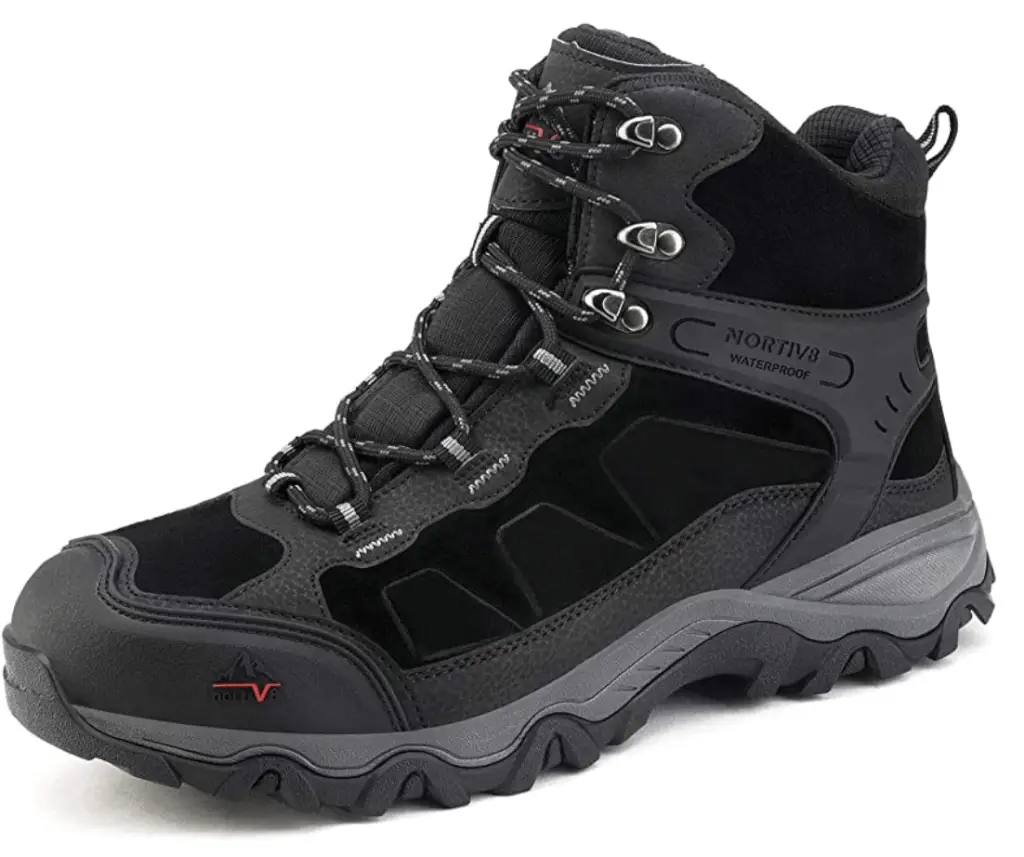 Our Conclusion
It's truly remarkable to find a
hiking boot
that performs well but doesn't break the bank. But as an inexpensive boot, it's surprising to see just how durable and comfortable the NORTIV 8 waterproof hiking boots are.
With a solid commitment to creating superior footwear that doesn't break the bank, NORTIV 8 ensures everyone can buy their hiking boots, should they wish.
There's a hell of a lot to say about these NORTIV 8 boots. Boasting a design that can handle multiple terrains due to their slip-resistant and grippy soles whilst retaining the warmth, comfort, and durability is a hiking shoe worth considering.
Pros & Cons
Not best for steep descents when fit is tight
Key Features
Key Features
Design
As already mentioned, the NORTIV 8 waterproof hiking boots can be used on most terrains due to their impressive and rugged rubber outsoles are. With a sticky rubber sole that utilises Multi-Direction Traction (MDT), improved stability and grip on the trail are almost guaranteed.
In addition, 5mm lugs make it easy to grip the unforgiving terrain of hills and technical
hikes.
Handling ascents or descents are also entirely possible due to this MDT tread.
Although this sole could be described as chunky, this doesn't affect how easy these
mountaineering boots
are to use.
Not only are these boots pretty grippy, but they are also flexible due to insoles that provide both arch support and all-day comfort. In addition, the Flexible MD midsole also absorbs foot fatigue and shock.
Comfort
For such a reasonably priced hiking boot, it's a surprise to find that the NORTIV 8 waterproof hiking boots are comfortable straight out of the box. When you first put your boots on, it's evident that 'hot spot areas' don't exist. Despite plenty of cushioning, the shoes remain relatively light at 1.5 pounds for an individual boot.
In addition, because these NORTIV 8 boots are warm yet lightweight, they are also usable in the summer and colder months. So even though humid, dusty environments, torrential rain and jungle trails, these boots do their job. Even if water comes in through the top, they are still pretty comfy.
What's more, these NORTIV 8's front rubber toe cap means that boulders, rocks and roots won't stand a chance of injuring your feet. Sporting a ridiculously plush interior with 6mm flexible insoles means these boots feel the opposite of a standard-issue, cheap hiker.
Unfortunately, sizing is a little off on these NORTIV 8 boots. So, before you commit to any 20 miles, high altitude hikes, make sure you've tried them on to ensure there is enough room for your toes. Without this, you might end up with your toes completely squished on the descent.
Materials
For such a cheap hiking boot, the materials of the NORTIV 8 are nothing but comfortable and durable. For example, the sturdy rubber sole and toe cap provides protection from trips, falls and bashes to your feet.
The upper sole also features a light and waterproof suede, with a waterproof membrane construction that not only keeps your feet dry but cool as well.
Using soft suede leather also creates a boot with style and a smooth, upper exterior. These materials combine to create a highly comfortable, performance geared, durable shoe.
Durability
On first impressions, there are no problems with these NORTIV 8 boots. Despite their low price, they appear well put together. Looking at the hundreds of positive reviews online, customers are happy with the long-lasting construction of these boots.
What always makes a difference is the materials used for hiking gear. Combining robust rubber with waterproof and light suede creates a lightweight yet durable boot.
Comparison to Similar Hiking Boots
The only thing that these waterproof hiking boots don't do all that well is the transition to city trails. If you need a hiking boot covering all eventualities, you can try out the
Skecher's Relment Pelmo Chukka waterproof boot
.
These boots top out as some of the best city to trail hiking boots. Whether in rain or snow, pavement, or off-trail, these Skechers boots are another performance geared yet affordable boot. Although between $20 to $30 more than the NORTIV 8 boots, they are still an affordable option for most.
City wear, country wear, wet weather wear; whatever you choose, the Relement Pelmo Chukka can seriously handle serious hiking or severe sightseeing. Comfort is a given even on long trips. Although I'd say, they look more like a mountain boot than the stylish NORTIV 8 boot.
Another excellent boot for long-distance use is the
Danner Men's Mountain 600 4.5" hiking boot
. Don't hesitate to head out onto your favorite long-distance trail with this Danner boot.
Long distances have no impact on durability or comfort, with no break-in period. Suited for various terrains, these boots are most of the most versatile hiking boots you'll find.
With a good fit, next to no pressure points and breathability combined with dryness means you'll be comfortable no matter where you go. These Danner boots also look pretty stylish, but for the pleasure of these boots, you'll have to spend quite a bit more.
Verdict
The Nortiv 8 boots are one heck of an economical, durable, and comfortable hiking boot. Coming at a price most can afford, they're an excellent option for everyone.

Plenty of padding and a solid build means these boots are perfect for beginner hikers, especially those not used to the rigors of backcountry terrain. It's no wonder these highly rated boots are such a fan favorite.

No matter if you're hiking, walking the dog, gardening, or spending all day on your feet, these boots will keep you plenty comfortable all day long.

Subscribe to our Newsletter