Merrell Thermo Chill Boots
A winter stroll has never been so lovely. With the Merrell Thermo Chill boots you can lace up quickly and walk with confidence.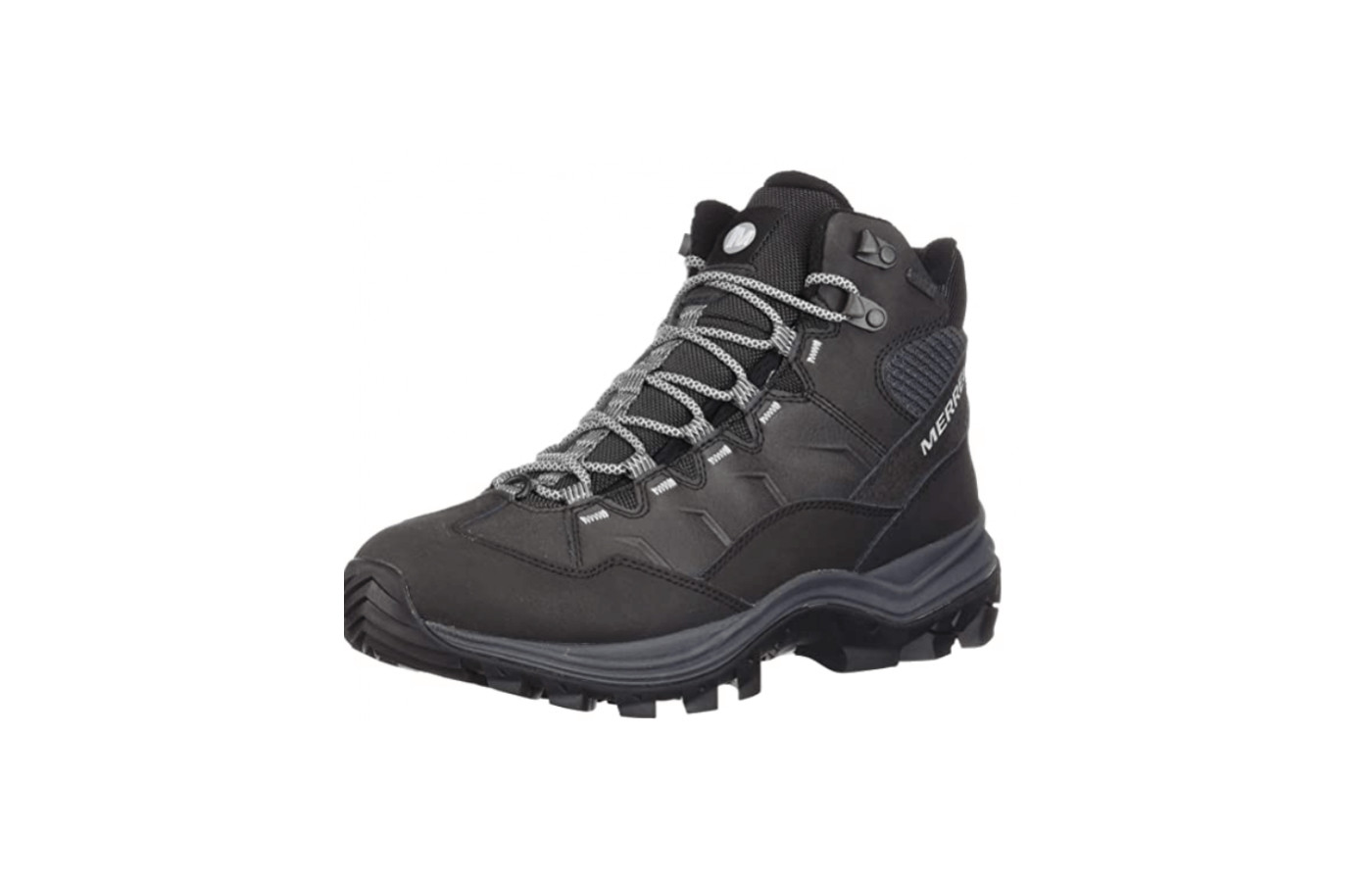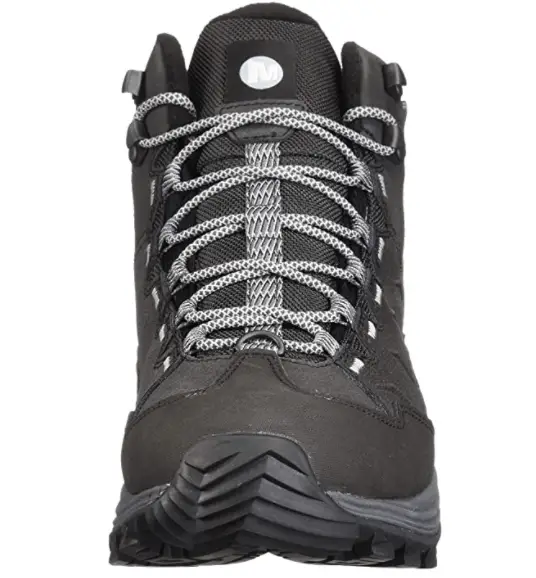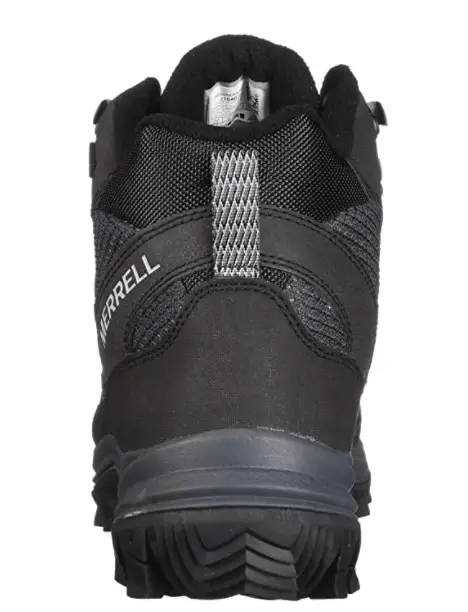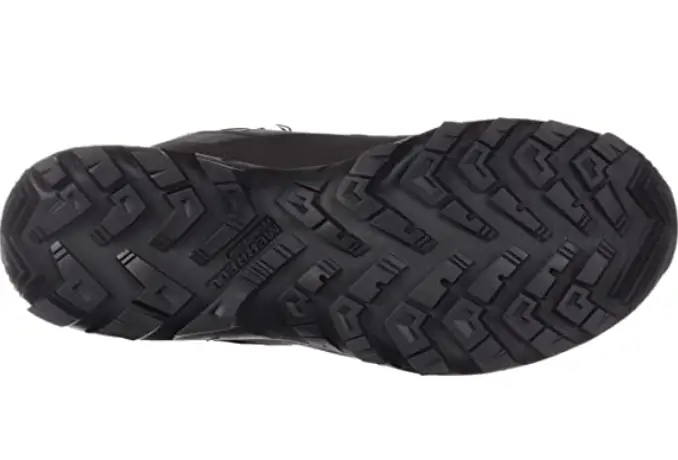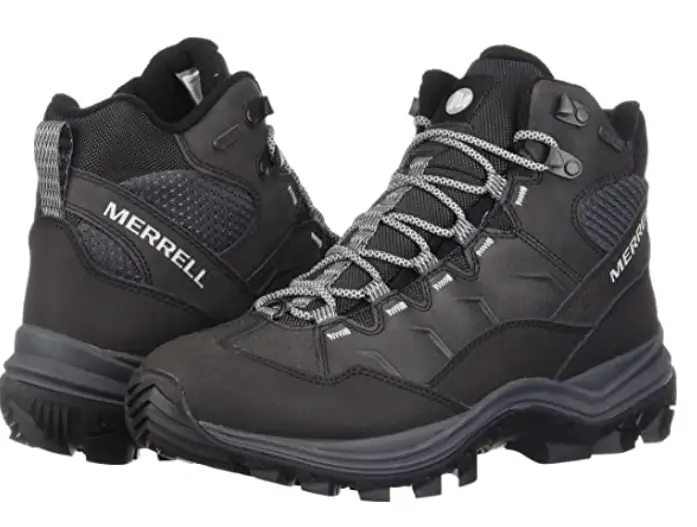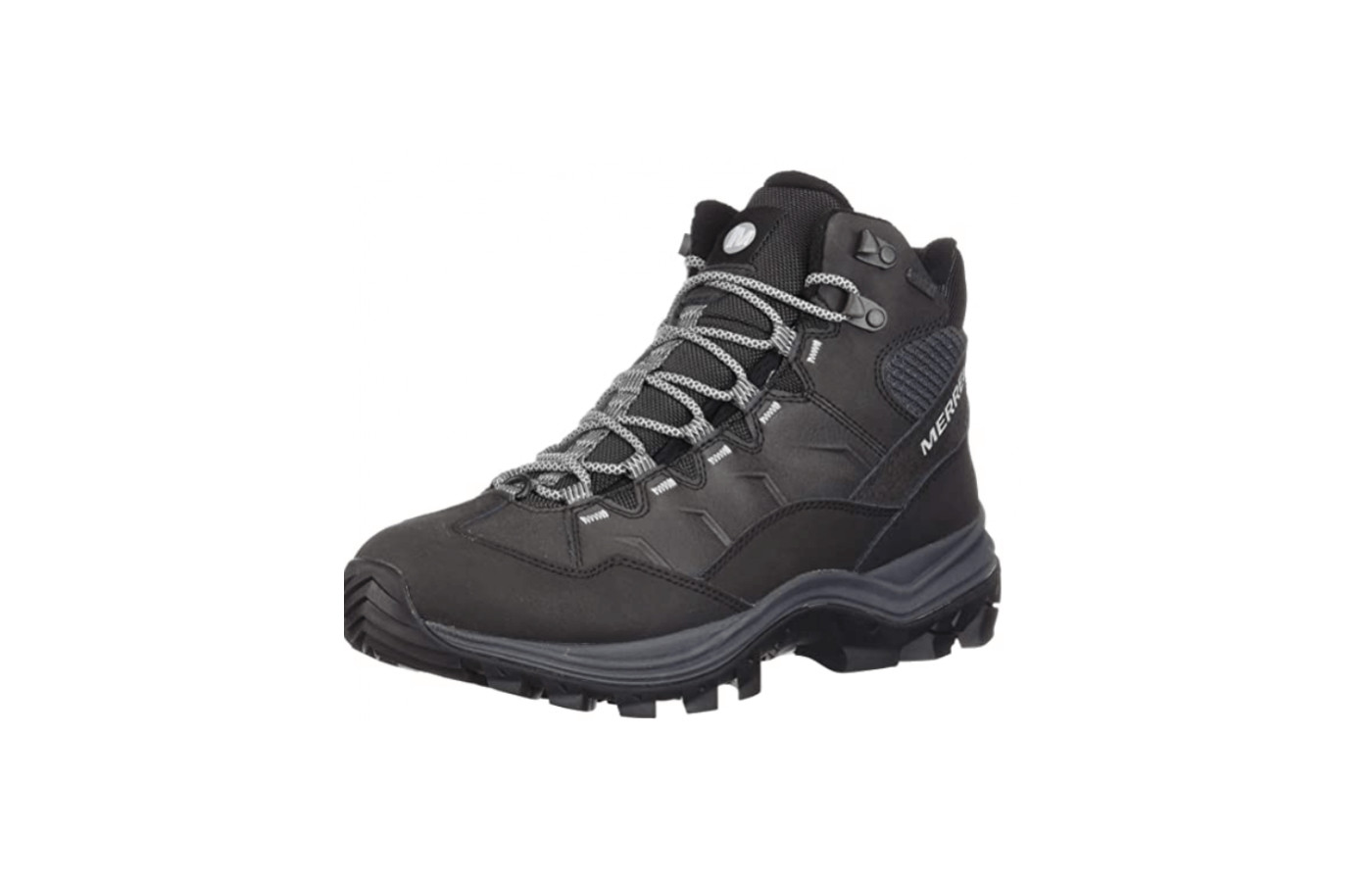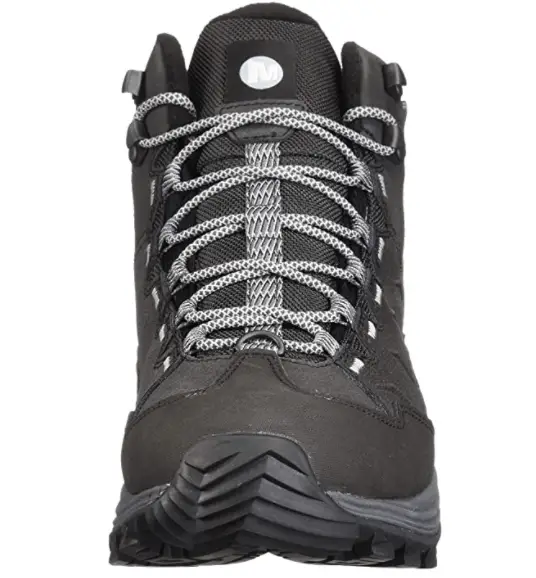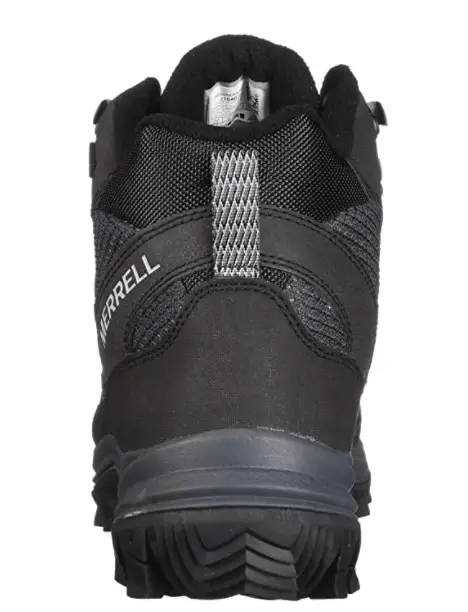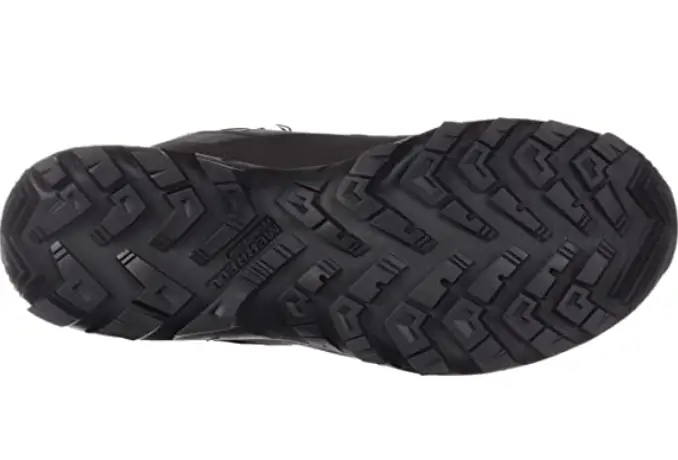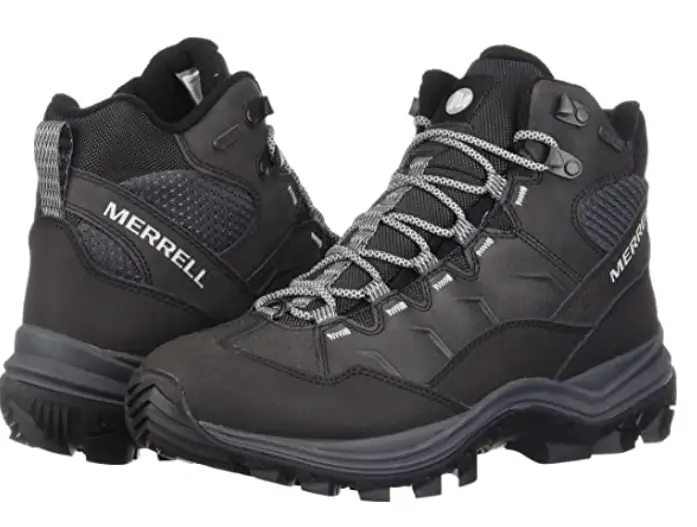 Our Conclusion
These
snow boots
have an impressively grippy outsole and are surprisingly comfortable right out of the box. Even if the snow has turned to slush, you'll be happy to know that the boots are waterproof.
If you live in an incredibly cold climate, these might not be the best option for you. The 200 grams of M Select insulation paired with a warm wool sock provides great warmth for most winters, but not for the Arctic tundra.
Continue reading to learn more about this sleek and comfortable boot.
Pros & Cons
Very minimal break-in period
Not warm enough for a severe winter
Key Features
Key Features
Comfort
This isn't a common thing to say about any boots - but these winter boots are comfortable! For most people, there is absolutely no break-in period. For a few, the break-in is not gruesome and fairly quick. The only part of the boot that doesn't seem to loosen up over time is the upper ankle area. However, for support, this is a good thing.
They have a roomy toe box and are lined with an incredibly soft fabric that feels like felt. For the amount of features they have, they weigh less than one would expect. They weigh 1 pound and 14 ounces or 848 grams. With the added insulation, they are great boots for winter, but too hot for spring and summer.
Fit
It is best to shop around on a couple different sites to get more color and sizing options. Across the board, these boots are available in sizes five to eleven in a medium or wide width. If you prefer to use thick warm socks or are in-between sizes, you should order half of a size larger than usual.
Although they are made from leather, they do not stretch much. The waterproof membrane keeps the original size and shape of the shoe intact. The Thermo Chill boots look bulky but don't feel it.
They have a Kinetic Fit base with removable insoles. This provides great flexibility, support, protection, and contours to your foot. The 8 inch cuff sits comfortably and doesn't tend to rub or chafe.
Features
The M Select waterproof membrane does a great job of keeping snow and water from seeping into the shoe. You can walk through rain, snow, and puddles. The high tongue of the boot works well to keep debris out. They even have the correct attachments to be used with gaiters.
The waterproof membrane does not provide a great deal of breathability but most people wear these with moisture-wicking
wool socks
and don't seem to mind. There is also an M Select antimicrobial treatment built-in for odor control.
To keep your feet warm on these cold days, the Thermo Chill boots are insulated. They feature 200 grams of M Select insulation. 200 grams is a decent amount of insulation, but you will also want to pair these boots with nice, warm, wool socks.
Finally, in terms of colors, there are only two options. Depending on which retailer you purchase from, you will have the option of black or brindle. Both color options are muted and don't stand out too much. In my opinion, it is a great looking boot.
Durability
As you can expect from Merrell, these boots are made from great materials. The boot is made from leather with a mesh upper and finished with a waterproof PU membrane. To protect your feet, and the shoes, there is a rubber rand and toe cap.
The metal hooks and eyelets are strong and make lacing the boots incredibly easy. One possible downside is that the boots are not made to be resoled.
Merrell shoes come with a 60 day Make It Right Guarantee. This means that if you receive, use, and decide you don't like the shoes within 60 days, they will "make it right." It is unclear what this means exactly, but it sounds promising.
Stability and Traction
The Thermo Chill boots really shine in this area. As I mentioned before, the eight inch ankle cuff holds its shape. This is ideal because it needs to be stiff to properly protect your ankle. The nylon arch shank and EVA midsole also help to provide stability. They have moderate arch support and honestly might have a bit too much for people with flat feet.
The M Select grip outsole has 5mm V-shaped lugs. They are sticky and grippy on mud, snow, and everything in between. Merrell's outsoles are giving Vibram a run for their money.
Comparison to Similar Winter Shoes
The
Sorel Caribou
has been a go-to winter boot for women for many years. They have a Nubuck leather upper with a waterproof finish. These are made for extreme winters. They have a removable and washable 9mm felt insulation and a Sherpa snow cuff around the top of the boot.
While most people agree that they are quite comfortable, they are also very heavy. The pair weighs about 3.8 pounds. The rubber rand around the shoe is great for foot protection, but its durability has us worried. Many people have reported cracks in the rubber. In terms of price, the Caribou is more expensive than the Thermo Chill.
Another extreme winter boot, the
UGG Adirondack III
is weather rated to -32 degrees. These boots have a 7 inch shaft and are waterproof. They have a sheepskin wool lining and an additional 200 grams of insulation with DryTech technology.
Reviewers love how comfortable they are. They are much lighter than they look, weighing in at 2 pounds and 4 ounces for the pair. They have a similar look to the Caribou but are known to be more durable. In turn, that may also be why they cost about double the price.
Verdict
Perhaps one of the best and untouched features thus far is the price. The Thermo Chill boots are very affordable, especially compared to similar options. These boots are constructed very well. They are durable, waterproof, easy to lace up, and provide great traction.

Even though there are only two color options, they are neutral and good for everyday wear. For most people, and climates, they will be nice and warm. If you live in an extremely cold and snowy climate, you may want to consider one of the other options mentioned.