MusucBag Sleep/Wear System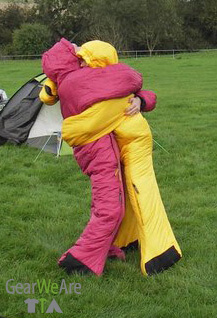 You can't help but hug a MusucBag
No matter how butch or straight-laced you are, you're powerless against the need to hug someone wearing a MusucBag. We tested this theory last weekend when we went camping with a group of 25 poker-playing, beer-drinking bikers who were, when we put the MusucBag suits on, unable to resist a cheeky little hug.
This bit of gear has generated the most interest of anything we've tested so far, and it's also the one thing which almost everyone has said "I WANT one!". It is, in short, quite amazing.
We were given two MusucBags to test a couple of weeks ago and I've been mulling over the best way to properly review them, so I think I'm going to break it down into sections:
What is it?
MusucBag is a sleeping bag (rated to +7C for comfort, +2C for limit) which is the shape of your body. You step into it and zip up either side of the chest. You have zippers to release your hands and knees, and it has an adjustable hood.
Wow. Can you really walk in it?
Yes, quite easily. But you'll be more inclined to bounce, star-jump or skip. The MusucBag takes you back to your childhood. The aforementioned knee-zippers are to aid walking.
Can you sleep in it?
Yes. I had some reservations over it because I like to be constricted inside a nice bundle of sleeping bag when I camp, but I actually slept really well in the MusucBag in temperatures of around 6C on a campbed. It's really cosy and even allows you to cuddle your partner which separate sleeping bags wouldn't. And since you have full mobility in the MusucBag, it actually makes life inside a small tent easier than a restrictive sleeping bag.
Can you really wear it around camp/festival?
Again, yes. It's not THE most practical of outfits (no external pockets), but if you're chilling out by a campfire or sitting around chatting in the cold it's superb, and makes a great talking point.
Can I go to the toilet wearing it?
Interestingly, nearly everyone who saw it asked that, and I started to think of that as a problem. But then I thought a bit more about it and realised that there's no way I'd want to visit a campsite/festival toilet in my sleeping bag. Imaging what you'd pick up on the feet to take back to your tent. Eesh. So no, you can't pee whilst in a MusucBag, but I actually think that's a good thing!
How much are they?
99 Euro, direct from MusucBag (Kids for 79 Euro).
So that's around £85, which is equivalent to a middle-of-the-road 3-season bag from Berghaus with a similar heat rating. Is the MusucBag worth the cost. Well, actually, yes, since it doubles as a body-warmer.
Are there any problems with it?
A couple of small ones. The first time you use it it's quite noisy, which can be annoying if you're sharing a small tent. This appeared to have become less of a problem by the second night.
The other problem is one of perception... let me explain:
GearWeAre does not condone drinking or gambling. No sirree.
The MusucBag has thick, coated material on the bottom of the feet which is obviously there so you can walk around and not tear the bag. However, it's only a flat layer, so that any dampness/dew/rain soaks into the bottom of the bag itself. I find this sort of misleading and I'd like to see future versions of the MusucBag either:
1) Have rubberised feet which come 10cm up the legs, protecting the bag from wet ground, or
2) Have no reinforced feet at all, so it doesn't suggest you can go walking in it.
What's it like in action?
This is us wearing our Musucbags at a campsite last weekend. When was the last time anyone reacted like this to your camping gear?
SUMMARY: MusucBag is fantastic. It's one of those products which people instantly react to and it's a great conversation starter. It's comfortable to wear, very warm and I had a good night's sleep in it. The only flaws I could come up with don't affect the performance of the bag, they're more like suggested improvements. If I had kids, I'd buy them a MusucBag without hesitation. If I had guests to stay, I'd offer them the MusucBag to share the love. It's a rare product which makes people hug you and want to touch and feel it, and burst out laughing and ask to try it on. MusucBag is my new sleeping bag (and entertainment) of choice.
Price: £85 Adult - £69 Kids - £69 Last year's model
From: MusucBag
More Info: MusucBag on Facebook
A (not so) brief word from Muz
Late to the party, I know, but I was kindly sent a fetching pink one of these so it's about time I emptied the contents of my head in relation to it…
It's brilliant. Marvellous. Hilarious.
When Andy first handed mine over – without saying what it was, I dragged it out of the stuffsac, laughed like a drain, put it on and did star jumps in my living room. That's the kind of thing the MusucBag is. It's not the sort of product you open, stare at for a minute and put to one side… you just have to try it out. It's a compulsion.
And not only that but if you're lonely it's almost guaranteed you'll make friends while wearing one of these because it is, as Andy rightly points out, huggable in the extreme. People are drawn to it like, well, like me to Jaffa Cakes or chicken dupiaza.
My first test was during the weekend of the video when I had two nights to put it through its paces and find out if it was as practical as it was entertaining.
I fell at the first hurdle on the first night though for one reason only – Mrs Muz and I share a double sleeping bag when we go camping and the usual drill is that she retires first, warms the bed up for me (I'm a big softie and don't like the cold, but she's as tough as old boots) and I clamber in a short while later. So when I eventually staggered to the tent after an evening quaffing happy juice by the fire, I found the double sleeping bag far too inviting and preferred to cuddle up to the missus rather than get into the MusucBag by myself. Ahhhhh.
Other than the feet and the issue about piddling, that's one of my only problems with it, and it's more psychological than anything else. When you're used to a more bed-like experience the MusucBag isolates you from that and you have to do away with the traditional 'sleeping under something' night's kip. Even if you're more accustomed to a regular single sleeping bag, there's still the subconscious knowledge that you're beneath a duvet-type sheet of material.
So it requires a fundamental shift in approach. A different mindset.
On the second night I went for it. In fact I'd been inside the MusucBag for a good half hour before I turned in so I was already used to the idea and it was a simple case of lying down and nodding off, which I did in a jiffy.
My night was comfortable and warm and there was plenty of space for me to starfish in the bed because I wasn't constrained by the confines of a bag. The tent was my oyster.
There's little else I can say about the MusucBag itself that Andy hasn't already covered.
I totally agree about the feet though – at the very least there needs to be some kind of rubberised grippy sole because if you can't wander around outside in one then you may as well just get a traditional sleeping bag that's a little less of a faff to get into, is just as warm and allows us blokes to scratch wherever we want without hindrance, if you see what I mean.
As you can see in the video we did run around in a field but it was totally dry at the time which was just as well because even the slightest hint of dampness soaks into the material – which is just no good.
Finally, Andy is normally sensible, level-headed and correct about most things... but he's wrong about the toilet issue. The MusucBag needs something, even if it's a built-in bottle (that's a joke, by the way). As an anonymous commenter rightly points out below, one of the most nightmarish things you can do in a tent is wake up bursting for a number one at 3am when it's brass monkeys outside, have to clamber out of the sleeping bag and into cold, damp clothes, before heading outside for a little light relief.
If I'm tucked up in something toasty and warm that allows me to wander around at will, I want to keep it on while I'm unleashing the dragon. No question.
[easyazon_link identifier="B00EZD889I" locale="US" tag="gearweare-20" local-identifier-CA="B01LFL4R56" local-tag-CA="gearweareca-20" local-identifier-UK="B01CFYCFLU" local-tag-UK="gearweare-21"]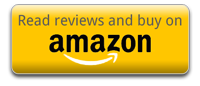 [/easyazon_link]
Tags and search info for this review: This is a sleeping bag review. GearWeAre.com tests and reviews sleeping bags, airbeds, camp beds, outdoor gear and camping equipment.
Subscribe to our Newsletter