The North Face Stormbreak 2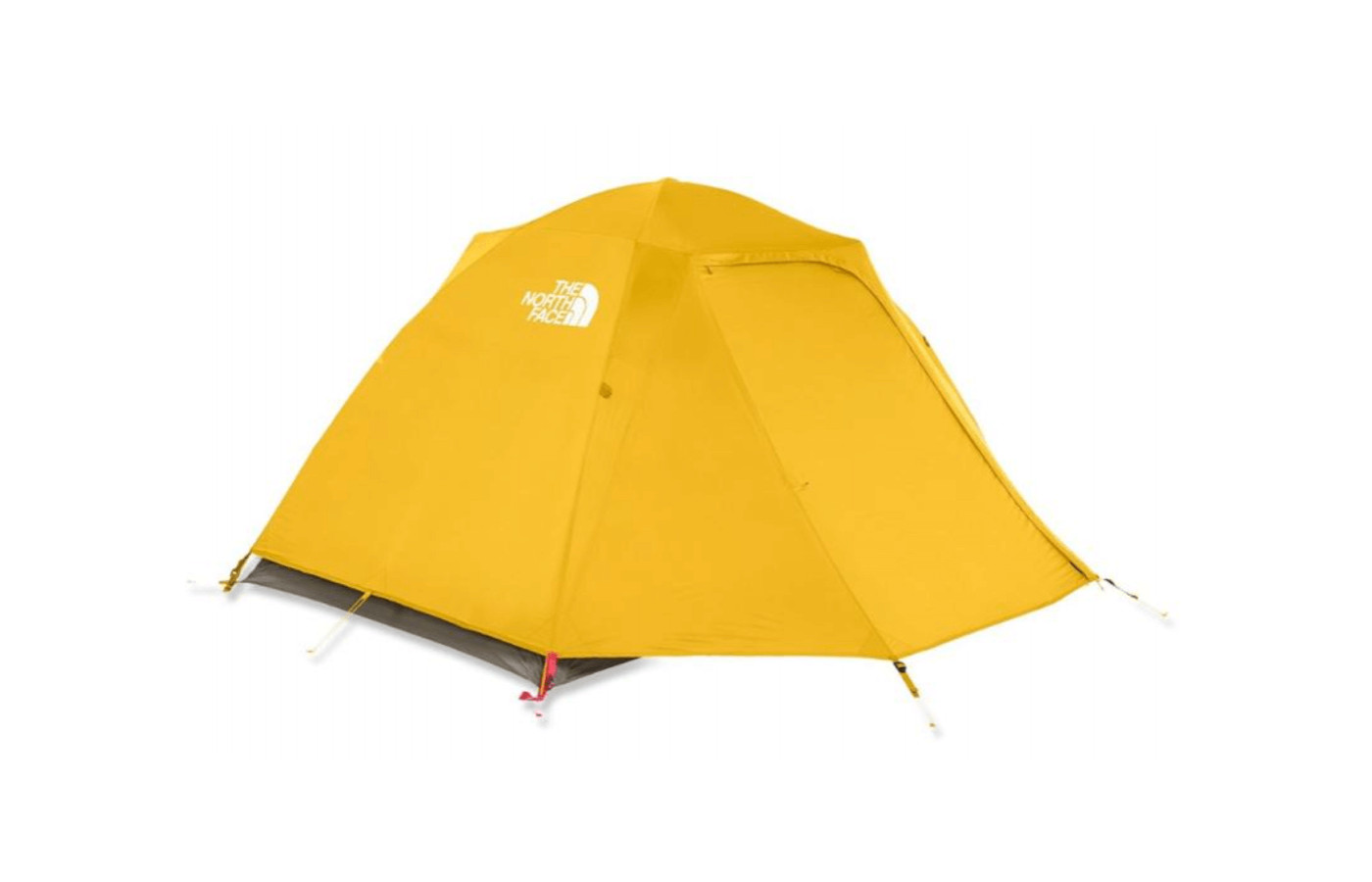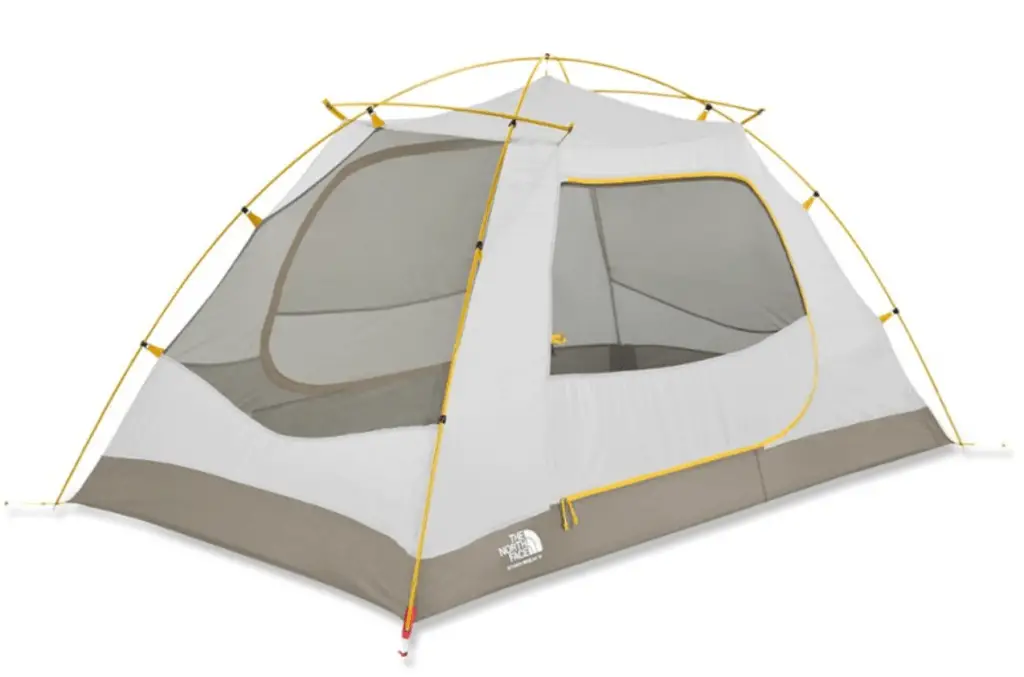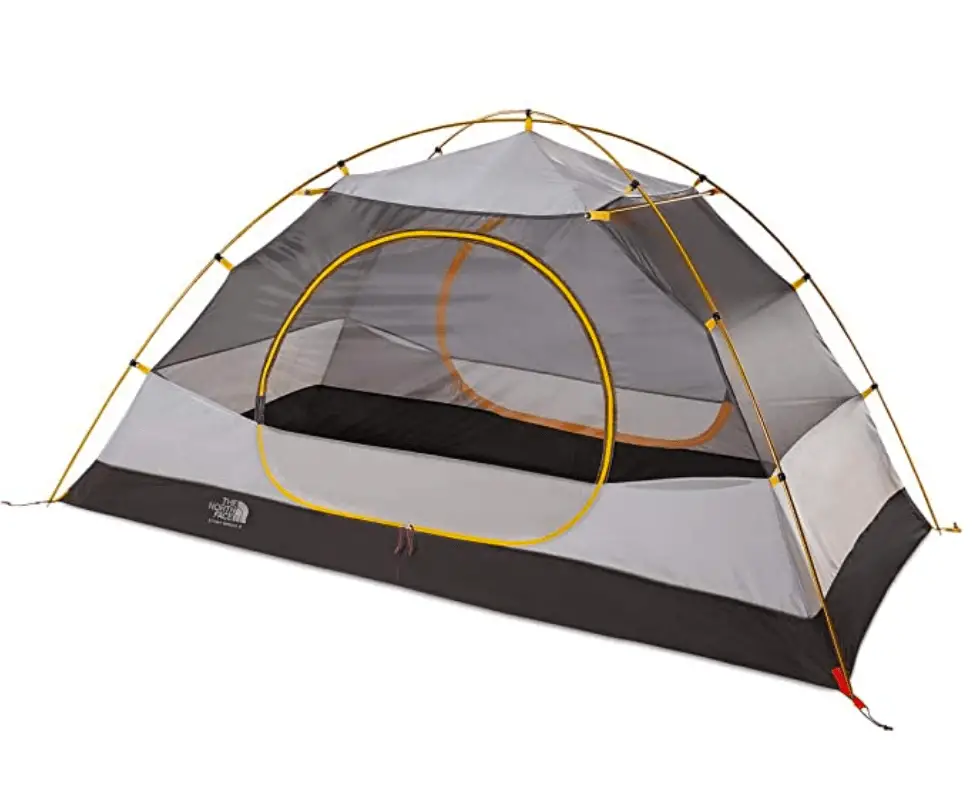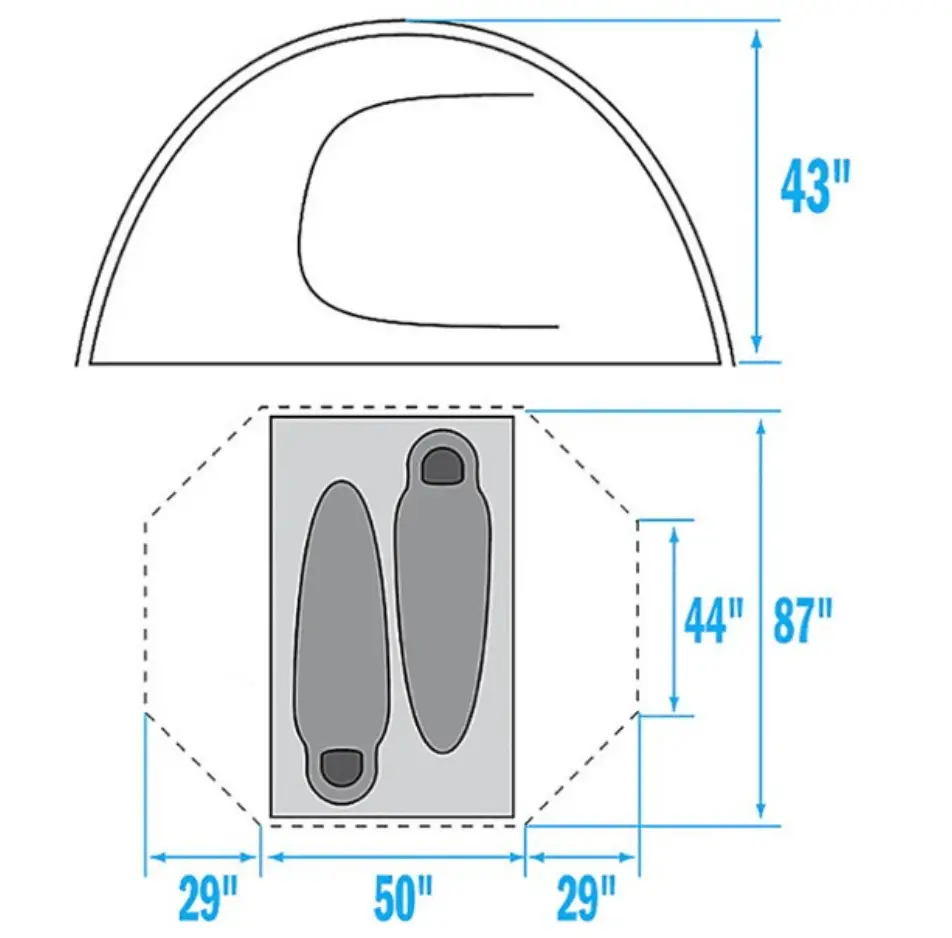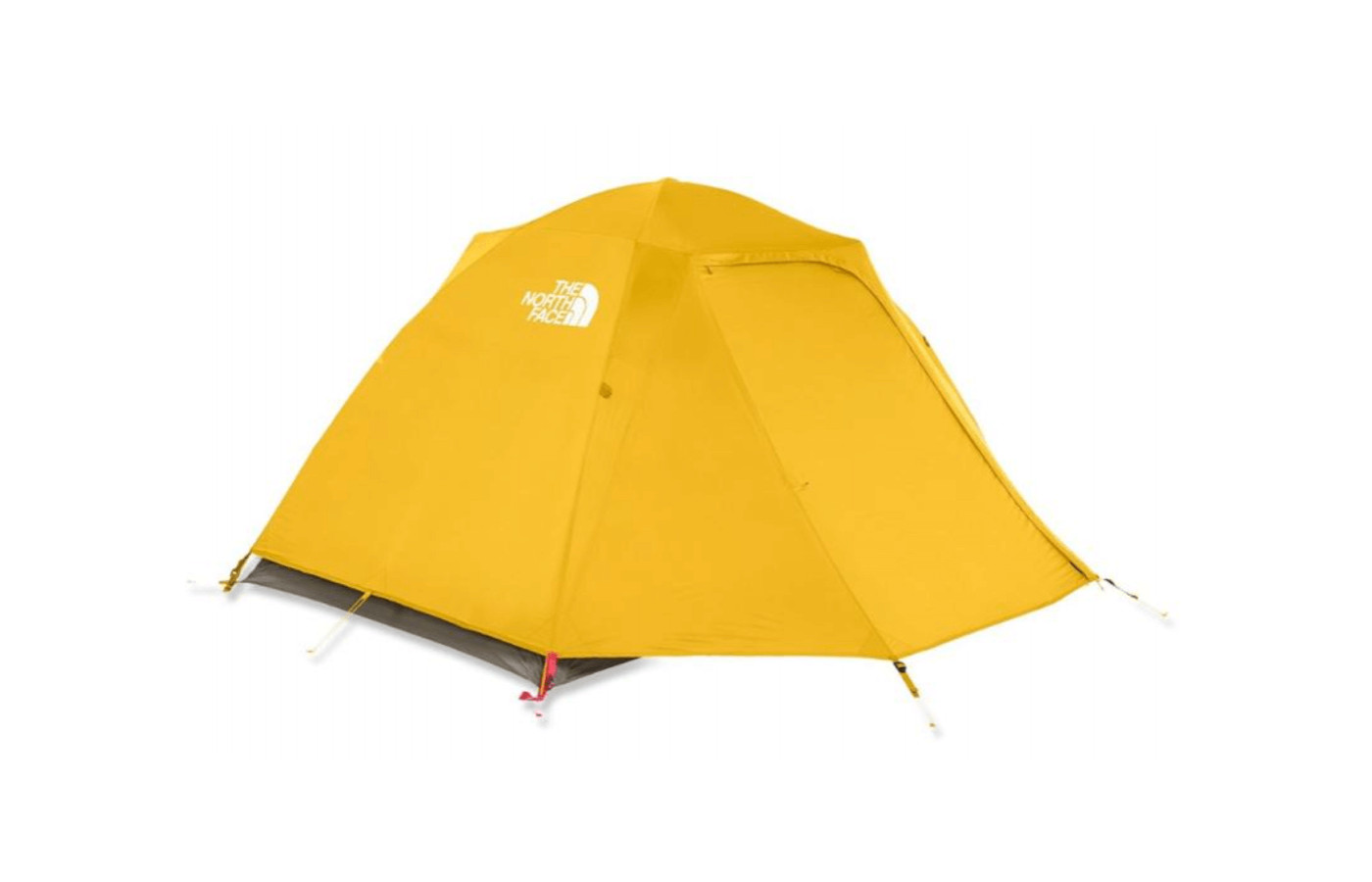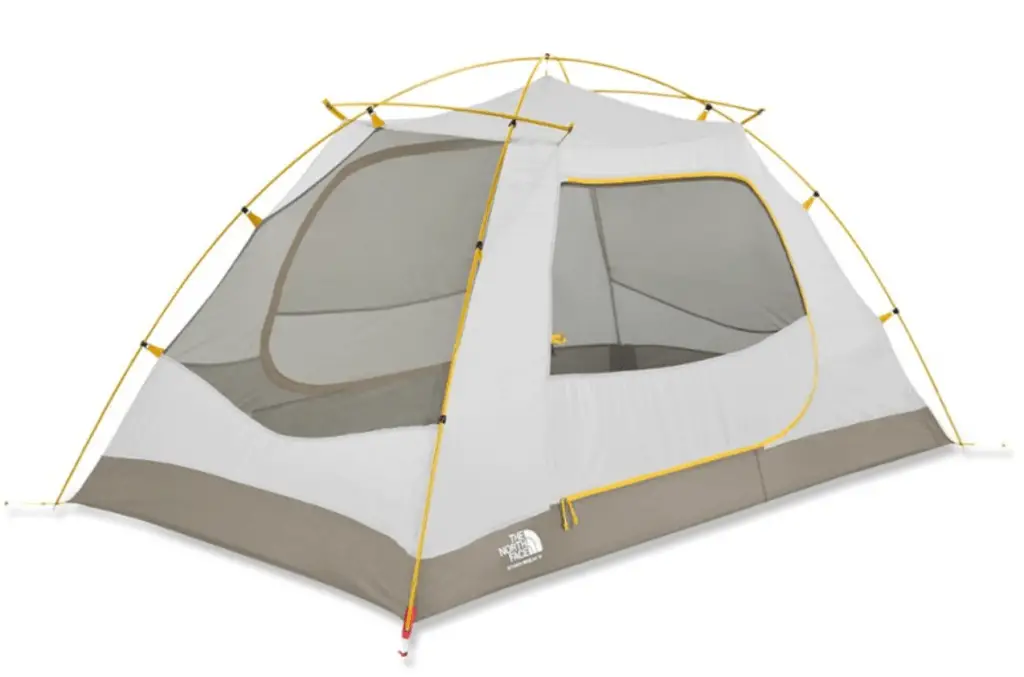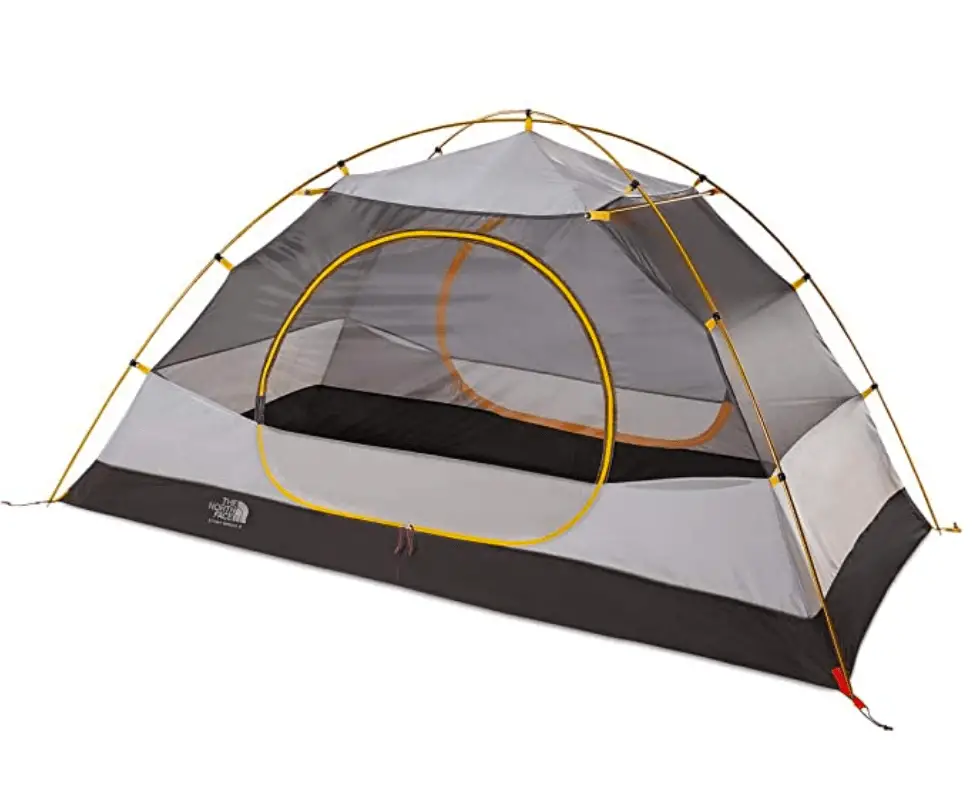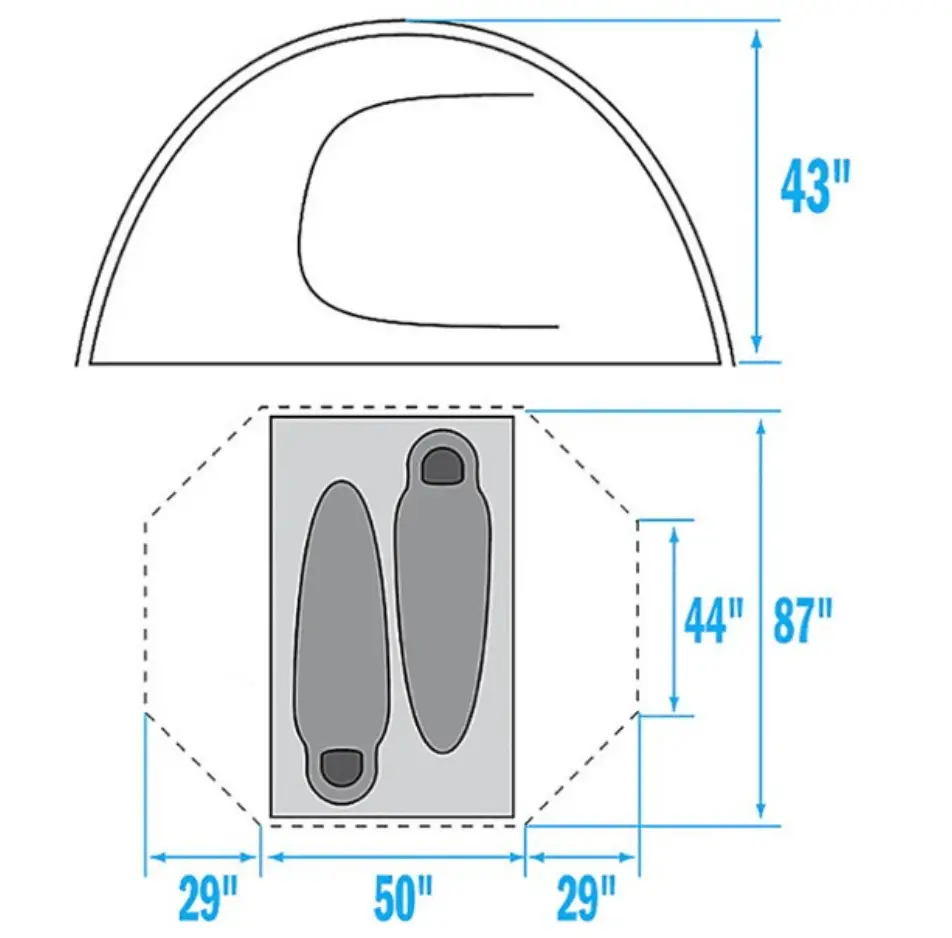 Our Conclusion
While you might often think of The North Face as a great outdoors apparel brand, they also make reliable and functional outdoor gear. The Stormbreak 2 is a great example of this. This 3-season,
two-person tent
is made from high-denier polyester materials that make it abrasion-resistant and water-resistant.
While this option is a little heavier and packs down bigger than some other two-person tents, the Stormbreak 2 is easy to set up, is surprisingly spacious and is very durable. Continue reading to learn more about its best features... And the ones we would like to see improved.
Pros & Cons
Made from durable materials
Easy set up and break down
Great mesh organization pockets
Included stakes are flimsy
Key Features
Key Features
Materials

As I mentioned earlier, the Stormbreak 2 is made from high-quality materials. The canopy is made from 75 denier polyester taffeta. The floor is made from 68 denier polyester with a 3,000mm PU coating. The mesh is made from 40 denier polyester. The included rainfly is made from 75 denier polyester with a 1,200mm PU coating.

The four 8.5mm aluminum poles have proven to be quite strong. There have been minimal incidents of them breaking on their own or by user error. However, if one does happen to break, it can be quite expensive to get a replacement.

As with many tents, the included stakes are your average run-of-the-mill design. They are not particularly strong and you would be smart to pack extras.

Additionally, there are only eight included, but if you use each piece of the tent (and a footprint), you will need 14 stakes. If I were you, I would buy a whole new set that is stronger.

Weather Protection

There have only been a handful (out of thousands) who have had issues with the water protection of this tent. The seams of the floor of the tent are raised so that it is more difficult for sitting water to enter.

Also, the taped seams along the floor and the canopy provide extra protection from water and sand. There is a rainfly included, but no footprint.

Speaking of the rainfly, it comes almost all the way down the tent. While this is great for staying dry, it also severely affects ventilation. There are no vents, but you can choose to leave it open in a few different ways that can allow a breeze to enter.

As long as it is not raining sideways, you should be comfortable. Condensation sometimes builds up on the tent but doesn't typically get inside.

When the rainfly is not attached, there are vents at the top and the bottom of the tent, as well as two large doors that allow for great ventilation. Breezes easily flow through and keep the internal temperature comfortable. If it is windy outside, you'll want to make sure the tent is securely staked down and has some weight inside.

Ease of Use

The setup of the Stormbreak 2 is pretty straightforward. There are four poles in total and everything is color-coded. Of course, you should practice setting it up at home first, but after a few practice runs, it will be a breeze. For one person, it will take slightly longer but is definitely still possible.

The breakdown is about average. Not shockingly easy and not difficult either.

Portability

If you are looking for a backpacking tent, this will not be your lightest nor smallest option. However, the features that make it so comfortable even out of this disadvantage. In total, it weighs 5 pounds and 14.2 ounces.

The approximate trail weight is 5 pounds and 5 ounces. If you are hiking with another person, you could split the poles and the fabric between the two of you to lessen the burden.

In a backpack, the Stormbreak 2 takes up about 15 liters of space. In its included stuff sack, it measures 7 by 22 inches.

Comfort

One of the most common adjectives used to describe this tent is spacious. It has a peak height of 43 inches. However, that peak height is not only one small point, it is almost the entire ceiling.

This is designed as a two-person tent. For one person, it would be very roomy. Very few couples complain about it feeling tight. The rainfly creates an exterior vestibule to store gear outside of the tent. In total, there are 87 by 50 inches of floor space.

The two large doors make getting in and out easy without bothering your partner. They also provide great visibility to the outdoors.

Features

The comfort and weather resistance are the two main features of the Stormbreak 2 but there are a few other built-in conveniences.

There is one very big mesh pocket in each corner of the tent- four pockets total. Here you can organize and store flashlights, books, gear, and clothing.


The large mesh windows are nice for seeing outdoors and for a breeze, but there is no way to "close" or cover them when you want privacy (unless you put on the rainfly).

Additionally, at the top of the tent, there is white fabric, instead of mesh, that interferes with any chance you had of stargazing.


Comparison to Similar Tents
The
Kelty Late Start 2
is made to be incredibly user-friendly. It's very easy and fast to set up. It has pre-bent poles and Quick-Corner technology. Its total weight is 4 pounds and 8 ounces, making it a lighter alternative to the Stormbreak 2. A rainfly is included but a footprint is not.
A couple of major differences between the Late Start and the Stormbreak 2, besides the weight, are the number of doors and the peak height. The Late Start has only one door, making it slightly less convenient to get in and out without bothering your partner. Also, the peak height here is 40 inches. While that's only three inches less than the Stormbreak 2, it makes a difference.
The
MSR Hubba Hubba 2
is an ultralight two-person tent option. It weighs only 3 pounds and 7 ounces. It is made from high tenacity nylon and has an included rainfly, rain gutters, and a bathtub-style floor. You are very well protected from the rain in this tent. It has a floor space of 84 by 50 inches. At its highest point, it is 39 inches tall.
The denier nylon used to make this tent is not as strong as the denier of the Stormbreak 2, making it less durable, but of course, lighter. When all packed up, it measures 18 by 6 inches and can be stuffed into your backpack or lashed onto the outside. If weight is an issue, you'll want to check out this option. However, the Hubba Hubba is about three times the price of the Stormbreak 2.
Verdict
Overall, the Stormbreak 2 is a great two-person tent. While it is slightly heavier than I would like and has an obstructed view of the stars, there are many redeeming features. It is made from durable fabrics, includes a rainfly, and feels very spacious. With 43 inches of headroom, you'll be able to wake up and breathe in the fresh mountain air without feeling claustrophobic.

The price seems to be on par with similar options, but you should remember that it is highly advisable to invest in a footprint and a different set of stakes.
Subscribe to our Newsletter