How to Waterproof & Seam Seal a Tent: Complete Guide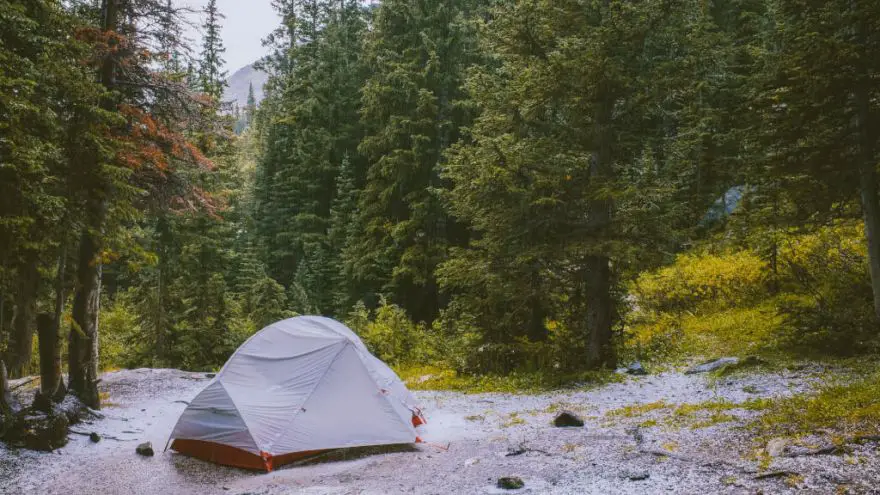 How to Waterproof & Seam Seal a Tent: Complete Guide
gearweare.net
There is nothing better than sitting under the stars, smelling the fire, and listening to the wind whistle through the trees. Even when you're relaxing in your tent, a mild pitter-patter of rain is quite relaxing – as long as it doesn't pitter patter its way through the tent material and wet you.
While almost every tent includes a waterproof dwr coating or rain cover, some do not work well, and others need to be touched up after a couple of seasons. Luckily, there's no reason to shell out the big bucks and have someone else do it. Doing it yourself is easy.
If you have any doubts about waterproofing a tent, this article was made for you.
Why Should You Waterproof Your Tent?
Well, not only will a waterproof tent keep you dry and comfortable, but it also helps extend your shelter's life. A tent fabric that absorbs water is more likely to develop mold, which is bad for you and the tent itself.
If your tent is not water repellent, you are likely to wake up to drips, puddles, and drizzles. As I mentioned, this is uncomfortable and not only jeopardizes the lifespan of your tent but also your backpacking and camping gear inside the tent – the sleeping bag, pillow, electronics, etcetera.
Learning how to weatherproof a tent properly is an important part of any camping trip.
Does Waterproof Spray Work on Tents?
Absolutely! Silicon and water-based sprays are the most popular and the most efficient. The water-based spray is applied to a damp tent, and the silicon-based spray is applied to a dry tent. They are very easy to apply. You can apply the spray to only the rainfly or the tent itself. If you're like me, you'll choose both.
To do this, you'll want to set up the new tent in a dry, well-ventilated area. Evenly apply the waterproof spray all over the tent, including the windows and floors. Depending on which spray you choose, you may need to dampen the tent before you begin. Afterward, allow it to dry for about 12 hours.
However, even with a great water repellent coating, you will still need to seal the seams to ensure the water can not enter.
If you're unfamiliar with how to seam seal a tent, we will discuss that momentarily.
How Long Does a Waterproof Tent Treatment Last?
There is no one simple answer for this question, a lot of different factors come into play. It depends on how often you use your tent, in which conditions, and the materials. Even though nylon is somewhat water-resistant, waterproofing a nylon tent is still necessary.
If you frequently camp in areas with heavy rain, snow, or direct snow, the waterproofing treatment will likely wear off more quickly. If you seldom use your tent and use it in less harsh environments, the treatment will last longer – possibly up to four years or more.
How Do I Know When to Apply a New Treatment to My Tent?
On some occasions, you will be able to see the treatment peeling off or flaking, but not always. Generally, the best way to know when you need to re-apply the treatment is to set up your tent and test it out fully.
You can do this in your backyard with a hose. Set it up, spray it down, and see what happens. If you find water inside afterward, you should re-waterproof.
Of course, remember to let your tent fully dry before packing it up again.
How Do You Seal the Seams of a Tent: 5 Easy Steps

This is an important step that is sometimes overlooked. Sealing the seams of a tent protects you from tiny drips and also from water seeping in through the floor. You can also use this same method for repairing tent seams.
Here are the steps:
First, set up the tent outdoors or in a well-ventilated area
Use alcohol wipes to clean the seams you will be sealing and allow them to dry
Use a brush, popsicle stick, or glove to spread the seam sealant along the seam
Apply a thin coat and keep the tent erect, preferably without wind or movement
Leave the tent to dry for up to 24 hours (until seam sealer is no longer sticky)
You may have heard about seams tape. These are common and usually done in the factory because it requires a specific sewing machine. A good, durable tent will usually come with taped seams.
However, just like with a waterproof coating, these sealed seams could benefit from a tent sealant every once in a while.
Should I Put a Tarp Over My Tent?
This is a great idea, why not? If you have a tarp, the time, and the patience, using a tarp over camping tents is a great option. It will protect you and your tent from falling rain and debris. It also increases the lifespan of the waterproof treatment on your tent.
Another great way to use a tarp is under your tent. While tent floor waterproofing is important either way, a tarp will help you to avoid branches, debris, or sharp objects that could potentially damage the floor and the inside of the tent.
Conclusion
One other fact I would like to point out is that condensation is not necessarily connected with how waterproof a tent is. Condensation occurs when there is not enough ventilation. Before you apply an unnecessary coating of sealant, try opening a window or a door to see if it helps with the condensation.
All in all, when it's time to rest for the night, you deserve a private, comfortable, dry space. Now that you know how to waterproof a tent and how to seam seal a leaking tent, you are ready for an unforgettable night under the stars.
Most Read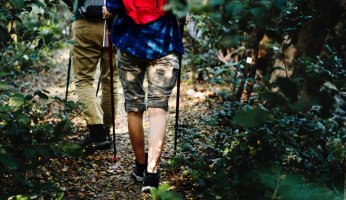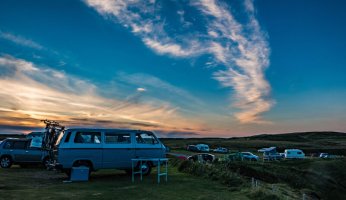 Subscribe to our Newsletter