Best Backpacking Sleeping Bags
In a
Hurry? Editors choice: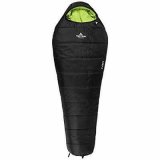 Test Winner: TENTON SPORTS LEEF

After a long walk on the trail, you will need to rest up for the explorations of the next day. Having a sack that is light on your back, warm, comfortable and best suits your needs will make that easier. The last thing you want is to be lugging around a heavy bag all day or be shivering all night. Keeping warm on your adventures is important for you to catch some sleep and still maintain energy for your next trail. Below we have listed the top ten best backpacking sleeping bags on the market today, including pros and cons for each product on our list.
Standout Picks
Criteria Used for Evaluation
Weight
Sometimes, every ounce in your pack counts. An ideal weight for backpacking sleeping bags is two pounds or less. Carrying more weight than needed, can slow you down and wear you out. Many reviewers find the weight to be more valuable than the packed size, which is one common complaint about mummy-style sleeping bags. Finding one that is light enough, but also gives you the space you need to sleep comfortably can be difficult.
Overall when looking at investing in a new sleeping bag for your next backpacking trip, keep the weight of the bag in mind as it will make all the difference as even though these sleeping bags can be compacted down for easy transport if they are heavy they will cause you discomfort. The last thing you want after hiking for hours in the wilderness is to be uncomfortable. Going a bit further with it, you really want to consider the warmth-to-weight ratio that your choice offers. You can find a bag that insulates properly while still maintaining a decently lightweight package. Lightweight sleeping gear is a must. We are seeing more and more people going with the more ultralight sleeping options, as it saves a little more on the weight that you'll have to carry. Just remember, the best sleeping bags for backpacking are going to be the ones that have an acceptable warmth to weight ration. you have to carry it, and it has to work.
Size
Depending on how you will be exploring the outdoors, the size of your crucial items is incredibly important, and this goes especially for sleeping bags. The only instance that you wouldn't be stressing about this is if you were driving to a campsite or didn't have far to walk. If you have a long trek ahead of you, you will need to plan ahead with water, food items or cooking supplies, clothes, first aid or emergency kit, and a tent. Fitting all of this into a 30L backpack can be difficult. A great solution to this headache is a sleeping bag designed specifically for backpacking. The packs we have included on our list are lightweight and most pack down quite small. If the packed-down size is still too big for your backpack, we recommend using a carabiner to attach the sleeping bag to a strap of your backpack. As long as you choose a lightweight option, this shouldn't be a hassle and will save you space inside your bag. For the taller people out there, you should make sure your pick fits comfortably. That way you can get the best sleep experience you can get on your trek.
Materials
The material of your backpacking sleeping bag plays a big roll in how comfortable you will be on your expedition. We recommend bags with a DWR coating. If you get stuck in the rain or accidentally lay your bag down on a wet surface, the water will not seep through and you can still sleep cozily. The better the material, the more versatile sleeping bag you'll have fo all kinds of different occasions.
It's what's on the inside that really counts, right? There are a few different fillings available for sleeping bags. The most popular are down filling and synthetic. Down filling, especially goose down, is said to be the warmest and most luxurious. The only downside to down filling is that it can move around and you will have to re-position the feathers if you notice any cold spots. A synthetic filling is typically more cost-effective. While down fillings have seen recent improvement with moisture, a synthetic filling is known to keep you warmer in the case that moisture seeps in. But, you do want to find a bag that is breathable, especially for the warm summer nights. This is also where choosing the right items for the location is important.
Comfort is key for all of this kind of outdoor gear! Check whether it has zippers and what the length of them is. This will determine what type of ventilation is possible and how easy or hard it will be to get in or out of the bag. Some bags have draft tubes around the zippers and draft collars around the hood to improve insulation. Sleeping pad loops or pockets are also convenient so you do not roll off the pad. What you wear to bed, metabolism and if you use a tent can all affect a person's comfort level while sleeping in nature as well. Another good thing to think about is that the materials can also dictate the temperature ratings. Also look for durable materials, such as abrasion resistant panels and a ripstop nylon shell. Many of the newer and more durable materials are light enough for those ultralight sleeping options.
Weather Resistance
Like all of your backpacking gear, your stuff has to work in not so great conditions. Look for sleeping bags that are versatile so they can be used through multiple seasons and in different weather. If you are looking for a specific temperature sack, winter, for example, check the temperature rating or EN number on for a general guideline. Also, consider the type of hood and the types of zippers for venting. You want it to be warm enough on a cold night, but also comfortable enough on a summer evening. This is really one of those factors that should be considered with all of your outdoor gear.
Overall you are looking for sleeping bags that are fitted for the season as this is the most efficient way to make sure you stay comfortable. When backpacking sleep is one of the most important things you can do to recharge your energy for the next day's activities and journey. So make sure your sleeping bag is fitted for the season you intend to use it, that way you will be sleeping easy. The weather resistance properties can also influence the temperature ratings of a particular bag. To get the best sleep experience on the trail, the weather resistance matters. A water-resistant shell is also a good idea, just in case you find yourself waking up in a wet area in the morning.
You should also put some thought into where you're heading. Are you going to be in cold weather, moderate temps, or are you heading into warmer weather? If you stick to warm weather, you should be able to get something pretty light in overall weight.
10 Best Backpacking Sleeping Bags
Subscribe to our Newsletter