Best Detox Teas
In a Hurry? Editors choice: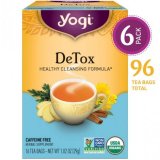 Test Winner: Yogi Tea DeTox

There are several benefits to doing a detox including better digestion
, improved mood and energy levels
and ridding your body of toxins. What better way to do a detox than by
introducing a tea
designed to help you detox into your diet? These products are typically an inexpensive way to ingest several
beneficial herbs and ingredients
into your body that is designed to effectively clean you out. The market for these teas can be a bit overwhelming which is why we put together this buying guide to help take the guesswork out of the process.
Standout Picks
Criteria Used for Evaluation
Flavors
You don't want to drink something you don't like the taste of.
If you're searching for a product that is designed to detox your body, you may prefer an option that has been proven to have detoxifying qualities over a tea that is good tasting. The two aren't mutually exclusive. But that still doesn't mean that the flavor of your tea is something you should overlook altogether. If you like the flavor of your tea, you'll be more likely to keep drinking it, making it easier for the tea to aid in detoxing your body. As you peruse our top ten list, you'll see a number of different options with varying flavor profiles. Some current users of the teas cannot drink it without adding in something to give the tea a bit of sweetness. Adding in stevia or a touch of honey is harmless enough and if doing so makes you more likely to drink your tea, then we say go for it.
Materials
Choose natural. Every time.
We have some good news. Some really good news. Most of the products on our list are derived from 100% natural ingredients. This is important because if you're looking to detox your body, you want to put as many natural products into it as you can. Some of the common ingredients you'll see in the teas on our list are dandelion leaf and other various leaves and roots. Each of these items come with a whole host of positive health benefits. You may also see green, oolong and rooibos teas as main ingredients in a number of these products. The benefits of green tea are plentiful as it is one of the healthiest beverages one can drink. It is packed full of antioxidants that will have a strong positive effect on your body like improving your brain function, aiding in fat loss and providing a reduction of risk for cancer. Though oolong tea is not as common as its black or green counterparts, it still is a helpful addition to any detox tea. It helps with boosting metabolism, decreasing the risk of diabetes and some cancers and will help to promote the burning of belly fat. Rooibos tea can help with weight loss as well as helps to fight free radicals and providing anti-inflammatory properties.
Features
Some teas have a host of other benefits aside from detoxing.
Of course, all of the teas on our list are designed to help detox your body. Some of the options have features that will benefit your body in other ways as well. Some will help with skin problems, digestion, and bloat. Some of the items on our list are designed to be used as part of a detox program. Some come with free e-books to help kickstart your healthy lifestyle. There are a few products on our list that have money-back guarantees so that you can feel like you have nothing to lose when you purchase the tea. Some of the teas are USDA Certified Organic and Non-GMO. If you have certain dietary restrictions, there are items on our list that can cater to you.
Use
How and when to drink it is important.
Tea making is straightforward. The tea bag goes in the cup. The boiling water goes in the cup. Steep for a few minutes. Take out the tea bag. Drink. But there are some teas on our list that can be taken in other ways as well. The LION tea, for example, doesn't arrive in tea bag form, but instead as ready-to-drink glass bottles of pre-made tea.
It's always important to read the warnings and instructions prior to preparing your tea. Some of the teas on our list can be enjoyed as many times per day as you like. Some can only be taken once per day. The SkinnyFit tea recommends you ask your physician before drinking if you are taking medication as it can interact with certain drugs or health conditions (migraines, for example).
Size
Watch serving size to maximize the value.
We always think that this is an important factor to consider when you are purchasing items online. This is especially true when you're purchasing food or drink items. It's good to know how many tea bags you're going to receive in your package because then you are then able to weigh the pros and cons of each individual product to see if you'll be getting more of a deal if you purchase XYZ tea with 20 tea bags for $10 or ZYX tea with 25 tea bags for $12.
Top 10 Picks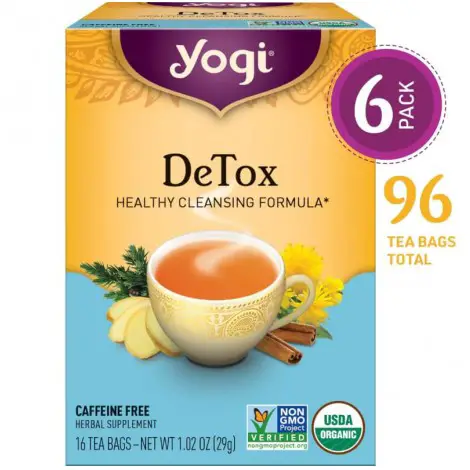 If you're looking into cleansing your body and mind, look no further than this highly-praised tea from Yogi. This product uses herbs known for their cleansing qualities (such as dandelion) along Ayurvedic spices for an ethnic-feeling experience you might find yourself turning to even if you don't feel you need to cleanse.
Read more
Flavor
This tea is considered to be spicy. With ingredients like ginger, cinnamon, and black pepper, one will see where the spiciness comes from. This is a warming tea that you can enjoy both the taste and smell of.
Materials
This tea is chock full of organic ingredients like sarsaparilla root, juniper berry extract, and clove bud. Every ingredient is easy to pronounce and natural, making this tea something you can feel good about putting in your body.
Features
This product is USDA Certified Organic and is also Non-GMO Project verified so there are absolutely no concerns over what is going into the production of this tea. There are no artificial sweeteners at all.
Use
To drink, boil water and steep the tea bag between five and ten minutes, depending upon the strength you prefer. If you prefer your tea to be stronger, Yogi recommends using two tea bags. Feel free to have one to three cups of this tea during the course of your day. This tea is caffeine-free so you do not need to worry about getting jittery from drinking it. Do not exceed ten bags per day, however. Yogi does not recommend use while pregnant or breastfeeding mothers to use drink their DeTox tea.
Size
This product comes as a six-pack. Each box contains 16 tea bags, bringing your total number of tea bags to a whopping 96.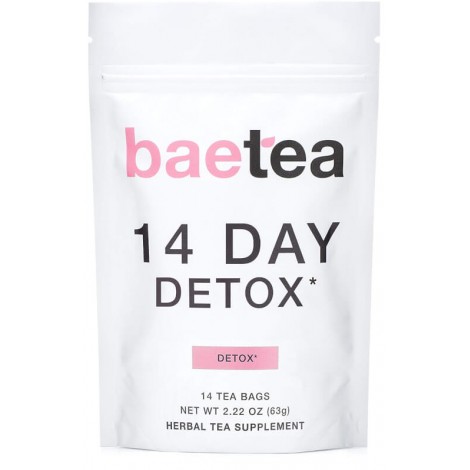 This tea from Baetea is part of a "teatox" program. The product arrives with just 14 tea bags and is designed to be used as part of a two-week detox.
Read more
Flavor
Some users found the tea to be a bit bitter or sour tasting. Others raved about how much better tasting the tea was than they expected it to be. Of course, the taste will vary from person to person, so you won't know if you like it until you've tried it. If you find you're not a fan of the flavor, we recommend adding a touch of honey to give it a bit of sweetness.
Materials
The main ingredients in this tea are rooibos, green tea, and oolong wu yi leaves. It also contains ginger root, pomegranate, and matcha. There is some stevia for sweetness and a bit of sea salt added to help provide necessary electrolytes.
Features
This tea is designed to be used as part of a two-week detox program. You are supposed to drink one cup per day and reap the benefits of reduced bloat, better digestion, and a flatter tummy.
Use
BaeTea suggests users drink this tea first thing in the morning or before a workout for an added energy boost. They recommend steeping for just three to five minutes and suggest drinking it with food. The company does not suggest use if you are currently pregnant or breastfeeding. They also do not recommend users be under the age of 18.
Size
As previously mentioned, this product from BaeTea contains just 14 servings of tea. This is meant to be used as a 14-day detox program.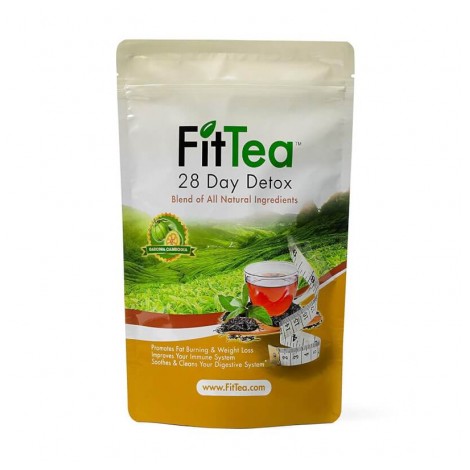 This anti-oxidant rich tea from Fit Tea is designed to be used as part of a 28-day detox program. Users can expect a natural energy boost and a host of other positive side effects.
Read more
Flavor
Current users of this tea suggest that it tastes a little like a lemon or citrus tea. Most current users don't feel the need to add any sweeteners to it.
Materials
This main ingredients in this tea are rooibos, green tea, and ginger. Other ingredients include pomegranate, stevia, and honey.
Features
This tea provides a host of benefits that users can look forward to. These include boosting your metabolism, reducing bloating, supporting natural digestion and detoxifying your body.
Use
Fit Tea suggests using this tea first thing in the morning with or without your breakfast. They also recommend using it for extra energy before your workout.
Size
There are 28 servings per bag of Fit Tea. This product is designed to be used as part of a 28-day detox program.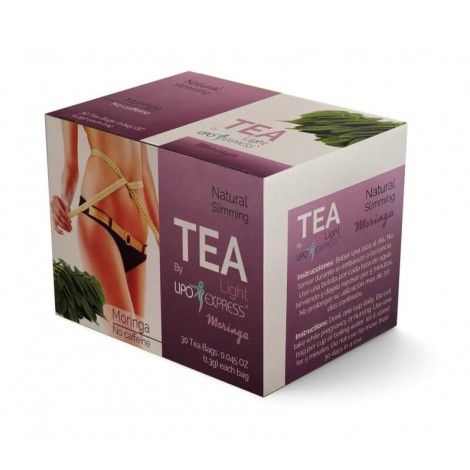 This tea from Lipo Express is great for people who are looking to detoxify their bodies while speeding up their metabolism. It is a good choice for folks with caffeine sensitivities to implement into their diet.
Read more
Flavor
The flavor of this tea is nothing to write home about. Some users suggest mixing the Lipo Express tea bag with their favorite flavored tea to make it easier to drink.
Materials
The three main ingredients in this tea are java, plum, and cassia. Each of these ingredients provides a host of positive side effects for users of the tea. The java helps to reduce appetite and burn fat. The plum acts as a diuretic and is great for folks who have issues with digestion. Cassia helps to provide immune system support as well as improve blood circulation and menstrual symptoms in women.
Features
A great feature of this tea is that it is caffeine free, making it a perfect choice for people who have caffeine sensitivities. It's designed to be used in conjunction with a healthy lifestyle for best results.
Use
Lipo Express suggest users drink just one cup of their tea per day after steeping the bag for 5 minutes. It's not designed for use for women who are pregnant or breastfeeding.
Size
This product arrives in a box with thirty tea bags.

5

. The Republic of Tea Get Clean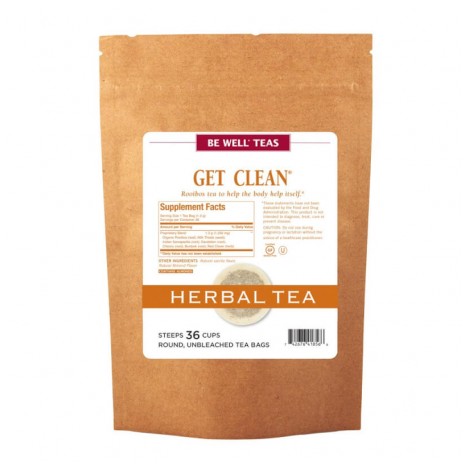 The Republic of Tea gets tea. They have a number of tea varieties to choose from but their Get Clean tea is a red tea designed to help you cleanse your body with only the finest ingredients.
Read more
Flavor
The reviews came mixed when it came to the flavor of this tea. Some users reported loving the taste and that it didn't require the use of any additional sweetener, while others mentioned they needed to add honey to make the tea flavor bearable.
Materials
The main ingredients of this tea included rooibos leaves and Indian Sarsaparilla and dandelion roots. Indian Sarsaparilla is a great addition to the ingredients of this product because it has been used to treat a host of health issues such as psoriasis, arthritis, and cancer in the past. Some suggest that dandelion root helps to alleviate digestive ailments in some people.
Features
Gluten-, sugar-, calorie-, caffeine- and carb-free, this tea from The Republic of Tea is a great addition to any diet plan, but especially those who have food sensitivities.
Use
Steep this tea for five to seven minutes to enjoy. The Republic of Tea does not recommend use for pregnant or breastfeeding women.
Size
This product provides 36 servings.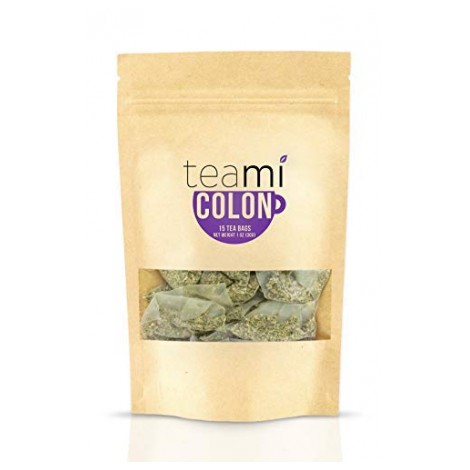 This product from Teami is designed to help your body with the process of releasing toxin build-ups and eliminating bloating. It will curb your hunger and aid in your weight loss program.
Read more
Flavor
The manufacturer of this tea has a suggestion right on the bag to add honey, nectar or lemon if necessary, though our research does suggest that this tea is better tasting than many other similar products on the market.
Materials
The main ingredients in this tea are senna leaf and root, hawthorn berry extract and lotus leaf. The use of senna leaf and root gives this tea a bit of a laxative effect. Hawthorn berry tea was used traditionally to help treat heart failure and chest pain in patients so the use of the extract could provide users with heart health benefits.
Features
Teami claims that their Colon tea is designed to help strengthen the immune system of its users. So not only will it help with skin issues such as acne and inflammation, it will boost your energy and metabolism as well.
Use
Steep one bag in eight ounces of water for one to three minutes depending on your personal taste preference. Teami suggests using this product every other night, at least to start. If you are drinking this for the first time, the company also suggest steeping your tea on the shorter end of the above-quoted spectrum to avoid possible cramping that may occur otherwise.
Size
This bag will provide users with 30 servings of tea.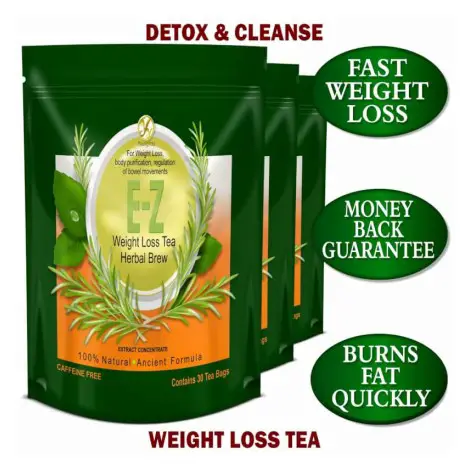 The E-Z Detox tea from YoungYou Organix is a great addition to any healthy lifestyle. It's designed for men or women to use in conjunction with diet and exercise in order to ensure they feel their best.
Read more
Flavor
This tea has a citrusy/green taste. Many current users suggest that it has a nice taste that doesn't need to be masked by additional sweeteners. Though, of course, if you need you can add a touch of honey to make it a little sweeter.
Materials
Some of the main ingredients in this product are eucalyptus, ginger and anise. Ginger is a common ingredient amongst detox teas and anise acts as a natural appetite suppressant.
Features
This tea contains natural ingredients and is, therefore, a natural colon cleanser. It will help to eliminate excess toxins from your body resulting in less bloat, clearer skin and more energy overall.
Use
This tea is as simple to brew as other options on our list. Pour hot water over the tea bag and steep for three to five minutes. The company recommends using this once per day after your final meal of the day and reiterates not to exceed the recommended daily dosage. It can be enjoyed hot or cold.
Size
This product has 30 tea bags.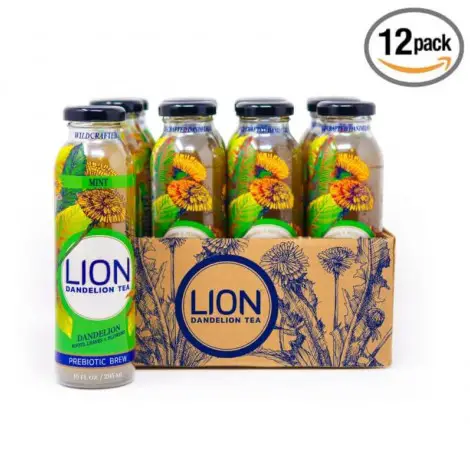 This tea is a little different from other options on our top ten list. This is because it arrives in a 12-pack of individual beverages with no tea bags or boiling water necessary. With just 40 calories per serving, this tea is a great addition to any healthy lifestyle.
Read more
Flavor
This is a great tasting tea, maybe one of the best on our list. With spearmint and peppermint extracts, you can expect this to be a great option for those who reach for peppermint tea on a regular basis.
Materials
The main ingredients in this product are dandelion tea, lemon juice, and honey. Dandelion tea has a host of benefits for drinkers that include helping with inflammation, providing a source of antioxidants and reducing cholesterol.
Features
This tea is completely organic and is made with only non-GMO ingredients so it is something you can feel good about putting into your body. The dandelion root in this product helps to flush your body of any toxins that have built up as well as helping with the cleansing of the liver and detoxifying your kidneys.
Use
This is the most convenient tea on our list. You simply just need to take the lid off and enjoy your already portioned tea. You can heat it if you prefer to drink it warm or stick the bottles in the refrigerator and enjoy it cold.
Size
As previously mentioned, this tea arrives at your door in a 12-pack of beverages. Each bottle contains 10-ounces of tea.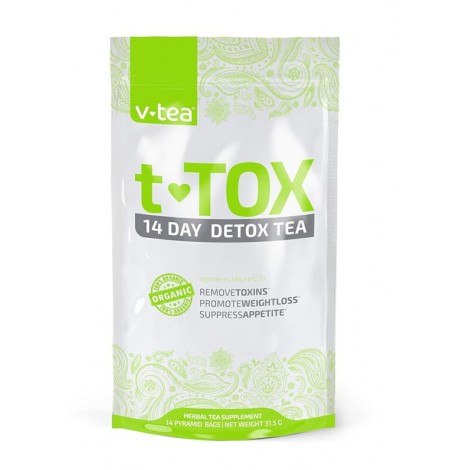 V Tea designed their T-Tox tea to be used as a 14-day detox. The tea bags themselves are eco-friendly triangles that make less mess than loose leaf tea. The company backs up their product by providing a guarantee that if you are unsatisfied, they will fix the problem without any questions.
Read more
Flavor
This detox tea has a light and subtle herbal taste that isn't overpowering or unpleasant at all. There is a hint of mint. Some users added stevia or honey for a little sweetness, but most felt it wasn't necessary.
Materials
This tea is made with 100% organic materials including burdock root and nettle and dandelion leaves. Burdock root has long been used in Chinese medicine and is believed to have properties that help aid your immune system, lower your blood pressure and improve hair health. There is no senna leaf in this product, making it so you will not encounter an embarrassing bathroom emergency while detoxifying.
Features
This tea is made in small batches in the United States. It is designed to be used during a 14-day detox that will help improve your overall energy levels, aid in digestion and stop bloating.
Use
V Tea recommends bringing six to eight ounces of water to a boil and steeping their tea for five minutes. You can also drink this chilled, however, by doubling the serving size and pouring the beverage over ice.
Size
As this product is designed to be used as part of a 14-day detox, there are just 14 bags in the package.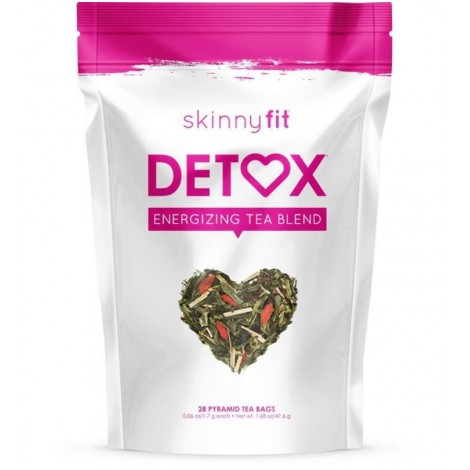 The last detox tea on our top ten list comes from SkinnyFit. This company is known for its health and wellness products, and this energizing tea is no exception to this rule. This tea is designed to reduce bloating in your tummy, flush out any toxins you might have and aid in overall digestion. Because this tea has caffeine in it, you may be able to replace your daily cup of joe with this all-natural health drink instead.
Read more
Flavor
This tea is great tasting. It's similar to a peach green tea beverage but without all the added sugar.
Materials
The main ingredients in this product are sencha green tea, nettle leaf, and oolong tea. Sencha green tea has a host of great benefits that include: fighting free radicals that might try to harm our bodies, acting as a fat burner, boosting the immune system and, because it has a caffeine component, increasing energy. There are 13 superfoods in this tea so it is something you can feel good about putting into your body.
Features
When you purchase this product, you get a handy e-book for free that will help you to jump-start your healthy lifestyle journey. It is chock-full of recipes and workout ideas.
Use
This tea is as simple to brew as any other option on our list. Steep for three to five minutes before enjoying. The company does recommend using this with food and to avoid drinking on an empty stomach. You can enjoy it once or twice per day. SkinnyFit recommends users who are taking medication, pregnant or breastfeeding consult their doctors before use.
Size
This product provides 28 servings.

Subscribe to our Newsletter