Best Detox Teas
In a
Hurry? Editors choice: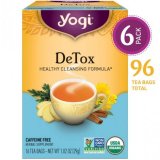 Test Winner: Yogi Tea DeTox

There are several benefits to doing a detox including better digestion
, improved mood and energy levels
and ridding your body of toxins. What better way to do a detox than by
introducing a tea
designed to help you detox into your diet? These products are typically an inexpensive way to ingest several
beneficial herbs and ingredients
into your body that is designed to effectively clean you out. The market for these teas can be a bit overwhelming which is why we put together this buying guide to help take the guesswork out of the process.
Standout Picks
Criteria Used for Evaluation
Flavors
You don't want to drink something you don't like the taste of.
If you're searching for a product that is designed to detox your body, you may prefer an option that has been proven to have detoxifying qualities over a tea that is good tasting. The two aren't mutually exclusive. But that still doesn't mean that the flavor of your tea is something you should overlook altogether. If you like the flavor of your tea, you'll be more likely to keep drinking it, making it easier for the tea to aid in detoxing your body. As you peruse our top ten list, you'll see a number of different options with varying flavor profiles. Some current users of the teas cannot drink it without adding in something to give the tea a bit of sweetness. Adding in stevia or a touch of honey is harmless enough and if doing so makes you more likely to drink your tea, then we say go for it.
Materials
Choose natural. Every time.
We have some good news. Some really good news. Most of the products on our list are derived from 100% natural ingredients. This is important because if you're looking to detox your body, you want to put as many natural products into it as you can. Some of the common ingredients you'll see in the teas on our list are dandelion leaf and other various leaves and roots. Each of these items come with a whole host of positive health benefits. You may also see green, oolong and rooibos teas as main ingredients in a number of these products. The benefits of green tea are plentiful as it is one of the healthiest beverages one can drink. It is packed full of antioxidants that will have a strong positive effect on your body like improving your brain function, aiding in fat loss and providing a reduction of risk for cancer. Though oolong tea is not as common as its black or green counterparts, it still is a helpful addition to any detox tea. It helps with boosting metabolism, decreasing the risk of diabetes and some cancers and will help to promote the burning of belly fat. Rooibos tea can help with weight loss as well as helps to fight free radicals and providing anti-inflammatory properties.
Features
Some teas have a host of other benefits aside from detoxing.
Of course, all of the teas on our list are designed to help detox your body. Some of the options have features that will benefit your body in other ways as well. Some will help with skin problems, digestion, and bloat. Some of the items on our list are designed to be used as part of a detox program. Some come with free e-books to help kickstart your healthy lifestyle. There are a few products on our list that have money-back guarantees so that you can feel like you have nothing to lose when you purchase the tea. Some of the teas are USDA Certified Organic and Non-GMO. If you have certain dietary restrictions, there are items on our list that can cater to you.
Use
How and when to drink it is important.
Tea making is straightforward. The tea bag goes in the cup. The boiling water goes in the cup. Steep for a few minutes. Take out the tea bag. Drink. But there are some teas on our list that can be taken in other ways as well. The LION tea, for example, doesn't arrive in tea bag form, but instead as ready-to-drink glass bottles of pre-made tea.
It's always important to read the warnings and instructions prior to preparing your tea. Some of the teas on our list can be enjoyed as many times per day as you like. Some can only be taken once per day. The SkinnyFit tea recommends you ask your physician before drinking if you are taking medication as it can interact with certain drugs or health conditions (migraines, for example).
Size
Watch serving size to maximize the value.
We always think that this is an important factor to consider when you are purchasing items online. This is especially true when you're purchasing food or drink items. It's good to know how many tea bags you're going to receive in your package because then you are then able to weigh the pros and cons of each individual product to see if you'll be getting more of a deal if you purchase XYZ tea with 20 tea bags for $10 or ZYX tea with 25 tea bags for $12.
Subscribe to our Newsletter