Best Grip Socks
In a Hurry? Editors choice: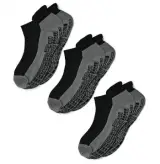 Test Winner: Rative

Do you require particular types of socks that are going to allow you to remain stable on your feet? Sure, in theory, you could remain upright with any old pair of socks, but when you need your feet to grip, it will behoove you to be wearing a well-designed pair of grip socks.

Indeed, these types of socks are incredibly unique and different from any other pair of socks. What makes them unique is the gripping technology that they will be engineered with. This may not make them the most comfortable style to wear, but they get the job done regarding stability.

As with anything else, though, you need to be able to separate the good from the bad. Today, we are going to help you with that. First, however, take a look at some of the best grip socks that money can buy.
Standout Picks
Criteria Used for Evaluation
Traction
It sounds simple but it is super important; well-designed options need to provide grip.
This one is pretty clear, but the essential characteristic of a pair of grip socks is for them actually to be able to provide you with grip. As simple as it sounds, it needs to be at the forefront of your mind. After all, why else are you buying them if you do not require the grip that they offer? You might as well go after other types of socks.
The question is how do most engineers achieve slipper socks with grippers, so to speak? If you went through the above list, then you noticed that all the entries were designed with unique soles. This is the key as the soles of socks will make contact with the ground, and they will need to deliver on the performance end of things.
Most designers will opt to put silicone gel strips on the soles of their socks, and this does the job quite well. Now, as with everything else, some socks will perform better in this area, but granted you find options with specially-designed soles, you should be in business.
Materials
As with any other type of sock that you ever buy, the materials will be important.
One of the fascinating elements when it comes to buying socks is different styles will often require different materials. When it comes to grip socks, you will typically not be using them for highly intensive workouts and stuff of that nature. Sure, they are great for yoga, but that is a little different. Anyway, due to this, cotton is often in the fold.
And, as a matter of fact, cotton is one of if not the most popular fabric for sticky socks. On this list, in specific, socks with cotton blends popped up time and time again. Interestingly enough, though, several options on this list featured combed cotton. You may have never heard of this, and while this fabric is still cotton, it is actually softer than usual and is also tougher (and tends to cost more).
Yet, most models will not be made with just cotton. Several will also implement spandex into their blend. Most of the time, only a small dose will be used, but that is all that is needed to gain the benefits of the stretch material. Synthetic fabrics, such as nylon and polyester, will often pop up in some blends. The fascinating aspect of structures of this nature is they will dry very quickly (and they are quite resilient overall).
Comfort
You bet, you will want to buy an option that is actually comfortable to wear.
If you notice something about these types of socks, there will often be complaints that the grippy soles can be seen and can lead to discomfort. While this is not nearly as bad as it sounds, you also need to realize these types of socks do not need to be worn all the time. Unless you are using them for stability at all times, you will find them to be situational.
Either way, they should still be comfortable to wear. Outside of the central fabric blend (which is one of the reasons cotton is such a popular material), you can also look for some other features. Two, in specific, are fit and breathability. The option you go with needs to fit you snug without being too tight. Without proper fitting, the non-slip socks you are wearing will quickly become uncomfortable.
As for breathability, cotton is naturally breathable, but it is also going to absorb your sweat. For improvements in this area, look for options that can wick away sweat and also those that implement mesh zones.
Oh yeah, and some anti-slip socks will also sport reinforced arch support and possibly even seamless toes. Both of these features can be nice to look for.
Value
This is something that is important for virtually anything you buy, quite frankly.
Instead of just judging grip socks on how long they last, it may be better to judge them based on the value that they provide to you. Yes, longevity plays a role in this section, so let's not act as if it does not. After all, socks that are cheaply-crafted will not be of much value to anyone (at least to those that are using their hard-earned money to buy them).
So, yes, you can analyze the durability of sticky socks, but that is not the only thing to pay attention to here. Additionally, keep in mind that there are several sellers out there who will offer their socks in multiple packs. On the flip side, others will sell them individually. Most of the time, you can get a better deal with the former.
Lastly, the price can come into play too. However, it should not be the main criterion. Quality and quantity are a bit more important than price, but you also may not be interested in spending $20 on a single pair of non-slip socks, and that is fair.
Color
Is color really that important? That is a question that only you will be able to answer.
It is the simple things in life that often matter the most. That is an excellent way to describe the importance of this section. Sure, for some of you, the color or colors you go with will have zero influence on the socks that you buy. But, consider this, when it comes to grip socks, you may want to use them for certain activities such as yoga.
Well, if you are in a yoga class or even partake in it at a local venue, you may want the color of your socks to represent your yoga style. Again, for some of you, this will sound shallow and pathetic. Others will care, though, and you need to respect that.
Why else do you think that sellers around the world typically sell their non-slip socks in different color variations? Of course, just a quick note on this, most of the time, you will not be able to pick the specific colors of each pair of socks you get. Instead, most manufacturers will sell their designs in packs (and you pick a pack of colors that you prefer).
Our Top Picks for the Best Grip Socks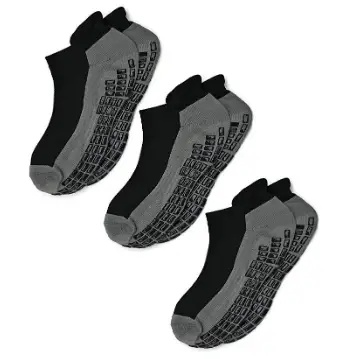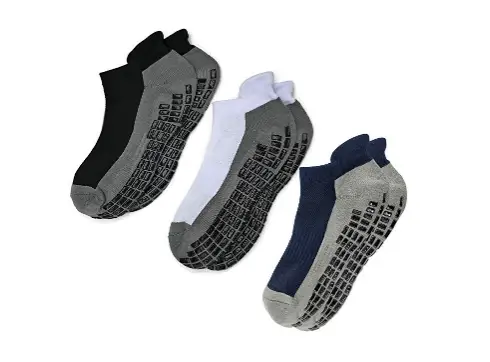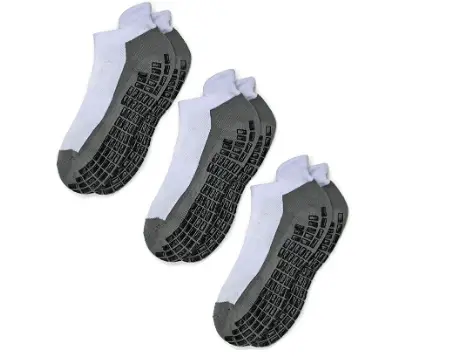 When it comes to providing grip on slick surfaces, few socks do it better than these suckers. Better yet is the fact that each sock has been designed with arch support for improved comfort and a better fit.
Read more
Traction
Ironically, the grip on these socks is so good that you may end up falling over from sticking to the ground. While this may be slightly exaggerating its capabilities, it gives you a good idea anyway.
Materials
These grip socks are designed with a combination of 57 percent cotton, 40 percent nylon, and 4 percent spandex. There is also an ideal amount of ventilation for high-performance activities.
Comfort
Though the sizing can be a bit inconsistent, these are very comfortable to wear thanks to their arch support and fabric blend.
Value
In addition to the fact that each pair of grip socks is very high in quality, you also get three different pairs with your purchase. For sure, the value here is tremendous.
Colors
No, you can't pick the distinctive colors of each pair of socks you want. However, there are still different options at your disposal. You get a set amount of specific colors.
Overall
Not often does an off-brand option top a list of this nature, but that is the case here. These socks are too good to ignore, and if you buy them, you will see why.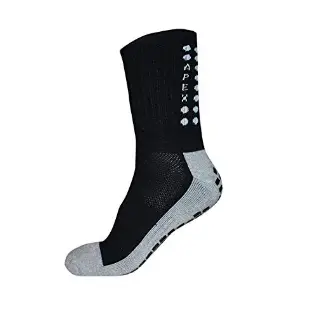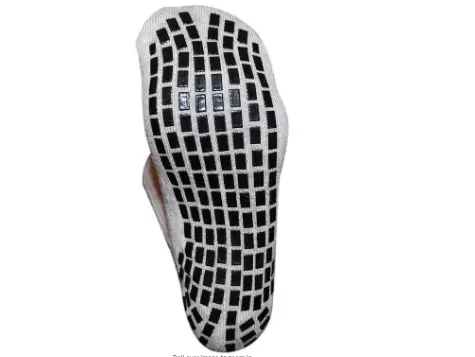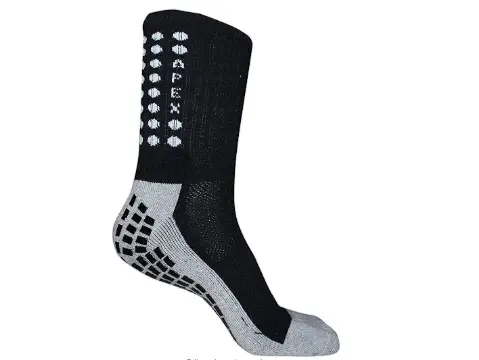 Unlike other designs, these grip socks are designed with gripping technology on both the inside and outside. They are still comfortable, though, and this extra grip will come in handy during many situations.
Read more
Traction
There are pads on both the inside and outside of these socks. This greatly enhances their ability to provide traction on virtually any surface that you wear them on.
Materials
Apex designed their socks with soft and comfortable materials. The blend is also going to last but as these are socks, they will eventually begin to wear and tear.
Comfort
Overall, these are comfortable but you can tell that the grips are there. You will need to get accustomed to these socks because, at first, you may not like their thickness.
Value
Yes, you only get the one pair of socks with your purchase but the quality is high. In terms of quantity, however, there are better value options out there.
Colors
Black and white color options are available and while this is nothing flashy, you can't go wrong with either option. Very few of you will have issues with the lack of vibrant color options.
Overall
The thick grips take some time to get used to but you would be hard-pressed to find a pair of grip socks that offer more traction than these. They do their job extremely well.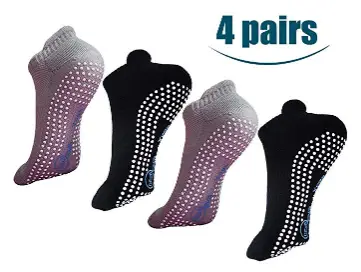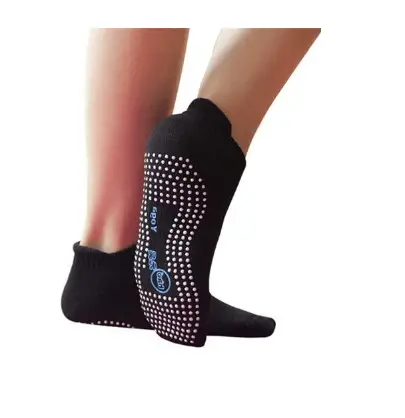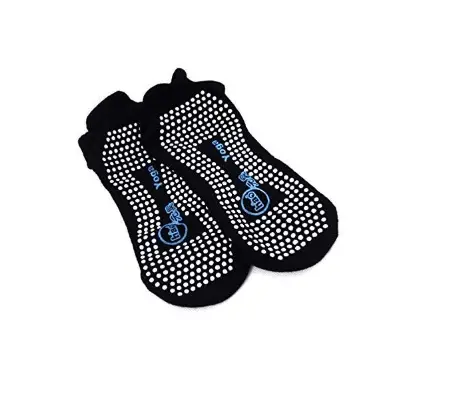 Made with a combination of cotton, spandex, and elastic, these skid socks for yoga and other such activities. Do not worry; they also have incredibly grippy soles.
Read more
Traction
As you can see from the photos, the soles of these socks have been designed with specific "dots" that will provide traction. They can almost be considered tread that is on the soles of shoes.
Materials
The central cotton blend (90 percent of it) also consists of spandex and elastic materials. In addition to being breathable, they are also easy to wash and comfortable to wear.
Comfort
No, these are not the best for high-performance activities but they will work great for yoga and other such activities. As noted, they are also really comfortable on your feet too.
Value
The quality of each sock is there and on top of that, there are also options for two and four pairs.
Colors
Alright, so the color selection is not the best but you can at least choose between different packs of both gray and black socks. Of course, you can't go wrong with either black or gray socks.
Overall
Yeah, the value here is terrific and is extremely compelling. Many of you will want to look long and hard at this option as it should be near the top of your list.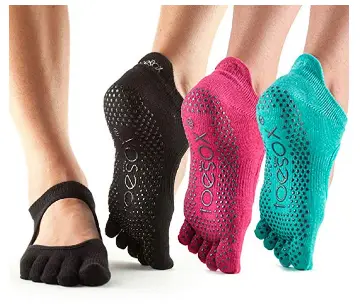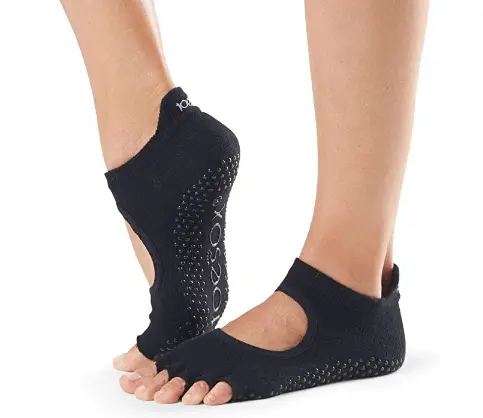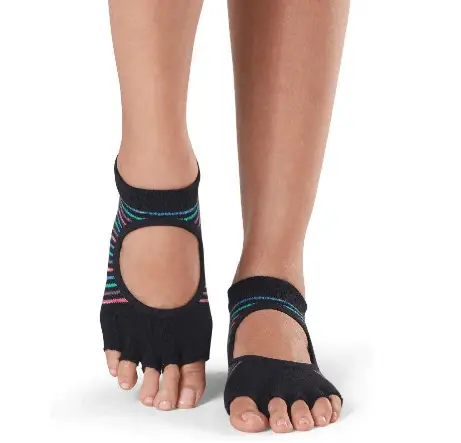 As you can see from the photos, these grip socks are empty in the midfoot area. This adds to their breathability and in addition to their organic cotton blend, they are really nice overall.
Read more
Traction
The entire length of the soles is designed with "tread" to provide grip to just about any surface that you will ever walk or stand on.
Materials
These socks are not actually designed with regular cotton as the cotton is organic. 77 percent of the blend is this material and the other 19 percent is polyester (4 percent are various other fabrics).
Comfort
The five-toe design allows your toes enhanced freedom of movement and breathability overall. Some of you, though, may not like the open design of the midfoot area.
Value
Being offered in two and three packs, you get a good bang for your buck either way you go. The polyester and cotton blend is also high-quality too, so keep that in mind.
Colors
Once again, you are not allowed to choose the color of each pair of socks you get. Instead, there are various color combinations that you can choose from.
Overall
Outside of the fact that these do run a little big, they are utterly fantastic. The manner in which your toes are allowed to breathe is arguably their best asset.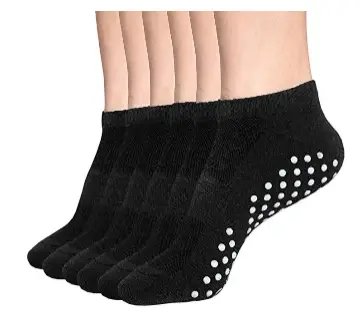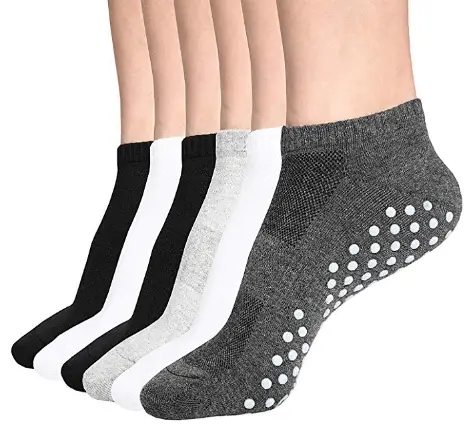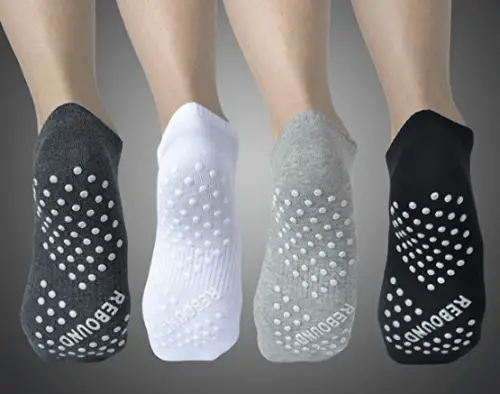 The value of this option is through the roof and it is thanks to the combination of each grip socks quality and the fact that you get six pairs with your purchase. Not a bad gig overall, huh?
Read more
Traction
Thanks to the anti-skid frictions that have been integrated into the sole of each sock, these will grip as well as any other option on this entire list.
Materials
In addition to the combination of the combed cotton and silica grips, these are also designed with mesh venting. This drastically helps them be more breathable to wear.
Comfort
The bumps that are located on the soles do protrude out a little too much for some people's liking. However, the cotton blend does make these comfortable to wear regardless.
Value
For the price and quality of the socks, it is impressive that you get six pairs with your purchase. You should not need to buy grips socks for a decent amount of time after these.
Colors
No, there is not a ton of color variety here. But, you can select between different packages (which come with some combination of black, white and gray).
Overall
Sure, the bumps may bother some of you but it is hard to argue against the quality and performance of this option. Plus, it is not like they are dreadful to wear, either.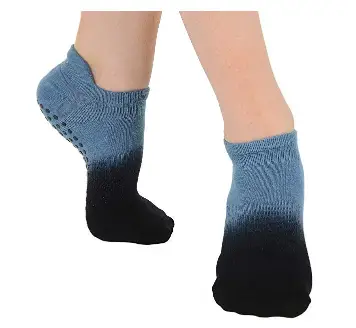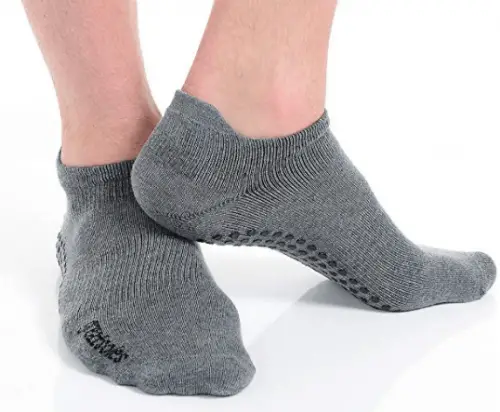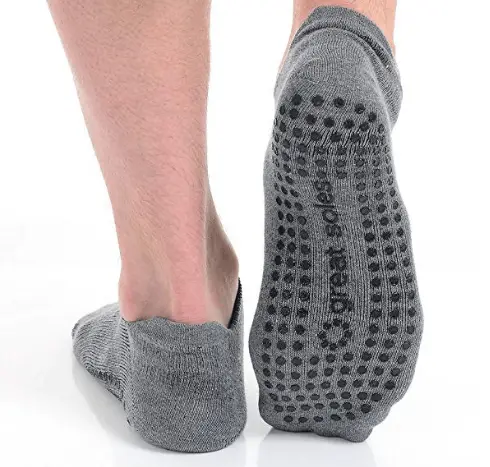 Past the non-slip soles that have been integrated, these socks have been equipped with contoured Y heels for improved comfort and an improved fit overall. They also look the part too.
Read more
Traction
Not only does the silicone dot technology ensure that these will grip effectively, but the contoured, Y heel of each sock ensures that they will stay in place on your feet.
Materials
The natural cotton blend that is on display here will draw little criticism. Plus, these socks have been colored in eco-friendly dyes for anyone who is curious.
Comfort
At the end of the day, it is tough to go wrong with the comfort that socks with cotton blends produce. The same is true here but, one thing to note, these do seem to run a little big.
Value
It appears as if you only get the one pair of socks with your purchase, and while this may be disappointing to some of you, the quality of them is well worth it.
Colors
Out of all the options on this stacked list, these may have the best appeal. This is because each of the color options is multi-colored. You are sure to find one that you like.
Overall
Compared to the rest, these do not reinvent the wheel but that is not exactly an issue. After all, when you have a formula that works, why not just keep riding it until it begins to age?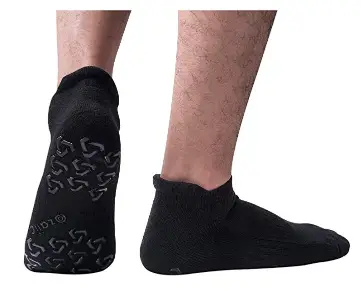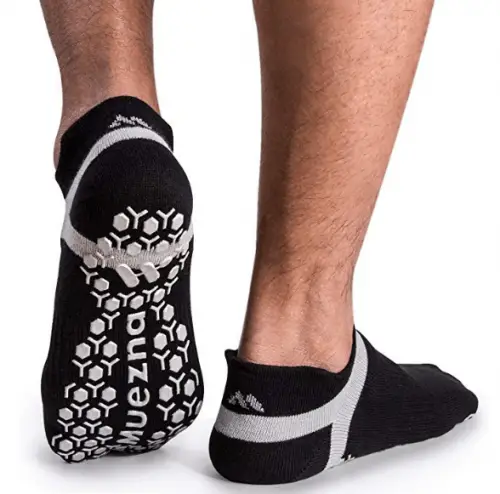 As with so many of the best grip socks, these were engineered with a combination of elastic and combed cotton. Now, with these, you may notice the bumps on your feet but it is not too unbearable.
Read more
Traction
As compared to others, the pattern of the silicone gel strips is a bit different. The provided grip is superb, but do note that the middle of the soles does not have any gel strips.
Materials
The combination of combed cotton and elastic is not a new one and it is one that you see quite regularly for grip socks.
Comfort
Adding on to the combed cotton blend is the fact that mesh has been implemented. This allows for better breathability which will keep your feet more comfortable as a result.
Value
If you just wanted to try this option out, you can just order a single pair. But, if you are already convinced of its value, then you can opt for the three-pack option.
Colors
There are actually no other color options besides black. This is not necessarily a bad thing as you can't go wrong with black socks, though.
Overall
The unique silicone gel pattern makes these quite compelling and you can't beat their all-black appeal. Add in implemented mesh and you have one of the better options out there.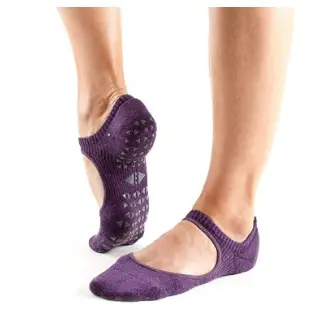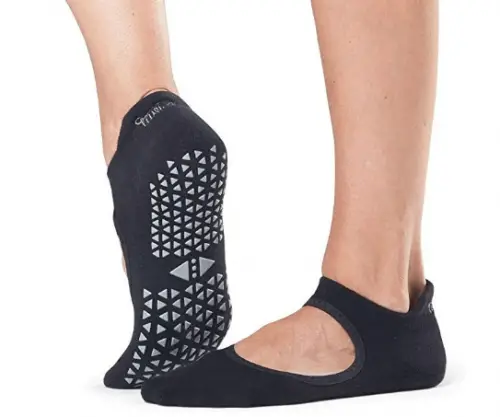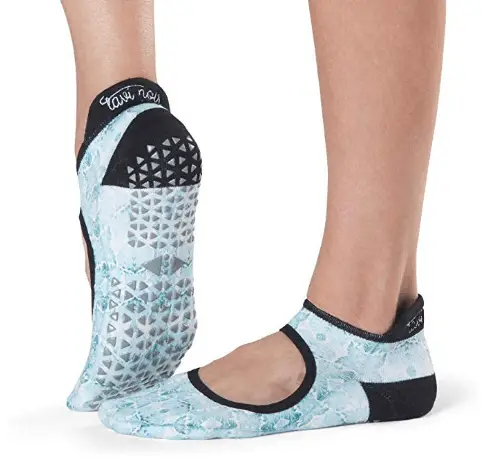 Sometimes, less is more and while this can be cliché, it perfectly explains why these socks made their way on this list, past the fact that they provide an excellent grip that is.
Read more
Traction
The "less is more" philosophy that is executed here certainly is not in reference to the grip. As you can see from the photos, the sole of each sock is covered with gel strips.
Materials
Now, these socks are actually designed with more polyester than anything. There is still quite a bit of organic cotton but 57 percent of the blend is indeed polyester.
Comfort
Past the open design which amplified breathability, there is also built-in arch compression in these socks. For those who need arch support, these will work terrifically.
Value
No, the seller does not offer this option in pairs so you will need to buy them individually. This does not hurt their value too much, though, as the quality is quite high.
Colors
The color variety is far from elite but it is also lovely to have the options that you have, to be honest. Beggars can't be choosers, right?
Overall
As these are women's socks, they will not do men much good. For women, these are really good but their open design is what is going to sell you or not.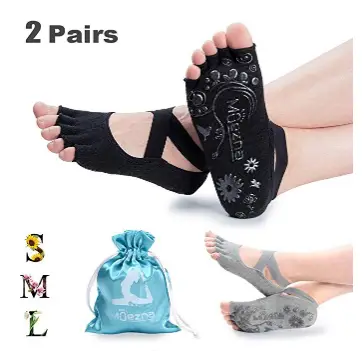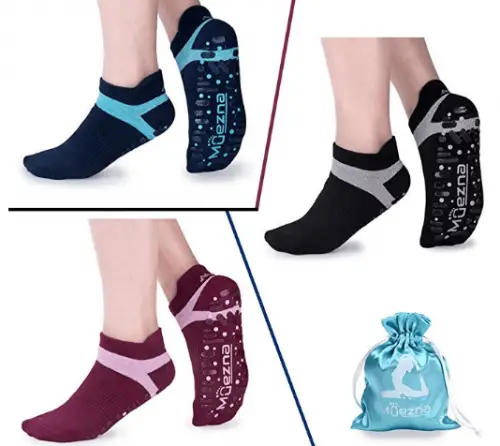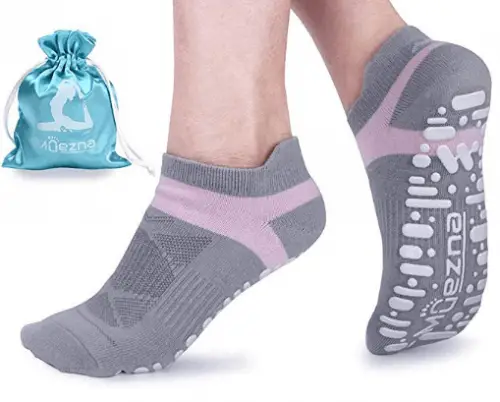 The combination of the open toes and the open midfoot area of these grip socks vastly enhance their breathability, which is something many of you will love. They also grip incredibly well, which helps.
Read more
Traction
Past the silicone gel strips that add the traction, you will be looking for, these were also engineered with elastic straps. These straps help to prevent the socks from falling down your feet.
Materials
There is actually quite a bit of spandex (12 percent) in this cotton blend. That is more than you typically see, and that certainly makes these capable of stretching with excellent efficiency.
Comfort
Admittedly, the material between the toes can be somewhat irritating. It merely depends on your tolerance level and if you want your toes exposed. In other news, these will wick away moisture.
Value
Offered in both packs of two and three, you definitely get your money's worth with this option.
Colors
Based on the color selection, you can tell these are for women. As is typical, you do not have the ability to select the individual colors of socks that you buy.
Overall
For certain, these are a bit different. Their toeless design will either appeal to you or it will not, truthfully. But, through and through, these remain stable in every way possible.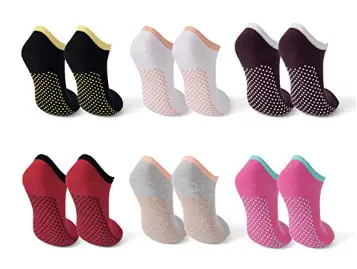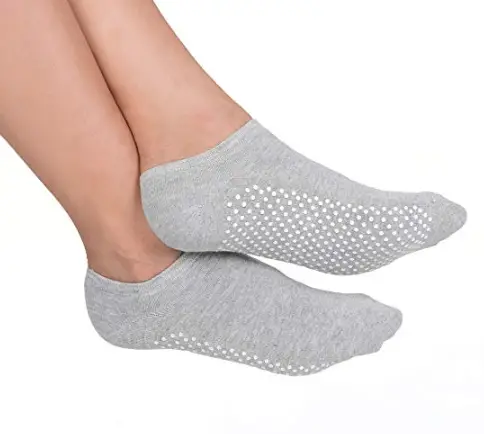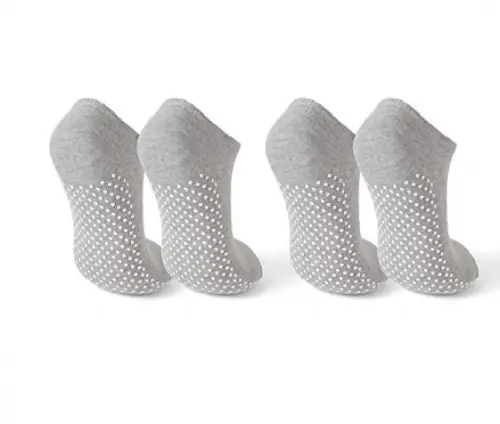 Past their silicone grips, one of the many reasons to love these socks is they are designed with seamless toes. This small feature vastly enhances comfort and it is quite coveted overall.
Read more
Traction
The silicone grips do not actually extend to the heels, for the record. Overall, this is not an issue as the provided grip is excellent.
Materials
In addition to the cotton that has been incorporated into the fabric blend, these socks also feature some polyamide and even a touch of elastane (or spandex).
Comfort
As mentioned, these are designed with seamless toes. What this means is you will have no chance of being irritated by seams running down the toes (which can be a common issue).
Value
These are not the thickest socks out there and may not last quite as long as others. Still, they are far from cheap and come in multiple pairs.
Colors
Various different packs come with several different colored socks. So, you are given a variety if you want it, which is nice.
Overall
The premium cotton blend and seamless toes will be enough to sell quite a few of you. When you factor in the excellent grip, you have an option that few will want to pass up on.

Subscribe to our Newsletter