Best Ping Pong Tables
In a Hurry? Editors choice: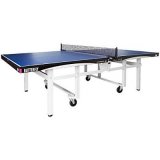 Test Winner: Butterfly Centrefold 25

It is pretty amazing how in this modern world that is dominated by social media and
electronic
devices that humans can continue to be entertained with a simple paddle and a ball. Of course, what good is the sport of
ping pong
without an actual table to play it on? This can be a great addition to your home gaming room as it is a tremendous
recreational
activity. That said you may be surprised at both the major and minor details that go into owning a high-quality version. Enjoy the ride and at the end of this guide, you will learn everything you need to in regard to ping pong tables.
Standout Picks
Criteria Used for Evaluation
Top 10 Picks
1

. Butterfly Centrefold 25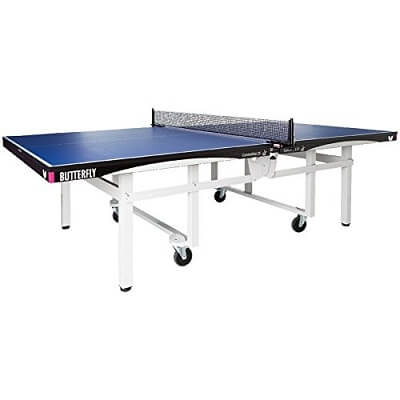 The best models do come at quite a steep price and such is the case with the Centrefold 25. If you require a professional-level table, this is the way to go. It is also a huge bonus that it comes fully assembled.
Read more
Materials
To comply with the ITTC ruling for wheelchair competitors, the legs are conveniently placed Thanks to its one-inch thick (25-millimeter) scratchproof tabletop, this sports one of the most impressive designs on the market. On top of this, the top is surrounded by a hard PVC band with a two-inch steel rim.
Durability
Due to the materials used, the frame that supports the table is both durable and stable.
Ease of Use
What is fascinating about this table is it comes fully assembled. Not many models will offer this amazing convenience and because of which, the hassle of the assembly process is not a worry. Thanks to the height adjusters that are integrated on the outer legs, you can counter the issues of playing ping pong on an unleveled floor.
Portability
While this can easily be folded with the fold and roll system, it can also seamlessly be transported with its five-inch rubber caster wheels. Speaking of the wheels, they will also lock in place.
Overall
Although this may be out of several buyers' budgets, it is certainly worth it if you possess the funds. Plus, in the event there are any defects, the five-year warranty has you covered.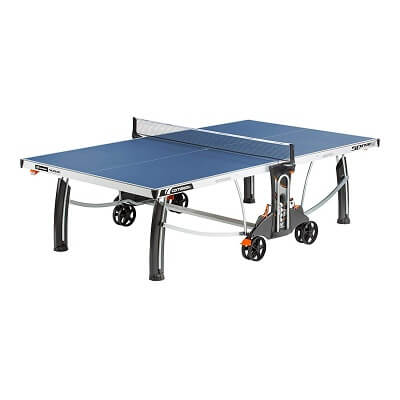 With the combination of its seven-millimeter laminate tabletop and galvanized steel frame, the Cornilleau Crossover is one of the most durable and stable units on this list. For added convenience, there are also storage locations for balls and rackets on each side.
Read more
Materials
First off, the seven-millimeter resin laminate tabletop provides you with a hard and dense playing surface. However, this is coupled with an anti-glare finish that delivers ball adherence. Finally, the corner protectors add additional safety.
Durability
Supporting this table is a 2.25-inch structural galvanized steel frame. Yet, the new and advanced sturdy leg design also provides additional support.
Ease of Use
Reviewers agree that it is worth the extra money to have someone assemble the table for you. Those who assembled it themselves, say it took about two hours.
On each side of the table, there are ball and racket storage locations and also a ball dispenser. What more could one really ask for?
Portability
As with most ping pong tables, this will conveniently fold up for storage. However, when it needs to be moved, the nearly eight-inch double wheels aid significantly. Lastly, the retractable net reduces storage space.
Overall
Marking the claim as the second-best ping pong table in the world is no easy feat but the Crossover does just that. This is primarily due to its epic combination of convenience and durability.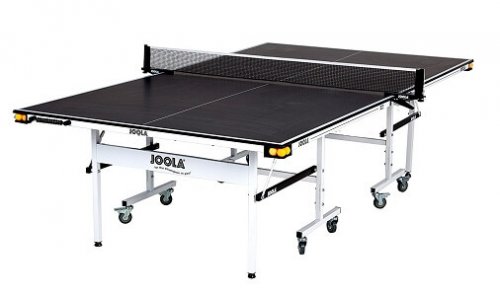 This will not be the only appearance of Joola on this list, rest assured of that. But, their Rally TL model is an excellent indoor ping pong table that is built to provide a reliable level of play. In fact, the extent of the negative reviews has to do with the customer service and not the product itself.
Read more
Materials
Joola constructed their Rally TL out of 5/8-inch medium-density fiberboard and it has been layered with multiple coats of paint. The result is a charcoal appearance and white striping to deliver a consistent and durable playing surface.
Durability
While the tabletop is impressive, the support may be even more so. The Rally TL is held up by powder-coated steel legs that are each equipped with a leveler.
Ease of Use
When this arrives at your doorstep, it will already be 95 percent assembled. All you need to do is attach the legs with the included hardware and that should not take you any longer than 15 minutes.
With the anti-tilting locks, you can utilize one half of this table and play ping pong by yourself. In addition to this, there are four ball holders and two magnetic abacus scorers integrated.
Portability
Each of the separate halves of this table rests on separate four-wheel trolley systems and this makes them substantially easier to move. Additionally, these same caster wheels are three-inches in size.
Overall
It is both a positive and a negative that a majority of the harsh feedback alludes to the customer service. On one hand, it means the product itself is nearly flawless yet the problem is if there ever is an issue, you have to deal with the so-called "poor" customer service.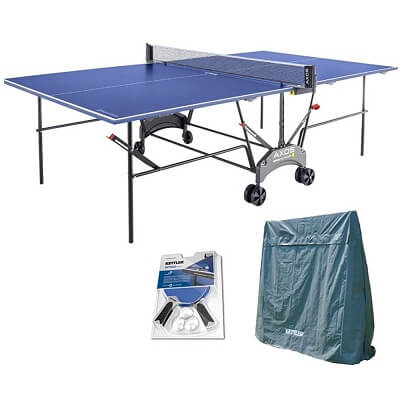 Once you are able to get this next model assembled, which can be a pain due to some rather pathetic instructions, you will never look back. Its defining feature is its waterproof design as it suitable as an outdoor table.
Read more
Materials
Thanks to the non-glare aluminum top and climate control underside, this top is fully waterproof. No matter the weather condition outside, patented technology will protect this tabletop.
Durability
The steel legs that are used to support the Axos 1 are not only galvanized but they are also resistant to UV lighting and corrosion. But, the tubing is coated through a very special electrothermal powder coating process.
Ease of Use
Here is the deal; this is not very easy to assemble according to multiple buyers. The primary issues are with the brainless instructions as the hardest part is wrapping your head around the concept that is in front of you.
The Axos 1 is loaded with convenience and this includes its safety-fold dual lock to prevent accidental opening, its use as a solo table, and also the included paddles, outdoor cover, and balls.
Portability
For compact storage, both sides of this table will fold up. Adding to this is the 4.5-inch dual-wheeled casters that ensure it can be rolled with virtual ease.
Overall
Without a doubt, the Axos 1 is an ideal ping pong table for those of you who plan to utilize it outdoors. Thanks to its waterproof construction and enhanced protection, the outdoor elements will not be an issue.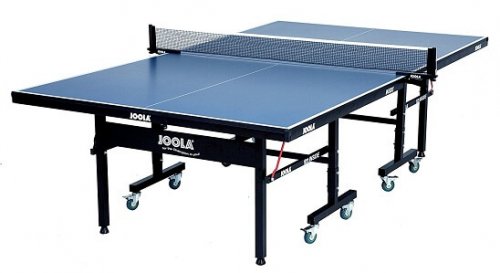 This is one of those ping pong tables that seemingly touch on everything that a good model does. For example, this includes a durable and responsive tabletop, sturdy and durable powder-coated steel legs, and also safe and mobile storage.
Read more
Materials
As with their other model on this list, Joola opted to go with medium-density fiberboard for this tabletop. At 18 millimeters in thickness, also, it is a bit thicker for a more reliable bounce.
Durability
Each separate half of this indoor table sports 1.5-inch steel legs that have been powder-coated. In addition, each has three-inch caster wheels underneath that will lock into place when needed.
Ease of Use
For your convenience, this is yet another model that almost comes 100 percent assembled. All that is required on your part is to attach the legs with the included eight bolts.
If you want to get a quick game in by yourself, you can utilize the solo playback mode and lock this table in a half-upright position.
Portability
The aforementioned three-inch caster wheels provide the mobility that is mandatory for all ping pong tables. But, the entire unit can fold up for storage purposes, as well.
Overall
Once again, Joola seems to fall short when it comes to the service end of their product. But, yet again, this can be forgiven because of the quality of their table and its superb construction.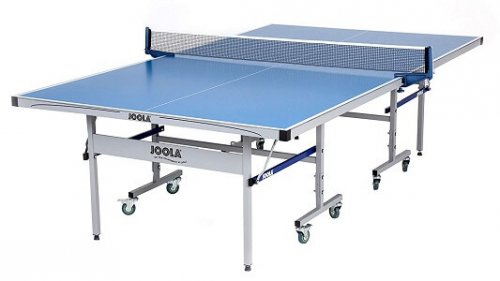 Joola is dominating this list early on and their Nova DX takes center stage now. Despite its rather lackluster net quality, it is constructed with a composite surface that is ready to endure the nasty elements of the outdoor world.
Read more
Materials
With its six-millimeter thick aluminum plastic composite tabletop, while not the thickest as compared to other models, this is able to resist warping and chipping; making it suitable for outdoor use.
Durability
The physical tabletop of this table rests on a rust-resistant undercarriage that has been powder-coated for enhanced durability and protection from the elements.
Ease of Use
It seems to be a Joola tradition to ship their models nearly 100 percent assembled and the Nova DX is no exception to that rule. As with the others, a simple attachment of the legs is all the installation you will need to worry about.
When the table is folded, the anti-tilt locking devices will automatically trigger to prevent it from crashing down. Oh yeah, this can also be useful if you want to play ping pong by your lonesome.
Portability
Due to the folding halves of the Nova DX, it can save space when you are storing it away. Also, the separate four-wheel trolley systems allow this to move around with ease.
Overall
What more could be said about the quality of Joola's ping pong tables? While their Nova DX could use a better-made net, this model still all but sums up the greatness of Joola from a quality perspective.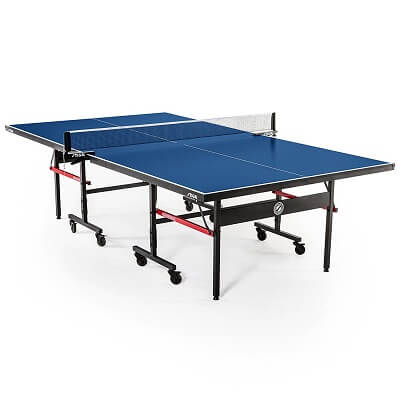 In addition to the fact that the Stiga Advantage comes 95 percent assembled to reduce the amount of effort you need to put forth, it also is smartly engineered with welded steel tube aprons to evenly distribute the bounce on the tabletop.
Read more
Materials
To create a smooth and consistent playing surface, this tabletop is made 5/8 inches thick and has been painted with an automated repeat roller coating process, along with a UV curing.
Durability
The 1.5-inch steel legs that have been powder-coated with a matte black finish provide the support this so desperately needs. In addition, the rubber leg levelers will protect hardwood from scratches.
Ease of Use
Stiga also designed their table to limit the amount of stress you need to endure to assemble it. Because of the QuickPlay design, this comes 95 percent assembled and only takes 10 minutes to finish.
Also, Stiga implemented a unique chassis design for their Advantage and the result is two halves that can individually be utilized as freestanding tables. Plus, when the table is folded, a spring-loaded safety latch prevents it from opening unexpectedly.
Portability
With the eight three-inch ball-bearing wheels integrated, which all feature a locking mechanism to prevent movement during play, you can effortlessly transport this table wherever it can reasonably fit.
Overall
Granted you do not receive this with damaged parts, which has been a common issue, you can enjoy one of the best indoor models in the world.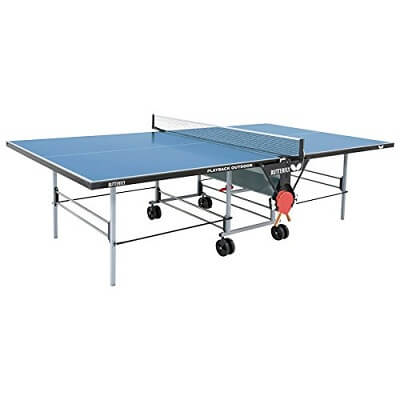 Few ping pong tables will ease your mind as much as Butterfly's Playback as it is backed by an unbelievable 10-year warranty for the tabletop and three-year warranty for the frame. Talk about security, huh?
Read more
Materials
Butterfly decided to design their Playback with a synthetic laminate top. The result could not be sweeter as this type of material is going to handle more abuse than an average table. Also, this is an all-weather table.
Durability
The simple fact that the frame of the Playback is rustproof would be enough to sell a lot of people but this is made even better with the extra bracing that has been integrated around the legs for added reinforcement.
Ease of Use
A slight problem with this ping pong table is the instructions that are included. As one buyer reported, they consist of nothing more than random drawings with no explanation or text.
For added child safety, there are safety levers located on each table half. Furthermore, you can store your balls and paddles in the accessory holders that are located on each side.
Portability
In conjunction with the four rotating wheels is the one piece fold-and-roll system of this table. These two design features combine to make transportation and storage a breeze.
Overall
Despite the issues that you may encounter while assembling this beast, it can't be understated enough how impressive this weather-resistant design is. No doubt, the Playback is made for outdoor use.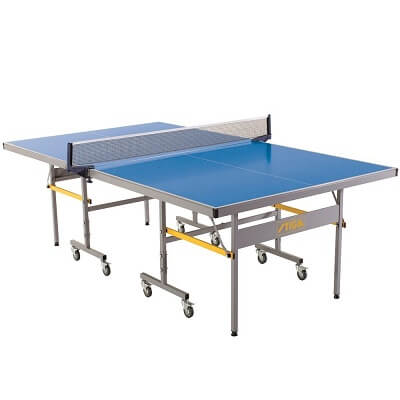 Due to the fact that the tabletop on this next model is rather thin, though not incompetent, this may not be the best table if you have rowdy and rambunctious children and teenagers running around in your home.
Read more
Tabletop Construction
At six millimeters, this is not very thick. Yet, it is engineered with a composite aluminum top that will stand up against the elements and will not fade or warp over time. It is also coated in blue paint and white tournament lines.
Stability and Durability
With steel legs providing the undercarriage and support of this table, it is very sturdy. It also helps that the legs have been finished with a powder-coating for rust-resistance.
Set Up and Assembly
With it being 95 percent assembled before you ever get your hands on it, the Vapor will be ready to go with just a few simple touch-ups.
Mobility and Storage
For both storage purposes and solo play uses, this can conveniently fold up. Past this, the 3-inch wheels on the trolley system add to the overall ease of transportation.
Convenience
While there are not an abundance of convenient features to address or speak of, everything is included for you including an outdoor net and a clamp set.
Overall
Due to the rather thin nature of the tabletop, some caution will need to be taken when using this. Then again, the tabletop is suitable for outdoor use thanks to its composite aluminum construction that resists warping and fading.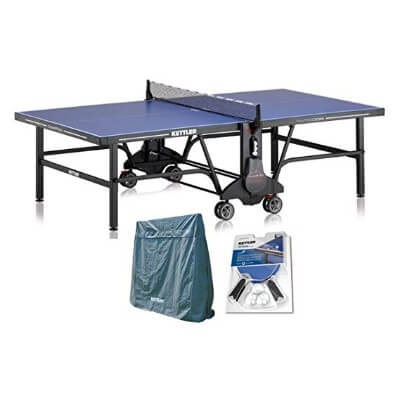 Some of the instructions that manufacturers engineer are just inexcusable. Although Kettler advertises that their instructions are easy to follow, several buyers claim otherwise. Still, the reason this ping pong table is on this list is due to its quality.
Read more
Materials
This tabletop has been coated with a water-based paint to ensure it is UV, fade, glare, and scratch-resistant. In addition, all the outer edges have been protected by an aluminum apron.
Durability
To guard against any corrosion or accidental scratches, the support structure (which would be the round steel legs) has a powder coating and has also been galvanized treated.
Ease of Use
Indeed, be prepared to get frustrated and annoyed while assembling this table. The end result is more than worth it but you may want to find someone who knows what they are doing as the instructions will probably not help.
The included net can be adjusted for height and tension to better suit your needs. Besides this, two rackets and balls are included so that you can play as soon as you get the table set up. Also, conveniently, the table has a racquet and ball holder connected.
Portability
Even when you store the Champ 5.0, both the net and the posts can be laid flat. a patented safety-fold with dual-lock safety has been incorporated to prevent unexpected opening and closing. Overall, though, space saver technology has been integrated to make this as compact as possible for storage.
Overall
As this can be utilized either indoors or outdoors, it is a very versatile model. It just would have been nice if Kettler included a more detailed manual to a least give you a clue of what you are supposed to assemble.

Subscribe to our Newsletter