Best Salomon Running Shoes
In a
Hurry? Editors choice: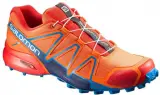 Test Winner: Speedcross 4

If you are an avid runner, then you most likely have come across the Salomon brand. You'll definitely want to check out their running shoes before you hit the trails this summer. Salomon's popularity stems from the brand's consistent ability to produce high-quality products, including the best running shoes for trail adventures. If you are on the hunt for a great pair of
running shoes for trail running
this summer, you will want to check out our list below of the top ten Salomon running shoes on the market. We know it can be overwhelming looking through all the styles and making a choice as to which shoes will best fit your needs and running style, and that's why we did the research and listed the top ten.
Standout Picks
Criteria Used for Evaluation
Comfort
A shoe's upper can be identified as the area of the shoe found above the sole and includes the areas running from heel to toe, the tongue, and the fabric used on the shoe. Many uppers today are made to hold your foot in place while protecting the feet from shock and abrasions as well as keeping out dirt while ventilating the feet so that sweat can escape from the shoe. While it can be difficult to make a shoe that effectively does all of this, and sometimes the manufacturer will sacrifice some elements for other elements, their trail running shoes typically focus on providing all of these benefits to you.
Another popular feature often found in most running shoes is the seamless upper, which adds a level of comfort to the running shoes since it helps cut back on rubbing and skin irritation. While most uppers advertised as seamless are never fully without seams, what you do get when you find seams is a higher-quality fabric that reduces skin irritation and rubbing. If you do find seams inside the shoe, Salomon still makes these seams so well that they are frictionless and don't rub. Also, seamless shoes hug and fit the foot better, helping to keep out debris and dust as you hit the trails, also providing an extra element of comfort and protection.
Many, although not all, styles of their shoes are made to be seamless and help add a bonus to your protection and comfort. Whether or not you really need seamless shoes is again a matter of personal preference, but it does help to try a few on to see how they feel in comparison to shoes that are not seamless. If you notice a difference that could boost your performance, it might be worth it to spend a few more dollars on shoes without seams, as long as those shoes fit your budget.
Fit
The fit of a running shoe will tell you a lot about the shoe. A wide toe-box allows for full splay and the perfect amount of arch support can really help you go the extra mile. We investigated the ins and outs of every shoe to let you know where it might rub, where it provides extra comforts, and how the sizing runs. Even though you would expect a line of running shoes from the same manufacturer to be more or less sized similarly, that isn't always the case. Depending on the fabrics used, some shoes have a bit more stretch and forgiveness.
Traction
Outsoles on shoes are the piece of rubber you'll find at the bottom of the shoe that hits the running surface every time you step down, and because of their consistent impact with terrain, they are an important part of any shoe as far as traction and comfort are concerned. Many shoes designed by manufacturers including Salomon make shoes with hardcore lugs nowadays, which helps improve traction and grip on softer surfaces and harder surfaces, making the shoes able to handle the more versatile terrain. Some shoes have lugs that are spaced apart farther, and this helps create traction as you run on mud and other wet surfaces. Shoes that combine these features together usually provide the best traction—like what you'll find on the Salomon Speedcross shoe.
If you know you'll be running on muddy surfaces, then you want shoes that have lugs that are widely spaced apart. Also, if you want something that can handle the road and the trail, then shoes with hardcore, sticky lugs will help you tackle both types of terrain better. Once you know where you'll be running and the types of terrain you are likely to encounter, you'll be able to more easily make a decision about the type of outsoles you need. Most outsoles made by Salomon offer these better-quality features, so it should be easy to factor that into your choice.
Durability
Salomon has a pretty good reputation for the durability of their running shoes, but that's something that we still like to look at case by case. With such a wide variety of shapes, materials, and traction systems, each shoe has its own strengths and weaknesses. To determine the overall durability of a shoe, we looked into the details of the shoe and then cross-checked its strengths with the customer reviews. In the reviews, you'll find real people from all over who are putting in miles and testing the shoes true durabilities. Depending on how often you run, and even on the terrain, a shoe that would last one person five years, may only survive one season with another.
Subscribe to our Newsletter