Best Ski Racks
In a
Hurry? Editors choice: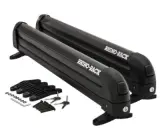 Test Winner: Rhino-Rack Ski Carrier

Packing up the car for a trip
can be difficult, and packing up the car in the snow and cold can make a bad situation worse. When preparing to hit the slopes, the actual
ski equipment
can be difficult and cumbersome to load up into most cars as they are longer and are awkward to pack. Investing in a great ski rack can leave more time to speed down those black diamonds because you won't be fumbling with unpacking all of your gear out in the cold.  Many of the racks that are on the market are designed to be used by cold hands that are wearing mittens, meaning that they can be unlocked with just the flick of a switch. You have most likely spent a lot of money on all of your ski gear, so it's no surprise that you want to invest in a ski rack that is easy to use and will keep both your ski equipment and your
car safe and protected
. Not to mention, the more room that is left inside the car means more leg room for you and the more friends you can bring with you on your trip.
Standout Picks
Criteria Used for Evaluation
Capacity
The more skis and boards you can fit on your roof means the more room you will have in your car for friends and family. Some of the ski racks on the market couldn't accommodate very many sets of skis or snowboards, so it was important that they were able to fit the most amount of skis. These racks are also versatile, and they can be used for fishing poles, paddles, and water skis. With this in mind, you can enjoy the racks any time of the year, so that you really get your money's worth. Many of these ski rack sets are able to hold up to six pairs of skis, either in carrying bags or not in carrying bags and can also hold multiple snowboards.
Ease of Use
When the weather is cold and snowy, the last thing that you want to be doing out there is fiddling with unloading gear from your car. A ski mount that is easy to access, even with heavy mittens on, was a definite must, and almost all of the ski racks on this list are able to be opened and closed with just the flick of a button. Less time spent unloading your gear means more time on your skis. If you love skiing in extreme weather, you won't have to worry about spending any extra time fiddling with loading and unloading your gear in the middle of a blizzard. Many of these racks are so easy to unload that you will be able to do it without even taking off your gloves. Most have an arm that rises up, and users can place all of their gear on the soft rubber grips. Once your gear is in place, you simply lower the arm until it clicks, and then secure it with a lock and key.
Versatility
Ski racks are generally pretty pricey because most of them come with quality lock and key mechanisms. Plus, they have such a low profile that it makes them easy to leave on year-round. Ski racks that are versatile enough to cart water skis, paddles, and fishing poles are important, because it means that you are getting more bang for you buck. Many of these racks are able to hold not only skis, but other types of outdoor gear as well. It is a great way to transport water skis, snowboards, fishing poles, paddles, and ski poles. The material has soft rubber grips to keep even the thinnest of gear securely in place.
Value
Ideally, you want to spend more money on your skis and planning your perfect ski vacation, and less money on the tools you need to get your gear to the mountain. We took this into consideration when selecting the best ski racks, and we selected the best racks on the market that were both quality and affordable. If you are looking to spend a little extra money for a great ski rack, but are unwilling to pay top dollar, there are many items on our list that are an excellent choice. Making sure you are not needing to purchase another ski rack constitantly it is important to get a good high quality and well made product which sometimes means spending a little extra on products such as these.
Subscribe to our Newsletter