Best Teapots
In a Hurry? Editors choice: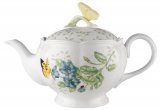 Test Winner: Lenox Butterfly Meadow

This guide is for those of you who fall into the category of loving tea. Here is the good news: making it is not that difficult of a process and while you can opt for store-bought tea, you can also make it yourself with a teapot. This is merely a vessel that uses boiling water and either steeping tea leaves or an herbal mix to create the drink. However, teapots come in a wide variety of sizes, materials, and designs so choosing the one you want can prove to be a tricky endeavor. With the assistance of this guide, though, the hope is that by the end of it, you feel a little more confident on what type of model you might be interested in.
Standout Picks
Criteria Used for Evaluation
Materials
Most models come in many different materials such as glass, cast iron, and ceramic. Choosing the material you want is really step one.
Probably one of the more important decisions you need to make right from the get-go is what material you want your teapot to be made out of. Yet, this can be tricky because they come in many different materials and deciding on one can be tough. And, to be honest, most materials have their pros and cons and it really comes down to your preference. For example, let's address some of the more common materials out there for teapots.
Firstly, how about glass? Clearly, one of the hang-ups of glass is its fragility. While this can't really be denied, many consumers love glass due to its visual appeal and the fact that you can see the tea on the inside. If you are looking for more durability, though, perhaps go with cast iron. Cast iron teapots are usually the most well-built models you will find and they can last for several years. However, there are also other classic types such as ceramic and porcelain teapots. What is nice about ceramic and porcelain is they can be used for all kinds of tea and are typically built with quality in mind.
Features
While not boasting with features, there are still some very criticial integarations that you need to pay attention to.
How well this tool functions goes a long way to determining your satisfaction with the product. This can be said about pretty much any tool or device you ever invest in so it does go without saying. But, for teapots, there are certain areas that you need to focus on in regard to the functionality. Firstly, without question, is the design of the spout. Is there anything more flustering than pouring tea with a spout that sputters is it everywhere? All you are really looking for is a clean transfer from spout to glass, simple.
In order for this to be possible, look for spill-free and non-drip spouts that are specially designed (sometimes with a curved design) to avoid dripping. In addition to the spout, though, do not forget about the handle. As simple as it sounds, the handle can make a huge difference. If it is not positioned in an ideal manner or is too narrow to comfortably fit your fingers, shoot for another model. Heck, even the design of the lid is important as it should have a tight fit.
Effectiveness
A lot of how effective a model is goes back to the materials. Also, do you need an infuser included?
To be honest, a lot of what makes a teapot effective is the type of material that is used. While the various types of materials have already been documented, let's take a look at them in a different sense. A perfect example is cast iron because the main reason why it is such an excellent material for tea is it distributes heat evenly and will remain hot for up to one hour. In addition, when the cast iron model has a porcelain enameled coating in the interior, it is even better as no metal is going to leach into the tea. But, cast iron is not the only material that performs well as glass and ceramic do, as well. Admittedly, though, glass does not hold heat quite as well (unless using a teapot warmer). Ceramic holds heat well but it also does take a bit for it to warm.
There is also something else you need to pay attention to, though, and that is if an infuser is included. If you want to brew or steep your tea, this comes in handy as it will filter out loose dried tea leaves to prevent them from swimming around in your finished tea.
Capacity
Yep, size is everything and that is on full display here.
It safe to assume that you have heard of the old adage that reads "size is everything". While that is not true in every situation, it certainly is here. But, what you need to know is no one can tell you what size you are going to need. This is where you must decide and then shop accordingly. There will be some models out there that can only fill up one or two small cups of tea. Then again, others may be able to dish out five to six cups. It really all comes down to two things. One, how much do you love tea and two, how many mouths are you supplying it for? If you are a casual drinker and are only making it for yourself, a smaller model may be what you are looking for (and vice versa).
However, you should also be aware that when a seller advertises their model with a specific capacity (say 40 ounces, for example) you will not be able to yield that much tea as you can't fill the pots to the brim. If you do, the water will spill out from under the lid.
Ease of Use
The ease of use, and in this case the ease of cleaning, again, comes back to the materials at play.
For the most part, most teapots that you buy will be relatively easy to clean. But, you can once again address specific materials and other factors. Take a look at glass, for example. This may stain easily but with some mild soap and warm water, glass will generally be pretty easy to clean. Just ensure you rinse it thoroughly afterward. Also, for a material such as ceramic, the interior should easily be able to be cleaned in a few moments. Oh yeah, and this is also where a porcelain enameled coating comes into play (for cast iron). With this coating, you can then merely rinse the inside with warm soapy water.
One last thing, and do not think we were going to forget this, let's talk about dishwashers. Some manufacturers will claim that their teapot components are dishwasher safe and if they are, then you can clean them in this manner. While each material is different, as long as the manufacturer themselves specifically states that their model is dishwasher safe, you should be good to go.
OUR TOP PICKS FOR THE BEST TEAPOTS
1

. Lenox Butterfly Meadow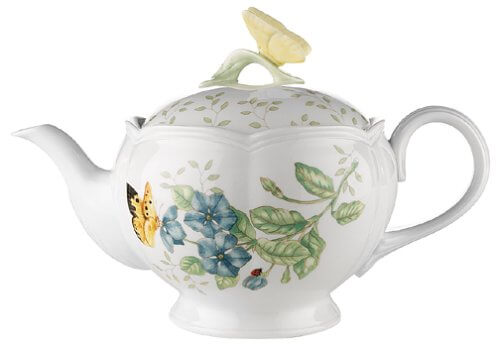 There are really two notable factors to this top model here. One, it is made of chip-resistant porcelain and two, it sports a wonderful and beautiful design that will add a bit of class to your kitchen.
Read more
Materials
Indeed, this is made of chip-resistant porcelain. While porcelain itself is a high-quality material, this has been specially engineered to resist any chipping whatsoever.
Functionality
For clean transfers, this is equipped with a nice pour spout. However, the silicon lid does not fit perfectly, which is a bit of a downer.
Effectiveness
Do note that this does not come with a strainer. However, it is double walled which means it will retain heat extremely well.
Capacity
At 46 ounces, this is one of the larger models on this entire list. While not all the 46 ounces can be used to make tea, this will produce well over five cups.
Ease of Cleaning
As Lenox claims, all of their dinnerware is dishwasher safe. But, if you do not have a dishwasher, this can easily be washed by hand, as well.
Overall
Sure, this is not the cheapest option on the market but you know what, you do get what you pay for. That old adage reigns true here thanks to the superior chip-resistant construction.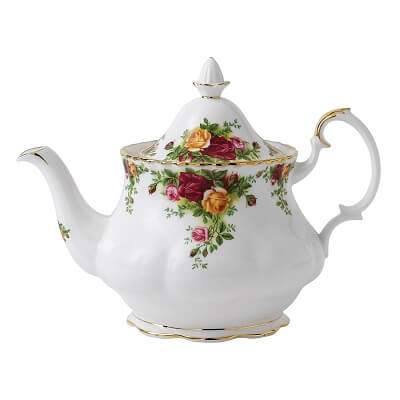 Now talk about an exquisite and visually appealing design, how about this bag boy? In addition to the fact that it has been crafted out of fine bone china, it also is embellished with 22-carat gold.
Read more
Materials
The fine bone china that this is crafted of is very hard and nonporous. Also, this has been embellished with 22-carat gold, as claimed, for decorative purposes.
Functionality
This is not all for show. The combination of the elaborate lid, arched spout and integrated handle make pouring your tea an easy task.
Effectiveness
Admittedly, there have been users who have reported that they feel this is better served as a decorative piece. It is still highly capable of making tea, however.
Capacity
Oh yeah, this is not exactly a small teapot. Instead, it is marketed with a capacity of 48 ounces and can make quite a bit of tea.
Ease of Cleaning
It is actually recommended by Royal Albert that you hand wash this piece. Yes, this means you will want to avoid placing it in the dishwasher.
Overall
Let's just say this; if you could care less about aesthetics than you can probably find a cheaper alternative than this that is just as good. The money is really with the beauty here, although it is functional.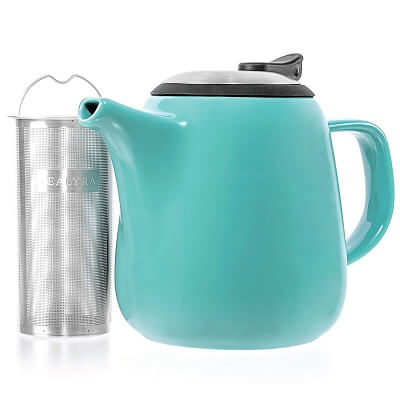 This is the third straight model with a different material and this time, ceramic comes to the forefront. Due to its high-resistance to higher temperatures and its appearance, it is a great choice.
Read more
Materials
Most of what is so fantastic about ceramic was just mentioned but know this, this is engineered with a high-fired ceramic for enhanced heat-resistance.
Functionality
In spite of a few design flaws here, the included stainless steel cover opens up widely and the drip-less spout allows you to pour your tea without spilling it.
Effectiveness
Included with your purchase is a stainless steel strainer and it is fine enough to ensure that no leaves or small particles will be left floating in your tea.
Capacity
While this is not the largest pot in the world, it has a 27-ounce capacity and is capable of producing around two to three cups of tea.
Ease of Cleaning
The general consensus amongst reviewers is that both the pot and the strainer are very easy to clean (inside and out).
Overall
Yes, there are some design flaws with the top (which you can see in the cons section). That said the rest of the design is about as good as it gets and it is ceramic, so it is hard to go wrong.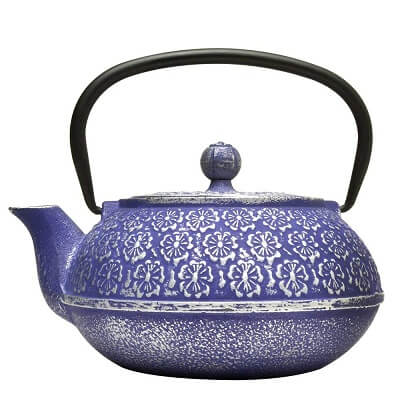 One of the best aspects of cast iron is it is as beautiful as it is functional. The cast iron used in the making of this teapot is no different but also included is a stainless steel infuser.
Read more
Materials
In addition to the heavyweight nature of cast iron, this also sports an enamel interior coating that will prevent the iron from rusting. But, do note that the handle can get very hot.
Functionality
When not in use, the integrated handle can be folded down, which is nice. Also, the curved spout makes it easier to transfer the liquid from the vessel to your cup.
Effectiveness
First off, a stainless steel infuser is included for loose and bagged tea. But, this is also where the cast iron comes back into play as it distributes heat evenly and keeps the tea hot for a long time.
Capacity
The biggest complaint of this model is undoubtedly that the marketed capacity is higher than it actually is. It seems to hold right around 30 ounces (based on user feedback).
Ease of Cleaning
The aforementioned enameled interior also serves a purpose for cleaning as it makes the overall process much, much easier.
Overall
It really is hard to go wrong with cast iron, folks. This sports an ideal combination of function and beauty, which is really all anyone could ever ask for.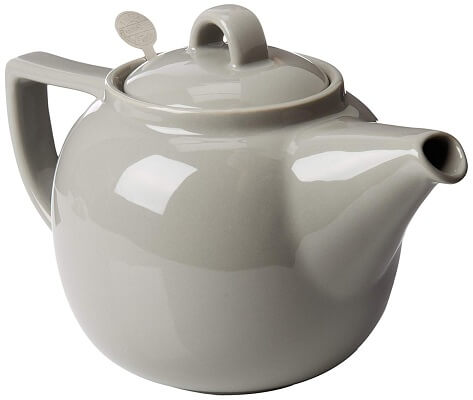 With its rounded shape and non-drip spout, the Geo is a wonderful teapot that is made of glazed stoneware. For whatever reason, though, several buyers have reported that the actual color is much different than the pictures.
Read more
Materials
This is actually the only model on this to be made of glazed stoneware and that alone makes it very unique.
Functionality
Although there is nothing in the lid that helps it stay on when you tip it to pour your tea, the modern angular spout does a fairly sufficient job with the transferring process.
Effectiveness
To allow you to steep any loose tea that you place inside, you can use the patented stainless steel infuser that comes with this bad boy.
Capacity
You have a few options at your disposal here. First off, you can opt for the 36-ounce capacity which will yield four cups. Or, you can go with the two-cup option.
Ease of Cleaning
For your convenience, both the stainless steel tea strainer and the teapot are dishwasher safe.
Overall
While you do need to be wary of the lid falling off when you pour out of this pot, the glazed stoneware makeup and included steel infuser are fantastic.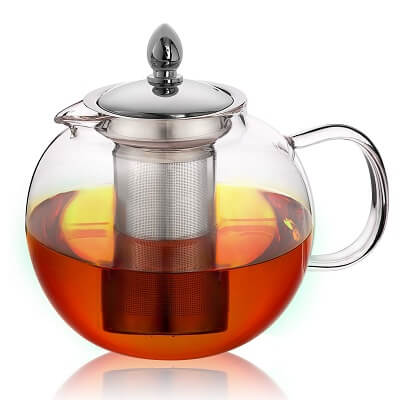 This is one of the rare models on this list that actually is stovetop safe as it is made of high-quality glass. With that said, the bottom is a little small which makes heating on the stovetop a bit more of an annoyance.
Read more
Materials
Yes, this is made of high-quality glass but not just any glass. In fact, it is made out of borosilicate glass and has been optimized to be thicker for everyday use.
Functionality
Given the non-dripping spout, ergonomic handle, and stovetop and microwave safety, is there really anything else you could ask for?
Effectiveness
Admittedly, the included infuser should have been a bit finer as it can still let some of the granules into the water. But, the infuser itself is made of 18/10 grade stainless steel.
Capacity
Okay, the good news is this can brew right around four to five cups of tea. Yet, the bottom is quite small and can be very difficult to use on electric stovetops.
Ease of Cleaning
If you want, you can easily hand-wash this pot. But, if you have a dishwasher, then this can be placed on the top rack safely.
Overall
Some small fixes here and there would be compelling. Of course, you can say that about a lot of products out there, can't you?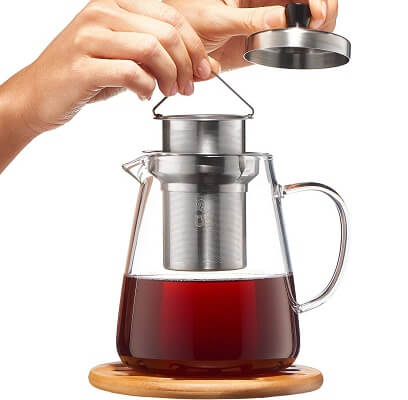 In addition to the glass construction of this next model, it also comes equipped with a sleeve that will keep the beverage warmer for much longer.
Read more
Materials
Some users may not like glass due to its fragility but in this case, this pot is engineered with heat-tempered clear glass that is fairly durable. Plus, it comes with a metal top for added durability.
Functionality
Due to the spill-free design of this model, the spout is going to allow you to effortlessly pour your tea from the main vessel to your glass.
Effectiveness
Now, this does come with an infuser but here is the nice thing, it can be removed and the lid will still lock in place. But, as for the included sleeve that is supposed to retain heat, one user claimed it did not.
Capacity
Per the product description, it is claimed that this is a 32-ounce vessel. Yet, as also mentioned, the actual amount it can hold is a bit less because you can't fill this to the brim.
Ease of Cleaning
As long as you have a dishwasher, this will be easy to clean. Yet, for those who have to hand-wash this, the narrow opening makes it a bit harder than it should be.
Overall
It is understandable if some of you are afraid of buying glass due to the possibility of breaking. But, for those who want the material, this is probably the best of its kind.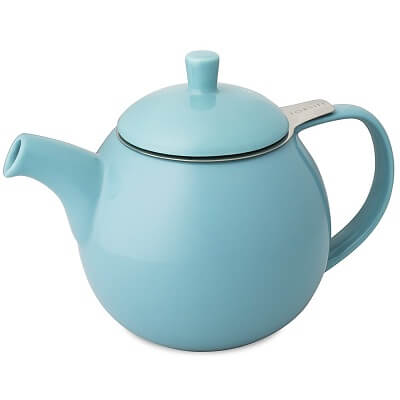 There are a few design flaws present here that deter the overall value of this model just a little bit. Overall, however, it is still good enough to crack this list which says something about the overall design.
Read more
Materials
The pot itself has been made with lead-free and high-fired ceramic. On top of its quality, it is heat-resistant to 248 degrees Fahrenheit.
Functionality
There is a bit of an issue with the spout. You see, it is fine and functional for the first 90 percent of the pouring process. But, the tea will begin to sputter out when you reach the end.
Effectiveness
Included with your purchase is an extra-fine infuser. At least, it is dubbed as being extra-fine but according to some users, the holes are still large enough to allow bits of leaves in.
Capacity
This specific model has a 24-ounce capacity but it is worth noting that a 40-ounce model is available.
Ease of Cleaning
Cleaning is never going to be an issue as all the components that come with this model are dishwasher safe.
Overall
No, this is not perfect. But, whenever you see a product such as this that has received so much acclaim, you have to sit back and appreciate it.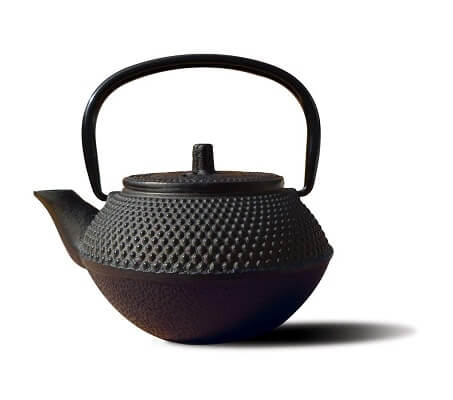 Coming from Old Dutch, this is yet another cast iron teapot. What is interesting to note about this option, though, is that it is quite small and can only make a couple of smaller cups of tea.
Read more
Materials
Not only is this made of cast iron, it has been hand-crafted with purified iron and also coated with a durable porcelain enamel.
Functionality
A lot of reviews have alluded to the issue with the integrated handle. It comes unattached and you need to manually attach it, which can be quite the pain.
Effectiveness
As was mentioned earlier about cast iron, it retains heat very well. But, the porcelain enamel coated interior also helps retain the pure taste of the tea you are making.
Capacity
At 11 ounces, this is only good for small doses. In fact, it can maybe make one large cup of tea and that is it.
Ease of Cleaning
Thanks to the porcelain enamel interior, you can merely wash this by rinsing it off with warm water and hand drying it.
Overall
If you are an avid drinker of tea, this simply will not be large enough to warrant an investment. For the exact opposite people, though, feast your eyes on greatness.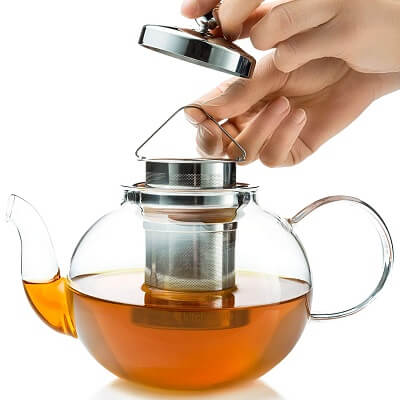 In a way, this perfectly represents the beauty of glass and also the issue with glass. Despite its heat-resistance and appearance, the glass used is very delicate and will break if dropped.
Read more
Materials
Yep, this glass is susceptible to breaking. There really is no other way of saying it so be cautious and wary when you are using it.
Functionality
Despite the durability concerns, the non-drip spout that is designed here is exceptional. Due to this, spilling and dripping should not be concerns.
Effectiveness
If you are using tea bags, you will be happy to know that a rust-free stainless steel strainer basket does come with your investment.
Capacity
All in all, this has a 35-ounce capacity and when all is said and done, it should be able to produce around four to six cups of the good stuff.
Ease of Cleaning
A bit of controversy is on display here. Despite the claims of each component being dishwasher safe, the lid is not as the finish will peel off if you do.
Overall
Without question, the product description should be updated as it is false advertising. In spite of this, this is still a suitable option for consumers who are not clumsy with their dinnerware.

Subscribe to our Newsletter