Patagonia Micro Puff Insulated Jacket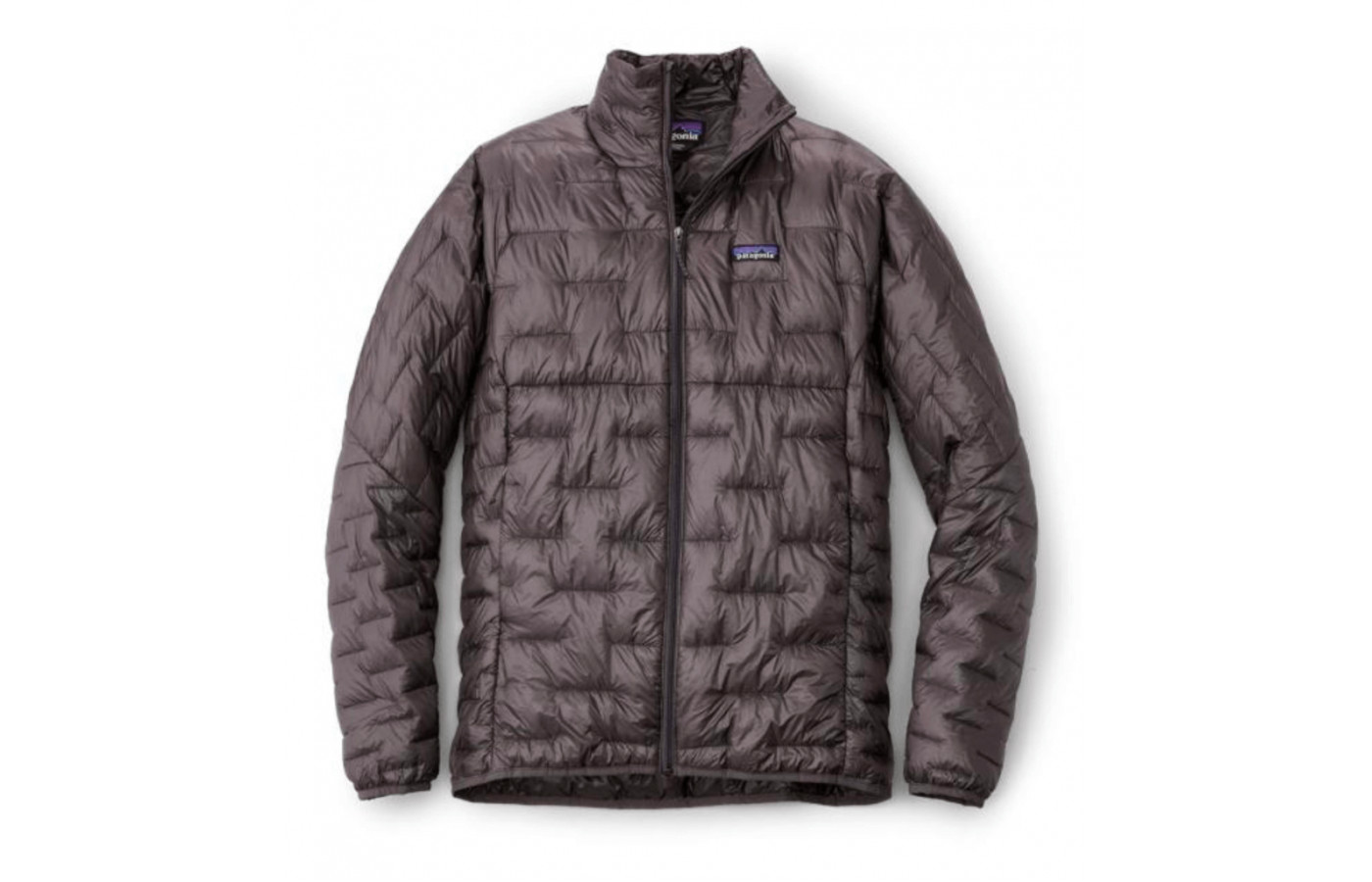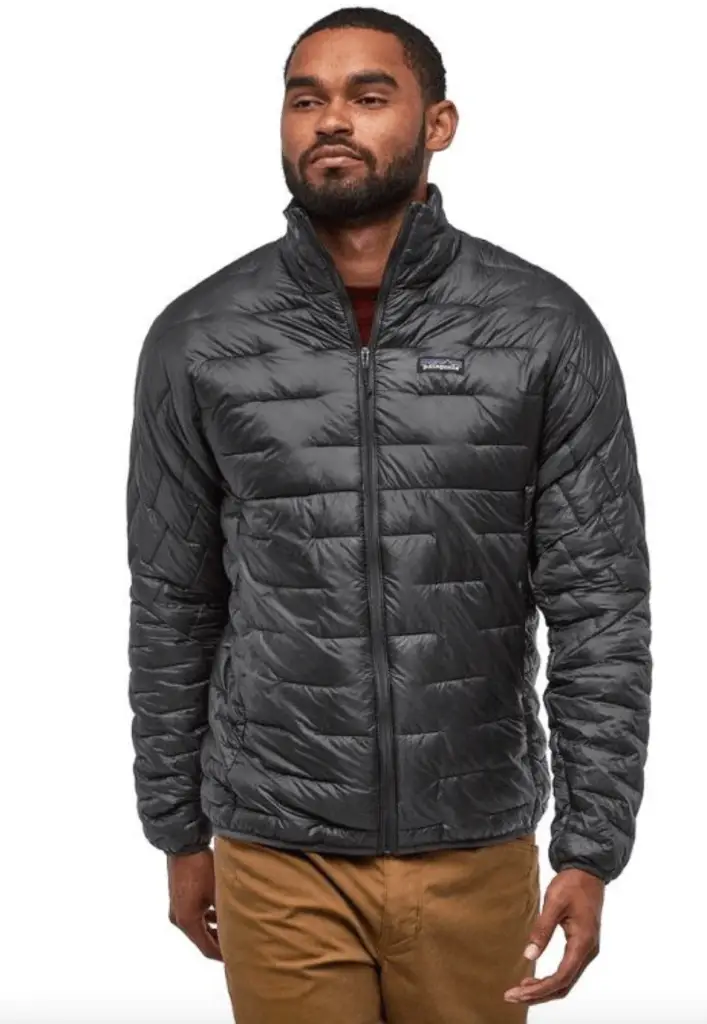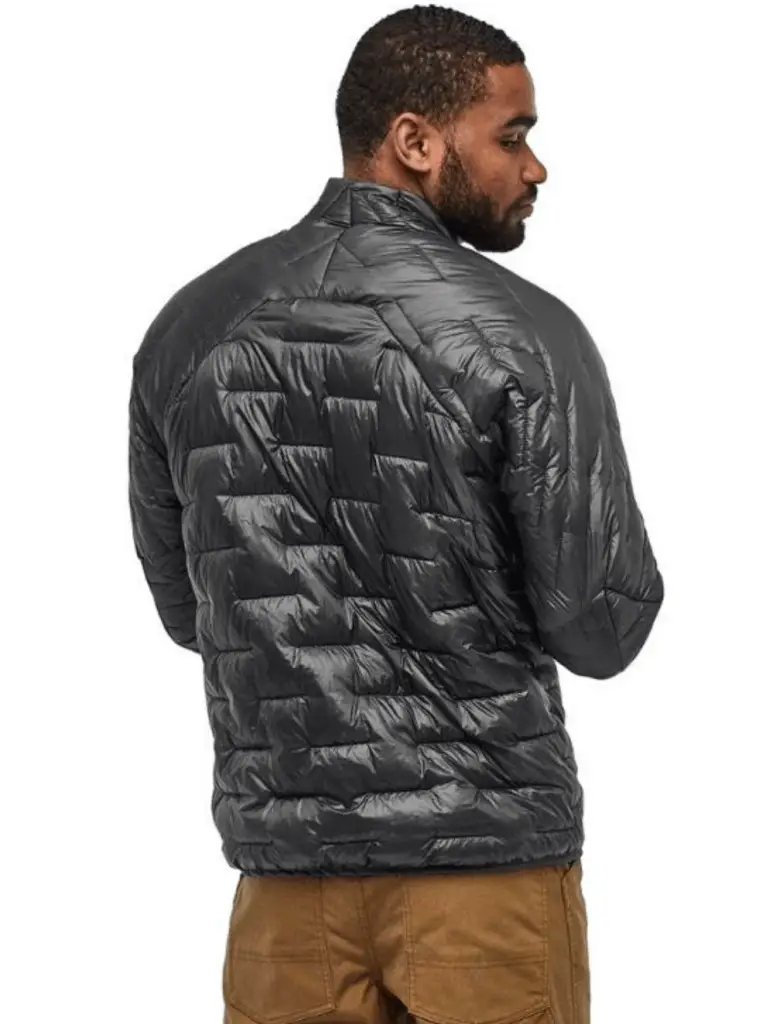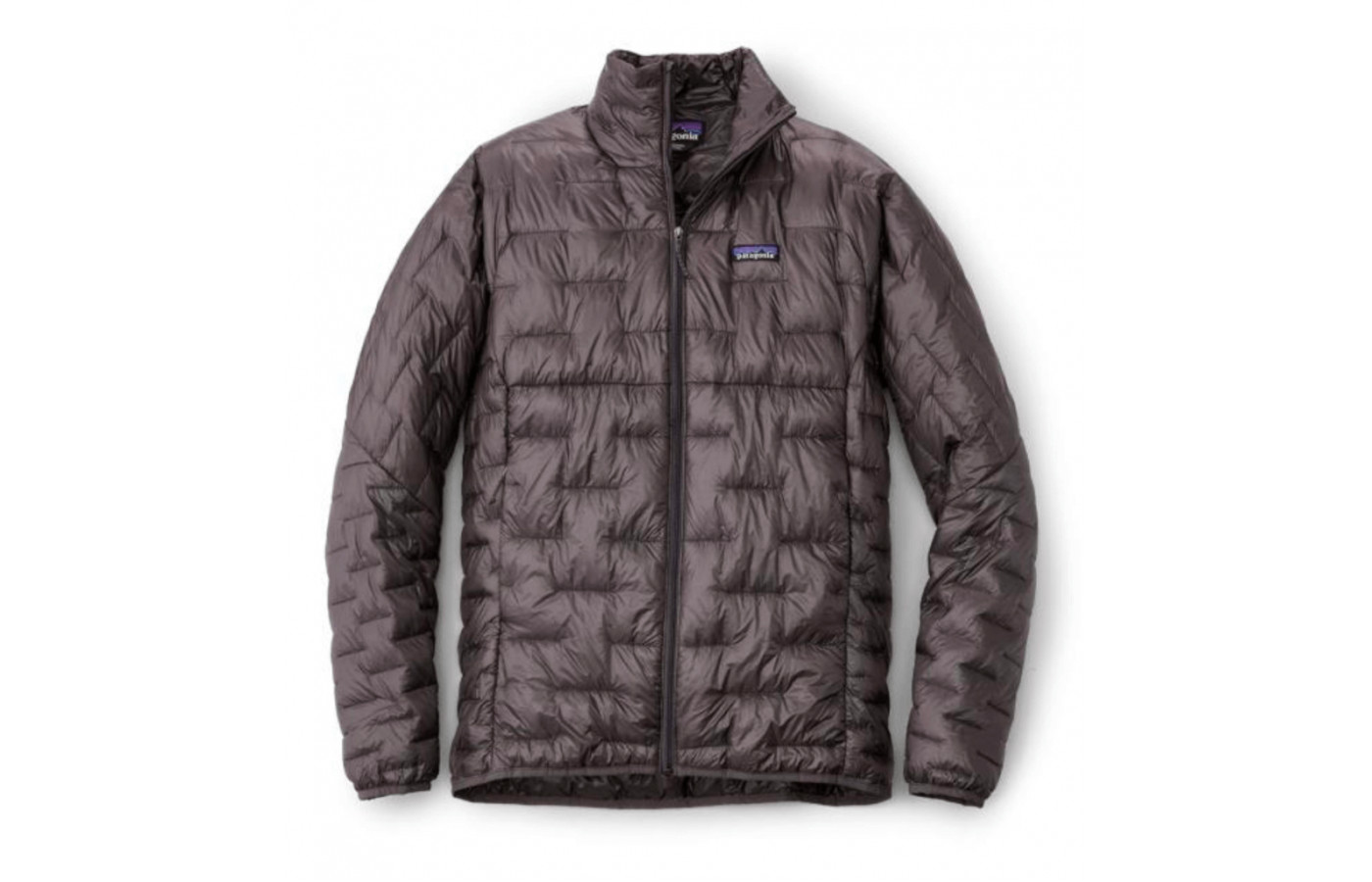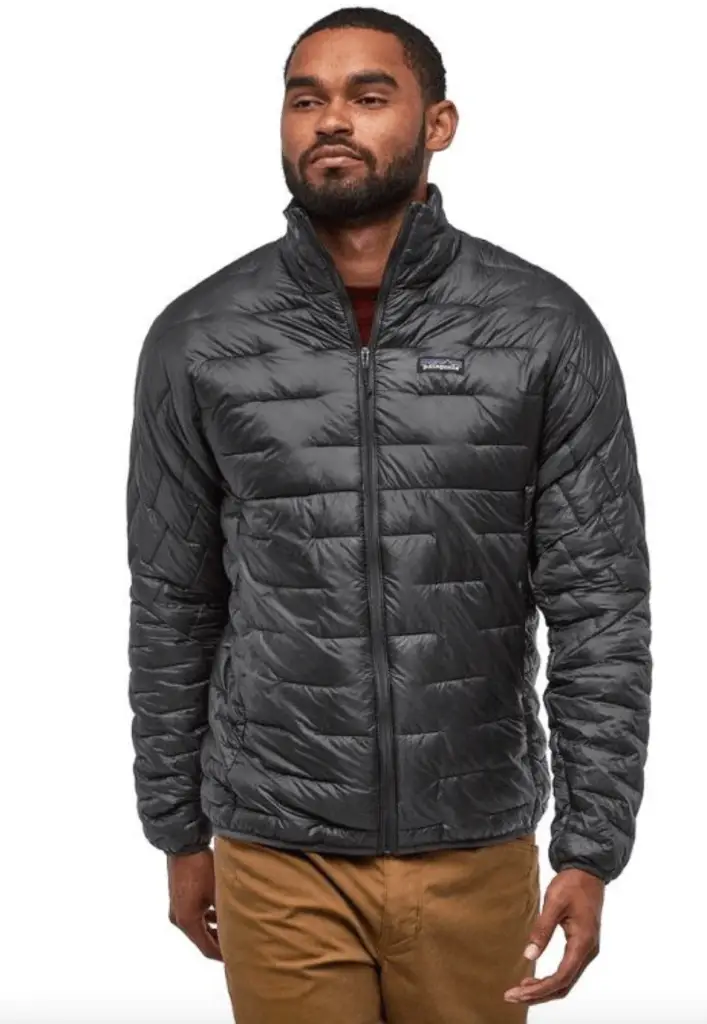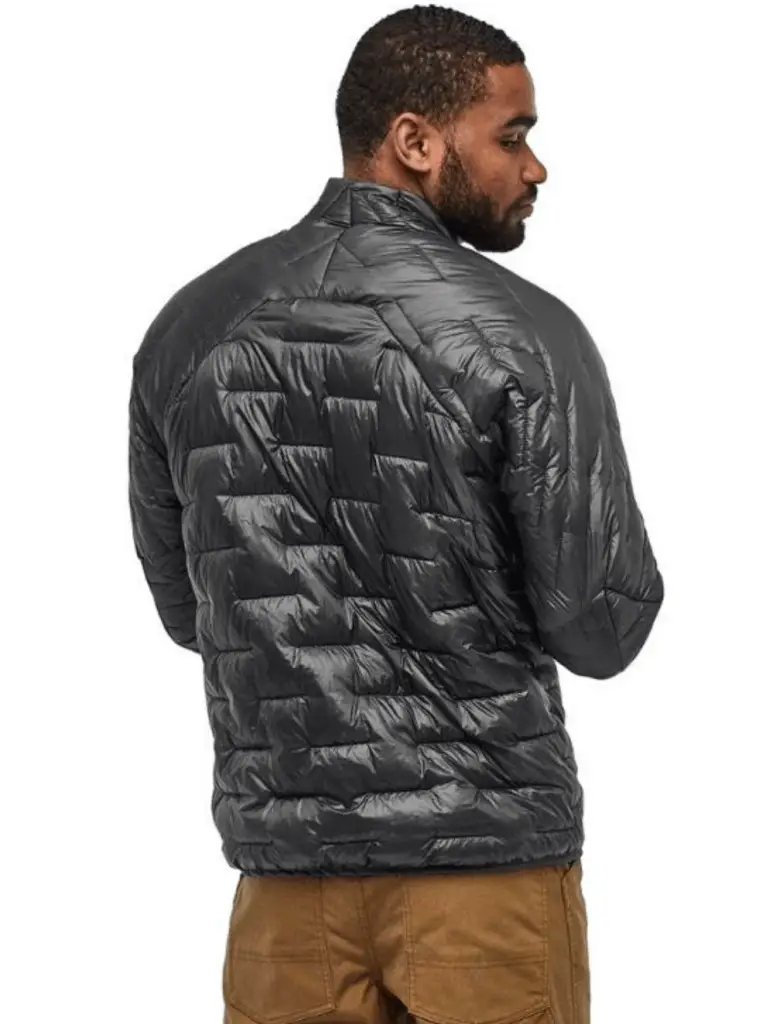 Our Conclusion
It can be nearly impossible to pack a small suitcase (or backpack) for cold weather. We all know that these items tend to take up a lot of room - one jacket can take up half of the space. The Patagonia Micro Puff insulated jacket fixes this issue. It was designed for ultimate warmth and portability. It weighs only 235 grams and packs down into one of its pockets.
Aside from keeping you warm, it is also windproof and water-resistant. It functions great as a mid-layer but is not recommended as an outer shell. Continue reading to learn more about the features and functions of this
insulated jacket
.
Pros & Cons
Water-resistant and windproof
Synthetic insulation keeps you warm when wet
Fair Trade Certified sewn
2 internal drop-in pockets
Key Features
Key Features
Comfort
Like I mentioned earlier, the amount of warmth this jacket provides in such a lightweight package is astonishing. It weighs 235 grams or 8.3 ounces. Weight-wise, you will hardly even notice you are wearing it. It is a great mid-layer.
A couple of comfort features that could be improved involve the collar. It doesn't lie flat so you are likely to brush your face or chin against it while looking around. Also, the zipper garage doesn't provide enough protection - it can rub you the wrong way.
Fit
This item is available in sizes ranging from XS to XXL. It is a little boxy, but we are going for warmth here, not only fashion.
Unfortunately, not all Patagonia garments fit the same. Many people who wear a size M in one item, wear a different size in another style. The Micro Puff tends to run slightly small. Especially if you plan on using base layers underneath, you'll likely want to order a size up.
One other gripe about the fit brings us back to the collar. For some reason, it's too tight. When it is zipped all the way up, your neck feels very restricted.
Weather Resistance
First and foremost, this jacket is intended to keep you warm. It is filled with 65 grams of PlumaFill synthetic polyester insulation.
Patagonia claims that it mocks down fill. While it does provide great warmth and comfort, there is a noticeable difference between synthetic and down insulation.
The quilting is strategically placed to stabilize the insulation and avoid cold spots and movement. The intricate design is made with minimal stitching, which lends a hand to keep the weight of the jacket down.
However, a major benefit of synthetic insulation is that it will keep you warm even if it gets wet. Also, the Micro Puff is finished with a DWR treatment. This will help to keep you (and the insulation) dry in light rain or snowfall. For more intense storms, you should throw on a waterproof layer. The materials used make this jacket windproof.
We consider this to be a three-season jacket. To keep the warmth in, it has two hand-warming pockets, elastic wrist cuffs, and an elastic hem.
One downfall is its breathability. If you work up a sweat, there isn't really anywhere for the heat to escape from. You'll have to rely on the main zipper.
Features
Remember those two hand-warming pockets I mentioned above? One of those pockets also doubles as a stuff sack. In its stuff sack, the jacket takes up about the same space as two 16.9 ounce water bottles. There is a carabiner loop attachment, making it easy to lash the jacket to the exterior of a backpack.
There are also two internal drop-in pockets. These pockets are quite large and are a great place to store a hat or
gloves
.
Even though this jacket is made in Vietnam, it is Fair Trade Certified sewn. This ensures that the people who manufactured the jacket were treated well and paid a fair wage.
Durability
You may be wondering why I said that this jacket is specifically a great mid-layer. As you know, this jacket was created to be lightweight and warm. In order to make it lightweight, the materials used to make it needed to be lightweight, and in turn, delicate.
The shell and the lining are made from .8 ounce 10-denier Pertex Quantum 100 nylon ripstop with a DWR treatment. 10-denier is not very strong. I would not recommend wearing this jacket while walking through the woods without an outer shell. It could easily snag on trees, branches, or rocks.
Comparison to Similar Insulated Jackets
One of the greatest debates on the internet is the Patagonia Micro Puff versus the
Patagonia Nano Puff
. These are very similar. The Nano has been around for nearly a decade and the Micro is newer. They both use synthetic insulation, but the Micro has 5 more grams of insulation. Nano uses 60 grams of PrimaLoft Eco Gold, which is not noticeably different from the PlumaFill.
There are three main differences. The Micro is lighter. The Nano weighs 337 grams or 11.9 ounces. The Nano is more durable. Instead of 10-denier fabric, it is made with 20-denier fabric, doubling its durability. Finally, the Nano is also slightly less expensive. If you are willing to tote around a few more ounces, the Nano is a good option.
Switching gears, The North Face has its own version of the Micro Puff. It is the
ThermoBall.
They both fold into their pocket and are very portable. The ThermoBall weighs 270 grams or 9.52 ounces, making it slightly heavier than the Micro Puff. The ThermoBall has a more athletic fit and no complaints about the collar or zipper.
Another great product we reviewed is the
Patagonia Down With it Parka
, so make sure to check it out as well.
They are both made with synthetic insulation. The North Face claims that the ThermoBall compares to 600 fill down insulation. Both are finished with a DWR treatment that holds up well in light rain and snow. It is made from nylon but the denier strength is not available. Pricewise, the ThermoBall is less expensive than the Micro Puff.
Verdict
If you are looking for warmth that won't weigh you down, the Patagonia Micro Puff is a great option. The insulation is quilted to perfection and will continue to provide warmth even if it gets wet.

The internal drop-in pockets are a great place to store items that you want to keep nearby without using up all the space in your hand (warming) pockets.

There are a few things to keep in mind before you make this investment though. For one, it is expensive and is lacking durability. If you can commit to being cautious and primarily, or only, using this as a mid-layer, you're set.

Otherwise, you will need to compromise a heavier weight for more durability. Which is more important to you?

Subscribe to our Newsletter