Best Swim Bags
In a Hurry? Editors choice: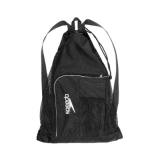 Test Winner: SPEEDO DELUXE VENTILATOR

There may be various reasons to why you have come here today looking for more information on how to properly look for and buy swim bags. But, no matter why you have landed here today, you are here so that means you want to get down to business, right?
So, let's talk about swim bags, shall we? They are essentially just like normal everyday backpacks or bags except for the fact that they are
optimized for swimmers
.
Quite frankly, a lot of the same features you would look for in normal bags you are going to look for here. But, of course, there are additional layers to the fold. Alright, so let's quit all this rambling and get to the beef of the subject.
Standout Picks
Criteria Used for Evaluation
Materials
In addition to the materials, you also want to assess the stitching and overall craftsmanship.
As a consumer, it is only a natural instinct to look for products that will last you a long time. And, we can only assume that this will be no different when you go to buy a swim bag. But, how can you gauge the durability of any one option?
For starters, you can assess the materials that are utilized as this will be a great telling sign. Some of the most popular materials in the world of swim bags are polyester, nylon, and mesh. You have probably heard of all of them but may not be aware of the physical characteristics of them.
Mesh is the most unique of the three and is primarily used to make bags more breathable and to allow them to drain water quicker. Meanwhile, polyester and nylon are often used at the heart of the matter. And, while both these fabrics have their advantages, nylon is generally the stronger of the two. Then again, you can also assess the denier counts (as higher denier fabrics will be thicker and more durable).
Looking past the main materials, though, you may also want to keep an eye out for special engineering techniques (such as reinforced stitching) as these can also enhance the longevity of any given model.
Capacity
Yeah, you need to buy a model that is large enough for your needs.
Above all else, outside of selecting a bag that is up to your standard in regard to the quality, you need to select a model that will account for all the items that you need to be carried. The only way to do this is to assess the physical size and rated capacity of each model you are interested in. For the record, capacity is generally measured in liters though you can also assess the interior dimensions if you desire. However, there is something else that needs to be discussed. Perhaps you noticed if you glanced through the above list but there are many different swim bag styles available.
For starters, you have your basic drawstring and mesh bags. If you are a minimalist, then you will probably enjoy either one of these styles. But, these bags will typically be on the smaller side. If you are looking for more storage space, you may want to go with either swimming backpacks or duffel bags. Both of these styles can account for days' worth of gear and swimming items. But, it does also depend on the specific option you end up going with.
Comfort
Given the fact that you will need to travel with your swim bag, you may want it to be comfortable to carry.
When you really think about it, this section right here plays directly off of what was just alluded to in the previous section. After all, each style of swim bag is going to be optimized for different purposes. In other words, the style you pick can also have a direct implication on the comfort that will be provided. And, yes, this section is all about comfort. Unless you only want to use your swim bag at your backyard pool (which seems a bit silly), you will need to transport it with you (it is a bag, after all). This means you will be needing to carry it and this leads into why the different types of styles can play a role.
For example, with swimming backpacks, they are typically equipped with fully padded and adjustable backpack straps. These are generally optimized for longer carrying sessions. Oh, and also with backpacks, you may want to look for the back to be covered with mesh as you may be carrying your pack on incredibly hot afternoons. But, what about mesh and drawstring bags?
Well, to go back on the point that was just documented, mesh bags are ideal for hotter afternoons as the mesh material will enhance the breathability you are provided with. At the same time, and this also alludes to drawstring bags, they can be awkward to carry for longer sessions (though they are typically pretty light).
Features
This section is really all about the storage compartments that are integrated.
Up until now, you may have been scratching your head wondering what the difference is between a swim bag and a regular bag. Well, this section is going to address the primary reason why swim bags are optimized for water sports and such.
The primary reason is most options will come with separate compartments that can be used for your wet gear. Whether it is via individual chambers in the main compartment or with individual mesh pockets, the best designs will account for this. After all, the last thing you want is for your dry gear to become wet simply because it is paired with your wet gear. And, this is what is nice about Speedo, specifically, as they offer their unique dirtbags with some of their models.
Of course, you may also simply want other storage compartments to enhance the organizational capabilities of the given model you go with. Admittedly, it can become a nuisance to constantly sort through the main compartment of your pack to find what you are looking for. Indeed, exterior pockets and dividers can eliminate this issue. But, be aware that some models will not be optimized for an organization. So, if this concerns you, keep an eye out for those that are.
Color
No, this is not the most important section but it may have some relevance for you.
It is actually okay if this last "factor" has very little importance to you as this is truly all about personal preference. For some of you, granted you do not get a bright pink model with purple flowers, you will generally care less about the color of the option you buy. And, again, there is literally nothing wrong with that. However, for those of you who actually care, the good news is most sellers will design their models in different colors. Some (such as Speedo) will be a bit more generous with their selections but very rarely will you see none at all.
OUR TOP PICKS FOR THE BEST SWIM BAGS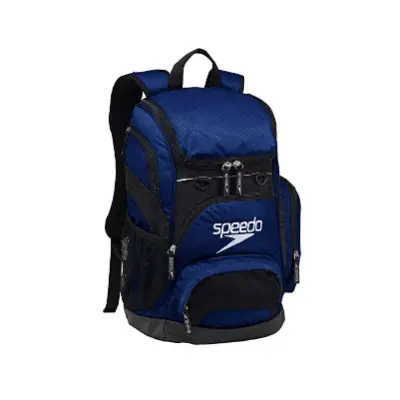 Do you know how Garmin dominates the GPS world? Yeah, well Speedo dominates the world of swim bags. The quality in their options is almost second to none and their Teamster pack epitomizes that perfectly.
Read more
Materials
In addition to the high-quality zippers that are in play, this is also designed with an abrasion-resistant exterior shell. Overall, the build quality here is impressive.
Capacity
Okay, so this sports a capacity of 35 liters. But, the new design of the Teamster is more narrow and tall. Due to this, the feasible storage space is actually not as much as it could be.
Comfort
This is a full-fledged backpack so do be aware of that. And, in addition to its comfortable padded straps, it also provides optimal back support.
Storage
First off, there are multiple pockets that you can use for different items. Additionally, this comes with a built-in laptop sleeve and also a removable dirt bag.
Color
Not only are there are a plethora of different color options available but most of them are really, really striking in their appearance.
Overall
This just gives you a glimpse of the brilliance of Speedo. Their Teamster Backpack is what a swim bag should be. Does anything more need to be said?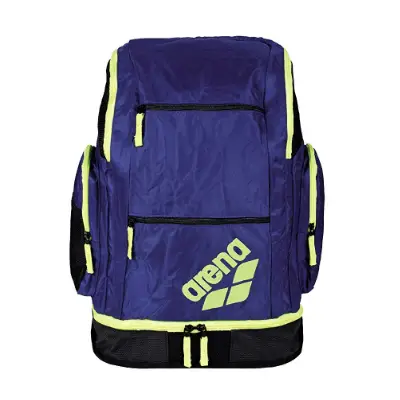 From top to bottom, there may not be a more impressive swim bag on the market, quite frankly. This did just miss out on the top spot, though, but not by much.
Read more
Materials
In addition to the fact that the Spiky 2 is waterproof, it is also designed with a reinforced bottom and also with heavy-duty nylon and polyester fabrics.
Capacity
Even though this may not be big enough for all of you, it is quite spacious in its design. Plus, it sports a unique square profile which makes it more functional as a result.
Comfort
Not only do the padded backpack straps enhance the comfort of the Spiky 2 when you need to carry it but the back is outlined with mesh (and this is going to increase the breathability).
Storage
While the plethora of zippered exterior pockets is really nice here, most striking is the bottom storage compartment. This can be used to isolate specific gear from other items.
Color
It appears as if there are other color options available for you to select. But, for the record, the one you see now is royal with bright green lettering and accents.
Overall
For an option that excels with its organizational capabilities but one that is also exceptionally built, this is about as good as it gets.

3

. SPEEDO TEAMSTER DUFFLE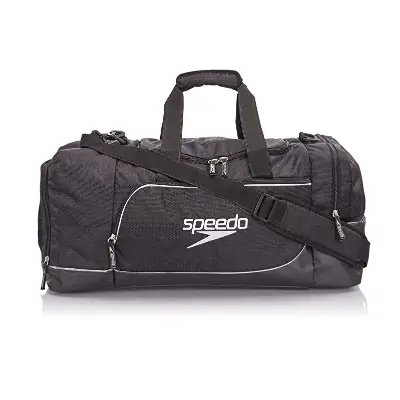 The Teamster Backpack from Speedo was already praised so it must mean that the Teamster Duffle Bug is just as great, right? Well, for the most part, yes, it is.
Read more
Materials
Much like with the backpack, this duffle bag is built to last and built with quality in mind. This shows with its abrasion-resistant exterior shell and high-quality YKK zippers.
Capacity
Given the fact that this has a capacity of 38 liters, it is going to be large enough for most of you. It is a duffle bag, after all, so you should expect this type of capacity.
Comfort
For basic carrying, you can use the attached webbing handles. However, for longer journeys, you can also use the padded shoulder strap (which is a nice addition).
Storage
Though it would have been nice if the zippers for the pockets would open from both ways, there are several individual compartments available, which is a plus.
Color
There are a few different color options that you can choose from (with black, navy and tie-dye royal being just a few of them).
Overall
Not all of you will be interested in a duffle bag for your swimming needs but if you are, you will not find a finer one on the market, book it.

4

. SPEEDO DELUXE VENTILATOR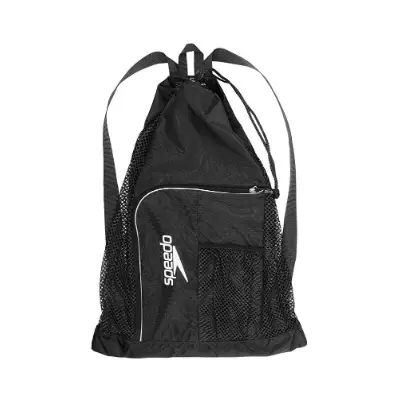 Speedo is kicking it out of the park on this list so far. One of the benefits of this particular option from Speedo is the fact that it is outfitted with open weave mesh.
Read more
Materials
Though the construction is not incredible here, it is above-average. Also, as mentioned, this is designed with open weave mesh material for enhanced breathability.
Capacity
Basing the capacity of this model from a previous user's experience, it can fit quite a few items, to say the least. It is not one of the smaller options on this list, let's just put it that way.
Comfort
Look, the integrated shoulder straps are not outfitted with a ton of padding but they do offer a more convenient means of transporting this. So, that is a plus at least.
Storage
The major exterior compartment is the front zippered pocket. However, it does not stretch very well and this can make it more difficult to fit certain items inside of it.
Color
If nothing else, you at least have to credit Speedo for seemingly always delivering in this department. Once again, they provide you with a ton of different colors to select from.
Overall
While not flawless in its execution or construction, it is hard not to be somewhat impressed with this option. It is designed by Speedo, after all, so that is not much of a surprise.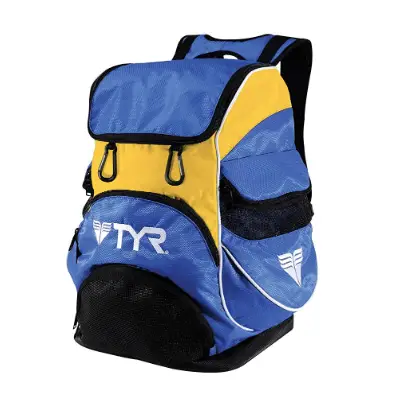 For the price, it is fair if you expect a little bit more from this option. It is still a well-designed swim bag, though, that comes with many great features.
Read more
Materials
For the record, this is comprised of 100 percent nylon and nylon itself is a very durable material. Yet, in spite of this, a few previous users have claimed that this has not held up well for them over time.
Capacity
Spacious would be the best word to describe this pack, quite frankly. With the few compartments and the main compartment, the storage space is ideal.
Comfort
The straps are not sufficiently padded but they are not exactly uncomfortable. Also, they can be adjusted to tailor to different sizes.
Storage
This is equipped with a large wet and dry compartment, goggle saver pocket, reinforced interior pockets, and also a digital media pocket. However, there could have been more compartments included for optimal organization.
Color
Both the royal and gold and orange color options are incredibly stylish. It appears as if there are more color options, though, if those two do not appeal to you.
Overall
TYR probably asks too much for their pack but it is hard to deny that it is somewhat impressive. But, some of you will not be willing to pay this kind of money.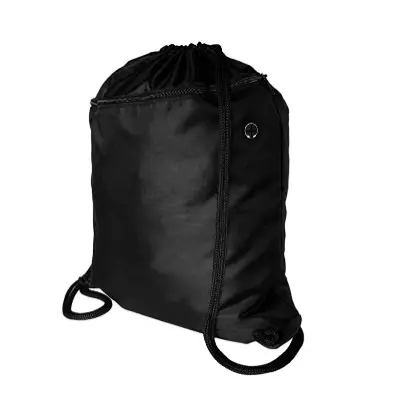 Now, this is a drawstring gym bag and is not a traditional backpack. As such, you may or may not be appealed to it. Then again, it is much more durable than your average drawstring bag.
Read more
Materials
Due to the fact that this was crafted with 420-denier material and also designed with reinforced and double-stitched seams, it is going to hold up quite well to average use.
Capacity
This is not the largest bag on this list or on the market but it is certainly far from small. The average user should be able to pack all their belongings in this bad boy.
Comfort
Overall, much like other drawstring bags, this can be cumbersome to carry and travel with. It is not unbearably uncomfortable but it is not exactly pleasurable to carry, either.
Storage
In addition to the special grommet that can be used for headphones, this is also equipped with an incredibly large zippered pocket. This alone makes this design that much better.
Color
A few different colors are available but there is nothing too drastically impressive here. The styles are far from bad, however.
Overall
When you take the price into consideration, it becomes astounding just how impressive this design truly is. As a matter of fact, it almost feels like you are stealing from the company.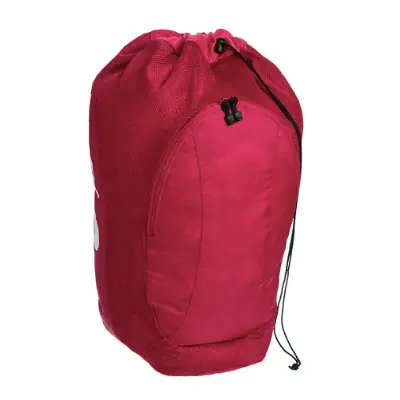 Even though this is not a tremendous option if you need a plethora of induvial storage compartments, this is a well-built option that has plenty of room for your belongings.
Read more
Materials
This is made up of 600-denier polyester and while polyester is not as strong as nylon, the 600-denier count is pretty good. Also, this is engineered with mesh side panels.
Capacity
To echo the comments of previous reviewers, this is larger than you may expect it to be. Ironically, it may be too deep as it can be difficult to get some of the items out of this pack.
Comfort
You don't often see padded shoulder straps with this type of bag and while they are nice to have, the execution is lacking. After all, you have to pack this just right in order for the straps to fit comfortably.
Storage
In addition to the fact that there is an exterior pocket, the larger pocket is also designed with an interior divider (which allows you to isolate certain items).
Color
Some very basic color choices are available but hey, what is offered is better than nothing, right?
Overall
It is fair if some of you question the execution of this option. Again, that is warranted but the concept and the quality do make up for any slight execution issues present.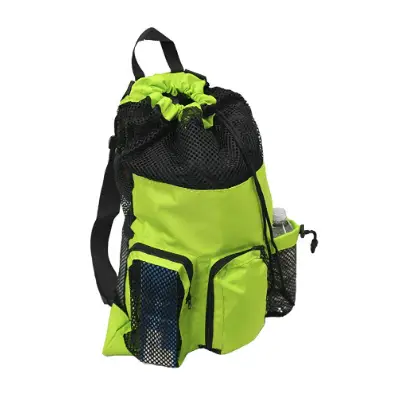 Some of you out there will not require an enormous bag and will be looking for more compact options. If this sounds like you then you better feast your eyes on this bad boy.
Read more
Materials
If you like mesh material then you will be eating this option up. It is mostly comprised of the material and is extremely breathable and quick-drying because of it.
Capacity
As alluded to, this is pretty small and there really is no reason to sugarcoat it. It can hold a decent amount of items but it is not a feasible solution if you need to account for several pieces of gear.
Comfort
Due to how light this is, the adjustable nylon shoulder straps are the icing on the cake. The reason for this is carrying it around will not be cumbersome at all.
Storage
There are plenty of smaller compartments on the outside (such as three mesh pockets and an ID card pocket at the back) that you can utilize.
Color
Some pretty solid color options, such as yellow, blue, pink, green, and red, can be selected from.
Overall
Look, you will either be thrilled or massively disappointed with this swim bag. It all comes down to what you need and expect from it, quite frankly.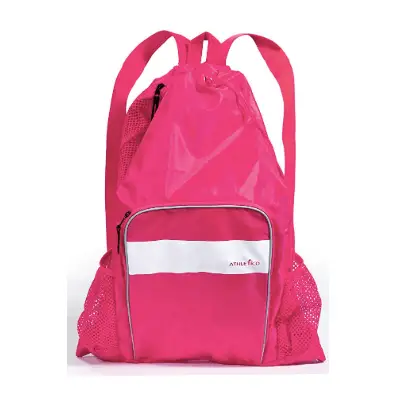 Okay, so this is probably not going to be at the top of most people's lists but it is definitely a compelling option. If nothing else, it can work great for casual swimmers and such.
Read more
Materials
In spite of the fact that this has been engineered with reinforced stitching, previous users have still experienced the stitching falling apart. As for the fabric, though, it sports tear-resistant open weave mesh.
Capacity
As the description alludes to, this is optimized to hold several beach and pool accessories at once. You just need to know how to pack them all in here.
Comfort
The good news is adjustable backpack straps are equipped. Yet, the bad news is that these same straps are not incredibly comfortable on your shoulders.
Storage
As with most of the best swim bags on the market, you can effectively separate your wet items from your dry ones with all the storage compartments that are implemented.
Color
This is another model where you will not be blown away by the sheer selectable colors available. At the same time, different colors (such as blue and red) do exist.
Overall
No matter what anyone else says, this is going to be a compelling option if you are looking for a bag that you can use occasionally. It is not optimized for everyday use, however.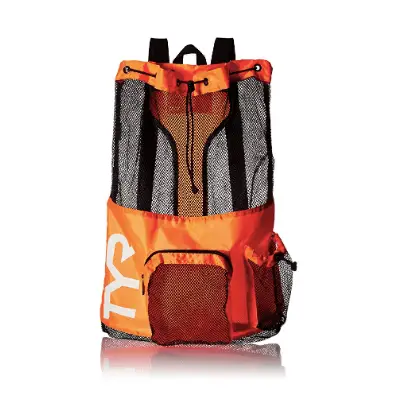 This is another option that is primarily made out of mesh material for superior drying and draining capabilities. But, admittedly, it is not all that comfortable to wear.
Read more
Materials
This has garnered several hundred positive reviews on the web but be aware that there have been some reviewers who have criticized its longevity.
Capacity
Thanks to the spacious main compartment, you should have no trouble storing several of your personal belongings in this pack.
Comfort
Due to the lack of structure of the bag itself and the cheaply-made polyester mesh shoulder straps, this is not the most comfortable model to carry around.
Storage
Overall, the exterior storage space is fairly limited. With that said, there are a few mesh pockets (one of them sports a zipper) that can be used for some smaller items.
Color
Orange, yellow, black and blue is just a few of the wonderful color options that you can select from here.
Overall
Alright, so this is probably not going to enthrall most of you like some of Speedo's models will. That said, you may want to give this little guy a chance.

Subscribe to our Newsletter