Best Workout Headbands for Women
In a
Hurry? Editors choice: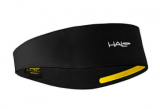 Test Winner: Halo II Headband

If there is one thing that all active women can agree on, hair and sweat can be significant nuisances when exercising or being active in any way (
read here more
). Not only can sweat roll down your forehead and hamper your vision, but your hair can become a jumbled mess and continuously get in your face.
This guide on the best workout headbands for women is here to help you solve those very issues. Because, to do so, all you need to do is invest in a high-quality headband. How do you do that? How do you shop for the best workout headbands for women?
While you will need to dive into this guide to find the answers, you will, hopefully, find what you are looking for. We are here to not only educate you but also to ensure the entire buying process is simplified for you.
Standout Picks
Criteria Used for Evaluation
Effectiveness
At the end of the day, workout headbands will need to manage your moisture.
You may have different reasons for coming here looking for the best workout headbands for women. You may want or need them for use in the winter or summer or may just want them for fashion purposes. Either way, this is something you need to figure out as it will affect how you buy them.
But, the most popular reason for buying headbands is to prevent sweat from dripping into your eyes. As such, most of you will want to look for models with excellent sweat management properties. Whether the bands are designed to absorb the sweat (which is what cotton headbands will do) or merely wick it away from your forehead, they need to do so efficiently and effectively.
And, even if you want to use workout headbands in the winter, you can still benefit from moisture management. While these headbands should also provide insulation on your ears, they should too be able to wick away sweat from your body. After all, the winter is not going to stop your body from releasing sweat.
Of course, perhaps you want to buy workout headbands for women merely for fashion purposes or to prevent your hair from getting into your face. Either way, look for options that will perform to the standards in which you set out.
Comfort
Several of you will be looking for models that are comfortable to wear, right?
It seems pretty obvious to say, but we are going to tell it anyway; it may be in your best interest to look for sports headbands for women that are comfortable to wear. After all, the best headbands for working out will not be the ones that you need to remove from your head after 10 minutes because they are too unbearable to wear.
Now, while this will be documented later, how headbands fit you will dictate how comfortable they will end up being. In specific, if the bands are too tight, then this can lead to headaches and general pain.
Additionally, pay attention to the texture and feel of the fabric blend. Some of the best models out there will be stretchy enough to offer superior fitting while also being soft enough to be quite cozy. Then again, not all workout headbands need to be made with silky fabric to be comfortable, so be aware of that.
A lot of the times, quite frankly, the rubber channels that are used to help stabilize the headbands can lead to discomfort. This can be thought of as a tradeoff of sorts if you want to think about it that way.
Stability
While you can combat the lack of stability of some models in certain ways, it is still something you want to consider.
Virtually everyone can agree that one of the most annoying aspects of headbands is when they tend to slip down your forehead. Though it may not seem like that big of a deal, you may think differently after readjusting your headband for the seventh time during your 30-minute workout.
So, let's say that this is a section you, ideally, want to pay attention to. Now, to keep some bands stable, specific engineers will implement silicone or rubber channels into their designs. While these are not typically overflowing in comfort, they do a great job of preventing the headbands from slipping down your forehead.
Of course, let's address the elephant in the room. If you took the time to go through the above list of the best workout headbands for women, then you probably noticed something. Quite a few of them have stability issues and a tendency to slip. But, these options still made a list, so why is that?
Well, there is a convenient solution that you can take and it was mentioned a few times. Several previous users have had great success utilizing bobby pins to stabilize better headbands that like to slip.
Fit
What you want is a headband that is not too tight but also one that is not too loose.
Though it took a little while to get to this section, the importance of it can't be overstressed enough. Outside of anything else, the most likely reason you will not want to wear a specific headband is if it does not fit you properly. You need to find a happy medium as those that are too tight can cause headaches, and those that are too loose will fall too quickly.
But, you see, this can become much more difficult when you take into account the fact that most workout headbands for women will not be offered in various sizes. Most of the time, in fact, they will be one-size-fits-all. Well, let's be real for a second; these types of headbands will not fit everyone as that is simply a marketing expression.
After all, some models will be better suited for users with larger craniums and others better for users with smaller heads. To figure out which model is going to fit you right, you need to pay close attention to what others have had to say.
Without question, this is the best reference that you will have. If nearly everyone claims that a specific headband is tiny, you can gauge its fit based on it.
Color
It is not uncommon for headbands to come across as fashion statements so this section will be important to some of you.
For the most part, men and women have different standards when it comes to fashion. There are always exceptions to the rule, but this is a fair statement to make. Anyway, it leads to why this section is going to be necessary. Remember, these are the best workout headbands for women.
While not all women out there will care about the style or color of the headband they wear, some of them will, and that is a fact. And, for the women readers out there right now who do care, let's dive into this section a little more.
Some workout headbands on the market will come with unique visual designs. While some will be offered in generic and straightforward colors (such as black, red, gray, etc.), others will bring more spice to the fold, if you will.
Quite honestly, it all comes down to you and your preferences regarding which style or color you find appealing. Also, keep in mind that most of you will want to match your headband with your other gear and accessories.
Our Top Picks for the Best Workout Headbands for Women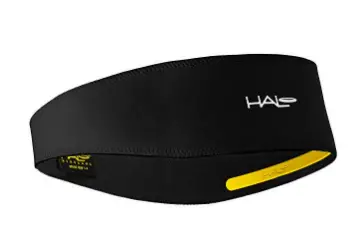 Now, the Halo II Headband is going to be ideal for both women and men alike. The reason why it is so beloved is that it implements patented technologies to ensure optimal performance.
Read more
Performance
Thanks to the fact that the Halo II is designed with patented Sweat Seal Grip Technology, it will direct the sweat away from your eyes and your face. Of course, it can become oversaturated and begin to perform less efficiently.
Comfort
The rubber channel that is integrated makes this headband a little more uncomfortable than some of you will like. However, one fascinating aspect about the Halo II Headband is it will fit comfortably under helmets.
Stability
The same rubber channel that was just alluded to does come into play here. Thanks to it, the Halo II is not going to slip down your forehead or move around vigorously during movements.
Fitting
Though this is ideal for women, as noted, this is also going to be suitable for men too. And, for the record, one size is designed to fit all.
Colors
Due to the vast selection of colors that are at your disposal, finding one you like is not going to be a hard task whatsoever.
Overall
Even the number one model on this list is not perfect. So, accept the fact that there is no such thing as an excellent and flawless workout headband and you should love this.

2

. LUCKYGO Women Sweatbands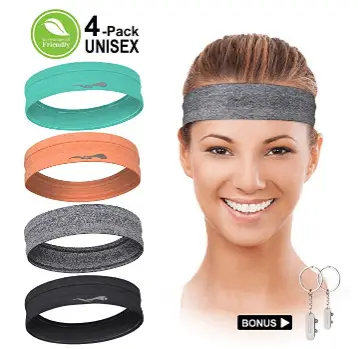 For the price of admission, the value here is just tremendous. In addition to the fact that these workout headbands for women effectively wick away sweat, they also remain stable on your forehead.
Read more
Performance
What is careful about these workout headbands for women is they are designed to absorb, wick, and evaporate sweat from your body. Then again, they can only handle so much sweat, so understand that.
Comfort
Because all these bands are made with high-quality soft and stretchy fabric, they are quite comfortable. It also helps that they are lightweight, as well.
Stability
The main reason these are not going to move around too much during movements is the silicon bars. These are implemented to keep the bands in place.
Fitting
There is no reason to concern about the fit of these sports headbands as they are super stretchy. For most of you, they will not be too tight or too loose.
Colors
It is not as if the included colors (this is a four-pack) are wrong, but you can't select them individually. Perhaps the company should think about offering their headbands by color.
Overall
For being an off-brand of sorts, these are pretty spectacular. They do everything in their power to ensure that sweat will not be an issue for you and also do not have stability issues.

3

. Nike Assorted Headbands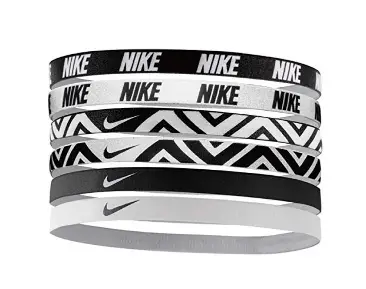 When compared to other headbands for women, these are quite thin. Not in the sense of longevity, for the record, but in regard to the physical width. They perform really well, though.
Read more
Performance
These are all designed with a blend of polyester and spandex. So, while they are not going to absorb much of your sweat, they are going to wick it away from your body.
Comfort
Let's say that these are not the most forgiving headbands out there. Part of the reason why is they fit somewhat tight on your forehead (for most of you).
Stability
What makes these great no-slip headbands is the fact that they have been equipped with silicone strips. As you probably could guess, these silicone strips prevent the bands from moving around.
Fitting
If you are someone who has a larger head, then you may want to consider other options. The fit may be too tight for some of you.
Colors
Both of the two sets offer the same aesthetics but in different colors. One of the collections comes with black and white bands while the other with vivid pink and white bands.
Overall
Nike is a top-name brand, and their workout headbands for women do perform quite well. While they may not be the most comfortable option on the market, they do what they need to do.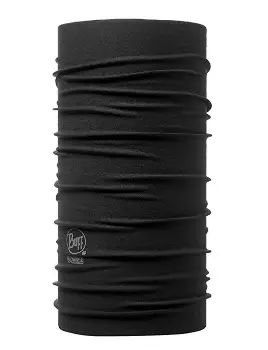 This is actually one of the most popular models out there and it is made with microfiber polyester material. Oh yeah, it is also a 100 percent seamless construction which makes it even more comfortable.
Read more
Performance
The soft and breathable microfiber polyester core is quick-drying and sports' moisture-wicking properties. Also, this headband can be great for winter activities.
Comfort
Alright, so the fabric itself is incredibly smooth, and it also helps that the construction is seamless. But, the fit is quite tight, and this can lead to headaches after you use the headbands longer time.
Stability
This does not stretch very well and is one of the chief complaints overall. But, it will stay on your forehead better than others, so there is that solace.
Fitting
This sports headband is designed to be one-size-fits-all. As noted earlier, the fit is going to be on the tighter side.
Colors
As there is a drop-down list that is filled with color options, you are spoiled in the sheer amount of options that you are provided with. There are even some with cool visual designs.
Overall
In spite of the tighter fit, you can see why this is one of the most popular options on the market. Of course, you also pay the price for it, so understand that.

5

. TrailHeads Ponytail Headband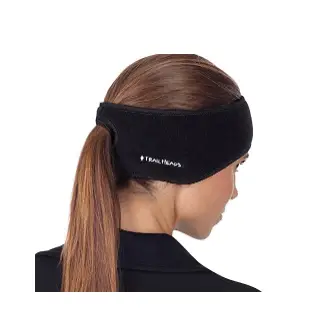 In addition to the fact that this model is optimized for use in the winter, it is also ideal for women who like to wear ponytails. Due to the opening in the back, ponytails can be accounted for.
Read more
Performance
It is optimized for winter use and is probably going to be much too hot for the summer. It is designed to cover and insulate your ears while absorbing sweat from your forehead.
Comfort
Alright, so the polyester and spandex binding does stretch comfortably around your forehead. However, speaking for the ponytail hole in the back, it is in a somewhat awkward place and is also quite small.
Stability
Stability is not going to be much of an issue with this design. It is also much more significant than other workout headbands for women, though, so do be aware of that.
Fitting
Again, this is designed to wrap around your ears and is quite extensive as a result. Also, the integrated ponytail hole in the back, though not the best, is still really nice to have.
Colors
With the full range of colors available, most of you should have little to no issues in choosing a style that you like.
Overall
As a summer headband, this is merely going to be much too warm. It is designed to absorb sweat from your forehead but is also optimized to keep your ears warm in chillier weather.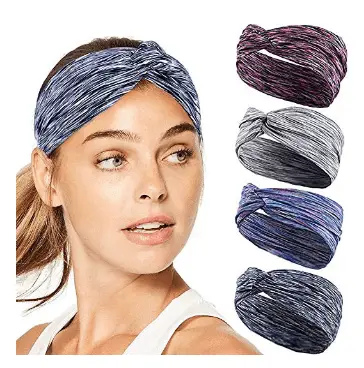 While you may want to use some bobby pins to keep these bands from slipping down your forehead, they are lightweight in nature and quite soft for enhanced comfort.
Read more
Performance
The unique blend of fabrics ensures that these headbands will absorb most of the sweat that drips down your forehead.
Comfort
Comfort is the name of the game, and that is something that this manufacturer understands. If nothing else, nearly all of you will appreciate the soft and stretchy nature of these bands.
Stability
As noted, bobby pins may be in order if you choose to go with these bands. Previous users have had issues with these sliding down their foreheads during use.
Fitting
There are no sizes to choose from, for the record, as these are designed to fit all foreheads. However, some reviewers noted that each of the headbands could vary slightly in their fitting.
Colors
No, you can't individually select the colors you want for each band. However, you are provided with a decent variety of color sets to choose between.
Overall
Most of you will take the inconvenience of using bobby pins due to how soft, stretchy, and well-made these headbands are. Indeed, they are a very compelling choice.

7

. Calbeing Women's Headband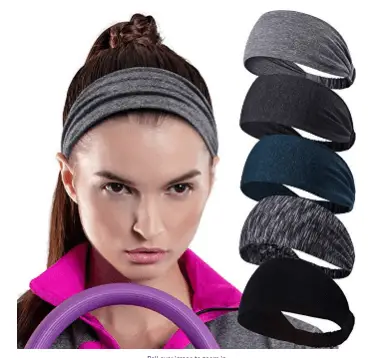 Due to the simple and comfortable design of this headband, it is ideal for all sorts of activities. Again, it is not a flawless design but it is certainly difficult to find perfect headbands.
Read more
Performance
This headband is designed with moisture-wicking properties, and this enables it to work quite well.
Comfort
While there are some workout headbands out there that can cause headaches if you wear them for too long, the same issue does not seem to be a problem here.
Stability
Not only does this not grip very well, but it is also a bit too lightweight, to be honest. The reason this is a problem is if you have curly hair, the band can curl up on top of your head.
Fitting
Based on feedback, this should fit most of you quite nicely. Though you may have to have the headband in your hair partially, you will still be likely to find a good fit.
Colors
There are a few distinctive colors that you can choose between and also some different sets. Either way, a pretty good variety is provided to you.
Overall
The main issue with this headband (or headbands if you buy a pack of them) is with its stability. In every other area, it is well-designed and, thankfully, there are ways you can combat the stability issues.

8

. Maven Thread Yoga Headbands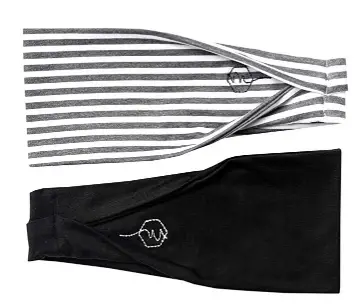 Yoga headbands, such as these, are often fan-favorites due to their comfort, versatility, and style. Then again, these types of bands can also have stability issues and that is the case here.
Read more
Performance
Take comfort knowing, at the very least, that these are designed to wick away sweat from your forehead with great efficiency.
Comfort
The high-quality fabric blend is not only stretchy but also incredibly soft. This combination is a winner when it comes to comfort.
Stability
When compared to others, these are not horrible in the stability department. But, with that said, there are plenty of superior options too.
Fitting
Though these can have stability issues, they seem to fit quite well. Once again, these are designed to fit most foreheads and only come in one size.
Colors
The black, and white and gray sweatbands you are provided with are quite visually appealing.
Overall
In a way, these are almost the epitome of most workout headbands for women. They are stylish, comfortable, and perform well but also do not stay on the best.

9

. Under Armour Diverter Headband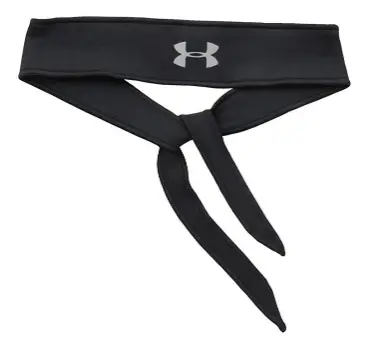 While this is not a perfect sweatband (is there really such a thing) it is still well-designed. It is designed with a silicone strip and this is going to push the sweat to the side of your face.
Read more
Performance
Because this is mostly comprised of polyester, it is not really going to absorb sweat from your forehead. Instead, the integrated silicone strip is going to push the sweat away from your face and the material will then wick it away.
Comfort
To allow this to move in both directions, it is been engineered with four-way stretch technology. And, indeed, this is going to make the headband more comfortable as a whole.
Stability
The silicone strip does not do much to prevent this from slipping down your forehead, unfortunately. As is, bobby pins may be needed to cut down on the annoyance of this.
Fitting
As with other workout headbands for women, this is only sold in one size. It has been noted by previous users that this size is quite small. Then again, you can adjust the size to your liking.
Colors
Many of your standard sweatband colors (such as gray, red and black) are available for you to pick from here. While not the most diverse selection, it is still good overall.
Overall
As simple as it is, having the control of adjusting the fit of a headband is quite coveted. While this could have been engineered to stay in place better, it does wick away sweat quite well.

10

. DRESHOW Vintage Headbands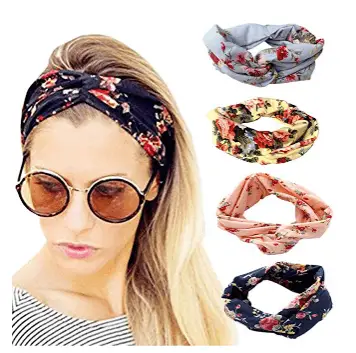 These workout headbands for women are a great example of why these garments can also be fashion statements. While they mainly need to be able to perform, it is never a bad thing if they also offer some style.
Read more
Performance
For both absorbing your sweat and wicking it away, these headbands are quite significant. This is thanks to the cotton and nylon core that encompasses every one of them.
Comfort
The natural feel of cotton is going to be much appreciated by several of you. Indeed, these are not uncomfortable, plastic workout headbands.
Stability
Since the fabric is quite slippery, these bands can struggle to stay in place while you are moving. Without question, this is the biggest hiccup that is present.
Fitting
Most users have gone on record claiming that these fit as they expected them to. Then again, quite a few buyers have also felt that these were a little too small and tight.
Colors
There are multiple packs available, and each of them provides you with a different twist of color options.
Overall
Performance and comfort-wise, these suckers are excellent. As with other models, though, they struggle a little bit when it comes to remaining stable on your forehead.

Subscribe to our Newsletter