Best Cashmere Scarf
In a
Hurry? Editors choice: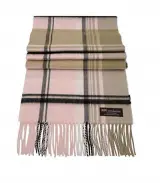 Test Winner: Rosemary Collections

If you're looking to keep yourself warm and cozy this winter or looking to give a gift to someone that is impossible to shop for- you can't go wrong with a cashmere scarf. So, what is cashmere and why is it popular? It is considered to be a type of
wool
, but in actuality, it is the super soft hair from a special breed of goat, or sometimes the hair from a camel. The reason that it makes an excellent piece of winter gear is that it is lightweight, feels soft against the skin, and is still incredibly
warm
even on those blustery cold winter days. In this guide, you will find some of our top picks for our favorite cashmere scarfs to keep you
wrapped
in warmth and comfort all winter.
Standout Picks
Criteria Used for Evaluation
Materials
The most important thing that we looked at was the type of materials that these designs were made from.
Of course, this is going to be our number one priority when conducting our research. The very first thing that we looked at was the percentage of camel or goat hair that was used to make the product. Of course, we gravitate more towards options that were composed of one hundred percent goat hair, but that wasn't to say we discounted blends entirely. Some companies that crafted their products from a blend of cotton and goat hair mean that users will have some of the benefits of this rich textile without paying the extra price that these options often carry. We also considered blends that also used a percentage of lambswool, because it adds the benefit of an extra layer of richness that you wouldn't ordinarily get from straight goat or camel hair. When you are trying to decide on which style is right for you, you can't go wrong with 100 percent goat hair. Just make sure that you read what some past users have to say about how it is manufactured. Just because it is listed as 100 percent goat hair doesn't mean that it is going to have superb quality. Sometimes these textiles can lose a little bit of magic if they are improperly processed, or if they sport a loose knit. For these options, the tighter the knit means a warmer and higher quality product.
Style
We wanted to pick options that had a lot of color and patterns choices.
Of course, style is something that we considered. These garments can often be the accent of color needed to brighten up a dreary winter day, so we wanted to seek out companies that offered a lot of different colors and design choices. For the most part, companies landed on solid neutral colors such as blacks, whites, and grays, and also filled the entire color spectrum with interesting and innovative plaid color combinations. Selecting brands that had a lot of different color options that would work for pretty much any style was one of the very first things that we considered next to materials. We also wanted to be sure that we appeased both groups of users that preferred tassels at the end, and those that did not.
Value
Keeping costs low while still selecting high quality products was an important aspect.
There are other products out there on the market that might rival the cost of what you paid for your kitchen stove. So, why the big difference in price? From what we could gather, it depends on the type of textile that is gathered. Lower end options often user camel hair for their designs- which is just as lightweight, soft, and warm as goat hair, with one simple difference: it can be a little itchy. While we did select some brands that used camel hair, we also wanted to include some premium options that may cost quite a bit more, but were far from being the most expensive options out there on the market, such as the Citizen options that uses hand combed Mongolian goat hair, but comes in at a price tag that is slightly lower than other premium options.
Subscribe to our Newsletter