Best Electric Blankets
In a Hurry? Editors choice: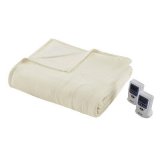 Test Winner: Beautyrest Microfleece

Are you someone who constantly finds yourself cold when you are sleeping at night? Whether it is in the middle of the cold,
winter
season or even during moderate-weather nights, some people simply need an extra amount of warmth while they sleep. A logical solution is to merely sleep with more
blankets
but it can be uncomfortable to get tangled up in all of those layers. So, the next logical solution would be a little device known as an electric blanket. The best ones will come equipped with multiple
heat
settings and also separate zones with individual controls. Yet, there are also other key attributes that you will need to look out for. But, first, let's take a closer look at some of the best models on the market.
Standout Picks
Criteria Used for Evaluation
Effectiveness
What good is a heating device that does not efficiently provide heat?
When it comes to analyzing the heat efficiency of electric blankets, there are a lot of factors that come into play. But, every last one of them comes down to the technology that has been implemented. For example, the model you invest in needs to be able to heat to your standards. Having multiple heat settings, which will be touched on later, helps but it means nothing if the blanket itself does not get warm enough for you. Also, ensure the heat is distributed evenly throughout. Oh, and speaking of which, you may want to look for dual controls. The benefit here is if both you and your spouse want the warming benefits but may not prefer the same level of heat. With dual controls, each of you can control your own side.
Also, there are some designers out there that will integrate patented technology to deliver consistent and monitored temperature all night. These technologies, such as ThermoFine from Sunbeam, can adapt their temperature based on the ambient temperature and your internal body temperature. This delivers the most efficient heating possible.
Advanced Features
There are some key features that you need to analzye when you go to buy an electric blanket.
As these are electric, it means that they are powered via electricity and typically with electrical devices, you always need to look for the features. In regard to electric blankets, there are three very important design features to keep an eye out for. Firstly, let's talk about the heat settings. Everyone has differing preferences and some models will come equipped with 10 or 20 different heat settings. While 20 is a bit over the top, 10 is arguably perfect and allows you to adjust the heat accordingly. A second very important feature is preheating. Instead of laying down with your blanket and waiting for it to deliver some warmth, with a preheat feature, you can allow it to warm up beforehand. This works much like it would on an oven or another heating device.
The last feature is an automatic shut off. This is essentially a safety feature and the blanket will stop heating after a certain time. Most often, you will see 10 hours as the time and that suffices just fine. Now, with all those features in play, how are you supposed to change them? This is where the controller or controllers come into play. Most models will come with one (with some coming with two for dual control) and will not be too complicated to control. But, you may want one with a backlit digital display to program it at night (so you can actually see it in the dark).
Comfort
There is nothing better than sleeping with an ultra-comfortable blanket that is for sure.
Quick question, who out there enjoys sleeping with an uncomfortable blanket? No one should have answered with a yes so that means the comfortability of the model you choose is essential. At the end of the day, it really comes down to two factors when assessing the comfort level of an electric blanket. The first and most obvious factor are the materials utilized. You may want to look for luxury materials such as micro plush and Sherpa for optimal comfort. The former is a very popular soft pile polyester knitted fabric that is used in a wide range of applications. As for Sherpa, this can be made from cotton, acrylic, or polyester and resembles the wool-lining worn by Sherpa citizens of Nepal.
Outside of the materials, you need to also pay attention to the wires. The model you invest in is going to be electrical which means that electrical wires will be implemented. Ideally, look for designs where the wires are ultra-thin and almost unnoticeable. The last thing you want is to feel bulky wires while you sleep.
Durability
These will generally not last that long but certain models will last longer than others.
Here is the deal; not all models will last the same amount of time but heating blankets themselves will not last forever (which will be touched on in a minute). Most models will be machine washable and will not pill when doing so. If a design is prone to pilling, though, you may want to avoid it. Really, the best thing you can do here is to look through consumer feedback. See what actual buyers have had to say and if longevity has been a common issue for several of them, it may become an issue for you too.
Now, in regard to how long they are designed to last, to begin with, their controls, internal wiring, and connectors tend to worsen in quality over time. You actually will see some models that are backed by five-year warranties but it seems that most will not even last that long (this also will depend on your usage).
Size
You need to buy the size that you require and this is typically going to be the size of your bed.
When it comes down to it, you need to decide straight from the get-go where you want to use your electric blanket. If you want to sleep with it on your bed then you need to simply purchase the size of your bed (ideally). Most sellers will offer sizes to fit the typical sized beds (including twin, full, queen and king). But, some sellers will only include dual controls for the queen and king-sized models (as they are much bigger). If you only want to use it casually when you are lounging around, you may want to look into throw blankets that are optimized for smaller areas.
Of course, you could always use a twin or full-sized blanket off of your bed. This can be a little harder with queens and kings as the size will be increased substantially. In short, just buy based on your needs and preferences and you will be good to go.
OUR TOP PICKS FOR THE BEST ELECTRIC BLANKETS
1

. Beautyrest Microfleece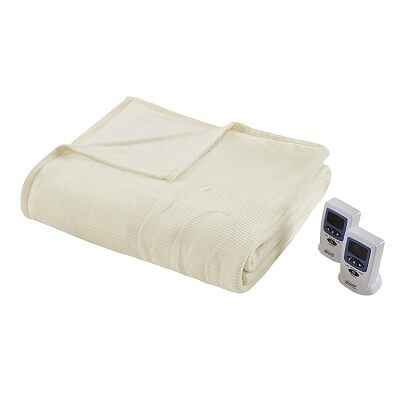 If you are simply looking for the model that offers the most heating settings, perhaps you need to take a closer look here. With 20 total heat settings, it is safe to say you can tailor this to your preferences.
Read more
Heat Efficiency
Beautyrest integrated state-of-the-art heated technology into their design and it manages to adjust the temperature of the throw based on several other factors. Plus, this technology emits virtually zero electromagnetic field emissions.
Advanced Features
Many users have fallen in love with the preheat function but this is also equipped with 20 different heat settings. All this can be controlled via the included controller, as well.
Comfort
First off, this is made of soft microfleece fabric and this delivers exceptional comfort. In addition, though, the ultra-thin wires do not provide much discomfort at all.
Durability
The textured solid microfleece fabric that was just alluded to is also designed to be pilling-free and this will enhance the overall longevity of the fabric itself.
Sizing
The full monte of options is available including sizes for twin, full, queen and king. For reference, the latter measures 100 inches by 90 inches.
Overall
From top to bottom, few electric blankets on the market can compete with the overall quality displayed here. If you are looking for improved sleep, this could be the answer.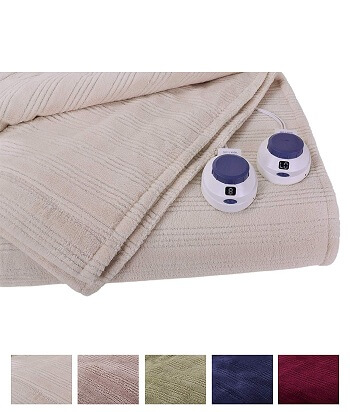 While you are certainly going to pay the price for this blanket, the dual-zone technology is going to be perfect for couples who enjoy sleeping at different temperatures at night.
Read more
Heat Efficiency
As mentioned, arguably the best aspect of this design is the dual zones of heating. Because two people can adjust their side of the material accordingly, they can tailor the efficiency to their liking.
Advanced Features
In addition to the automatic shut off feature, which is scheduled after 10 hours, this is also equipped with a preheat feature to ensure you do not have to wait for heat when you lay down.
Comfort
Okay, so this is made with the softest plush fabrics on the market and it really shows. Plus, the wires are finer to go practically unnoticed. One issue here, though, is the non-porous nature of this model.
Durability
It is noted that no pilling or stretching will take place if you machine wash this model and that is good as it makes maintenance much, much easier.
Sizing
There are other size options available outside of the king size (such as full, twin and queen). The king size itself, though, measures 100 inches by 90 inches.
Overall
It just does not get much better than this, does it? Sure, you can make an argument that this needs to breathe better but for those looking for optimal heat this is the lucky ticket.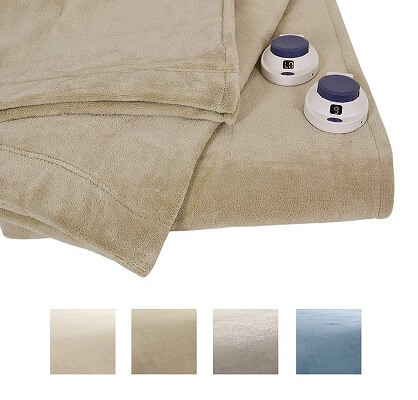 This is yet another model that sports dual controls to match the comfort levels of two different users at night. Of course, there have been several reviewers who have complained that this blanket does not get warm enough.
Read more
Heat Efficiency
Though this is equipped with low-voltage technology and micro-thin wires for even heat distribution, most users agree that this does not get extremely warm.
Advanced Features
The dual controllers that come with your purchase allow you to manually adjust each side of the blanket. Additionally, giant backlit displays ensure easy nighttime operation (while they can be dimmed when sleeping).
Comfort
On top of the extra soft micro-plush fabric that has been utilized, the wires have specifically been designed with thinness in mind. As such, they almost go unnoticed.
Durability
With no concerns of pilling, shrinking, or stretching, you can machine wash this and also toss it in the dryer afterward.
Sizing
Serta has got all bed types covered as they offer their model in twin, full, queen and king sizes.
Overall
For some of you, the heating issue is not going to be one here. Not everyone needs to be extremely warm at night and, given the other excellent features of this design, if that is you, give this one a shot.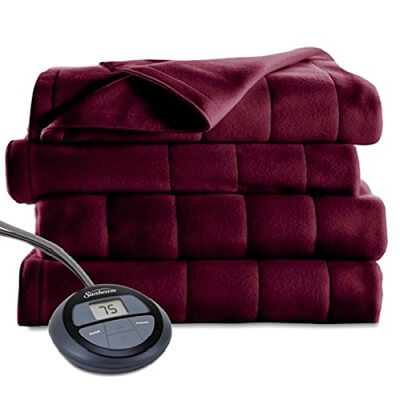 This is the microplush heated blanket from Sunbeam and to say it is ultra-comfortable is an understatement. It is made of silky soft fabric to not only keep you warm at night but also incredibly cozy.
Read more
Heat Efficiency
Much like other Sunbeam designs, this right here utilizes their exclusive ThermoFine warming system and this will efficiently sense and adjust the temperature accordingly.
Advanced Features
For the record, both the queen and king sizes come with two controllers. As for the controller design itself, it comes with an LED display, preheat function, automatic shut off feature, adjustable dimmer, and 10 heat settings.
Comfort
Due to the 100 percent polyester microplush composition of this blanket, you can rest easy in silky softness all night long.
Durability
The biggest issue seems to be the longevity of this model. As some buyers have alluded to, dead zones can develop over time and it seems to lose heat quicker than it should.
Sizing
Per the usual, this comes in four different sizes. This includes the standard bed sizes such as twin, full, queen and king.
Overall
Man, this is an excellent design that is hindered a bit by its reported longevity issues. While it lasts, though, it is simply one of the best out there.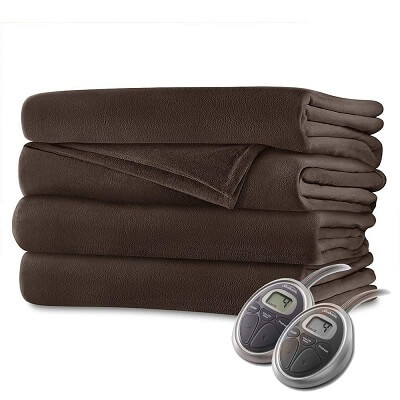 Without question, the most well-known brand when it comes to electric blankets is Sunbeam. No matter how many lists you reference online, Sunbeam is sure to come up at least once and this one is perhaps their best.
Read more
Heat Efficiency
To keep the temperature at a consistent level all night long, this is equipped with a ThermoFine warning system that will automatically adjust the temperature level.
Advanced Features
Now, the features themselves are superb. This includes 20 personalized heat settings, a preheat feature and also a built-in automatic shut off feature. But, the controllers are all-but-impossible to see at night and some sort of illumination should have been integrated.
Comfort
Due to the premium soft velvet plush fabric that has been implemented here, the result is a soft sensation that feels amazing against your skin.
Durability
Any criticisms that most users have are not in regard to the longevity and any time that is the case, it can be considered a positive.
Sizing
This right here is actually a king and it measures 100 inches by 90 inches. As some users have expressed, however, it tends to slide around on the bed and can be a bit too small because of it.
Overall
It may seem odd for a top three model to have some legitimate flaws. But, understand that the flaws present can be forgiven because of the overall greatness of this design.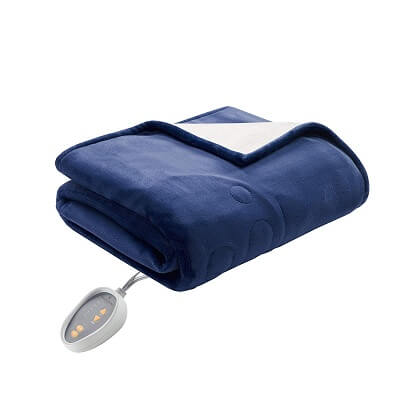 Once again, good things do not come cheap here and you will pay the price. Then again, with all the features that are integrated into this design, you can forgive the steep price.
Read more
Heat Efficiency
Along the same line of Sunbeam, Woolrich also utilizes special heating technology in their model and this allows it to automatically adjust the temperature based on outside factors.
Advanced Features
Each controller, and yes this does come with two controllers, is equipped with a 10-hour shut off feature and also 20 different heat settings.
Comfort
The face of this design is made of 100 percent microlight plus fabric and the reverse side is made of 100 percent Sherpa Berber. This premium combination delivers comfort at every angle.
Durability
The general consensus is that this is an amazing model when it works. This is claimed because there have been some users who have experienced longevity issues.
Sizing
While there are different color options available, the size of this specific option is outfitted to fit king-sized beds. It measures 100 inches by 90 inches, in fact.
Overall
Really, this is pretty much a carbon-copy of the previous model in the sense that it is excellent while it lasts. Problem is, the longevity can be a concern as it has been for a few buyers.

7

. Sunbeam Quilted Fleece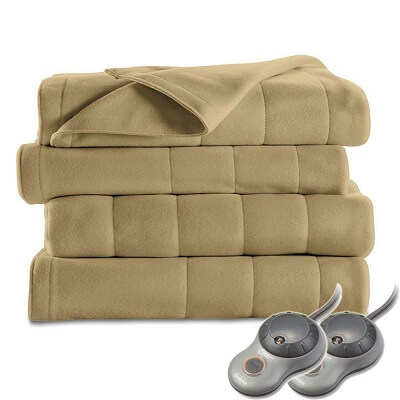 Hey, would you look at that, it is Sunbeam again. As with most of their designs, their quilted fleece is exceptional. Of course, it is on the thinner side of the spectrum, for the record.
Read more
Heat Efficiency
Would you expect anything less from Sunbeam? Their quilted fleece uses ThermoFine technology to deliver consistent and even warmth throughout the night.
Advanced Features
Now, even though the knob on the controller can be a bit difficult to control for those with arthritis issues it is equipped with multiple heat settings and an automatic shut off feature.
Comfort
To some degree, you can feel the wires integrated inside and this is partly because of the thin fabric. Still, the 100 polyester core does deliver comfort and warmth.
Durability
As mentioned a few times, the material is a bit flimsy. Because of this, it may not hold up as long as other fabric compositions.
Sizing
Sunbeam designs their model to account for all types of bed sizes including twin, full, queen and king.
Overall
Everyone is a bit different and perhaps you are not looking for a bulky and heavy electric blanket. If you are, in fact, looking for a thinner option then you have found it.

8

. Biddeford Comfort Knit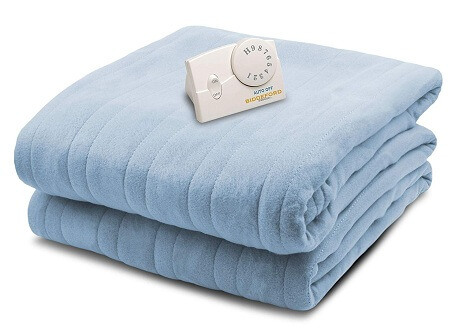 This model, based on feedback, could be considered a mildly warming blanket. While some of you will find this insufficient, others may enjoy the slight warming sensation.
Read more
Heat Efficiency
As just mentioned, this is not the model for those of you seeking intense warmth and heat. Instead, it seems this is better dubbed a mildly warming blanket.
Advanced Features
In addition to the 10-hour automatic shut off feature, this is also equipped with 10 personalized heat settings. Oh yeah, and the queen and king sizes come with two controllers.
Comfort
The soft texture of this has received praise from users but the heating wires have not. They are a little loose and they provide mild discomfort from time to time.
Durability
There have been a few reviewers who have commented that the heating of this becomes a bit inconsistent after a year or so. But, overall, not too many issues here.
Sizing
Pretty much every size available is generous with its size, so that is nice. As for the options, you have a twin, full, queen, and king.
Overall
If you can live with the limited heating effect of this model, not in terms of settings but actual temperature, then you can enjoy vastly superior nights of sleep.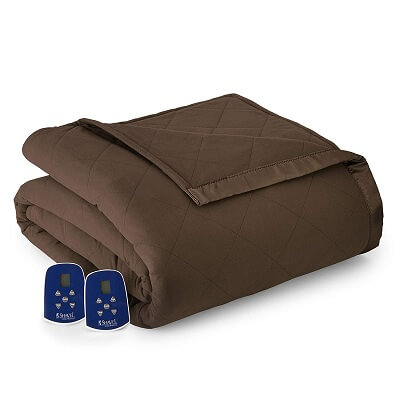 As one user so eloquently pointed out, the controllers of this model are a bit flawed. With superior controllers, this could have possibly landed even higher on this list.
Read more
Heat Efficiency
In regard to heat, this bad boy can definitely dish it out. Unfortunately, it struggles a bit when it comes to evenly distributing the heat.
Advanced Features
Let's start this by saying the functionality here is fantastic (with automatic shut off and multiple heat settings). Yet, there are two huge issues with the controllers. Firstly, there needs to be a backlight for nighttime operation and secondly, there is no need for the audible click when you press a button.
Comfort
With seven layers of quilted micro flannel fabric and a wrapping layer of alternative polyester, comfort is not an issue. Of course, this is quite thick and maybe too much so for some of you.
Durability
On top of the fact that few buyers have complained about longevity issues, this will also not pill or shrink in the washing machine.
Sizing
The usual sizes are available here and this includes twin, full, queen, and king and California king.
Overall
In spite of the flaws that are present, this is a highly suitable option. With a bit more heating efficiency and better controllers, this could have even been in the top five.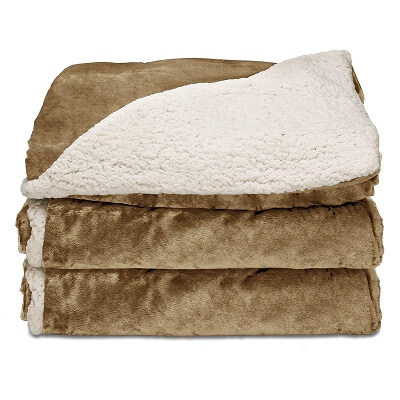 This is a very unique design in that one side is made of Sherpa and the other is made of royal mink. While this combination is a bit bulky and stiff, the overall design is above-average.
Read more
Heat Efficiency
You are fully aware of the ThermoFine technology by now, which is integrated here. Although, most users note that this does not exactly get very warm.
Advanced Features
While not a ton of heat settings, you are provided with three and also an automatic shut off feature. Both these can be programmed via the included EliteStyle II controller.
Comfort
As previously alluded to, this is made with royal mink and Sherpa. Some reviewers have expressed that this is a bit bulky and stiff, however.
Durability
Though this is advertised as delivering durability for years, the side of the fabric can be subject to pilling.
Sizing
This is actually one of the smaller models on this entire list. The default size is 50 inches by 60 inches and it does not appear as if there are other sizes available.
Overall
No, this is not a flawless design and, in fact, it is far from it. But, it is made by Sunbeam and by now, you know that holds a certain meaning.

Subscribe to our Newsletter