Best Electric Blankets
In a
Hurry? Editors choice: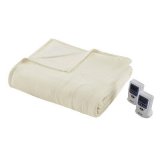 Test Winner: Beautyrest Microfleece

Are you someone who constantly finds yourself cold when you are sleeping at night? Whether it is in the middle of the cold,
winter
season or even during moderate-weather nights, some people simply need an extra amount of warmth while they sleep. A logical solution is to merely sleep with more
blankets
but it can be uncomfortable to get tangled up in all of those layers. So, the next logical solution would be a little device known as an electric blanket. The best ones will come equipped with multiple
heat
settings and also separate zones with individual controls. Yet, there are also other key attributes that you will need to look out for. But, first, let's take a closer look at some of the best models on the market.
Standout Picks
Criteria Used for Evaluation
Effectiveness
What good is a heating device that does not efficiently provide heat?
When it comes to analyzing the heat efficiency of electric blankets, there are a lot of factors that come into play. But, every last one of them comes down to the technology that has been implemented. For example, the model you invest in needs to be able to heat to your standards. Having multiple heat settings, which will be touched on later, helps but it means nothing if the blanket itself does not get warm enough for you. Also, ensure the heat is distributed evenly throughout. Oh, and speaking of which, you may want to look for dual controls. The benefit here is if both you and your spouse want the warming benefits but may not prefer the same level of heat. With dual controls, each of you can control your own side.
Also, there are some designers out there that will integrate patented technology to deliver consistent and monitored temperature all night. These technologies, such as ThermoFine from Sunbeam, can adapt their temperature based on the ambient temperature and your internal body temperature. This delivers the most efficient heating possible.
Advanced Features
There are some key features that you need to analzye when you go to buy an electric blanket.
As these are electric, it means that they are powered via electricity and typically with electrical devices, you always need to look for the features. In regard to electric blankets, there are three very important design features to keep an eye out for. Firstly, let's talk about the heat settings. Everyone has differing preferences and some models will come equipped with 10 or 20 different heat settings. While 20 is a bit over the top, 10 is arguably perfect and allows you to adjust the heat accordingly. A second very important feature is preheating. Instead of laying down with your blanket and waiting for it to deliver some warmth, with a preheat feature, you can allow it to warm up beforehand. This works much like it would on an oven or another heating device.
The last feature is an automatic shut off. This is essentially a safety feature and the blanket will stop heating after a certain time. Most often, you will see 10 hours as the time and that suffices just fine. Now, with all those features in play, how are you supposed to change them? This is where the controller or controllers come into play. Most models will come with one (with some coming with two for dual control) and will not be too complicated to control. But, you may want one with a backlit digital display to program it at night (so you can actually see it in the dark).
Comfort
There is nothing better than sleeping with an ultra-comfortable blanket that is for sure.
Quick question, who out there enjoys sleeping with an uncomfortable blanket? No one should have answered with a yes so that means the comfortability of the model you choose is essential. At the end of the day, it really comes down to two factors when assessing the comfort level of an electric blanket. The first and most obvious factor are the materials utilized. You may want to look for luxury materials such as micro plush and Sherpa for optimal comfort. The former is a very popular soft pile polyester knitted fabric that is used in a wide range of applications. As for Sherpa, this can be made from cotton, acrylic, or polyester and resembles the wool-lining worn by Sherpa citizens of Nepal.
Outside of the materials, you need to also pay attention to the wires. The model you invest in is going to be electrical which means that electrical wires will be implemented. Ideally, look for designs where the wires are ultra-thin and almost unnoticeable. The last thing you want is to feel bulky wires while you sleep.
Durability
These will generally not last that long but certain models will last longer than others.
Here is the deal; not all models will last the same amount of time but heating blankets themselves will not last forever (which will be touched on in a minute). Most models will be machine washable and will not pill when doing so. If a design is prone to pilling, though, you may want to avoid it. Really, the best thing you can do here is to look through consumer feedback. See what actual buyers have had to say and if longevity has been a common issue for several of them, it may become an issue for you too.
Now, in regard to how long they are designed to last, to begin with, their controls, internal wiring, and connectors tend to worsen in quality over time. You actually will see some models that are backed by five-year warranties but it seems that most will not even last that long (this also will depend on your usage).
Size
You need to buy the size that you require and this is typically going to be the size of your bed.
When it comes down to it, you need to decide straight from the get-go where you want to use your electric blanket. If you want to sleep with it on your bed then you need to simply purchase the size of your bed (ideally). Most sellers will offer sizes to fit the typical sized beds (including twin, full, queen and king). But, some sellers will only include dual controls for the queen and king-sized models (as they are much bigger). If you only want to use it casually when you are lounging around, you may want to look into throw blankets that are optimized for smaller areas.
Of course, you could always use a twin or full-sized blanket off of your bed. This can be a little harder with queens and kings as the size will be increased substantially. In short, just buy based on your needs and preferences and you will be good to go.
OUR TOP PICKS FOR THE BEST ELECTRIC BLANKETS
Subscribe to our Newsletter