Beer Making Kits
In a Hurry? Editors choice: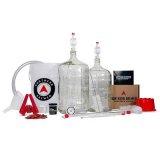 Test Winner: Northern Brewer

Look, we are not here to promote alcoholism nor is that what the purpose of a beer making kit is. Instead, it provides consumers with the ability to make their own brew and to try out different flavors and styles. It can be great to have around for parties on the weekend or even when you need to have a refreshing glass of beer after a long day of work. But, from a buyer's point of view, there is a lot that goes into the buying process. With everyday alcohol that you buy from the store, you just choose your favorite brand and type and you are good to go. Yet, it is a bit more complicated in this case. As you will soon learn, there are several different factors that you need to consider that can end up altering your decision. But, before we dive into that, check out some of the best kits on the market right now.
Standout Picks
Criteria Used for Evaluation
Accessories
These are kits after all and this just in, it takes a lot of equipment to brew your own beer.
If only one or two items were needed to brew your own brew, then there really would not be much of a point for these kits. Alas, though, that is not the case as this process is going to require an extensive amount of items and equipment, to be very honest. However, not every single beer making kit is going to have every accessory that you need. But, most of them will at least provide you with a majority of the tools you will need. To give you a better understanding of the various pieces of equipment that you will be receiving, let's break down some of the more notable ones.
For example, you will need a multi-gallon pot, bucket, and fermentation bucket. You will also need an airlock and stopper, as well as a racking cane to siphon the beer out of the kettle or fermentor. In addition to this, you will also need a food-grade sanitizer, a hydrometer, a thermometer, bottle caps, a bottling wand, and a bottle capper. Oh yeah, you will also need actual bottles to pour the beer into. And if all this equipment was not enough, there are even other optional accessories out there that can replace other equipment.
Materials
Durability will always be a concern but whenever you are dealing with any sort of ingredients, so will the materials utilized.
All the physical equipment you receive, this would exclude actual ingredients or recipe kits that come with your purchase, need to be made with high-quality materials (this much is obvious). With brittle materials at play, it makes the brewing process more difficult as you must use extra caution to avoid any damage. However, it is not all about durability when it comes to the materials. In specific, let's assess the common debate of glass vs plastic when it comes to the main fermentor or the carboy.
For the record, both materials are great and can produce excellent results. As for plastic, first off, ensure that it is food-grade plastic to avoid any potential chemicals. One of the pros of plastic is its lightweight nature as it makes handling the carboy or fermentor much easier. Additionally, the necks are typically larger on plastic versions, which can make cleaning easier. Then again, when cleaning, more care needs to be taken to avoid scratches. As for glass models, they are all but impermeable to oxygen. This means that your beer will stay fresher much longer. Also, they are incredibly easy to clean but not so easy to maneuver around. Due to their weight, they can be a chore to work with at times. And, while they are sturdy, if dropped, they are prone to breakage.
Ease of Use
The overall brewing process takes time to get accustomed too but this can be made easier with good instructions.
As with any craft, this is going to take some time to perfect. Yet, that does not mean that you should be blind when making your first brew. In fact, to get your feet wet in the brewing process, you should be following step-by-step instructions so you can get accustomed to the process. One of the best ways to ensure this is a possibility is to look for kits that provide you with said instructions. Most sellers will include directions as they know that brewing beer is not the simplest and easiest task in the world.
But, if you want physical instructions, you need to pay attention. The reason we say this is some sellers will only include access to their digital manual. If you are a hands-on type of individual, you may not want to have your computer out when brewing (or even waste the ink to print off the directions). Also, if you ever feel lost and the included manual is not helping, you can always look up tutorial videos online because if a picture is worth a thousand words, then a video is worth a thousand pictures.
Capacity
Are you planning on making beer for yourself or family gatherings and events? Due to the time it takes to brew, you may want a larger capacity.
If brewing only took a few hours then the capacity would not mean that much, admittedly. But, that is simply not the case and while the actual time it takes will be documented later, it is a slow process no matter what. So, this makes the capacity very important and here is why. If you are looking to get a beer making kit to make your own drinks on the weekend, then you may not be that concerned with how much one brew will create. However, what if you are the host of all the parties and want to brew beer for all your friends and family? In this case, you may want a much larger capacity to ensure you only have to make one brew.
For the most part, sellers will advertise their capacity in gallons. Some of the larger kits will yield five or six gallons per brew, while others may only be able to kick out one or two gallons. This difference is astronomical due to the fact that it can take weeks for a brew to be complete.
Effectiveness
Though you control a lot of the ingredients that go inside, sometimes recipe kits are included that have their own distinct flavors.
In the beginning, depending on what is included in your kit, you may not need to add any of your own ingredients (outside of some obvious ones). Some sellers will include their own exclusive recipe kit and this can be nice for your first brew. But, when that recipe kit is all used up, it will be time for you to add your own ingredients. When this time comes, you need to think strongly about the following items.
Firstly, around 90 percent of the brew will consist of water so choosing the kind you want is critical. There are many choices including bottled water and tap water. Simply go with what you find tastes better but if you do go with tap water, boil it beforehand to rid it of any chemicals. Next up, you will need fermented sugar. While you can do this from scratch, if you are just starting out, you may want to go out and buy a malt syrup or malt extract. Also, you will need yeast. No, not bread yeast but either lager or ale. And, finally, you will need hops to balance out the sweetness of the beer.
OUR TOP PICKS FOR THE BEST BEER MAKING KITS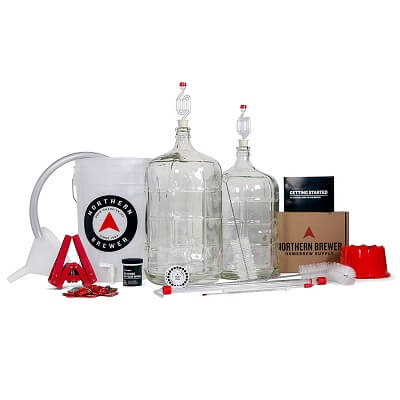 Okay, now this is probably more around the style that many of you are looking for. This right here is the Deluxe Starter Kit from Northern Brewer and without question, it is tremendous.
Read more
Accessories
There are a plethora of accessories that are included here but you still need to provide the beer bottles, caps, and brew kettle. Also, the included temp gauges and thermometer are pretty basic.
Materials
With your purchase, you get two large bottles (also known as carboys) and they are made of premium glass.
Ease of Use
Though there may not truly be any foolproof instructions in the world, these are dubbed as that and seem to be clear and concise (based on user feedback).
Capacity
The primary fermentor measures six gallons. But, you actually receive a secondary fermentor that measures five gallons in size.
Flavor
Northern Brewer includes ingredients that have been curated and they give off a flavor that you would believe comes from professionals (because they do).
Overall
This is really close to being an epic value but all things considered, it ranks extremely high on this list for a reason. But, you will still need a few more items, so be aware of that.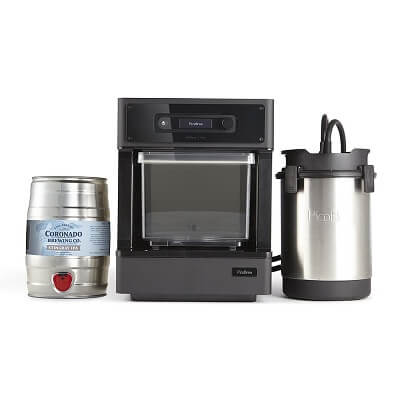 The top model on this list is extremely unique and is more of an appliance than an actual kit. Yet, it still qualifies and with some Pico Pak's, you can make your own brew in no time.
Read more
Accessories
As mentioned, this is more of an appliance than anything and you receive the main unit. But, you will need to invest in the Pico Pak's separately.
Materials
Overall, high-quality materials were used here and if you go with the Pro model, the brewing keg is much more durable.
Ease of Use
Due to the integrated RFID technology, this system recognizes the Pico Pak you use and will optimize its settings accordingly. But, in order to do so, you will need to have a Wi-Fi access point.
Capacity
Again, using the Pico Pak of your choice, you can make up to five liters of brew at one time. This is around 13, 12-ounce cups for those curious.
Flavor
What is nice is you can fine-tune both the bitterness level and the alcohol contents of any Pico Pak to your liking. However, this machine does not really allow you to create truly customized drinks.
Overall
While you will certainly need to shell out some dough for this monster, it is going to be worth it for all the serious enthusiasts out there who are extremely intrigued by this technology.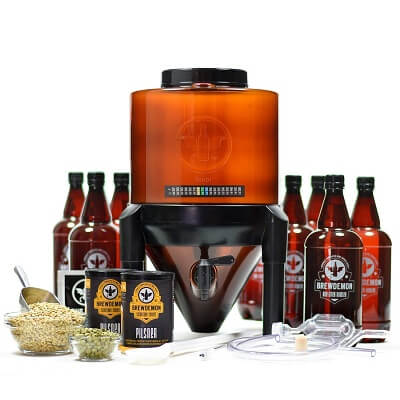 If you are looking to make a ton of content very quickly, this is probably not for you. Instead, it was specially designed to brew like the pros, but to do so in small batches.
Read more
Accessories
A strong amount of accessories are included with your purchase and this includes labels, bottles, caps, a bubbler upgrade, hose, bottle filter, plastic mixing spoon and an adhesive temperature gauge.
Materials
The fermentor that is provided to you has been constructed of food-grade PVC plastic to prevent any issues with chemicals.
Ease of Use
Ironically, there was one user who claimed this was too basic and too simple. But, for those of you looking for simplicity, this is undoubtedly it.
Capacity
Again, this is ideal for small batches. Now, the two gallons this yield in 14 days is not bad but other options out there can produce more, quicker.
Flavor
You are really in control of what you make here. But, for your convenience, BrewDemon includes the first recipe for you and it has an ABV level of 4.6 percent.
Overall
Due to the size of the fermentor, this is better suited to users who are not looking for maximum output. In other words, it is perfect for small doses and inconvenient for large gatherings.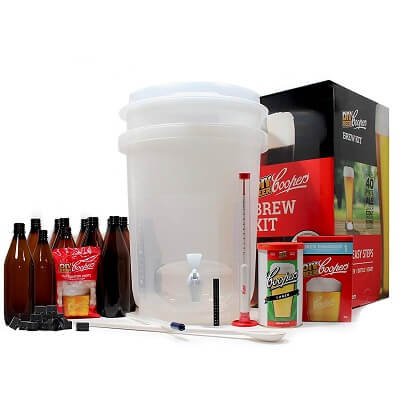 All you need to know about this kit is that it was designed by a brewery. That brewery is Coopers Brewery and they have been at this game for over 150 years.
Read more
Accessories
Let's quickly note that the included bottles do not seal the best. But, the laundry-list of accessories you receive consists of a hydrometer, thermometer, mixing spoon, plastic bottles, bottling wand, and quality ingredients.
Materials
Even though the patented fermentor that you receive is made of plastic, it is both BPA-free and UV-resistant (on top of being shatterproof).
Ease of Use
Here is the deal; while there are directions that are included, they can only be accessed online. For certain, some physical instructions would have been a nice addition.
Capacity
Enough equipment and ingredients are included here for you to produce up to six gallons of beer.
Flavor
Coopers makes the ingredients themselves so you know they are high in quality. Admittedly, some users have claimed the included sugar adds an unpleasant flavor.
Overall
Much like with Nike or Nintendo or any other name brand out there, it is always reassuring to know a high-quality company made your product. Let's just say that is what you get here with Coopers.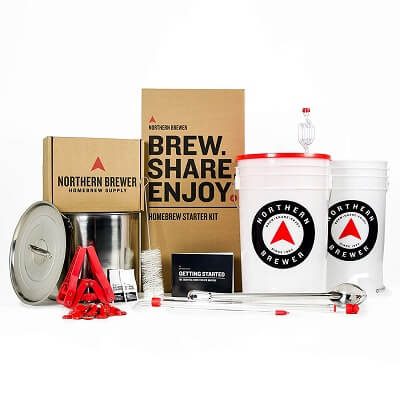 This is not quite as good as Northern Brewer's other model on this list but if you can look past the flimsiness of the stainless steel pot, you can enjoy an otherwise impressive starter set.
Read more
Accessories
For whatever reason, a hydrometer is not included with this set. But, plenty of other items are such as a bottling bucket with a spigot assembly, bottle caps, a bottle filler, and a stainless brew kettle.
Materials
The plastic buckets that you receive are BPA free, for the record. However, the stainless steel pot that this comes with is rather flimsy and has received some criticism.
Ease of Use
If the printed instructions that this comes with are not sufficient enough for you, you are also provided access to digital manuals and also online videos.
Capacity
With the 6.5-gallon fermentor, you can make five gallons of finished beer with this bad boy.
Flavor
There are two recipe kits that you can choose from and this one is the Block Party Amber Ale recipe kit. This includes premium grains and malts as well as expert-selected yeast.
Overall
As you can see, the main issue here is with the stainless steel pot. Though it seems ludicrous to have to, you could invest in a separate pot of higher quality.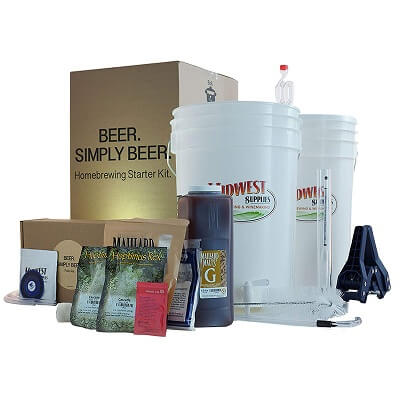 Midwest Supplies certainly provides you with an excellent value because with their starter set, you can make up to five gallons of alcohol. With that said, one big flaw hurts the overall design as a whole.
Read more
Accessories
To make this easier, let's list the accessories this does not come with that you will need (as you receive many items here). You will still need roughly 50 bottle caps and 50 bottles, as well as a four to five-gallon kettle.
Materials
All in all, the quality of the main materials is very good. Yet, the fermentation bucket lid has received some negative feedback from reviewers due to its lack of an O-ring for proper sealing.
Ease of Use
Midwest Supplies wanted to ensure that even novices of this kind of brewing would be able to use this kit. With the included detailed instructions, they ensured just that.
Capacity
You receive both a 6.5-gallon fermenting bucket and a 6.5-gallon bottling bucket. All in all, as previously mentioned, it can yield five gallons of drinkable substance.
Flavor
In this kit, you also get a Simply Beer Pale Ale recipe kit which includes dry yeast, priming sugar, malt syrup, hops, and a specialty grain blend.
Overall
The good definitely outweighs the bad here and at the end of the day, that is all you are really asking for as a consumer.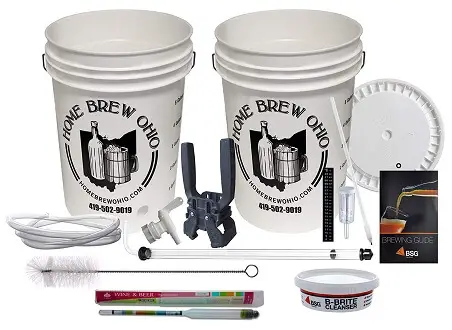 The best way to describe this is basic. From a quality standpoint, there really is nothing wrong with any of the accessories in this set. It is just very basic, nothing more nothing less.
Read more
Accessories
Though this set is missing some items, it does include a hydrometer, sanitizing cleaner, bottle filler, bottle brush, fermentation lock, bottling bucket, and Siphon tubing, among other things.
Materials
Do not worry; this is not some random plastic bucket that was selected. The plastic is rated to be food-grade safe for your health.
Ease of Use
Learn to Brew LLC should have been clearer to their consumer base, to be honest. You have to dig into the product description to see that the instructional DVD does not come with this and needs to be added.
Capacity
To add some extra space for you, Learn to Brew LLC has included a 6.5-gallon bucket while other sellers typically only offer a six-gallon bucket.
Flavor
Nothing here is included in regard to actual ingredients. You have to come up with everything to put inside which means you are responsible for the end result.
Overall
It seems as though this option sort of sweeps under the radar whenever lists like this are constructed. While far from the best, it does deserve praise for its consistent quality.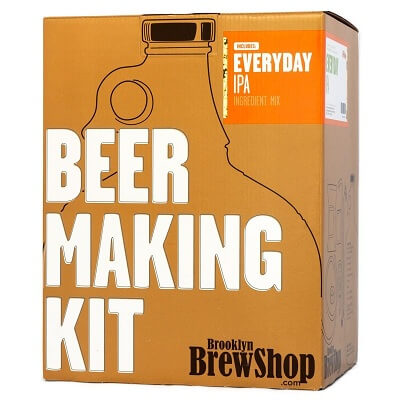 As compared to some of the other options on this list, you may be surprised at the price tag here. The primary reason why is while this is an excellent kit, it is missing a few items.
Read more
Accessories
Some of the key items that are actually omitted from this kit are a strainer, funnel, pot and bottles. Overall, though, you do receive a vast amount of accessories.
Materials
The good news is both the thermometer and fermentor are made of glass. The bad news is the former has been prone to arrive broken at consumers' doorsteps.
Ease of Use
While there are step-by-step instructions included with this set, you have to access them online. Also online are videos that you can reference if you get stuck.
Capacity
Relatively speaking, this is actually one of the smaller options out there. It can yield one gallon of 6.8 percent alcohol which is not bad, but not great either.
Flavor
This specific option includes the seller's IPA making mix but there are others available. Either way, only seasonally-inspired and real ingredients are included.
Overall
Some of you may find it frustrating that you buy a kit and still need more items. It is an understandable frustration but know this, most of what is provided here is fantastic.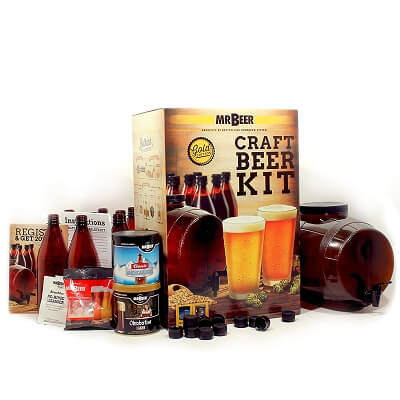 The first thing you may notice about this kit is that there are not a ton of accessories included. This is primarily because the main fermentor is designed to simplify the brewing process.
Read more
Accessories
In addition to the patented brewing system fermentor that you receive, you also get eleven 25-ounce bottles that are shatterproof and reusable. Plus, you also get brewing extract.
Materials
Despite the fact that the fermentor is UV-resistant, it is made of plastic which can be problematic. Speaking of plastic, the keg and spout are made of it and are a bit brittle.
Ease of Use
In addition to the equipment that is already easy to use, included with your purchase are step-by-step instructions that will walk you through the brewing process.
Capacity
The included fermentor is two gallons and that is solid, as compared to the competition.
Flavor
What is nice is you can get two refills of your choosing from Mr. Beer's Classic American Light to their Oktoberfest Lager or their Czech Pilsner. Either way, their malt extracts are bonuses.
Overall
Within this technology, this right here is actually one of the biggest sellers. Some beefier equipment, however, would have helped it secure a higher spot on this list.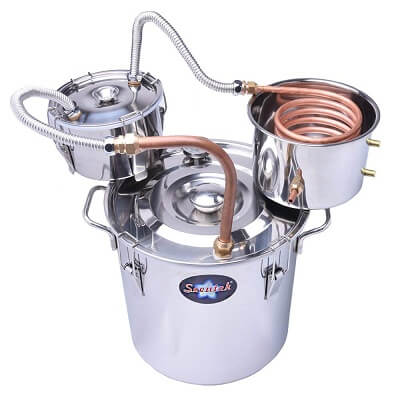 It all comes full circle as this list started with the most unique model on this list and shall end with the second most unique. This is indeed a brewing kit, but it is a little bit different.
Read more
Accessories
As you can see from the photos, this is more of a whole unit. You receive a water-alcohol distiller and a thumper keg that is used to add flavors. The pot can also be heated with a stove or other heating source.
Materials
This is crafted with the finest materials on the market and to avoid health issues, the main material is stainless steel instead of solder or copper. Then again, the seal on the pot may not last as long as you desire.
Ease of Use
If you are interested in this specific option, you need to know that some tweaks may need to be in order. As some users have reported, this is the major annoyance with this unit.
Capacity
Suteck provides you with a few choices here. You can either go with the eight-gallon, five-gallon or three-gallon model.
Flavor
With this option, you are in charge of the final product. You can add all sorts of essential oils such as peppermint oil, cypress oil, and tea tree oil.
Overall
Yes, this is different. In fact, some of you may feel it is a bit obscure to be on this list. That is okay because admittedly, it is not going to be a design for everyone.

Subscribe to our Newsletter