Beer Making Kits
last updated:
Feb 11, 2019
Look, we are not here to promote alcoholism nor is that what the purpose of a beer making kit is. Instead, it provides consumers with the ability to make their own brew and to try out different flavors and styles. It can be great to have around for parties on the weekend or even when you need to have a refreshing glass of beer after a long day of work. But, from a buyer's point of view, there is a lot that goes into the buying process. With everyday alcohol that you buy from the store, you just choose your favorite brand and type and you are good to go. Yet, it is a bit more complicated in this case. As you will soon learn, there are several different factors that you need to consider that can end up altering your decision. But, before we dive into that, check out some of the best kits on the market right now.
In a Hurry? The test winner after 2.5 hrs of research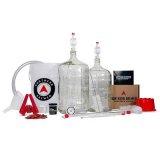 Northern Brewer
Why is it better?
Has been tested by trusted customers and employees
Includes curated ingredients
The instructions are both clear and concise
In a
Hurry? Editors choice: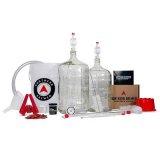 Test Winner: Northern Brewer

7
Researched Sources
23
Reviews Considered
2.5
Hours Researching
18
Products Evaluated
Accessories
Materials
Ease of Use
Capacity
Effectiveness
By Default
OUR TOP PICKS FOR THE BEST BEER MAKING KITS
Criteria Used for Evaluation


Accessories
These are kits after all and this just in, it takes a lot of equipment to brew your own beer.
If only one or two items were needed to brew your own brew, then there really would not be much of a point for these kits. Alas, though, that is not the case as this process is going to require an extensive amount of items and equipment, to be very honest. However, not every single beer making kit is going to have every accessory that you need. But, most of them will at least provide you with a majority of the tools you will need. To give you a better understanding of the various pieces of equipment that you will be receiving, let's break down some of the more notable ones.
For example, you will need a multi-gallon pot, bucket, and fermentation bucket. You will also need an airlock and stopper, as well as a racking cane to siphon the beer out of the kettle or fermentor. In addition to this, you will also need a food-grade sanitizer, a hydrometer, a thermometer, bottle caps, a bottling wand, and a bottle capper. Oh yeah, you will also need actual bottles to pour the beer into. And if all this equipment was not enough, there are even other optional accessories out there that can replace other equipment.


Materials
Durability will always be a concern but whenever you are dealing with any sort of ingredients, so will the materials utilized.
All the physical equipment you receive, this would exclude actual ingredients or recipe kits that come with your purchase, need to be made with high-quality materials (this much is obvious). With brittle materials at play, it makes the brewing process more difficult as you must use extra caution to avoid any damage. However, it is not all about durability when it comes to the materials. In specific, let's assess the common debate of glass vs plastic when it comes to the main fermentor or the carboy.
For the record, both materials are great and can produce excellent results. As for plastic, first off, ensure that it is food-grade plastic to avoid any potential chemicals. One of the pros of plastic is its lightweight nature as it makes handling the carboy or fermentor much easier. Additionally, the necks are typically larger on plastic versions, which can make cleaning easier. Then again, when cleaning, more care needs to be taken to avoid scratches. As for glass models, they are all but impermeable to oxygen. This means that your beer will stay fresher much longer. Also, they are incredibly easy to clean but not so easy to maneuver around. Due to their weight, they can be a chore to work with at times. And, while they are sturdy, if dropped, they are prone to breakage.


Ease of Use
The overall brewing process takes time to get accustomed too but this can be made easier with good instructions.
As with any craft, this is going to take some time to perfect. Yet, that does not mean that you should be blind when making your first brew. In fact, to get your feet wet in the brewing process, you should be following step-by-step instructions so you can get accustomed to the process. One of the best ways to ensure this is a possibility is to look for kits that provide you with said instructions. Most sellers will include directions as they know that brewing beer is not the simplest and easiest task in the world.
But, if you want physical instructions, you need to pay attention. The reason we say this is some sellers will only include access to their digital manual. If you are a hands-on type of individual, you may not want to have your computer out when brewing (or even waste the ink to print off the directions). Also, if you ever feel lost and the included manual is not helping, you can always look up tutorial videos online because if a picture is worth a thousand words, then a video is worth a thousand pictures.


Capacity
Are you planning on making beer for yourself or family gatherings and events? Due to the time it takes to brew, you may want a larger capacity.
If brewing only took a few hours then the capacity would not mean that much, admittedly. But, that is simply not the case and while the actual time it takes will be documented later, it is a slow process no matter what. So, this makes the capacity very important and here is why. If you are looking to get a beer making kit to make your own drinks on the weekend, then you may not be that concerned with how much one brew will create. However, what if you are the host of all the parties and want to brew beer for all your friends and family? In this case, you may want a much larger capacity to ensure you only have to make one brew.
For the most part, sellers will advertise their capacity in gallons. Some of the larger kits will yield five or six gallons per brew, while others may only be able to kick out one or two gallons. This difference is astronomical due to the fact that it can take weeks for a brew to be complete.


Effectiveness
Though you control a lot of the ingredients that go inside, sometimes recipe kits are included that have their own distinct flavors.
In the beginning, depending on what is included in your kit, you may not need to add any of your own ingredients (outside of some obvious ones). Some sellers will include their own exclusive recipe kit and this can be nice for your first brew. But, when that recipe kit is all used up, it will be time for you to add your own ingredients. When this time comes, you need to think strongly about the following items.
Firstly, around 90 percent of the brew will consist of water so choosing the kind you want is critical. There are many choices including bottled water and tap water. Simply go with what you find tastes better but if you do go with tap water, boil it beforehand to rid it of any chemicals. Next up, you will need fermented sugar. While you can do this from scratch, if you are just starting out, you may want to go out and buy a malt syrup or malt extract. Also, you will need yeast. No, not bread yeast but either lager or ale. And, finally, you will need hops to balance out the sweetness of the beer.
Frequently Asked Questions
q:

How long does it to take to brew?

a:

As was mentioned earlier, this is not a quick process by any means. But, the actual time can vary from brew to brew depending on the complexity. Believe it or not, there are some recipes out there that can take up to five or six months to complete. That seems utterly asinine and do not worry, not every brew will take this long. Some can take as little as a few weeks (for example, it takes this long with the standard Mr. Beer recipe).
If you look up certain recipes online, they should notify you of how long you need to brew. For the most part, though, the majority of recipes out there will have an enhanced flavor if the fermentation and conditioning are given extra time.
q:

Are cleaning and sanitizing the same thing?

a:

Yes, this question is in reference to these kits because you will need to both of these tasks. The cat was probably left out of the bag there because no, cleaning and sanitizing are not the same thing. You should be performing the cleaning process first and this merely consists of removing any oils, minerals or soils from the equipment that you have. If you need to, you can use acids but it may or may not be necessary.
After you clean all your equipment, you then need to sanitize it and this is why it is nice when sanitizer is included. When you sanitize your equipment, it will reduce the number of bacteria that will be present for your next brew. But, you should never rinse after sanitizing as this can reintroduce the microorganisms that were just killed.
q:

Can you open the fermentor during fermentation?

a:

Perhaps you want to view the progress of your brew and are dying to know what is going on inside. Can you open up the fermentor or carboy during the actual fermentation process? This one is simple folks; no, under no circumstance should you do this. You may be wondering why and the reason is you can expose the beer to any organisms.
If you really want to look inside and can't see anything, try aiming a flashlight on the inside to see through it. But, you just need to trust that you read the directions correctly and that the yeast is functioning correctly.
q:

How can the alcohol content be increased?

a:

Some of you may not be satisfied with the alcohol content of the recipe that you are creating. That is okay because there is a logical solution. Or, better yet, there are a few logical solutions. One option is to merely add more sugar. You may be wondering how that works but, you see, when you add more sugar the yeast will consume it and produce more alcohol. Some users may simply opt to use a dry malt extract as this naturally will add more alcohol. The only issue here is that this foregoes the sweetness of other sugars and can lead to a bitter beer. You do need to know that yeast can only handle a certain amount of alcohol; so, do not get carried away.
q:

Can bottles and caps be reused?

a:

Most of the equipment of the kit you receive will be reusable and this is the fantastic part about the whole thing. And yes, this does include both the bottles and the caps. However, it is a bit more complex than you may think. For starters, if you do want to reuse the bottles, they need to be thoroughly cleaned (not just a quick rinse job). Also, if they have internal scratches, you may want to avoid them as this can lead to bacteria. For the caps, clean them as well but you really want to ensure that the threads are not stripped.
q:

Is distilled water okay to use?

a:

There was a reason that distilled water was omitted in the section above that alluded to the water types you can use. This is not to say that distilled water is a cancerous ingredient but because it does not contain some key minerals, it may not produce the best-tasting result. Then again, if you treat the distilled water before you brew it then you could enhance the overall flavor.
Here is what you should do; if you really think it could produce some good beer then try it out yourself. Then, if it happens to be a poor result, you will know never to use distilled water again (or it will be amazing and will be your go-to).
Subscribe to our Newsletter