Best Arm Blasters
In a
Hurry? Editors choice: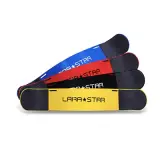 Test Winner: LARA STAR

If you are looking to improve your results in the weight room or even at home, for that matter, you may want to look into an arm blaster. At its core, this is actually a very simple device. It is simply a harness that sports a metal plate. The harness is designed to slide over your neck and then your arms will be locked into the grooved sections of each side of the plate. Essentially, it is a great way to improve your technique while you
perform various exercises
. And, while it is technically not mandatory, it can vastly improve your performance. As with anything else, however, you need to know what to look for when buying one. Today, the goal is to provide you with the goods to do just that.
Standout Picks
Criteria Used for Evaluation
Comfort
Why would you want to wear an arm blaster that provides discomfort? Probably not.
Due to the fact that an arm blaster is going to be supporting your arms and because it will be stabilized by your neck, it needs to be comfortable. Really, this goes without saying but it leads to one of the most important areas you need to assess. Okay, so how do you do this? Well, first off, understand that there are two main areas that will be padded (the neck and the elbows). Among these two, it is typically the neck padding that receives the most criticism regardless of the model. The best models out there will sport premium neoprene padding on the neck to eliminate (or at least reduce) this issue. Neoprene itself is an excellent material and is a synthetic polymer that is extremely durable, yet also soft and breathable.
As for the elbow areas, the same concept applies. Sufficient padding also needs to be integrated into these areas for the most comfortable experience possible. Now, when ordering online, you will not be able to physically try out any one model. Subsequently, this makes it vital to glance through consumer feedback to see what previous buyers have had to say about comfort.
Adjustability
All models will come with adjustable straps. However, not all of them will accommodate your size.
When you begin your search for the best arm blaster, you may begin to notice a theme very quickly. That "theme" is that sizes are not typically provided to you. Instead, most models will simply be designed to fit most users. And, the way this is achieved is with the included adjustable straps. Without adjustable straps, this type of product is nearly useless as everyone's body is different. You will need to tailor any arm blaster to your specific size. It can't be guaranteed, however, that every option out there will allow you to find a comfortable adjustment. As such, if you are a bit larger or taller than the average user, it may be in your best interest to conduct some extra research to ensure you buy a model that will actually work for you.
Another factor to assess is how difficult it is to actually adjust the straps. Over time, you will get accustomed to the adjustment process but if it remains finicky and tricky for quite some time then you may not want to put up with it.
Durability
Depending on your weight and load of your exercise, you may need an incredibly high-quality model that is capable of handling heavy weights.
Generally speaking, most individuals in the world work very hard for their money and do not like to waste it on cheap products. With this in mind, provided you have little interest in purchasing a poorly made arm blaster, you will need to take the durability of any one model into consideration. The good news is most of the options on the market will, if nothing else, at least be reasonably produced. The primary reason for this is virtually all options will be constructed of metal. As you know, though, all metals are not the same so which one is best? For the most part, you will only need to pick between steel and aluminum (as these are the two most common types of metal).
Where steel has the advantage is with its strength and its structural integrity. Even though it can rust, this metal is less likely to warp or even deform as compared to aluminum. Then again, this also means that aluminum is more elastic and it can be created in shapes that steel simply can't. Oh yeah, and this metal is also known for being much lighter than steel. Do not get it twisted; both of these metals are fantastic and are great choices. Now, as for the belt, this will typically be made of heavy-duty nylon webbing. Nylon itself is incredibly durable and quite strong so it makes sense that it is used in the processing of most arm blasters.
Features
There is nothing too extensive here but there are a few "features" to keep in mind.
This is one of those rare products where there are two or three vitally important factors (which have already been documented) and then very minor features elsewhere. The important stuff is out of the way and this section is really devoted to some extra features. And, the word "features" may not even be the most appropriate term to use as these are really just extra incentives. However, something like this could be used to narrow down the selection if you are having trouble deciding upon a specific model.
For starters, it is never a bad thing when additional products are included with your purchase. Whether this is a bundle with additional exercising equipment or even something as simple as an included eBook (with multiple exercises that can be used with an arm blaster), it could end up making the difference for you. Heck, even if an included warranty is what becomes a deal-breaker there is nothing wrong with that. Overall, however, there will be some sellers who include their model and nothing else. Granted their model is high in quality, this will not be too big of a deal.
Color
While the color has no impact on the performance, it can impact your decision overall.
In all actuality, this should have very little bearing on your final decision. Much like with the "features", this should simply be used as a convenient way to select between the last few models you can't decide upon (granted each one of them offers similar comfort, durability, and adjustability). The color blend will literally have no impact on the performance of any given model and you should not be buying one as a fashion statement, in the first place.
Yet, the reason why this is present is that some of you care about everything that you are wearing (no matter what it is). Why else do you think that some sellers will go out of their way to mass-produce their model in different color combinations? It is because they understand the way consumers think. Naturally, someone will be more appealed by something that they find attractive. Engineers do not get paid the big bucks without reason and they are far from stupid and understand this ideology.
OUR TOP PICKS FOR THE BEST ARM BLASTERS
Subscribe to our Newsletter