Best Bike Chain Lube
In a
Hurry? Editors choice: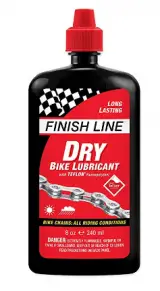 Test Winner: Finish Line

Biking is fun and therapeutic. However, the amount of time you get to enjoy using your bike depends on how well you take care of it. You need to tend to your bike regularly and watch out for signs of
wear
and tear. If you ignore your bike, you'll end up shortening its lifespan in the process. Therefore, the moment you start hearing your bike make all sorts of noises, you should consider it as a cry for help. That's when you should get the best bike chain lube to improve your bike's performance.
Letting your chains get rusty and corroded, slows down your bike. Besides, you don't want to deal with issues like friction on top of all that. Bike chain lubes are available for different environments. You can get a good fit whether you stay in a dry area or a place that rains constantly.
Standout Picks
Criteria Used for Evaluation
Application
Know the kind of lube you need to buy for your bike and when to use it.
The nature of your biking routes often determines the kind of lube you need. The three types of lube are; wet, dry and all-purpose lube.
Wet bike chain lubricants:
Wet lubricants are oil-based and don't mix well with water. That's what makes the lubricants waterproof and ideal for people riding in wet terrain. When applied, the wet lubricants are such that they don't completely dry up. The downside of using such lubricants during the dry seasons is that it tends to accumulate a lot of dirt. You don't want to get stuck cleaning your bike every single time. It's best to avoid such lubricants during such seasons. Wet lubricants also a good alternative for people who love taking long rides.
Dry bike chain lubricants:
Most dry lubes comprise of Teflon. The dry lubes are packaged in a solvent form. The liquid part of the solvent evaporates when it's put on the bike chain. Afterward, a thin layer remains to protect your bike from wearing out. The coat doesn't attract dust, grit or soil particles like the oil-based lube. You will want to stick to this product during the dry season only. Reason being, it easily washes off in wet terrains. Wax lube is also an example of dry lube. Keep in mind that it also won't help you much in wet conditions. Dry bike chain lubricants are a good fit for short distance riders.
All-purpose bike chain lubricants:
All-purpose lubes are popular because they work perfectly regardless of the season. So, you will still be confident as you ride, no matter how wet or dusty it gets. To apply the lube, you just need to spray or drip the liquid. Make sure you spread it well all over your chains. Take your time and look at the available options, because it's not usually easy to get a perfect fit.
Effectiveness
Choose effective bike chain lubes for longer lasting bikes
Finding out the effectiveness of a bike chain lubricant is easier than you think. All you have to do is listen to the kind of sound your bike chain makes after the application. That's the simplest way of gauging the performance of the lube. If the drive-train is still noisy afterward and has trouble moving, then it's time you changed brands. A good lubricant should prevent friction between different parts of your bike.
A lubricant that doesn't prevent friction has no impact. Your bike's lifespan will keep getting shorter as you use it. It's true to say that the more efficient the lube, the better the condition of your bike and the longer it will last.
If the lube you're using is effective, your bike won't get any rust nor will it get corroded. The best bike chain lubricants offer a protective layer. This layer helps keep off dirt, grit, and piling up of gunk. Depending on the type of lubricant you use, the protective coat will be in either wax, oil, or Teflon. Less effective lubes don't form any coats nor do they properly stick to your bike chains.
Other factors that determine the effectiveness of the lube include; viscosity and the quantity used during the application. Chain lubricants that are too viscous don't properly get inside crevices. Because of this, the chances of corrosion taking place become higher. On the other hand, if the lubricant isn't viscous enough, it will end up slipping through the chains. In the end, it still won't have achieved the desired effect. You need a bike chain lube with the right viscous balance for it to work effectively.
As far as quantity is concerned, you'll only need to use a small amount of an effective lubricant. Less effective lubricants require a consistent application, which will end up costing you. Another way you can gauge the product's effectiveness is by looking for reviews and customer feedback.
Versatility
The more uses the lube has, the more beneficial it is to you
Versatile lubricants can be used for different functions; from your bike to your home and even on equipment. You should get a bike lube that you can conveniently use. As a result, you won't need to buy any more lube to fix things like door hinges and such. It will essentially be an economical move on your end.
Ease of Use
The easier it is to use, the better the bike lube
Lubricating your bicycle can be messy. However, there are lube options in the market, which have modifications to avoid this. Some lube bottles have a plastic tube applicator at the top. It directs the lube exactly where you want it to go. Such applicators simplify your work. The process becomes less messy, and you save on the excess lube that would have gone to waste.
It's almost impossible to avoid getting stains on yourself during applications or when cycling. If possible, try and get a lubricant which has easily removable stains. Lastly, try to use a bike chain lubricant that will be easy to de-grease. Lubes that firmly stick to surfaces are good for your bike. However, they can be a headache to clean up. You don't want to get frustrated during maintenance. A good example of a lubricant that's easy to de-grease is Eco sheep. It comes off when washed with soap and water. You'll also have an easy time when dealing with its stains.
Overall, since taking care of your bike is a continuous process, you need lubricants that will make the process less hectic, by any means possible.
Features
What more does the bike lube have to offer?
Some lubricants have a self-cleaning property, which you'll find helpful. In order to do so, the lube sheds off as dust, and small particles pile up on your drive-train. In the end, you will have an easy time de-greasing your bike.
There are also lubricants that have water resistance. This feature is beneficial, especially during wet seasons. Normally, bike chains get rusty when they come into contact with water. A water-resistant lubricant will stop both the inner and outer crevice of your bike from rusting. Reason being, the bike lube is insoluble in water. It's a useful feature since rusting enhances the friction between the metal parts on your bike.
You'll also come across bike chain lubes that are Eco-friendly. Lubricants that are biodegradable or free of carcinogenic chemicals are beneficial because they don't contain cancer-causing chemicals.
Subscribe to our Newsletter