Best Bike Chain Lube
In a Hurry? Editors choice: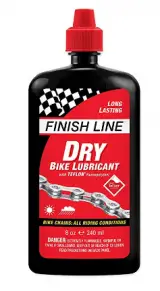 Test Winner: Finish Line

Biking is fun and therapeutic. However, the amount of time you get to enjoy using your bike depends on how well you take care of it. You need to tend to your bike regularly and watch out for signs of
wear
and tear. If you ignore your bike, you'll end up shortening its lifespan in the process. Therefore, the moment you start hearing your bike make all sorts of noises, you should consider it as a cry for help. That's when you should get the best bike chain lube to improve your bike's performance.
Letting your chains get rusty and corroded, slows down your bike. Besides, you don't want to deal with issues like friction on top of all that. Bike chain lubes are available for different environments. You can get a good fit whether you stay in a dry area or a place that rains constantly.
Standout Picks
Criteria Used for Evaluation
Application
Know the kind of lube you need to buy for your bike and when to use it.
The nature of your biking routes often determines the kind of lube you need. The three types of lube are; wet, dry and all-purpose lube.
Wet bike chain lubricants:
Wet lubricants are oil-based and don't mix well with water. That's what makes the lubricants waterproof and ideal for people riding in wet terrain. When applied, the wet lubricants are such that they don't completely dry up. The downside of using such lubricants during the dry seasons is that it tends to accumulate a lot of dirt. You don't want to get stuck cleaning your bike every single time. It's best to avoid such lubricants during such seasons. Wet lubricants also a good alternative for people who love taking long rides.
Dry bike chain lubricants:
Most dry lubes comprise of Teflon. The dry lubes are packaged in a solvent form. The liquid part of the solvent evaporates when it's put on the bike chain. Afterward, a thin layer remains to protect your bike from wearing out. The coat doesn't attract dust, grit or soil particles like the oil-based lube. You will want to stick to this product during the dry season only. Reason being, it easily washes off in wet terrains. Wax lube is also an example of dry lube. Keep in mind that it also won't help you much in wet conditions. Dry bike chain lubricants are a good fit for short distance riders.
All-purpose bike chain lubricants:
All-purpose lubes are popular because they work perfectly regardless of the season. So, you will still be confident as you ride, no matter how wet or dusty it gets. To apply the lube, you just need to spray or drip the liquid. Make sure you spread it well all over your chains. Take your time and look at the available options, because it's not usually easy to get a perfect fit.
Effectiveness
Choose effective bike chain lubes for longer lasting bikes
Finding out the effectiveness of a bike chain lubricant is easier than you think. All you have to do is listen to the kind of sound your bike chain makes after the application. That's the simplest way of gauging the performance of the lube. If the drive-train is still noisy afterward and has trouble moving, then it's time you changed brands. A good lubricant should prevent friction between different parts of your bike.
A lubricant that doesn't prevent friction has no impact. Your bike's lifespan will keep getting shorter as you use it. It's true to say that the more efficient the lube, the better the condition of your bike and the longer it will last.
If the lube you're using is effective, your bike won't get any rust nor will it get corroded. The best bike chain lubricants offer a protective layer. This layer helps keep off dirt, grit, and piling up of gunk. Depending on the type of lubricant you use, the protective coat will be in either wax, oil, or Teflon. Less effective lubes don't form any coats nor do they properly stick to your bike chains.
Other factors that determine the effectiveness of the lube include; viscosity and the quantity used during the application. Chain lubricants that are too viscous don't properly get inside crevices. Because of this, the chances of corrosion taking place become higher. On the other hand, if the lubricant isn't viscous enough, it will end up slipping through the chains. In the end, it still won't have achieved the desired effect. You need a bike chain lube with the right viscous balance for it to work effectively.
As far as quantity is concerned, you'll only need to use a small amount of an effective lubricant. Less effective lubricants require a consistent application, which will end up costing you. Another way you can gauge the product's effectiveness is by looking for reviews and customer feedback.
Versatility
The more uses the lube has, the more beneficial it is to you
Versatile lubricants can be used for different functions; from your bike to your home and even on equipment. You should get a bike lube that you can conveniently use. As a result, you won't need to buy any more lube to fix things like door hinges and such. It will essentially be an economical move on your end.
Ease of Use
The easier it is to use, the better the bike lube
Lubricating your bicycle can be messy. However, there are lube options in the market, which have modifications to avoid this. Some lube bottles have a plastic tube applicator at the top. It directs the lube exactly where you want it to go. Such applicators simplify your work. The process becomes less messy, and you save on the excess lube that would have gone to waste.
It's almost impossible to avoid getting stains on yourself during applications or when cycling. If possible, try and get a lubricant which has easily removable stains. Lastly, try to use a bike chain lubricant that will be easy to de-grease. Lubes that firmly stick to surfaces are good for your bike. However, they can be a headache to clean up. You don't want to get frustrated during maintenance. A good example of a lubricant that's easy to de-grease is Eco sheep. It comes off when washed with soap and water. You'll also have an easy time when dealing with its stains.
Overall, since taking care of your bike is a continuous process, you need lubricants that will make the process less hectic, by any means possible.
Features
What more does the bike lube have to offer?
Some lubricants have a self-cleaning property, which you'll find helpful. In order to do so, the lube sheds off as dust, and small particles pile up on your drive-train. In the end, you will have an easy time de-greasing your bike.
There are also lubricants that have water resistance. This feature is beneficial, especially during wet seasons. Normally, bike chains get rusty when they come into contact with water. A water-resistant lubricant will stop both the inner and outer crevice of your bike from rusting. Reason being, the bike lube is insoluble in water. It's a useful feature since rusting enhances the friction between the metal parts on your bike.
You'll also come across bike chain lubes that are Eco-friendly. Lubricants that are biodegradable or free of carcinogenic chemicals are beneficial because they don't contain cancer-causing chemicals.
Best Bike Chain Lube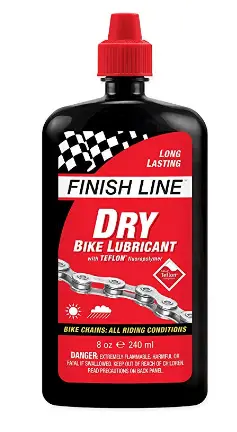 For over 30 years, Finish Line has been producing market leading bike lubricants. Finish Line products have global recognition. This fame originates from the company's continuous research and development efforts. The guarantee of a product of the highest quality comes with any Finish Line purchase you make.
Read more
Type of lube:
This bike chain lube has both wet and dry properties. When you first apply it, the lube takes a wet form. It afterward takes a wax form after it starts to dry.
Effectiveness:
It takes on a film in its wax form to stop unnecessary absorption of dust. It also won't absorb excessive grime or gravel. Once you start using it, you'll notice a reduction in the level of wear on your bike surfaces. The chain lube also lessens friction and tension.
Versatility:
You can use this bike lube whether you are on or off the road. It's safe to say that you can count on it regardless of the weather. You'll feel confident even when it starts to rain because the lube can handle such conditions as well.
Ease of use:
People like this lube because it has excellent penetration when applied. It also works fast to coat the derailleur, shifter-pivots, and brake.
Other features:
Other benefits the bike chain lube offers include durability. That means that it will take some time before you start thinking of replacements.
Overall:
Using this chain lube levels up your bike. You will love your bikes performance as you continuously use the lube.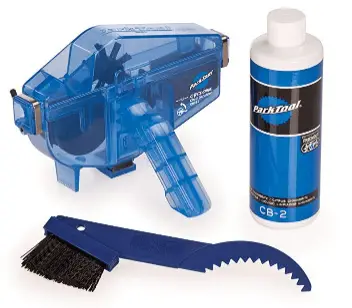 Park tool offers excellent value. You're not only getting a bike chain lube but an entire system. It's practically a one-stop shop since the sale includes some tools as well.
Read more
Type of lube:
The bike lube is in solution form. Make use of any rugs, paper towels, and newspapers around you. The lube drips and might splatter as well. The rugs and papers will assist you with the messy aftermath.
Effectiveness:
The chain lube works well with different kinds of cogs. Common materials that go well with the lube include nickel-plated to titanium cogs. The lube ensures that your bike's drivetrain is presentable and in top shape. It also works against rust.
Versatility:
You will be able to use this bike chain lube on any derailleur bike. The lube's versatility makes it work with 3-speed to 7-speed cassettes as well. The brush provided fits and works well with different bikes.
Ease of use:
Your purchase consists of a cleaning brush, a chain scrubber, and a cleaner. The company makes your work easier since you'll be well equipped to handle your chains. They also come with simple and clear instructions on how to use them.
Other features:
The cleaner is environmentally friendly because it's derived from plants. As such, it has no adverse effects on rubber, plastic, or alloys.
Overall:
To make the process easy, make sure you use the brush first. After cleaning with this lube kit, you'll never think of using a rug again.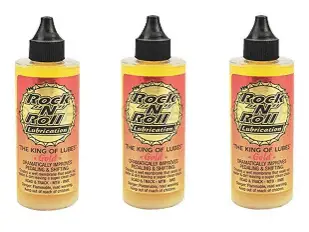 If you have a mountain bike and you've been struggling to find the perfect lube, Rock n Roll has what you need. You can get this bike chain lube in different packs and sizes.
Read more
Type of lube:
The chain lube is in liquid form. You have to be keen when using it so that it doesn't get too messy.
Effectiveness:
If your drivetrain is noisy, this lube will take care of that. Apply it, and the noise disappears. It's the perfect solution for flawless shifting. The lube also handles rust, leaving your bike looking better than it did before.
Versatility:
This purchase consists of 3 lube bottles. The bike chain lube is also available in one, two, and four packs. Other than mountain bikes, it also works well on road bikes.
Ease of use:
Applying this bike lube is a simple process. But, some users claim that you need to apply plenty of it for it to work effectively. Ensure you remember to wipe off any extra lube on the chains once done with the application. Doing this prevents the chain from attracting dirt.
Other features:
The lube doesn't have a potent smell. So, you can park your bike indoors whenever you want.
Overall:
The bike chain lube works perfectly and keeps on for about 100miles.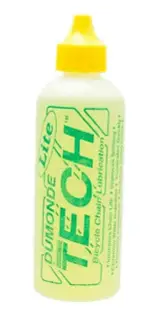 Some lubricants need continuous application in order to have any effect. What some people don't realize is that they end up spending a lot of money like this. Dumonde offers lube that is so effective that you'll cut down on lube costs.
Read more
Type of lube:
Dumonde Tech offers a liquid-form bike chain lube.
Effectiveness:
A single application can last for approximately 300-500 miles. That's what makes the lube impressive. It has better performance than most lubes in the market. The bike chain lube also ensures that your links don't freeze up and there's no build up at all.
Versatility:
The bike chain lube is more effective in dry conditions. It brings out excellent performance in road bikes. The lube guarantees its worth by extending your chain's usefulness.
Ease of use:
First-time users get the best results when they put a drop of the lube on each of the chain links. The manufacturer also adds that de-greasing the chain provides an impressive outcome. After de-greasing, you need to dry the chains up completely, before you can apply any of the lube. Doing so makes the lube stick successfully on the surface.
Other features:
The company offers two variations of the lube. One of the lubes is more concentrated; hence, it's more viscous. This particular variation is lighter than the original. It fits users who want quick drying lube. The residue it leaves is also thin.
Overall:
You can use the lubricant for about forty applications.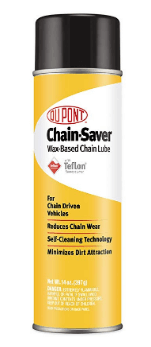 DuPont has technologically driven solutions for your lubricant needs. From bikes to industrial machinery, the company has them all covered. Once you get one of these chain lubes you wouldn't want to leave this brand.
Read more
Type of lube:
DuPont offers bike chain lube in aerosol form.
Effectiveness:
You'll find that the lube doesn't fling off regardless of where it's used. Other than that, you'll notice that when you use it on chains, they'll take forever before they get stretched out. It benefits cables in almost the same manner. Teflon fluoropolymer is one of the ingredients that bring out the high-performance aspect of the lube.
Versatility:
If you have several rides, then you must own some DuPoint Lube. The lube works with almost everything. You can use it on your ATVs, motorcycles, go-karts, and equipment as well. As long as you're dealing with cables and chains, you'll find this lube very useful. The lubricant can't damage plastic, O-rings, and rubber.
Ease of use:
Dealing with bike chain lubes can be messy. Some alternative options make the process neater. DuPont offers such alternatives with the help of this product.
Other features:
The lube acts as a barrier between moving pieces. It is stable even under thermal based conditions and has some protective properties. It is resistant to carrion and rust as well.
Overall:
Even though it's in aerosol form, this is actually a dry/wax type of lube.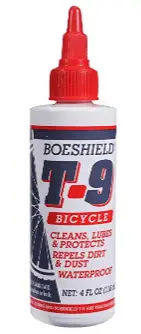 Boeshield T-9 is another ideal all weather option for people who love to take their bike out. You won't need to use other lubricants whenever you are in a different environment.
Read more
Type of lube:
The lube comes in liquid form, which turns waxy when it dries up. You can also get it in two different sizes.
Effectiveness:
This bike chain lube is multi-functional. When applied, all the previous lubricants get flushed out along with any traces of dirt. The bike chain lube works efficiently. This factor arises from its ability to seep through the chains and other bike parts deeply.
Versatility:
Boeshield T-9 has diversified uses. Many industries such as aviation and marine rely on it to lubricate and protect machines. The lube's maintenance applications range from plane parts to high maintenance machines. Such uses vouch for its effectiveness.
Ease of use:
If you wish to apply the lube and use the bike shortly after, you will not enjoy its entire benefits. When you do this, it will be messy and probably attract some dirt too. The best process is to apply lube at night. By morning, the lube will be dry allowing you to go about the day stress-free. It forms a layer of wax when it dries, which enhances all its properties. The lube will last for a few months when you follow this process.
Other features:
The chain lube has water resistance. You can apply it on your cables to make them waterproof. The lubricant remains in liquid form for a long time. The liquid form allows it to infuse into the internal gears of machines to give them a protective layer.
Overall:
If you love to bike on different types of road, do not let your bike chain come between you and your hobby. This lube saves you cost of buying different kinds of lube since you can use it on all forms of terrain.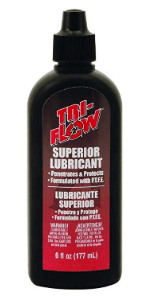 When you stay for too long without using your bike, it gets corroded and essentially wastes away. This lubricant can revive it to the state it was when you first bought it. It's able to battle rust and corrosion on a whole other level.
Read more
Type of lube:
The Tri-flow lubricant is available in oil form.
Effectiveness:
A little amount of this bike chain lube goes a long way. It has a plastic tube applicator at the top of the bottle. The applicator helps with the drop-wise delivery of the lube. It comes in handy when you are only targeting a specific area. The tube stops you from using too much lube, whenever you need to use a drop or two. You could say that it helps prevent you from wasting the lube.
Versatility:
Tri-flow greases and degreases all metals susceptible to rusting and corrosion. The product also works well for plastic, nylon gears, and composite. People with sewing machines can also rely on this to fasten the sewing process.
Ease of use:
One of the things that you'll love about this lube is the fact that it's not stubborn. You won't get frustrated when de-greasing your chains. You'll find that wiping off easy this lube is as easy as applying it on.
Other features:
Tri-flow lubricant targets individuals who care about the cleanliness of their drivetrain. This benefit draws from its ability to attract dust. Your bike chain will stay clean for more prolonged periods lasting up to a whole year. The lube has Teflon as one of its constituents. Teflon lasts long even after the solvent has evaporated. That's what guarantees your bike's long-term protection.
Overall:
There's no debate that this lubricant is a top notch product. You'll also be able to use the lubricant in other areas of your home and garage.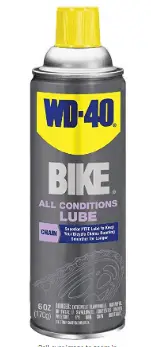 When your bike needs greasing, using it regularly worsens its condition. If you can't avoid taking it out every other day, you should at least get some all-purpose lube. The WD-40 bike chain lubricant is an all-purpose alternative that will revive your bikes chain and your riding experience as a whole.
Read more
Type of lube:
WD-40 manufactures its lubes in aerosol form.
Effectiveness:
There are times that schedules can get too tight. As a result, you may find it hard to set some time aside to carry out some maintenance on your bike. The WD-40 lubricant is the best bike chain lubricant for such situations. Unlike other lubricants on this list, it doesn't need an overnight process or long waiting periods. It's the kind of lubricant that you can spray and get the bike on the road immediately.
Versatility:
The lube is convenient for a whole bike care routine. The frame, the gear as well as the chain respond well to WD-40 lubricant.
Ease of use:
This product is exceptionally user-friendly. You don't have too many instructions to pay attention to. All you have to do is spray the chain, and you're good to go!
Other features:
You'll enjoy biking more, once you start using this lube to service your bike. Your bike chain will move faster, and the rides will be effortless. The lube also offers a protective layer against friction, dust, and water.
Overall:
The lube is easy to de-grease since its components don't stubbornly stick on the chain.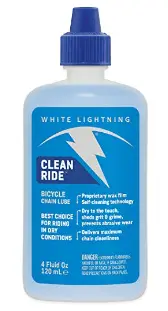 Sometimes using multipurpose bike chain lubes won't work for your bike. Specific-use type of lubricants can tackle conditions effectively compared to the latter. If you ride in dusty pathways, this product will suit your needs best.
Read more
Type of lube:
The bike chain lube is Teflon powder in solvent form.
Effectiveness:
The lube insulates your chain with a dry wax layer. This layer shields against any oil deposits that can make dust linger on the greased parts. All you need to do is avoid mixing the lube with other oil infused products. The products tend to tamper with the lube's effectiveness.
Versatility:
You can also use this bike lube on your door hinges and garage door tracks. That's what makes this lubricant economical.
Ease of use:
You have to use a piece of cloth to apply the liquid on your chains. Nevertheless, the lubricant settles and dries up very fast.
Other features:
The product self-cleans; meaning you don't have to worry about the pilling up of dirt and grit on your chains. When the particles get on the wax, it sheds off to protect your machine. The lube layer on your bike chain also gets firmer with time. Due to this, you won't have to keep applying it.
Overall:
Make sure you give this bike chain lube a try if you reside in dry places. It gives you a chance to cycle regardless of your environment.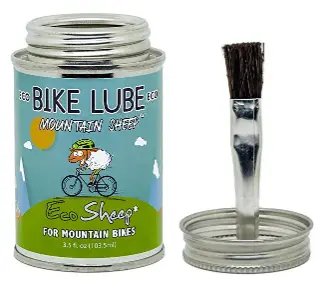 Eco sheep chain oil has two features that will capture your attention. The lube helps you keep your bike in good condition, and it is environmentally friendly. If you are a fan of using eco-friendly products, then this lube will definitely capture your attention.
Read more
Type of lube:
The Eco-sheep bike chain lube is in oil form.
Effectiveness:
The lube stands out because it's not like regular oil-based products. It consists of sheep wool, which makes it 100% Green. The oil protects the wool from dust, mud, snow, and debris. Therefore, it will help protect your bike from the same.
Versatility:
You can use this lube on many tools around your home. It comes in handy on tools such as hammers and pliers. You can also use it on equipment such as workmate or a milling machine, to make them operate efficiently.
Ease of use:
Afraid of getting your hands messy? Eco sheep brake oil has you covered. The product comes with a brush to assist you with the application of the oil. The brush helps to spread out the oil thoroughly. As such, you won't leave any spot unprotected.
Other features:
The lube is easy to remove from your bike chain. You'll just need to use some soap and water to do the trick. The brush applicator also makes the work less stressful for you.
Overall:
The all natural oil is easy to use, and practically frustration-free. As you consider your options for bike chain lubes, remember that green is the better option!

Subscribe to our Newsletter