Best Bumper Plates
In a Hurry? Editors choice: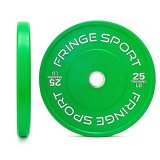 Test Winner: ONEFITWONDER

On the surface, it would appear that this guide would be filled with useless information that you know in your sleep. After all, how hard could it really be to pick out some bumper plates? For the record, these are merely weight plates that are used with Olympic barbells. But, you could just head over to Amazon and buy the first pair you see and you would be good to go, right? While you may get lucky and buy a premium pair, chances are, you will be doing yourself a disservice this way. The reality is that not all bumper plates will be made the same and paying attention to the key details can make all the difference in the world. And, after today, you will know those exact details at hand.
Standout Picks
Criteria Used for Evaluation
OUR TOP PICKS FOR THE BEST BUMPER PLATES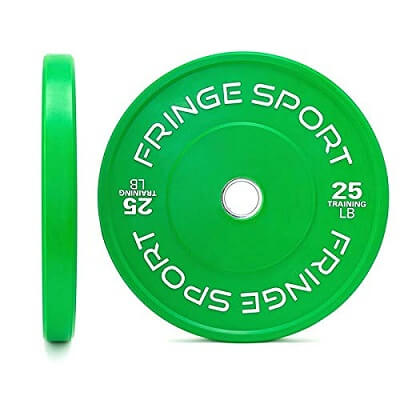 Some plates will be sold individually but this right here is a full set and, better yet, the weight plates are color-coded. Also, as with most top-end options, virgin rubber was used in the engineering process.
Read more
Included Weights
There are quite a few sets available for you to choose from (all the way from 100 to 370 pounds). Within each set, you will be provided with a variety of different weights.
Materials
In addition to the fact that these plates are made of higher density virgin rubber, they also sport expertly designed stainless steel inserts. Do note, though, that the virgin rubber can smell a bit.
Durability
Even after several uses and several drops, each of the weights will not show signs of wear and tear. The quality is premium here that much is for sure.
Features
Though it really is a minute feature, any of the sets you select will come with color-coded weights. In an instance where you need to quickly select certain weights, this will come in handy.
Compatibility
Each weight sports an insert diameter of two inches. So, that means that each of them will work with Olympic barbells.
Overall
While this may seem incredibly expensive, for a full set of bumper plates of this quality, you could almost consider this a steal. The bang for your buck here is utterly marvelous.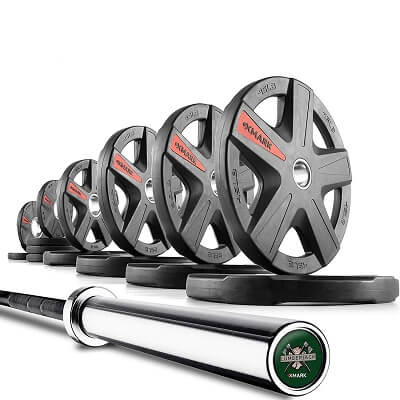 Now, this is truly a full set as it comes fully loaded with several Olympic weights and also an Olympic bar. It is also sold by XMark Fitness so you know the quality is superb.
Read more
Included Weights
What a set this is. All in all, you receive a seven-foot Olympic bar and a 255-pound weight set. Of course, there are also other sets available that you can pick from.
Materials
Okay, so the bumper plates are designed with rubber casings that are made from virgin and recycled rubber. As for the bar, it sports brass bushings and a protective black coating (though it is not the most pristine coating).
Durability
The weights themselves have been handcrafted from cast iron and the aforementioned rubber casings. Of course, also as mentioned, the shaft coating on the bar is designed to provide protection against rust but it does not do the best job.
Features
On each weight, there are five slot openings and this allows you to load each of them with greater ease on the bar.
Compatibility
Even though the collars are not included, the bar and the weights come together. So, you do not need to worry about the compatibility unless you want to invest in a different barbell.
Overall
If you need and want it all then this may be the set for you. Of course, if you already own a premium barbell and merely require the weights then you may want to pass on this one.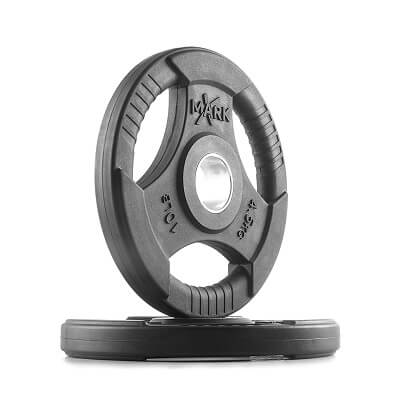 What a brilliant design this is. The pair of weights that you receive has been designed with tri-grip handles and integrated finger slots to ensure much easier loading on the barbell.
Read more
Included Weights
All in all, you have three weight options to choose from (10, 25 and 45 pounds). No matter which size you pick, you will receive two weights with your purchase.
Materials
First off, each of the weights sold by XMark is handcrafted of cast iron. But, protecting this metal is premium rubber casing that is made from a combination of recycled and virgin rubber.
Durability
Cast iron itself is known for its durability but the premium rubber casing is peel and crack-resistant and is going to withstand a ton of abuse over its lifespan.
Features
This is where XMark Fitness deserves the most credit, honestly. All throughout each weight, there are three different openings that sport recessed tri-grip handles. This small feature makes it much easier to load the plates on your barbell.
Compatibility
XMark Fitness designed their weights to work on Olympic barbells and this means that each of them sports an opening diameter of two inches.
Overall
A strong claim could be made that these weights deserved the gold selection on this list. If this was a complete set, maybe that would be the case but as is, you will need to buy these weights in pairs.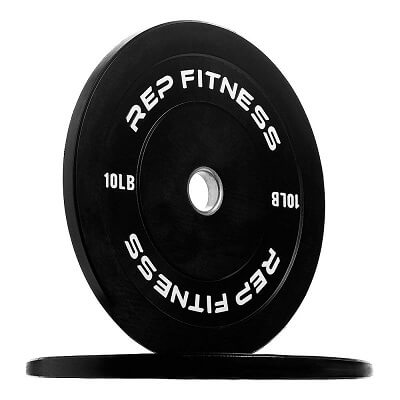 Really, what more could you ask for? Rep Fitness presents their weights on this list and they are designed from premium virgin rubber and sport white lettering that is easily distinguishable.
Read more
Included Weights
Variety is the spice of life and Rep Fitness is fully aware of that. As such, they provide you with tons of different options from pairs to sets (the variety is truly superb).
Materials
The combination of the virgin rubber and the stainless steel inserts make for impressive plates. Yet, you may notice a small odor resonating from the rubber (and this is common).
Durability
Being factory tested to withstand more than 15,000 drops from a height of eight feet, you can take great comfort in knowing that these weights will hold up well over time.
Features
It is so simple yet oh so brilliant. This is referring to the fact that Rep Fitness equipped their models with white lettering instead of black.
Compatibility
For all Olympic barbells that sport two-inch sleeves, each and every weight that you buy here will fit securely and properly.
Overall
For being farther down on this list, it is still amazing how wonderful these weights truly are. Sure, you may have to deal with emitted odors but that is not uncommon.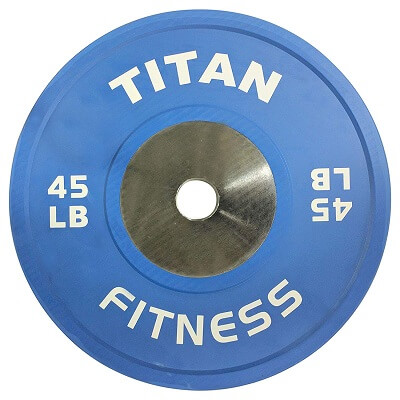 As great as Titan Fitness's weights are, it is worth noting right off the bat that they sell them individually. So, if you are looking for full sets, there are more convenient options out there.
Read more
Included Weights
It is mentioned in the product description that Titan Fitness sells each of its weights individually. For the record, there are 10, 25, 35, 45, and 55-pound options available.
Materials
Past the premium rubber casing that so many other top-end models integrate, each one of the weights that you buy here is reinforced with a steel collar.
Durability
The aforementioned steel collars will actually prevent wear on your equipment while the plates themselves will stand up very well to high reps and intense use.
Features
Of the weights that are sold, they feature different colors for easy identification. Additionally, each of them features a raised lip which makes picking them up easier.
Compatibility
The collar opening on each and every one of the weights is 50.6 millimeters (which works out to right around two inches).
Overall
If you needed a complete set, you could technically get it here but the process in doing so would be hampered by the fact that each weight is sold individually. In spite of this, the quality is phenomenal.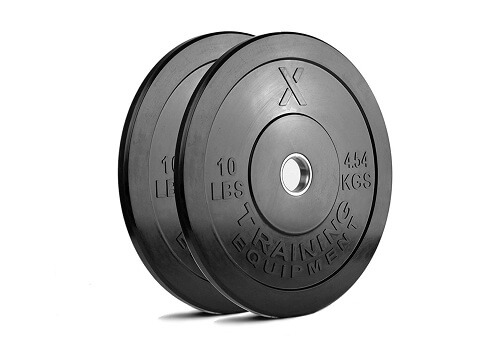 If one thing is for sure, sometimes rubber bumper plates give off a potent odor that can be unbearable. While you may need to manually get rid of the smell with these weights, the end result will be worth it.
Read more
Included Weights
There is a strong variety of size options available. For the record, there are options for singles, pairs, and sets so you can go with the option that you see fit.
Materials
In addition to the 100 percent rubber construction, these have been equipped with steel inserts that will allow the accompanying barbell to fit snug. Of course, many users have complained about the potent chemical smell of the rubber.
Durability
If nothing else, you can take solace in knowing that these plates were designed and tested by CrossFit and certified Olympic weightlifting coaches.
Features
Though this is another classic example of black lettering imprinted onto a black body, this time, it is not too difficult to see the weight specifications on each individual plate.
Compatibility
It is becoming a running theme and, yet again, these are going to properly fit two-inch diameter barbells.
Overall
Yes, this is another option that comes with a bad odor. Once the odor is able to be dissipated, though, everything will be history thanks to the quality present here.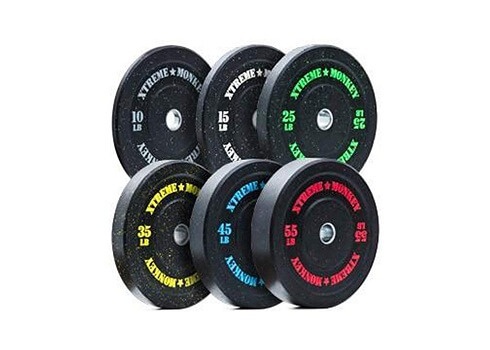 If you wanted to make a set with these plates, you would need to buy each desired weight individually. Of course, it may be worth it thanks to the premium design of each one.
Read more
Included Weights
A wide variety of plates, from 10 to 55 pounds, are open for you to purchase. Yet, the seller only has singles up so you can't buy a set directly.
Materials
It seems that Xtreme Monkey designed their plates with crumb and virgin rubber. The former prevents these from bouncing too high and the latter is used as a tough covering.
Durability
It is noted that these weighs can handle anywhere from 10,000 to 30,000 drops. While this is an extremely vague range, this durability is thanks to the crumb rubber technology and virgin rubber.
Features
Even though each of the weight options sports a black exterior, each of them has different colored lettering. This subtle feature makes it much easier to identify specific weights.
Compatibility
While it looks like these will fit two-inch bars, it is not specified by the seller on the official product page (at least not as of this writing).
Overall
All in all, these are not the most popular weights on the market. And, you can only buy them as singles. But, looking at each one individually, they are designed very well.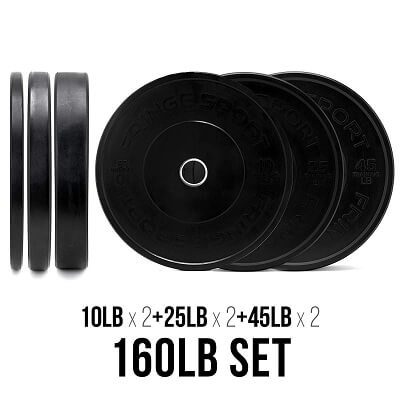 In a bit of an ironic twist, OneFitWonder started this list and will end this list, as well. As opposed to the top option on this list, though, these weights are not color-coded and are quite hard to distinguish between, honestly.
Read more
Included Weights
This right here is a 160-pound set. With it, you receive a pair of 10, 25, and 45-pound weights.
Materials
Though the odor that comes with these weights is not pleasant, they are designed with virgin rubber (which is formulated for its low bounce, density and durability).
Durability
Even the puny little 10-pound weights have been engineered to handle up to 30,000 drops. Of course, so have all the rest and this is quite a bump up from the often claimed 15,000 drops.
Features
Though not downright impossible to see, the lettering that is present on each of the weights could have been improved. Also, these are not color-coded.
Compatibility
One previous buyer reported that they had difficulties fitting these on their compatible bar due to the center holes being too tight. For the record, however, these will fit barbells with two-inch sleeves.
Overall
Do not get it twisted; this really is a great option. In addition to the 30,000-drop rating that each of the bumper plates has, they are also crafted of premium virgin rubber.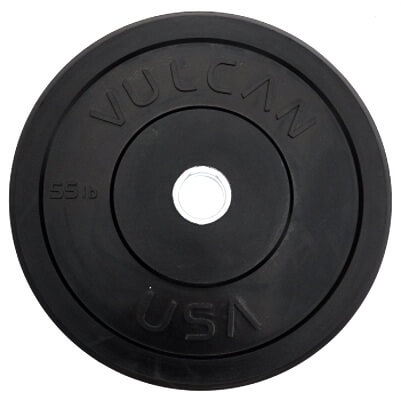 In terms of performance and build quality, Vulcan Strength deserves a ton of credit for their bumper plates. Yet, the lettering does not stand out and this can make pinpointing a specific weight more difficult.
Read more
Included Weights
It appears as if other sizes are available, for the record, but you do receive two plates with your purchase here. This one, in specific, is for two 45 pounders.
Materials
Vulcan Strength is yet another company to engineer their bumper plates with virgin rubber instead of recycled rubber.
Durability
Though Vulcan Strength does not provide a rating to how many drops their weights can endure, the quality is premium so expect countless drops before replacements will be needed.
Features
This is the biggest problem with this option. You see, each of the weights is plain black with black lettering. Due to this, it is going to be tricky to quickly distinguish between them.
Compatibility
Granted you own an Olympic barbell (one that sports a diameter of two inches), then these weights are going to work perfectly for you.
Overall
The truth is if you do not have an issue with the black lettering on top of the black exterior, then you will utterly marvel in the design and effectiveness of these premium weights.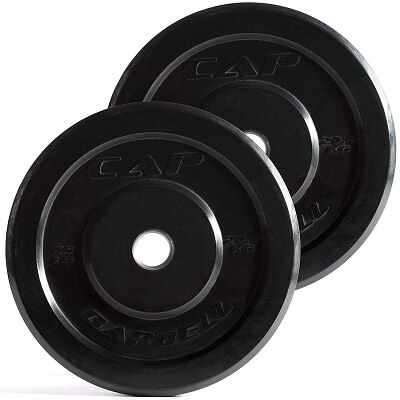 Even though these are dubbed as premium weights, admittedly, there are superior options out there. Yet, at the same time, CAP Barbell's plates will be a welcome addition to anyone's home gym.
Read more
Included Weights
While you can opt for a single pair of weights, there are also a few bundle options available. With these, you will receive a unique selection of plates.
Materials
Nothing out of the ordinary here as each individual weight features a cast iron core that has been encased with virgin and recycled rubber. Also, there are steel inserts.
Durability
Overall, the durability is pretty good here. As one buyer did point out, though, the quality could use improved around the center rings of the plates.
Features
This is one of the worst culprits of easy identification you will ever see. For whatever reason, the lettering is barely visible from even a decent distance (let alone from far away).
Compatibility
Each of the bumper plates you get all can be used with two-inch Olympic bars (as each of them has the same sized opening).
Overall
Few buyers out there will question the effectiveness of this option. However, some slight flaws prevent it from topping most of the entries on this list.

Subscribe to our Newsletter