Best Cast Nets
In a Hurry? Editors choice: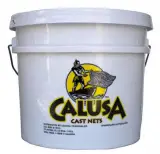 Test Winner: CALUSA CAST NET

Why would you want to mess around with cast nets anyway? Well, it just so happens to be a very efficient means of catching bait fish. In turn, you can then use bait fish to
go after larger fish
species (as this can be more effective). That is all she wrote then, right? Not so fast as choosing the right cast nets is not as easy as you may think.
Several different variables will come into play, such as the size of the bait you want to catch and the depth of the water in which you will be casting the net out. What this means is one cast net will not necessarily be feasible for everyone. You need to understand what to look for to match the type of fishing you will be doing. This is going to be crucial to choosing the best cast nets.
Standout Picks
Criteria Used for Evaluation
Size
This is all about the size of the net and also the size of the mesh.
When it comes to cast nets, there are two incredibly essential specifications for you to assess. The first of which is the physical size of the net itself. This is typically provided in feet and will refer to either the net's radius or diameter. Remember, if a model has a six-foot range, it means it has a 12-foot diameter. Cast nets are circles, after all. Anyway, the average model will typically be advertised with the size of its radius, but you can never be too sure so make sure to double check.
But what size is going to be right for you? Well, it will come down to your skill level and intended use, quite frankly. After all, larger nets will catch more bait but they will also be harder to throw perfectly. Also, do not forget that you should always check local regulations to see what is and is not allowed. Anyway, beginners should probably stick closer to nets that are three to five feet in radius.
Now, the second vitally important specification is the mesh size. This will be determined by the size of the bait that you wish to catch, period. Cast nets with small mesh (say ¼ inches) will only catch small bait fish. Meanwhile, if you want to catch more abundant species, you will need mesh that is either 3/8 or ½ inches (or even larger) in size. For the record, for most of you, 3/8 inches should work just fine.
Weight
For the record, this section is in regard to the physical weight of the net you are buying.
Okay, so this is another specification that is important to assess. What you need to know is that cast nets will all come in different sizes and weights. The former was just addressed, and now it is time for the latter. Now, as you may have noticed, these nets are not typically advertised with a total weight. Instead, they are marketed as having a specific lead weight per foot.
So, here is how it works. These nets will be equipped with lead weights that will be equally spaced around its perimeter. But, the weight of these lead weights is going to vary. Most models will either offer ¾, 1 or 1 ½ pounds of lead weight per foot. The heavier the net, the faster it is going to sink. But, if you with a heavier model, it also means you will need to deal with the additional weight each time you cast it. Just keep that in mind.
But, if a heavier net is going to be more of a hassle, why bother? Well, you can generally catch more bait if the cast net you have sinks quicker. It can also be more efficient if you are casting in deeper water. However, again, you need to know your strength as an improper cast will yield no bait.
Durability
Most cast nets are made with the same material but that does not make them all the same.
Alright, so now that several of the specifications are out of the way, what is cast nets made with anyway? For the most part, the most popular material is monofilament. However, even though most modern models will be made with this material, you will also see some made with nylon (though these are generally inferior).
Okay, so most modern models are made with monofilament. What on earth is this material? In the simplest of explanations, it can be many different things. It is tricky to explain because any synthetic fiber can be used to make it. Any synthetic fiber is melted and then extruded. The resulting material is monofilament.
As you can see, that means that cast nets that utilize this material are not all the same. Some models will be much thicker than others, making them more durable. So, if you know you are going to be hard on your model and will cast it in some precarious situations, then you may want to go with thicker and more durable monofilament.
Portability
Some sellers will provide you with a plastic container and others with a really nice bucket.
Due to their nature, you will probably need to travel with your cast net. Unless you have walking access to an ideal body of water for fishing, you will need to travel with the net. And, quite frankly, even if you do have walking access, your life will be much easier if you can neatly package the model you get. This could be made easier based on the seller that you buy from.
Here is the deal; most sellers will provide you with either a plastic container or a multi-gallon bucket. Either one of these can be used for transport, but the latter is the preferred option. The buckets some sellers provide you with tend to be better made than some of the cheap plastic containers others offer to you.
Oh, and speaking of those plastic containers, some of them will be downright small. This can make it much more difficult to get the cast net compact enough to fit inside. Of course, even if you are offered with a poorly designed travel container, you can always buy a different container or bin if you so, please.
Accessories
There are a number of different accessories that you can look out for.
Before you wrap up the criteria section, you need to also keep some accessories in the back of your mind. Most cast nets will be offered with one or two of the following accessories so you need to familiarize yourself with some of the most prominent ones.
Of course, this all starts with the hand line. This is an accessory that every single cast net will be equipped with as it is what allows you to retrieve the net. But, from a seller to seller, the length of the hand line is going to differ. Most generally, you will see most hand lines offered anywhere between 20 to 30 feet. This should suffice for most of you.
Now, two other subtle "accessories" are both ideal for beginners. The first of which is a throwing aid belt. This will probably not be needed if this is not your first rodeo. The other accessory, which is somewhat of a stretch to call it that, is any sort of instruction guide. While you can always just access a YouTube video to learn how to cast this type of net, an included guide is always convenient.
OUR TOP PICKS FOR THE BEST CAST NETS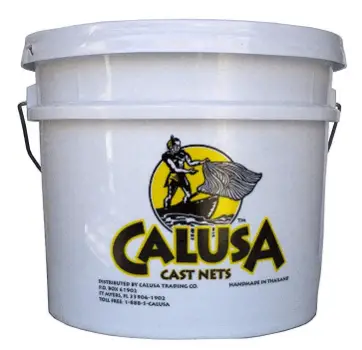 Before you dive into the specifics, check out some of the best models on cast nets that are currently available. And, when you talk about the best, you simply need to include this option from Calusa.
Read more
Net Size
There is no reason to sugarcoat it, this thing is a monster. The mesh is only 3/8 inches in size but the net's radius measures 10 feet. That means the diameter is 20 feet.
Lead Weight
Due to the fact that this model sports 1.5 pounds of lead per foot, it is going to sink faster than other models. But, it is also going to be much heavier, so keep that in mind.
Durability
This is made with the highest quality copolymer monofilament on the market. In addition to the handmade craftsmanship, let's just say this net is not going to rip very easily.
Portability
Instead of just a generic plastic container, this actually comes with a high-quality bucket. With that said, the net itself is a monster and will be semi-difficult to fit inside this bucket.
Accessories
All the necessary items and accessories that you will need to cast are included with your purchase here.
Overall
At this price point and due to the sheer size of it, this is a suitable option for those of you who are serious about fishing. This will simply be too massive for casual fishing.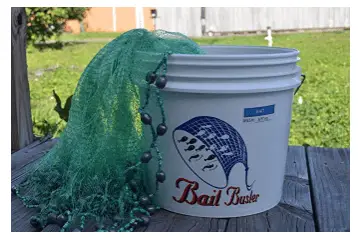 Even though there are multiple sizes available, even the smallest size is big and heavy. For the right people, this will be as optimal as it gets. But, let's just say this is not the best option for novice fishermen.
Read more
Net Size
The size selection is simply incredible here. Available are radiuses between 5 and 12 feet. Additionally, the mesh itself measures 3/8 inches.
Lead Weight
Plain and simple, this is heavy and it is due to the 1.5 pounds of real lead per foot. As such, it is going to sink quickly but will also take some strength to handle.
Durability
To say that the craftsmanship is superb here is an understatement. After all, this model is built with braille lines that have been tested to handle up to 100 pounds.
Portability
As with the top option, this comes with a well-designed bucket instead of just a plastic container. This is ideal for both portability and storage.
Accessories
To provide you with optimal control, this is equipped with 25 feet of braided hand line.
Overall
Yep, this is yet another option that is really optimized for serious users. It is heavy, large and extremely well-crafted making it ready for the heaviest of uses.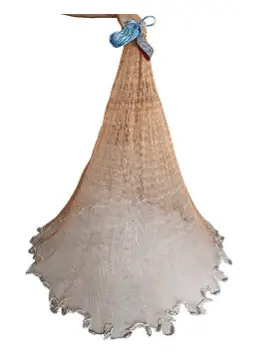 This is another option that comes in a plethora of different sizes. But, it is also noteworthy for its thicker mesh size and its extra-long braided hand line.
Read more
Net Size
As mentioned, this comes in a wide range of different sizes (radiuses). For the record, you can choose as small as 4 feet or as large as 12 feet. Additionally, the mesh measures ½ inches which is a little thicker than others.
Lead Weight
Overall, this could use a little more weight to it. This is more of an issue if you go with a larger size but, regardless, this still does not sink incredibly quickly.
Durability
This is not made with cheap monofilament line so that is a huge plus. Also, the sinkers are made out of real lead and are also not cheaply crafted.
Portability
It does not appear that any special packaging is included with your purchase. Per the review of one user, though, it appears it comes in a bag at least.
Accessories
When compared to other options on the market, the 49-foot braided hand line that is included is incredibly sufficient. This is double what most models will offer, quite frankly.
Overall
In spite of the fact that this could have been weighted with more sinkers, it comes in many different sizes and is well-built. For many of you, this will be just what the doctor ordered.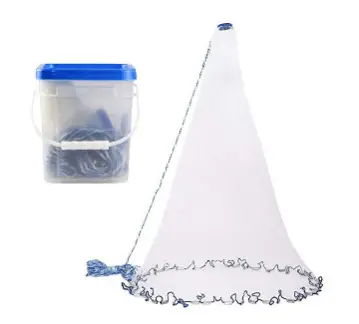 At the end of the day, what makes this one of the most dependable cast nets on the market is its solid core and ideally weighted lead sinkers. It is not a flawless design but is really good.
Read more
Net Size
Alright, so here is the deal. There are multiple sizes that you can choose from and the mesh is 3/8 inches in size. However, as one user noted, this does not seem to open up as large as advertised.
Lead Weight
What is really nice about this design is the fact that it is equipped with upgraded perforation lead sinkers. Additionally, this is one pound of weight per foot.
Durability
In addition to the premium components, this is also designed with a durable and strong monofilament line. This provides you with magnificent strength and great peace of mind.
Portability
Your purchase comes with a reusable plastic bucket. It is nothing special but it definitely gets the job done with virtually no issues.
Accessories
One of the premium components that this comes with is a 26-foot braided poly hand line. This provides you with an optimal amount of control.
Overall
From top to bottom, this is simply tremendous. The only "issue" is that it may not open to its maximum diameter. Though this is disappointing, it is not too big of a deal.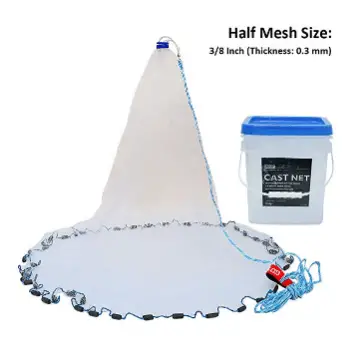 No one is going to question the sheer craftsmanship of this cast net as it is truly top-end. However, its larger weights will cause more resistance in the water to cause it to sink slower. So, keep that in mind.
Read more
Net Size
For the record, this version is the eight-foot version. However, there are other sizes available. In addition, two different mesh sizes (3/8-inch and ¼-inch) are available.
Lead Weight
As was mentioned, this is equipped with larger weights. While this would, in theory, seem to make this sink quicker, the weights sport plastic. As such, they end up creating a lot of resistance and the sinking is slower as a result.
Durability
First off, this is handmade and sports a copolymer monofilament net. Secondly, it sports a commercial-grade anodized swivel for longevity.
Portability
Even though a few buyers never received the plastic container that is advertised, one is supposed to come with your purchase.
Accessories
All sorts of accessories are included with your purchase. You are provided with 32 feet of braided poly hand line, detailed instructions and a throwing aid belt for convenience.
Overall
The oversized weights were an interesting decision from the manufacturer. As such, if you can deal with the slower sinking of this net then you can get excellent use out of it.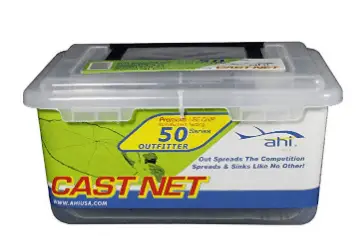 In spite of the fact that this is not going to sink incredibly fast, it is well-designed with premium monofilament netting. The mesh size is also as ideal as it gets.
Read more
Net Size
For the record, this features mesh that is 3/8 inches in size. In addition, there are many choices available for the actual size of the net (anywhere between three to eight feet).
Lead Weight
The main reason why this does not sink very quickly is due to the ¾ pounds of weight per foot it sports. Due to this lack of weight, it is natural that it will not sink as quickly as other models.
Durability
First off, the braille lines are rated to handle up to 80 pounds. Secondly, the net itself is made with premium monofilament material.
Portability
Even though this will be a little difficult to get back inside the included plastic container, it is nice that the container is included.
Accessories
The 24-foot hand line could be a little longer, admittedly. However, it is secured with an anodized swivel.
Overall
Depending on where you will be catching your bait, the lackluster sinking time of this cast net may be an issue. But, this is built extremely well and is unlikely to rip or tear.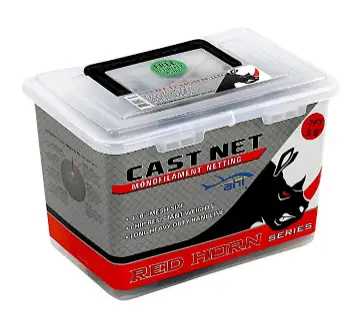 Thanks to the seven-foot diameter and the 3/8-inch mesh size, this model is optimized for any type of fisherman out there. That alone makes it worthy for a closer look.
Read more
Net Size
For sure, this is not one of the larger cast nets in the world. But, for some of you, that is going to be just perfect.
Lead Weight
The good news is the chip-resistant weights are evenly distributed. However, with only ¾ pounds of weight per foot, this is not going to sink quickly.
Durability
Past the aforementioned chip-resistant weights, this also has been engineered with premium nylon monofilament netting for enhanced longevity.
Portability
Glancing through the photos, it appears that this comes with a plastic container. This container is even designed with the company's logo.
Accessories
For those of you who it concerns, this comes with throwing instructions. Additionally, as you would expect, a long hand line is also included.
Overall
Due to the size and the lead weight, this is perfect for beginners and casual fishermen. For hardcore enthusiasts, however, this may not get the job done.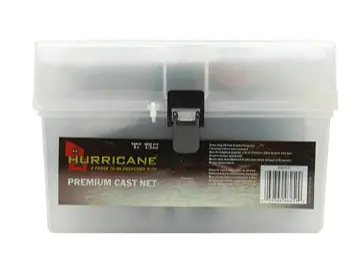 Due to the sheer size of this model, it is going to be appealing to several of you. While the monofilament line could be a little thicker, this option is still compelling regardless.
Read more
Net Size
With a radius of five feet and a mesh size of ½ inches, this is a really suitable size. It will be ideal for most of you reading this right now, in fact.
Lead Weight
Thanks to the one pound of lead per foot, this is going to sink fairly quickly. Additionally, the net is going to open easily for your convenience.
Durability
As was noted, this is designed with rather thin monofilament line. It is not pathetically weak but just know that it is also not the thickest line out there, either.
Portability
The good news is this does come with a carrying box. However, many buyers have reported that it is really difficult to fit the net back inside this box.
Accessories
Looking past the fact that this comes equipped with an extra-long throw line, it also includes instructions that explain how to use it as a whole.
Overall
The best way to describe this cast net is that it is good but not great. The line could be thicker and the included box is too small. Still, though, this is sized really well and will be effective.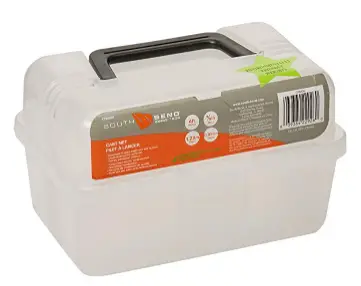 When it comes down to it, this model is just about perfect for those of you are just starting out. It simply will not be able to perform up to the standards that some of you will expect, however.
Read more
Net Size
This specific model is four feet in radius (which means it is eight feet in diameter). Additionally, the mesh size is 3/8 inches.
Lead Weight
Overall, this needs a little more weight as it struggles to sink. With that said, it does all depend on where you will be casting this net.
Durability
At the end of the day, this is a well-built net thanks to the high-quality monofilament material. It is not going to tear very easily, let's just say that.
Portability
The storage container that this is supposed to come with is pretty darn small. There is really no reason to sugarcoat it; it will be difficult to place the net inside of it.
Accessories
Past the included hand line, there really are not too many other accessories to speak of here.
Overall
Can you really go wrong with a well-built model such as this? Sure, it could be weighted more and could be larger. But, that all comes down to you and your needs.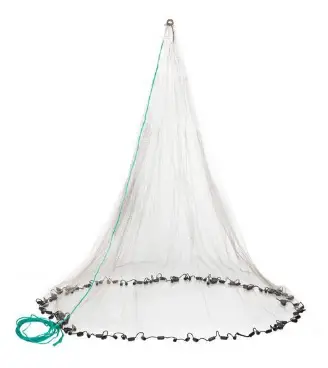 While this is far from a premium model, which is what it is advertised as, it can be quite good for the right people.
Read more
Net Size
What is nice is you are provided with a few different size options here. Some of which include four, five and eight feet. Also, the mesh is 3/8 inches in size.
Lead Weight
Thanks to the fact that this is weighted with one pound per foot, it is going to sink optimally. In addition to this, it is easy to throw.
Durability
This is where the "premium" tagline falls short, quite frankly. The monofilament line that this is engineered with is on the thin side. It is not tear-proof so be aware of that.
Portability
Coming with your purchase is a utility box and you can store all sort of supplies into it. This includes lures, hooks and other fishing accessories.
Accessories
Overall, this does not come with the longest rope so that is a bit disappointing. On another note, instructions on how to catch bait are included with your purchase.
Overall
If you can accept the fact that this is not a premium model then you can get some great use out of this while it lasts. You just need to be careful where you cast it.