Best Cast Nets
last updated:
Feb 07, 2020
Why would you want to mess around with cast nets anyway? Well, it just so happens to be a very efficient means of catching bait fish. In turn, you can then use bait fish to go after larger fish species (as this can be more effective). That is all she wrote then, right? Not so fast as choosing the right cast nets is not as easy as you may think.
Several different variables will come into play, such as the size of the bait you want to catch and the depth of the water in which you will be casting the net out. What this means is one cast net will not necessarily be feasible for everyone. You need to understand what to look for to match the type of fishing you will be doing. This is going to be crucial to choosing the best cast nets.
In a Hurry? The test winner after 6.75 hrs of research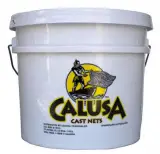 CALUSA CAST NET
Why is it better?
Comes with a high-quality bucket
It is designed to meet the demands of avid fishermen
It is a really good sized net
In a
Hurry? Editors choice: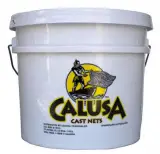 Test Winner: CALUSA CAST NET

37
Researched Sources
83
Reviews Considered
6.75
Hours Researching
18
Products Evaluated
Size
Weight
Durability
Portability
Accessories
By Default
OUR TOP PICKS FOR THE BEST CAST NETS
Criteria Used for Evaluation

Size
This is all about the size of the net and also the size of the mesh.
When it comes to cast nets, there are two incredibly essential specifications for you to assess. The first of which is the physical size of the net itself. This is typically provided in feet and will refer to either the net's radius or diameter. Remember, if a model has a six-foot range, it means it has a 12-foot diameter. Cast nets are circles, after all. Anyway, the average model will typically be advertised with the size of its radius, but you can never be too sure so make sure to double check.
But what size is going to be right for you? Well, it will come down to your skill level and intended use, quite frankly. After all, larger nets will catch more bait but they will also be harder to throw perfectly. Also, do not forget that you should always check local regulations to see what is and is not allowed. Anyway, beginners should probably stick closer to nets that are three to five feet in radius.
Now, the second vitally important specification is the mesh size. This will be determined by the size of the bait that you wish to catch, period. Cast nets with small mesh (say ¼ inches) will only catch small bait fish. Meanwhile, if you want to catch more abundant species, you will need mesh that is either 3/8 or ½ inches (or even larger) in size. For the record, for most of you, 3/8 inches should work just fine.

Weight
For the record, this section is in regard to the physical weight of the net you are buying.
Okay, so this is another specification that is important to assess. What you need to know is that cast nets will all come in different sizes and weights. The former was just addressed, and now it is time for the latter. Now, as you may have noticed, these nets are not typically advertised with a total weight. Instead, they are marketed as having a specific lead weight per foot.
So, here is how it works. These nets will be equipped with lead weights that will be equally spaced around its perimeter. But, the weight of these lead weights is going to vary. Most models will either offer ¾, 1 or 1 ½ pounds of lead weight per foot. The heavier the net, the faster it is going to sink. But, if you with a heavier model, it also means you will need to deal with the additional weight each time you cast it. Just keep that in mind.
But, if a heavier net is going to be more of a hassle, why bother? Well, you can generally catch more bait if the cast net you have sinks quicker. It can also be more efficient if you are casting in deeper water. However, again, you need to know your strength as an improper cast will yield no bait.

Durability
Most cast nets are made with the same material but that does not make them all the same.
Alright, so now that several of the specifications are out of the way, what is cast nets made with anyway? For the most part, the most popular material is monofilament. However, even though most modern models will be made with this material, you will also see some made with nylon (though these are generally inferior).
Okay, so most modern models are made with monofilament. What on earth is this material? In the simplest of explanations, it can be many different things. It is tricky to explain because any synthetic fiber can be used to make it. Any synthetic fiber is melted and then extruded. The resulting material is monofilament.
As you can see, that means that cast nets that utilize this material are not all the same. Some models will be much thicker than others, making them more durable. So, if you know you are going to be hard on your model and will cast it in some precarious situations, then you may want to go with thicker and more durable monofilament.

Portability
Some sellers will provide you with a plastic container and others with a really nice bucket.
Due to their nature, you will probably need to travel with your cast net. Unless you have walking access to an ideal body of water for fishing, you will need to travel with the net. And, quite frankly, even if you do have walking access, your life will be much easier if you can neatly package the model you get. This could be made easier based on the seller that you buy from.
Here is the deal; most sellers will provide you with either a plastic container or a multi-gallon bucket. Either one of these can be used for transport, but the latter is the preferred option. The buckets some sellers provide you with tend to be better made than some of the cheap plastic containers others offer to you.
Oh, and speaking of those plastic containers, some of them will be downright small. This can make it much more difficult to get the cast net compact enough to fit inside. Of course, even if you are offered with a poorly designed travel container, you can always buy a different container or bin if you so, please.

Accessories
There are a number of different accessories that you can look out for.
Before you wrap up the criteria section, you need to also keep some accessories in the back of your mind. Most cast nets will be offered with one or two of the following accessories so you need to familiarize yourself with some of the most prominent ones.
Of course, this all starts with the hand line. This is an accessory that every single cast net will be equipped with as it is what allows you to retrieve the net. But, from a seller to seller, the length of the hand line is going to differ. Most generally, you will see most hand lines offered anywhere between 20 to 30 feet. This should suffice for most of you.
Now, two other subtle "accessories" are both ideal for beginners. The first of which is a throwing aid belt. This will probably not be needed if this is not your first rodeo. The other accessory, which is somewhat of a stretch to call it that, is any sort of instruction guide. While you can always just access a YouTube video to learn how to cast this type of net, an included guide is always convenient.
Expert Interviews & Opinions
Most Important Criteria
(According to our experts opinion)
Experts Opinion
Editors Opinion
Users Opinion
By Default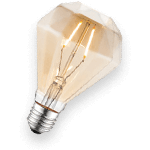 Size
First and foremost, you need to get this area figured out. Without question, it is the most important consideration for you to make. Not only do you need to worry about the physical size of the net but also the size of the mesh. Both of which will determine how much bait you can catch and what the size of the baitfish will be. So, this could be a little different for everyone.
Weight
This section is all about the lead weight per foot of the model that you buy. While this may sound complicated, it is really very simple. But, bigger and heavier is not always better. While you can be more efficient when it comes to catching bait this way, you need to know your own strength. Remember, you will physically need to cast your net time and time again to get the desired amount of baitfish that you want.
Durability
Even though most cast nets will utilize the same type of material, it does not mean that they will all be made in the same manner. Some models will sport more premium netting than others. If you know you will be using the model you buy several times a year then you may want to opt for higher-quality designs. Then again, others will be fine with the lower-quality options.
Frequently Asked Questions
q:

What sizes are legal in your state?

a:

As one would expect, the answer to this question is going to differ for all of you. While we are not going to bore you with the rules and regulations for every single state in the United States, you can access this information on this brilliant thing known as the internet. And, this is important because this type of thing is going to vary from state to state.
q:

Can you repair cast nets?

a:

There are certain items and equipment that you can make patch jobs to. However, cast nets do not appear to be that type of equipment. It really is not very easy to repair one. Now, you could always attempt to perform some DIY work. You really are not going to hurt anything as if your model is damaged, it will not work anyway. Also, as far as sending it back and forth to a repair facility, the hassle and cost will not be worth it.
q:

How do you wash and care for them?

a:

In regard to how you should wash your cast net, this is not too difficult. All you really need to do is rinse it off with fresh water and then allow it to air dry. Now, as far as taking care of them, first and foremost, always check them for cuts and tears. Additionally, never store them in direct sunlight as this can harm the netting. Opt for cool and dry environments for storing. Oh, and you also may want to avoid casting it in areas where sharp and large objects (such as rocks) are present.
q:

What exactly are they used for?

a:

It has alluded to several times already but cast nets are primarily used to catch bait fish. Instead of using other types of lures, you can then attach these bait fish onto your fishing line. With them, you can attract different types of fish species. This is just merely a way for you to enhance your odds at fishing successfully. After all, certain fish will be much more intrigued with actual live bait.
q:

Can you return them to their original forms?

a:

Basically, you may want to return the net into its original softness. And, thankfully, you can do this and do so rather easily. All you will need to pull this off is one cup of fabric softener. With this, pour said cup into a five-gallon bucket of fresh water. With this solution, all you will need to do is place your net inside and allow it to soak overnight. And, the best part about this is you can literally repeat this as many times as you want to. Afterward, just rinse the net off and allow it to air dry.
q:

How do beginners buy them?

a:

Certain products in the world will need to be purchased based on skill and strength. And, it is safe to say that cast nets are certainly one of them. This has been alluded to several times so it should not come off as too much of a surprise. With that said, here are some basic recommendations for beginners. At first, you may want to go with a smaller cast net that you can control easier. Additionally, you may want to find models with training aids included. And, lastly, you may want to avoid heavier nets if you are just starting out.