Best Ice Buckets
In a
Hurry? Editors choice: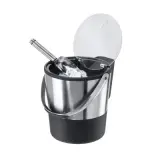 Test Winner: OGGI DOUBLE WALL

When you need to keep your beverage bottles nice and chilly for a short period of time, ice buckets are very handy tools with a surprisingly simple design that really do the trick. That being said, a high-quality, well-insulated bucket makes all the difference. There are a range of high-quality ice buckets available on the market, even some with enhanced insulation if you want extremely
cold
drinks on a
hot
afternoon. We've taken the guesswork out of the buying process for you with our guide below. Read on to find reviews of our top picks.
Standout Picks
Criteria Used for Evaluation
Effectiveness
Depending on how insulated the bucket is, your ice will either last a suitable amount of time or no time at all.
Whenever you are in the market for a product that aims to keep anything cold and/or warm for long periods of time, that product's insulation capabilities will always be critically important. Without proper insulation, a product will be unable to keep your contents warm and/or cold for any length of time (much like your home or any other interior space). For ice buckets, of course, it is all about keeping your ice frozen. When you go to reach for some ice, no one wants to see melted water as this will be useless.
As will be documented later, there are a lot of exterior variables that will come into play in regard to how long a certain bucket can actually keep your ice frozen. But, without question, one of the most critically important features to look for is double-walled insulation. This is a standard feature and it keeps the cold air from escaping. Also, double-walled insulation will help to prevent condensation from building up on the outside. Speaking of which, the lid should also achieve a perfect seal as this will also prevent the cold air from escaping. The key is to contain this cold air inside and if that is achieved, you will be a happy camper.
Materials
The main material is important and, for the most part, will probably be stainless steel.
Did you notice a theme with the models that appeared on this list? If you were paying attention in the slightest, you most certainly should have. This underlying theme was stainless steel. Now, does this indicate that stainless steel is vastly superior to every other material on the market when it comes to this technology? Not necessarily but the key combination that this metal has that very few materials possess is its functionality and appearance. In other words, it is a very durable metal, one that is resistant to rusting and corrosion, and also one that is not going to break if it is dropped. But, all in the meanwhile, it is as stylish as any other material out there.
In the world of appliances and tools, that is a lethal combination. Now, not all stainless steel is equal as there are different grades out there and not all of them are food-safe. For the most part, you will most commonly see 18/10 and 18/8 grade stainless steel in the world of kitchen devices. And, for ice buckets, these are the most common grades that you will see.
Features
While not overflowing with features, there are a few important features to keep an eye out on.
It may surprise you, but not all models will be the same. For example, some models will be designed with a stainless steel top handle much as you would see on a pail or any other type of bucket. Others, though, may simply implement knobs or rings on the sides that can be used for transport. Both designs suffice and it really is a matter of personal preference. The other feature is an ice strainer. What is really nice about this little gadget is it will keep any melted water away from dry ice. Dry ice that is exposed to melted water will accelerate its melting and this is clearly what you are looking to avoid.
Capacity
Depending on your needs, you may require a larger ice bucket. Then again, a smaller model may be right up your alley.
If you read and reference a lot of guides such as this, then you probably expect this criterion to show up time and time again. It is amazing how much size matters in this world and as consumers, it can really dictate your entire buying decision. Think about it for a second, though, why would you want to buy an item that is not large enough to perform what you need? It is almost a waste of money and given how hard you work to make this money, you clearly do not want to waste it.
Yet, in this and nearly every other scenario, it all comes down to your needs. If you simply require an ice bucket for a small gathering of friends, then you can probably get away with a smaller model (somewhere between one to three liters). Then again, if you want to throw a party and need ice for an entire crowd of people, you may want to look into much larger models (possibly even up to five liters). In this case, you may even have to refill but if you have access to a freezer that should not be too big of a deal.
Accessories
Much like with the features, there are not too many accessories that will be included with your purchase. But, there are a few to look out for.
To wrap this up, let's talk about accessories for a second. This is probably not going to make or break your purchase as you can always buy accessories separately. It is never a bad thing when a seller includes some bonus items. You will find that for ice buckets, this will typically either be a pair of tongs or a scooper. Now, you have heard it in this guide that tongs can be a pain in the butt and yes, they certainly can. It does depend on the quality of the tongs. If they can't firmly grip the ice, then they will become a nuisance really quickly. As for a scooper, this really is the way to go if you want to fill a shaker or glass with ice. It will save you both time and frustration and at the end of the day.
OUR TOP PICKS FOR THE BEST ICE BUCKETS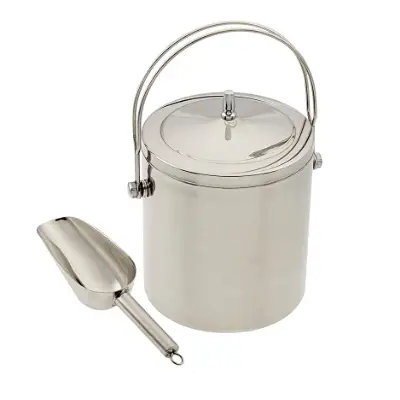 Due to the sheer quality of this model, it has landed on the top of this list. Granted, it is not the largest unit on the market, it is tough to argue with its effectiveness and build quality.
Read more
Effectiveness
Due to the double-walled construction that so many of the top-end models have, this is going to keep your ice chilled for over six hours.
Materials
In addition to the stainless steel makeup of this unit, it has also been equipped with high-quality fittings that are not going to fall off.
Features
Two huge design features make this model stand out. Firstly, it is equipped with a stainless steel top handle for carrying. Secondly, it comes with an ice strainer that will keep melted water away from the dry cubes.
Capacity
As was mentioned, this really is not that large. It can hold half-a-gallon and when you compare this to most of the other entries on this list, it is simply decent.
Accessories
While some sellers will include tongs with your purchase, here you receive a stainless steel scoop. This is actually a bit more efficient than tongs when it comes to removing ice.
Overall
Though this is the top model, if you are seeking an ice bucket for much larger occasions, this may not be the ticket. Pound for pound, so to speak, this is the best on the market, however.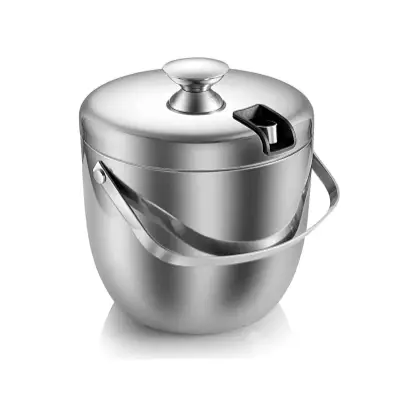 This is a lot like the top model in that it is crafted with premium and gorgeous stainless steel. Plus, the double-walled construction prevents condensation buildup and keeps everything colder inside.
Read more
Effectiveness
Indeed, to ensure optimal performance, Fortune Candy constructed their model with double wall insulation.
Materials
Stainless steel can just take your breath away with its beauty and durability and that certainly is the case here. Plus, it is food-safe to ensure the ice will be safe for consumption.
Features
Conveniently, the matching lid sits perfectly on the inside to prevent cold air from escaping. As for the handle, however, its screws have been known to strip and do come loose too easily.
Capacity
At 2.8 liters, this is about the average capacity that you will see. It still may not be ideal for large parties, but it can suffice for smaller uses.
Accessories
You may not notice from the photos, but stainless steel tongs are included. The main reason you may not notice is they are tucked away in the lid, which is quite ingenious to prevent them from being lost.
Overall
Just know going in that you will probably have to deal with the screws and their constantly becoming loose. The design is really worth it if you can overlook that blemish, though.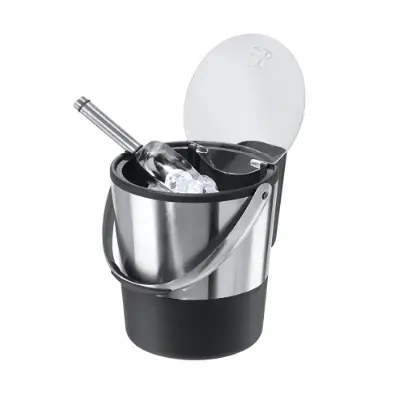 Being presented by Oggi, this design here is quite unique. In addition to the double wall insulation, this comes with an acrylic flip top that very few ice buckets possess.
Read more
Effectiveness
Oggi is no stranger to how to make their design successful as they have also incorporated a double wall design for optimal performance.
Materials
The main body is made out of stainless steel but do note that the top is not. Instead, it is made of acrylic and is integrated into the base.
Features
In theory, the lid is a brilliant concept as it stays right in the base. The problem comes when you go to clean the interior as the lid can easily get in the way and become a pain. Also, the integrated handle is actually a little sharp.
Capacity
Now, this is more up the alley of consumers looking for a larger capacity. At four quarts, it is a suitable size and dubbed as being extra-large.
Accessories
Oggi includes a stainless steel scoop and yes, they actually include it with your purchase. All in all, it just is much easier to work with than a pair of tongs.
Overall
There are a few design features that hold this design back as a whole. In spite of these minor flaws, which they really are, the provided capacity and sufficient performance make this a thumbs up.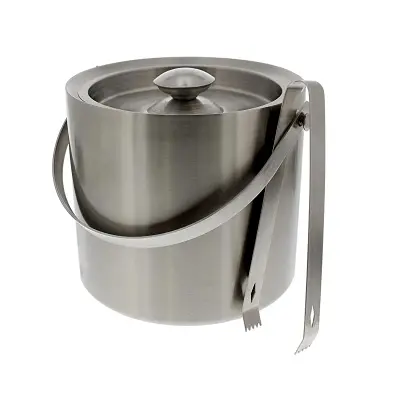 Ironically, the seal of the lid on this next design is so effective that sometimes, it can be too tight to get off easily. But, at least the ice inside is going to stay frozen for much longer.
Read more
Effectiveness
Outside of the aforementioned seal that will keep the cold air inside, the dual-walls also help to ensure that cold air is not going to escape.
Materials
Along with so many others, this is made of premium stainless steel. In fact, it is the 18/10 grade variety, which you see a lot when dealing with food or drinks.
Features
It is important to note that not all ice buckets on the market will implement a top handle. For convenient carrying, however, this design certainly does.
Capacity
Can you imagine the size of a hotel ice bucket? Well, that is about the size of this model. Overall, it can hold 2.5 liters.
Accessories
The product description claims that this comes with a scoop but per the photos, it clearly comes with a set of stainless steel tongs.
Overall
Size is one of the few enemies here. Just about this entire design screams elite and when it comes to keeping ice cold, few do it better than Juvale's offering.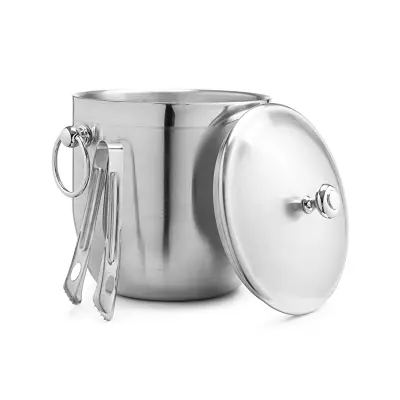 Everything was in order for this design to possibly crack the top of this list. But, one flaw that has been pointed out by some buyers keeps it from ascending any higher.
Read more
Effectiveness
Let's just get that flaw right out of the way, shall we? Some buyers have alluded to the fact that the lid does not have a perfect fit. But, this is double walled which does make up for it slightly.
Materials
The brilliance, rust-resistance, and durability are all on full display with the design of this model. That is, of course, because it is designed of stainless steel.
Features
In addition to the integrated handle rings on the sides, this has also been engineered to prevent condensation from building up on the outside.
Capacity
This is capable of holding three liters of ice (not accounting for other drinks that you want to place inside).
Accessories
Tongs have been picked on a little bit in this guide but that is what Bellemain includes with your purchase. Hey, it certainly is better than nothing and they are made of stainless steel.
Overall
With an improved lid, who knows where this would have landed on this guide. Then again, that says something about the rest of the design, does it not?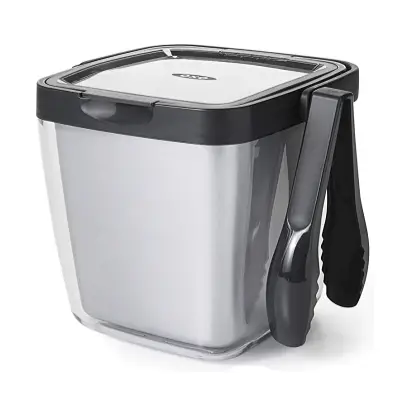 Most of the options on this list are stainless steel but not this one. Instead, it comes with an internal reservoir of aluminum and an outer bucket of plastic.
Read more
Effectiveness
One important factor to note is that, outside of the dual containers, the plastic top is not insulated and this can allow some cold air to escape.
Materials
Instead of stainless steel, this is actually made up of plastic and aluminum. As mentioned, the internal wall is actually aluminum and the outside is plastic.
Features
This is overflowing with features including a removable garnish tray that rests inside, carrying handle that can be placed out of the way when not in use, and the aforementioned reservoir that keeps melted water away from ice cubes.
Capacity
Nothing out of the ordinary here as this is capable of holding 3.1 liters of ice and drinks. Again, this may not be a suitable size for certain consumers.
Accessories
In spite of every criticism that has been aimed at tongs in this guide, the included pair here is actually quite sufficient as it is thick enough to actually pick up the ice.
Overall
Give credit where credit is due because OXO took a chance with this design. Despite a few issues here and there, it is still worthy enough for consideration.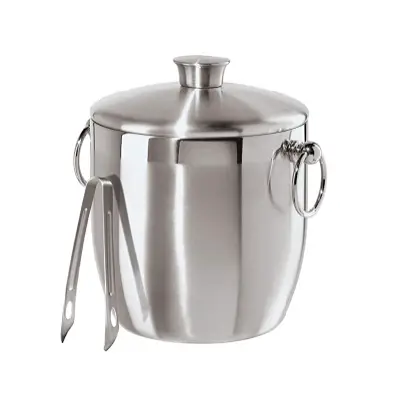 Oggi is right back on this list and while this model is not quite as good as their other one, they still are the only designer to show up more than once on this list. Not bad, all things considered.
Read more
Effectiveness
With the double wall insulation, it is fair to assume that the interior ice can last up to five to six hours without melting (which is pretty good).
Materials
Although this is comprised of stainless steel, there have been a few consumers who have pointed out that it is neither the thickest nor the heaviest out there.
Features
Now, Oggi does not include a strainer with your purchase. However, they do implement side rings that make the unit much easier to move when it is full.
Capacity
Being able to hold three liters, in regard to the capacity, this is neither tremendous nor awful (just decent to good).
Accessories
Okay, so steel tongs are included for your convenience. Yet, ironically, for your convenience, you may want to pick up a much better scooper or similar tool.
Overall
This is a perfect example of a product that has much more good than bad. But, that "bad" is enough to make you question it. Then again, despite its thinness, it is double walled so remember that.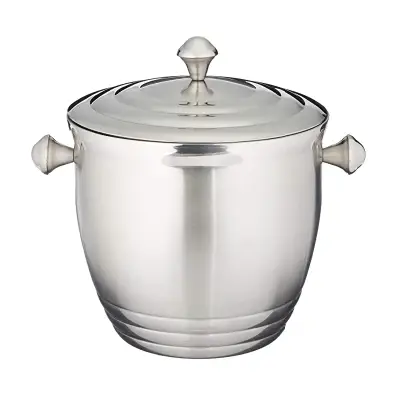 Instead of having a handle integrated over the top of this unit, Lenox designed it with small knobs on the side that act as the handles. While not for everyone, this is definitely a high-quality design.
Read more
Effectiveness
Would it really surprise you at this point to know that this is double walled? Probably not so, let's move on.
Materials
The one-two punch for most of these ice buckets is double wall insulation and stainless steel. Well, this has that exact same one-two punch.
Features
For a bit of elegance, the bottom of the base has understated rings. Now, for actual functionality, there are included knob handles on the side for transport.
Capacity
Buyers around the world still feel like this is small and one of the main reasons why is the lid does not fit flat on the inside. To the point where the lid would fall off, you can hold 3.5 quarts of ice, though.
Accessories
Lenox simply provides you with their ice bucket and that is it. There are no included tongs or a scooper, which is a bit disappointing.
Overall
Due to the capacity and overall performance, it is safe to assume that some of you will find this extremely compelling. Others who are looking for a total package, however, will be disappointed.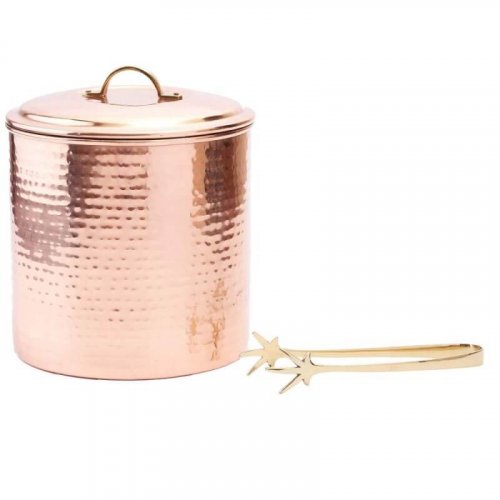 For those who know anything about copper, they know it is an excellent thermal conductor. But, do be aware that this still is made of stainless steel and is merely copper plated for aesthetics.
Read more
Effectiveness
To help keep the interior items cool for longer periods, this has been equipped with a removable liner with a draining plate.
Materials
It was just mentioned and yes, this is still made of stainless steel. But, with the hand-hammered finish of the copper plating, it certainly is "dressed to impress".
Features
There is certainly a lack of features here. While the exterior is coated with a lacquered finish for tarnish-resistance, some integrated handles would not have hurt anything.
Capacity
With a capacity of three quarts, you really know what to expect here.
Accessories
In reality, Old Dutch kind of dropped the ball with any sort of design features and accessories. They do include solid brass tongs but they are oddly shaped and are better served as an aesthetic than as a solution to picking out ice.
Overall
For certain, the appeal of this design comes down to your appreciation of copper. Thankfully, Old Dutch did that much right as their copper bucket certainly looks utterly fantastic.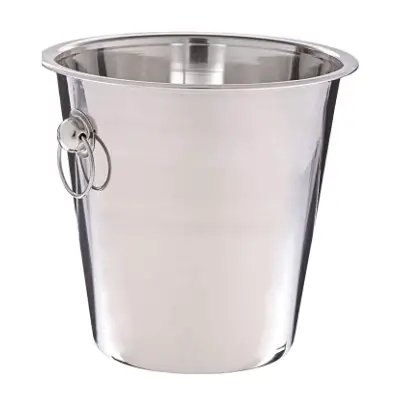 What is a bit ironic is that this is one of the larger designs on here but comes in at the bottom. With a bit more advancements in the engineering process, though, this could have changed.
Read more
Effectiveness
The main reason this is a bit cheaper in price is because it is not double walled. Plus, the single wall that is there is not that thick.
Materials
Due to the composition of the stainless steel, let's just say that you should not be trying to bang this around. If you do, it will most likely dent.
Features
To make this easier to carry around, there are integrated rings on the side. While not the best and most comfortable handles out there, they still make the transporting process easier.
Capacity
Surprisingly, the cheaper price is not indicative of the capacity. At four quarts, this can hold a good amount of ice. Plus, you can get this in packages of three or six.
Accessories
Other than being able to buy this in either a package of three or six, there are no other accessories to speak of.
Overall
Is the extra capacity worth only having one wall of insulation? That is a question only you can answer but due to the lack of insulation, this is not going to keep ice frozen as long as top-end models in the world.

Subscribe to our Newsletter