Best Combination Lock
In a Hurry? Editors choice: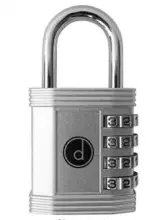 Test Winner: Desired Tools

How many times have you been locked out of somewhere because you either lost or did not remember the correct key? Chances are this is something that has happened numerous times to you. Could there be a better answer to avoid this annoying and inconvenient issue?

There could be, and the answer might be a combination lock. Unlike padlocks that utilize keyholes for access, combination locks are going to be opened via a code. Some models will be simple turn dials, and others will allow for custom and unique three-to-five digit codes.

Familiarizing yourself with the different types of a combination lock is going to be necessary. It is also important to understand just what you need to look for when you go out and buy the best combination lock. All this and much more will be presented to you today so let's get this show on the road.
Standout Picks
Criteria Used for Evaluation
Features
The main feature you need to keep an eye on is the combination system that is implemented.
When it comes to choosing the best combination locks, one of the most important considerations is going to be the actual combination system. For these types of padlocks, you can either buy those that come with pre-set combinations (dial locks) or those that allow you to set your own. The benefit to the latter, clearly, is that you can change the code at will.
But, not all of these models will be the same. You see, some will come with three digits, others with four, and some with five. The number of digits integrated will dictate the number of code combinations that are possible. And, while one or two figures would not appear to make that much of a difference, it actually will.
Just one more digit allows a four-digit code to have 10,000 possible combinations (when compared to only 1000 with a three-digit code). This is amplified even further with a five-digit system as there then becomes 100,000 different combinations possible.
If someone had the patience, they could probably crack a three-digit code with brute force. This is far more unlikely with four digits and all-but-impossible with five. All types can have their usefulness, though, but three-digit codes are not the best for securing treasured valuables.
Materials
Not only can certain materials make a combination lock more durable but they can also make it more secure.
The utilized materials have not only an impact on a padlock's durability but also its security. It does go hand-in-hand in this case. So, with that said, what are the most common materials that will be engineered to make these types of locks?
For the main body, you will typically either see zinc alloy or stainless steel. Both of these materials are suitable for a wide range of applications and are quite durable. Out of the two, stainless steel is overall the stronger metal. And, with the addition of chromium, stainless steel is also highly resistant to corrosion and rust.
Zinc alloy is no slouch, though, and is very strong in its own right. Zinc itself is quite a heavy element, and zinc alloy will be fused with other types of metals. These additional metals help to provide a layer of impact strength and corrosion resistance.
Now, as for the shackle, this will typically be made out of hardened steel. Given this is the area of the padlock that will be exposed, you do not want it to break very easily. Hardened steel refers to steel that has been heat-treated and tempered. This process dramatically enhances steel's durability and, in this case, its cut-resistance.
Ease of Use
Most systems will be easy to use but there are still some factors to consider.
Generally speaking, best combination locks are not going to be too tricky to use. With that said, there are also some factors that you do need to keep in mind. Firstly, ideally, you will want padlocks that are easy to actually open, as simple as this sounds.
The shackle of the padlock is what needs to open, as this is what you need to assess. While you do not need it to be utterly flawless in operation, it should not frequently become jammed and difficult to open every time you use it. It can happen, though, if you allow an un-weathered model to remain outdoors, for example, if you have an item of outdoor furniture in your garden.
Another thing to keep in mind is how easy the dials or numbers will be to move. For those of you with stubby fingers, it can sometimes be a little tricky to turn flush numbers. The best models will sport numbers that protrude just a little bit to combat this.
And, lastly, look for numbers and fonts that are somewhat easy to read. There is nothing worse than squinting your eyes every time you go to unlock your combination lock.
Use
Not all padlocks will be able to be used in all different situations so keep that in mind.
Even though most options on the market are going to be quite versatile in the manner in which they can be used, you can't assume that the model you go with will be ideal for your needs. This could come back to bite you in the behind. First and foremost, understand that there will be some combo locks that will be designed to stay indoors.
Thankfully, as there are a ton of models that sport stainless steel and zinc alloy cores, most of them will be suitable for outdoor use (though some less than others). Even though these two metals listed are resistant to corrosion, it does not mean they are immune to it. Metal corrodes, and there are no ifs, ands or buts about it.
Most manufacturers will indicate if their model is safe for outdoor use, though, so that is the good news. As for what you can use them for, this is where most will be very dynamic. Then again, their overall security will dictate how you want to use them.
After all, if you need a lock for your storage shed then you may want top-notch security. Meanwhile, a small padlock for your work locker may not require as much security. It just depends is all.
Color
While this section is not uber important, it can still play a role in your decision.
No, the color of your combination lock is not going to affect its performance even in the slightest. So, why also talk about a section like this, then? Look, when you strip everything else away, people are simple, and they will naturally be attracted to things they think "look good."
You are the same, no? Regardless, some sellers will design their locks in different colors. It is not something that all engineers are concerned with, but some care about simpler things.
As you saw in the above list, some sellers will allow you the pleasure of selecting your color (which will typically only be a few) and others will not (more on that later). Overall, however, it is also not as if this section should trump any of the other ones above.
Our Top Picks for the Best Combination Locks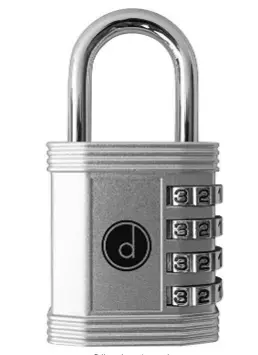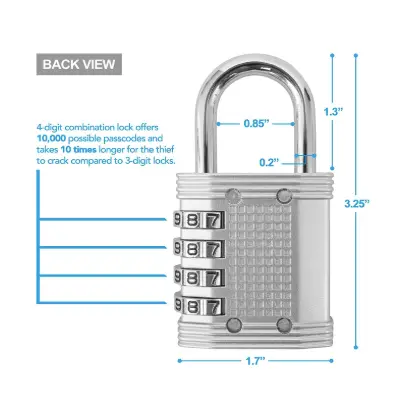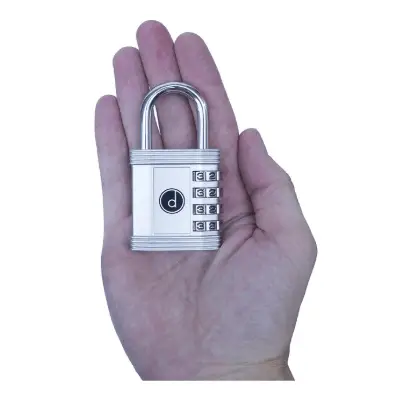 There is a reason why literally thousands of buyers around the world have raved about this particular number lock. It is one of the most secure, well-built and convenient locking systems out there.
Read more
Features
As this best combination lock is designed with four different digits, it allows for 10,000 unique code combinations. Also, to note, when you lock this padlock, the actual code needs to be set first.
Materials
For heavy-duty use outdoors, this is not the best option. But, with its weatherproof zinc alloy and plated steel construction, it can be used for light-duty tasks outdoors.
Ease of Use
In addition to the fact that setting and re-setting the combination is straight forward, the numbers themselves are straightforward to read. This will make things even easier for you.
Use
As noted, this can be used outdoors, but it is designed to be used indoors. From lockers to storage boxes to fences, though, it can be used for a variety of different applications.
Colors
An added bonus is the fact that you can select the color you desire. You have a few different choices, and they are red, silver, green, black, and blue.
Overall
It is not too hard to see why so many users have raved about this padlock. In addition to its fantastic convenience, it is also one of the most secure options out there.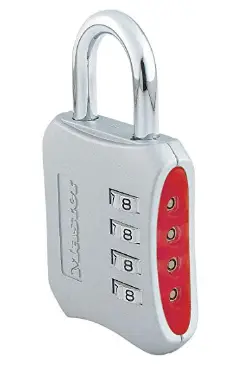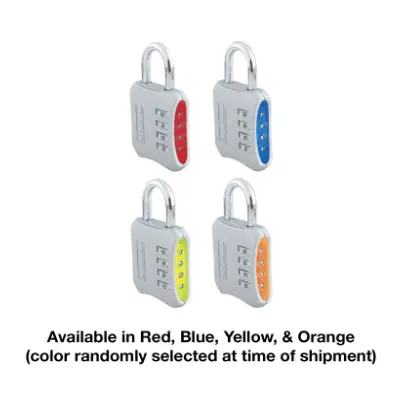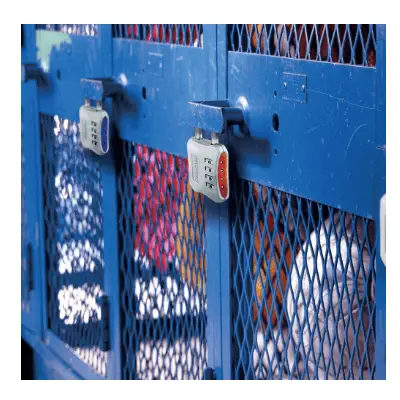 When it comes to making combination locks, Master Lock is just a step ahead from their competition (omitting the previous entry). Their 653D locking system is one of their best and easiest to use.
Read more
Features
As with the last one, you actually have to set the code in order to lock this. As for the code, there are four digits that are available.
Materials
To offer enhanced resistance against sawing and cutting, the shackle has been made of hardened steel. Oh, and as for the main body, it is constructed out of metal.
Ease of Use
Overall, this is incredibly easy to use thanks to the non-slip grip and the easy-to-use and easy-to-maneuver dials.
Use
This is advertised as an indoor combination lock so you should probably not use it outdoors (at least in the rain). As for indoor use, it can be used to secure virtually anything.
Colors
Now, even though this is available in a few different colors, the color you get is actually randomly selected upon shipment. So, you have no control over it.
Overall
About the only reason, you would want to pass on the Master Lock 653D is if you need a padlock for heavy-duty outdoor uses. For anything indoors, this is as good an option as any.

3

. Delswin Combination Disc Padlock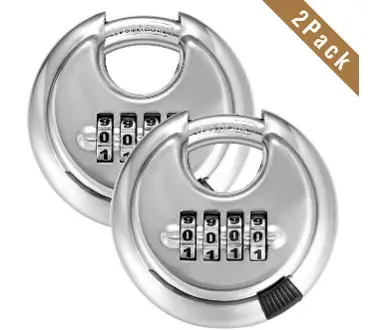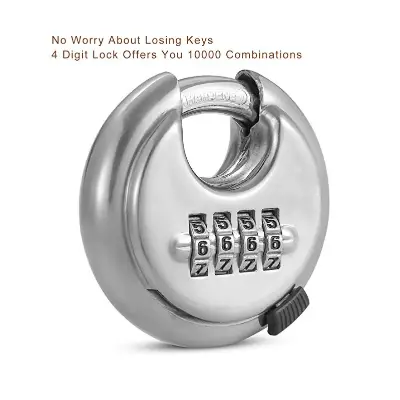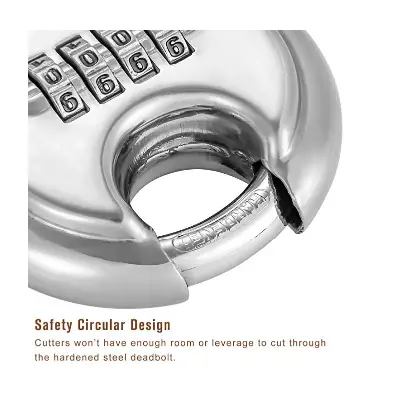 What makes this different is the fact that it is a disc padlock. Basically, the shackle is almost hidden and this minimizes its exposure. This simply adds another layer of security that you can depend on.
Read more
Features
To make it harder for thieves to crack your code, this has been engineered with a four-digit dial. With this in play, there are 10,000 different combinations that you can choose.
Materials
Due to the main body that is comprised of stainless steel and the hardened steel shackle, this is suitable for outdoor use. Additionally, the round shielded design actually helps to minimize how exposed the shackle is.
Ease of Use
The locking slider itself is not the best but, overall, this is still very easy to program, so to speak. You should not have too many issues with it.
Use
Alright, so the opening is a little narrow but this is still highly versatile regardless. The all-weather core makes this a suitable solution for both indoor and outdoor needs.
Colors
This simply comes in a straight silver appearance. As the main body is stainless steel, this does make sense.
Overall
What makes this unique is the rounded shield design as it adds another layer of security. It is also nice that it sports an all-weather design for ultimate versatility.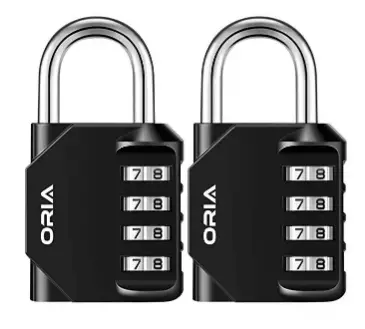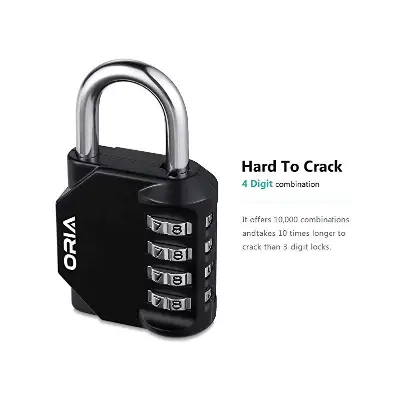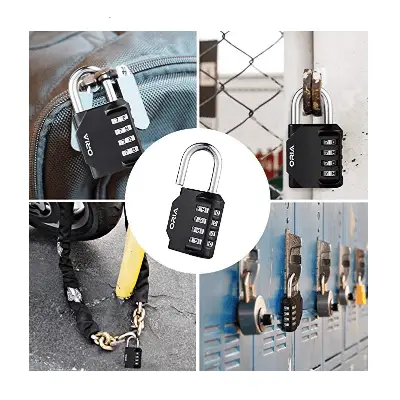 This is yet another incredibly popular locking system and it is quite versatile. With that said, it is not necessarily a padlock that you would use to protect some of your most precious valuables.
Read more
Features
Each of these combination locks that you receive (as this is a pack of two) comes with four different digits. This means that there is nearly an infinite number of combinations to choose from.
Materials
These padlocks are not exactly heavy-duty but they are designed of steel and zinc alloy. While they are weatherproof, the metal utilized is rather thin.
Ease of Use
To know exactly which number is set, there is a combo side window that is utilized here. It makes setting and re-setting your combination a breeze.
Use
For both indoor and outdoor light-duty tasks, this is going to work quite well. And, as for the actual hook, it measures 3.3 centimeters.
Colors
What is nice is there are actually some different color options available. You can choose between black, blue and green which is an added bonus.
Overall
No, this is not the most rugged of options out there but it is beyond one of the best combination locks. This is largely due to its combination of security and convenience.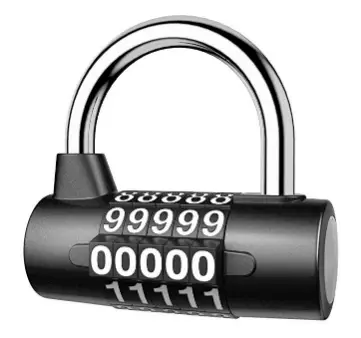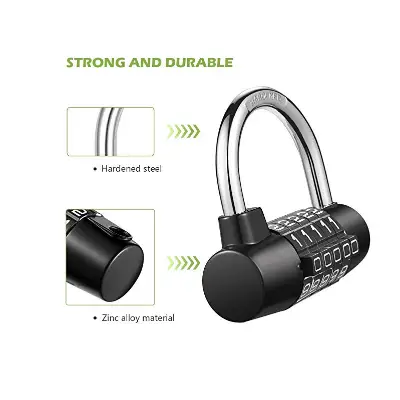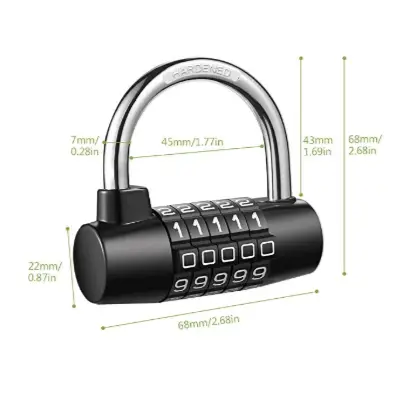 In addition to the compact nature of this model, it also comes equipped with five different digits. Adding simply one digit amplifies the potential lock combinations from 10,000 to 100,000.
Read more
Features
As noted, this is equipped with five different digits instead of just four. It is incredible how many more possibilities are at your disposal with the addition of only one more number.
Materials
The zinc alloy and steel central core of this lock holds up pretty well. It is weatherproof, and the shackle is made of hardened steel. With that in mind, some users have had durability issues.
Ease of Use
Due to the fact that the zero buttons have been raised slightly, it makes each number easy to set. The bright white font also pops out so you can easily see each digit with ease.
Use
In addition to the weatherproof design, which makes this suitable for outdoor use, the more massive lock ring also increases its versatility. As such, it can be used for more occasions.
Colors
While there are no additional colors to choose from, the baked varnish surface of this lock is quite striking in its appearance.
Overall
The compact nature of this lock, coupled with the additional digit makes it extremely compelling. Then again, it also means you will need to remember a five-digit code instead of a four-digit one.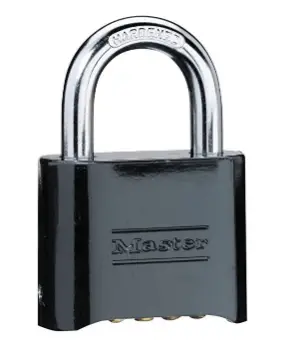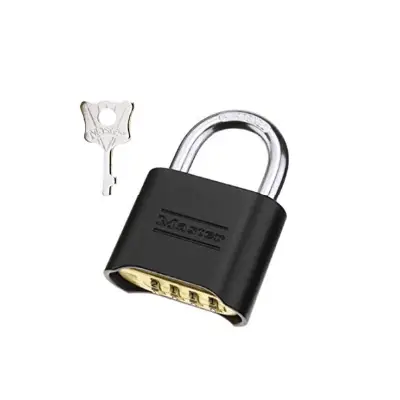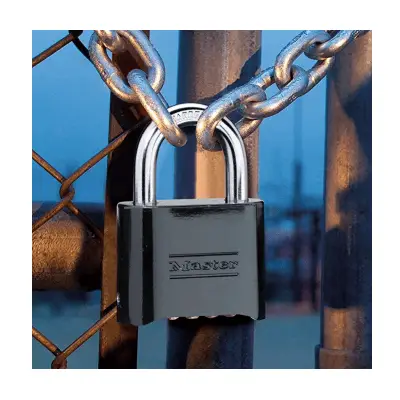 This is another one of Master Lock's most popular and beloved combination locks. It can be used both indoors and outdoors and the dials are located underneath the main body.
Read more
Features
As with many of the best combination locks on the market, the 178D comes equipped with four different dials. Thousands of combinations are available because of it.
Materials
The main steel body is quite durable, but it can corrode if you leave this outside. Additionally, this has been designed with a hardened steel shackle for enhanced cut resistance.
Ease of Use
For the record, a combination change tool is included for your convenience. However, it is hard to change one number at a time as there is too much friction between them.
Use
While this can still hold up great even if it corrodes (as it is designed for outdoor use), there is a risk of it happening if you leave this exposed to the elements. It also works great for indoor purposes, as well.
Colors
Master Lock does not sell this in any different color combinations. It just comes with the black metal body and the steel shackle.
Overall
Though the dials can be somewhat tricky to move individually, this is still an excellent design overall. It has also been trusted for its above-average security which is always important.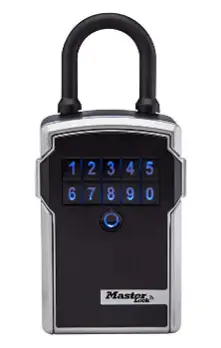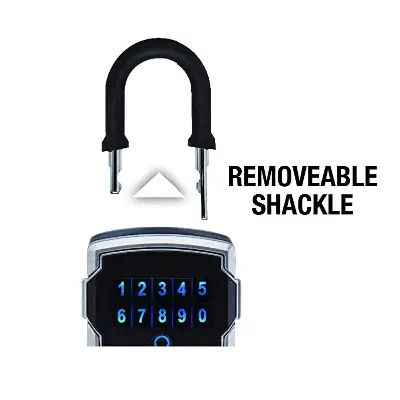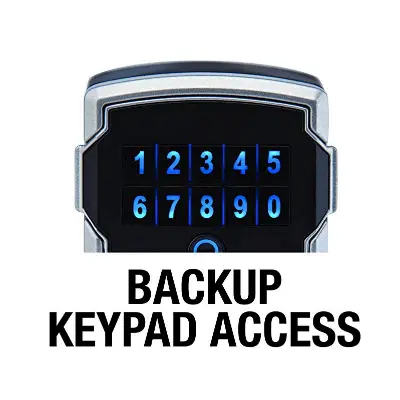 Alright, now this is a bit different. This is actually an electronic lockbox that can be used to store some of your smaller items (such as your keys). With the implemented keypad and Bluetooth technology, this is quite versatile, as well.
Read more
Features
While this can be managed with the compatible app, it can also be done with traditional code. And, within the app, you can set an unlimited amount of temporary codes.
Materials
Overall, this has a solid build, and the main body has even been coated for protection. Also, this lockbox is weather-resistant down to –40 degrees.
Ease of Use
The smart lock features, admittedly, could be a bit more user-friendly. It just takes some time to get used to them, but after a while, you will be more accustomed to it all.
Use
Honestly, this is best used as a storage container for some of your smaller (such as your essentials keys). And, it comes with a CR123A battery that can be replaced.
Colors
As this is an electronic lockbox, it only comes in the one color. It is quite sleek and stylish, though, so that is a plus.
Overall
This is technically a lockbox, but it also can work like a lock with a combination. It is quite versatile in its usefulness, and it is always ideal to own devices like this.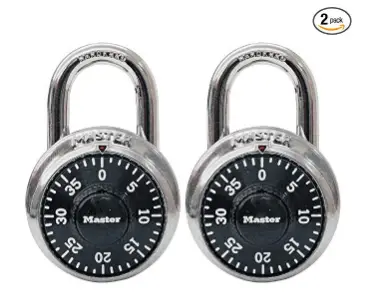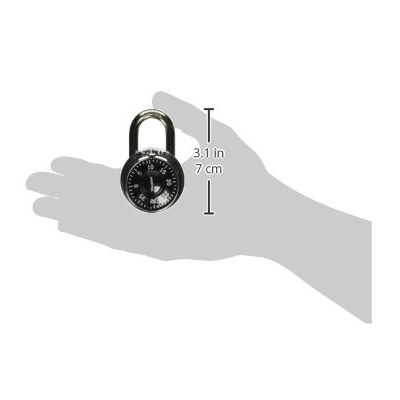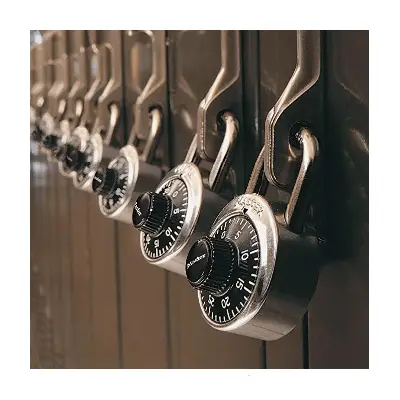 Sometimes, all you really need to get the job done is a simple and basic dial lock. With a preset three-digit combination all ready to go, this bad boy is as simple as it will ever get.
Read more
Features
Both of the padlocks will come with the same preset three-digit combination code. And, just to note, you can't change the combinations if you want to.
Materials
In addition to the hardened steel shackle for added strength, the locking mechanism sports anti-shim technology. This enhances security even more so.
Ease of Use
There is no way you can change the code so all you have to do with this padlock is rotate the dial correctly. But, the shackle is somewhat difficult to open.
Use
This is primarily designed for indoor uses. It is great for all types of objects such as lockers, high quality toolboxes, etc.
Colors
There really would be no reason to sell this in different color combinations so it makes sense that it is only offered in the one color.
Overall
With a pre-set combination and a rotating dial, this is a classic lock with a combination that is incredibly easy to use. While you can't change the code, it is not too big of a deal.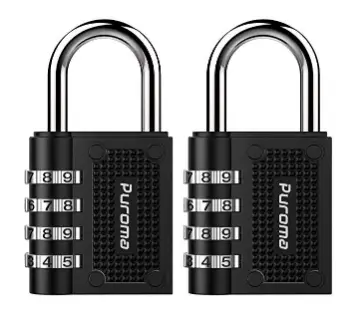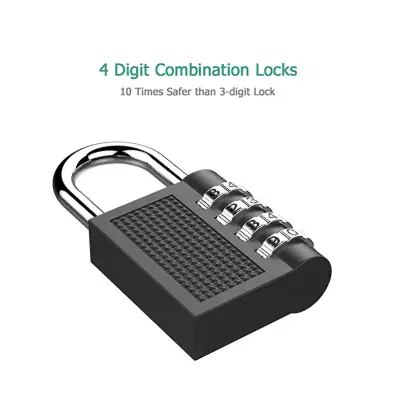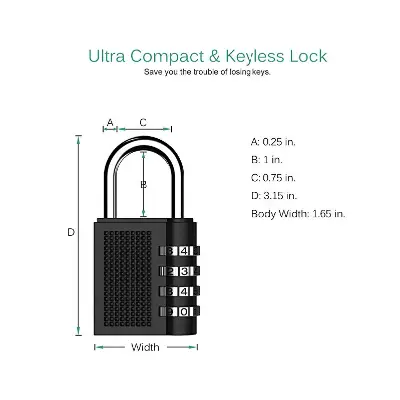 Attention to detail is on full display here as each side of this combo lock is designed with a different pattern. Also, with your purchase, you receive an extra lock for good measure.
Read more
Features
There is no real surprise here as each combo lock you are presented with needs to be set with a four-digit code for access.
Materials
With its solid zinc alloy and plated steel construction, the layman is not going to be able to break into this padlock very easily. It is not super heavy-duty but it is far from cheap.
Ease of Use
Though the included instructions could have been clearer for setting your code, it will not be something that a lot of you will struggle with for too long. Plus, it will become easier over time.
Use
Small and compact, this is going to work very well for light-duty uses. For example, it could secure your sports or school gym locker. It can also work great for toolboxes, cases, and other such objects.
Colors
What is rather interesting is each side of this padlock is textured differently. This was done to meet the demands of more users and it is quite ingenious overall.
Overall
For the price and what you get, it is really hard to complain too much about this option. Just know that it is probably not going to be able to handle heavy-duty tasks.

10

. BV Luggage Travel Lock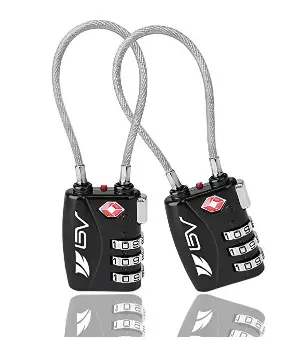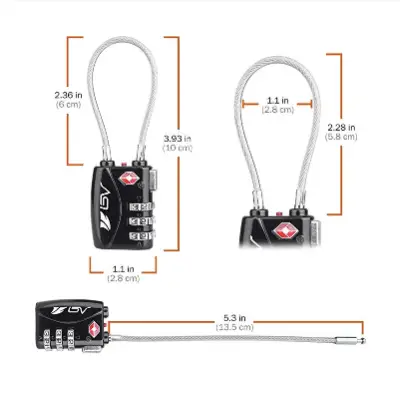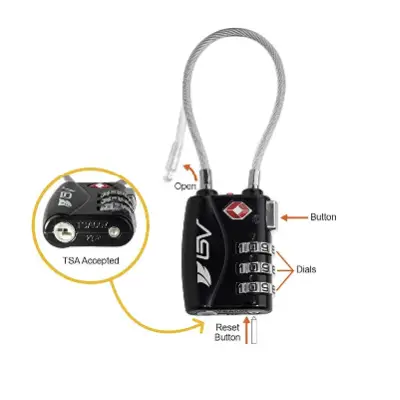 Right away, what makes this combination lock special is that it is TSA accepted (more on that later). Due to the design, though, this is best used to stop people from taking some of your stuff that is actually in your presence.
Read more
Features
Unlike some of the other models on this list, this is only equipped with three different digits. Thus, you only have 1000 possible combinations to work with (which is still a lot).
Materials
Nothing out of the ordinary here as this is equipped with a steel and zinc alloy main body. This adds a layer of durability and much-needed security.
Ease of Use
To reset this lock, you need to hold down the reset button (which is on the bottom of the lock) while you change the dials. However, if someone knew how this sucker operated, they could change the code to anything they wanted.
Use
As noted, this is TSA accepted and that means that it can be unlocked and relocked by TSA agents. Now, going back to the reset button, this lock is best used for situations where you are around it.
Colors
There are actually three different color choices to choose from, which is an added bonus. You can select between black, red and silver.
Overall
Really, this TSA accepted travel lock is not secure enough to protect some of your most important valuables. It can be nice for your luggage, though, to prevent any thieves from quickly getting inside of it.

Subscribe to our Newsletter