Best Bluetooth Tracker
In a
Hurry? Editors choice: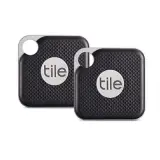 Test Winner: Tile Pro

Before stepping out of the house every morning, you make sure that you have your keys, wallet, and phone before shutting the door behind you to start your day. However, getting to that point when you are in a rush can be a little maddening,
especially for the forgetful
or disorganized. In this guide, you can find our picks for the best Bluetooth trackers so you no longer have an excuse to be late!
You have a way to locate your phone when it has gone missing, so why not have that same function for your other important personal items such as your wallet and keys? A good Bluetooth tracker is the best way to ensure that you always know where all of your important belongings are, even on those long days where you placed your car keys in the bottom of the silverware drawer for some reason.
Standout Picks
Criteria Used for Evaluation
Style
Since it is something that is going to hang off of your keychain or purse, we wanted to make sure that we found something that is going to look good.
We were drawn to designs that allowed the user to select from a variety of different colors. Colors not only add a little bit of style but if you are buying more that one unit they also will help to keep organized. Looks aren't the only thing that we looked at regarding the frames of these devices, we also made sure that it was equipped to be carried a variety of ways. For instance, many designs have a loop on one of the corners that would allow for a chain to be pulled through so that you could attach it to a purse of a suitcase (and some companies even offer the chain with purchase). If a design doesn't have that loop, it means that you are going to have a little bit of trouble when it comes to fastening it to your gear.
Connectivity
Another thing that we considered was how far you could wander off before your phone loses connection with your device.
For many, the range varied from impressive to very minimal. On the higher end of the scale, users could wander about 120-180 feet from their phone before the signal would drop. On the shorter end, users will only be able to travel up to 20 feet before they have trouble finding a signal. It is important to note that there is going to be a difference in ranges depending upon whether you are inside or whether you are outside. Indoor ranges typically cap out at about 100 feet, while outdoor ranges can reach distances of up to 200 feet on some of the higher-end designs. If you live in a tiny apartment in the city, you might not need to worry at all about the various ranges of these devices at all, and therefore can settle for a more affordable option.
Ease of Use
Everyone likes a product that is able to be removed from the box and set up without the need of consulting an instruction manual and that is precisely what we looked for.
We wanted to select designs that were going to be able to be set up in a snap and would be pretty easy to use on the regular. One way to ensure that it would be easy to use was to look for an associated app. Typically when companies utilize an app to work their products, it means that there is going to be a designated interface that users can interact with, and that it is going to be far easier to control than dealing with the setup menu in your phone. Another thing that we kept our eye on when it came to these products is we took a look at what past users had to say. If there were an overwhelming number of users that felt a device was too complicated (or stubborn) to sync to their phone, we typically moved on to the next product.
Size
Size is going to determine where you are going to be able to place this product, whether it be inside of a wallet or on a keychain.
For the most part, these devices are pretty small. On average, they measure to be about .2 inches thick, and just over one inch long and one inch wide. Thickness is something that you want to consider because there are a lot of users that like to tuck these products into their wallets or into very small slit pockets in their gear or purses. Anything over .2 inches is going to be just a little bit too bulky to fit inside of your wallet. Small and compact is good, but for some, it doesn't always mean that it is better. It is important to keep in mind that larger objects are easier to see, and often they are able to produce much louder sounds. If you need something that is really going to make sure that your keys are never lost ever again, bigger might actually be better in that case.
Value
We wanted to be able to save you a little bit of money when we could, but we didn't want to select designs that weren't going to be effective.
The good news here is that even some of the big-name products (such as Tile) come in at a really affordable price point. A lot of the better values for many of these products often come when users buy a pack of more than one. If you need something for the family, or you just need to keep tabs on everything that you own, buying in bulk, in this case, is going to save you quite a bit of money. On average, one singular device is going to set you back around the same amount that you would spend on a large take out pizza. On the lower end of the price scale, some units will only set you back the same amount you would spend on a few cups of coffee. It is important to keep in mind, however, that the more affordable options often don't have the same range as some of the more expensive options.
10 Best Bluetooth Trackers
Subscribe to our Newsletter