Best Navigation Apps
In a Hurry? Editors choice: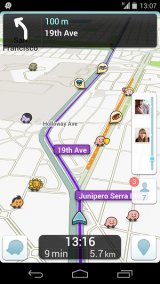 Test Winner: Waze GPS

Whether you are backpacking to solo traveling through North America or looking for a place to stop and eat while adventuring through Europe having
your smartphone is essential
to finding your way. Making sure you know where to go and how to get there is crucial when it comes to not knowing the country you are in or even the language the locals speak. In order for you to get around safely, you will need navigation apps to direct you through towns.
Making sure you stay on route and have a good idea as to where you are heading is important. There are several different navigation apps and a variety of ones that will help you. Below we have listed the top ten best navigation apps in the market today and included details for each app to help you decide which one
suits your needs and phone best.
Standout Picks
Criteria Used for Evaluation
Top 10 Picks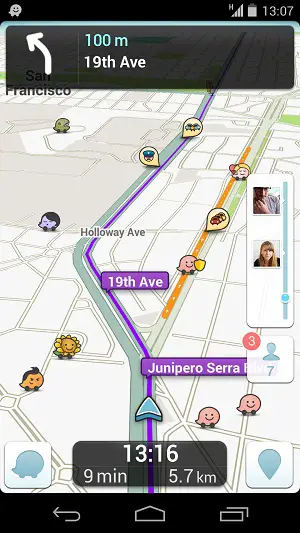 Honestly, there is only one small drawback that prevents Waze from being perfection. It will lead you in the right direction every single time and is loaded with features to use.
Read more
Versatility
Waze is not a U.S-only application and it will work anywhere in the world. It is very customizable featuring different voices, languages, and metric options. Speaking for GPS capabilities, all free of charge, you receive the fastest routes to every single destination you want to go to. When traffic conditions arise, Waze will also automatically reroute away from it. Besides this, it will smartly detect and avoid accidents, police traps, and traffic jams. It is not only a terrific navigation app, but it is also a great driving app, in general. The fact that it is free of charge only makes it better.
Ease of Use
To keep you focused on the road, you can hear audio road directions and also record your own directions. Waze will also give you the option of whether or not to route to toll roads, in addition to recommending to you parking suggestions when you arrive at a crowded destination.
Compatibility
This app can also be run for Android Auto, which allows you to see the interface on the car's display. All you need to do is connect your smartphone to your phone and begin driving.
Advanced Features
When you need to leave an area at a certain time, you can pair Waze with your calendar and it will notify you when it is time to go. Plus, if you exceed the speed limit, you will hear a sound alert signaling you to slow down.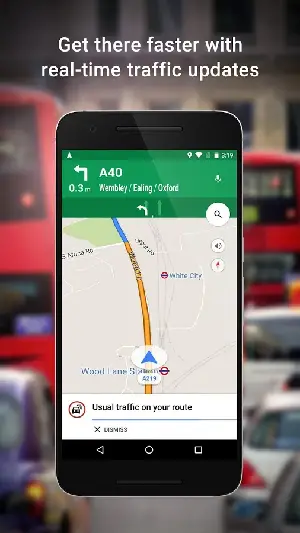 Google Maps is the most popular GPS application in the world, bar none. Guess what, there is a reason for this. Its incomprehensible amount of usability makes it perfect for everyone.
Read more
Versatility
This app is very customizable and with real-time updates, you can rest assured you will arrive at your destination as quickly as possible every single time. Based on live traffic, Google Maps will re-route you. In addition, lane guidance will ensure that you are aware of an upcoming exit or turn. Google Maps more than lives up to its insane amount of praise with its plethora of functionalities and usability.
Ease of Use
Sometimes, it is necessary to have directions inside of a location. With this app, you can view a detailed street view and indoor imagery of certain restaurants, malls, stadiums, shops, airports, museums, etc. To prevent you from using data or needing a Wi-Fi connection, you can utilize this app without accessing the internet. For added use, there are comprehensive maps covering over 200 countries, over 15,000 cities, and over 100 million locations.
Compatibility
You can save the locations and places that you frequently visit or want to visit. Then, you can easily access them on any device, phone, and computer.
Advanced Features
To allow others to see the epic adventure that you are on, you can share photos, reviews, and more. For extra precaution, you can also search through Google Maps to find out when certain restaurants are busy and even to make a reservation.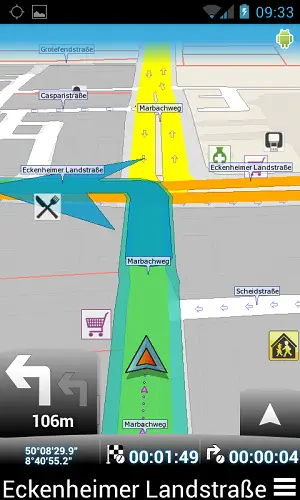 Despite it not taking the top spot on this list, the MapFactor GPS app easily could have. It just so happens that Google Maps and Waze exist! With very few flaws to speak of, though, this application is nearly just as great.
Read more
Versatility
MapFactor is a turn-by-turn GPS navigation app with free GPS maps from OpenStreetMaps and postcodes. This provides a wide range of maps with in-depth instructions. To allow for a realistic viewing of maps, there is both a 2D and 3D mode and different color schemes depending on the time of day. As a GPS app, it is hard to say anything bad about this. The only minor deficiencies present have nothing to do with its accuracy.
Ease of Use
For safety and convenience, there is intuitive voice navigation that will keep you on the right track. To adapt to a wider range of people, it comes in a plethora of different languages. Cross-border routing is also implemented to prevent the need to switch between countries.
Due to the maps and postcodes being installed directly on to your device, you do not need an internet connection to enjoy the pleasure of this app.
Compatibility
In addition to this, MapFactor also makes navigation software for computers that also have the same postcodes and free maps.
Advanced Features
When heading towards your destination, you can block certain roads. You can also add customized routes and locations for easy routing in the future.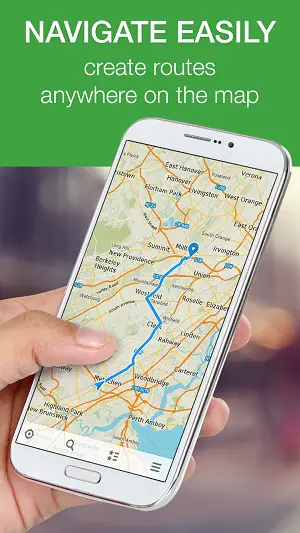 Maps.Me is as reliable and convenient as any navigation app that you will find. With its offline use, wide usability across the globe and free price tag you really can't go wrong here.
Read more
Versatility
No matter where you are in the world, you can utilize the walking, cycling, and driving navigation that this navigation app provides. All in the meanwhile, your points of interest are incredibly detailed so you know exactly where you are going. Plus, when you are running or cycling, Maps.Me will display if the terrain is uphill or downhill.
Ease of Use
Every single map you use is free and it always will be. In addition to this, there are online city traffic maps that you can check out to see updated traffic information and driving routes.
It is not only available worldwide but also when not connected to a Wi-Fi point or by using data. The maps and all the navigation tools can be viewed offline so no internet connection is required, however, you must plan ahead and download the maps over a data or wifi connection before you use the maps offline. Maps.Me provides nothing but pure convenience. The fact that it is free of charge and can be used offline is the icing on the cake.
Compatibility
While not too detailed in this space, you can share your location via text message and social media with this app. This app is compatible with both iPhone and Android devices.
Advanced Features
Besides navigation, you can also search through different types of categories such as hotels, tourist attractions, and restaurants. Plus, you can make hotel bookings directly from this app via Booking.com.

5

. Here WeGo Offline Maps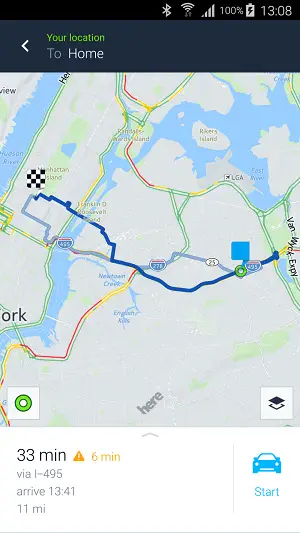 Having a navigation app that gives you directions is one thing, but then there is the Here WeGo app which shows you the best way to get around and will compare the best routes available.
Read more
Versatility
It may not be at the head of its class, but this class has too many elite students to compete with. In other words, Here WeGo is absolutely fantastic. Before you even head out on your adventure, Here WeGo will inform you about your intended route. For the best route, possible, it will also give you multiple options to select from and will compare the different directions for you.
Ease of Use
To ensure a safe and easy drive while utilizing this app, it has a built-in voice guidance system. Plus, if you ever take public transit, you will never miss a transfer as the voice guidance system will guide you every step of the way. It does not matter if you have an internet connection or a smartphone signal, you will still be able to function in this application. In addition, there are offline maps for more than 100 countries around the world.
Compatibility
You can set up your own Here account on any smartphone and then, you can save and store your favorite locations and access them wherever you go.
Advanced Features
With assistance from outside sources, this application can provide you with information about bars, restaurants, pharmacies, gas stations, ATMs, and more.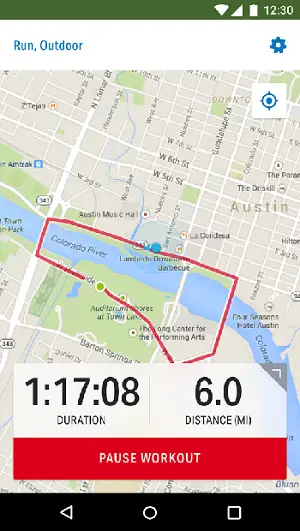 The Komoot app is not the only great hiking and cycling navigation application, as Map My Hike is fantastic in its own right. While not everything inside the app is free, it still makes for a great companion.
Read more
Versatility
With the ability to log over 600 different activities, this navigation app is perfect for sports enthusiasts. These activities include cross-training, gym workouts, running, cycling and walking. If you use this application for its intended use, you will not be disappointed. When traveling across the United States in your car, this may not be for you. However, it is ideal for hiking and fitness aficionados.
Ease of Use
On every single hike that you track with GPS, you can receive customizable voice feedback on a plethora of statistics including elevation, route, and distance. As for accessibility, it has been a theme for the great apps on this list and Map My Hike is no different. There is no need for an internet connection as this application can function while being offline.
Compatibility
To analyze all your data, favorite paths, nearby places of interest you can connect with over 400 different devices.
Advanced Features
When you add your running shoes and track the mileage with Gear Tracker, you can get notified when it is time for a new pair. Past the free experience, you can also upgrade to a premium version to eliminate any ads from popping up.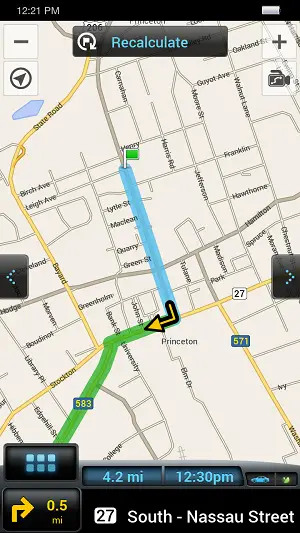 CoPilot is another application that offers in-app purchases to further your experience. At its core, though, it is a tremendous navigation source that will assist you on the road.
Read more
Versatility
With clear driving views, simple to read instructions, and detailed and informative maps, you can be certain that there will be no confusion on where your next route is. For extra precaution and planning, you have a choice of 3 routes and up to 52 stops. Finally, its CoPilot feature is very intelligent and will properly optimize each route to conclude the most efficient way to go.
Ease of Use
For the first seven days, you can enjoy a voice-guided navigation system. After this, you can purchase premium navigation to enjoy this feature forever and always. When you use this app, the maps are stored directly on your device. As long as your device has power, this app will function. There is no need to worry about being trapped in areas with no service, as you do not need data or an internet connection.
Compatibility
A recent update optimized the display of the interface for ultra-widescreen smartphones such as the Samsung Galaxy S8 Plus. However, this app works with all smartphones.
Advanced Features
Past its use for directional navigation, you can also quickly find restaurants, airports, gas stations, and more. It is not perfect and the fact that you have to pay for the voice navigation is a bit of a letdown, but it still remains a terrific choice thanks to its GPS navigation capabilities.

8

. Komoot Cycling and Hiking Maps


Komoot is a perfect navigation app for hikers and cyclists, hence its tagline. A slightly messy interface aside, there is nothing but quality here.
Read more
Versatility
On hikes and bike rides, receive the best routes possible. Whether you want silent cycling paths for touring, smooth pavement for biking or certain types of trails for hiking the information is right at your fingertips. Non-hikers and bikers should probably go another direction, but it could not be better (outside of the interface) for its intended purpose.
Ease of Use
With a turn-by-turn voice navigation system, you can always keep your eyes ahead of you. Never feel the need to look down as the Komoot app will guide you via voice instructions every step of the way. With one tap, you can download any planned outdoor adventures and maps. During your adventure, you also don't need to concern yourself with a stable Wi-Fi connection as this will function without the internet.
Compatibility
The Komoot app is very diverse in that it will automatically sync your photos, tracks, and routes across all your devices. This could include another smartphone, tablets, computers and Android Wear.
AdvancedFeatures
To share and store your experiences for future use, you can track your rides with the GPS. Then, you can construct a personal log and save them for private use.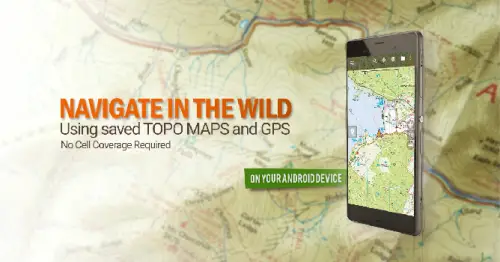 BackCountry Navigator takes us back to the basics and even though it is in the bottom half of this list, it is still more than worth an install.
Read more
Versatility
The choices are available for you to use waypoints from GPX and KML files, or to simply enter your own coordinates. Either way, the maps are very useful when navigating off-road and shows the terrain through colors and contours. This also makes it perfect for backpackers, hikers, and hunters. Besides the ability to create custom coordinates, you can also create your own maps with the Mobile Atlas Creator. If need be, and you do not want to mess with it, you can also settle for specifying a custom tile server.
Ease of Use
When you download this app on your phone, the GPS inside will track your position from satellites. Thus, you will not need to rely on a data plan or an internet connection to run this application. It is not without its minor flaws, but they can't outweigh the amount of convenience and usability that is present here.
Compatibility
Just recently, the developers added Android Wear support. With this, you can see the information from this app with a simple glance at your wrist.
Advanced Features
Inside the actual app, itself you can find items and features that can be purchased. One such feature is the Accuterra Topo Map Source (providing more detailed information) which can be used in place of the free sources.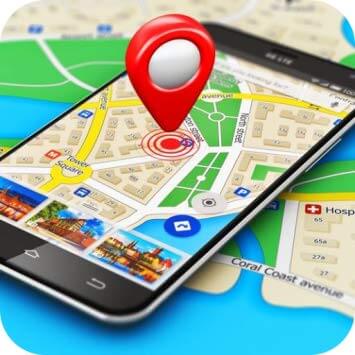 WeLoveMaps is a name you are probably are familiar with and maybe besides Google Maps, is the most recognizable navigation software in the world. While that does not mean, it is the best, it is still an above average and well-known application. Your smart device does require Wifi in order to use and access directions.
Read more
Versaility
For the most accurate and precise directions possible, these features live vector maps and up-to-date satellite imagery. Plus, it has real-time traffic conditions and road closures to allow for automatic re-routes and alternative options. You are able to view cycling maps, weather maps, walking maps and trails, public transit for buses, trains and subway stations, as well as road maps with detailed traffic information.
Ease of Use
The most convenient feature this provides is the ability to listen to voice-guided, step-by-step instructions. However, note that this feature is only available in certain countries. Unlike the other apps on this list, this app does require an active data connection to work. Without cell towers, it will not load new maps and is not able to store maps as it requires to be connected to wifi at all times.
Compatibility
With the corresponding Android or Apple app, you can receive these directions on-the-go.
Advanced Features
In situations where you need to get to the desired location more than once, you can save any addresses for future use. In addition, you can save money by comparing different gas station prices. Requiring a cell tower for proper use hurts this application a little, but it does not ruin it. When you are able to utilize it, its advanced GPS capabilities and convenience make it more than worth a download. It also even has Wikipedia articles as well as weather maps to help you learn more about new locations you are visiting in and to help you get around safely.

Subscribe to our Newsletter