Best Inline Skates
In a
Hurry? Editors choice: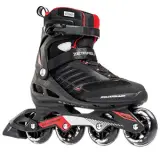 Test Winner: Zetrablade

Inline skating has grown increasingly popular because of both entertainment and fitness reasons. If you're new to the sport; you will find it tricky at first but you will love it even more, once you experience some of the benefits associated with it. Some people use inline skating to lose and
keep off extra weight
. Skating helps to burn approximately 360 calories hourly. It turns fat into muscles as well and helps increase your core strength. Inline skaters also tend to have better coordination, agility, and dynamic balance, to mention a few. It's an excellent way to cross-train and improve your overall skills, especially when using the best inline skates.
The fact that it's a social activity makes it more fun because you can skate with friends, family, or even at competitions and events. In fact, athletes who enjoy inline skating tend to become better at what they do.
Standout Picks
Criteria Used for Evaluation
Size
The wrong fit will throw you off your game.
Even though picking out a pair of skates seems easy, it's actually more complicated than buying your average shoes. You need to be cautious because there's no guarantee that your shoe size is the same as your skating size. Not all manufacturers adhere to that assumption. In fact, some of them use utterly random sizing. You could be a size 8, but the company chart classifies you as a size 9 or higher. Fortunately, some brands offer charts and guidelines on how to compare their sizing to your real foot size.
A good pair of inline skates should fit you properly, for safety reasons. Many hazards come with wearing ill-fitting skates. First, your performance will be subpar. Reason being, you won't be able to do your best when your feet are always sore. Heavy skaters will have it worse because they will feel such impact twice as much. If you wear skates that are too large for your feet, you won't get the right kind of support. Don't be in a rush to buy a pair, until you're sure that you are getting the proper size.
Compatibility
Choose appropriate skates.
There are inline skates for every skill level. They are generally classified into beginner, intermediate, and advanced levels. You should pick out a pair that you are capable of handling. If you are a beginner, make sure you choose a pair that is user-friendly and offers enough support. Most recreational skates fall under this category. Beginners who carelessly purchase or put on random skates might end up in harm's way. You want to avoid speed skates and low cuff options if you are new to the sport. The risk of falling and injuring yourself is too high with such skates.
Intermediate skaters have the luxury of using beginner level skates or performance skates. The enhancements on such skates will offer a challenge in terms of speed and use. Professionals have the freedom to wear whichever skates they choose. They are people who have mastered the sport and can handle different speeds and at times terrain. The best kinds of skates for such users are high-speed alternatives with low or non-existent cuffs.
Comfort
Comfort equals convenience
You first have to ensure that you get the right fitting skates if you want to be comfortable. The skates could be well made, but if they are too small or too large for you; you won't be comfortable. Well-ventilated options will have your feet feeling dry as you move around. You should also make sure that the skates can provide you with the right amount of support. Such skates won't make you feel as if you're straining, especially if you are a beginner. The skates also need to be light as well. If they are heavy to lift, there's no way that you will find the sport relaxing. You will always feel fatigued several minutes in. Lastly, buyers should ensure that their potential skates are well padded and cushioned. Comfortable skates will let you properly ease into the sport and have fun while at it.
Features
Identify what works for you.
Features will help you determine whether the skates are suitable for you or not. The wheel size will often give you an idea of the type of person who is best fit to use the skates. Big wheels are faster, hence appropriate for pros. Small wheels are slower, and the best for beginners. High cuffs offer stronger support, while lower cuffs are excellent for pros because of the freedom of movement they provide. Low deck heights are more stable and appropriate for beginners. The opposite is true for higher deck heights. Other essential features include bearings, wheel type, frames, closure systems, and overall shoe design.
Subscribe to our Newsletter