Best Inline Skates
In a Hurry? Editors choice: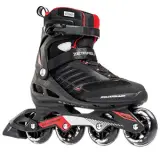 Test Winner: Zetrablade

Inline skating has grown increasingly popular because of both entertainment and fitness reasons. If you're new to the sport; you will find it tricky at first but you will love it even more, once you experience some of the benefits associated with it. Some people use inline skating to lose and
keep off extra weight
. Skating helps to burn approximately 360 calories hourly. It turns fat into muscles as well and helps increase your core strength. Inline skaters also tend to have better coordination, agility, and dynamic balance, to mention a few. It's an excellent way to cross-train and improve your overall skills, especially when using the best inline skates.
The fact that it's a social activity makes it more fun because you can skate with friends, family, or even at competitions and events. In fact, athletes who enjoy inline skating tend to become better at what they do.
Standout Picks
Criteria Used for Evaluation
Size
The wrong fit will throw you off your game.
Even though picking out a pair of skates seems easy, it's actually more complicated than buying your average shoes. You need to be cautious because there's no guarantee that your shoe size is the same as your skating size. Not all manufacturers adhere to that assumption. In fact, some of them use utterly random sizing. You could be a size 8, but the company chart classifies you as a size 9 or higher. Fortunately, some brands offer charts and guidelines on how to compare their sizing to your real foot size.
A good pair of inline skates should fit you properly, for safety reasons. Many hazards come with wearing ill-fitting skates. First, your performance will be subpar. Reason being, you won't be able to do your best when your feet are always sore. Heavy skaters will have it worse because they will feel such impact twice as much. If you wear skates that are too large for your feet, you won't get the right kind of support. Don't be in a rush to buy a pair, until you're sure that you are getting the proper size.
Compatibility
Choose appropriate skates.
There are inline skates for every skill level. They are generally classified into beginner, intermediate, and advanced levels. You should pick out a pair that you are capable of handling. If you are a beginner, make sure you choose a pair that is user-friendly and offers enough support. Most recreational skates fall under this category. Beginners who carelessly purchase or put on random skates might end up in harm's way. You want to avoid speed skates and low cuff options if you are new to the sport. The risk of falling and injuring yourself is too high with such skates.
Intermediate skaters have the luxury of using beginner level skates or performance skates. The enhancements on such skates will offer a challenge in terms of speed and use. Professionals have the freedom to wear whichever skates they choose. They are people who have mastered the sport and can handle different speeds and at times terrain. The best kinds of skates for such users are high-speed alternatives with low or non-existent cuffs.
Comfort
Comfort equals convenience
You first have to ensure that you get the right fitting skates if you want to be comfortable. The skates could be well made, but if they are too small or too large for you; you won't be comfortable. Well-ventilated options will have your feet feeling dry as you move around. You should also make sure that the skates can provide you with the right amount of support. Such skates won't make you feel as if you're straining, especially if you are a beginner. The skates also need to be light as well. If they are heavy to lift, there's no way that you will find the sport relaxing. You will always feel fatigued several minutes in. Lastly, buyers should ensure that their potential skates are well padded and cushioned. Comfortable skates will let you properly ease into the sport and have fun while at it.
Features
Identify what works for you.
Features will help you determine whether the skates are suitable for you or not. The wheel size will often give you an idea of the type of person who is best fit to use the skates. Big wheels are faster, hence appropriate for pros. Small wheels are slower, and the best for beginners. High cuffs offer stronger support, while lower cuffs are excellent for pros because of the freedom of movement they provide. Low deck heights are more stable and appropriate for beginners. The opposite is true for higher deck heights. Other essential features include bearings, wheel type, frames, closure systems, and overall shoe design.
Top 10 Picks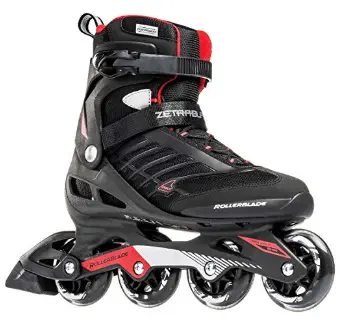 Zetrablade has solidified its position as one of the best brands that offer entry-level skates. If you have always wanted to learn inline skating and finally decided to give it a try then this purchase will be a great fit. You can also buy the skates for someone else, especially if they are trying to come out of their comfort zone. Having some of the best skates on will definitely boost their confidence and give them the helping hand they need.
Read more
Size
The skates are available in seven sizes. You can get a pair in size; US 13, US 12, US 11, US 10, US 9, US 8, and US 7. They offer an excellent fit, seeing as 94% of their customers got the exact size they expected. The manufacturer also provides a size chart, which buyers can refer to when making their purchase.
Compatibility
The skates are for men. So, if you are a guy who's shopping for his first pair of skates, then this pair is your ideal match. Casual skaters also find the skates worth buying, because of the kind of support they offer. The pair comes in black and a hint of red. If you want an eye-catching alternative, then you will take a liking to them.
Comfort
Comfort is one of the shoes' strong points. They have ample padding, and their lining is exceptional. As a result, users get more than enough cushioning when skating. You are definitely going to enjoy your skating experience. The skates will also fit you comfortably thanks to their reliable closure system.
Features
First timers will get the proper support they need thanks to the shoes' high cuff design. One of the reasons why they are beginner friendly is because they also have an integrated monocoque frame. The frame contributes highly to its low center of gravity. As a result, the skates are remarkably stable and easy to control. You will also love the balance they provide.
When it comes to speed, they offer a moderate pace. The skates also provide a smooth ride, thanks to their SG5 bearings. Their 80mm/82A wheels will not disappoint you.
Overall
This pair of skates will last you for a long time. They are durable in almost every aspect, from their cuffs to their frames. This pair's undoubtedly worth investing in if you don't want to keep spending money on replacements.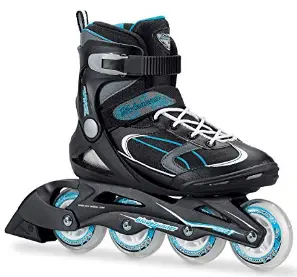 Next, we have another recreational model for beginners, which is worth looking in to. These skates are an affordable option for anyone who's on a budget. They offer great value, and their quality is outstanding. It is safe to say that they embody everything that an inline skater would find appealing.
Also read about best cheap backpacks
Read more
Size
Bladerunner provides a sizing chart to help buyers pick out their appropriate sizes. They even have an illustration that shows users how to measure their feet. The available sizes are; size 5, 6, 7, 8, 9, and 10.
Compatibility
The skates are perfect for people looking for entry-level alternatives. They are the best for learners, because of the kind of support they offer. Their design makes the process less frustrating and easier for beginners.
Comfort
For comfort, the skates' tongue and liner have padding. The manufacturer strategically positioned the pads. The reason for doing so is to lessen fatigue while skating. They will cradle your feet comfortably enabling you to skate longer than you usually would. You will also note that they feel quite plush. You can be sure that they will offer sufficient protection all through.
Features
Making turns will not be an issue, thanks to their 80mm wheels. Their wheels spin freely because of the ABEC 7 bearings, resulting in the use of less effort. For added support, the lace closure system, buckle, and power-strap, secure and enhance the fit. The three will help improve your performance by locking in your ankles and securing your instep.
The skates have an inbuilt frame that will give you an advantage over other brands. Their level of lateral support is not easy to come across. When coupled with their low centers of gravity, they will meet the needs of beginner skaters with ease.
Overall
The integration of the shell and the composite frame puts these skates at a different level. New users won't have to worry about shock absorption as well. These are quality skates worth investing in.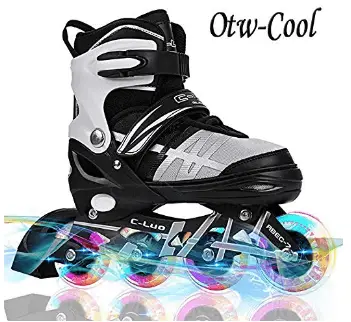 Otw-Cool has excellent customer service. The company doesn't just cater to their existing customers; they also listen to their would-be clients. They promptly respond to questions and are always ready to provide solutions. Their skates are appealing and have quite a unique design. Otw-Cool is the kind of company that has a little bit of something for everyone. Their wide range of options ensures that you will always get a match regardless of who you are, or whom you are buying the skates for.
Read more
Size
Buyers get to choose from three size categories. The first category is the junior kids; the skate sizes here range from US 12 J to 2 S. Next, we have the youth/ big kids. In this category, the skates come in medium sizes that range from size 2 to 5. Lastly, we have the adult sized skates. They are the largest size and consist of shoe sizes 5 to 8. As you can see, the company is inclusive and does not leave out anyone.
Compatibility
The company is famous because they offer skates for young kids, youth, and adults alike. People looking for skates as a family unit will find it an excellent fit. If you're also looking for a gift option, this would be a great place to start. Not only do they have skates for all age groups, but they also cater to all genders as well. They are also an excellent choice for people who like to stand out. Reason being, their wheels light up when the user is skating. If you are a shy person, you might want to take a moment and decide if it's too much for you to handle.
Comfort
The skates have soft inner soles that people find cozy. A big part of their appeal is that they are easy to adjust. The mechanism is secure because they have to be user-friendly for kids as well. In case the fit is uncomfortable, all one has to do is press the incorporated button and they can adjust their skates. They also have breathable inner boots, to ensure that you will always feel fresh and dry when skating.
Features
They have 82A PU wheels that are tough enough for both indoor and outdoor use. One of their major selling points is their Triple Protection System. If your primary concern is safety, the company has you covered. The skates have a high strength buckle, quality Velcro straps, and laces as well. Additional support is also available, thanks to their Aluminum frame. As a result, users get safe ankle support.
As previously mentioned the eight wheels light up while skating. They are very colorful and don't require any batteries to operate. As for color options, the skates only come in two variations. You can get them either in black or blue. Choose the one that appeals to you the most.
Overall
The company offers safety and maintenance advice to users who purchase the skates. Buyers should confirm that the wheels are secured. To do this, you need to make sure that the screws and bolts are tight. Axle tightness is also something that needs checking. Wiggle the wheels to make sure everything is in order. Lastly, spare some time to clean the wheels and bearings. Maintaining the wheels makes them last longer. You should also avoid skating on rough roads, to avoid wearing them out quickly.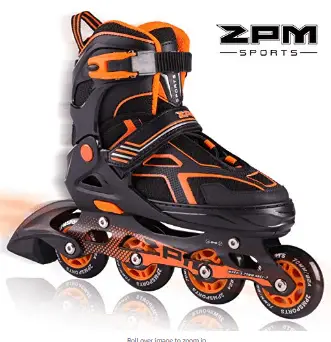 The black and orange skates are hard to miss. Their orange is so vibrant that when paired with black, they result in a pair of eye-catching skates. 2PM sports re-assure customers of their dedication to quality. Their efforts to inspire confidence in buyers are not in vain. Their high ranking is traceable to the high standards they have and the exceptional design of their skates. The company also offers full refunds in case the customer finds the skates unsatisfactory.
Read more
Size
The skates are available in small, medium, and large sizes. The small ones range from 11 to 1 and are suitable for kids. Medium skates range from size 1 to 4, and the largest ones are size 5 to 8. They have four segments for adjustability. Hence, they will always offer a remarkable fit.
Remember to refer to the size chart anytime when picking out your skates. If you are buying one for your kid, make sure it is according to the length of their feet. The powerful adjustability features will make it easy to adjust their feet as they grow.
Compatibility
2PM sports offer a variety of unisex skates. You just need to choose which size and you are okay. They are excellent for people looking for long term affordable solutions, thanks to their four-size adjustability.
Comfort
They have an excellent level of ankle support, thanks to their high-strength buckle. Their 45o laces also play an essential role in the support and triple protection.
Features
The company equipped them with the finest; 82A polyurethane heels, rubber (TPR) stopper, and an aluminum frame, to ensure that the skates deliver premium quality performance. You will have the best time riding on them, thanks to their ABEC 7 bearings.
Overall
The company advizes users to wear athletic socks for better product experience. Make sure your skates are not too tight to enable you to do so.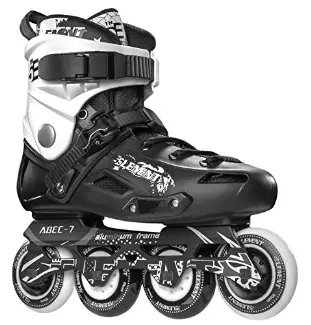 5th Element has some of the best urban rollerblades in the market. They come in black and white and have some cool brand name graphics on them. As much as they have a stunning design, they're not the kind of skates that will get you noticed from afar. Therefore, if you want something stylish yet subtle, then these are the kind of skates you should buy. If you already have some other pairs of skates, they could be the most fashionable ones in your collection.
Read more
Size
The urban skates come in seven sizes. You can buy them in size; 13, 12, 11, 10, 9, 7, and 6. The skates have not been around for that long; however, the majority of the people who bought them got the exact fit they wanted. Therefore, your odds of getting a good fit are quite high.
Compatibility
They will leave a good impression on people who appreciate their urban design. Aside from their appeal, the skates are also for people with intermediate and advanced intermediate inline skating skills. Even though their cuffs are high, they have performance level bearings and can match up to such users' needs.
Comfort
When buying skates for the first time, one can easily purchase poor designs. Some skates are so heavy that they get you tired a few minutes in. These skates have a very light frame, which makes them simple and quick to move in. You won't even realize how long you've been skating because your mind will be focused on the task at hand. They also have ratcheted ankle straps for optimal support, and a rockered frame for stability.
Features
They are the ultimate skates for people in urban settings. Their wheels and durometer are specifically for that purpose. The wheels are about 80mm in size, and the durometer is 84A. There's nothing to worry about when skating with them because they were made for the streets.
Overall
If you want a more customized fit, the skate's traditional lacing system will provide you with such a fit. You will also find them easy to put on and remove thanks to the same.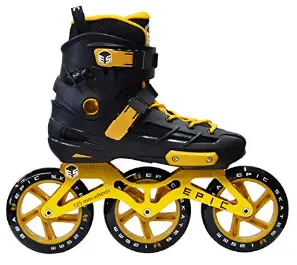 Epic skates have the ideal pair for speedsters. The skates don't even have brakes, so you have to be confident in your skills and abilities. If you fit the profile, then these gold and black skates are ideally suited for you. The brand also deals with other types of gear such as bags and quad skates.
Read more
Size
These skates are available in size 6, 7, and 8. The options may not be many, but then again, only a few can handle them. Besides, the fast pace is not suitable for kids. The skates are also considerably huge; for example, the size 7 skate measures 6 inches wide, and 18 inches in length and height.
Compatibility
They are perfect for anyone seeking indoor or outdoor speed thrills. They have 125mm, 86a wheels with a high rebound. The only people who can safely handle such skates are pros. So, if you are still in training, you might want to reconsider such a purchase.
Comfort
The boot has a hard shell outer covering, and the inside part has pure comfort liner padding. Even though they look heavy, they are light in weight.
Features
Lightweight aircraft grade aluminum frames help secure the three wheels. The skates also have precision speed bearings, to give the user excellent maneuverability: even though they are tough to handle. The purchase also comes with a free tool. Buyers can use the tool to remove and replace the wheels.
Overall
You can regulate your speed very well, and you'll be comfortable knowing that they won't disappoint you even in neck-breaking speeds.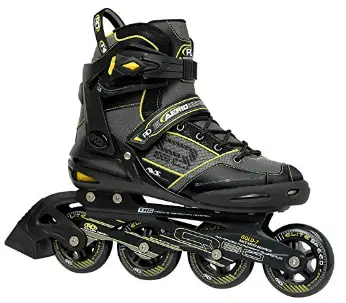 Roller Derby is a proud American company that is widely known in the industry. Their skates are appropriate for people who want sturdy alternatives that can handle different types of surfaces. The wheels have the Bevo Gold 7 chrome rating on the bearings. As such, they are suitable for speed and are highly durable. They work perfectly well outdoors as they would on a carpet.
Read more
Size
They are available in US size 5, 6, 7, 8, 9, 10, 11, and 12. The manufacturer provides a size conversion chart to help buyers make the right selection. You can choose the skates you want in either US, U.K, or Japanese sizes. For example, size 7 for women, translates to 38 in Euro, 5 in the UK, and 25.5 in Japan. The skates fit users over 80% of the time.
Compatibility
Roller Derby skates are suitable for both genders. They can improve strength, endurance, agility, balance, and much more. You can select a half size down for a tighter fit while also wearing thinner socks. On the other hand, if your feet are wide, you can choose a bigger size, and they will conform to your foot. You can also add an insole to ensure a snug fit. They are highly recommended for beginners.
Comfort
A combination of a memory foam padding interior and a soft boot design ensure you are always at ease riding in them. The articulated shell conforms to your foot well to guarantee a wide range of motion. They also have sufficient ventilation to keep your feet cool.
Features
They have locking cam lever buckles, for a secure fit. Additionally, the laces and Velcro straps also have the same function. The wheels are made of aluminum Tri-Coil, which is lightweight and long-lasting. You can also replace the brakes or take them off if you've gained enough confidence.
Overall
This set of skates are not expensive compared to others, so you can get more for your family and friends, letting them join in on the fun activity.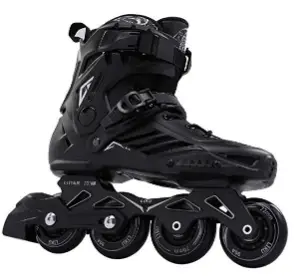 These LIKU skates have one of the coolest designs in the market. They are simplistic from afar, but up close, they would rival some of the best sneakers. Adults have a wide range of sizes to choose from, for a perfect fit. What's more, the materials used on these skates are of the best quality.
Read more
Size
You can get them in six different men and women's sizes. The largest men's size is 9.5, while the women's is 10.5. The other available sizes are; men's 10, women's 11, men's 8.5, women's 9.5, men's 8, women's 9, men's 6.5, women's 7.5, men's 7, women's 8, men's 6, and women's 7. It is rare for buyers to miss their sizes, thanks to the variety of options available.
Compatibility
The skates are for both men and women looking for professional level gear. If you are new to skating, they won't do you much good because they are not beginner-friendly.
Comfort
The manufacturer also adds some ankle support socks in the package. These will assist in embracing your foot better for added and desirable comfort. That is a subtle addition to the skate's design. They also have practical ventilation holes, which make the detachable inner boots breathable. You will also take a liking to the thickened foam padding.
Features
Some of the safety features the skates have, include; high-density laces, a safety buckle, and an included brake. Users also find them stable because of their low balance structure. The skates will serve you well because they have wear resistant PU wheels. If you have other pairs of skates, it's highly likely that these will outlast them. Additionally, they have aluminum alloy bearings that make them stable to skate with.
Overall
LIKU is a reliable and responsive manufacturer, who is quick to sort out any rare issues. They fit well and are incredibly comfortable to ride in.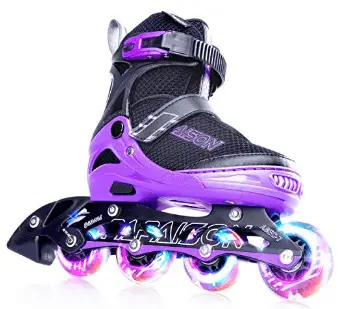 Papaison sports offers durable, comfortable, lightweight, and easy to wear skates. The design is well thought out to fit most people's needs. The LED wheels also make them noticeable, which is ideal when you want to flaunt your skills. These skates are available in purple, red, or white.
Read more
Size
These are quite popular with kids aiming to be the next skating pros. Nevertheless, there are also adult size options available. The smallest sizes fall under the J12 to 2 categories. Older kids can get medium skates ranging from size 2 to 5. The last size category is for young adults and youth, ranging from size 5 to 8. The manufacturer also has an informative table that guides you when selecting the perfect fit, regardless of gender.
Compatibility
The unique thing about this product is how they light up the room. Most adults are shy to the feature, but most kids will appreciate them as they are. For that reason, they are perfect at encouraging kids to flaunt their skills.
Comfort
When tying the skates, the reinforced upper brings about a wrapping effect that provides an enhanced grip to your foot. They also have reliable lateral support, which makes flexing forward easy especially with the cuffs. The cuff support also assists in securing your heels to the rear of the boot, which can be quite hectic depending on the kind of skates you have.
To ensure proper placement of your foot while skating, they have a reliable lace closure, buckle, and straps. The manufacturer also adds a pair of matching, 3D knitted socks to the package for a luxurious feel.
Features
With a reinforced aluminum frame, these products are built to last. The bearings have an ABEC 7 rating, meaning they won't give out easily. All the wheels have illumination, making them conspicuous especially in low light conditions. Like a few of the skates in this list, this pair also has a triple protection system. The combination of a high strength safety buckle, secure shoelace placement, and durable hook & loop straps give users the confidence they need while skating.
In addition, Papaison sports provide a 30-day refund policy. You can return them and get a full refund within 30 days if you don't like the skates for whatever reason.
Overall
The extra skating socks make a great addition to one's gear. You'd expect the skates to cost more because of their capabilities and included accessory. However, that's not the case. One can easily save up and get themselves a pair.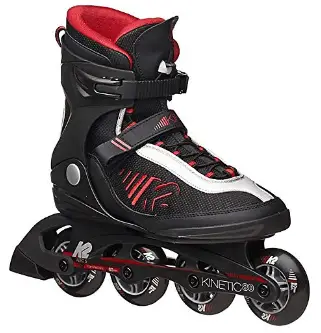 K2 skate offers inline skates for both amateurs and seasoned pros. They have soft boot technology, which makes them super comfortable. As a result, users can wear them for a long time, since they eliminate pressure points. You cannot go wrong with a manufacturer that has a significant market share among skaters.
Read more
Size
You can get a pair of the kinetic 80 skates in five sizes. Buyers can choose from size 6, 7, 8, 12, and 13. The manufacturer also claims that skates fit as regular athletic shoes.
Compatibility
These skates are versatile compared to some of the available options. They are suitable for people at intermediate and beginner levels. You can buy them as you start training, and even find them useful after your skills have grown. There won't be a need to replace them for quite some time.
Comfort
You can trust that breathable shoes are not going to let you down. The skates are lightweight, making them easy to maneuver. Part of what makes them stand out is their composite FBI frame. The frames make it possible to absorb vibration as they skate.
Features
The hook and loop straps make them fast and easy to wear. People who would love a tighter fit around their ankles can also adjust them as they please. The skates have 80 mm wheels, with ABEC 5 bearings. One of their strong points is that they cater for better power transfer. Their Stability Plus Cuff makes this possible while providing users with uttermost stabilization.
Overall
The manufacturer has recognition when it comes to skating gear. They have top of the line skates for, men, women, and children.

Subscribe to our Newsletter