Best Kneeboards
In a Hurry? Editors choice: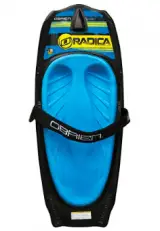 Test Winner: O'Brien Radica

If you are a big fan of either
wakeboarding
or
water skiing
then there is a good chance you will like kneeboarding. It is virtually the same concept except, with kneeboarding, you will need to use kneeboards (hence their name). And, that is exactly why you are here today.
One would think that you could get away with any ordinary kneeboard and still have a good time out on the water. While this is not necessarily false, it goes without saying that the best kneeboard can make a world of difference. And, when choosing your desired board, there is a lot to consider.
That is what we want to get into today. But, before we do that, it is in your best interest to check out the list below of some of the best kneeboards that are currently available on the market.
Standout Picks
Criteria Used for Evaluation
Comfort
With the right kneeboard, you will never feel uncomfortable while out in the water.
The thought of resting on your knees while being pulled by a motorboat may not sound all that appealing to you. However, this is where kneeboards will come into play. But, who wants to utilize a kneeboard that is unbearable on your knees? Yes, this is a rhetorical question, so do not think too long about it.
Now, to ensure that this is not an issue, you need to look for boards that are designed with proper knee wells. And, there are two vital factors to consider with the first being the actual size of the knee wells. If you have larger legs, then you will not want to settle for models with narrower knee wells.
Of course, even more, important is the padding. All models will come with padding of some kind, but the best is EVA foam. What is EVA foam, you ask? Well, it is a type of expanded rubber, and it is used as padding in a wide variety of sports equipment.
In addition to the fact that it is soft enough to be comfortable, it is also firm enough to absorb the impact of the water and to stay durable in the process. EVA foam will provide an excellent combination of comfort and support.
Effectiveness
Your skill level is going to play a huge role in this section. Remember that.
When choosing a kneeboard based on its performance, there are many different layers that you need to take into consideration. For starters, understand that there are plenty of different types available on the market. In broad terms, you can either buy recreational or competitive models.
Recreational boards are probably the more popular of the two simply because they are suitable to the average user. They typically sport soft and wide edges and are often engineered with a technique known as rotational molding (more on that later). Meanwhile, competitive boards are more advanced.
These will often have sharper edges and sport thinner cores for more maneuverability and speed. But, per their name, they will also be more suitable for advanced riders. Of course, there are also some additional features (or accessories) that can affect performance.
One example of such are fins (check our guide on the best freediving fins). Some models will come with fins and others will not, but they help to make steering a lot easier (so keep that in mind). The design of the rocker will also come into play. In short, the rocker merely refers to the measurement of the curve at the bottom of the board.
The larger the rocker, the easier the board will be to turn. But, for enhanced speed on the water, you will want a rocker that is a bit shorter.
Durability
As with other water gear, this section is actually going to have different standards. It just depends on you.
What is nice about these types of boards is they are constructed in the same light as water skis. So, if you have researched water skis in the past, then this section will be very familiar to you. Of course, the materials and construction methods found on more advanced boards will differ to that found on mid-level boards.
For example, top-notch models will typically be wrapped in fiberglass (or even a combination of fiberglass and graphite). While this certainly makes for an impressive design, not all kneeboards for sale will be engineered in this manner. Some will be rotomolded, instead.
Now, the term "rotomolded" references the engineering process known as rotational molding (which was alluded to earlier). In the simplest of explanations, this is a process to manufacture large plastic parts, and it involves adding resins into a heat mold. All you need to know is that rotational molding, for the most part, is a cost-effective and durable manufacturing technique.
Features
When it comes down to it, there are two main features that you need to keep in mind here.
Two main features need to be discussed here. The first is what is known as a kneeboard strap. This portion of the board is what allows you to secure yourself to it. It is pretty self-explanatory. While that is true, these types of straps can have some differences.
First and foremost, the implemented strap needs to be able to fit over your legs. If it is too small, then it is irrelevant if it is adjustable or not. Speaking of which, most straps will indeed be adjustable. This makes sense as engineers will want their boards to account for as many users as possible.
But, at the same time, it is ideal if the strap is also padded. Unless you want the strap to dig into your skin, you better prioritize this. Most straps will be padded, though, so you should not have to worry too much about that.
The other feature is the hook. Have you ever looked at a kneeboard and wondered what that little hook at the front accomplished? It is pretty simple. It is a training tool that allows novices (and anybody really) an easier time getting on the board.
However, elite-level riders will not need a hook of this nature. If you are this type of rider, either look for models where the hook can be retracted or ones that do not feature a hook at all.
Portability
You probably will need to travel with your kneeboard, right?
Whenever you are in the market for some new water equipment or gear, you always need to consider this section. Unless you own a lakefront property, you will need to travel to the body of water you intend to go to. Due to this, your life will be a lot easier if you take some extra time to think about the portability of your items.
And, it is no different with these devices. Regarding size, there is not much disparity between most models on the market. In general, most will measure right around 50 inches in length and 20 inches in width. Some boards maybe a few inches longer or shorter than others but, typically, they will be roughly the same size.
What can fluctuate quite a bit, however, is the weight. Even on this list, some boards are five to six pounds lighter than others. That is quite a large weight difference. And, in addition to being heavier to transport, beefier models can also bog you down a bit in the water (which goes back to performance). If interested in ways of storing, check our guide on the best surfboard racks. That said there are plenty of excellent models right around 13 to 16 pounds in weight.
Our Top Picks for the Best Kneeboards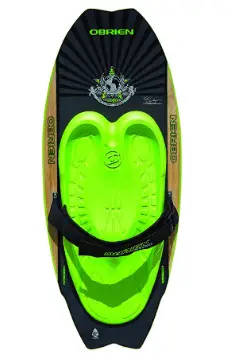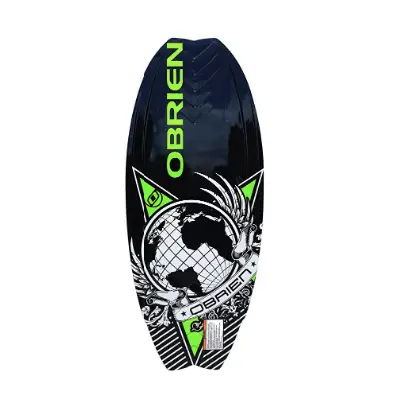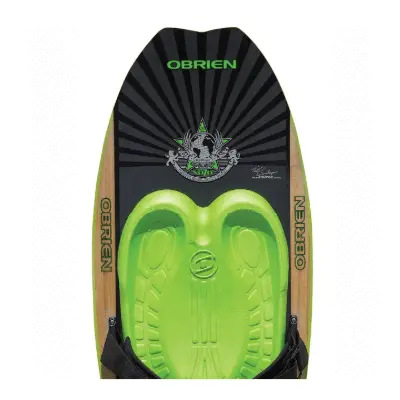 Let's just say it; this kneeboard is on another level. If you are a professional-level knee boarder and want nothing less than the absolute best, go with the Sozo as you will not regret it.
Read more
Comfort
The padding that has been implemented is just superb. Not only is it soft for your knees, but it is also incredibly supportive. It absorbs impact about as well as any pad out there, count on it.
Performance
This is where the Sozo truly shines brightest. With its optimum flex pattern, it is explosive, incredibly agile, and just a joy to use. But, that said, it is not for beginners.
Construction
Would you expect anything less than a near-perfect build here? The Sozo sports O'Brien's Fusion Core (which is merely wood stringers that are within a foam core). Oh yeah, the bottom is also fiberglass.
Features
While this does come equipped with a kneeboard strap, it does not feature a hook. This goes back to why it is not suitable for beginners as it is truly a pro-level kneeboard.
Portability
This is one of the heavier boards on this list, to make a note of that. As for the size, it measures 51.8 inches in length and 21.6 inches in width.
Overall
Few products blow the competition out of the water as much as the Sozo. It is only in a league of its own and is the only choice for serious, all-world riders.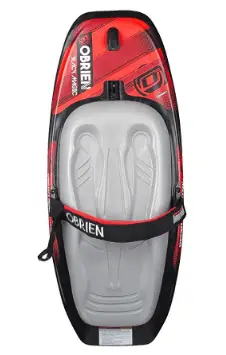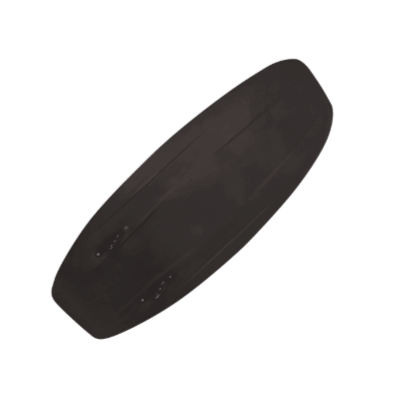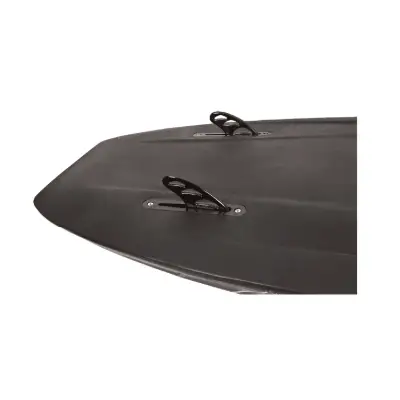 Look, it is fair to say that not everyone out there is an elite-level knee boarder. Of course, it is also fair to say not all of you are novices. The Black Magic offers the best of both worlds and is perfect for all members of the family.
Read more
Comfort
The smooth bottom couples with the kneepad to create a comfortable ride. Let's say that most of you will not be complaining about this aspect of the Black Magic.
Performance
The cable-actuated retractable FIN system is the main reason this is ideal for all skill levels. For the record, the board also sports a twin-tip shape and a super low profile for perfect performance and overall speed.
Construction
O'Brien engineered their Black Magic Kneeboard to last. It has been rotomolded with a plastic (yet durable and well-made) base.
Features
Thanks to the full and easy-to-fasten strap, you will feel locked in place on this kneeboard. Additionally, this does come equipped with a hook for newer riders.
Portability
At 14 pounds in weight, this is not quite as light as other models out there. Still, it should not give you too much trouble when you go to transport it.
Overall
Much like the Sozo, the Black Magic is an elite-level board that comes at a rather steep price. But, what makes this great is the fact that it is optimized for several different skill levels.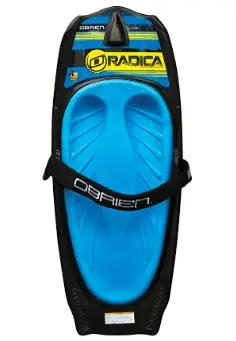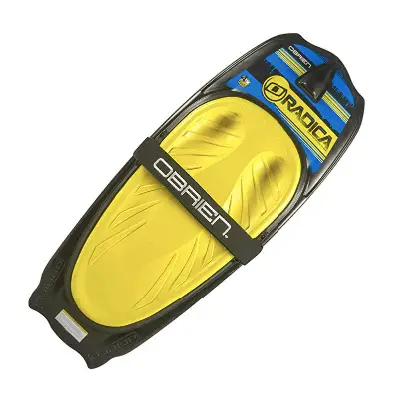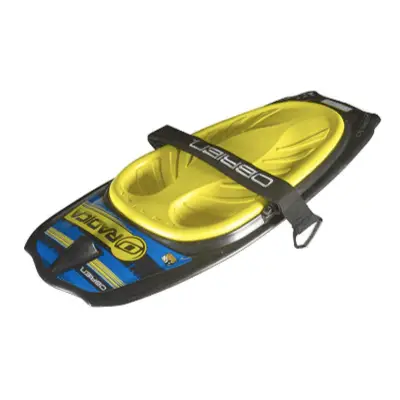 So, in case you have not figured it out already, O'Brien makes some absolute stellar kneeboards. Their Radica is 3rd on this list yet is still leaps and bounds better than most other brands.
Read more
Comfort
The kneepads are not as soft as pillows, but that is not the point. The implemented foam padding is quite firm but also comfortable (which also delivers adequate support).
Performance
The Radica takes elements of a wakeboard and a water ski to outperform pretty much any other model at this price range. It sports a water-ski influenced edge angle and a wakeboard-style quad.
Construction
Alright, so this does not feature a premium construction or anything like that. It is made out of plastic, but that is not as big of a deal as you think it is.
Features
In addition to the implemented strap, this also features a built-in hook. As with all kneeboard hooks, this makes it easier to get up on the board.
Portability
The Radica is a 50-inch by 20-inch board, and it weighs right around 10 pounds. It is sized quite well and will not be too much of a departure from what you are used to.
Overall
Leave it to O'Brien to create a kneeboard that takes elements of both water skis and wakeboards. Their Radica is just further proof that you can't go wrong with an O'Brien kneeboard.

4

. Leader Accessories Kneeboard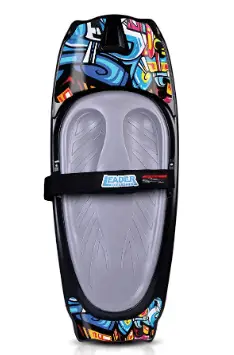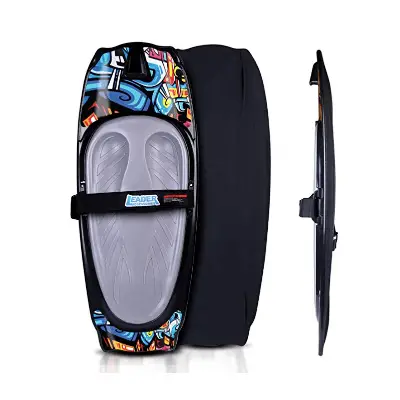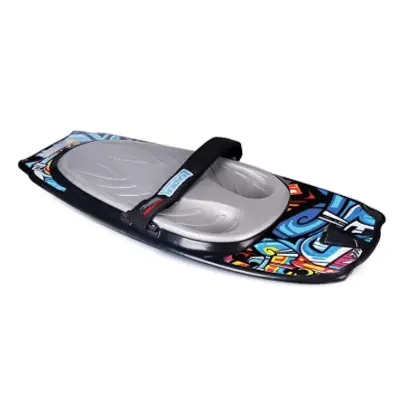 This is another model that really will work great for just about everyone. It is optimized to be used by users of virtually any skill level and is also built with EVA foam padding.
Read more
Comfort
Being equipped with EVA foam padding, you can take comfort in knowing that your knees will not be in discomfort on this board.
Performance
For virtually any skill level, this is going to work quite well. It is designed with a beveled edge, and this allows it to make ultra-quick cuts. Additionally, it sits low in the water for enhanced stability.
Construction
Leader Accessories engineered this with molded plastic. As for the weight limit, users who exceed 250 pounds should probably stay off of this board.
Features
The three-inch padded strap is quite bulky, to be honest. It provides enhanced comfort and stability, however. Oh, and this is another model that sports an integrated hook for beginners.
Portability
At 50 inches by 20 inches, this is about as standard as it gets for a kneeboard. The weight (which is right around the ballpark of others) will also not be too much of an issue.
Overall
Indeed, there are non-O'Brien kneeboards that are quite fantastic, as well. This board's combination of comfort and performance make it suitable for just about anyone.

5

. Driftsun Crush Kneeboard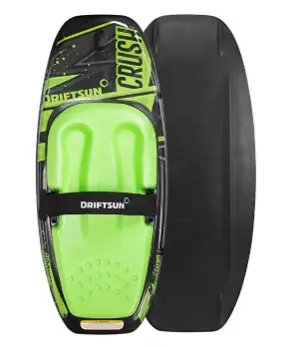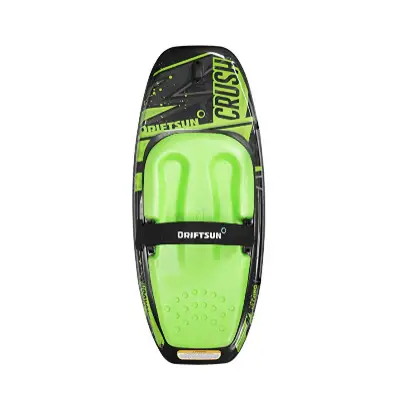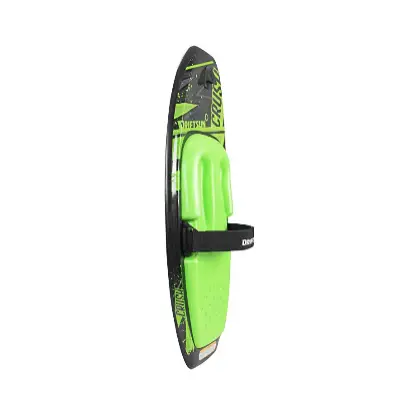 From top to bottom, it is not hard to see why this board landed on this list. However, just a quick note, the indentations are a little narrow so this will not be the best option for those of you with larger legs.
Read more
Comfort
Looking past the fact that the indentations are narrow, the EVA flex top-pad is brilliant. This is going to soften the impact when you hit the water and support your knees in the meanwhile.
Performance
The Crush does have an excellent continuous rocker profile. It was built with a dual twin-tip design and a rounded, squared nose for improved speed and overall performance.
Construction
In addition to the reinforced knee strap, the Crush also sports a rotomolded shell with an EPS core. Let's say that it will be able to handle some punishment on the water.
Features
The integrated single locking knee strap allows you to achieve a secure fit. And, indeed, this comes with a tow hook to make starting your rides a bit easier.
Portability
While adding a few inches on each side, this manages to weigh just about the same as most other models out there (it clocks in at 12 pounds, for the record).
Overall
Ignoring the narrower indentations, the Crush is a superb kneeboard. Its continuous rocker profile allows for fun out on the water while its rotomolded shell keeps it coming back for more.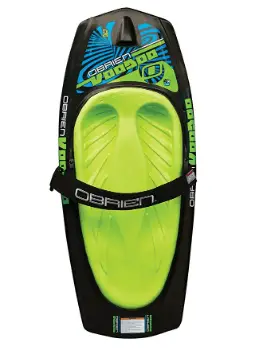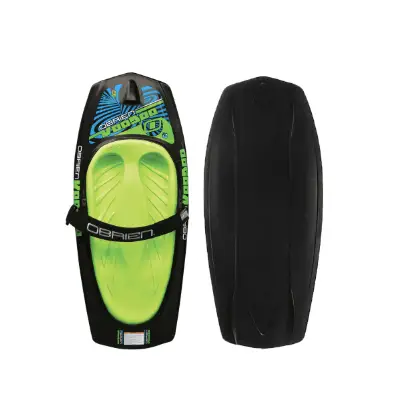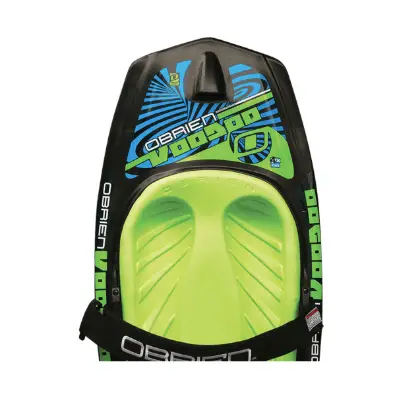 Well, would you look at that? It is another appearance from O'Brien. For their standards, their Voodoo is probably just good. But, based on everyone else's standards, their Voodoo is really, really good.
Read more
Comfort
The padding for the Voodoo is simply superb. For the record, this padding is simply a ¾-inch thick foam pad but it works like a charm.
Performance
From an all-around perspective, this performs insanely well. Its molded fins offer excellent tracking while its curved underside allows for quick cuts. It does not perform 180s and 360s the best, however.
Construction
The Voodoo sports the construction that you would expect from a brand as highly regarded as O'Brien. Let's just say you do not need to concern yourself with this section.
Features
Implemented into this board are a three-inch padded strap and also a front hook. The former allows for secure fitting while the latter is great for first-timers.
Portability
At 14 pounds, the Voodoo is far from the lightest model on the market. And, as with all kneeboards, it will take up some space in your car.
Overall
It is actually hard to fathom that O'Brien has made many superior models to their Voodoo. The reason being when you look at the design of the Voodoo, you can't help but be impressed by it.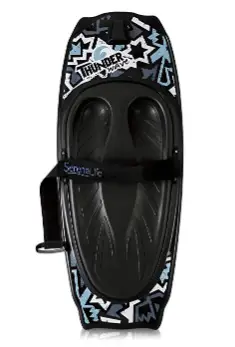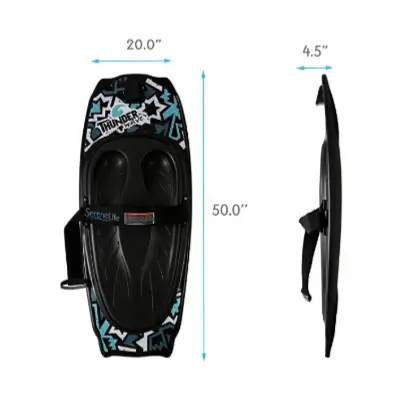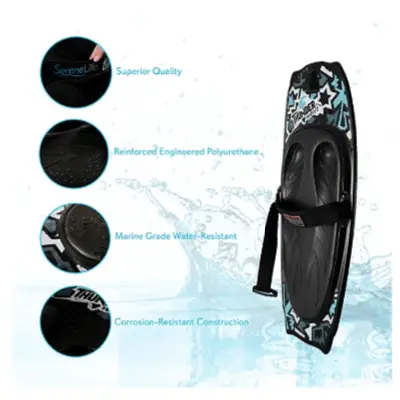 Let's just say that there is a lot right about this board. In addition to its marine-grade design, it is also equipped with firm, yet comfortable foam padding.
Read more
Comfort
If you are expecting a pillow-type feel with this board, then you are sadly mistaken. Nope, the padding is actually like hard foam. It is very supportive while also remaining comfortable.
Performance
Overall, this is a good starter board, but it will not shatter records or anything like that. It also does not come equipped with fins, which is another thing to take note of.
Construction
Indeed, this model is designed with marine-grade materials and is corrosion-resistant because of it. Speaking for the strap, however, it has been known to come out of the base.
Features
The same strap that was just alluded to is adjustable to fit a wide range of users. Also, this is designed with a hook.
Portability
At just less than nine pounds, this is one of the lighter options on this list. As for the physical size, it measures 50 inches by 20 inches.
Overall
Top-level performance is not what you are going to get out of this board. What you will get, however, is a tough, comfortable, and overall enjoyable kneeboard to have fun with.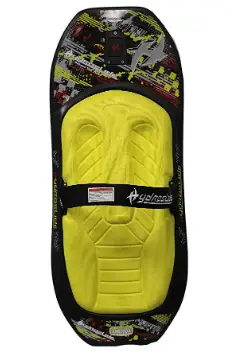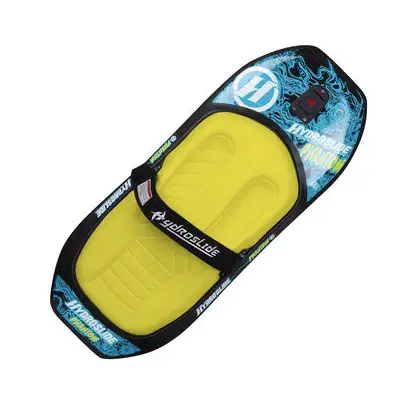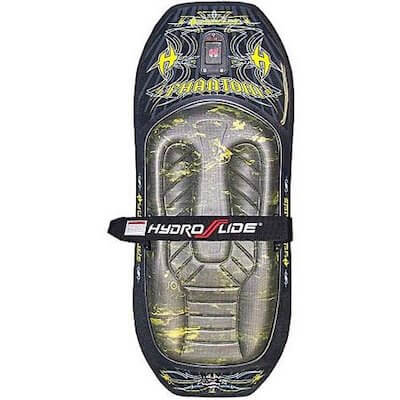 Hydroslide is another brand that gets a lot of praise when it comes to kneeboards. Their Phantom will provide the superb performance that many of you will be seeking.
Read more
Comfort
The padding combined with the deep knee wells will keep you comfortable out on the water. With that said, a few users have made mention of the fact that the padding can separate a little.
Performance
For sure, this sports "adult" performance and this is thanks to its parabolic shaped thin-profile. It is one of the better performing models on this list.
Construction
The main construction of this board is sturdy. However, as noted, the padding has been known to separate. At the same time, some users have used this for years without any issues.
Features
The patented hydro hook is one of the best features present here. It can be used to help beginners get up on the board easily, but it can also be retracted back inside the deck when not in use.
Portability
This board is hefty, and there is no reason to sugarcoat it. It clocks in at 16 pounds in total weight (which is quite a lot).
Overall
Users have been back and forth with the Phantom's durability. Regarding its performance and overall enjoyable nature, though, it is merely one of the best out there.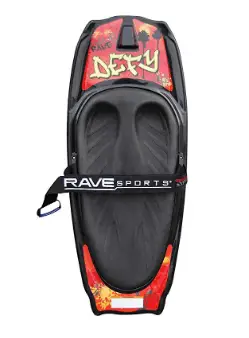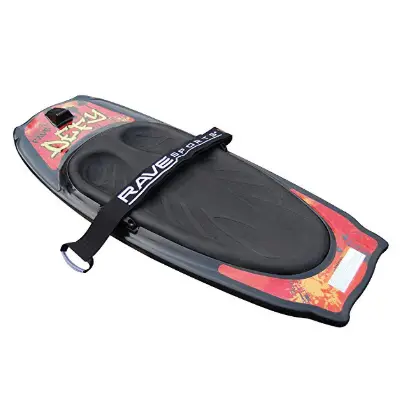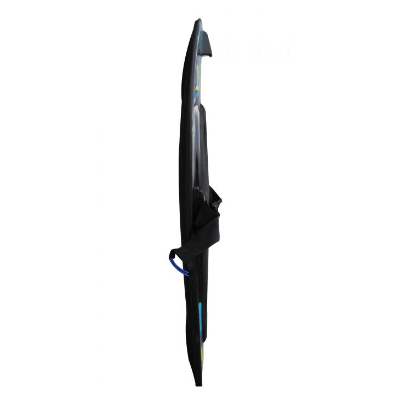 This is one of those models that tend to get swept under the radar. It may not be an O'Brien kneeboard but it is still pretty darn good. Consider this a hidden gem of sorts.
Read more
Comfort
One thing is for sure, you will be comfortable while riding on this bad boy. This is thanks to the integrated neoprene grip kneepads.
Performance
Thanks to the classic shape of this board, it is able to easily pop off the wake. All in the meanwhile, it facilitates smooth rides on the water.
Construction
Reviews have been somewhat mixed in regard to the durability of this board. There are some users who feel it is well-made while others have had issues with the foam separating.
Features
To maximize your control and to allow you to achieve a proper fit, this comes with a built-in Velcro fitting belt (which is standard stuff).
Portability
In terms of weight, this falls somewhere in the middle of the pack when compared to others. For the record, it weighs right around 13 pounds.
Overall
It is easy to place your trust in an esteemed brand but, sometimes, it can be fun to try out something new. Most beginner-to-intermediate riders out there will be pleased with this kneeboard that is for sure.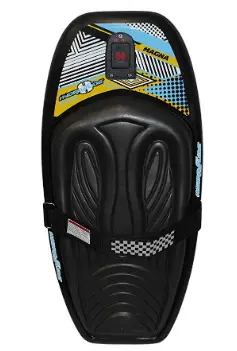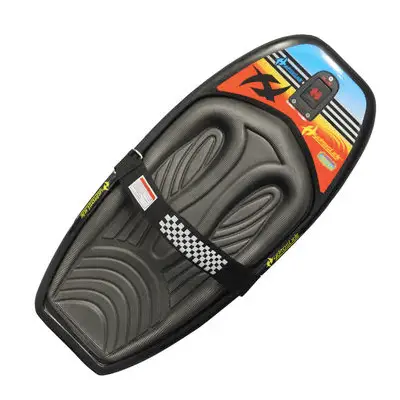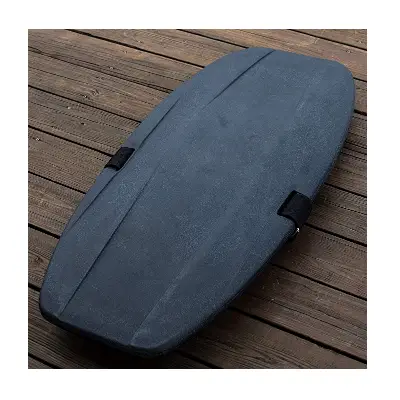 Now, it is worth noting that the Magna is designed for riders up to 120 pounds. It can still work for a select few of adults but is better for the younger generation. With that said, it is not necessarily a kid's model, either.
Read more
Comfort
Being equipped with a full-size EVA foam pad, your knees are not going to take much abuse on the Magna.
Performance
The patented thin profile design of the Magna will be appreciated by several of you. And, again, though the weight limit is low, this is not limited to be used just by kids.
Construction
Do not let the weight limit fool you, the Magna is a well-made board. It can handle the abuse of kneeboarding (to an extent that is).
Features
The three-inch padded strap could be a little bigger but that really goes back to the fact that this is not suitable for most adults.
Portability
Due to the semi-smaller size of this board, it is going to be easier to transport as a result. It is not that much smaller than standard models, however.
Overall
It seems somewhat contradictory but it is not. The Magna will not be ideal for most adults but it is still not just for kids. Its 120-pound weight recommendation is what it all comes down to as it can perform well for anyone around or under that weight.

Subscribe to our Newsletter