Best OCR Shoes
In a
Hurry? Editors choice: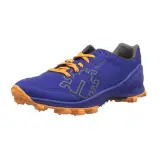 Test Winner: Icebug Zeal

Obstacle Course Racing, or OCR as it's called, is a unique way to get out there, have fun, and get some serious calorie burning going. You may be wondering what OCR is, as it's not necessarily the most typical and everyday kind of sport; however, we assure you, it's an adventure you won't want to miss once you try it.
In short, Obstacle Course Racing consists of challenges that can be compared to military training. You may come across anything from barbed wire, mud pits,
balance boards
, and even rope swings, and you are timed against other contestants to finish as quickly as possible.
Basically, when you participate in an OCR, you are a modern-day warrior. It's tough, but the challenges are well worth it, as the spoils can bring cash and the golden feeling of accomplishment. This guide gives you a list of top 10 OCR Shoes.
Standout Picks
Criteria Used for Evaluation
Comfort
Comfort is one of the most important factors to consider when selecting the best OCR shoes since obstacle courses require a good deal of impact training, and you want the right cushioning and shock absorption to prevent fatigue.
Many of the shoes on our list are built with EVA midsoles, which do a great job of absorbing impact and keeping you going strong all day long. You'll also want to make sure your shoes provide a lot of ankle support and stability as well. If your shoes don't help you with the support and security you need, you're likely to wind up with injuries from the impacts you encounter, and nobody wants to experience that.
The lacing system on your shoes can also affect your comfort level. Most shoes either use a quick lace system or a traditional lacing system, and while neither one is better, you want to pick the lacing system that makes your shoes feel like they fit well. The snugger and the better the fit, the better performance you are likely to get out of your shoes in the long run.
Fit becomes a critical thing to think about when you want to buy a comfortable pair of OCR shoes. Making sure your OCR shoes fit well is important because the better the fit, the better you are likely to feel when you're hitting the obstacle course. You don't want shoes that fit too large since they are likely to rub and create other problems. If you aren't sure what your size, make sure you get this checked out by a professional, so you get the right fit for you.
The support level you need will also be a comfort factor, but this can vary widely from person to person. Some obstacle course racers need shoes that have a great cushioning system if they suffer from injuries or know they perform better with more cushion. Better cushioning systems in shoes also offer you more stability and support and can help prevent fatigue. Sometimes there is a tradeoff in OCR shoes between comfort and weight, but if you know you need the cushioning more than a lightweight shoe, then go for the support.
Traction
A sound traction system becomes a real necessity on obstacle courses since you don't know what type of terrain or obstacles you might have to hit depending on the races you intend to participate in. Since you don't want to climb over challenging terrain and lack good grip and traction in your shoes (which can cause you to slip and fall), you'll need to look into shoes with a sound traction system.
After all, not only does nobody want to fall when they are participating, nobody wants to experience injuries because of these types of mishaps. When looking for an excellent traction system, check out the lugs on the outsole area of the shoes. Most good OCR shoes are made with rubber outsoles that feature durable lugs on the bottom of them for extra grip. The bigger the underfoot and traction system on the shoes, the less slippage you are likely to experience when you hit the obstacle course.
So, lugs become an essential factor since they are meant to give you more grip, which can prevent slips and falls on steep terrain. However, you also want to make sure your shoes feel right, and like the grip you get on them is controllable, so you can always trust the way your feet feel during your races.
Try to avoid shoes with metal lugs, since those can damage obstacles, and go for shoes with a grippy rubber outsole and good lug pattern design. If you have both of those things in the shoes you want to buy, then you are likely to wind up with a good pair of shoes that can grip well when you're actively participating.
Durability
Participating in obstacle course races means you'll need a durable shoe since this type of activity will expose your shoes to lots of abuse. Most OCR shoes are built to handle these difficulties, but some still come with more durability than others.
High-quality materials designed in your shoe is one vital factor to look for when selecting your OCR shoes. Also, making sure that you purchase shoes from a well-known brand such as Salomon should give you more peace of mind about how long your shoes will last when you use them in obstacle course racing.
When you're looking for high-quality materials on your shoes, you need to focus on the outer area of the shoes. You want shoes that won't quickly get holes ripped into them, or that can't handle rocks well, because that can affect the lifetime of your shoes (if interested in climbing shoes make sure you check this guide). Many shoes feature durable protective materials on the outer area of the shoes which protect not only your feet but also your shoes, from the type of abuse you're likely to encounter on the trails. Shoes made for OCR activities should have some features on the outside of the shoes that help boost the overall durability.
Value
The value of a product is always in the back (or at times, the forefront) of our minds. No one wants to invest or overpay for a sub-par product. For this reason, we took a look at the overall value of the shoe, and not just the price. We considered the materials used, features, and durability. All of these factors, then compared with the price, gave us the overall value of the shoe.
On this collective list, we have included a few expensive shoes with every feature imaginable and a few more basic, but more affordable, versions. Depending on what you are looking for and knowing in which terrains and hardships you will be using the shoes will help you decide which pair will be the most valuable to you.
Subscribe to our Newsletter