Best Pond Liners
In a
Hurry? Editors choice: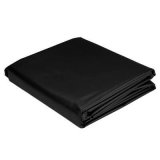 Test Winner: TotalPond

Creating an outdoor zen space in your
backyard
will provide you with tranquility and give you the ability to accent it with your own personal style. Including a pond gives you the option to introduce beautiful amphibians and
plants
into your space. The most popular fish that people include in their personal pond is a Koi Fish. While it may sound simple to dig a hole in the ground and fill it with
water
there's actually an art behind it. The first thing you will need is a great pond liner. This will prevent the water from leaking out and also give you the opportunity to mold the liner and create a pond with whatever shape you would like. A high-quality liner can bring you twenty years or more of satisfaction and tranquility.
Standout Picks
Criteria Used for Evaluation
Materials
This is an important factor since the material has a great impact on the product's durability. Aside from that, there are different kinds of plastic materials that are not suitable for ponds especially if you intend to place fauna and flora in it. Some materials will easily degrade in quality in just a few years due to sunlight exposure and the weather changes.
The materials used in constructing needs to be resistant to UV rays and ozone. It should be durable enough to prevent wear and tear since a lining that could easily get holes will result in a complete failure of the project.
PVC (Polyvinyl Chloride), which is a low-cost plastic, has a shorter lifespan compared to other materials. When not reinforced, it will not have a UV inhibitor and can easily brittle and crack. It has low puncture resistance when exposed to the pressure that may eventually create leaks.
Other liners are made from LDPE (Low-Density Polyethylene), which is a common type of flexible plastic sheeting. This is usually used to manufacture tarps. What makes this material good is its flexibility since it easily conforms to the design of the pond. Compared to other materials, LDPEs are not that durable and puncture resistant. However, it remains stretchy and it resists becoming brittle.
Due to the strength and durability of EPDM (Ethylene propylene diene monomer), which is a synthetic rubber, liners that are made of this material is tagged with a higher price. This kind of rubber is used as door seals in cars and as roofing materials. Apparently, there is no doubt about its durability! EPDM is also puncture and tear resistant while remaining to be flexible. Since it is made from rubber like the ones used in tires, it is heavy and harder to install. It is also more difficult to fit it into the shape of the pond.
As you can see, there are upsides and downsides to every material. Hence, it is important that you are aware of all this so that you can choose the materials well while considering both sides. In terms of durability, those made from EPDM rubber is a good choice. But when it comes to pricing, PVC ones are much cheaper.
Brand
We cannot deny the fact that a product's brand has a great impact on its performance in the market. It is by the norms of society to buy items from brands that they already know. This way, they are certain of their quality. However, this is not to say that smaller or unheard of brands are unreliable. Someone out there had to be the first person to test out Firestone tires.
By researching the brand, you can also get a better idea of their track record, customer service, and warranties. This also helps you to determine the value of a product.
Weight
Since this is something that one needs to carry, drag, and move around during installation, its weight is an important factor. When the item is heavy it is harder to install it and would need more manpower to accomplish the project. When it is thinner, it is easier to install and even one person could do the work.
Of course, its thickness should also be considered since it will be laid on the ground and will be exposed to changing weather, temperature, and sunlight. Its thickness can also be directly proportional to its puncture resistance which is a very important feature for this type of product. A thinner lining would mean that it could easily tear and cause leaks. Once a liner leaks, its purpose to retain water within its form will fail.
Features
In every product, there is something that sets them apart from other brands. Although most of them are similar, it is still different in terms of construction and the overall end product. Extra features could include how they are manufactured, its eco-friendly or environment-friendly features, its resistance to UV rays, and its flexibility.
Buyers are also interested to know if a liner can be trimmed and cut into sizes that will fit their custom ponds. It is important to note that most users prefer a liner that can give them creative freedom so they could achieve their dream water garden.
Apart from that, some buyers could be looking for liners that will allow them to create streams and waterfalls. Not all liners can be used for that purpose. Hence, this is mentioned as their extra feature since it is something unique for the product.
Subscribe to our Newsletter