Best Sandboxes
In a Hurry? Editors choice: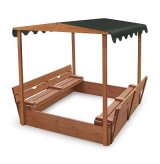 Test Winner: Badger Basket

Remember when you were a kid and could not wait for the
summertime
when you could play in your sandbox? Admittedly, you may have been too young to remember those good times but that does not mean you did not have a blast. Should not your kids experience that same thrill and excitement? Better yet, if you have multiple children, a sandbox can be a great way to entertain them simultaneously for hours on end. While they will be the ones spending all the time inside, you need to be the one to order a high-quality model that will provide them with years of childhood fun. Thankfully, we are here to assist you with that predicament and have scoured the market for our favorite sandboxes. Check out our guide below and your kids can have the
sand between their toes
even when they are not on the beach.
Standout Picks
Criteria Used for Evaluation
Durability
Even though there are hundreds of different building materials in the world, most sandboxes will be constructed out of either wood or plastic. It is no coincidence that all of the entries in this list are comprised of one or the other. The question then becomes, though, which one is superior to the other? Well, as a majority of each landed their way on this list, it is safe to say that both construction methods can be suitable for you. If you do go with wood, however, you need to ensure that it is treated. While treated wood is not necessarily stronger than non-treated wood, it will maintain its integrity better as it will better resist the elements. Speaking of wood, one nice advantage of it is it is environmentally friendly and reduces the number of carbon emissions used.
Of course, the key aspect about plastic is it will not warp and is very durable in its own right. Given that there are various different forms of plastic, some will be more durable than others, however.
Comfort
Even though your kids may just end up playing in the sand without a care in the world, they may end up wanting a seat to sit on if they do not want their butts in the sand. The great news is most sandboxes will incorporate some sort of seating arrangement outside of merely sitting inside the sand. If you are looking into sandboxes that are constructed of wood, they may have integrated benches on each side. Most of the time, they will fold out and provide an ideal location for kids to sit on. Some will even have the capacity to hold grown adults and this can allow you to get in on the fun.
Not all models will integrate benches for seating, such as most plastic models, and instead will mold some seats into the sandbox. A common design is to have all four corners will molded seats. The aspect to keep an eye on here is how large the seats are and if they are molded on the inside or outside. If they are integrated on the inside, it may cut into the interior space a little bit.
Size
There hits a certain point in everyone's lives where they become too large to play on certain objects and toys. Well, sandboxes are a good example of one of those. But, perhaps your seven or eight-year-old still has interest in messing around in the sand for hours on end. That is no problem but you need to buy a sandbox with this in mind. Not all sandboxes are manufactured to be the same size. Because of this, you need to address how wide and long (and deep) you need the sandbox to be. If you are planning on fitting two to three children inside, there needs to be a decent amount of breathing room for them all to play comfortably.
Also, you can factor in the amount of sand they can hold. This will be a great indication of how deep and large the sandbox is as if it can fill up to 750 pounds of sand, you know you should be good to go.
Features
For the most part, the majority of your attention should go to the previous three sections and the one immediately following this. However, there are going to be some additional convenient features that can be worth your time and attention. For example, how about if the sandbox comes pre-assembled? If this weighs enough on your mind, perhaps you could prioritize a model because of this. But, how about if the sandbox is bottomless; does it come with a liner for protective reasons? As an example, if a plastic liner comes included it could prevent weeds or moisture from being a problem.
Of course, some wooded models will come with canopies. What is nice about these is they can provide protection against the blaring sun on blistering hot afternoons. The last thing you want is for your kids to suffer from sunburns and if you do not have a shaded area to place your sandbox, an overhead canopy could be the lucky ticket.
Top Ten Sandboxes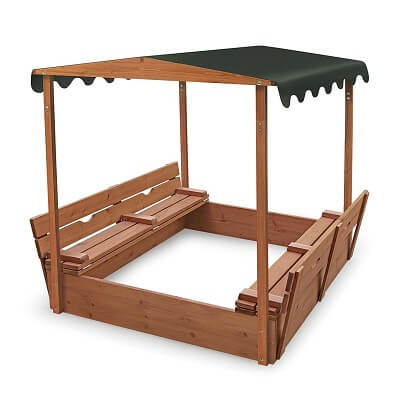 This sandbox looks more like an outdoor piece of furniture than a sandbox. It sports wooden benches for seating and also a waterproof canopy for rain protection. However, some slight durability concerns do need to be addressed.
Read more
Sandbox Construction
Badger Basket decided to construct their sandbox of cedar wood. On top of that, they heat-treated the wood to prevent molding and weathering. But, some users concur that the quality still could be a bit improved.
Seating Areas
Each of the two benches that are integrated into this model can support up to 200 pounds. If light enough, that means you can join your kids in the fun.
Size and Capacity
Space is certainly not going to be an issue in this sandbox. After all, it can fill sand six feet deep and up to 750 pounds in capacity.
Convenient Features
To make it easier to fold and unfold the benches, there are hand grips. Also, this is a bottomless construction so the sand depth can be adjusted.
Storage and Protection
When playtime is over, the benches will fold down and cover the box. Past this, the waterproof canopy on top adds even further protection. Although, this same canopy has been crucified for being too flimsy and cheap.
Overall
While you may end up needing to replace the canopy top after a few years, it will be worth it as the rest of the sandbox is fantastic. But, some customers will not want to put up with this and that is completely understandable.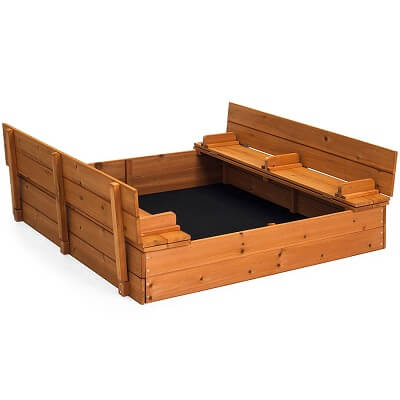 The number one sandbox on this list has everything that you look for in a premier model. This includes two fold-out benches for seating, a weather-resistant construction, plenty of interior space for multiple children and also protection from the elements when not in use.
Read more
Sandbox Construction
As this is built with weather-resistant and heat-treated cedar, it is designed to last. But, the wood is a bit thinner than you may initially expect so it can crack while you are assembling it if you are not careful.
Seating Areas
What is nice is not only are their two benches that fold out from the doors, but they are designed to hold the weight of adults. As such, you can sit right next to your kids while they have a ball.
Size and Capacity
Around 750 pounds of sand can be filled into this box. As far as the interior, it measures 47.25 inches long by 47 inches wide which is more than enough space for multiple little tikes.
Convenient Features
To keep the sand inside of the sandbox, this model is designed with a sand screen. In addition to keeping the sand inside, this will also drain the moisture into the ground.
Storage and Protection
While there is no canopy that comes with this model, the seats will end up covering the top of the sandbox when folded down. Because of this, the interior will be protected from rain and outdoor critters.
Overall
Once you get this bad boy assembled, which is admittedly much easier said than done due to the lack of half-decent instructions, the hardest part will be done. From there, sit back and watch your kids relish in their youth.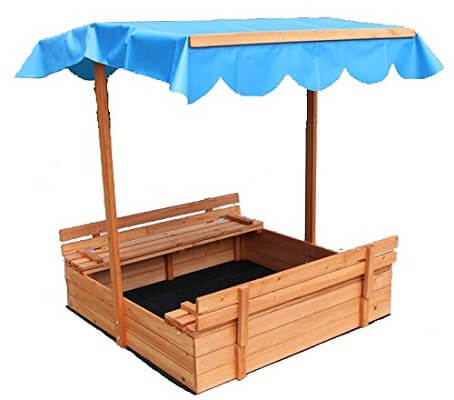 While this appears to be a mirrored image of the previous sandbox, it is a different model. However, it does sport many of the same features such as integrated benches and a canopy. But, it also features reinforced wooden panels to prevent weathering.
Read more
Sandbox Construction
Even though this is made of cedar and sports reinforced wooden panels to prevent warping and weathering, one user did note that it does not feel like genuine cedar.
Seating Areas
As with most sandboxes that resemble this design, there are dual integrated benches that provide a suitable location for your children to sit and play.
Size and Capacity
The sandpit itself measures 39 inches by 39 inches and it should be suitable for a few kids to play at once.
Convenient Features
Much like the last sandbox on this list, this model also sports a canopy. Beyond shielding your children from rainfall, this will also block the sunlight. However, while suitable, it is not amazing.
Storage and Protection
Besides the aforementioned canopy, the benches will fold up into storage and this will protect all the components inside overnight and when not in use.
Overall
It is tough to go wrong with a sandbox of this caliber. Sure, some slight improvements could be made here and there but your toughest audience to judge is pre-educated children.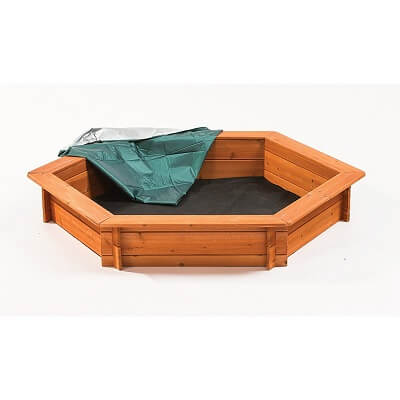 What is rather intriguing about this next sandbox is while it is crafted out of weather-resistant cedar, the assembly requires you to snap the boards in place. However, this design provides a ton of seating space as the outside boards can be used for this purpose.
Read more
Sandbox Construction
Once you have assembled this sandbox, which is comprised of weather-resistant cedar, make sure to be careful when you move it as it may fall apart due to the wood's semi-fragile nature.
Seating Areas
All around the outside are seating boards and this gives children the option of either sitting on top of the boards or either inside with the sand.
Size and Capacity
While the advertising claims this is ideal for three to four children, it is better suited for two to three. With dimensions of 59 inches by 51 inches, you could squeeze a fourth, though.
Convenient Features
Another nice feature of this model is its smart lining. This is able to prevent weeds from growing through the bottom and into the sandbox.
Storage and Protection
A rain cover is included with your purchase and it is optimized to cover this sandbox. It keeps most of the rain out and will keep the critters at bay.
Overall
Could the cedar board be thicker and more durable? Probably but at the end of the day, it should be suitable enough for your intentions along with all the other handy features.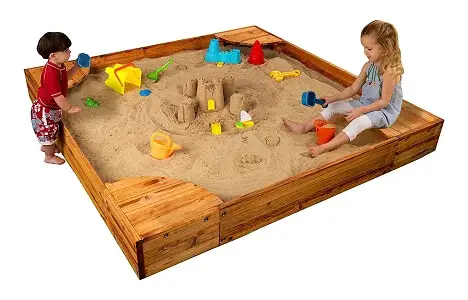 This is another sandbox that is constructed of wood and the wood panels have even been reinforced to prevent warping. However, a plastic liner is also included and it goes underneath the sand and allows drainage.
Read more
Sandbox Construction
As just mentioned, this box is comprised of weather-resistant wood that has been coated with an appealing finish. In addition, though, to prevent weathering and warping the panels have also been reinforced.
Seating Areas
There are four built-in seats on the outside of this sandbox (one on each corner). About the only real issue with them is pests such as wasps and snakes can penetrate inside.
Size and Capacity
At 59 inches length by width, this is one of the largest sandboxes on this list. It will be more than suitable for several children to play inside of at once.
Convenient Features
Coming with this model is a heavy-duty plastic liner. The intent of this liner is to protect the sand and allow moisture to drain. As it needs to be installed underneath the sand, do not forget about it as you really do not want to remove all the sand you poured inside.
Storage and Protection
A mesh cover is included and it is designed to cover the top of the sandbox and protect it from rainfall. However, it is not quite big enough and tends to leave small gaps around the sides.
Overall
While KidKraft should have engineered more thought into their mesh cover, their model as a whole is very impressive. To be honest, you could simply replace the included cover with a customized version as all it needs to do is protect the sand.

6

. Step2 Naturally Playful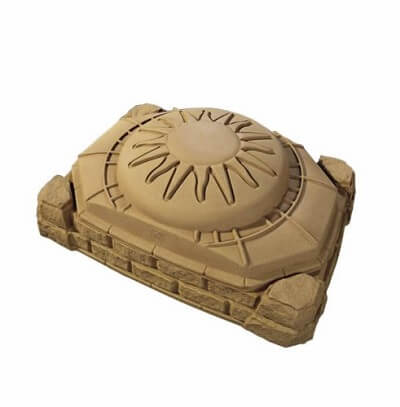 Not all sandboxes need to be sized for multiple children and if you are looking for a smaller model that still sports enough space to be breathable, you should look into the Naturally Playful Sandbox from Step2.
Read more
Sandbox Construction
The Naturally Playful Sandbox is one of the most beautiful models on this entire list. It combines outdoor textures and nature's colors to provide a brilliant décor for your backyard.
Seating Areas
Four seats are molded into the outside to account for multiple children. To spread them out, one seat has been outfitted on each corner.
Size and Capacity
Let's be honest for a second; this is not a very large sandbox. It can hold up to 200 pounds of sand but is not deep enough or spacious enough to account for more than maybe two small kids.
Convenient Features
Besides the fact that this comes fully assembled, it can actually double as a large planter when it is not being used as a sandbox.
Storage and Protection
About the only caveat to the included lid is that it blows away too easily. Once you secure it, though, it provides adequate protection for the sand and any toys inside.
Overall
It is never a bad day at the office when you run across a product that can be useful for your children and also a decorative piece to add to your outdoor décor. Indeed, this is the best of both worlds.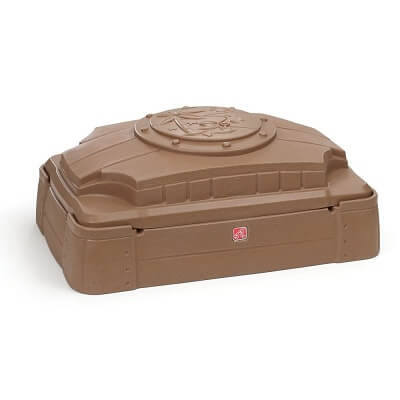 The Play and Store Sandbox is very similar to the previous model except it is not shaped like a turtle. Instead, it is made of surprisingly durable plastic and contains enough space and excitement for multiple children.
Read more
Sandbox Construction
For the money you are going to put into it, the plastic construction of this sandbox will suffice and is not a plastic piece of junk.
Seating Areas
On each corner, there is a molded-in seat that can be used for children to take a rest. Although, they are not the largest seats in the world and may be too small for older children.
Size and Capacity
You could probably fit two children tops in this sandbox. At 28 inches by 42 inches, you would be pushing it past that. Also, it can hold up to 200 pounds of sand.
Convenient Features
While this is devoid of many other features, the most convenient aspect of it may be that it ships pre-assembled. That means that it is ready to go out of the box.
Storage and Protection
A sandbox lid comes with this sandbox and when covered, acts as waterproof protection for the contents inside. But, a latch should have been integrated as strong winds will send it flying away.
Overall
Looking past the minor flaws of this design, this is an excellent bang for your buck selection. Granted your demographic is not older children, the smaller seats should also not be an issue.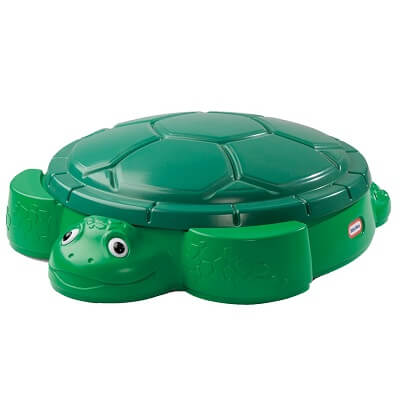 Probably the most noteworthy feature of this next sandbox is that it is designed in the shape of a turtle. Not only that but the lid is a turtle shell and this can be used as protection, a location to store sand toys and also as a miniature splash pool.
Read more
Sandbox Construction
Although this is made of plastic, it is quite strong and more durable than you may initially realize. Plus, there are molded in details on the bottom that will encourage your kids to dig.
Seating Areas
Instead of designing seats in the inside of the sandbox, Little Tikes optimized their design to create as much interior space as possible. Because of this, the two seats are molded on the outside.
Size and Capacity
All in all, this can hold up to 150 pounds of sand. It is not as big as the previous models but could still reasonably fit two small children. Any more would be pushing it, though.
Convenient Features
One user thought of an ingenious way to use the included shell lid. What they did is flipped it over and poured water inside of it. They ended up with a small little splash pool.
Storage and Protection
The most ingenious feature of this model is its lid. The turtle's shell doubles as such and can be used to protect the sand and toys from the outdoor elements. Yet, there needs to be a way to secure it as it flies away to easily.
Overall
If you have one to two little tikes running around your home, this sandbox will be exactly what all of you need. Besides being shaped as a child favorite pet, it can be used for hours of entertainment.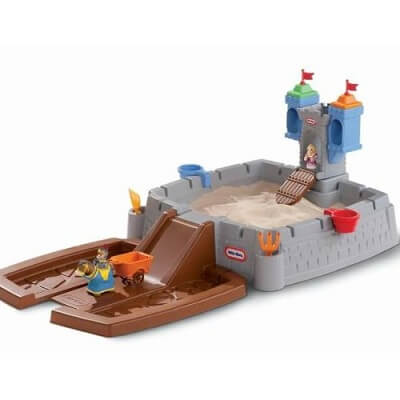 All the previous sandboxes on this list are designed to fit your children inside. However, Little Tikes takes a slightly different approach with their Castle Adventures and focuses more on providing your children with hours of entertainment.
Read more
Sandbox Construction
Unlike the other sandboxes on this list, this is designed with a plethora of children features. But, keep in mind that all the components are made of plastic.
Seating Areas
As this is not designed to physically sit children inside of, there are no seats integrated inside. Given your kids are not in the sandbox, though, you could give them small chairs to sit on.
Size and Capacity
Even if you thought about allowing your kids to play inside of this box, there would not be enough elbow room for it to be enjoyable. But, up to 100 pounds of sand can be held.
Convenient Features
The included drawbridge can be raised and lowered and the two turrets, which are removable, will reveal chutes that the included characters can slide down of.
Storage and Protection
While it does depend on how nasty the rainfall is to how well-protected the components will be inside, the ramp has a molded-in roadway and it doubles as your lid.
Overall
Unlike an ordinary sandbox, Little Tikes went all-out with their castle-themed design. What types of adventures does your child await? Only you can find that one out.

10

. Be Good Company Executive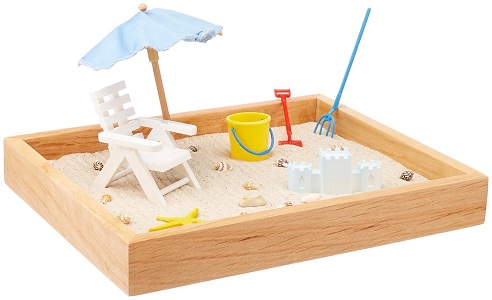 Interestingly enough, this last sandbox is not even designed for your little ones to play in. On the contrary, it is designed for you. It is basically a tiny replica of the beach and it can take your mind off of stressful situations. Pretty ingenious, would not you say?
Read more
Sandbox Construction
The box itself is made of solid wood but the potential issue is with the included accessories. All of them, such as the castle, bucket, and rake, to name a few, are made of plastic.
Seating Areas
As with the last sandbox, this is not a normal design. In fact, this is not even designed for your kids and is more an imaginary trip to the beach. As such, it is not big enough for a human to fit inside.
Size and Capacity
With a size of 2.7 by 7.8 by 9.9 inches, are you starting to get the picture? Again, this is a replica of a sandbox and is not actually a physical model.
Convenient Features
The plus side is that a ton of accessories, such as a shovel, umbrella, bucket, rake, and sand castle, are included. Yet, as mentioned before, they are kind of cheap.
Storage and Protection
To be honest, this is not intended for outdoor use. It is ideal for an office, a workplace or any place where you want to envision yourself at the beach.
Overall
It only seemed right to include this sandbox as the concept sells itself. Even though you may think it is frivolous and ridiculous, give it a try and see what you think.

Subscribe to our Newsletter