Best Sandboxes
In a
Hurry? Editors choice: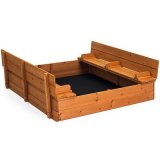 Test Winner: Best Choice Products

Remember when you were a kid and could not wait for the
summertime
when you could play in your sandbox? Admittedly, you may have been too young to remember those good times but that does not mean you did not have a blast. Should not your kids experience that same thrill and excitement? Better yet, if you have multiple children, a sandbox can be a great way to entertain them simultaneously for hours on end. While they will be the ones spending all the time inside, you need to be the one to order a high-quality model that will provide them with years of childhood fun. Thankfully, we are here to assist you with that predicament and have scoured the market for our favorite sandboxes. Check out our guide below and your kids can have the sand between their toes even when they are not on the beach.
Standout Picks
Criteria Used for Evaluation
Durability
Even though there are hundreds of different building materials in the world, most sandboxes will be constructed out of either wood or plastic. It is no coincidence that all of the entries in this list are comprised of one or the other. The question then becomes, though, which one is superior to the other? Well, as a majority of each landed their way on this list, it is safe to say that both construction methods can be suitable for you. If you do go with wood, however, you need to ensure that it is treated. While treated wood is not necessarily stronger than non-treated wood, it will maintain its integrity better as it will better resist the elements. Speaking of wood, one nice advantage of it is it is environmentally friendly and reduces the number of carbon emissions used.
Of course, the key aspect about plastic is it will not warp and is very durable in its own right. Given that there are various different forms of plastic, some will be more durable than others, however.
Comfort
Even though your kids may just end up playing in the sand without a care in the world, they may end up wanting a seat to sit on if they do not want their butts in the sand. The great news is most sandboxes will incorporate some sort of seating arrangement outside of merely sitting inside the sand. If you are looking into sandboxes that are constructed of wood, they may have integrated benches on each side. Most of the time, they will fold out and provide an ideal location for kids to sit on. Some will even have the capacity to hold grown adults and this can allow you to get in on the fun.
Not all models will integrate benches for seating, such as most plastic models, and instead will mold some seats into the sandbox. A common design is to have all four corners will molded seats. The aspect to keep an eye on here is how large the seats are and if they are molded on the inside or outside. If they are integrated on the inside, it may cut into the interior space a little bit.
Size
There hits a certain point in everyone's lives where they become too large to play on certain objects and toys. Well, sandboxes are a good example of one of those. But, perhaps your seven or eight-year-old still has interest in messing around in the sand for hours on end. That is no problem but you need to buy a sandbox with this in mind. Not all sandboxes are manufactured to be the same size. Because of this, you need to address how wide and long (and deep) you need the sandbox to be. If you are planning on fitting two to three children inside, there needs to be a decent amount of breathing room for them all to play comfortably.
Also, you can factor in the amount of sand they can hold. This will be a great indication of how deep and large the sandbox is as if it can fill up to 750 pounds of sand, you know you should be good to go.
Features
For the most part, the majority of your attention should go to the previous three sections and the one immediately following this. However, there are going to be some additional convenient features that can be worth your time and attention. For example, how about if the sandbox comes pre-assembled? If this weighs enough on your mind, perhaps you could prioritize a model because of this. But, how about if the sandbox is bottomless; does it come with a liner for protective reasons? As an example, if a plastic liner comes included it could prevent weeds or moisture from being a problem.
Of course, some wooded models will come with canopies. What is nice about these is they can provide protection against the blaring sun on blistering hot afternoons. The last thing you want is for your kids to suffer from sunburns and if you do not have a shaded area to place your sandbox, an overhead canopy could be the lucky ticket.
Subscribe to our Newsletter