Best Running Shoes for Boys
last updated:
Feb 07, 2020
When looking for shoes for your boys there are a vast number of options on the market, and most come in a variety of colors and styles, so you will have many options to choose from. You do want to keep in mind that your child is still growing so you want a durable and stylish pair of running shoes for him, but also do not want to spend too much as he most likely will need a new pair next year. Below we have listed the top ten running shoes for boys and explained why they are the best of the best on the market this year. Read on to find the perfect pair for your kid!
This is the best product on our list that is currently in stock: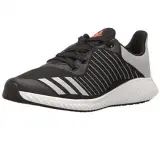 Adidas Performance Fortarun K
Why is it better?
They are lightweight with a fair amount of flexibility
They provide proper support in the arches, soles, and ankles
They are offered in a large variety of sizes and two colors
In a
Hurry? Editors choice: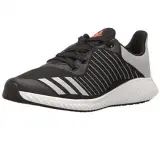 Test Winner: Adidas Performance Fortarun K

16
Researched Sources
1.2k
Reviews Considered
13
Hours Researching
16
Products Evaluated
Features
Fit
Durability
Support
By Default
Top Ten Running Shoes for Boys
Criteria Used for Evaluation


Features
Features are usually based on personal preference when it comes to shoes. Some people find the color and style to be a top priority while others find comfort to be more important. Of course, when it comes to young people, the style and color are important for the trends, they don't always concern themselves with comfort. This is where you, the parent comes in. It's your job to be sure the children have shoes with the best comfort and support possible.
A kid won't think about that until the blisters pop up. You also need to be sure the shoes have the proper shoelaces; if your child can't tie yet, Velcro might be a necessity. A removable liner is a plus for keeping the shoes clean and dry, but you might want to consider this feature if you have the need for an orthotic. While extra features like lights, sparkles, characters, and squeakers are fun for your children, they might not be practical or provide the support your child needs. When it comes to features, check for the comfort and support first, then all the other fun features can fall into place.


Fit
This is the most important factor to consider next to comfort and support. For the shoes to give their best performance, they must fit properly. While you might think it's a good idea to buy bigger because the shoes will last longer, that isn't the wisest decision. Shoes need to assure a proper fit; they shouldn't flop around in the back or squeeze your child's toes together. Believe it or not, shoes can cause blisters from being too big just the same as when they are too tight.
A proper fit should allow a thumbnail distance between your child's big toe and the tip of the shoe. The laces play an important role in a proper fit too. If they tied extremely tight, they might put pressure on the top of your child's foot, making the shoes feel as if they are too small. If the laces are too loose, your child might feel as though the shoes are too big. When choosing your child's size, don't forget to factor in the thickness of the socks he will be wearing. Shoes fit differently with thin socks compared to thick socks.


Durability
When it comes to durability, remember that your son is probably rough on his shoes. If he's like most boys, he will be into the woods, mud, and he will be running hard, for these reasons, durability is important. Check the thickness and quality of the soles, make sure they will hold up in the rocks and they won't take a puncture from a stick. The same is true for the material as well. If the shoes are leather, usually running shoes are not, but if they are, they can get scratched and scuffed badly in the uneven terrain. If they are nylon, they probably will be, make sure the seams are tight and the material is tough.
Inspect the quality of the laces and know how they are attached to the shoes. The better the quality, the better the durability, but you don't want to pay more for something you think is high quality only to discover it wasn't the best quality after all. The last thing you want is to find yourself picking up pieces from the shoes as they start to come apart.


Support
Support is an important factor no matter who you are, but it is even more important for a growing child. Since a boy's feet are not fully grown until they are 16-years old, it's important to consider that when you look for support. Arch support is always important, especially while the feet are still developing. The arches in the feet take in the most stress from walking and running, and without the proper support, your child could suffer from various medical conditions in the future. The higher the arch, the better, thus making it even more important for someone with flat feet to gain the added support from a good pair of shoes. Ankle support is as equally important. Have you ever worn a pair of shoes that caused you to turn your foot and twist your ankle while walking? This can happen to your son while he's running if the shoes you choose for him don't offer the proper amount of ankle support.
Expert Interviews & Opinions
Most Important Criteria
(According to our experts opinion)
Experts Opinion
Editors Opinion
Users Opinion
By Default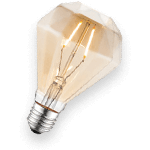 The Right Fit
Be sure the shoes fit properly and lace tight. If his shoes flop around when he walks or runs, the friction could cause blisters which in turn, could lead to an even bigger problem. It is best to wear socks with the shoes, and the socks must also fit properly so they won't fall inside the shoe. This could also be a potential situation that leads to blistering.
Inspect the lacing system for your son's ease of use. If he hasn't learned how to tie his shoes yet you might choose the ones with Velcro closure, or the shoes with the elastic, quick slip tying system would be a good choice as well. The laces not only play an important part in the ease of use but remember, the tighter the laces the better the fit.
Other Factors to Consider


Value
The thought of spending a large amount of money on shoes for a growing child might seem ridiculous, but cheap isn't always better. We've established that, typically, a boy's foot isn't fully grown until he is 16, and a girl's foot isn't fully grown until she is 14. With that in mind, you can see the importance of spending money on high-quality shoes. It really doesn't matter if you are buying shoes for a child or an adult, your feet are very valuable, and without the proper care, you could be in for a lot of medical problems in the future. These are all reasons why you should invest in high-quality shoes. The more features, along with the best fit, durability, and support, the more value you have tied up in the shoes. Just remember, you get what you pay for, and cheap isn't always better.
Frequently Asked Questions
q:

How often should I buy new running shoes for my boy?

a:

The answer to this question depends on a couple of factors; your child's age and how rough he is on his shoes. If he is between the ages of 4 to 8, his feet will be growing faster than older children and he will probably need shoes two to three times a year. Preteens are not growing quite as fast at this point, so they will only need one to two new pair of shoes a year. Your teenager will slow down the growth spurt and can probably get away with one new pair a year. Keep in mind though that the harder your son is in his shoes, the more often you will need to replace them.
q:

How many pairs of running shoes should my son own?

a:

It depends on the age of your son and the shoes. A child's feet grow the most during their first three years of life, and most of the time a parent doesn't even concern themselves with shoes on their child until they start to walk. Once your child reaches the age of 6-months old, you will probably start the hunt for a good pair of shoes. If your child isn't walking yet, then obviously one pair of shoes will be enough, and ideally, even after they begin to walk they really only need one pair of high-quality running shoes. Now, if you are fortunate enough to provide two pairs of good running shoes for your son, then that wouldn't be a bad idea. Keep in mind, the older your child gets, the more active he will become, thus putting more pressure on his shoes.

If you can afford to purchase two pairs of shoes, then encourage your child to alternate between the two every couple of days. That will give the shoes time to air out, so they don't gain a collection of stink. Believe it or not, feet can get tired of wearing the same pair of shoes every day, so alternating between two pairs will also give your son's feet the opportunity to relax. Be aware that the older he gets, the more shoes he will probably want, and when he's a teen, you might not find his floor due to all the shoes he will have strewn all over his room.
q:

How long should I expect my son's running shoes to last?

a:

If you provide your son with a good, high-quality pair of running shoes, he should outgrow them before they wear out. The more active he becomes with age, the harder he will be on his shoes which is why it's important that you get him a good pair with a lot of support and durability. If you can afford to provide two pairs of good runners for your son, allowing him to alternate between the two will allow for an even longer life of the shoes. If you can only get him one pair of good shoes, that's okay, because the best running shoes should have a long-life expectancy.
q:

What are the most important features to look for in running shoes for boys?

a:

When you are shopping for running shoes for your boy, you should first consider what the main purpose will be for the shoes. Will he be wearing them as everyday shoes, or will they be used strictly for running? Really, no matter what the purpose will be for the shoes, they should provide an excellent arch and ankle supports. The sole should be thick and a good, supportive, shock absorbing cushion is important too. You want to be sure the soles provide good traction, so they won't slip on a wet surface or slide when contacting wet leaves.

Be sure the material and seams are solid, assuring they won't rip or tear, and make sure the soles are securely attached and can tolerate your child's abusive performance. If your boy can't tie his own shoes yet, you might want to consider Velcro straps, and a quick-slip locking system would be a good feature to help keep the laces tied and out of the way. Breathable mesh on the upper part of the shoe is a great comfort feature; not only is it lightweight and cooler, but it will also keep your boy's feet free of sweat. The weight of the shoes is extremely important too because you don't want your boy's shoes to be so heavy that they will cause fatigue and strain on his feet and legs. The last feature you will want to consider is the color and style choice. Just remember, for a child the support should be the number one priority.
Subscribe to our Newsletter