Best Running Shoes for Boys
In a Hurry? Editors choice: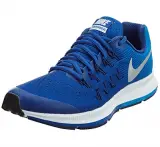 Test Winner: Nike Zoom Pegasus 33

When looking for shoes for your boys there are a vast number of options on the market, and most come in a variety of colors and styles, so you will have many options to choose from. You do want to keep in mind that your child is still growing so you want a durable and stylish pair of
running shoes
for him, but also do not want to spend too much as he most likely will need a new pair next year. Below we have listed the top ten running shoes for boys and explained why they are the best of the best on the market this year. Read on to find the perfect pair for your kid!
Standout Picks
Criteria Used for Evaluation
Features
Features are usually based on personal preference when it comes to shoes. Some people find the color and style to be a top priority while others find comfort to be more important. Of course, when it comes to young people, the style and color are important for the trends, they don't always concern themselves with comfort. This is where you, the parent comes in. It's your job to be sure the children have shoes with the best comfort and support possible.
A kid won't think about that until the blisters pop up. You also need to be sure the shoes have the proper shoelaces; if your child can't tie yet, Velcro might be a necessity. A removable liner is a plus for keeping the shoes clean and dry, but you might want to consider this feature if you have the need for an orthotic. While extra features like lights, sparkles, characters, and squeakers are fun for your children, they might not be practical or provide the support your child needs. When it comes to features, check for the comfort and support first, then all the other fun features can fall into place.
Fit
This is the most important factor to consider next to comfort and support. For the shoes to give their best performance, they must fit properly. While you might think it's a good idea to buy bigger because the shoes will last longer, that isn't the wisest decision. Shoes need to assure a proper fit; they shouldn't flop around in the back or squeeze your child's toes together. Believe it or not, shoes can cause blisters from being too big just the same as when they are too tight.
A proper fit should allow a thumbnail distance between your child's big toe and the tip of the shoe. The laces play an important role in a proper fit too. If they tied extremely tight, they might put pressure on the top of your child's foot, making the shoes feel as if they are too small. If the laces are too loose, your child might feel as though the shoes are too big. When choosing your child's size, don't forget to factor in the thickness of the socks he will be wearing. Shoes fit differently with thin socks compared to thick socks.
Durability
When it comes to durability, remember that your son is probably rough on his shoes. If he's like most boys, he will be into the woods, mud, and he will be running hard, for these reasons, durability is important. Check the thickness and quality of the soles, make sure they will hold up in the rocks and they won't take a puncture from a stick. The same is true for the material as well. If the shoes are leather, usually running shoes are not, but if they are, they can get scratched and scuffed badly in the uneven terrain. If they are nylon, they probably will be, make sure the seams are tight and the material is tough.
Inspect the quality of the laces and know how they are attached to the shoes. The better the quality, the better the durability, but you don't want to pay more for something you think is high quality only to discover it wasn't the best quality after all. The last thing you want is to find yourself picking up pieces from the shoes as they start to come apart.
Support
Support is an important factor no matter who you are, but it is even more important for a growing child. Since a boy's feet are not fully grown until they are 16-years old, it's important to consider that when you look for support. Arch support is always important, especially while the feet are still developing. The arches in the feet take in the most stress from walking and running, and without the proper support, your child could suffer from various medical conditions in the future. The higher the arch, the better, thus making it even more important for someone with flat feet to gain the added support from a good pair of shoes. Ankle support is as equally important. Have you ever worn a pair of shoes that caused you to turn your foot and twist your ankle while walking? This can happen to your son while he's running if the shoes you choose for him don't offer the proper amount of ankle support.
Top Ten Running Shoes for Boys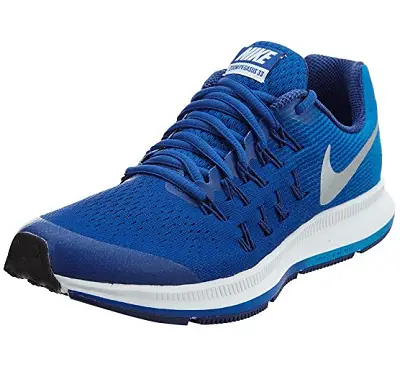 Another great product of Nike, these Zoom Pegasus 33 running shoes will prove to be a great support for your young son.
Read more
Features
These lightweight shoes provide a high-quality breathable mesh fabric on the top and a thick rubber sole on the bottom. The laces never need to be tied, so there will be no distractions or worry about tripping. They are available in an assortment of attractive bright colors that will satisfy anyone's taste.
Fit
Nike is usually true to size, but in a few cases, these shoes might run a half size smaller or lager. They are available in various sizes across the chart, and the lacing system provides a snug fit at the top of the foot assuring added comfort and mobility. They don't require time for breaking in, so they can be worn straight out of the box.
Durability
These shoes are made of durable, high-quality materials that will hold up no matter what your son puts them through. The thick sole is durable enough to conquer uneven terrain and will be sure to block the rocks from poking through to the heels of his feet.
Support
Nike is always very generous with their arch support, and these shoes are no exception. The ankles provide enough support to assure your son won't turn his ankle and the support on the back of the foot is phenomenal.
Value
With Nike, there is always value and the price is marked right for anyone's budget.

2

. Adidas Performance Hyperfast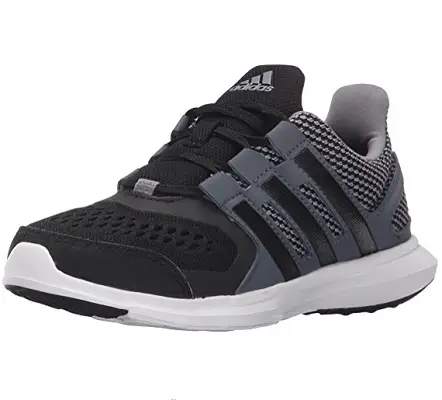 Famous for their athletic shoes and clothing line, Adidas continues to produce a high-quality line of family footwear, clothing, and accessories. These popular running shoes for boys prove that they are still growing strong.
Read more
Features
These attractive looking shoes combine a comfortable mesh upper with a thick rubber lower sole. The laces are of high-quality and some styles will require tying, while others will not. There is a wide variety of colors and styles available in tastefully bright colors. These shoes are equally comfortable for walking, running, or playing hard.
Fit
These Adidas running shoes are available in a large selection of sizes from little kid to big. They are the best for a wide foot and the sizes seem to be exact.
Durability
Tough enough to take all the abuse your son puts on these shoes, they will outlast him long after he has outgrown them. The rubber soles are tough, and the top is lined with high-quality laces that won't break or snag.
Support
These running shoes provide adequate support, and although the sides are lower than some, the back is higher than most.
Value
These are good quality shoes for the money, and with a name like Adidas, you know they are worth every penny.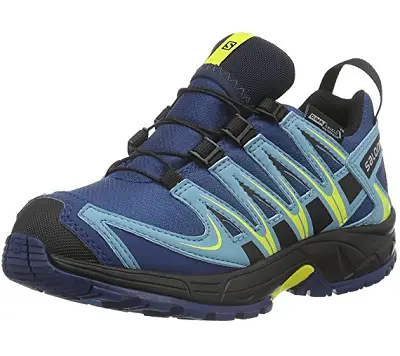 From ages 9 to 99, Salomon provides quality shoes for the entire family, and this shoe is one of the best running shoes for boys they have to offer.
Read more
Features
These shoes feature a stylish grown-up look that every child desires. Made of a high-quality breathable material, these shoes offer all-day comfort and your son's feet won't sweat as much as they might in others. They provide a quick slip lacing system with elastic laces that don't need to be tied, so he won't have to deal with his laces coming undone. The only downside to this lacing system is that the ends will need to be tucked under the tongue to keep out of the way. The traction these shoes provide is phenomenal and will be perfect for everyday use or for hiking the trails on the next camping trip. A large selection of bright color choices is available for you to choose the shoes that best match your son's personality.
Fit
These shoes offer sizes from toddler to big kid, but they are designed to fit best on children with a wider foot and they do run a bit larger in size. The strong lacing system will provide a secure fit between the top of the foot and the top of the shoe.
Durability
These shoes might be lightweight, but they provide a durable sole and the outstanding quality will outlast your child; he will outgrow the shoes before they wear out, no matter how hard he is on the shoes.
Support
The outstanding cushion in these shoes provides a comfortable bottom that will serve as a barrier between the rocks and your son's heels. They provide excellent arch and ankle support along with excellent stability and comfort.
Value
From the top to bottom quality to the excellent lacing system, you can't go wrong with this choice, and the affordable price adds to the value. You won't be disappointed with this pair of running shoes.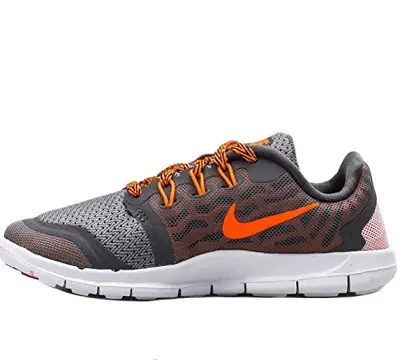 Nike always delivers high quality and excellent performance, so why would these running shoes be any different?
Read more
Features
These shoes offer a variety of cool designs and colors that are acceptable by kids of all ages. The mesh covering will allow the air to flow freely through the shoe giving your boy's feet a chance to breathe. The rubber soles provide a soft, safe, and comfortable cushion between the feet and the ground. They are so comfortable that your boy will be wearing them right out of the box.
Fit
They are available in a wide selection of sizes from little kids to big kids and they usually fit perfect to size, but these tend to run a size smaller than normal. These shoes are not just a favorite of kids, but women enjoy wearing them too.
Durability
Nike never seems to disappoint when it comes to durability and the same holds true with these running shoes. They are made of high-quality materials that are built to last, and chances are, your boy will outgrow these shoes before they start to wear out.
Support
The thick soles provide stability and comfort while the ankles offer extra support, so your child won't turn his foot. Although Nike always offers good arch support, these provide slightly less support than usual.
Value
These are high-quality and durable shoes for a great price. Don't be surprised when your child outgrows these shoes before the shoes begin to show any stress.

5

. Under Armour Grade School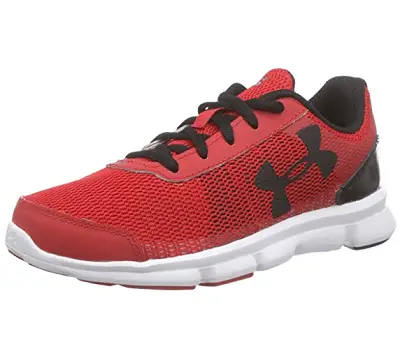 Since 1996, Under Armour has been producing the best quality in performance apparel. Not only do they carry a wide selection of quality clothing, but their shoes are outstanding as well, and these boys running shoes are just one example.
Read more
Features
Featuring a durable mesh fabric on the top and a soft, thick rubber sole on the bottom, these shoes are ready to accept the abuse your son is preparing to put on them. With the mesh covering, your son's feet will breathe freely avoiding sweat and stink. They are well-made with a soft cushiony sole and comfortable, high-quality laces. They offer a sporty style with many attractive colors to choose from.
Fit
There is a large selection of sizes available ranging from little kids to big kids and they seem to fit close to the actual sizes.
Durability
They are made with high-quality and durability, however, the front stitching tends to pull away and tear sooner than one would expect from this brand. The thick, rubber sole appears to be strong and it doesn't appear to come apart at any time.
Support
These shoes provide acceptable arch and ankle supports, and the bottom of the soles offer a good grip to keep your boy on his feet.
Value
Under Armour holds value in all their products, and these shoes are not an exception.

6

. New Balance Nitrel Hook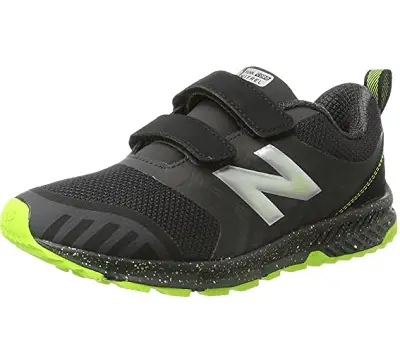 Every child wants to be just like a grown-up, and when they are wearing these shoes they can feel like they are. These shoes are the perfect choice for children with disabilities and the attractive colors are very well accepted by the kids.
Read more
Features
These shoes are easy to put on and take off, making them the perfect design for those with disabilities. The Velcro closure gives a child the feeling of independence while you don't have to stop and tie their shoes every five minutes. These awesome shoes are available in five different colors that are sure to please everyone's taste.
Fit
These shoes are offered in little kid and big kid sizes and are true to fit for those with wider feet. The adjustable Velcro straps assure an even better snug to the foot for the perfect fit.
Durability
Although they may not be as durable as others, they will still stand the test of an active child. They are lightweight with solid construction and a tread that compares to that of a hiking shoe. They are only somewhat slip-resistant, so approach wet surfaces with caution.
Support
These New Balance running shoes are comfortable and offer a substantial amount of support in the ankles and arches.
Value
This is a good quality running shoe for the money. When you think New Balance, you automatically think value.

7

. Adidas Performance Fortarun K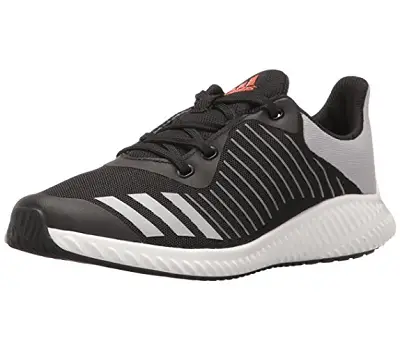 These adorable shoes will make your younger guy look and feel like a grown-up. The design is sleek and stylish and performs in a way you would expect from a good pair of Adidas shoes.
Read more
Features
These lightweight shoes provide a mesh upper and thick rubber soles. They will allow your child's foot proper airflow, so they won't sweat and stink, and the strong laces are cleverly designed, so you won't have the worry of them coming loose. They are extremely flexible with excellent mobility and the stylish colors are pleasant and welcoming.
Fit
Designed for wider feet, these shoes are available in a variety of sizes across the chart. When choosing these shoes, take into consideration the fact that they run a size bigger than most, so you will want to plan the size accordingly.
Durability
These shoes will accept and beat the challenge of abuse they will encounter from your child. It's likely that your boy will outgrow the shoes before they begin to wear down. The rubber soles are exceptionally durable and will stand up against the rough and rocky terrain.
Support
Adidas provides a sufficient amount of support in the arches and soles. The back heel of these shoes is higher than the sides, offering extra support for stability and positive performance.
Value
Knowing these are stamped with the famous Adidas brand name says a lot about the value, but if that isn't enough proof, the price says the rest.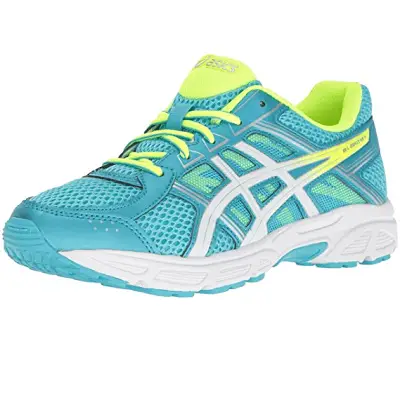 Another great pair of running shoes from Asics are these Gel-Contend 4 GS running shoes. These offer great support and even the pickiest of children will fall in love with them.
Read more
Features
These shoes feature a lightweight design made of high-quality mesh on the upper and tough, thick soles on the bottom. They offer a removable liner that can be aired out or you can substitute your own. The laces don't tie, so you never have the worry of stopping to tie a shoelace and the colors are fun and pleasant. They don't require time for breaking in and can be worn a whole day right from the box.
Fit
They are offered in various big kid sizes and they do tend to run a bit bigger, so plan accordingly when making your selection.
Durability
These Asics provide a more durable sole and lacing system than any of the others. Most children outgrow the shoes before they even begin to wear out.
Support
These provide the best arch support you will find in a children's running shoe. The gel cushion is an added bonus for comfort and the thick rubber soles provide protection and support from all that lingers between the shoe and the ground.
Value
With the exceptional arch support and the durability of the soles at such a great price, you can't beat the value and quality of these shoes.

9

. Asics Gel-Noosa Tri 11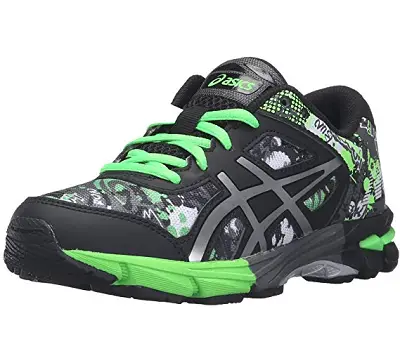 For more than four decades, Asics have been providing good quality athletic shoes to families throughout the country, and these excellent running shoes are no exception. If your child requires a medical orthotic, these are the shoes you will want to consider.
Read more
Features
Featuring bright, stylish color schemes, these attractive running shoes provide a removable liner that can be replaced with a medical orthotic. Unlike other Asics, these do not provide ventilation, which could be a problem for those who have stinky feet, but they do wash up nicely, so this shouldn't be a deal breaker.
Fit
The sizes are available for little kids and big kids, but they do provide a narrower fit than some, so those with a wider foot might need a size up on the chart.
Durability
The thick sole provides strong durability between the ground and your child's foot, so they won't get injured from rocks and uneven terrain. They are durable enough to take a beating no matter where your son wants to explore.
Support
They are lightweight running shoes that offer great arch support and excellent comfort. They are durable around the ankles and sturdy enough for your son to keep his footing when he runs or walks.
Value
Asics are known for quality athletic footwear, and these shoes prove them right once again. They are affordable and long-lasting, you won't be disappointed with this pick.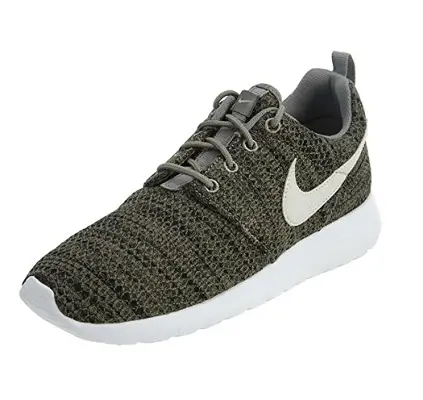 For more than a few decades, Nike has been proudly displaying their swoosh all over footwear and apparel across the country. When it comes to walking shoes, cross country, track, and running, Nike has them all and they've hit it off again with these popular running shoes.
Read more
Features
Featuring a breathable, mesh upper and rubber bottom, these shoes make great footwear for all day use. Not only are they popular with kids, but smaller adult women enjoy wearing them too. They provide a finger loop to easily pull them on and they feature no tie laces for convenience and added comfort. They are available in various styles and colors, so your son can match them up with his favorite clothes.
Fit
These shoes are offered in various sizes for all ages, they are true to their size, and can easily fit smaller adults.
Durability
The material is made of high-quality and the leather is thick and strong. The stitching seems to be dependable and will endure the challenge of an active child. The eyelets are seamed, so the laces will stay firm against them.
Support
Nike always comes out on top when it comes to arch support, and the firm, yet soft sole offers plenty of support and comfort. The back of the ankle is just high enough for the appropriate amount of ankle support.
Value
The price, quality, and brand of these shoes hold true value within the soles.

Subscribe to our Newsletter