Best Tumbler
In a
Hurry? Editors choice: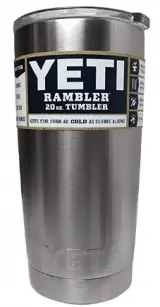 Test Winner: YETI RAMBLER

Sometimes, it can be tough to find a mug, bottle, or tumbler that works for you for what you need it for. Sure, even the best tumbler ever can adequately hold liquid but as you know, there is much more to it than that. After all, if you need your drinks to be kept cold or hot for several hours at a time, the container you keep them in needs to be
heavily insulated
.
It also can't sweat, needs to hold as much liquid as you desire and probably should be made of
stainless steel
.
However, and this guide is going to focus strictly on tumblers, finding options on the market that suit you can prove to be a more difficult task than it probably should be. But, with the help of this guide, hopefully, that process is simplified for you.
Standout Picks
Criteria Used for Evaluation
Insulation
If you want the model you pick to keep your drinks cold or hot, it needs to be insulated.
One of the benefits of buying an insulated tumbler is that it will be capable of keeping your drink either hot or cold. However, it can't magically pull this off unless it is designed correctly. And, this is why it becomes vital to assess the insulating properties of any model if you want it to retain the temperature of your drink.
But, how do you do that? Well, there are two major insulating technologies (so to speak) that you need to be knowledgeable of. The first is what is known as double-walled construction. As the name suggests, this literally consists of two walls (an inner and an outer one) to better retain its temperature for longer periods. However, most models with double-walled construction will also typically employ a vacuum.
Now, this is another element to take into the fold. Those with a vacuum will essentially slow the spread of heat. After all, a vacuum consists of little to no air. So, in other words, if you want the best insulation possible, go with models that sport double-walled vacuum insulation. Of course, you also need to remember that the ambient temperature will affect how long your drinks will stay cold or hot.
Capacity
You need to buy according to your needs, right? Well, you better get the right size then.
Whenever you are buying products such as tumblers, you will always need to buy them based on your needs. And, this is never going to be more prevalent than with the capacity. As subtle a feature as this may seem to be on the surface, it actually is one of the most vital for you to pay attention to.
After all, if you do not buy a model that is large enough for your needs, it is not going to be efficient for you. Then again, the opposite could be true if you buy a model that is simply too large and bulky. It really all comes down to you and your needs and preferences, quite frankly.
Keeping all this in mind, how large are tumblers typically designed, you may be thinking? Well, if you took the time to look through the above products, you probably noticed that the capacities can vary quite a bit. But, most models will range anywhere from 16 to 40 ounces. Clearly, there are exceptions but you get the point. Of course, there is something else you need to remember. If you desire to buy a tumbler that fits into the cup holders in your vehicle, it needs to be sized appropriately.
Materials
Most of the time, you will see tumblers made out of stainless steel. That just seems to be the material of choice.
Did you notice something similar about all the above products? Indeed, they are all made of stainless steel and this is not a coincidence. Sure, there are tumblers on the market that are made out of plastic but they should really just be avoided.
Not only do they not look as good but they also will pale in comparison to stainless steel when it comes to their insulating capabilities. So, this section is wrapped up then, right? All you need to do is get a stainless steel model as they are all made the same, correct? Nope, it is not that easy as not all stainless steel is made the same.
You see, there are different grades of this metal. Thankfully, most models on the market will utilize 18/8 stainless steel (which is also known as 304 grade) and that is because this particular grade is often used for food dining and preparation. The 18/8, for the record, merely refers to the metal composition (with the 18 percent representing chromium and the other 8 percent representing nickel).
What is nice with this composition is the chromium will bind with oxygen that is on the surface to provide a layer of rust protection to the metal. Meanwhile, the nickel adds resistance to corrosion. Oh, and speaking of which, you may also see some models with special interior linings for enhanced protection against corrosion and rust.
Features
This section is all about the design of the lid (and the handle if one is present).
Most tumblers on the record will not be equipped with handles, for the record, so that means this section is really all about the lid. Without question, the lid is one of the most important portions of this type of product. However, from brand to brand, the lids may be entirely different.
There are several different design styles and types of lids that you will see. And, depending on the size, some of them may even be able to be interchanged for others. Yet, you will not find very many of them that will offer 100 percent leakproof performance. Heck, even one of Yeti's lids is going to allow some liquid to leak if the vessel is turned or tipped over. This is just something you may have to deal with.
Now, as there are different lids out there, there are different features you need to look for. Some lids will be designed to slide open, some flipped open and others will be designed with mouthpieces that are always open. It all depends on your preferences but, no matter what, you may want to avoid spilling your tumbler as the lid is probably not going to prevent all the liquid from escaping.
Ease of Use
This is really about how easy your tumbler is to clean, quite frankly. And, if you should place it in the dishwasher.
For those of you who have dishwashers installed in your homes, this section will be of particular interest to you. The good news for you is that some sellers out there do rate their tumblers to handle the washing cycle of a dishwasher. They will also typically inform you of such by claiming their model is dishwasher-safe.
But, that does not mean that all the components will be. For example, some may inform you that the lid can handle the top rack of the machine but not the main body. Meanwhile, others will rate each and every one of the parts as dishwasher-safe. But, in spite of this, should you place stainless steel in a dishwasher, in the first place?
To err on the side of caution and to take the safe route, you may just want to hand-wash your model (no matter if it is dishwasher-safe or not). The reality is stainless steel can oftentimes survive going through this machine with no damage. Yet, the abrasive nature of them can take its toll on certain kitchenware over time. And, due to the fact that stainless steel is typically easy to clean by hand, to begin with, the answer could be clear.
OUR TOP PICKS FOR THE BEST TUMBLERS
Subscribe to our Newsletter