Best Tumbler
In a
Hurry? Editors choice: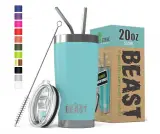 Test Winner: BEAST

Sometimes, it can be tough to find a mug, bottle, or tumbler that works for you for what you need it for. Sure, even the best tumbler ever can adequately hold liquid but as you know, there is much more to it than that. After all, if you need your drinks to be kept cold or hot for several hours at a time, the container you keep them in needs to be
heavily insulated
.
It also can't sweat, needs to hold as much liquid as you desire and probably should be made of
stainless steel
.
However, and this guide is going to focus strictly on tumblers, finding options on the market that suit you can prove to be a more difficult task than it probably should be. But, with the help of this guide, hopefully, that process is simplified for you.
Standout Picks
Criteria Used for Evaluation
Insulation
If you want the model you pick to keep your drinks cold or hot, it needs to be insulated.
One of the benefits of buying an insulated tumbler is that it will be capable of keeping your drink either hot or cold. However, it can't magically pull this off unless it is designed correctly. And, this is why it becomes vital to assess the insulating properties of any model if you want it to retain the temperature of your drink.
But, how do you do that? Well, there are two major insulating technologies (so to speak) that you need to be knowledgeable of. The first is what is known as double-walled construction. As the name suggests, this literally consists of two walls (an inner and an outer one) to better retain its temperature for longer periods. However, most models with double-walled construction will also typically employ a vacuum.
Now, this is another element to take into the fold. Those with a vacuum will essentially slow the spread of heat. After all, a vacuum consists of little to no air. So, in other words, if you want the best insulation possible, go with models that sport double-walled vacuum insulation. Of course, you also need to remember that the ambient temperature will affect how long your drinks will stay cold or hot.
Capacity
You need to buy according to your needs, right? Well, you better get the right size then.
Whenever you are buying products such as tumblers, you will always need to buy them based on your needs. And, this is never going to be more prevalent than with the capacity. As subtle a feature as this may seem to be on the surface, it actually is one of the most vital for you to pay attention to.
After all, if you do not buy a model that is large enough for your needs, it is not going to be efficient for you. Then again, the opposite could be true if you buy a model that is simply too large and bulky. It really all comes down to you and your needs and preferences, quite frankly.
Keeping all this in mind, how large are tumblers typically designed, you may be thinking? Well, if you took the time to look through the above products, you probably noticed that the capacities can vary quite a bit. But, most models will range anywhere from 16 to 40 ounces. Clearly, there are exceptions but you get the point. Of course, there is something else you need to remember. If you desire to buy a tumbler that fits into the cup holders in your vehicle, it needs to be sized appropriately.
Materials
Most of the time, you will see tumblers made out of stainless steel. That just seems to be the material of choice.
Did you notice something similar about all the above products? Indeed, they are all made of stainless steel and this is not a coincidence. Sure, there are tumblers on the market that are made out of plastic but they should really just be avoided.
Not only do they not look as good but they also will pale in comparison to stainless steel when it comes to their insulating capabilities. So, this section is wrapped up then, right? All you need to do is get a stainless steel model as they are all made the same, correct? Nope, it is not that easy as not all stainless steel is made the same.
You see, there are different grades of this metal. Thankfully, most models on the market will utilize 18/8 stainless steel (which is also known as 304 grade) and that is because this particular grade is often used for food dining and preparation. The 18/8, for the record, merely refers to the metal composition (with the 18 percent representing chromium and the other 8 percent representing nickel).
What is nice with this composition is the chromium will bind with oxygen that is on the surface to provide a layer of rust protection to the metal. Meanwhile, the nickel adds resistance to corrosion. Oh, and speaking of which, you may also see some models with special interior linings for enhanced protection against corrosion and rust.
Features
This section is all about the design of the lid (and the handle if one is present).
Most tumblers on the record will not be equipped with handles, for the record, so that means this section is really all about the lid. Without question, the lid is one of the most important portions of this type of product. However, from brand to brand, the lids may be entirely different.
There are several different design styles and types of lids that you will see. And, depending on the size, some of them may even be able to be interchanged for others. Yet, you will not find very many of them that will offer 100 percent leakproof performance. Heck, even one of Yeti's lids is going to allow some liquid to leak if the vessel is turned or tipped over. This is just something you may have to deal with.
Now, as there are different lids out there, there are different features you need to look for. Some lids will be designed to slide open, some flipped open and others will be designed with mouthpieces that are always open. It all depends on your preferences but, no matter what, you may want to avoid spilling your tumbler as the lid is probably not going to prevent all the liquid from escaping.
Ease of Use
This is really about how easy your tumbler is to clean, quite frankly. And, if you should place it in the dishwasher.
For those of you who have dishwashers installed in your homes, this section will be of particular interest to you. The good news for you is that some sellers out there do rate their tumblers to handle the washing cycle of a dishwasher. They will also typically inform you of such by claiming their model is dishwasher-safe.
But, that does not mean that all the components will be. For example, some may inform you that the lid can handle the top rack of the machine but not the main body. Meanwhile, others will rate each and every one of the parts as dishwasher-safe. But, in spite of this, should you place stainless steel in a dishwasher, in the first place?
To err on the side of caution and to take the safe route, you may just want to hand-wash your model (no matter if it is dishwasher-safe or not). The reality is stainless steel can oftentimes survive going through this machine with no damage. Yet, the abrasive nature of them can take its toll on certain kitchenware over time. And, due to the fact that stainless steel is typically easy to clean by hand, to begin with, the answer could be clear.
OUR TOP PICKS FOR THE BEST TUMBLERS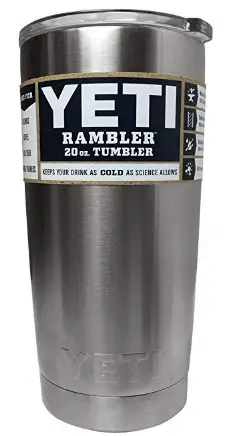 No, the Yeti Rambler is not a perfect Yeti tumbler. But, it might just be the standard-bearer to which every other great tumbler is compared to. It has earned that distinction with its fantastic design.
Read more
Insulation
The Yeti Rambler is a lot like the other top tumblers on the market in that it has been over-engineered with double-walled insulation. Not only will your drinks remain cold or hot but the exterior is also not going to sweat.
Capacity
Yeti provides you with two different capacity options. You can go with the standard 20-ounce model or if you know you will need more liquids throughout the day, the 30-ounce one.
Materials
As with virtually every other model in the world, this is designed with 18/8 stainless steel. This is one of the most popular compositions of the metal so it makes sense.
Lid Design
Even though the lid is shatter-resistant, multiple users have noted that the drinking hole is always exposed. Due to this, accidental spilling can still persist.
Ease of Cleaning
For the record, the lid and vessel of this model are dishwasher-safe. Of course, you can always hand-wash them if you are concerned about the long-term effects of dishwashers.
Overall
Until another manufacturer decides to step up to the plate, the Yeti Rambler will remain the cream of the crop when it comes to tumblers.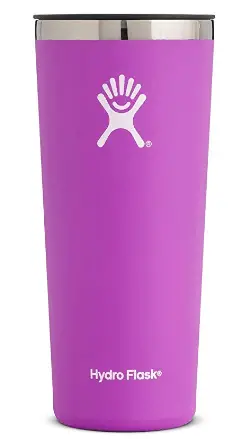 If the lid was as well-designed as the vessel is with this model, it would have probably ascended past the Yeti Rambler. The Vessel is literally that good but the lid has its drawbacks.
Read more
Insulation
Thanks to the double-walled and vacuum insulated design, this can keep your drinks hot for up to 6 hours and cold for up to 24 hours.
Capacity
There are two different sizes that you can select from here. Hydro Flask provides you with the options of either 22 or 32 ounces.
Materials
The food-grade, 18/8 stainless steel that encompasses this model is not only admired for its purity and strength but also for its protection against flavor transfer.
Lid Design
Unfortunately, the mouthpiece of this tumbler can't be closed completely. As such, spills can be a potential issue and heat can escape a bit quicker. This is probably done for convenience but the ability to be able to close the opening on the top would have been appreciated.
Ease of Cleaning
Granted you follow the instructions for cleaning this, you should have little to no issues when you go to clean this.
Overall
Just a little more thought needed to go into the design of the lid. Other than that, you are looking at a design that is as close to perfect as you are going to see.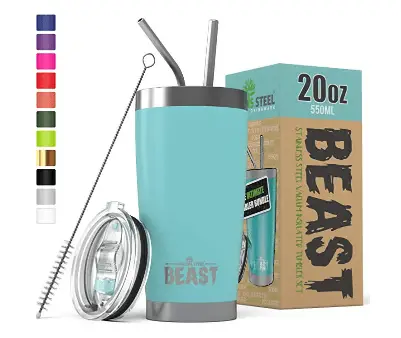 Though the Yeti Rambler gets a lot of the accreditation from consumers, this model is right here with it in terms of effectiveness and popularity. Of course, it also comes at a fraction of the price.
Read more
Insulation
Thanks to the superior finishing of this model (both inside and out), it is not only going to keep your drinks at the temperature they need to be but it is also not going to sweat.
Capacity
Once again, this is an option that is offered in a few different sizes. If the 20-ounce capacity is not going to be enough for you then you can opt for the 30-ounce option.
Materials
In addition to the 18/8, food-grade stainless steel exterior, this is also designed with an electro-polished interior. This is going to prevent any unwanted transfer of flavors and is also going to prevent rust.
Lid Design
The lid is advertised as being splashproof but it is certainly not spill-proof. Do not allow this to tip over because if you do, it is probably going to leak out some liquid.
Ease of Cleaning
To simplify the cleaning process, the straws, lid, and vessel that come with your purchase are all dishwasher-safe.
Overall
Again, from top to bottom, this really is a beautiful design. Of course, ironically, the "top" is the one drawback as an improved lid would have taken this over the top.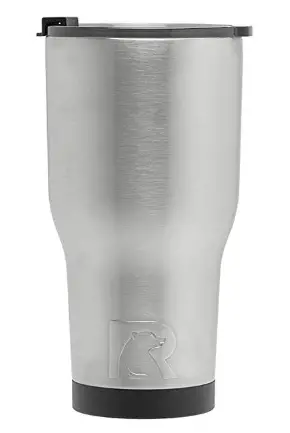 In addition to its overall impressive design, this does come in a massive 40-ounce capacity vessel making it one of the largest tumblers out there. It is also made of 18/8 stainless steel, so there is that.
Read more
Insulation
Yep, this is another design that comes with double-walled vacuum insulation. As such, it is able to hold ice for up to 24 hours (depending on the ambient temperature, of course).
Capacity
As mentioned, this does come in a 40-ounce option. Then again, there are also options for 20 and 30 ounces if 40 ounces is simply too large for your needs.
Materials
There is no surprise here as this is designed of 18/8 stainless steel. As you can see, this is pretty much the standard for tumblers.
Lid Design
The good news is the lid is designed to be splashproof. The bad news, though, is that it will still leak if it is at an angle. Even worse yet is the lid has a unique size (which makes it harder to replace for a different one).
Ease of Cleaning
One of the nice aspects of stainless steel kitchenware is they are typically easy to clean. And, you guessed it, this right here is no different.
Overall
In addition to everything else, which also makes this a compelling option is that it comes in a plethora of different colors. Of course, its insulating properties are where the money is at.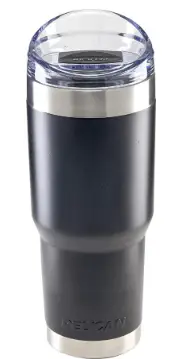 You know, this design epitomizes the strengths and weaknesses of most tumblers on the market today, quite frankly. It is designed with fantastic insulating capabilities but is not engineered with a leakproof lid.
Read more
Insulation
One thing is for sure, the Pelican Traveler will retain the temperature of your drinks. After all, it is designed with double-walled vacuum insulation (and also sports a copper-plated interior wall).
Capacity
With a 32-ounce capacity, this should be plenty large enough for most of you out there.
Materials
Even if something were to happen and the 18/8 stainless steel were to break or chip, this is backed by Pelican's lifetime guarantee. In short, if you end up breaking this, they will replace it.
Lid Design
One aspect that stands out about this lid is the fact that it can be closed completely. Yet, at the same time, several buyers have noted that spilling can still persist.
Ease of Cleaning
One reviewer did make mention of the fact that this is not dishwasher-safe. To err on the side of caution, stick with hand washing this particular model.
Overall
Without question, the Pelican Traveler is one of the best tumblers in the business. And, even though its slide lid is not flawless, it is at least different from the rest of the competition.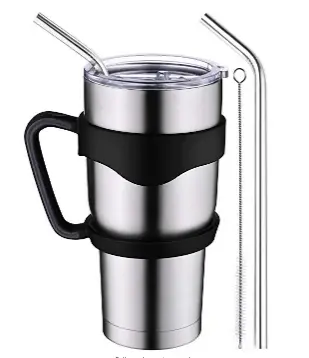 Most tumblers are not designed with physical handles and the first aspect you may notice about this option is that it does sport one. That is just one of the many features to love about it.
Read more
Insulation
Not only is this not going to sweat but it can keep your cold and hot drinks at suitable temperatures for up to 24 hours and 6 hours, respectively. This is all thanks to the double-walled vacuum insulation.
Capacity
Hopefully, 30 ounces is okay with you because that is what you are going to get with this tumbler.
Materials
Do note that this is made of 304 stainless steel which is another name for 18/8 stainless steel. It is the same food-grade, high-quality stainless steel used wildly in other models.
Lid Design
This is equipped with a transparent slide lid, for the record, but various users have noted that it will not seal completely. Also, as for the handle, it is nice to have but is not attached very well.
Ease of Cleaning
With your purchase, a dedicated cleaning brush is included. This can be used for the tumbler itself and also for the included straws.
Overall
The fact that this is actually equipped with a handle is compelling in and of itself. Top that with excellent insulating properties and you have yourself an incredibly solid option.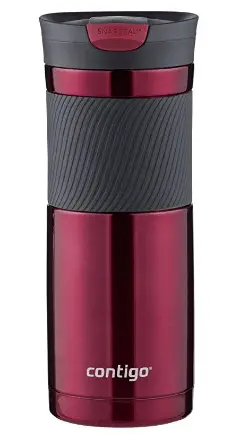 Right from the get-go, you will notice that this model is equipped with a textured grip on the exterior. In addition to the stainless steel makeup, this makes it very compelling.
Read more
Insulation
This mug is designed with Thermalock vacuum insulation. What this means is your cold drinks will stay so for up to 18 hours while your hot drinks up to 7 hours.
Capacity
There are three capacity options that you can go with (16, 20 and 24 ounces). While not the largest selection of sizes available, it is nice to have a few different options.
Materials
Do not worry; this is not made of cheap plastic or metal. Instead, inside and out, this is made of high-quality stainless steel.
Lid Design
The SnapSeal lid is not perfect as it will leak from the mouthpiece (if turned at the right angle). Additionally, it can also be very difficult to open at times. This is good for creating a superior seal but bad when you need to add more liquid.
Ease of Cleaning
It is worth noting that the lid can be used in dishwashers (on the top rack only) but the vessel can't be. As is noted in the product description, you will need to hand-wash this portion.
Overall
Well, would you look at that? This is another fantastic option that comes with a somewhat flawed lid. That just seems to be the name of the game. But, this is a compelling option regardless.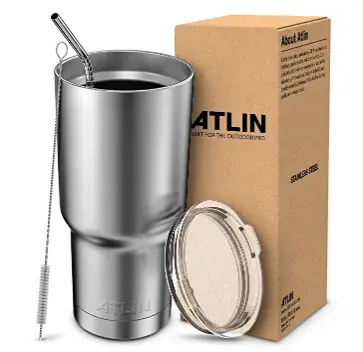 In addition to the vessel and lid, this also comes packaged with a cleaning tool and a straw that can be reused. Too bad the lid was not better, as a whole, though.
Read more
Insulation
With its dual-layer insulation, this is able to keep your drinks cold for up to 24 hours and hot for up to 6 hours.
Capacity
Past the fact that this can hold 30 ounces of liquid, it is also noted that this is optimized to fit into standard-size cup holders.
Materials
Being completely designed of stainless steel, you can take comfort in the fact that knowing this is not made with cheap materials.
Lid Design
Unfortunately, the lid has been known to break on consumers. As a whole, it is the weakest part of this design (which is not much of a surprise).
Ease of Cleaning
If you so choose to, you can place this in your dishwasher as it is rated to handle it. Of course, you can always opt for hand washing.
Overall
If you can just accept the fact that the lid is fragile, you can invest in an affordable, highly-insulated tumbler. It is truly a good design overall.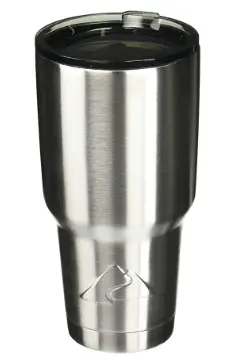 This is yet another option that has been well-received by most reviewers. It is not flawless but, at the end of the day, it will be suitable for most of you.
Read more
Insulation
Though this is nothing out of this world, it is designed with double-walled insulation. As such, this is ideal for both hot and cold beverages.
Capacity
For most people, 30 ounces is going to be a suitable size for a tumbler. It is one of the most common sizes, after all.
Materials
Okay, so the stainless steel construction is ideal. However, multiple consumers have received their model with noticeable damage (dents, scratches, etc.).
Lid Design
The lid is mildly sufficient but it is not going to prevent spills. Thus, you do need to be careful to not spill this in your vehicle.
Ease of Cleaning
It is worth noting that previous consumers have successfully placed this in their dishwashers without damage. Then again, long-term damage could still be a factor to consider.
Overall
In spite of the issues that Amazon customers have had with quality control, this is yet another suitable tumbler that serves its purpose well.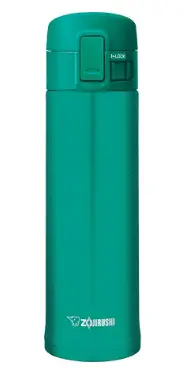 In spite of its flaws, this has received critical acclaim from the consumer base. Literally, thousands of buyers have raved about the design of this model. Not bad, huh?
Read more
Insulation
This has a tendency of keeping hotter drinks insulated for much longer than others on the market. In large part, this is thanks to the vacuum insulation technology that is implemented.
Capacity
In terms of size, this is pretty small when compared to others. For the record, the two capacity options are 12 and 16 ounces.
Materials
Even though the metal is thinner than what you may be expecting, it is 18/8 stainless steel. Additionally, the interior is coated with a SlickSteel finish.
Lid Design
In spite of the cumbersome design, the flip lid is effective at what it is supposed to do. It can be opened with one hand but also secured with its safety lock.
Ease of Cleaning
Quite a few previous buyers have actually pointed out that this can be difficult to clean. It is a major issue when you use this with drinks that tend to leave residue behind (such as tea and coffee).
Overall
It is easy to see why so many consumers have fallen in love with this design. It has its limitations, certainly, but most of you will be able to live with them.

Subscribe to our Newsletter