Best MTB Cranksets
In a Hurry? Editors choice: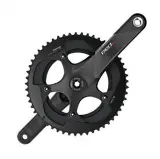 Test Winner: SRAM Red GXP Crankset

Mountain bikes are full of essential components that can alter the durability and performance that you experience. And, without question, one of those components happens to be the best MTB cranksets. Whether you have come here today looking for an upgrade or because your current MTB cranksets need to be replaced, we are here to help.
MTB cranksets of any kind are set out to convert the
motion of your legs
(from pedaling) into energy that can drive the rear wheel forward. So, as you can tell, it is an essential component to get right, and you need to know how to buy one.
Now, it is important to note that this guide will be focused on MTB cranksets. This means that this guide will be tailored to
mountain bike riders
. Now with that out of the way, let's get this show on the road.
Standout Picks
Criteria Used for Evaluation
Our Top Picks for the Best MTB Cranksets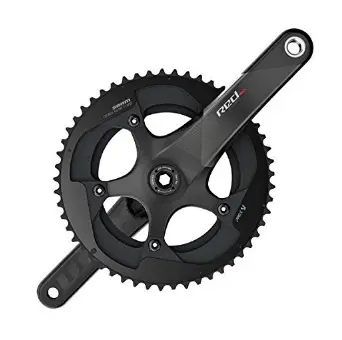 This is an SRAM crankset which automatically means its placement is justified on this list. If you are looking for a true upgrade and do not mind shelling out the dough then this is a terrific option.
Read more
Materials
What is so exceptional about this crankset is the fact that it provides the stiffness users love from carbon cranks. At the same time, this design also lays up the carbon to create a spider with a higher volume.
Size
Still used on the spider arms are 130-millimeter bolt circle diameters. Oh yeah, the wings are also available in different lengths (165, 167.5, 170, 172.5 and 175 millimeters).
Performance
In addition to the fact that SRAM used specific analysis techniques to create a crankset with enhanced stiffness, innovative Exogram technology has also been implemented. This ensures better gear shifts and improved power transfer.
Compatibility
For the record, this design is compatible with the SRAM GXP bottom bracket standard. And, this also includes the option for hybrid ceramic bearings.
Weight
It depends on the size of the arms that you buy, but each option remains lightweight regardless. The weights range from 568 to 619 grams, for those of you who care.
Overall
The SRAM GXP Crankset is just as good as it gets when it comes to MTB cranksets. It is money well-spent, even though the price of admission is pretty darn high.

2

. FSA K-Force Carbon Crankset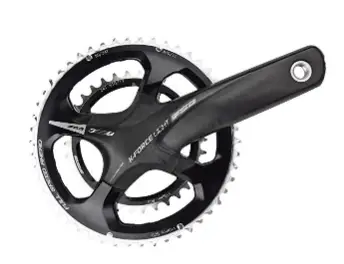 Due to the carbon fiber construction of this bike crank, it is not only extremely lightweight but also superiorly stiff. While you pay the price for this type of crankset, it is worth the money.
Read more
Materials
In addition to the fact that the chainrings have been 3D forged from aluminum, the actual arms have been molded in carbon fiber for excellent stiffness.
Size
Past the fact that this is available with different chainrings, the lengths of the crank arms are also different. They are available in 170, 172.5 and 175-millimeter lengths for those of you who care.
Performance
To say that the shifting performance of this crankset is flawless is an understatement. Additionally, extra rigidity is placed where it is needed most in the pedal stroke.
Compatibility
Not only are the chainrings both 10 and 11-speed compatible but this entire system is compatible with full 86-millimeter bottom bracket shells.
Weight
What is nice is the enhanced stiffness of this chainset does not come at the expense of more weight. That is the brilliance of carbon fiber, after all.
Overall
When it comes down to it, this and the number one option on this list are tossups. Both of them deserve to be called the best MTB crankset out there as they are that close in quality.

3

. Race Face MTB Crankset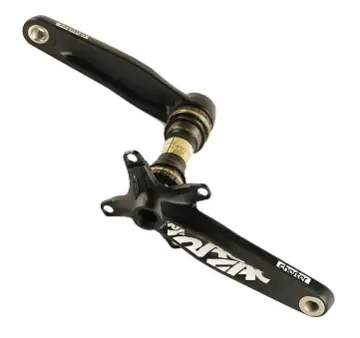 Race Face has been known to create some spectacular MTB cranksets and their Chester model is one of their best. Even though the crank arm is not made out of carbon fiber, it has been engineered with net-forged alloy.
Read more
Materials
Everything about this model screams durability. This includes the net-forged 6066 alloy crank arms, steel inserts, extended spline interface and also bearings that have been factory filled with waterproof grease.
Size
Race Face provides you with multiple crank arms lengths to choose from. As with so many others, you have the option of choosing 165, 170, or 175-millimeter arms.
Performance
Overall, you will not feel any flex at all with this crankset. Even though it is not designed with carbon fiber, the supplied stiffness is simply superb.
Compatibility
Though the reviews have been mixed with the included X-Type bottom bracket, it is nice that it is included. Also, this also sports three millimeters of chain line adjustability which is really convenient.
Weight
At over 1000 grams in total weight, it is safe to say that this is not the lightest option on the market.
Overall
The combination of the ultra-durable core and the stiff ride that is produced makes this as highly compelling a choice as you will find, especially at this price range.

4

. Race Face Atlas Crankset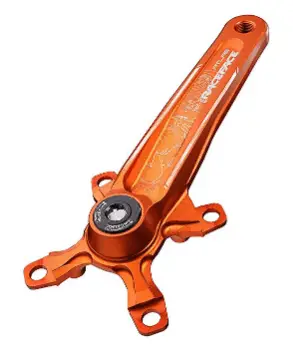 What another fantastic mountain bike crankset this is. In addition to the superb performance that your mountain bike will receive, this has also been engineered from OPTIM-AL.
Read more
Materials
Due to the fact that this has been engineered with OPTIM-AL, it is 20 percent stronger than competing MTB cranksets that are made with 7050 alloy. Also, the bearings have been factory filled with waterproof grease.
Size
The Atlas is available with both 165 and 170-millimeter arms, for the record. You just may have to search in other places for the 170-millimeter version.
Performance
Thanks to the deeper construction of the arms, this chainset is potent in regard to its stiffness. Additionally, fat tab technology has been implemented for increased strength and effectiveness.
Compatibility
You will just need to buy a chainring for this as a bottom bracket is included. Also, to ensure chain guide compatibility, this allows for five millimeters of chain line adjustment.
Weight
When compared to the first generation Atlas crankset, this weighs far less (anywhere from 31 to 81 grams of savings, to be specific).
Overall
Leave it to Race Face to design such a high-quality mountain bike crankset. What is even more remarkable, however, is the fact that this will not break your bank.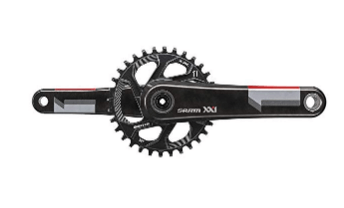 When looking at this chainset from top to bottom, it becomes difficult to find any flaws. Granted that the XX1 GXP is engineered by SRAM that is not too much of a surprise.
Read more
Materials
The carbon fiber arms have been joined with a forged aluminum spider. For those of you who want models that sport carbon fiber, you should be a big fan of this.
Size
The SRAM XX1 GXP comes in a 170-millimeter length. As for the chainrings, there are six different ones available to suit a wide range of different terrains and wheel sizes.
Performance
One of the most significant selling points of this design is the fact that it was optimized for maximum chain control. This is thanks to the innovative tooth profile that alternates thickness by inner and outer links.
Compatibility
While this does have a different bolt circle diameter, the new spider design does allow for more natural ring changes. On another note, the bottom bracket (as noted in the description) does not come with your purchase.
Weight
With the bottom bracket (which is not included) included in the total weight, this only weighs 650 grams. The addition of carbon fiber is the primary reason why the weight is so low.
Overall
At the end of the day, it is merely a tough bet against an SRAM crankset. Their XX1 GXP is as good as it is going to get at this price range, you can count on that.

6

. FSA Vero Compact Crankset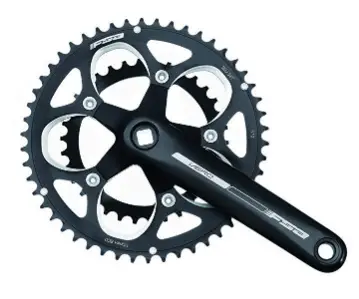 Mark this down as simply another truly fabulous MTB crankset on a long list of them. The arms are designed with cold-forged aluminum and are also available in a few different lengths.
Read more
Materials
As was just noted, the crank arms that are equipped here are indeed made with cold-forged aluminum.
Size
FSA designs their Vero crankset in a few different sizes for your convenience. You have options for 170, 172.5 and 175-millimeter crank arms.
Performance
Per the name, this is indeed a compact crankset. But, what you need to know is the compact gearing does not sacrifice top-end speed.
Compatibility
It is essential to know that this is compatible with JIS square taper bottom brackets as one is not included with your purchase. Additionally, this system is also compatible with both SRAM and Shimano nine-speed drivetrains.
Weight
It is noted in the product description that this crankset clocks in at just less than 700 grams (699, to be exact).
Overall
Much like with other high-quality brands out there, it is tough to go wrong with an FSA crankset. In fact, from top to bottom, the brand's Vero is about as stellar as you could ask.

7

. Shimano Alivio Crankset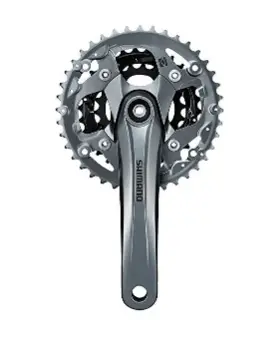 One of the nice aspects of Shimano is the fact that they engineer many affordable and high-quality MTB cranksets. Their Alivio is one great example of such and is an elite, entry-level option.
Read more
Materials
As noted, this is an entry-level option. And, because of this, the Alivio is equipped with forged aluminum. Not bad, overall, but it is not entirely carbon fiber.
Size
There are two different size options at your disposal, much like many of other MTB cranksets. Anyway, you can choose between either arm lengths of 170 or 175 millimeters.
Performance
The combination of the Hyperdrive technology for improved shifting performance and the 8-spline interface between the crank arms and bottom bracket for enhanced power transmission is excellent.
Compatibility
For the record, the bottom bracket you need is not included with your purchase. Also, this crankset works well for nine-speed gear systems.
Weight
Though this is not designed with carbon fiber arms, this is not a heavy crankset regardless.
Overall
For an entry-level bicycle crank system, this thing is pretty remarkable. The performance-end of things is what is striking as you would not expect that from a model at this price range.

8

. Shimano Tourney Crankset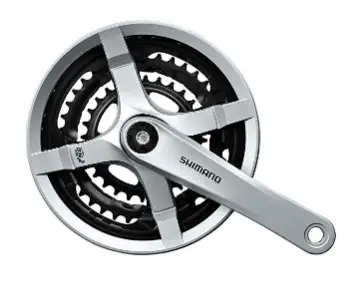 What makes this crankset so great is the fact that it produces a smooth ride thanks to its flawless shifting. Oh, it also is available at an affordable price so that is always a plus.
Read more
Materials
In addition to the fact that the body of this chainset is made with aluminum, it has also been painted to protect the surface from scratches and other such damage.
Size
There are some different options available for the chainrings as well as for the lengths of the arms. For the latter, you have options for 170 or 175 millimeters.
Performance
If there is one thing you can count on from Shimano MTB cranksets, it is that they are typically designed to perform. The smoothness of the ride (thanks to the flawless shifting) provided by this crankset will be adored by several of you.
Compatibility
Quite conveniently, this can work with various types of drivetrains. For example, it is compatible with drivetrains ranging from six to eight speeds. Oh, and the bottom bracket is not included.
Weight
The steel arms do add some weight, but the overall aluminum core does make this a lightweight chainset. It is just not quite as light as specific top-end models.
Overall
This is proof that cheaper cranksets can still be quite beneficial. While this lacks the lightness and stiffness that you will see in top-end designs, it is beyond excellent for the price.

9

. Shimano Altus Chainset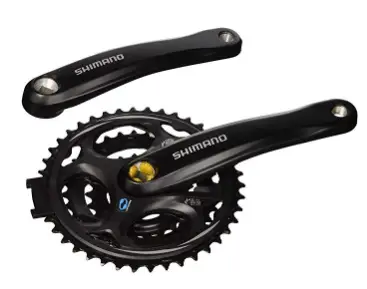 In the future, you will probably find yourself upgrading from the Shimano Atlus. For the meantime, however, it can act as a great replacement for your current crankset if it is worn out.
Read more
Materials
While some plastic has been implemented, this is mostly designed of metal. There is also an excellent powder coating that adds a layer of protection to the metal.
Size
For those of you wondering, five millimeters can go a long way. That is being noted as the two size options available are 170 and 175 millimeters in length.
Performance
In addition to the increased speed that you can expect from this (depending on the crankset that you are replacing), the built-in chainguard conveniently keeps your shoelaces and pants away from the drivetrain.
Compatibility
This is going to require a 123-millimeter bottom bracket. As you can probably guess, this is not going to be included with your purchase. On another note, this is also seven and eight-speed compatible.
Weight
You can expect top-end models to be a little lighter (thanks to carbon fiber), but that is not to say that this is heavy (as that is not the case at all).
Overall
Yes, the addition of the plastic is going to be met with a lukewarm response. That is fair but do know this; the Atlus crankset is still going to be excellent for the right riders.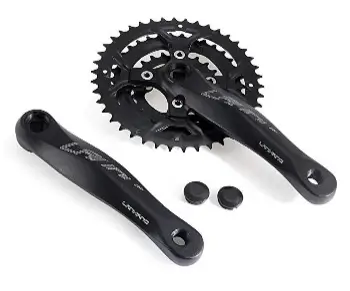 In addition to the most durable construction, this crankset is also equipped with Fluid Drive Plus technology. This accounts for improved and satisfactory shifting performance.
Read more
Materials
For the most part, the construction is solid here. This includes the steel inner ring and the aluminum outer ring. We say "for the most part" as one user did note that the pedal threads stripped out for them.
Size
This comes with a crank arm that measures 170 millimeters in length, so do keep that in mind.
Performance
The primary reason why this crankset even made this list was due to its Fluid Drive Plus technology. This maximizes the performance of the shifting, which will only make you happier.
Compatibility
As with other MTB cranksets, this does not come with a bottom bracket. Also, keep in mind that this does come with riveted chainrings.
Weight
You have heard the spiel before; this is not the lightest model out there but is far from unbearably heavy.
Overall
Consider this the off-the-wall selection on this list. It is not that it is terrible, but it is made by a manufacturer that you may have never heard of before.

Subscribe to our Newsletter