Osprey Poco Plus Child Carrier
Sporting an incredible number of features, the Osprey Poco Plus Child Carrier makes it easy for you and your precious little one to get out into the wild outdoors.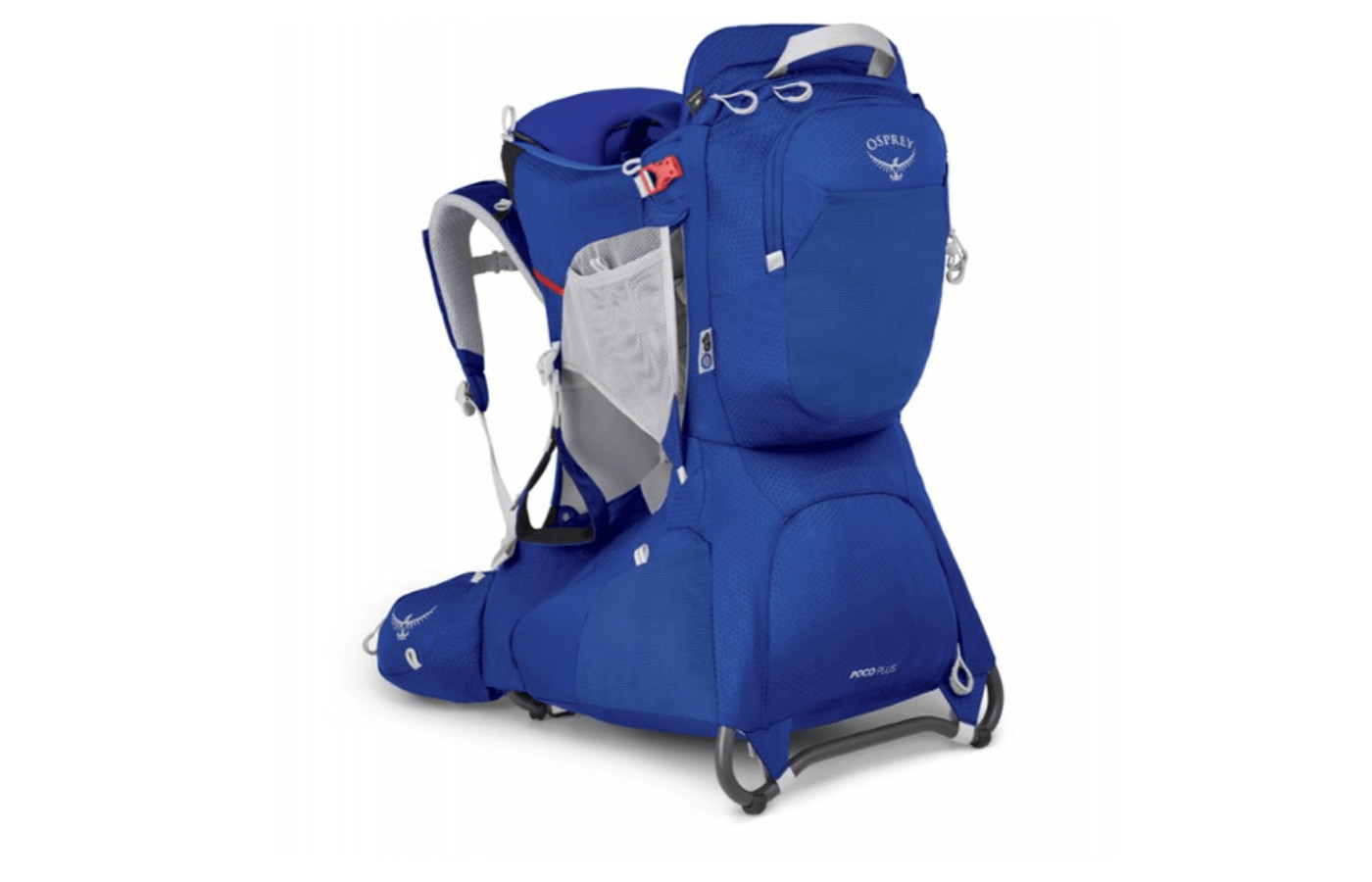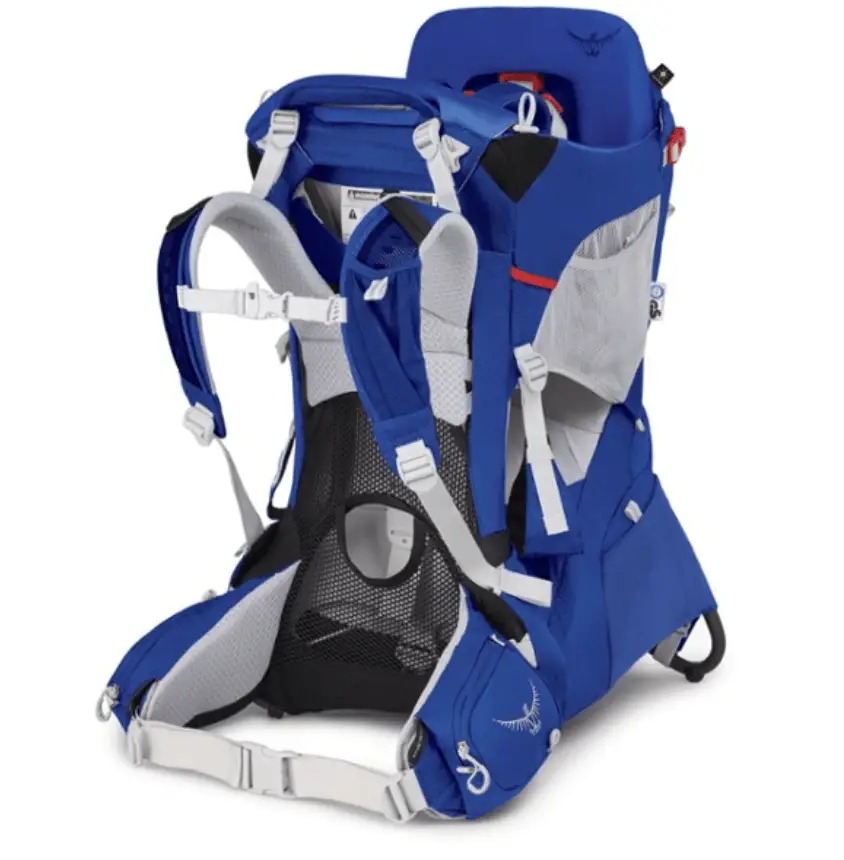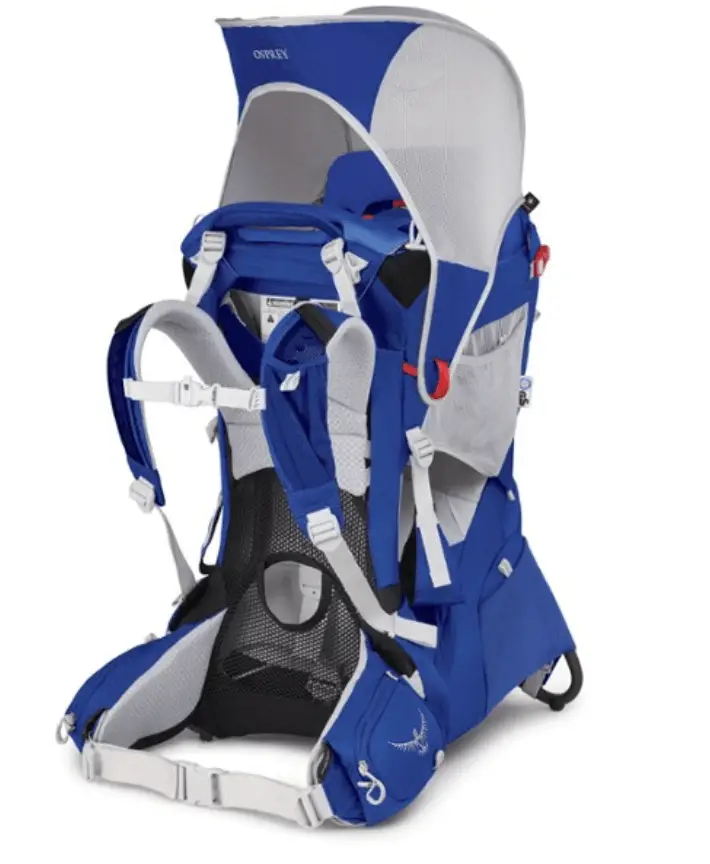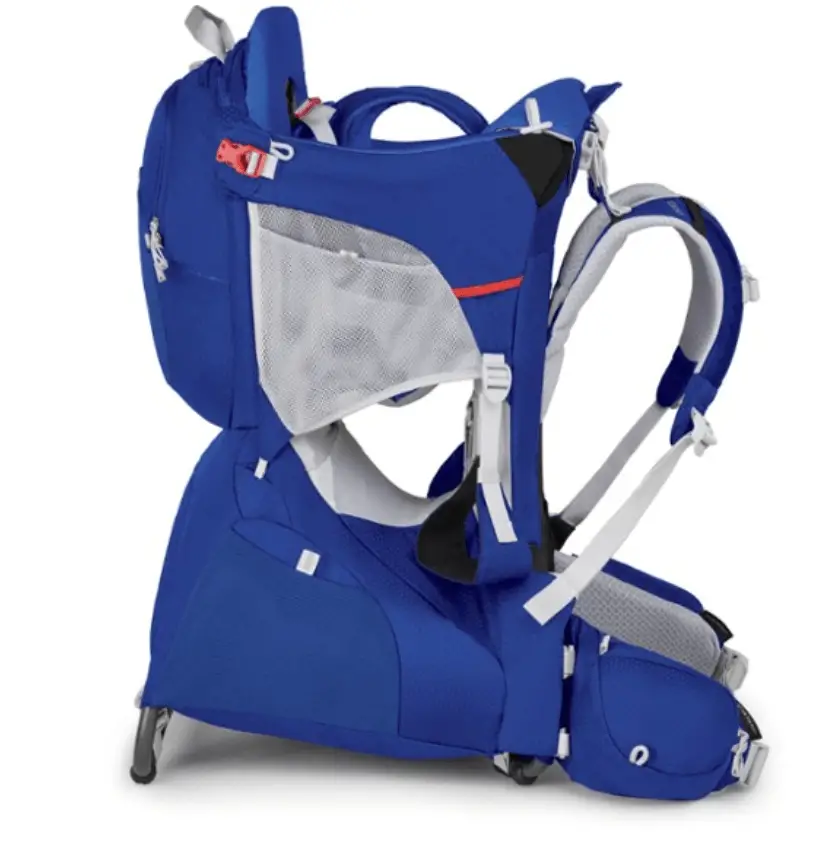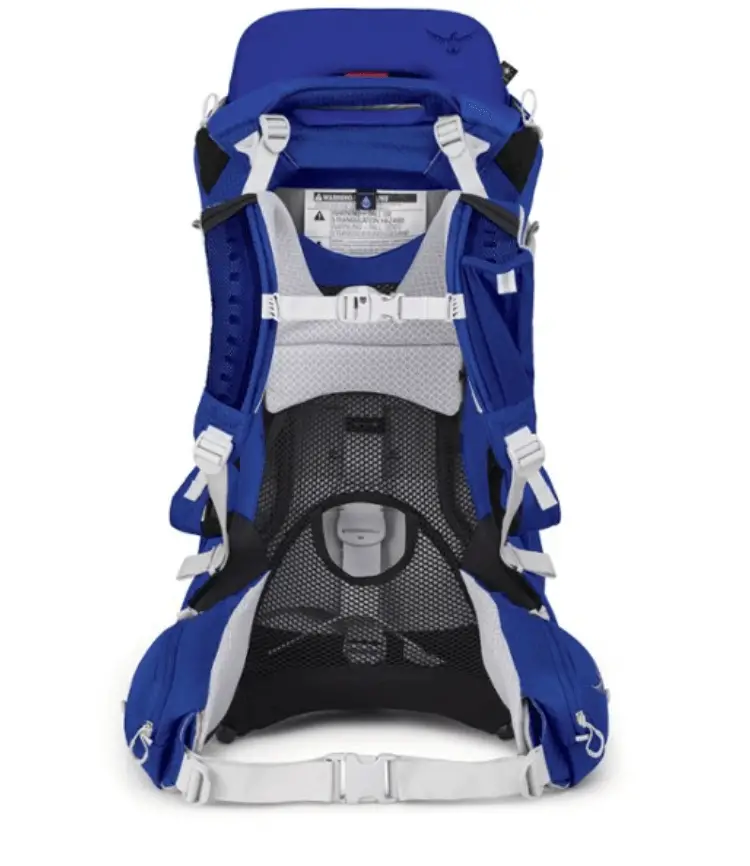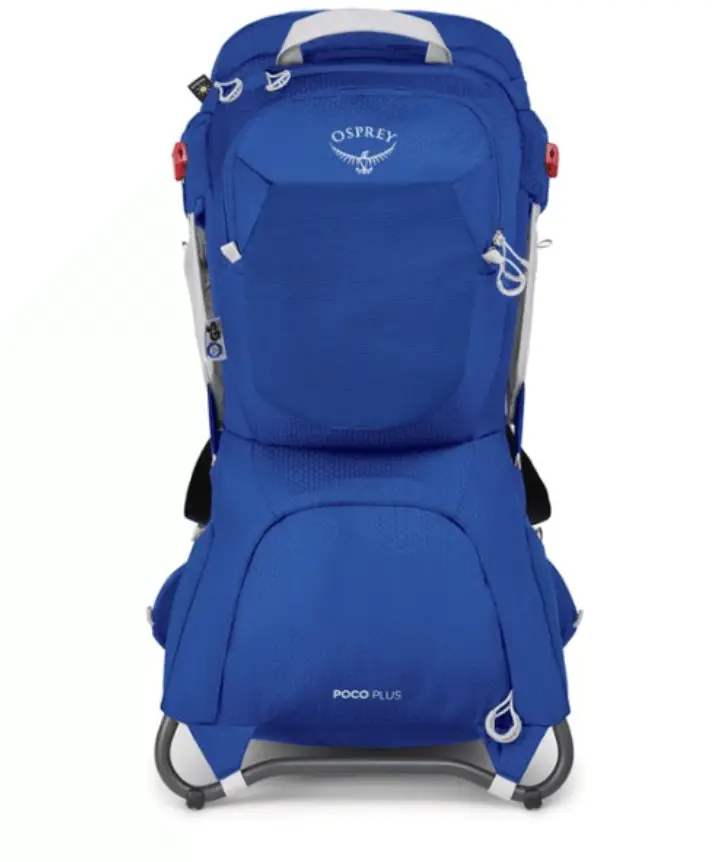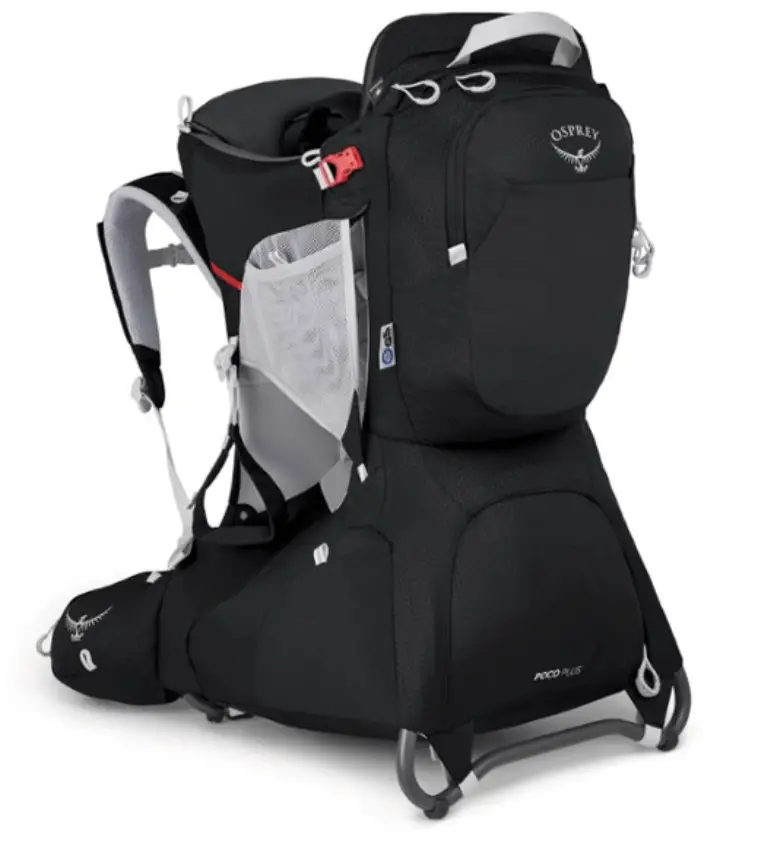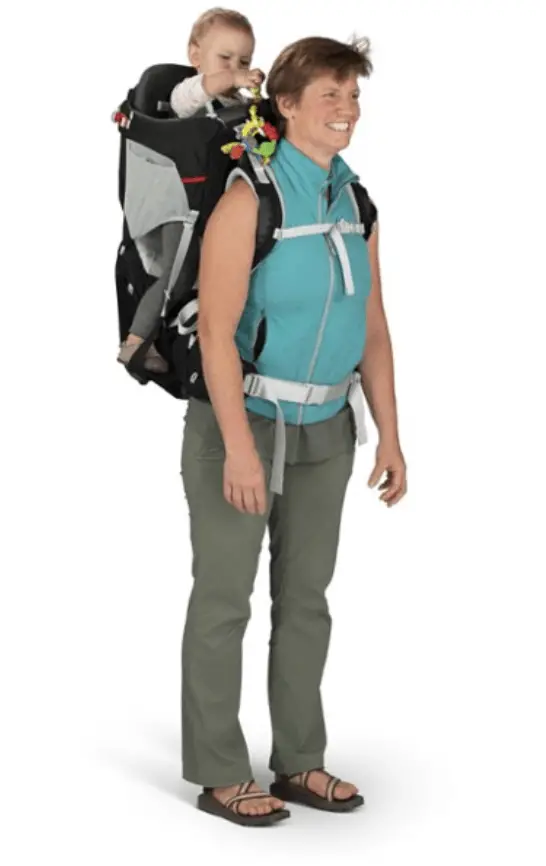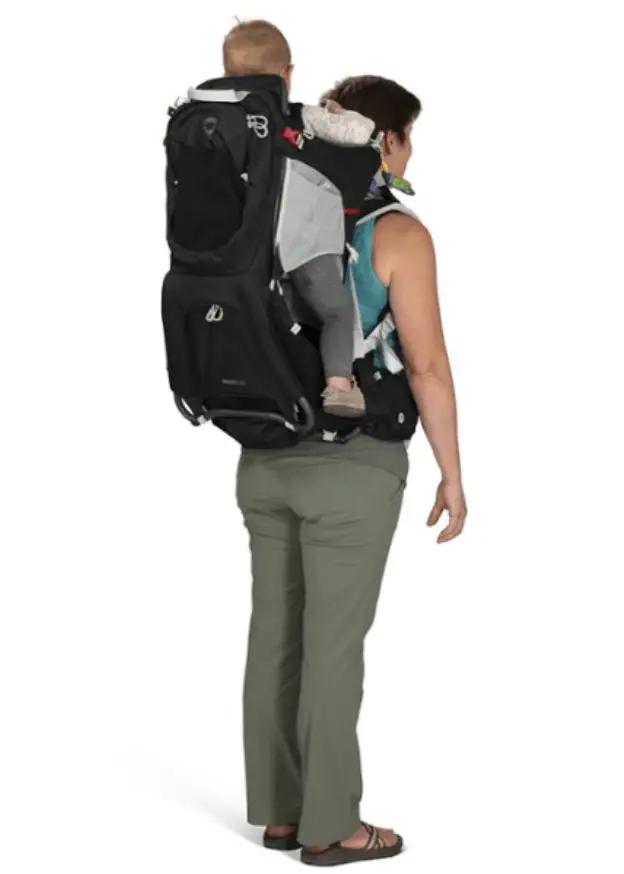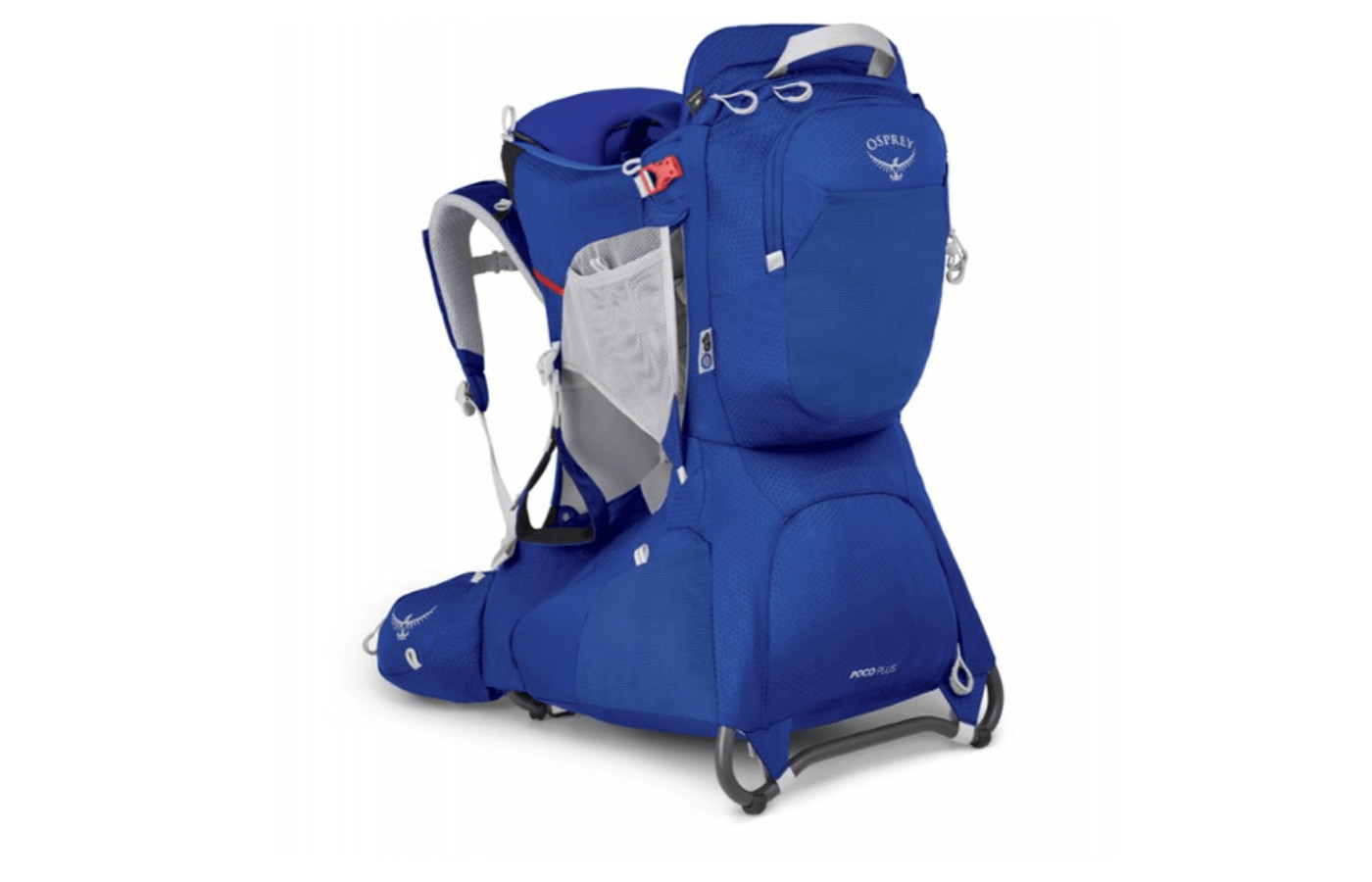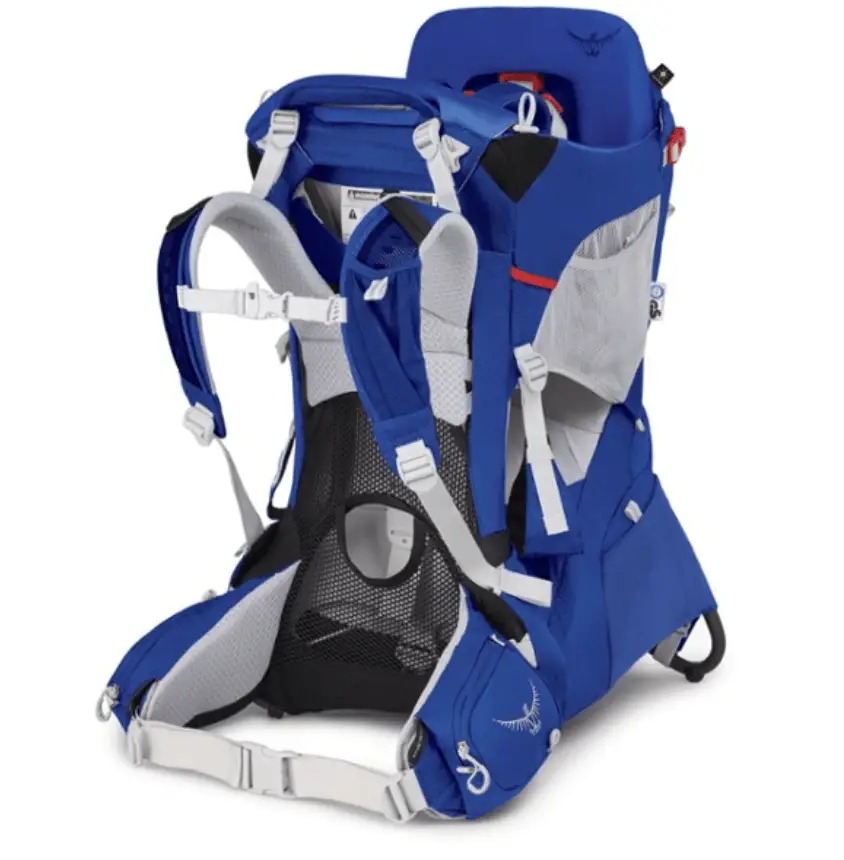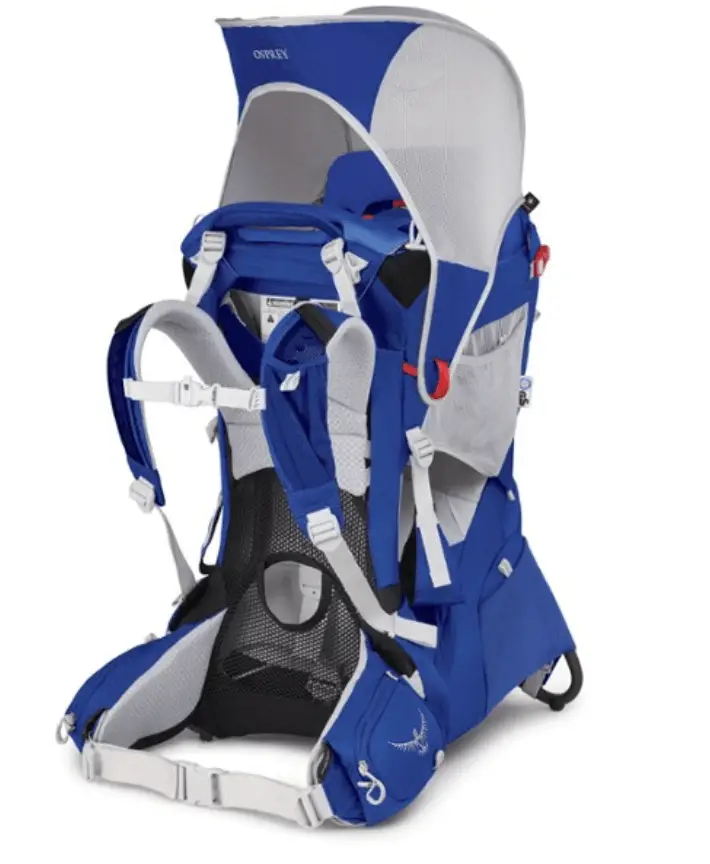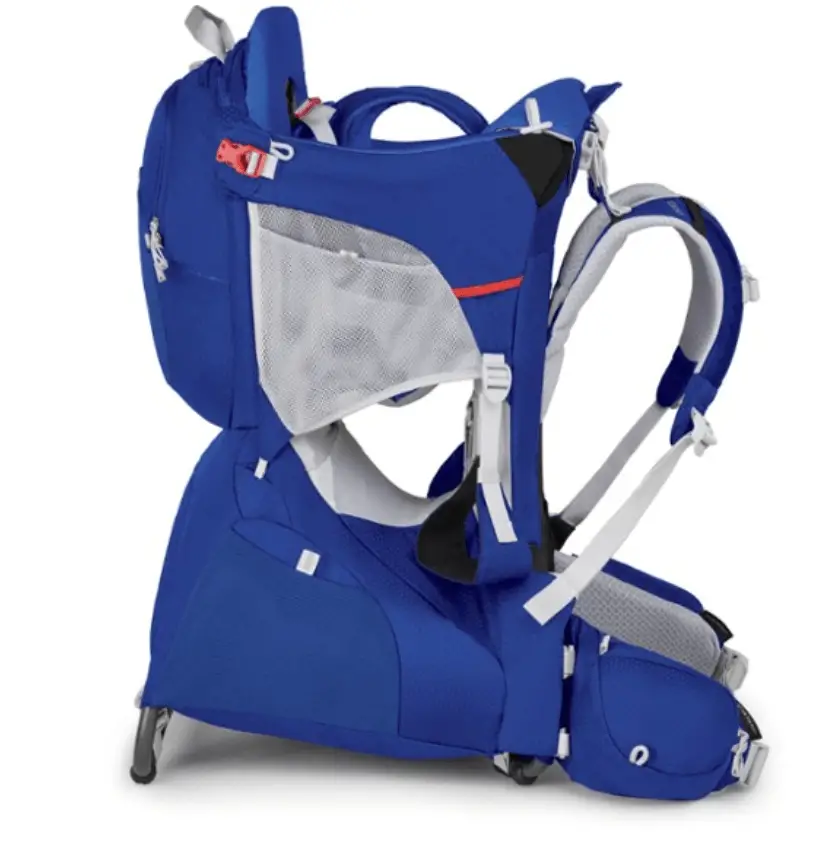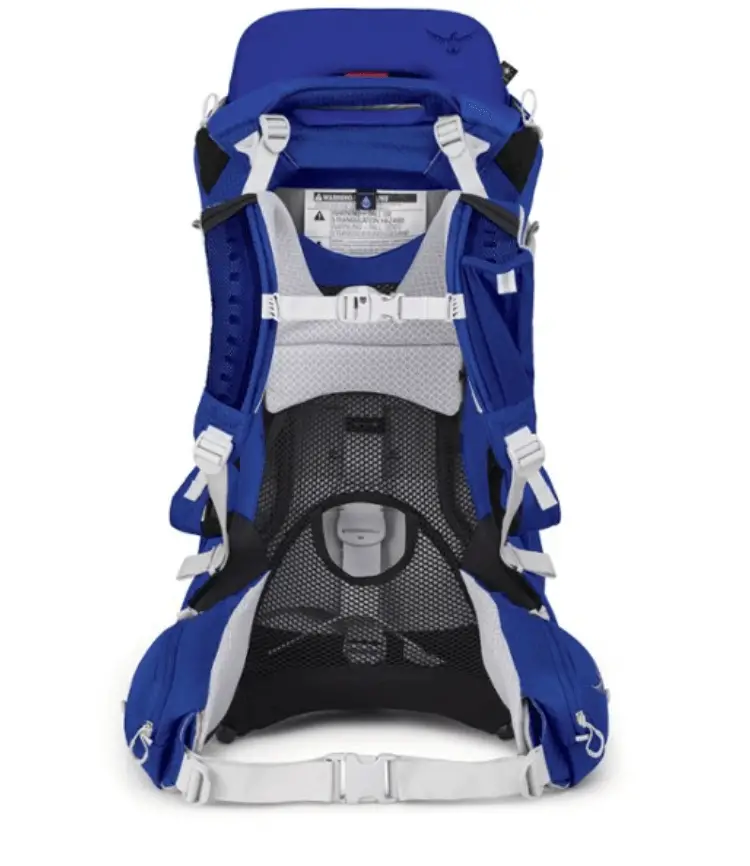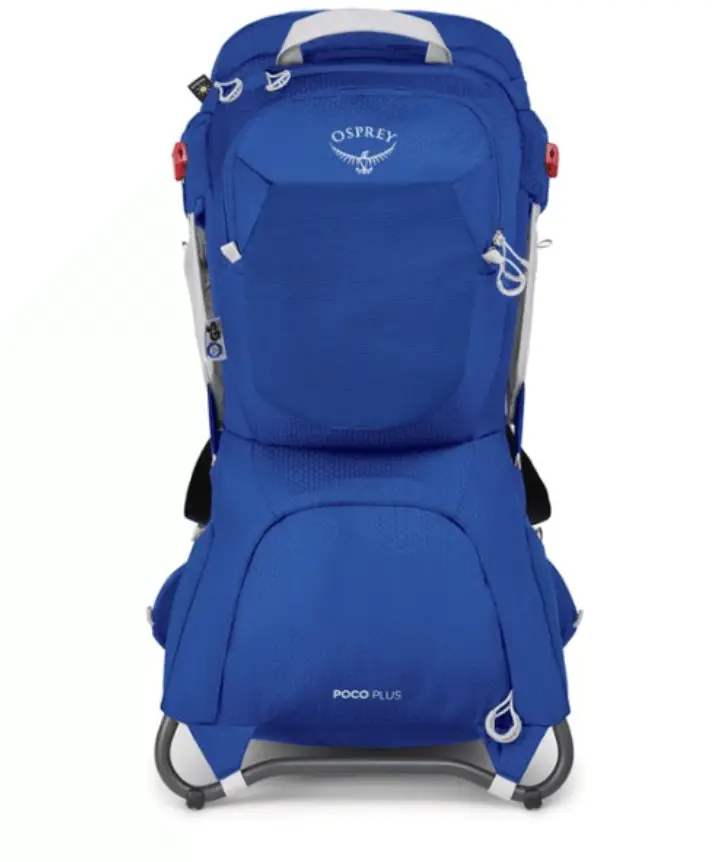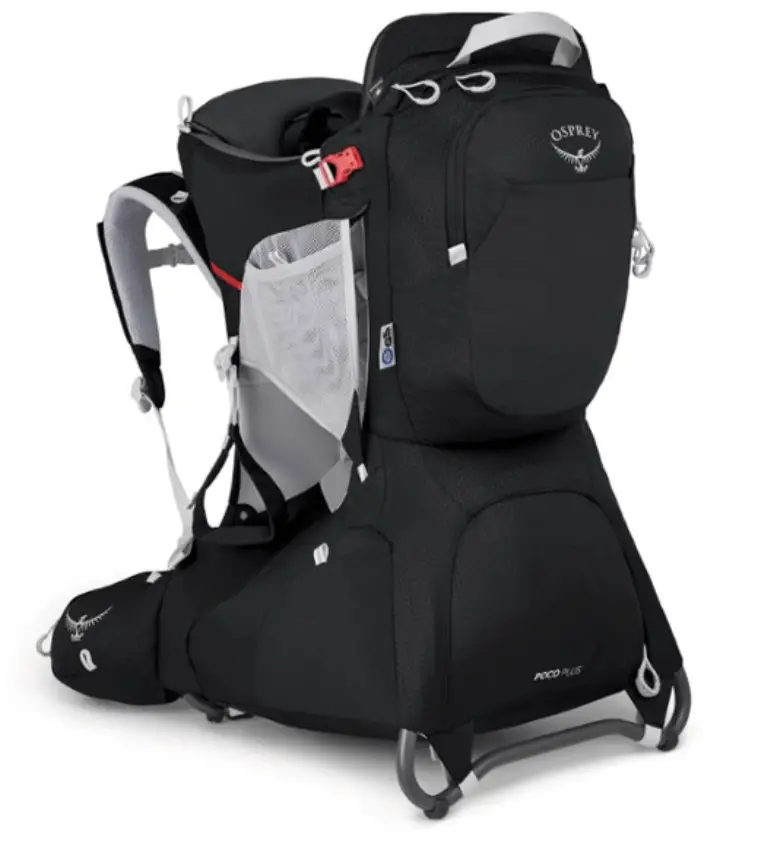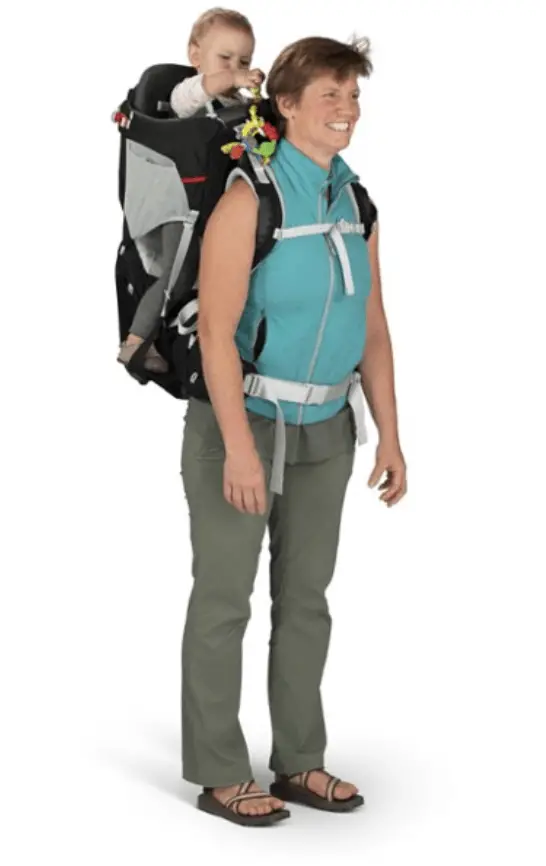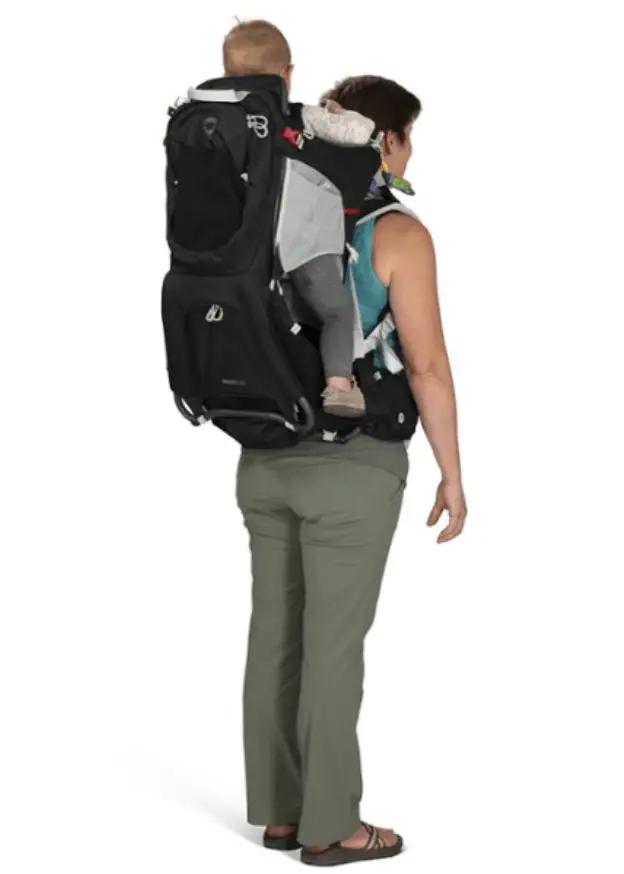 Our Conclusion
The reinvigorated Osprey Poco Plus Child Carrier not only provides a world of organizational features, but it's also easy to adjust that whether you're tall or small and effortless to use.

Sporting a well-rounded design, it's easy to see why the Poco Plus provides tough competition for the child carrier market. Additionally, this already popular design went through a revamp last year, making it incredibly tough to beat.

What's more, the award-winning Poco Plus now features better cushioning, increased organizational features, ease of use and all-around comfort. But let's see what else the Poco Plus can do.
Pros & Cons
Child-harness is easy to use
Fast and easy to deploy sunshade
It may be uncomfortable for those over 6.5 feet
The large grab handle sitting behind the neck can be irritating
Key Features
Key Features
Design
For premium Osprey gear like the Poco Plus Child Carrier, its feature-full design lets you have everything you need to hand when taking your little one for
hikes
and days out.
For example, the front contains two zippered pockets, a small pocket with a key clip for small items, and a far deeper pocket that's handy for stowing away bigger items. What's more, the convenient mesh shove-it pocket on the sides let you grab essential items on the go, such as water bottles, sunscreen, hats, or snacks.
But the most helpful pocket sits at the bottom, which is enormous, is easy to access and quickly scoops up chunky items like packed lunches, jackets, or giant water bottles. The list continues with an external hydration sleeve, zippered hipbelt pockets, plus a few more pockets.
Of course, the most important features are the harness and cockpit design for safely carrying your child. This is where the Poco Plus is pretty darn hard to beat. The innovative double halo harness now has front-facing two arm loops to secure the little one, with stretchy and easily secure straps.
There's even an easy to use seat adjustment to fit in bigger or smaller children or to let your little one grow. In general, the harness is easy and fast to use. The cockpit also doesn't disappoint with a functional and easy to use design and a front drool pad. Velcro secures the front pad, and handy stirrups are perfect for long days.
In addition, a collapsible foot bar allows for greater security when using the
child carrier
alone, plus greater manoeuvrability while the Poco Plus is in use.
Comfort
The comfort and security you get with the Osprey Poco Plus child carrier are incredibly tough to bet. Your child gets a comfy yet fun ride while you can relax knowing they're well protected.
For the adult, shoulder straps and the hipbelt contain superior cushioning and support for supreme carrying comfort. Your back is also nicely hugged by the backpanel.
In addition, the one size fits all adjustable torso and Fit-on-the-fly adjustable hipbelt lets you achieve the most comfortable fit and perfect carrying experience for small and tall parents.
However, it may not comfortably accommodate adults over six and a half feet. But baby won't notice as you place them in a deluxe padded cockpit and properly adjustable seat. Even when packed to the brim and with a child in tow, the Poco Plus Child Carrier's aluminium frame feels robust, and you can barely feel the weight you're carrying.
One thing that could be changed is the significant and noticeable grab handle sitting right behind the head, which can be felt on steep inclines. You can tuck the handle away, but you'll need to remember to deploy it each time you remove the pack.
Baby should also stay cool in the cockpit due to the built-in sunshade to keep your little one safe from harsh sun rays, plus plenty of airflow due to the mesh along the sides. In addition, the backpanel consists of mostly mesh and sufficient space between the panel and your back, so you stay cool for most warm weather conditions.
Materials
Osprey is always one step ahead with the materials that go into their packs, with the Osprey Poco Plus Child Carrier being no different. A clever Aluminium frame allows for a light, sturdy, and durable feel, plus plenty of carrying comfort.
The Poco Plus fabric is made up of a 210-denier nylon diamond material, which offers various advantages. Not only is this fabric solid yet flexible, but it's also waterproof and abrasion and tear resistance.
Lastly, the 3D-tensioned mesh Osprey AirSpeed back panel breathes and allows for airflow. An edgeless mesh harness also comfortably wraps and conforms to the body.
Durability
Osprey gear may come at a premium price, but there's a reason why people keep buying their products. Osprey consistently provides packs and gear that resist the wear of time due to their superior build quality.
There are no concerns with the Poco Plus due to the previously mentioned superior build materials, such as incredibly sturdy robust 210-denier nylon plus strong aluminum. The Osprey Poco Plus Child Carrier generally feels exceptionally well built and designed, with all the little bits like buckles and straps feeling substantial.
Plus, with a 7-year All Mighty Guarantee, Osprey have you covered.
Comparison to Similar Child Carriers
Even though the Osprey Poco Plus Child Carrier is pretty much top of the pile, there's tough competition in the baby carrier market. A premium contender is the
Deuter Kid Comfort
. Boasting high quality, premium build, and potentially more comfortable carry, it's a tough choice.
Although the Kid Comfort does have adequate storage for all-day trips, the Osprey is clearly in the lead in this respect and with its more straightforward-to-use harness system. However, if you're looking to save some money, the Deuter comes in at about $30 less than the Poco Plus.
The
Sapling Elite by Thule
is also a superb fully-featured option, although costing about $20 more than the Poco Plus. Both feature high-quality materials, a robust build, excellent storage opportunities and ample adjustability for a comfortable fit for adults and children.
However, a lot of the storage comes from the removable day pack, which is less convenient and functional than Osprey's integrated pockets. Although the shoulders straps could be less pronounced and more comfortable, the Poco Plus and Sapling Elite are robust, high-quality and feature-friendly child carriers.
Verdict
If you want to introduce your little one to the great outdoors from a young age, choosing a child carrier like the Osprey Poco Plus Child Carrier is the way to go.

Its premium price is entirely worth it, considering the safety and comfort the Poco Plus gives your child. Any item needed to keep your child safe is worth spending extra on.

Osprey provides premium comfort and adjustability for both you and your child, plus many organizational pockets and easy-to-use features. Hence, it's easy to see how Osprey has its customers in mind.
Subscribe to our Newsletter