Thule Tepui Explorer Kukenam 3 Tent
Car-camping has been taken to the next level with this great rooftop tent from Thule x Tepui.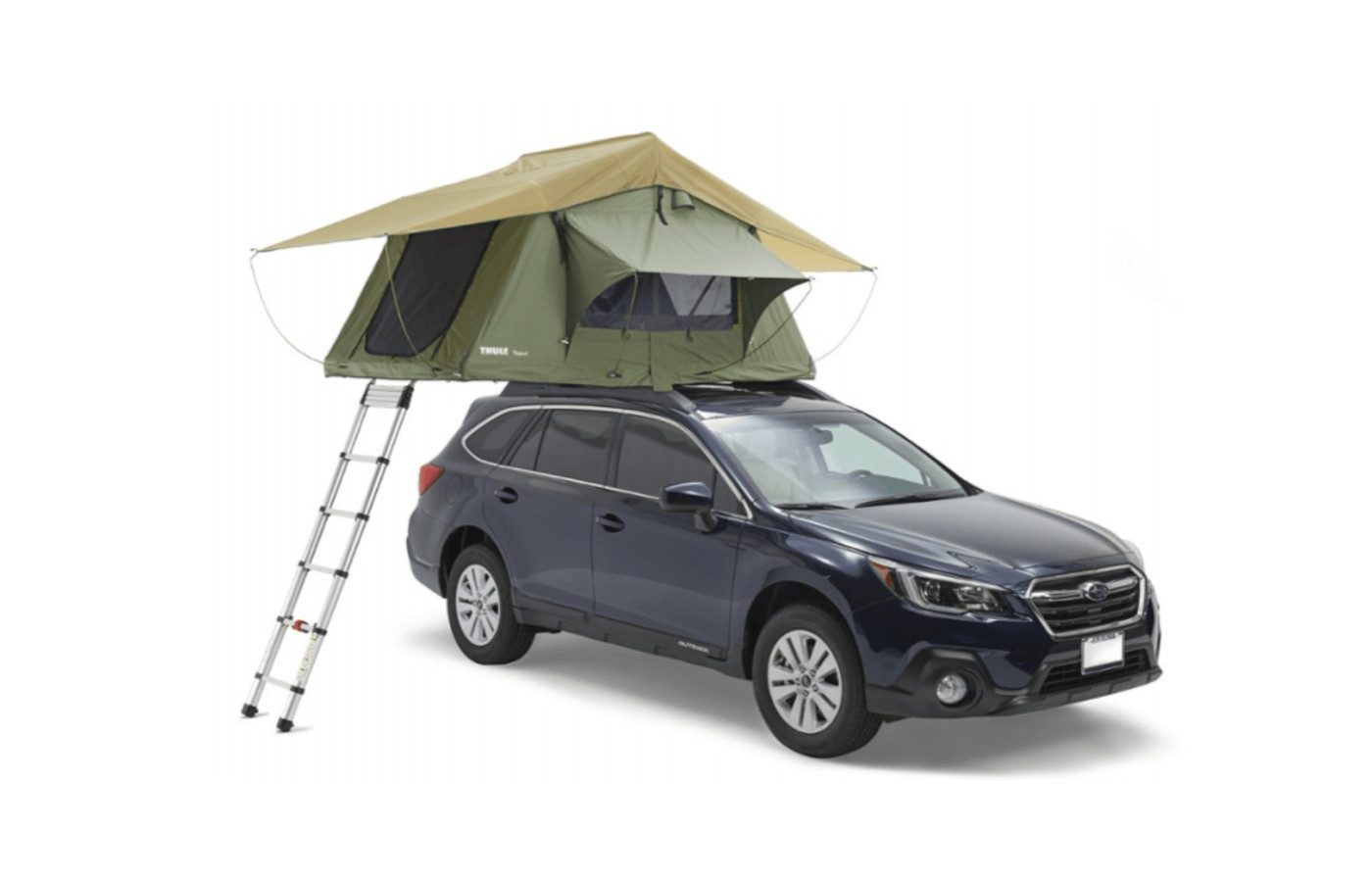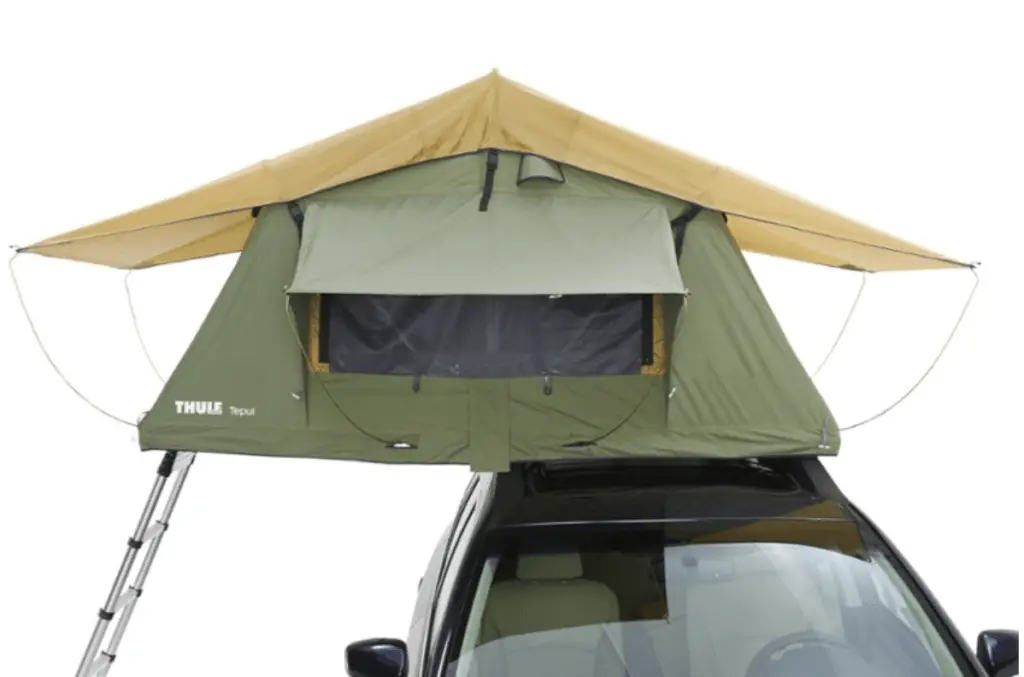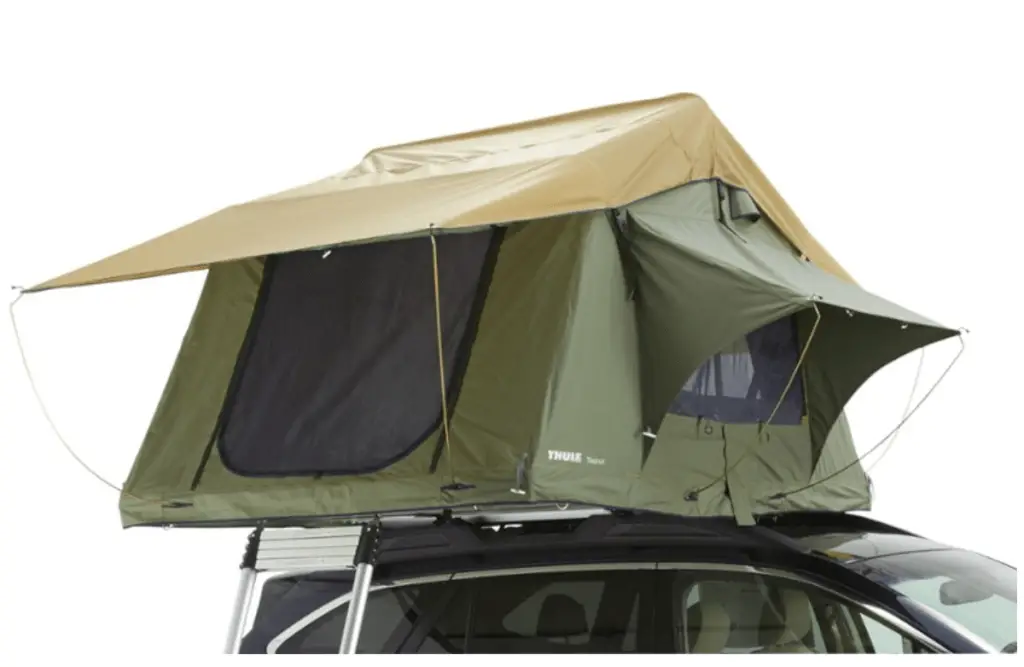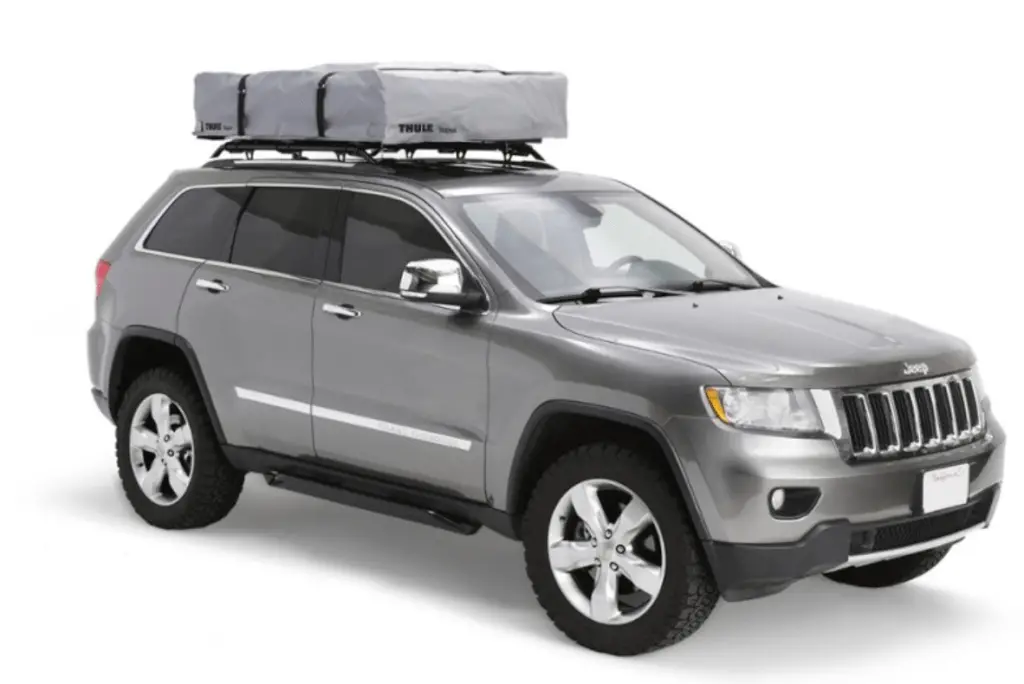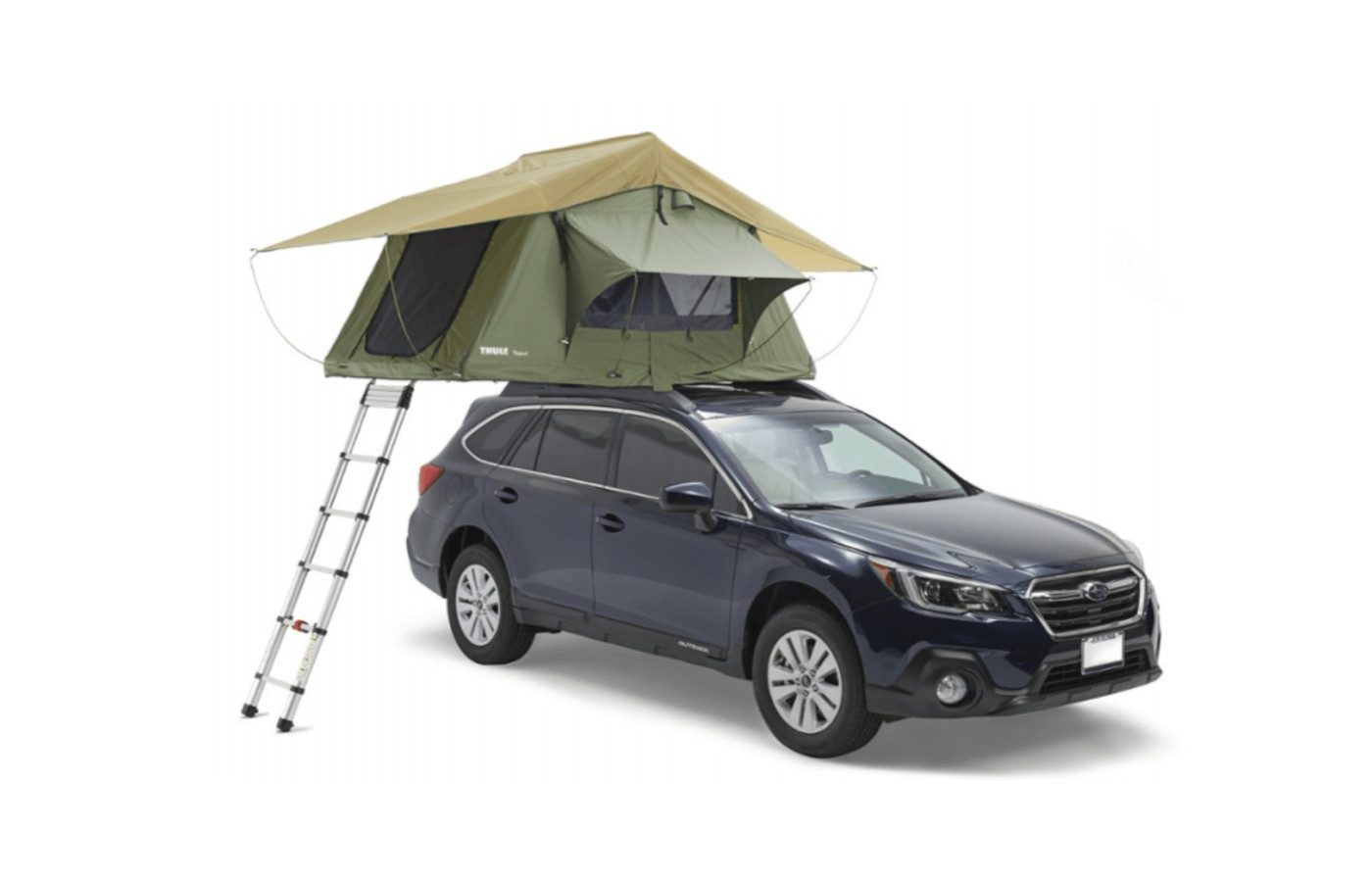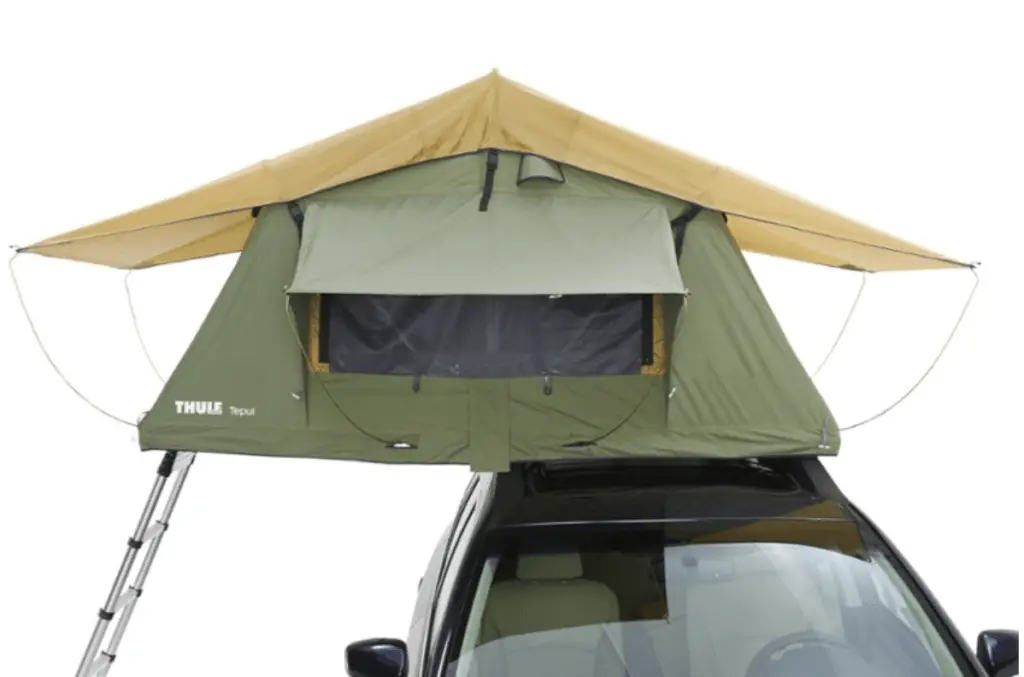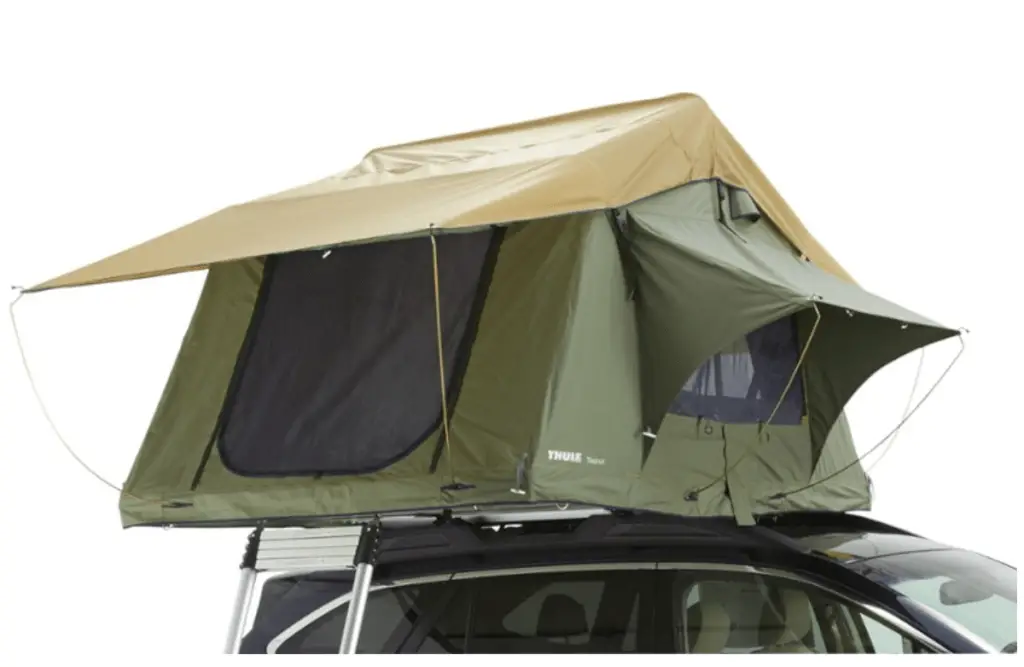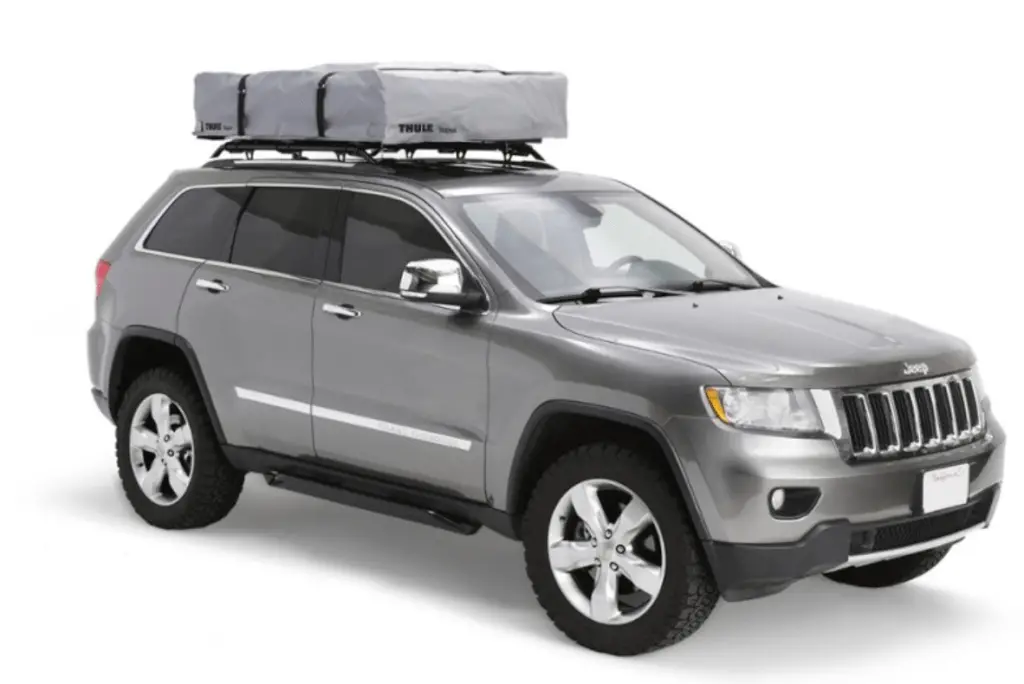 Our Conclusion
The Explorer Kukenam 3 is a strong tent that is easy to set up and easy to break down. As long as you have roof racks with a dynamic weight capacity that is the same as the tent, or more, you are set. 

The Kukenam works well in all four seasons and is mold and UV-resistant. While it is not something you'll want to be attaching and detaching from your car every day, it is great for avid explorers. Where will it take you?
Pros & Cons
Ladder and mattress included
Some manufacturing concerns
Mattress is not very comfortable
Some condensation buildup
Key Features
Key Features
Materials
The tube poles are made from 16mm welded aluminum. They are strong, sturdy, and covered by fabric. The fabric materials are made from 260 grams of polyester-cotton along with 600 denier ripstop. 600 denier is incredibly strong and abrasion-resistant. You can count on these materials to work together well and to last for many years. There is a static weight limit of 600 pounds.
One issue that a few people have experienced is poor manufacturing and craftsmanship. In some cases, a piece or a zipper was installed backward. In other cases, there were many small metal shavings left inside the tent, which in turn, caused holes.
Luckily, there is a two-year warranty included that insures your item from these types of mishaps. Rumor has it that their customer service is quite pleasant to deal with as well.
Weather Protection
The Kukenam holds up well in just about any weather. It is a four-season tent. The seams are taped and there is an included rainfly. The fabrics are UV-resistant and mold-resistant. There is no see um mesh lining on all of the windows and the door. While there is good ventilation, you can make it even better by rolling up the window covers.
If you are in an especially wet or humid place, you may find some moisture build up on the walls of the
3-P tent
. A drip isn't common but I suppose it is possible. Before folding the tent back up, I recommend airing it out and letting it fully dry.
Ease of Use
The Explorer Kukenam fits on any car that has roof racks with a dynamic weight capacity of least weight of the tent. A 13mm wrench and other mounting hardwear is included. Once it is mounted, opening up the tent is simple. You unhook a few security features, release the ladder, and pull down on the ladder. This causes the tent to open up slowly and erect itself.
Afterwards, you can use the rods to prop the windows open. During this step, your balance will be put to the test as you stand on the tires or side of your truck bed. Once it's set up, you can adjust the telescoping ladder to your desired height. It can be extended to 8 feet and 6 inches maximum. The overall set up time takes about 10 minutes and can be done by one person.
When it comes time to hit the road, you can just as easily fold everything back into it. You can leave the mattress, blankets, and rainfly on as you pack it up.
Portability
Luckily, you do not need to carry this anywhere with you. It weighs 131 pounds. When it is all packed up, it measures 48 by 56 by 12 inches. When it is open, it measures 96 by 56 by 52 inches. Once you get this mounted on your car, you can take it down but probably won't want to. As you see, it's quite heavy and large.
Comfort
With 37.3 square feet (96 by 56 inches) of floor space, you and your partners will have ample space. For two adults and a child or dog, it is perfect. There is still room for clothing, backpacks, blankets, and more.
There is only one door. If one of you is more likely to wake up during the night, they should sleep closer to it. The peak height is 52 inches. This allows for plenty of room to sit up, crawl, and stretch your arms.
A mattress is included with your purchase. It is a 2.5-inch thick pad that is suitable for some people. It is simple and not overly comfortable. Honestly, for the first twenty minutes, it seems great but then it begins to fall flat. I recommend investing in a memory foam mattress topper for ultimate comfort.
Features
There are not many over-the-top features to brag about here. There are four internal pockets that are a great place to store electronics or accessories without losing them.
Other than that, the two ceiling windows allow for stargazing on dry and clear nights. You need to remove the rain cover to take advantage of these beautiful views.
Comparison to Similar Rooftop Tents
The
Smittybilt Overlander Tent
is another great option but is slightly smaller. Really it's ideal for two people but could fit another small human or animal also. It is a four-season tent and weighs 145 pounds. It can handle a maximum load of 661 pounds. It also includes a telescopic ladder and a double foam mattress.
One great addition the Overlander has is interior LED strips. These are a great alternative to a lantern or a flashlight. When it is packed, it measures 58 x 48 x 13 inches. When opened, it measures 95 x 56 x 51 inches. It has great weather resistance and breathability.
The included rainfly is waterproof. Even without the rainfly, the polyester tent has some water resistance, but not enough for a heavy storm. In terms of price, it is quite a bit cheaper than the Kukenam.
The
Front Runner Roof Top Tent
is a low-profile tent. It weighs only about 95 pounds and is also intended for two or three people maximum. This tent is made from water-repellant 260 gram polyester cotton ripstop. The rainfly is waterproof, UV resistant, and easy to attach and remove.
There are only two organizational pockets. The included mattress is 2.25 inches thick and has a washable polyester-oxford cover. Closed, it measures 51 by 48 by 8.5 inches. Opened, it measures 131 by 90 by 52.4 inches. It costs less than the Kukenam but more than the Overlander. It's a durable and comfortable option, but a little small.
Verdict
Almost anything beats sleeping in your car- and now, you can sleep on top of it… comfortably! The Thule Tepui Explorer Kukenam 3 provides a great bedroom that is well protected from the elements. There are not a lot of frills, but with your car as a storage system below, they are not really necessary.

This item is a big investment. It is very expensive, but it is built to last. Make sure you inspect the tent when you receive it and do a couple of test setups to make sure everything is in order.

Additionally, you will probably want to invest in a mattress topper before your first big trip. Other than that, you should be all set. Time to hit the road!

Subscribe to our Newsletter