Best 3 Person Tents
In a
Hurry? Editors choice: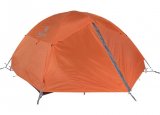 Test Winner: Marmot Fortress

A tent is arguably the most important item of a
camping
trip. It will determine your safety from the elements, your comfort, and how well you
sleep
. Finding the perfect size tent can be troublesome. In this article, we are focusing on three-person tents. However, who says you need to adhere to the rules? A three-person tent is actually great for two people as well. It provides you with a bit more personal space and extra room for your
belongings
. Whether you are one person looking to stretch out, or four people willing to squeeze in, a three-person tent is a versatile size.
Standout Picks
Criteria Used for Evaluation
Materials
When you are buying a home, one of the primary components that you need to consider is how structurally sound it is. The same goes for a tent and to be honest, there are two primary factors to consider. One is how durable it is as a whole and the second is its ability to repel and protect you from the rain. For most tents, they will be made with what is known as rip-stop nylon. Basically, this refers to a special reinforcing technique that makes the fabric all-but resistant to tearing and abrasions. The poles should also be strong enough to withstand decent winds and should not collapse at a small gust of wind.
As far as the waterproofness goes, there are a number of factors that come into play. For starters, are the seams taped? With taped seams, the tape will be melted over the seams and it will seal them shut. Also, are the fabrics treated with a waterproof coating? Next, does it comes with a rainfly and is it treated against the rain? All these design integrations can keep you dry during rainstorms; so keep them in mind.
Features
Depending on how you plan to use it, you may need to either store a lot or a little gear. If you are at a campsite and are only using it to sleep, you may not find interior storage compartments of use to you. Then again, backpackers may find them absolutely critical to hold all their accessories and equipment. Either way, it is never a bad thing to have some dedicated locations for items. For starters, some tents will sport interior mesh pockets or small gear pockets. These can be ideal for electronic devices and smaller items. Also, some may integrate lampshade pockets and these can be used for headlamps allowing you to have access to some ambient light.
Of course, perhaps the most important storage compartment is its vestibule. Think of a vestibule as the mudroom as it provides extra space for your gear. As vestibules are built in the front and on the sides, they can be used to keep your gear dry.
Portability
There are going to be a plethora of questions to ask yourself before you buy a three-person design. But, one of the most important is where you plan to use it? In other words, are you going on a hiking trip or merely to a campsite with your vehicle? The difference is paramount because if you are trekking with a tent, the overall weight is an astronomically important detail. What is the big deal? A six-pound tent is only three pounds bigger than a three-pound tent and that is not that much, right?
Well, perhaps it is not but when you go head out on a long distance trek, every small amount of weight counts. You need to remember, it requires much more than a tent and small items can add up fast. Now, you can always split it up amongst your friends to disperse the load but the point remains. In addition, you can also look to see if a dedicated stuff sack or storage sack comes with your purchase.
Ease of Use
Raise your hand if you enjoy spending 30 minutes setting it up. Assumingly, zero people raised their hands as not too many people will enjoy when it takes longer than a few minutes to assemble. Now, practice does make perfect and over time, you will get faster and more efficient at setting it up. Still, it should not be a convoluted process, to begin with. The set up should be as intuitive as possible and easy ways to do so are with color coding and as few steps as possible. Of course, you can always assemble the tent in your backyard to get the hang of it first; this not being a bad idea at all.
As for the structure, you can look for simple features such as how many doors you want and how large you want them to be.
Breathability
If you have done any research on tents in the past or have owned quite a few, you probably know that you can't always trust that a specified number of people will fit inside that is marketed as such. In other words, that a three-person design will not comfortably fit and sleep three people. This is a reality that buyers must face and it is a little frustrating, to be perfectly honest. As such, it will require a bit more digging on your part. Look for tents that optimize the amount of space they have. As an example, look for vertical walls that do not slant in horrendously.
By the same token, you need to also assess the ventilation. No matter what season you are using it in, condensation build-up can be a disaster and you want the air to be breathable. Clearly, mesh panels can assist with this as air passes easily through the mesh. But, some tents will be made with breathable nylon which can also assist in breathability.
Subscribe to our Newsletter