Patagonia Dusty Mesa Parka
Patagonia outdoes themselves as usual with this ideal mid-weight winter parka. Cozy, comfy and super cute; what's not to love. With a focus on sustainability, functionality and incredible warmth, the Patagonia Dusty Mesa Parka is tough to beat.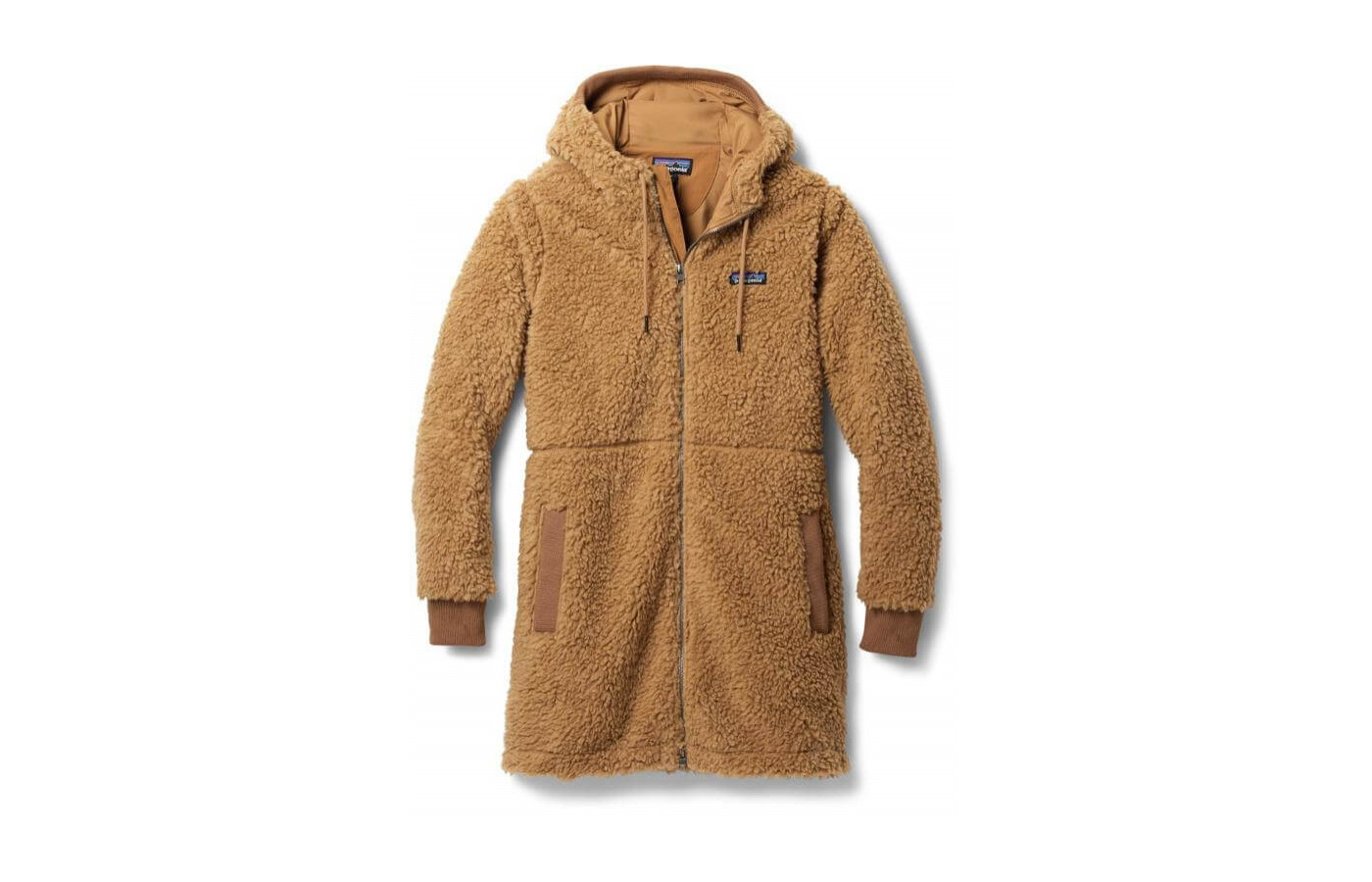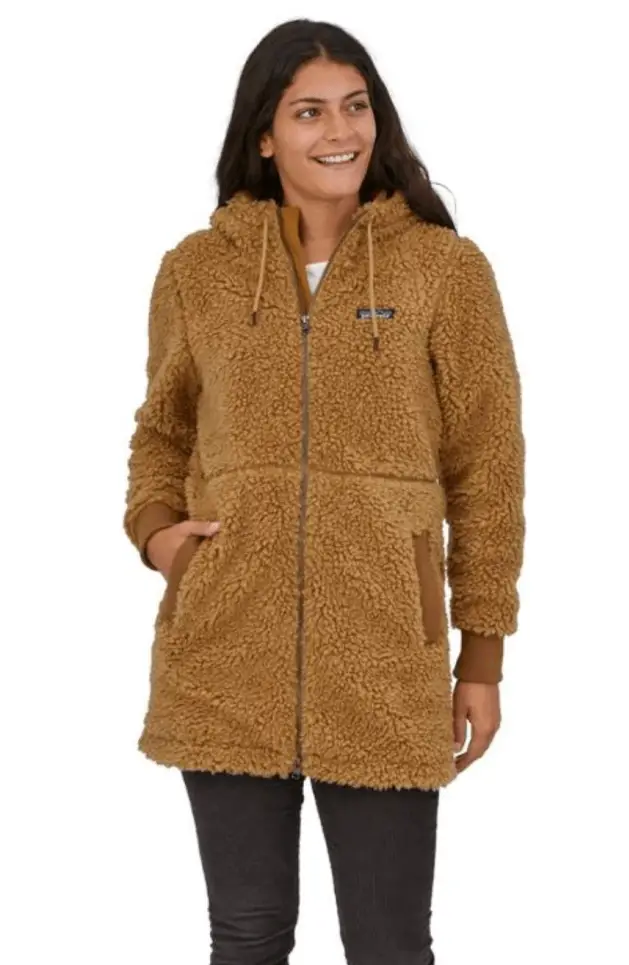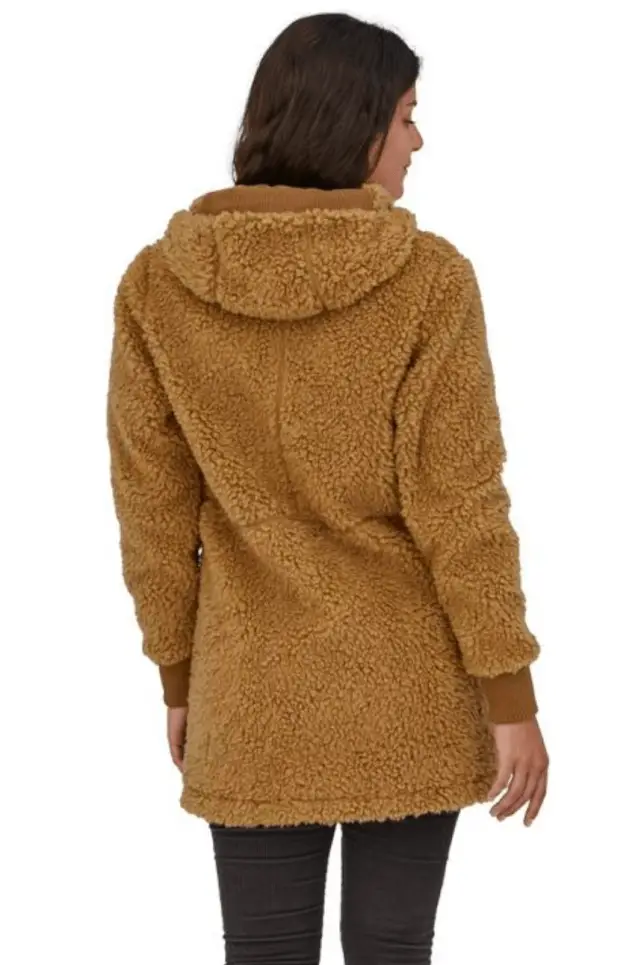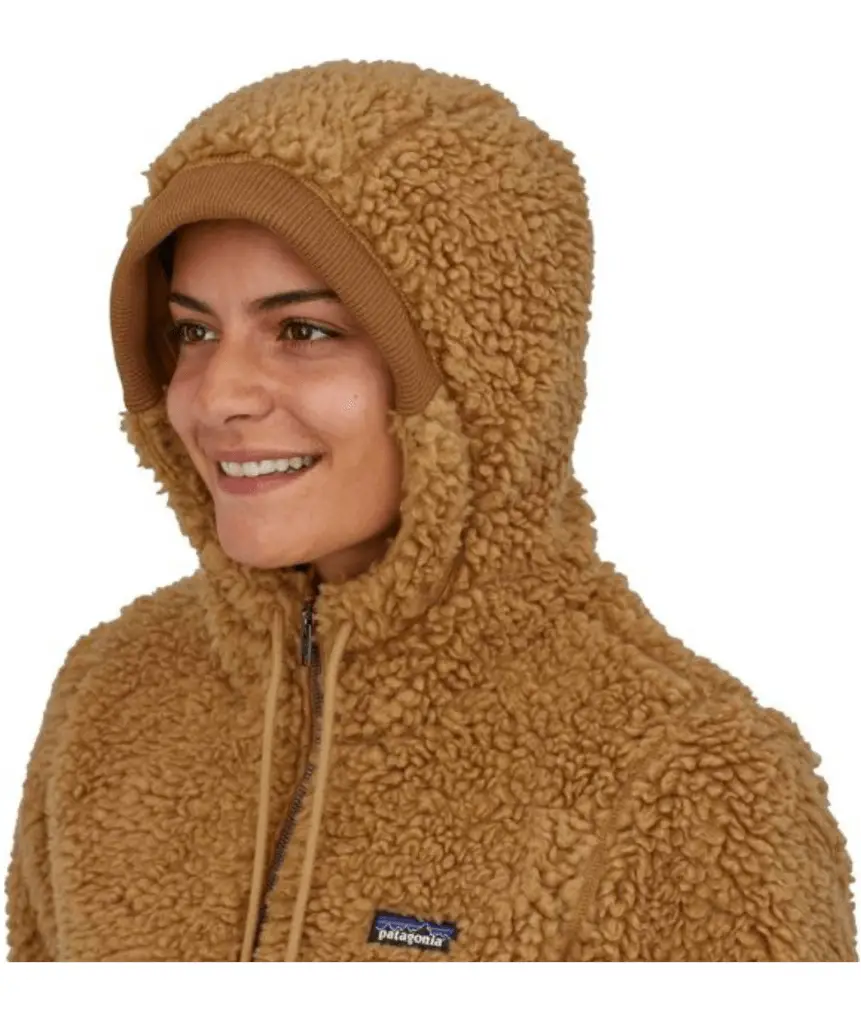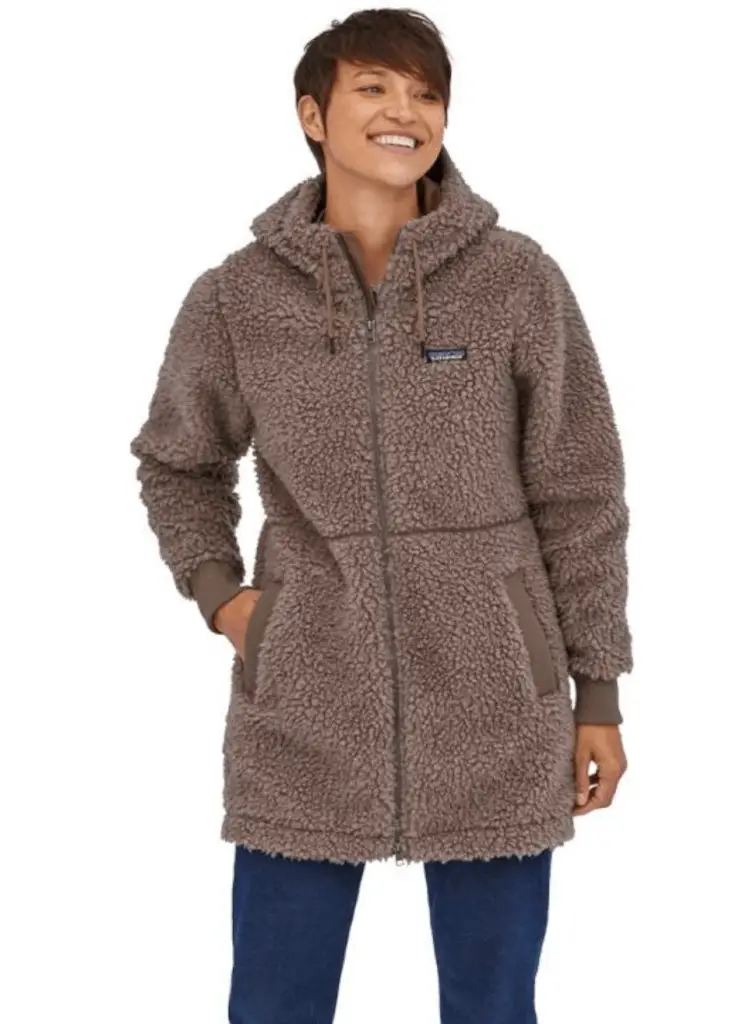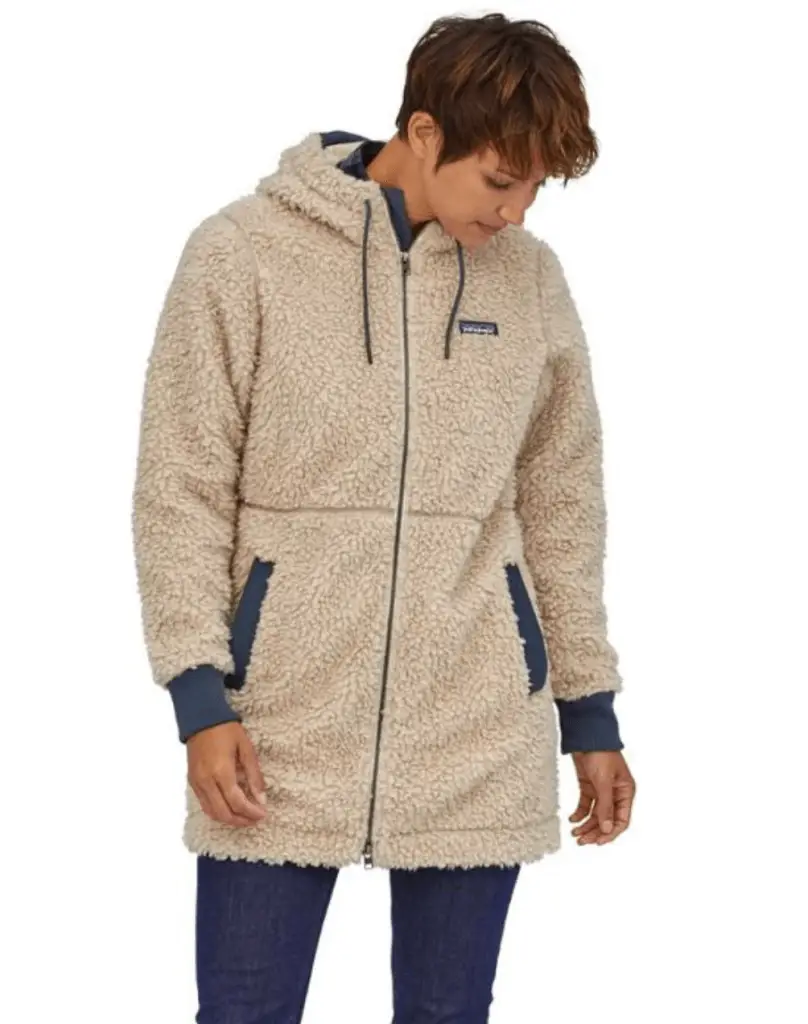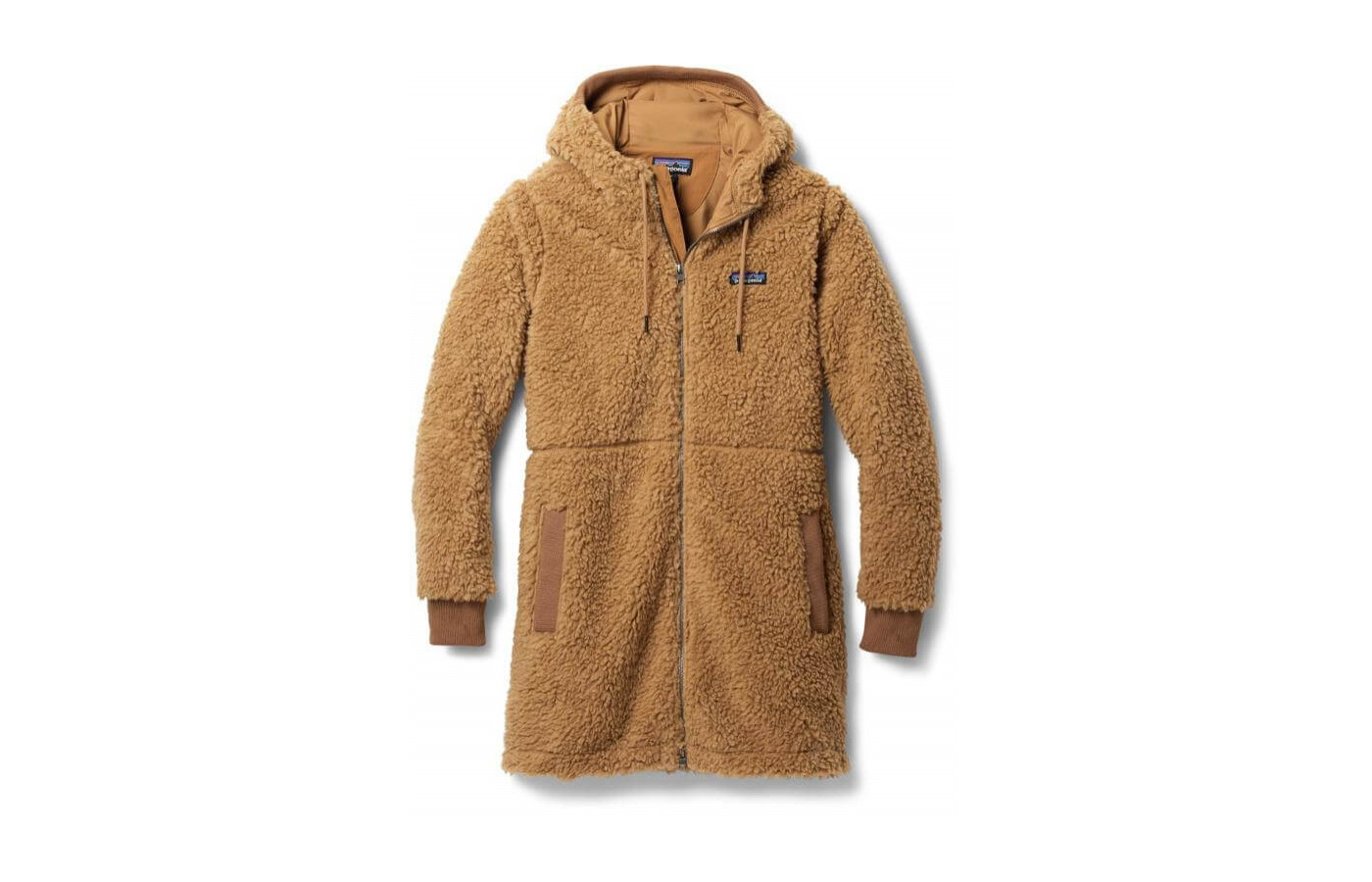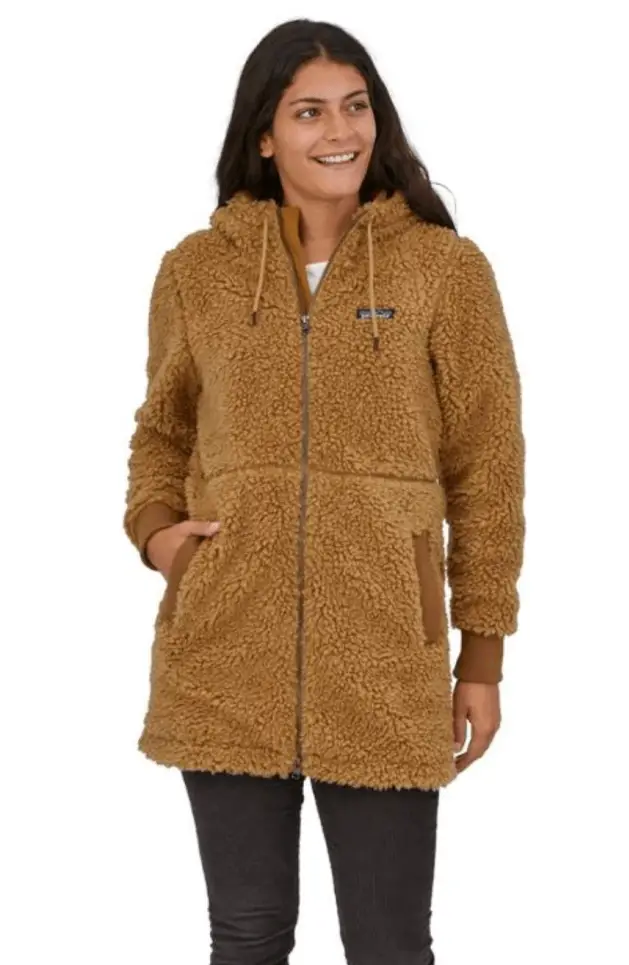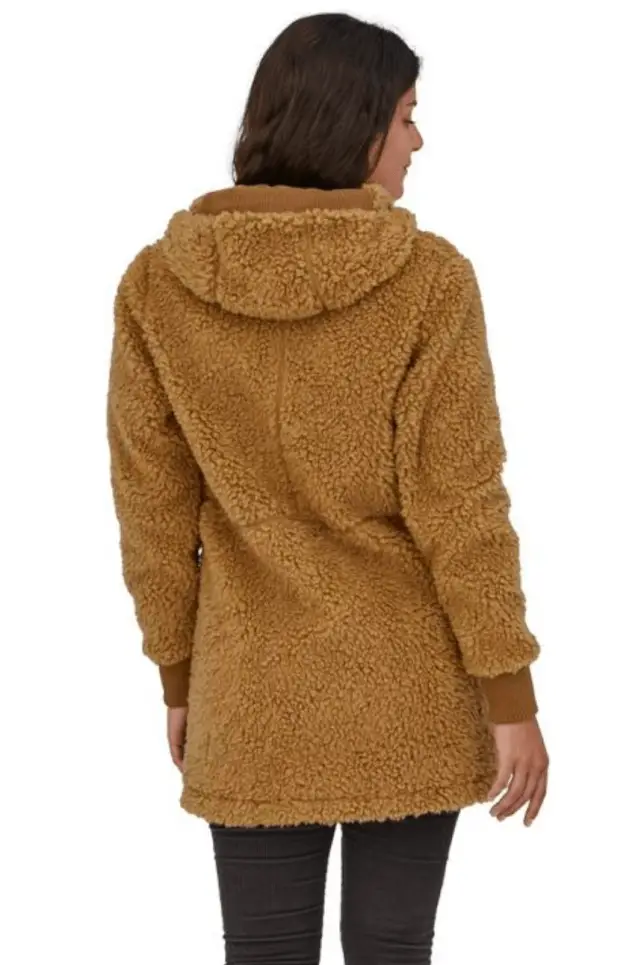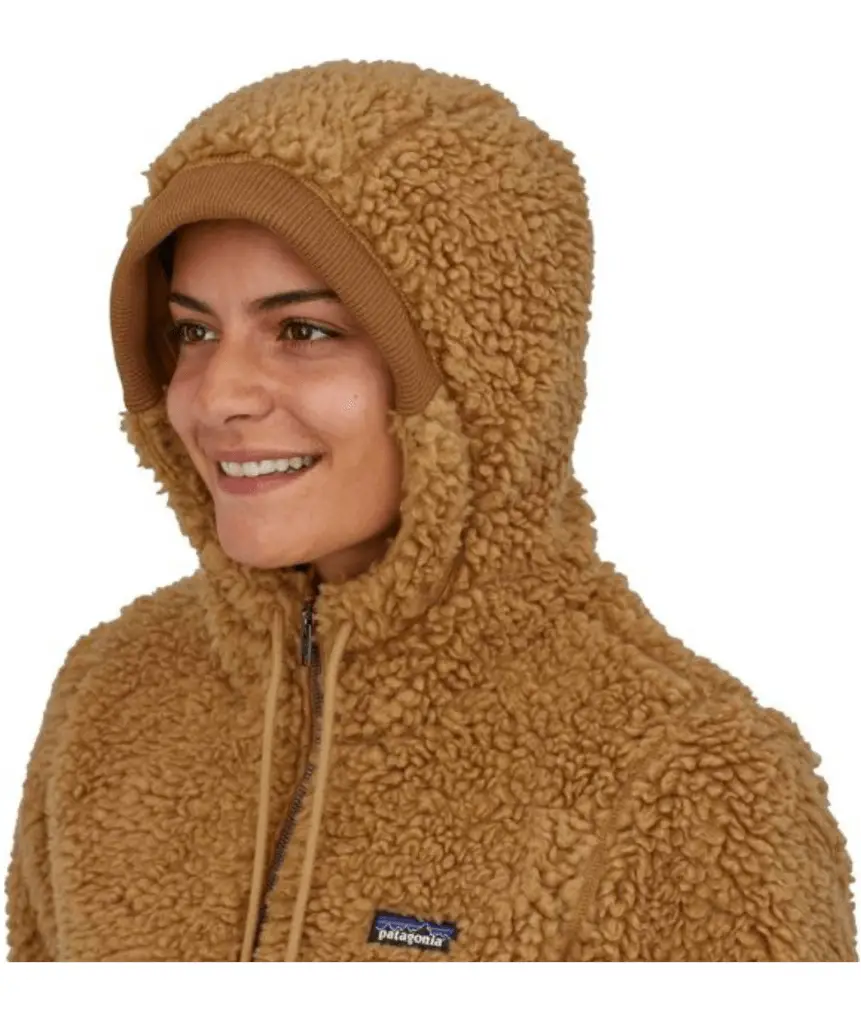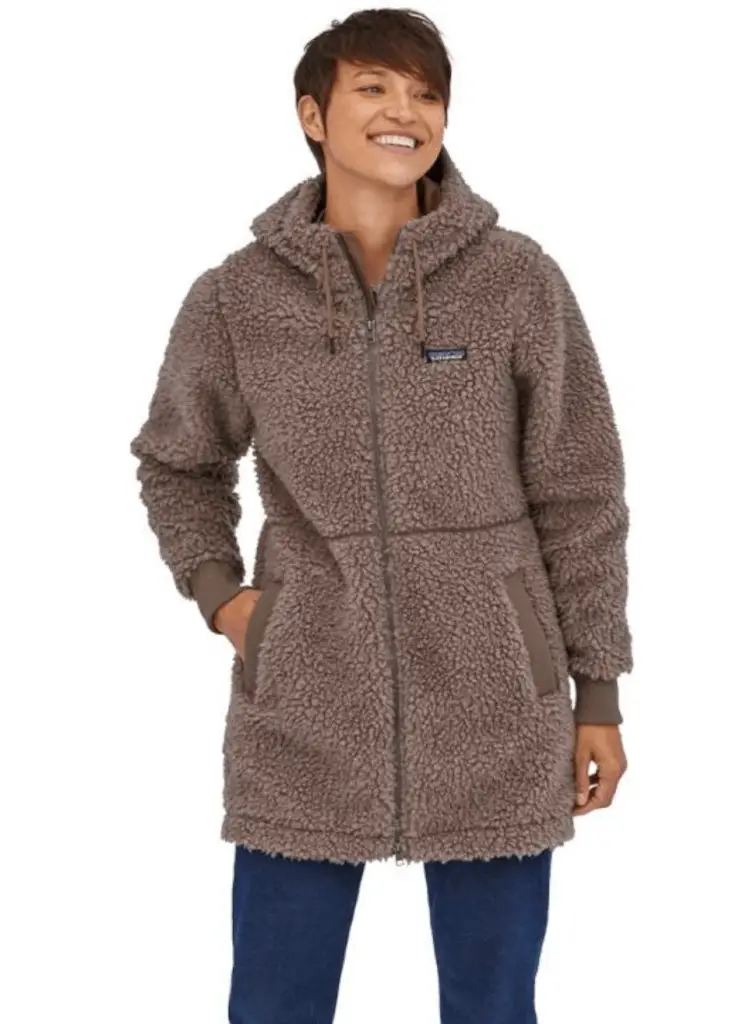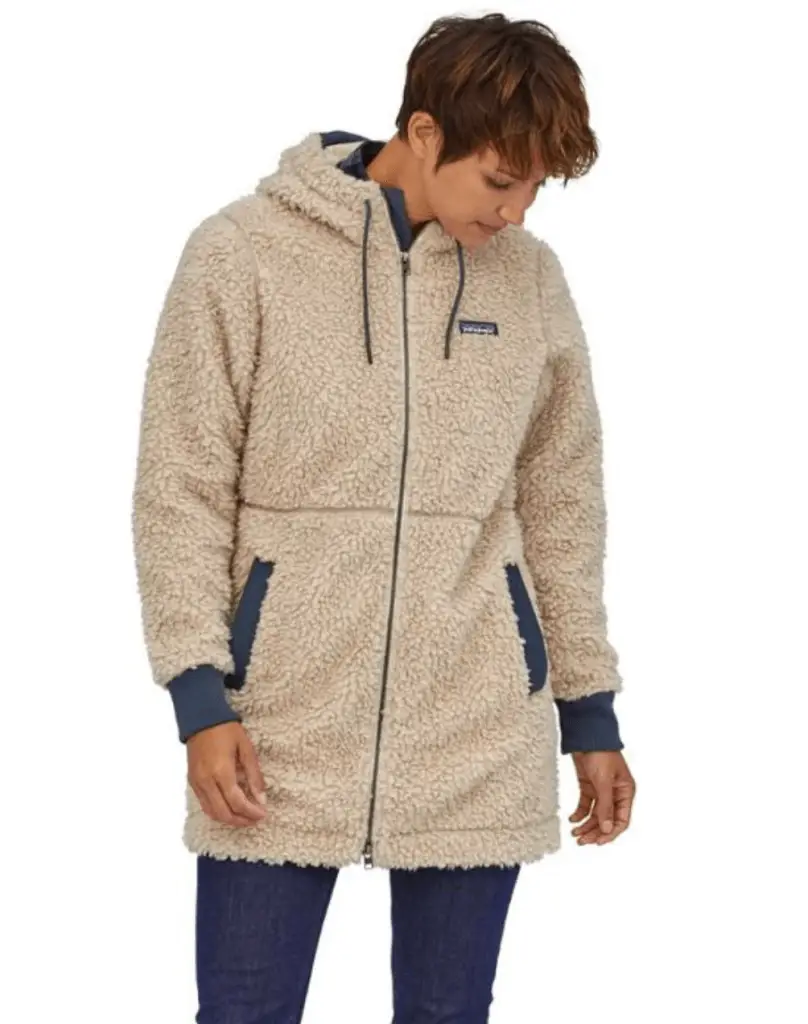 Our Conclusion
This faithful women's mountain town regular is incredibly plush and cozy. A clever choice of recycled materials makes this winter jacket comfortable for most winter activities.

Additionally, using half-inch Sherpa fleece ensures plenty of warmth for most winter weather. You won't need to worry about being cold either with the extra warmth through the mid-thigh length fit, three-panel hood and two soft handwarmer pockets.

Patagonia not only do their best to provide a cozy, functional jacket, but their commitment to sustainability is evident with 100% recycled materials. It's also Fair Trade Certified Sewn, which shows a commitment to looking after the people who make their products.

I can guarantee that you'll be like a big cozy bear this winter, should you buy it. Let's find out more about this Patagonia line.
Pros & Cons
Not too heavy despite its warmth
Mid-thigh length creates extra warmth
Not warm enough for extreme cold
It runs big – you'll need to size down
A drawstring around the waist would be handy
Key Features
Key Features
Design
I'll be surprised if you find any issues with this
winter coat
. Yes, it does run a little large, but this creates more freedom of movement when you need it.
The regular, classic fit with straight side seams and set-in sleeves means this jacket is intended for layering. The type of mobility and warmth you get is also customizable with a full-length, two-way zipper.
Adjusting the hood of this winter coat is also easy with the shaped, three-panel hood drawcord adjustment, which is easy to seal out flurries and keep dry.
However, due to the relaxed fit, which can make the design look a little boxy, this winter coat could do with a drawstring around the waist.
A drawstring would create a more tailored fit. You also don't need to worry about your stuff falling out of your pockets with the two-deep handwarmer pockets.
Comfort
One of the main things that stands out about the Patagonia Dusty Mesa Parka is the premium comfort wearers experience. Using a half-inch Sherpa fleece pile creates ample warmth and comfort for frosty days.
What's more, using a rib-knit hood opening, two handwarmer pockets with rib-knit trim, and set-in sleeves with rib-knit trim at cuffs means this winter coat retains as much warmth as possible.
The Dusty Mesa Parka also turns out to be wind resistant, keeping you even warmer when the wind picks up. With an inner lining that is plush and very comfortable, you'll be plenty warm for most winter weather.
However, I'm not sure the Mesa Parka would stand up to below zero temperatures. So if you know you'll be out in icy weather, then you may want to layer up.
Despite its heavy two-pound weight, this winter coat doesn't feel too heavy when in use. As mentioned, the fit does run large for this coat, so you will most definitely need to size down. This relaxed fit seems to work well for tall, slim people. For curvier, shorter women, the fit is a bit tight around the thighs.
Materials
Patagonia never fails to impress with its commitment to sustainability, and the Patagonia Mesa Parka is no different. For example, the main fabric makes use of 100% recycled polyester half-inch pile Sherpa fleece.
Being Fair Trade Sewn also means that Patagonia is going that extra step toward ensuring living wages in their supply chain. I think we can agree Patagonia cares.
But that's not everything, the 2.4-ounce Polyester plain weave lining, the 5.3-ounce Polyester brushed tricot pocket bags, and 4.5-ounce nylon plain weave are all recycled. That's impressive.
Durability
You only need to look at this winter jacket to see how well made it is. But it also feels top quality too. And to be honest, Patagonia never makes poor-quality outdoor gear.
Most of this winter coat is made with Polyester, which is incredibly durable and long-lasting. What's more, I could not see any durability complaints for the Mesa Parka, and I'm sure the Mesa Parka will last for years. This sense of durability is what you want at the slightly steep price this coat comes at.
Comparison to Similar Parkas
As an incredibly warm, stylish, and functional winter jacket, this is a popular choice among many. However, if you're after something slightly different, we have some great options for you.
The Patagonia Dusty Mesa Parka may not be the best choice for hiking in slightly warmer weather. Instead, why not try out the
Patagonia R1 Hoody
, which continues to be incredibly popular for its outstanding performance. Providing all-around performance plus style, the R1 Hoody is technical enough for any outdoor activity but fashionable enough for casual wear.
Soft, fitted, stretchy and easy to layer, you'll get plenty of mobility and room to move around, primarily through the arms. However, unlike the Mesa Parka, the R1 Hoody does better as more mid-layer in freezing weather.
So, you may want to make use of layering here for extra warmth. However, the cut of this fleece jacket isn't quite as mobile as the Mesa Parka or as breathable as more hi-tech jackets. But there's no doubt this jacket is stylish and a great layering option.
Coming in at two pounds, this Patagonia may come in a bit heavy for some. If you still want the winter warmth but without the weight, you can try out Patagonia's classic fleece, the
Re-Tool Snap-T Pullover
. Despite being warm and cozy, Patagonia provides more breathability than other heavier fleeces. This breathability means you could do more high energy activities like hiking.
Like the Dusty Mesa Parka, the part is slightly boxy, but not so much that you can't wear it under a
rain or wind jacket.
Verdict
Without a doubt, this is a perfect mid-weight parka for winter use. Although the Patagonia Dusty Mesa Parka doesn't feature the most flattering cut, it will keep you toasty warm and can be perfect for layering.

Being made of entirely recycled materials, knowing you've bought a jacket that hasn't harmed the environment makes it worthwhile.

If you're after comfort, cozy warmth and durability this winter, the Patagonia Dusty Mesa Parka is a perfect option for many.
Subscribe to our Newsletter