Patagonia Synchilla Snap-T Pullover Fleece
Light but warm, durable but comfortable and sporting a relaxed fit, this Patagonia Synchilla Snap-T pullover fleece is a top choice for a range of activities.
As a versatile layering piece, it can be used as a mid-layer for gnarly winds or a top layer when faced with a warmer breeze.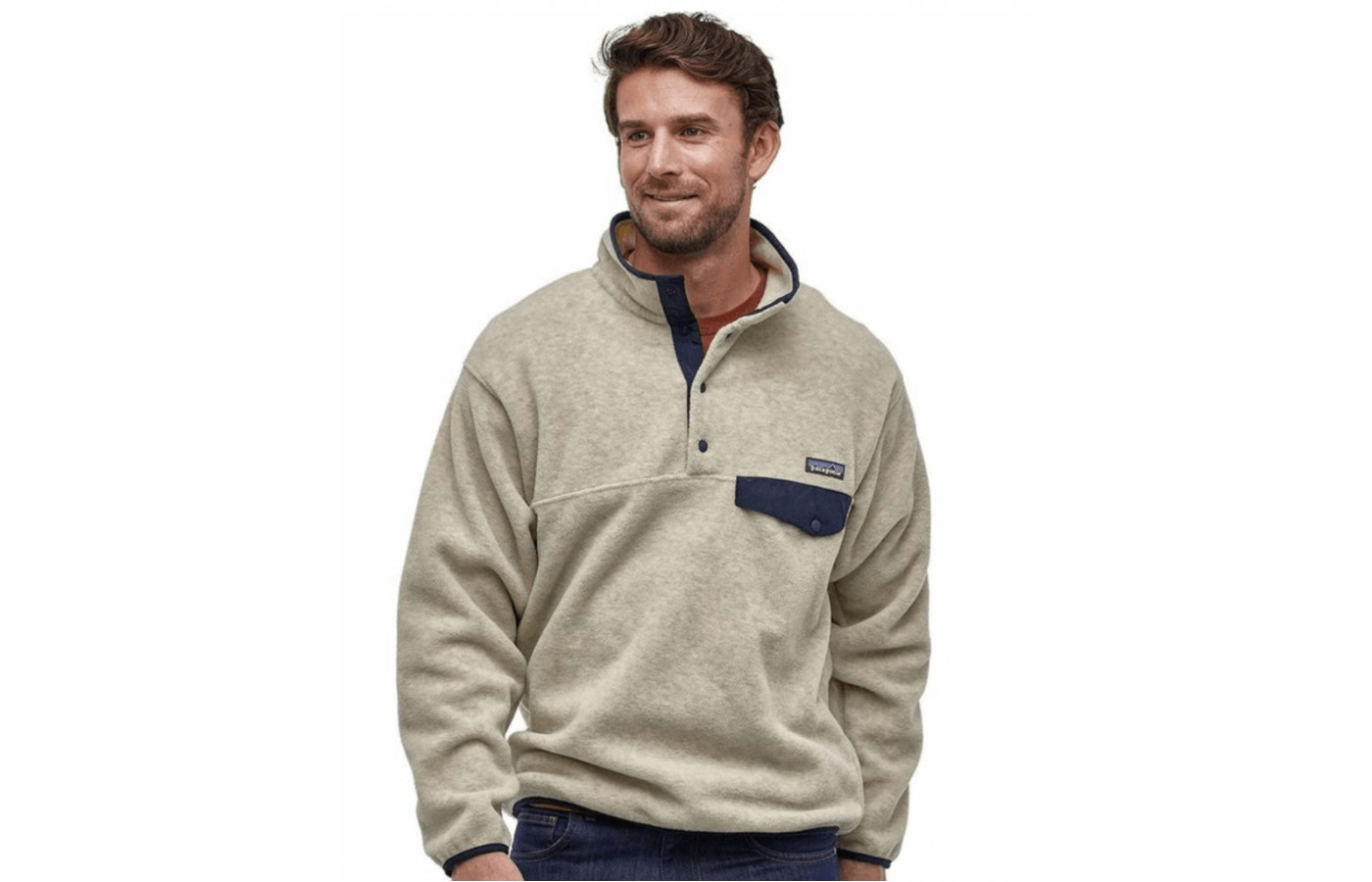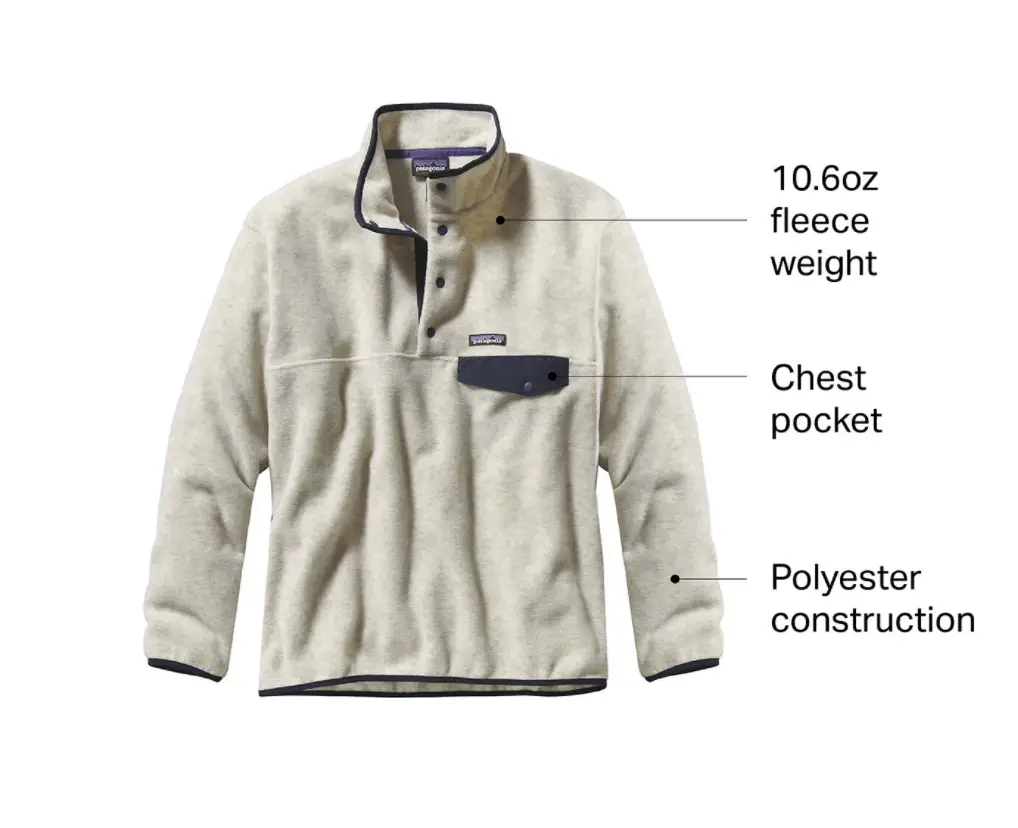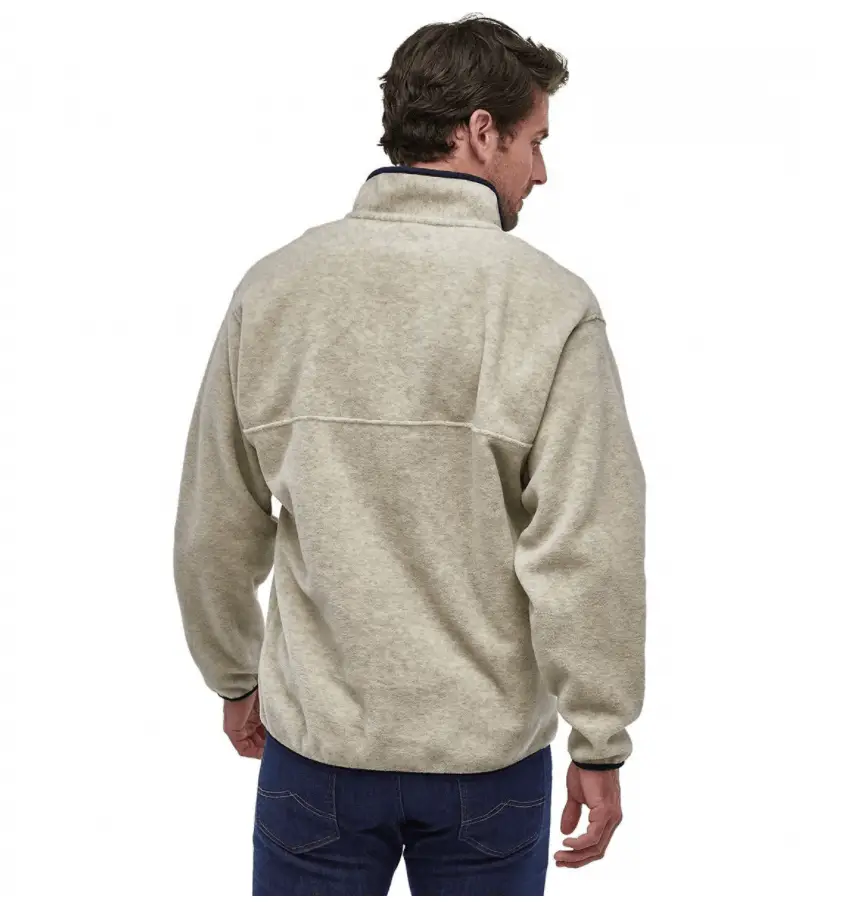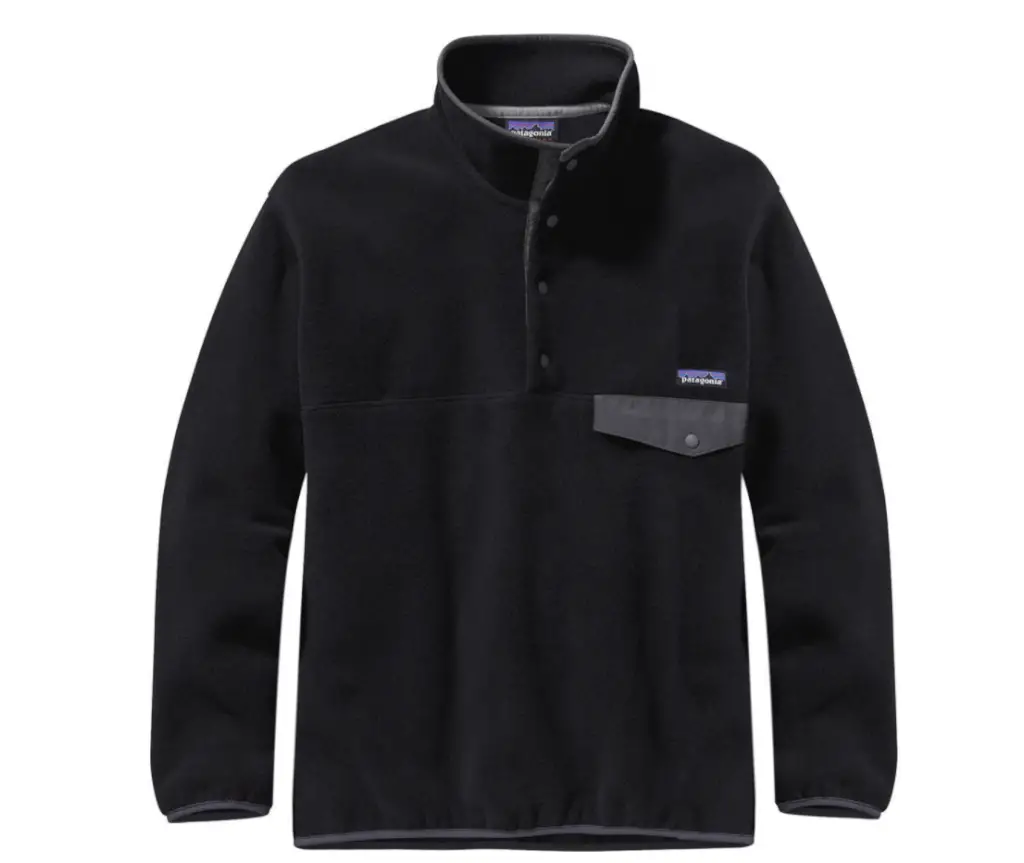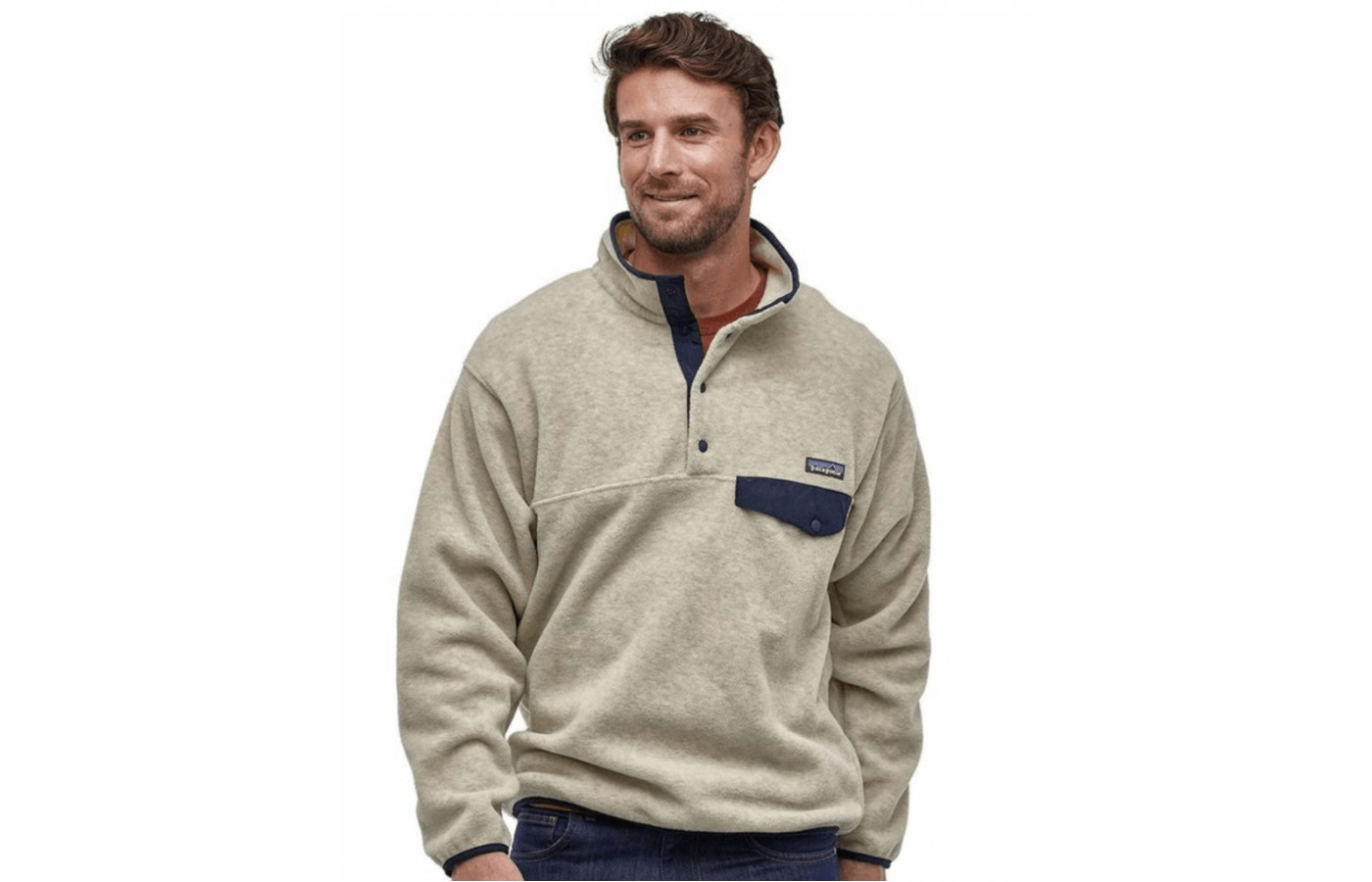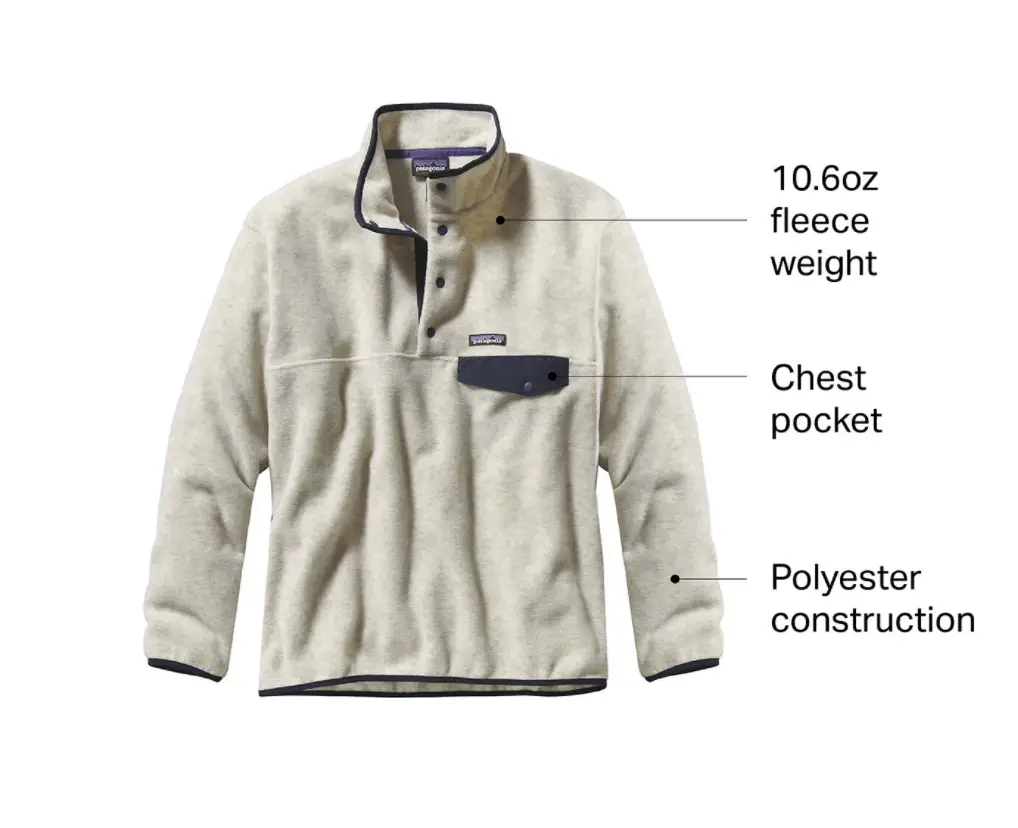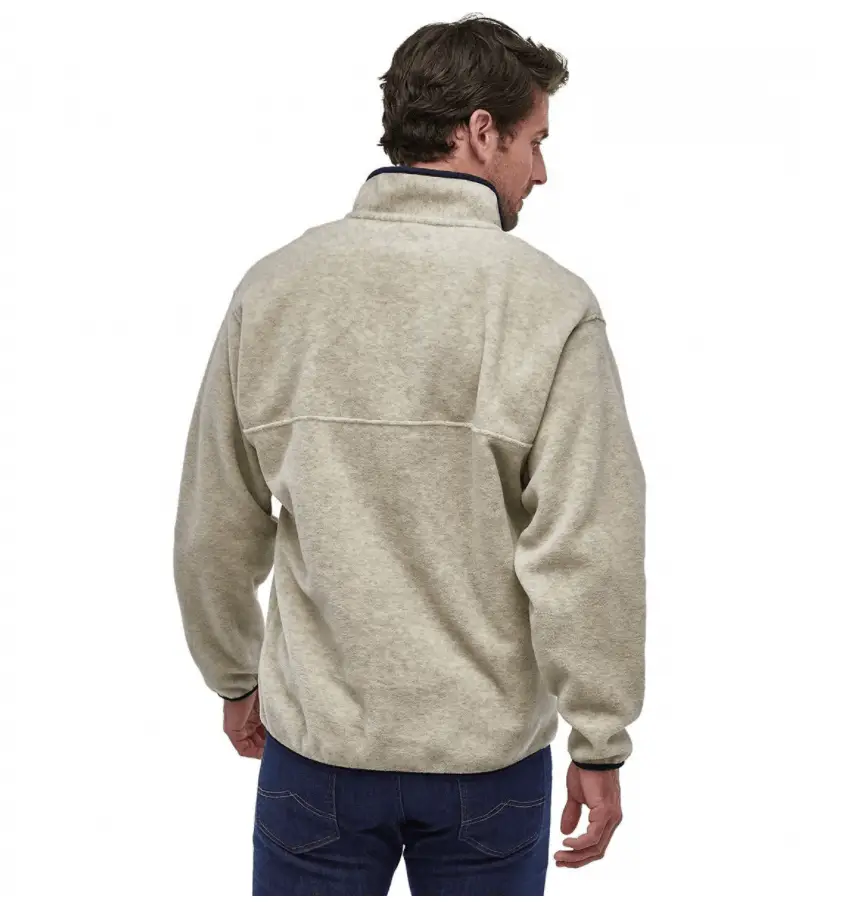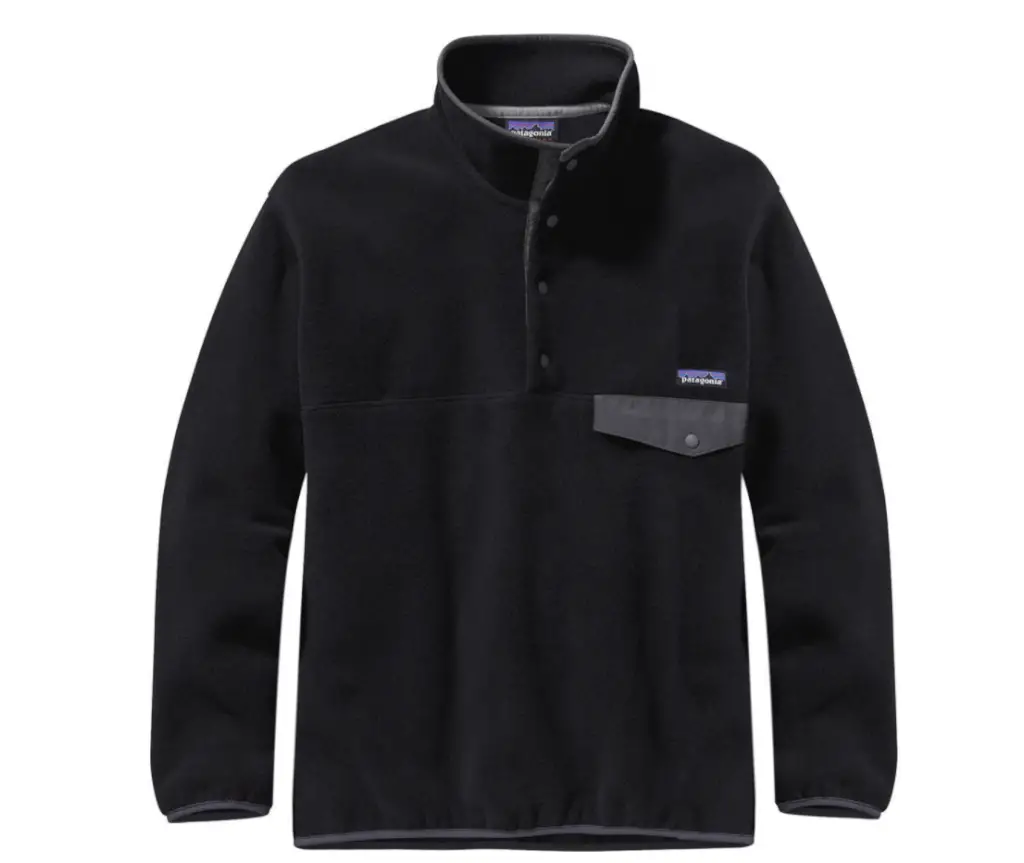 Our Conclusion
It's easy to see why so many customers love the style, comfort, and warmth that Patagonia provides in the Synchilla. Loved by many, used for years and suitable for various activities, it's one of Patagonia's top products.

As a luxury fleece, comfort comes at an absolute priority. For a start, the relaxed fit makes finding a comfortable size all the easier. In addition, the original Patagonia Snap T design means pulling this fleece over your head is all the easier.

No doubt relaxing by the fire with a steaming cup of hot chocolate, walking your dog or heading into town is easy with the warmth this fleece provides.

But for more gnarly, backcountry weather, you may want to find a warmer, snugger-fitting fleece. Using recycled polyester, also Fair Trade Certified™ sewn, is another reason I love this fleece. Check it out in more detail to see if it's right for you too.
Pros & Cons
Not warm enough for very harsh weather
Runs large; you'll probably need to size down
Key Features
Key Features
Design
The thing that makes this Patagonia so easy to use is its pullover lightweight Snap-T design. Combining a casual fit and lightweight design makes the Synchilla a decent, cozy layering piece.
It's perfect for most cold conditions, whether you'll be curled up on your sofa with a
good book
, chilling around a campfire, filling your trolley at the grocery store, or on a trek into the mountains.
It also does what it does well because it only provides the basics.
Things are kept simple with the exclusion of zippers, a hood and drawcords. Instead, you get (and all you need) a few buttons to open or close the fleece at the chest and neck and one small chest pocket.
However, because of its warm and burly nature, you will need a shell or
insulated jacket
with lots of room to move around when using it as a middle layer.
Additionally, even slimmer reviewers seem to find this fleece a little bulky in both the shoulder and sleeves, which can bunch up under a shell. However, most will probably use the lightweight Synchilla Snap-T as more of a comfy, around-town type of jacket, so it's perhaps not much of an issue.
Coming in at 17.5 ounces, this Patagonia is one of the heavier fleeces on the market. However, with a focus on optimum warmth, which does come at the sacrifice of breathability, this isn't a deal-breaker.
If you're planning to use this jacket for casual use, I wouldn't be too worried. However, if you're looking for a
mid-layer fleece
for more technical and potentially sweaty activities, you may want to find a more breathable piece.
Comfort
Getting cozy and comfortable with the Lightweight Synchilla Snap-T is easy due to its blanket-like softness and comfort. The inside material feels super soft, with this pullover having some of the softest fleece I've ever tried.
The Elastic cuffs also mean the sleeves are comfortable whether you wear them around your arms or pull them up. The hem and sleeve also have spandex openings, making it more comfortable than the less comfortable long-sleeved fleeces with Velcro or snap cuffs and hems.
This is a lovely warm fleece because of the thick and heavy design, with the polyester being an effective insulator against most cold weather. The spandex webbing at the waist and cuffs also makes this jacket warmer.
As mentioned earlier, this means it's not the most breathable, but I think the weather resistance of this Patagonia fleece makes up for it.
Lack of breathability seems worth it when a jacket keeps out the wind, like the Synchilla. However, it's not waterproof, so you will need a waterproof layer if you get caught in a downpour.
Materials
The materials of this Patagonia, although minimal, really work to make it warm and comfortable. Firstly, I'd like to thank Patagonia for being eco-conscious and making this jacket out of 100% recycled double-sided polyester fleece.
As a result, not only is it good for the environment, but it feels soft, retains the heat, and dries quickly due to its 100% nylon plain-weave placket and chest pocket.
What's more, elastane-trimmed cuffs and hem are trimmed with shape-holding, abrasion-resistant elastane, which locks out wind and cool air.
Durability
When you consider the long-lasting nature of the polyester and nylon used, plus the quality care and construction that has gone into this piece, I've had no concerns over the durability or price of this jacket.
After looking at some reviews and finding people wear the Synchilla, I think there is little to worry about for years without any issues.
Comparison to Similar Fleece Jackets
As already mentioned, the Synchilla is super warm and wind-resistant but is not breathable enough for technical activities. If you need something more breathable, you could try out the
Patagonia R1 Air
. It's lightweight yet, has an athletic fit and is most importantly breathable.
Unfortunately, this
Patagonia jacket
offers a well-rounded and highly versatile design that combines a brilliant warmth to weight ratio. However, it does not have the wind resistance that the Synchilla does.
We've also talked about how you can use the Synchilla as a layering piece, but it isn't set up as a technical layering piece. If you need a middle layer for more technical adventures, like mountaineering, why not try out the Patagonia
R1 Hoody
?
This Patagonia outdoor wear is a perfect layering system to regulate your body temperature even through hefty activities. However, this design doesn't provide the warmth for the weight that the high-loft models do.
Another great product we reviewed is the
Patagonia Retro X Jacket
, so make sure to check it out as well.
Verdict
What can I say about the Patagonia Lightweight Synchilla Snap-T, which hasn't already been said? Well, firstly, staying warm and cozy in cold weather is easy with adequate insulation. With a casual design, you'll also look great for a jaunt around town or any casual occasion.

Despite the lack of breathability, the soft, odor-free materials mean it's pretty sweatproof. Adding the wind resistance also means you stay all the warmer. It's easy to see why the Patagonia Synchilla is a top choice for many.