Best Bike Gloves
In a Hurry? Editors choice: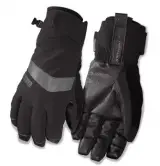 Test Winner: Giro Proof Gloves

One of the most important pieces of gear for any aspiring biker (or current biker) out there are gloves. It is actually alarming how a simple pair of bike gloves can have such an impact on your riding experience.

They can provide all sorts of beneficial characteristics such as padding for protection, sweat-wicking to keep your hands dry and even insulation if you plan to ride in the cold. And, that last point is important as different bike gloves will be optimized for different types of weather conditions.

Basically, there is a lot to cover in this guide and a lot of information that you need to know. But, before we dive into that, do yourself a favor and check out the below list that details some of the best bike gloves currently available on the market.
Standout Picks
Criteria Used for Evaluation
Use
First things first, you need to know what type of gloves that you want for your rides.
The biggest question you need to ask is what kind of bicycle gloves you need. Are you going to require gloves for winter riding or are you going to stick to riding in the other three seasons? Or, do you plan on riding all-year-round? Answering these questions is going to help narrow down your search.
After all, you will probably not want to wear your winter gloves in the summer and vice versa. Speaking for winter gloves, they will be designed to keep you warm as this is what the elements will demand. The best options will come with full-coverage, weather protection, and insulation.
Current technologies (such as Thinsulate insulation and Gore-Tex) can certainly help matters. Thinsulate insulation is a prevalent type of insulation in gloves and even when they get wet, it will manage to keep your hands warm. Gore-Tex, meanwhile, membranes will provide ample protection from the weather, which will, as a result, keep your hands warmer.
But, these types of gloves will not cut it when the weather warms up. In warmer climates, you will want hand gloves for bikes that are lightweight and possibly designed with mesh panels. Some options will even sport terry cloth, and this can be used to wipe the sweat off of your forehead.
So, if you plan on biking year-round, then you are going to need to buy a few different pair of gloves.
Breathability
No matter when you plan on wearing your gloves, you may want them to be breathable.
Do not think that breathability is only going to matter if you are biking in hotter climates as that is not true. Even in the winter, you will want breathable bike gloves. But, there is a different way you need to assess it when it comes to winter gloves.
After all, you do not want to wear bicycle gloves that will allow your hands to become cold due to their lack of protection. Instead, you will want to wear ones that can control your moisture. And, this is where they will become breathable. Even in the cold, your hands are going to sweat, and they will then feel clammy if the sweat is not controlled. In this case, we can help you out with our guide on the best sweatbands.
This is where the brilliance of Gore-Tex technology comes into play. As Gore-Tex membranes manage to provide full protection from the weather while also allowing water vapor to escape, they remain breathable.
Now, as for regular cycling gloves that you would use in the spring or summer, you may want to look for mesh panels. As your hands will overheat quicker in the summer, clearly, mesh panels can allow for better airflow. The ability of these gloves to wick away sweat will also be helpful.
Fit
When it comes to cycling gear, fit is going to be everything and that is no different here.
Have you ever heard the expression "it fits like a glove"? Well, that now comes into play. It is a reality that you must face that not all cycling gloves on the market are going to fit you properly. But, there are steps that you can take to increase the likelihood that the gloves you find will fit you in the manner that they should.
The first thing you can do is measure your hands and compare the measurements with the manufacturer's sizing chart (more on that later). However, you can also read through consumer reviews to see what other buyers have had to say.
These types of gloves should fit snug, but they also should not be too tight to the point that they cut off your blood circulation. At the same time, if they are too loose, then that is not going to work either. They need to fit your hands much like a pair of shoes need to fit your feet.
Oh, also do not forget about the cuffs. Not all cuffs will sport Velcro fasteners, but if you want adjustable gloves, you better look for models that do.
Comfort
In addition to comfort, this section is also about the overall grip that gloves possess.
This section is mostly about two design features, so to speak. The first is grip and when it comes to cycling gloves of this nature, the grip is very important. You will be holding the handlebars on your bike with them, after all.
Now, most cycling gloves will be engineered with some type of synthetic or leather palm to better improve handlebar grip. Most biking gloves are not slippery so this is not something you will need to worry about too much. Of course, you can also look for textured fingertips for enhanced grip, if you want.
The other feature is padding and this actually comes down to user preference. Some of you will need gloves that are loaded with padding and others will not see the need. For the record, padded gloves can help to reduce the impact and shock that you feel when you are holding your handlebars.
For MTB gloves, padding is going to be essential as mountain biking brings with it uneven and unpredictable terrain. So, your bike is sure to jolt quite frequently and your hands can become fatigued quicker without sufficient padding. But, for road biking (for example), the terrain is going to be more stable and this will be less of an issue.
Weather Resistance
Not all gloves are going to be weather-resistant and not all of them technically need to be either.
It has become a theme, and it continues here. This section will depend a lot on when you need your biking gloves. Let's start with those of you who need gloves for your winter rides. Outside of the air itself, the quickest way your hands will become cold in gloves is if they become wet.
This is why it is in your best interest to look for winter gloves that also have waterproof (or at least water-resistant) membranes. As has been noted a few times, one of the most popular membranes is Gore-Tex. It is not the only one, but it is hard to argue that it is not the best. A membrane of this nature will combat inclement weather.
But, what about for summer riding? Well, it is a bit different from assessing the weather resistance of these types of gloves. Even though Gore-Tex is breathable, full waterproof membranes will often still trap in a lot of heat. In the summer, again, this is not going to be ideal.
Most spring or summer gloves will be fine in light to moderate rains, however. It is the downpours where your hands are sure to become soaked in a matter of minutes.
Our Top Picks for the Best Bike Gloves
1

. Gore Bike Wear Thermo Gloves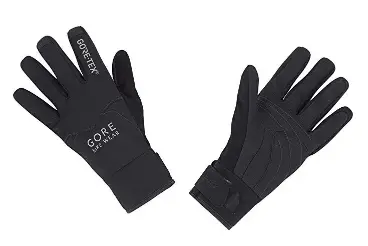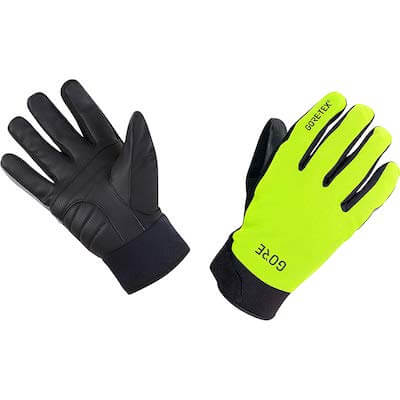 If you anything about Gore-Tex technology then you should know that these gloves are windproof, highly breathable and waterproof. These are terrific for winter riding and will be great for all ladies out there.
Read more
Use
Indeed, these are designed for winter riding thanks to the Gore-Tex technology. However, in doing so, these thermal gloves are also not overly bulky so that is nice.
Breathability
Do not be fooled and believe that your hands will sweat profusely in these gloves as the Gore-Tex technology that is implemented is actually incredibly breathable.
Fitting
Overall, it appears as if these gloves do run on the small side. Now, on another note, they are equipped with Velcro closures which allow for a great deal of adjustability.
Padding
While these are not heavily padded, the material present is going to keep your hands comfortable while you are riding (which is the main thing).
Weather Resistance
This is where Gore-Tex really shines. Basically, with this in play, the core of each glove sports a waterproof and windproof membrane. These will protect you from the weather, let's just say that.
Overall
As these are Gore-Tex gloves, they are not cheap. However, for winter riding, you would be hard-pressed to find a pair of bike gloves that compete as well as these.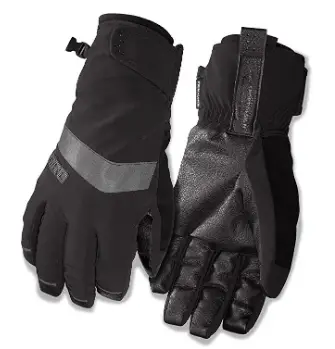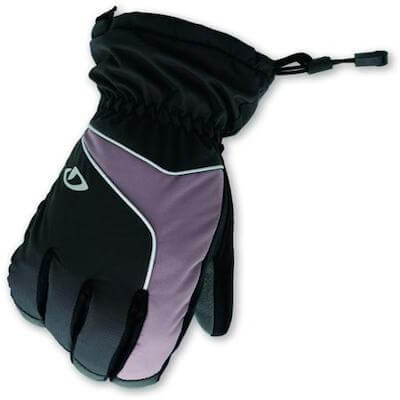 This is another pair of fantastic winter cycling gloves and as you can see from the photos, they are best only for winter riding. Their dexterity is not the best but their insulation is top-notch.
Read more
Use
While these are awesome for the winter, they are also extremely versatile overall. The polyester insert can be removed if the weather is not too cold outside. With the insert present, you can enjoy Thinsulate XT-S insulation in the bitter cold.
Breathability
These are designed with extended merino wool cuffs (and merino wool is naturally breathable). Additionally, the liner is also waterproof but breathable.
Fitting
Alright, so the five-fingered design is executed quite well. With that said, the Proof Gloves also sport incredibly long fingers which negatively affects their dexterity.
Padding
To ensure you will have a solid grip on your handlebars, these have been designed with synthetic leather palms. Your hands will also be kept comfortable and protected on your rides.
Weather Resistance
The outer shell may not be waterproof but the liner is. In case it starts raining, your hands should be kept dry for as long as possible.
Overall
The sheer versatility of the Giro Proof Gloves is what makes them so compelling. But, through and through, they are going to be best utilized when the weather turns cold outside.

3

. Castelli Estremo Gloves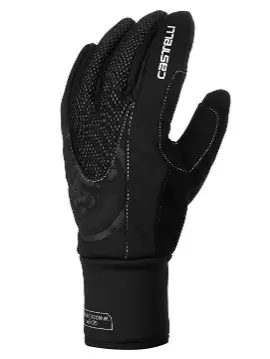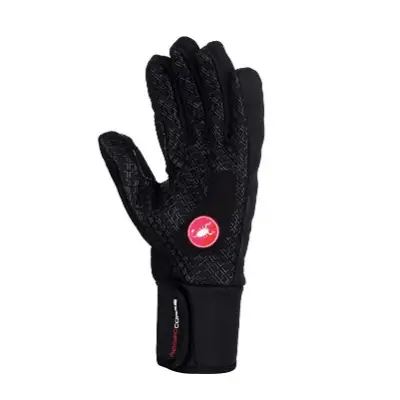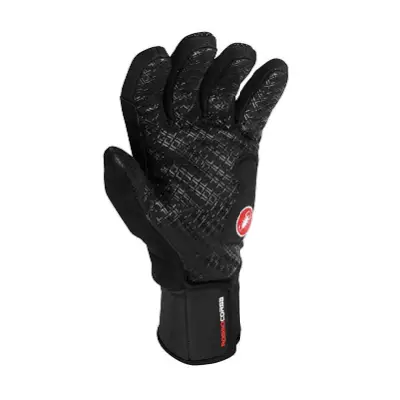 Look, Gore-Tex gloves are not exactly cheap but they are some of the best at keeping your hands warm and protected in cold and inclement weather. Well, the Estremo Gloves are just another one of those pairs.
Read more
Use
The fleece liner combined with the windproof X-Fast fabric allows each one of these gloves to provide your hands with excellent warmth during cold conditions. But, they are not suitable for warm weather in the slightest.
Breathability
The Gore Windstopper X-Fast body is breathable. In the summer, your hands would be sweating pretty badly with these, but this breathable core does play a role in the winter.
Fitting
There is a lot of material located at the palms, and this makes the fit a bit different. It is just something you will need to get used to — also, these sport neoprene cuffs with Velcro closures.
Padding
As noted, there is a lot of material at the palms, and this will play a role in keeping your hands protected. Additionally, these are also covered with silicone textures for improved grip overall.
Weather Resistance
Now, the X-Fast fabric does great against the wind but not so much against water. In moderate rainfall, these gloves will keep you dry but they will become wet with too much exposure to the rain.
Overall
Okay, so the fit does take some time to get accustomed to but these gloves are incredible for winter rides. Their wind protection and overall warmth will be admired by most.

4

. Scott Sports Endurance Gloves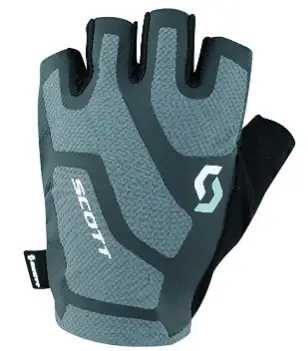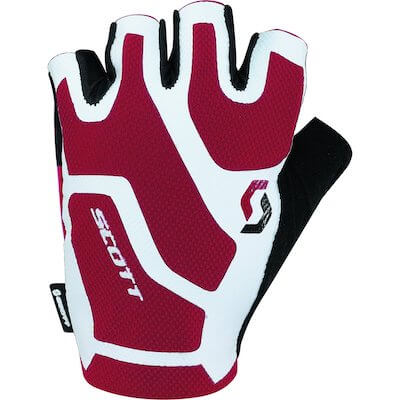 Do not just think that you will need gloves for winter riding as they are essential for the summer too. And, the Endurance SF Gloves from Scott Sports are perfect for this type of weather.
Read more
Use
Indeed, these are optimized for summer riding due to their lightweight and highly breathable core. Also, on the back are soft wide panels that can be used to wipe the sweat off of your forehead.
Breathability
These are well-ventilated for use in warmer weather. On the back of each glove is a breathable back panel that helps regulate airflow.
Fitting
Just go in expecting these to fit snugly on your hands as that is what they do. For the record, each one sports an elasticated cuff.
Padding
Even though these gloves are not loaded with padding for long bike rides, they still sport strategically placed padding in the palms. This allows for enhanced comfort and protection on your rides.
Weather Resistance
During torrential downpours, these are going to get wet along with your hands. However, in light rain, they will protect your hands well and will not retain much water.
Overall
For spring and summer riding, you would be hard-pressed to find a superior pair of biking gloves for daily training and such. They are lightweight, breathable, comfortable, and fit very well.

5

. Endura FS260-Pro Gloves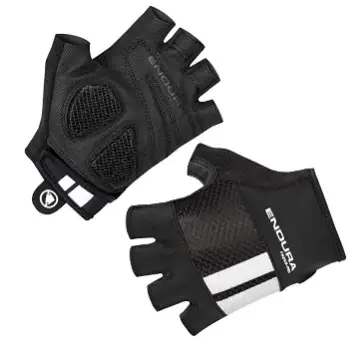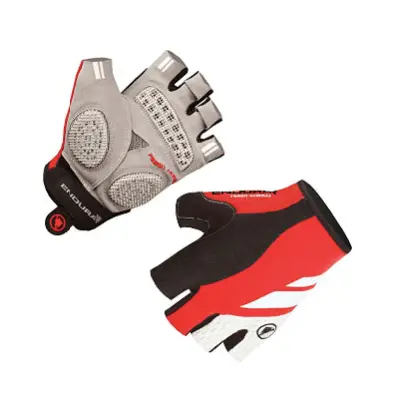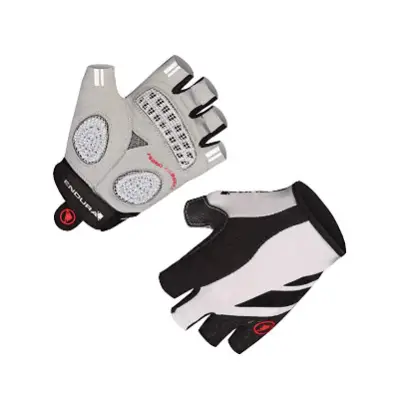 The FS260-Pro Gloves come in a multitude of colors and will be an excellent choice for any of you looking for summer riding gloves. They are just on another level in virtually every way possible.
Read more
Use
The FS260-Pro Gloves, as noted, are going to work very well in the spring and summer (possibly even in the fall). They feature Terry sweat wipes, silicone palm grips, and sweat-wicking hand panels.
Breathability
While the implemented gel is not breathable, the gel sections here sport voids to allow ample airflow. Additionally, as noted, these sport sweat-wicking high-stretch backhand panels.
Fitting
Endura's fitting guide is pretty much spot-on here so you can rest easy knowing that. Also, these gloves will stay securely on your hands with the help of Velcro adjuster straps.
Padding
Thanks to the Aerogel padding that has been implemented, you will be gifted ergonomic comfort and protection with these gloves. The padding is really good.
Weather Resistance
It is not as if these offer weather protection, but they are also not nuisances in bad weather, either. They should be fine in moderate rainfall, however.
Overall
For the most part, the FS260-Pro Gloves are on another level. Though some users have had durability issues (not all gloves will last forever), these are almost perfect otherwise.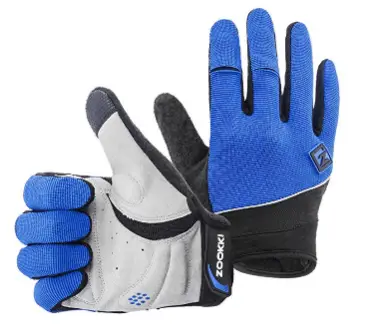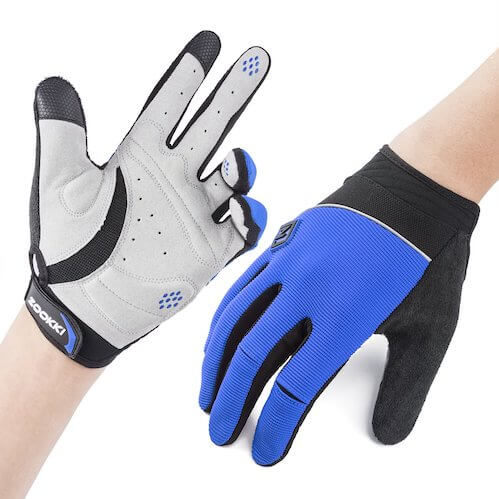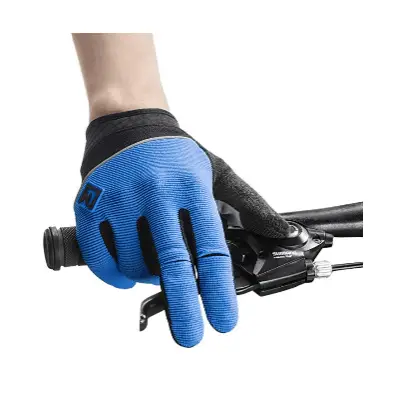 Now, these mountain bike gloves are another pair that is perfect for summer riding. Their dexterity is admirable, they are touchscreen-compatible and they breathe very well.
Read more
Use
The terry cloth design of these cycling gloves allows them to be great at wiping away sweat from your face. They are also smartphone-compatible. But, they are not ideal for winter riding.
Breathability
The triple sandwich and mesh cloth design of these gloves are all that needs to describe their breathability. They will also wick away sweat from your skin which is a big plus.
Fitting
There are multiple sizes available and while they will not account for everyone, most users agree that they do run true-to-size. So, you can order the size based on the measurements of your hands.
Padding
Implemented into the palms is sufficient padding but, overall, the padding is a bit unusual. Along with the fingers, there is little to no padding but the padding at the palms does help to absorb shock.
Weather Resistance
In general, these are not going to offer that much protection against the weather. They will maintain their grip during most rainfalls that you encounter, though.
Overall
Being optimized for warmer weather, a lot of you will fall in love with these gloves. Their terry cloth core and smartphone-compatible fingertips are also nice touches.

7

. Endura Deluge II Gloves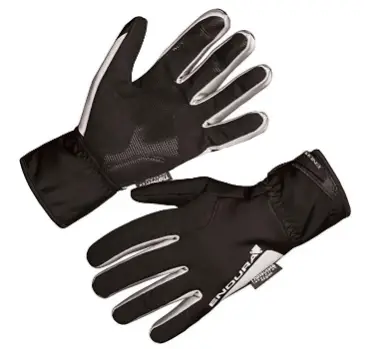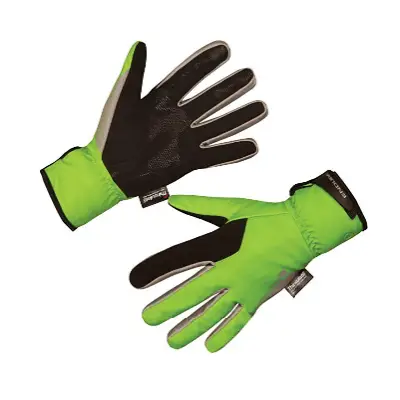 While the Deluge II Gloves are still going to get wet in raging downpours, they sport Thinsulate insulation so you know they are going to keep your hands warm in the cold.
Read more
Use
As noted, these gloves have been engineered with Thinsulate insulation, and this is what allows them to provide warmth. At the same time, the fingertips add grip without being too bulky.
Breathability
To move sweat away from your skin, each glove has been designed with a wicking inner brushed tricot. Oh yeah, and the waterproof membrane is also breathable in its own right.
Fitting
This is another pair of cycling gloves that tend to run small. If you do not want a super tight fit, then you may want to consider buying a size up than what you usually would.
Padding
The palms-on these gloves sport light gel padding, and this offers comfort and protection on your rides. Additionally, as noted, the silicone palms and fingertips also deliver ample grip.
Weather Resistance
Alright, so the waterproof membrane is not precisely totally waterproof. While it works well during most rains, when it pours, these gloves are going to get saturated.
Overall
For winter riding, virtually anyone would be happy to place these suckers on their hands. They may get wet in downpours but the winter, how often is that going to happen?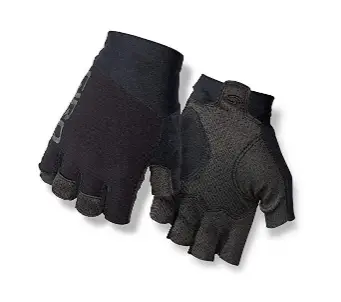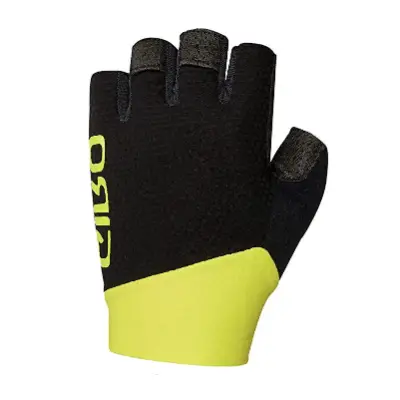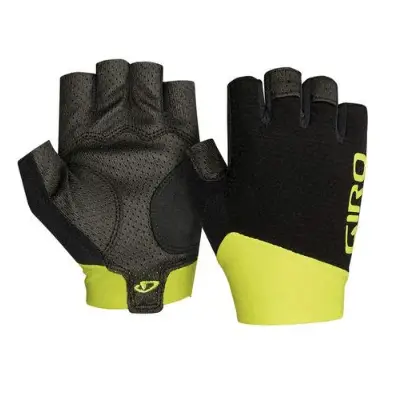 Some of you bike riders out there may be looking for gloves that are fingerless. If so then it may be in your best interest to take a much closer look at this option here.
Read more
Use
Being fingerless, this option is not intended for colder weather. The 100 percent sheep leather construction makes them suitable for warmer weather.
Breathability
Overall, these are good for sweat control. In addition to their fingerless nature, they also sport micro-vented Cool Skin palms. Though subtle, these palms enhance the breathability quite a bit.
Fitting
Based on user feedback, the consensus is that these tend to run small. There is a sizing chart available on Giro's website, but you may want to order a size up regardless.
Padding
As you will notice when you put these on, they are not overloaded with padding or anything like that. They take more of a minimalist approach to the padding, so do take note of that.
Weather Resistance
The nice aspect of sheepskin leather is the fact that it will naturally repel moisture. However, it is not 100 percent waterproof so your hands will get wet in downpours.
Overall
Giro is known for making high-quality gloves, and these are just a prime example. You may want to think about ordering a size up that is all.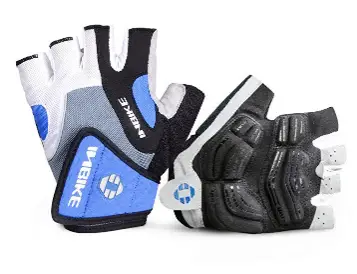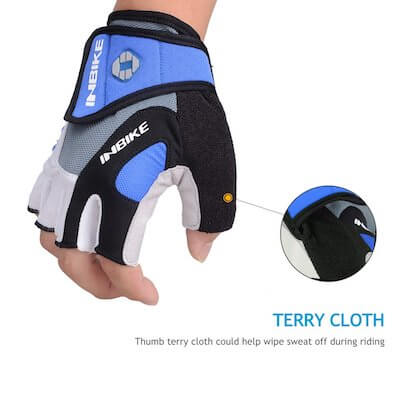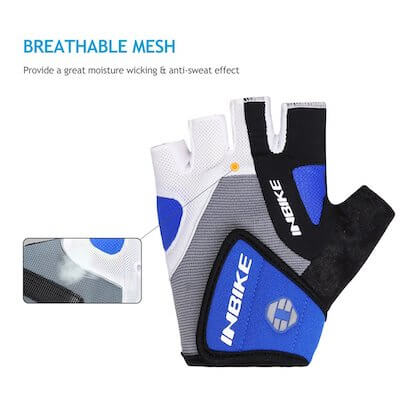 If you are on a somewhat tighter budget then you may be more compelled to a pair of bike gloves like these. They are not completely flawless but they are very, very good.
Read more
Use
Overall, these are great for everything but winter riding. A neat feature is also the implementation of terry cloth as this allows you to wipe the sweat off of your forehead while riding comfortably.
Breathability
In addition to the mesh that has been integrated into the back of these gloves, they are also fingerless. This combination allows these gloves to be very breathable.
Fitting
Thanks to the hook and loop fastener closure system on each glove, you can adjust the tightness of them to your liking. Doing so can allow you to achieve a custom and tailored fit.
Padding
It is noted in the product description that five-millimeter gel pads have been implemented into the palms. However, as reported by various users, the padding feels more like foam than gel.
Weather Resistance
Let's say that these are not designed to shield you from the weather or anything like that. They will not get ruined in the rain or anything like that, however.
Overall
These cycling gloves have garnered a lot of love from various riders around the world, and that is always something to fall back on. It is not too tricky to see why.

10

. Defeet ET Dura Gloves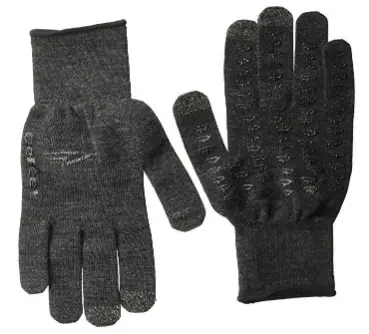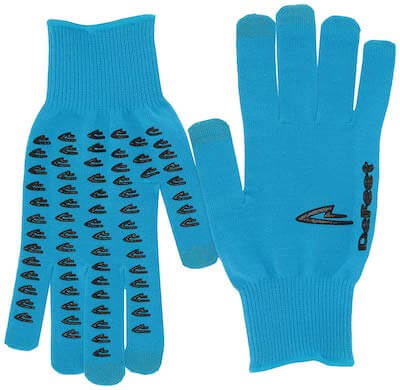 What makes these cycling gloves special is the fact that they are made with merino wool. In addition to delivering warmth, merino wool is also naturally breathable.
Read more
Use
These are rated to be used in temperatures from 40 to 60 degrees. The merino wool comes into play with this temperature range. Also, these are smartphone-compatible, so that is a plus.
Breathability
It was just noted, but merino wool is a naturally breathable material. For the record, the material composition is comprised of 40 percent merino wool.
Fitting
Admittedly, the fitting of these gloves could have been a little better. The fingers are somewhat long, and the wrists are tight. It is just something you will have to get used to.
Padding
Other biking gloves offer improved padding, and there is no denying that. At the same time, the material does feel nice against your skin, so that is a huge plus.
Weather Resistance
In light rain or even in a mist, these will do a moderately effective job of protecting your hands. During heavier rainfall, however, you can't expect these to keep your hands dry.
Overall
The most compelling aspect of these gloves is that they are made with merino wool. And, the natural and wonderful properties of the material are on full display here.

Subscribe to our Newsletter