Best Dutch Ovens
In a Hurry? Editors choice:
Test Winner: Lodge Cast Iron

Are you a homeowner who is looking to add more tools and accessories into your kitchen? If you are, then you need to be introduced to a very handy and nifty product called a Dutch oven. Perhaps you already know what this is or perhaps you have owned one in the past and now need a new one. No matter which demographic you fall into, this is essentially a heavy cooking pot that sports a lid and it is ideal for a wide range of uses (such as for making soups and stews). Most of the time, the models you see will be made of cast iron and if you have ever cooked with cast iron cookware, this is no surprise as they perform exceptionally well. But, there is much more involved in the buying process than just concluding you want cast iron (which is not mandatory, for the record). With the assistance of this guide, though, the hope is that by the end of it, you will have a hefty understanding of what to look for and what you desire.
Standout Picks
Criteria Used for Evaluation
Materials
Cast iron is the king here and it is as simple as that. While there are other options, you can't go wrong with cast iron.
Let's just cut right to the chase. The most common material that will be used to craft most Dutch ovens will be cast iron. Yes, there are other material choices out there (such as steel or aluminum) but cast iron trumps over all of them when it comes to cookware (most of the time). Part of the reason why is due to the material's natural toughness and durableness. Now, they can rust because they do include iron but they can literally last for decades on end. Plus, because they are typically engineered in one solid piece, wear and tear do not affect them very much. On top of all of this, the surface can always be re-coated with oil.
It is not just cast iron that you need to keep an eye out for, though, as there is a special finish known as porcelain enamel. With it coated on the outside of the Dutch oven, it will enhance the metal's ability to resist corrosion, peeling, chipping, scratching, and fading. Of course, this coating does not make the surface chip-proof as it can still chip (it just adds a layer of protection). Also, this coating tends to give the pot a luxurious appeal.
Effectiveness
Given that this is a glorified cooking pot, how well it cooks and its cooking surface are everything.
There is no doubt that cast iron is great for its toughness and durability. But, for sure, the money comes with its overall effectiveness in the art of cooking. There are so many reasons why this material should be the go-to whenever you are cooking on your stovetop or in the oven. For starters, they will require much less oil than other materials and when they are seasoned, they essentially become a nonstick pan. Oh yeah, and the natural ability of cast iron to retain heat and evenly distribute the heat is also critical. Here is the deal; have you ever attempted to place your hand next to a cast iron skillet that was at a high temperature? If you have, you will feel the heat radiating from the cast iron. So, even with foods that are not in direct contact with the metal, they will still be cooked (which will lead to more even heating).
This is also where a porcelain-enameled interior coating comes into play. All porcelain-enamel is, is a form of glass that bonds to the metal to form the body of the cookware. But, this will prevent the cast iron from reacting to any acidic foods and will also enhance the heat-transfer characteristics of the pot.
Features
Really, there are only a few features to keep an eye on here but each one of them is important.
While there are not too many features to go over here, the few that are present are very important. Again, most cast iron cookware is simply one big piece and Dutch ovens are mostly the same (except that they are comprised of a pot and a lid). But, you still need to pay attention to the design of the handles. Basically, they should provide you with an optimal grip when you need to transfer the pot from your stove to other areas. Also, the lid will also come equipped with a handle and this can either be a knob or an actual handle (most of the time it will be a simple knob, which will get the job done).
Speaking of the knob, most Dutch ovens will be oven-safe to a certain temperature (oftentimes 450 or 500 degrees) but ensure that the knob can handle such temperatures. Oh, and lastly, assess the design of the lid itself. The best lids will be self-basting and will retain all the moisture to keep your meals and meats juicy and fresh.
Ease of Use
After your cooking has concluded, it is nice when you have a Dutch oven that is easy to clean and maintain.
Here is the deal; cleaning any type of cast iron cookware is not difficult. But, you can very easily clean it in the wrong fashion so while it is easy, it needs to be cleaned in a specific fashion to ensure the best cooking results. What you want to avoid is placing the cast iron in the dishwasher (as this is the quickest way to ruin it) and allowing it to soak in water. All you need to do is rinse it off with water and scrub it with a sponge or washcloth. From there, you can remove all the standing water out of it and dry it off (either with a cloth or by heating it up on a stovetop). To finish, season the cast iron with cooking oil (you do not need to douse it with oil and just need a clear coat).
Oh yeah, and this is also where it is nice to look for porcelain-enameled surfaces. You can pretty much perform the same cleaning method as above but this coating will make it even easier to clean as it is resistant to staining, sticking and scratching.
Capacity
Some of these bad boys can be very small and others can feed a military family. It all depends on your needs, though.
These cooking pots can come in various sizes from one-quart all the way up to 12 or 13 quarts. The safe bet is to invest in a model that has a capacity of at least five or six quarts. This will be able to feed most families and you can always use less space than is needed. However, it really is up to you and if you want the largest pot possible, then buy accordingly.
OUR TOP PICKS FOR THE BEST DUTCH OVENS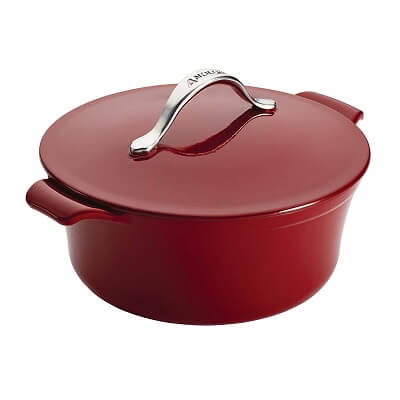 The silver model on this list is much cheaper than the gold and for some people, it may be the go-to here. It is also made of cast iron and sports a black matte enamel interior finish.
Read more
Materials
As mentioned, this is indeed made of cast iron. Yet, Anolon did not stop there as they coated the exterior with porcelain enamel for elegance and durability purposes.
Effectiveness
This really has everything to produce excellent results including the cast iron which retains heat superbly, enamel-coated interior that prevents sticking and self-basting lid which retains moisture.
Features
While some designs will be equipped with a knob handle, this sports a stainless steel handle which can be easier to grip. Also, there are handles on the side and this is oven-safe up to 500 degrees.
Ease of Cleaning
Thanks to the interior coating of enamel, this is rendered easy to clean and to maintain.
Capacity
Anolon sells their cooking pot in a few different capacities and this gives you a little more freedom of choice. They sell this in capacities of four, five and seven quarts.
Overall
Really, you would be hard-pressed to find legitimate issues with this design. What makes it even better is it is affordable. Can you really go wrong with this combination?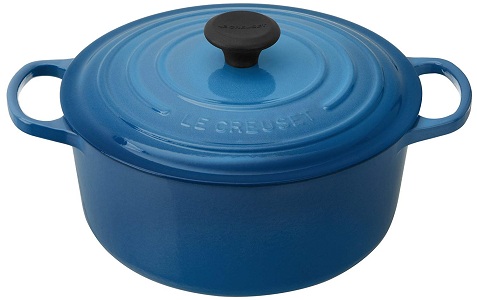 It is hard not to notice the steep price of this model right away. Look, this is quite expensive but given the attention to detail and the performance, it is somewhat warranted.
Read more
Materials
In addition to the fact that this is made of cast iron, it is also coated with long-lasting enamel on the exterior. With this coating, it will help resist chipping and cracking.
Effectiveness
Cast iron itself is tremendous when it comes to evenly distributing heat and retaining it. But, this also is engineered with a dome-shaped lid to lock in the entire flavor. And, the interior is enamel-coated.
Features
To provide an enhanced grip, the handles have been made 45 percent larger. Additionally, the large composite knob can withstand temperatures of up to 500 degrees.
Ease of Cleaning
Not only does the aforementioned enamel interior help with chipping, it also makes this easier to clean, as a whole.
Capacity
Though this is the number one model on this list, the 5.5-quart size is not the largest out there. Admittedly, though, it is about what you would expect for these ovens.
Overall
If you are serious about this technology and do not want to settle with the cheap route, you may want to seriously consider buying this cooking pot. Hopefully, you are not one of the buyers who receive theirs with damage, however.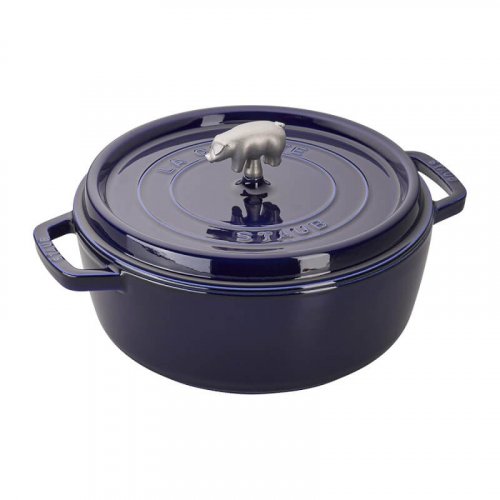 Yet again, this is a very expensive Dutch oven. But, outside of being made with cast iron, it sports a tight-fitting lid that helps to retain the moisture of whatever is cooking inside.
Read more
Materials
Yep, this is another model that is made of cast iron. In addition to this, the smooth enamel bottom will work on all sorts of surfaces such as electric and gas stovetops.
Effectiveness
As you know, cast iron has excellent heat retaining qualities. But, what is nice about this model is the matte black enamel interior and also the tight-fitting lid that is equipped with spikes on the lid to return juices back onto your food.
Features
Even though the top knob on the lid is small, it is raised high enough to ensure that you can easily grasp it when you go to remove the lid.
Ease of Cleaning
As you guessed, the same enamel interior that was mentioned earlier also plays a pivotal role in making this much easier to clean.
Capacity
This specific design is six quarts. As compared to the rest of the entries on this list, this is a fairly suitable capacity.
Overall
Is there any other way to say that this is mightily expensive? Much like the top unit on this list, if you are serious about this, then this needs to be a top contender on your list.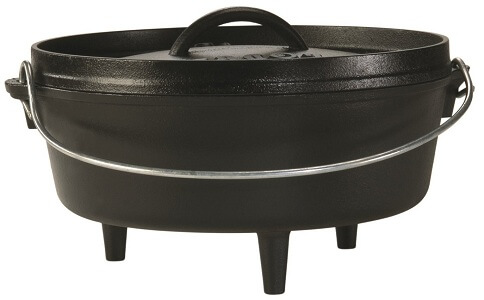 Diversity is the best word to describe this next cooking pot as it can be used at home in your oven or on the stovetop; or, it can be used over the campfire. No matter how you want to do it, this bad boy can perform.
Read more
Materials
Although this is made of cast iron, a few buyers have alluded to the fact that the cooking surface on this is a bit rough and could use an increase in quality.
Effectiveness
The natural cast iron construction of this model is able to distribute heat and retain it expertly. Also, this is pre-seasoned with 100 percent vegetable oil.
Features
Indeed, this can be used in a plethora of different ways. This is thanks to the three internal legs and also the heavy-gauge wire bale (which can be used for hanging it over a campfire).
Ease of Cleaning
While the surface is not technically nonstick, it is advertised as being nearly nonstick. Overall, it is relatively easy to hand-wash, dry, and season with cooking oil.
Capacity
There are various capacity options available so be sure to get the model that will deliver the amount of food that you are looking for.
Overall
For home usage, there are better options out there. Truthfully, this design is almost tailored to campers as it is one of the few that will legitimately work tremendously over a campfire.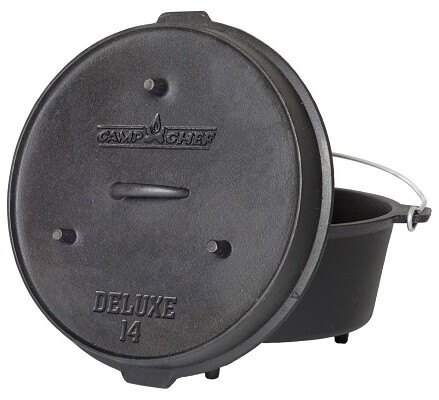 Now, this right here is brilliant craftsmanship. Outside of the actual construction of the main pot, the lid can double as a skillet, pan, or griddle (which is ingenious).
Read more
Materials
Well, you can't criticize this for being lightweight. It is made of premium cast iron but boy oh boy, it is a beast. Add on several ingredients and you have arguably the heaviest model on this list.
Effectiveness
Adding on to the fact that the cast iron is seasoned, the deep dish lid also allows for increased airflow which then allows for evener cooking.
Features
It is almost amazing to think that this lid can be used in so many different fashions. Indeed, it can be double as a separate cast iron skillet or even as a griddle.
Ease of Cleaning
As with any other cast iron cookware in the world, this is not hard to clean. Just merely avoid using soap and coat it with vegetable oil to finish.
Capacity
The base of this Dutch oven alone measures nine quarts. The lid is then just less than three quarts and this brings the grand total to just less than 12 quarts.
Overall
Camp Chef arguably has the most innovative and unique design on this entire list. But, just be ready to handle a beast of a cooking pot as this is not light in any sense of the word.

6

. Calphalon Contemporary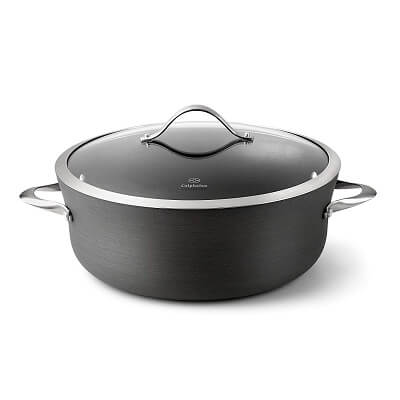 Up until now, you may have been under the assumption that Dutch ovens are only made of cast iron. Well, this bad boy is actually comprised of heavy-gauge hard-anodized aluminum.
Read more
Materials
Instead of cast iron, this is indeed made of hard-anodized aluminum. And, the surface coating is a result of the hard-anodization. However, this is a bit too easy to dent, all things considered.
Effectiveness
There are literally three layers of nonstick coating integrated into this cooking pot. Two of the layers are for durability purposes and the remaining is there to improve the performance.
Features
The see-through glass lid is a nice touch to see your meals cooking and the pan and cover are oven-safe. Yet, despite being advertised otherwise, the handles have been known to get hot during cooking.
Ease of Cleaning
Oh yeah, the triple nonstick coating also makes this much easier to clean. In addition to this, this can be placed in the dishwasher safely.
Capacity
The largest pot you can get is 8.5 quarts but there are other sizes available. Although, the 8.5-quart model is one of the larger ones on this list so you may want to go with that.
Overall
At first glance, you can fall in love with this by sheer appearance alone. While aluminum may not be better than cast iron in terms of performance, this is a thing of beauty here.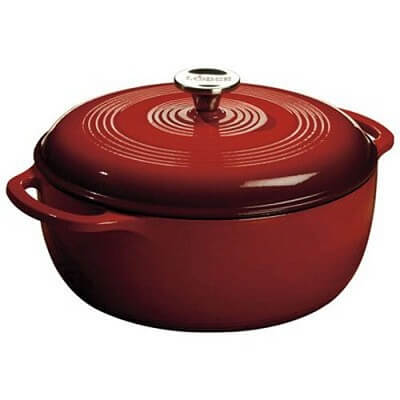 This is another model from Lodge but this one is more traditional. While some buyers have reported that this can have chipping issues, it is designed of premium materials and a self-basting lid.
Read more
Materials
Nothing more needs to be said about cast iron but do know this, the enamel finish that is used throughout this pot could have been applied with superior quality (as users note it does chip too easily).
Effectiveness
When it comes to performance, this really shines. This is thanks to the cast iron construction and the interior porcelain enamel-coating which will not react to any ingredients.
Features
In addition to the two sturdy and durable integrated handles, the lid on this unit also is equipped with a knob which allows for easy removal.
Ease of Cleaning
For the record, this is dishwasher safe. Yet, it is recommended to be hand-washed to avoid any potential damage that the rough detergents in a dishwasher can cause.
Capacity
Lodge does their consumer base a solace and offers a ton of different sizes here. From 1.5 quarts to 7.5 quarts, and plenty of options in-between, there is a size for everyone.
Overall
Just by looking at the sheer number of positive reviews that this product has garnered, you can tell how beloved it is. Sure, there are tidbits here and there that could have been improved but this is beloved for a reason.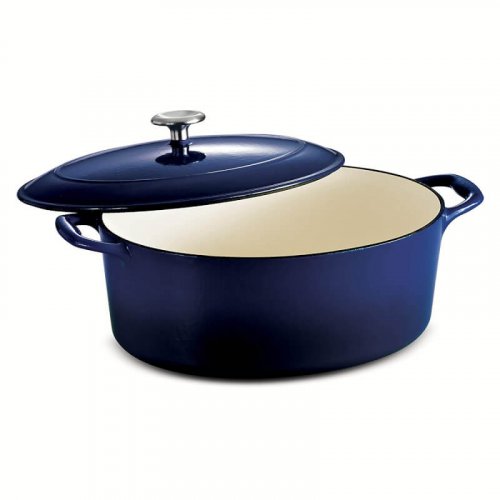 You could almost consider this a nice affordable option. Of course, there are others around the same price range that are a little better in quality. But, this right here is mightily popular for a reason.
Read more
Materials
After that blip in the radar, we go right back to cast iron. And though the porcelain-enamel on this chips a little too easily, it is present on the exterior.
Effectiveness
First off, the foods that you cook on this will not react to the porcelain-enamel surface, which is nice. But, the self-basting lid, with condensation ridges, also improves the performance and directs vapors onto your food.
Features
The stainless steel knob on top of the lid is oven-safe up to 450 degrees. Additionally, this is compatible with all cooktops.
Ease of Cleaning
Due to the porcelain-enamel cooking surface, this is made easy to clean and can easily be done by hand.
Capacity
If you find that the seven-quart model is too large for you then you are in luck because there are smaller capacities available.
Overall
This is one of those products that is probably not going to utterly blow you away. Instead, it is a high-quality design that could have been made just a tad bit better.

9

. Cuisinart CI670 Classic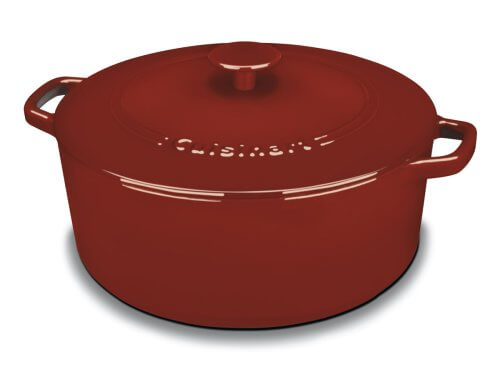 Chances are, you have heard of Cuisinart or currently own a Cuisinart appliance in your kitchen. They are a top-name brand so you know that they will deliver the goods.
Read more
Materials
Would it surprise you to know that this is made of cast iron and that is sports an exterior that is porcelain-enameled? Well, that may not, but the users who have reported chipping at the handle might.
Effectiveness
Even with the porcelain-enameled interior, some users claim that this still allows foods to stick. But, the cast iron construction comes into play with its heat retention capabilities.
Features
There is nothing too out of the ordinary with this design as it sports wide cast iron handles for a secure grip and also a safe knob on the lid.
Ease of Cleaning
Cuisinart does claim that their model is dishwasher safe but that does not mean that it is the superior method here. You may or may not want to wash it in this manner.
Capacity
As with most of the other Dutch ovens on the market, multiple capacity options are available for you to pick between. Included here are options for three, 5.5 and seven quarts.
Overall
At the end of the day, it is hard to go wrong with Cuisinart. While their design is not flawless, and no one will beg to differ here, it is far from insufficient.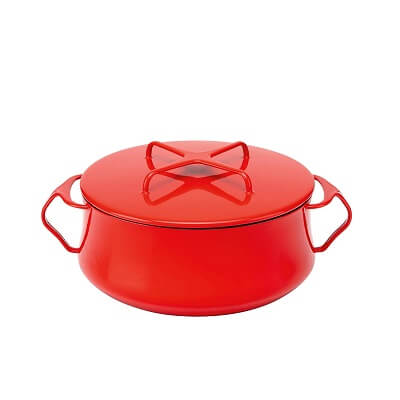 To switch it up a bit, as this list has been dominated by cast iron models, this cooking pot is made of enamel-coated steel. Additionally, it has several different great options for color.
Read more
Materials
It is a bit shocking that some reviewers have alluded to the fact that this has a thin enamel coating. The reason is it actually is finished with three coats of it.
Effectiveness
This is not cast iron and instead is steel. In terms of its performance, it is solid but food will stick to the bottom if you are not careful and do not cook on lower heats.
Features
The top of this unit can double as a trivet, which is a nice touch. But, the side handles do tend to get hot while you are cooking with this pot.
Ease of Cleaning
Granted your food is not sticking, this will not be hard to clean. Throw in some pesky food residue, however, and this could be a little different.
Capacity
You have the choice of two, four or six quarts here.
Overall
Look, this just can't compete with the top-end designs on this list. With that said, if you are not a fan of cast iron cookware, this is a nice alternative.

Subscribe to our Newsletter