Best Electronic Door Locks
In a Hurry? Editors choice: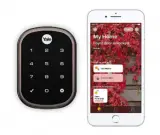 Test Winner: Yale Assure Lock SL

When it comes to the
security of your home
, you can never be too safe. Sure, this sounds cliché, but it is something that you should never underestimate the importance of. Depending on the neighborhood that you live in, regulation door locks may not do the trick for you.
Instead, you may need to step up and consider buying electronic door locks. In general, electronic door locks are going to amplify the security of your home as they are much more complex to break into.
What you are going to realize, however, is that there are a ton of options on the market. How do you narrow them down? Well, that is why you are here today. We have taken the liberty of compiling all the vital information you will need to know so you can make the best decision possible.
Standout Picks
Criteria Used for Evaluation
Features
Right from the get-go, you need to figure out what you really want your door lock to do.
Alright, so here is the deal. As you look for what you believe is your ideal electronic door lock, you are going to find that there are many different styles available. As wash showcased in the above list, these types of door locks will sport differing features that will make them unique. And, many times, the best models will come with multiple access methods.
One of the most convenient and reliable is going to be the keypad door lock. As you would guess, these types of locks will require a PIN to open them. They will often come with the ability to add several codes at once (to give different people their code). You will also be able to change the codes as many times as you wish.
However, you also have fingerprint scanners and RFID readers. Most of the time, these are not going to be necessary for residential homes. But, for your business or even if you live in a bad neighborhood, this can add enhanced security to ease your mind. You also have locks that will depend solely on wireless technologies.
Also, just a quick note, for even more security and convenience, some door locks will be equipped with an auto-lock feature. Basically, after a certain amount of time (usually just a few seconds), the lock will automatically lock after it has been unlocked.
Ease of Use
Several of you will not want a door lock that is hard to both install and use and that is fair.
There are two main areas where this section is going to come into play. For starters, you will need to install the keyless door lock physically you get yourself (unless you pay for professional installation). With well-written instructions, this will typically not be too tricky but be aware that it will be necessary.
But, this brings up something interesting. You see, some electronic door locks will replace your existing deadbolt (if your door has one) and others can be retrofitted. The latter can save you time, but the former allows you to install a brand-new system altogether merely.
Also, make sure the lock you go with will install on your door. Manufacturers will typically specify the door thicknesses that their locks will work for.
The other area you need to pay attention to is the ease of use of the actual lock itself. Most will have some sort of touchscreen or keypad interface. In addition to the intuitiveness of the software, also check to see how easy it will be to see in the daylight and at night.
Advanced Features
With some door locks, they will be designed to be more advanced. This may be what the doctor ordered for some of you.
So, what exactly are advanced electronic door locks? That question can have many answers but here is what you need to know; some systems will be somewhat advanced in their wireless capabilities. Not all electronic door locks will sport this type of functionality, however, so do not assume that they all will.
But, for you smart tech-junkies out there, some locks will be able to be paired with a network hub. What this means is the lock will then be able to be controlled via Wi-Fi technology. This will then allow you to lock and unlock your door from virtually anywhere (granted you have cellular and wireless connectivity access). For more info check our guide on the best smart locks.
The manufacturers of these locks will also often have an app that will allow you to access different types of statistics and such. But, keep in mind that this type of advanced functionality, while very dynamic, is more of a luxury than a mandatory need (though this does depend on how much you travel).
Power Source
Most locks of this nature will be quite similar in the way they are powered. But, some will last longer than others.
Most of these door locks will require AA or AAA batteries for operation. This is nice as it makes replacing the batteries a lot easier when the time comes to do so. Speaking of which, how long will the average electronic door lock last?
This is a loaded question, as many different variables will come into play. For example, the quality of the batteries, how often you use the lock, and if any wireless protocol is being used will all play roles. As great as Wi-Fi is, it will also drain your batteries much quicker if your smart lock is connected to a network hub.
This is actually where Bluetooth holds an advantage. While not nearly diverse or as functional as Wi-Fi, it also does not burn through batteries as quickly. Oh, and another thing, you may want a lock that warns you when the batteries are getting low (not all will).
Thankfully, if your door is locked and the batteries are dead, most systems will still allow you to get in. With the use of a nine-volt battery, you can "jump" the dead batteries to at least gain access inside your home.
Durability
Do you really want to buy a model that is cheaply built?
For the most part, you do not need your digital door lock to be rugged. If a burglar decides to smash it with a sledgehammer, it is probably not going to look too pleasant at the end of it. You can't account for something like this, but it is certainly not out of the question for you to want a well-built door lock.
Depending on where you install it, as well, you may want it to be somewhat weatherproof. Or, at least to the point where it will not corrode like crazy if it is exposed to some inclement weather. You will see many locks built with durable and protective housings (often metal) for that very reason.
Our Top Picks for the Best Electronic Door Locks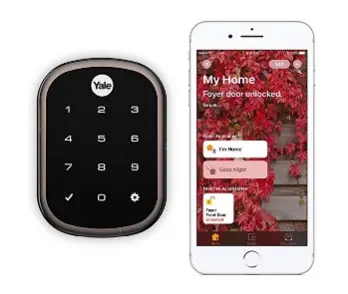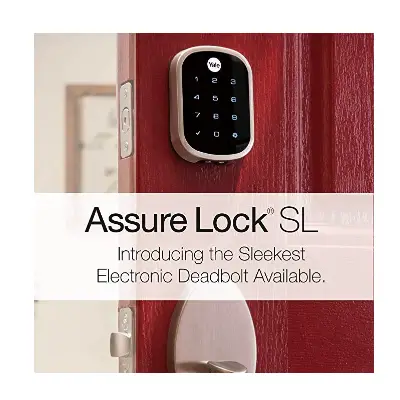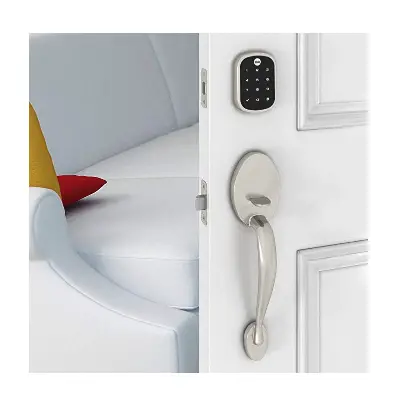 Yes, this is a bit of a pricier option but it is also one that modern tech junkies will love. That is because it can actually be set up as a home hub and utilized from anywhere (with the correct external devices).
Read more
Features
While the software is somewhat limited as a whole, you can still do some great things with this lock. In addition to being able to create a four-to-eight digit pin, you can also enable the auto-relock feature to ensure this is always locked.
Ease of Use
With just a screwdriver, this unit is going to replace your existing one in no time. Also, to note, this is going to install on doors 1.75 to 2.25 inches thick.
Advanced Features
With your Yale Secure or Apple Home app, you can lock and unlock this device from anywhere with either your iPad (10.3 or later) or Apple TV (at least 4th gen).
Power Source
This does run on batteries but there is good news in the instance they run out of juice. With the nine-volt terminal that is under the keypad, you will be able to charge this sucker.
Build Quality
To ensure maximum quality, this unit was saltwater tested. This means it is going to be highly capable of performing in all different types of environments.
Overall
With its top-notch security and fantastic build, the Yale Assure is easily one of the best options that you can go with. Its advanced functionality also makes it very dynamic, as well.

2

. Schlage Z-Wave Camelot Deadbolt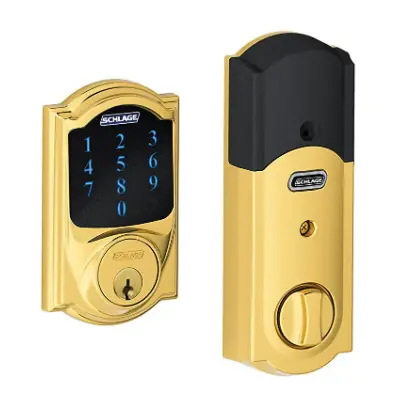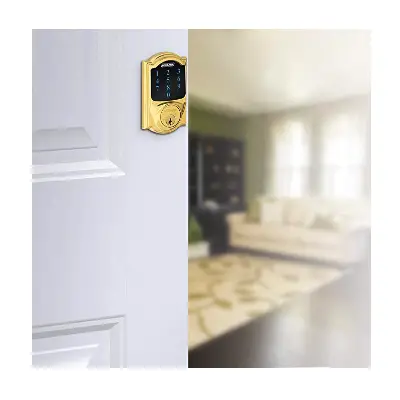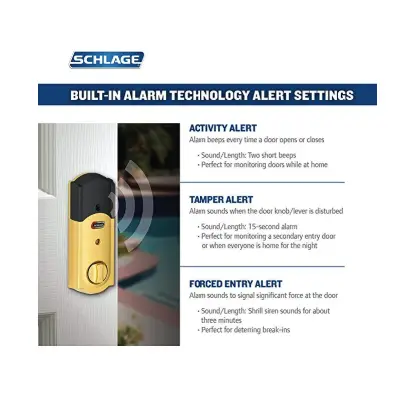 This digital door lock is one that is equipped with Z-Wave technology. With this in play, you will be allowed to lock and unlock the device remotely via your smartphone.
Read more
Features
What is nice about this electronic lock is it can store up to 30 user codes in its database at any given time. There is also a built-in alarm that comes with three different alert settings.
Ease of Use
The included instructions need to be better, that is for sure. As such, you may need to reference online recourses for assistance. As for installation, this is going to fit doors 1.37 to 1.75 inches in thickness.
Advanced Features
Though you would need to buy an Alexa device separately, this deadbolt can work with one. Of course, as is, this sports Z-Wave technology. This means it can connect to your home automation system and can then be locked and unlocked virtually anywhere.
Power Source
As with most units, this needs four AA batteries to function.
Build Quality
Past the overall high-quality nature of the build, this has also been designed with a fingerprint-resistant durable touchscreen. The matte finish is what provides this protection.
Overall
Once you get accustomed to the interface and layout of this combination door lock, you will end up falling in love with it. It has so many features that are going to thrill you.

3

. Ultraloq UL3 Keyless Door Lock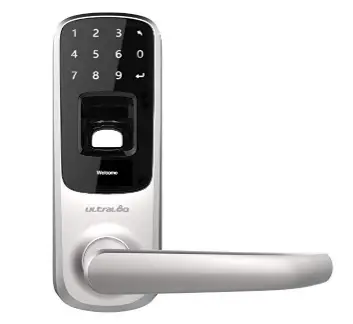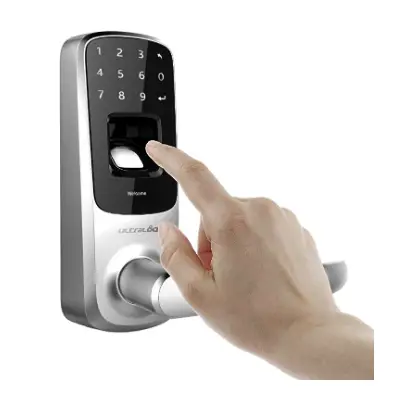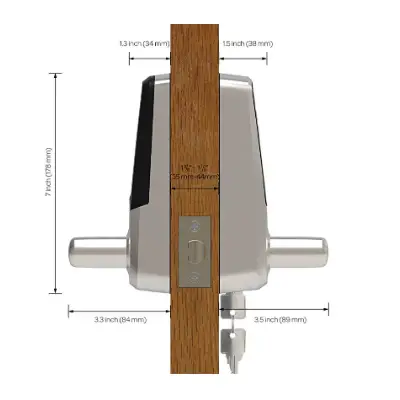 Some electronic door locks can be quite versatile in their functionality and this is one such example. This lock is equipped with three different opening options for ultimate versatility.
Read more
Features
Either via a mechanical key, code, or fingerprint, you will be able to unlock this door lock. The fingerprint scanner, in specific, is reliable but not perfect. Also, for the code, this has what is known as an anti-peep password. It allows you to input the correct passcode even if it is embedded in a larger set of numbers.
Ease of Use
The OLED interface walks you through the operation process, and installing this lock requires no drilling or wiring. All that is needed is a door with a single borehole and a thickness within 1 3/8 and 1 ¾ inches.
Advanced Features
What is nice is there is a hidden key that has been specially positioned at the bottom of this unit. There is also an external app that you can download.
Power Source
When the batteries do run low, you will get a warning via the app and the OLED interface. Also, even when they are dead, the mechanical key will still work just fine.
Build Quality
While some of the hardware is somewhat cheap, the main body is certainly not. With a solid zinc alloy housing, this is waterproof, dustproof, and also a joy to look at.
Overall
No, the fingerprint scanner is not necessary but it is a nice addition. Quite honestly, this electronic door lock is so good because of its simple and clean interface.

4

. Samsung SHS-3321 Door Lock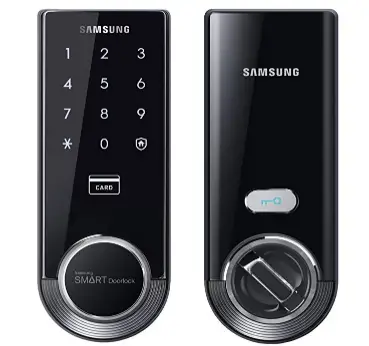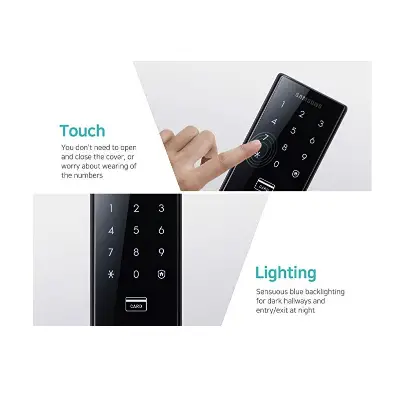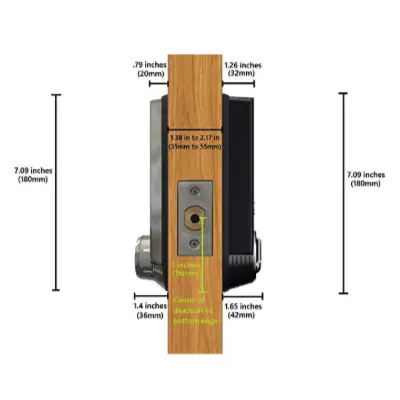 Samsung's digital lock is incredibly impressive and given the reputation of the company, this is not much of a surprise. It is designed with double authentication and this provides enhanced security overall.
Read more
Features
To unlock this lock, both a password and an RFID tag will be required. This double authentication enhances its security. Also, you can program up to 71 user codes with this unit.
Ease of Use
Installing this will not be a cakewalk, but it is also not going to be too strenuous. It does install on standard 161 prep doors, though, so make a note of that. Also, another thing, operating the keypad in direct sunlight is challenging.
Advanced Features
First off, this is compatible with certain NFC items. Additionally, there is a built-in thermal sensor that is designed to detect fires. If the sensor reaches a specific temperature, this unit will automatically unlock.
Power Source
You can utilize a nine-volt battery to open this lock if the batteries die. Also, when the batteries do get low, every time you unlock this device, it will play Fur Elise as a reminder.
Build Quality
Due to all the rigorous testing that this combination lock has endured (for both its security and quality), you can take comfort in knowing that it is going to last.
Overall
It is hard to ever bet against Samsung. They dipped their hands into this technology and what was created was a combination door lock that will be great for just about anybody.

5

. Lockly Keyless Entry Lock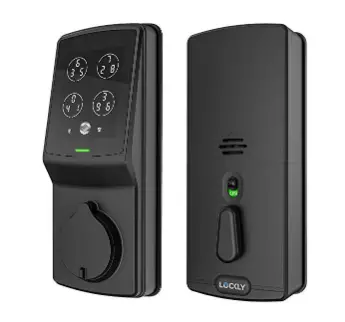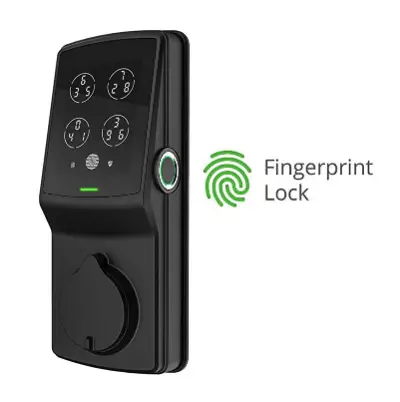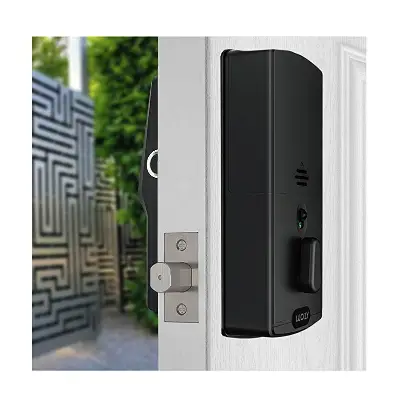 What makes this stand out from the rest of the pack is its unique algorithm. It is basically set out to make home invaders jobs a heck of a lot more complicated.
Read more
Features
The algorithm of this design is going to reshuffle the numbers after each time it is used. Thus, this will prevent others from copying your smart code. Oh yeah, the keypad will also be disabled after three wrong attempts (and the correct code needs to be entered twice).
Ease of Use
Thanks to the adjustable backset of the latch, this will fit most standard doors. As for the interface of the actual device, the screen is a little difficult to view in sunlight.
Advanced Features
With the app, which is available for both iOS and Android, you can gain different types of access and monitoring that will not be possible without it.
Power Source
As with so many other electronic door locks, you can open this with a nine-volt battery in the instance you forget to change the batteries before they die completely.
Build Quality
There are actually a few different finishes that you can go with (all look fantastic). Either way, the build quality is quite admirable here.
Overall
The touchscreen keypad is not going to be well-received by everyone but its uniqueness and enhanced security are more than worth it. Simply put, this is one of the most secure locks out there.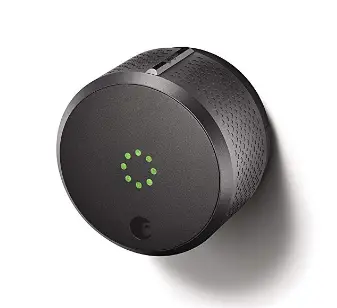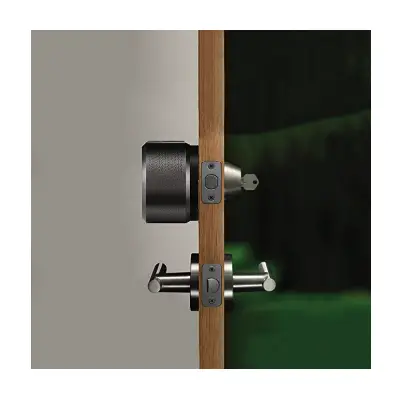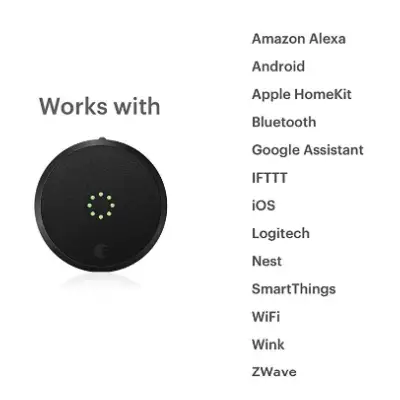 Out of all the other options on this list, this may be the sleekest and most appealing. It also utilizes wireless technologies to make your life easier (most of the time).
Read more
Features
This is a model that almost requires your smartphone. There is no keypad on the interface. And, in fact, this even has a neat auto-unlock feature that allows it to unlock as you approach (through your smartphone).
Ease of Use
You will need to get used to the app as you will be using it a lot. As for the installation, what is nice is your exterior door hardware is going to remain unchanged.
Advanced Features
This is both HomeKit-enabled and compatible with Alexa devices. What this means is you can completely change the entire dynamics of how, when, and where you lock and unlock this sucker.
Power Source
Simply put, this eats through batteries. Prepare to change them every few months (even if you get high-quality brands).
Build Quality
This installs on the interior side of your door. So, it is not going to be exposed to the outdoor elements.
Overall
This is the exact opposite of a simple electronic door locking system. It is mostly geared to tech-savvy users, hence the name "Smart Lock."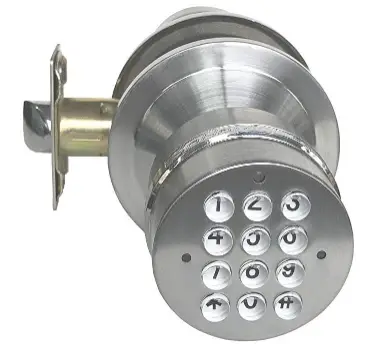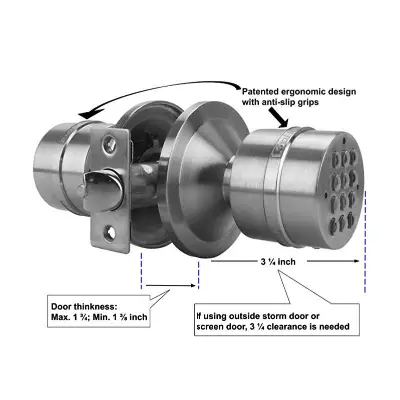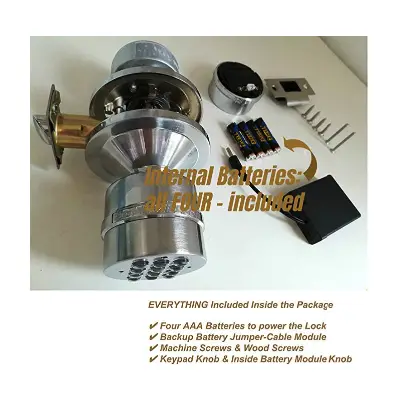 While some of you may find that this option is too bulky, it is fantastic for those of you who do not deal with the complexity of other electronic door locks.
Read more
Features
In addition to being able to set up to eight user codes, this will also automatically lock in three seconds after it has been unlocked. Of course, what is annoying about this device is it does beep when you use it (and does so loudly).
Ease of Use
This will fit in most standard doorknob holes. Also, the keypad is LED-backlit, so you will be able to see the keys in the dark.
Advanced Features
A simple code system is all this utilizes to get the job done. It is not the most dynamic unit out there, but it is also not trying to be.
Power Source
Now, this will require AAA batteries. This is important as these batteries will not be included with your purchase. Additionally, a low battery warning will alert you when the batteries are close to dying.
Build Quality
The all-weather, stainless steel housing of this combination lock makes it incredibly durable and visually pleasing overall.
Overall
As long as you are not obsessed with modern technology and feel you need to have everything be "smart," you will love this door lock. It is so good on so many levels.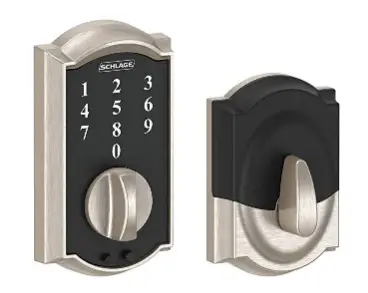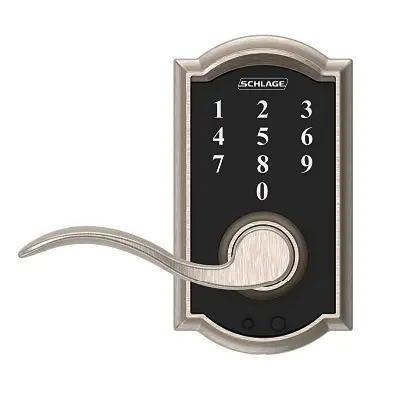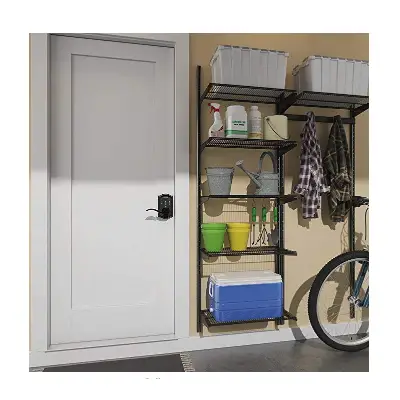 If all you are looking for is a simple solution then this could be the lucky ticket. The Touch Camelot is not exactly an advanced design, though, so know that going in.
Read more
Features
This can be programmed as many times as you would like. But, be aware that this will need to be locked manually. It will not automatically lock after it has been unlocked.
Ease of Use
Though the touchpad itself is not super sensitive, this is still relatively easy to program overall. Without the thick door kit, it will install on doors with thicknesses between 1 3/8 and 1 ¾ inches also.
Advanced Features
Depending on your preferences, it can be seen as either a good or bad thing that this is pretty simple in its design. There are not too many advanced features to make mention of.
Power Source
This is rated to last two years with the same batteries. But, to note, this is equipped with a nine-volt battery backup in the instance the batteries do die before you can change them.
Build Quality
Most of this unit, including the fingerprint-resistant touchscreen, is built to last. However, it is worth noting that the plastic battery cover is pretty cheap.
Overall
Simplicity is the name of the game here, and Schlage completely nailed it with the design of their Touch Camelot. It provides a fantastic upgrade of security while also eliminating the need to worry about keys.

9

. AP Products RV Deadbolt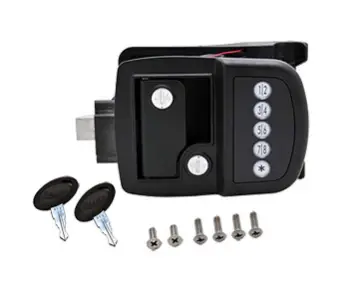 This is a bit different here. Instead of protecting your home from invaders, this deadbolt is actually designed for RVs. Hey; burglars are probably not going to be too picky, right?
Read more
Features
While this does not have an auto-lock feature, its digital keypad is nice to have. With it, you can program a customized four-digit PIN for access.
Ease of Use
Though you may need to do a quick Google search, this is not too tricky to install. Again, it is intended for RVs. Also, the keypad does light up for nighttime use.
Advanced Features
Nothing really to talk about here. This is a straightforward and clean design.
Power Source
The four AA batteries that are needed to power this unit are not included. They will last quite a long time, though, which is nice.
Build Quality
Overall, this is a solid piece of equipment that will last a long time; granted it does not go through a ton of abuse.
Overall
This is a great option, especially if you travel with your RV a lot. It would not hurt to add a layer of security to this, after all.

10

. Kwikset 909 SmartCode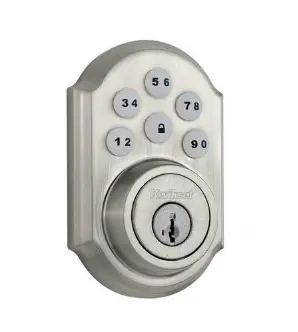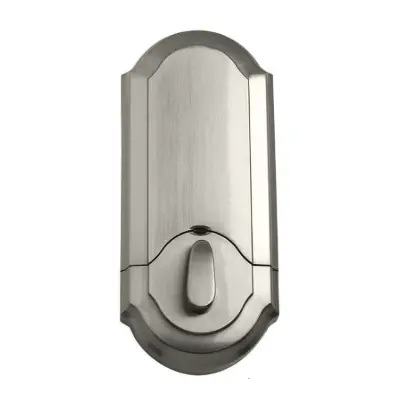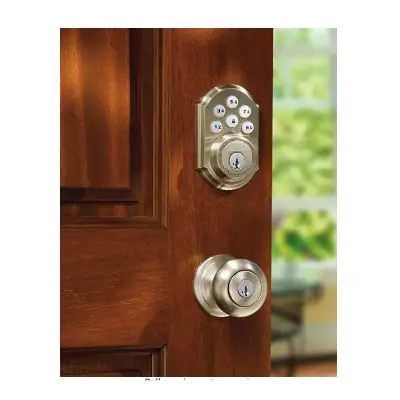 The sleek and stylish nature of this deadbolt will have many of you intrigued. Arguably its best feature is the fact that it can be automatically locked (in case you forget to do so).
Read more
Features
In addition to the master code option, you can program up to eight different access codes with this lock. Also, it does have a 30-second auto-lock feature for your convenience.
Ease of Use
The included directions are quite good, and it makes your life a lot easier. Due to the adjustable backset of this lock, also, it will fit all standard door preparations.
Advanced Features
Outside of the combination lock system, there is pretty much nothing else going on with this unit. Again, as before, this does not necessarily have to be a bad thing.
Power Source
Based on user feedback, you can expect this sucker to eat through your batteries. For the record, it does require four AA batteries to operate.
Build Quality
Indeed, this has a sleek build. It is metal, so you know, at the very least, that it is going to last.
Overall
This will be just what the doctor ordered for so many of you. It is cost-friendly, simple to use and will match right into your home décor. Oh yeah, it is also entirely secure too.

Subscribe to our Newsletter