Best Fleece Blankets
In a Hurry? Editors choice: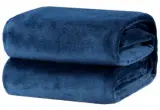 Test Winner: Bedsure

Contrary to what some people believe, not all blankets are the same. Haven't you ever noticed that you sleep better when you use some blankets? The best blankets will make you so comfortable that you'll fall asleep before you even know it. Fleece blankets flawlessly fit the description. The blankets are perfect for almost every occasion, and you can also get some for your pets. They come in different varieties, so you are guaranteed to find one that you'll like.
The best thing about them is that you can use them regardless of the weather. No season will come between you and your favorite fleece
blanket
because of their breathable nature. Every home needs a fleece blanket, and everyone should have at least one on standby.
Standout Picks
Criteria Used for Evaluation
Size
A well-sized blanket is a comfortable blanket
The number one thing you need to look at when buying a fleece blanket is size. Ask yourself what size would be the best fit for your home before everything else. If you plan to use the blanket specifically in the bedroom, you should get one that's the same size as your bed. You don't want to end up with a blanket which is smaller than your bed. You won't be able to use it as you initially intended. On the other hand, if you wanted one you could easily travel with, it wouldn't make sense to buy a big blanket. You should also consider how many people will be using the blanket. If it's for two or more, you'd definitely need a bigger and more comfortable size. Checking and confirming the appropriate blanket size saves you so much hassle.
Ease of Use
No one wants to spend too much on blanket maintenance.
Blankets can be a nightmare. If you haven't had a terrible experience with some blanket fabrics, then you are in luck. Some blankets don't even make the bed look neat, and that's one of the most basic functions of a blanket. If you find it difficult to get your bed straightened then you know, you got a raw deal. Those are just a few examples of how some blankets can make everyday tasks more complicated than they should be.
Sometimes we are tempted to eat or have a drink in bed. Unfortunately, your fleece blanket may end up stained because of this. The same can happen, while you are comfortably seated and having a snack on the couch. When you have a good blanket, you should be able to wash it up easily. That's why you need to know how simple maintaining the blanket will be. It's also important to know if the blanket is machine washable, and if it is, what settings should you use. Check how it should be dried and if possible, how long it would take to dry up.
Other important things to look at are things like wrinkling. Once it's washed, will the blanket wrinkle up or not? When you have such information at hand, you will be able to pick a blanket that's easy to use and care for.
Features
Features make great blankets stand out against more mediocre options.
Some blankets have more to their design than others. One example is the Chanasya Fleece blanket. The blankets come customized with a variety of words written on them. The agenda behind the blanket design is to share and express positivity with the receiver. Other blankets have patterns and prints while some are just plain. Settling on which visual features to get depends on whether you are buying the blanket for someone else or yourself.
If you are buying the blanket for someone, you need to consider their interests. First, choose a blanket, which is of their favorite color. Second, be careful not to get them prints that they do not like. The same applies to patterns and drawings of any kind. If you are buying yourself a blanket, following these pointers will be easier. The only catch is to make sure that both options go hand in hand with the décor. You don't want the blanket clashing with everything else in the room.
Other features to look at are things like softness and quality. Is the fleece blanket's quality up to your standards? Is it worth buying at the stated price? You should not overpay for substandard blankets. You should also find out if the blanket fades whenever it's cleaned. Check if users have said something concerning the blanket's rate of shedding. You want to avoid dealing with fluff all the time. If you are careful, you can end up with one that doesn't shed at all. You also want to buy a static-free fleece blanket if possible.
Aside from all that, you should look into how well the stitching on the blanket is. Excellent stitch work is part of what makes a durable blanket. Some blankets also have designs, which let you switch up the sides. They make it possible to use whatever side you want while retaining the warmth and feel of the blanket.
Versatility
The more the blanket has to offer the better.
As we have already established, the best fleece blankets should be versatile. So, when making a purchase, you should know what uses the blanket is good for. You should also ask yourself how you plan to use the blanket. If you want one that you can carry overnight in your backpack, it doesn't make sense to buy one that's restricted to the bedroom. Likewise, if you want one for your bed, buying a small light blanket won't do you any good. Also, make sure that the fleece blanket can withstand outdoor usage if you plan to use it for such activities. If you want, you could list down all the things you'd want to do with your fleece blanket and run by it as you go through the list.
Some fleece blankets also have different sizes you can choose from. Having a selection of sizes at your disposal gives you more options on how you can use the blanket. You could even buy more than one if your budget allows you to. Apart from sizes, there are fleece blankets, which come in many color varieties — the more colors you have to choose from the better.
Comfort
A comfortable blanket is the best blanket
It goes without saying that good blankets are comfortable blankets. For instance; would you be able to use a blanket that felt prickly? How much sleep would you really get if the blanket made you feel like continually scratching yourself? There's no way you'd even be able to relax or get some rest with such a blanket. You can't compromise on the comfort of the blanket you buy. Even though fleece blankets don't have such issues, there are still some that stand out more than others.
A higher quality fleece blanket is definitely going to be more comfortable than one with a low GSM. Some have more plush and consist of the finest microfiber. Such fleece blankets will make you feel as if your skin is brushing up against the clouds. That's precisely what you need when you want something to snuggle up in. Do not compromise on comfort when buying a fleece blanket.
Other things that can disrupt your comfort include the weight of the blanket. Ensure the blanket is not too heavy if you want to use it in the summer. Always get one that's breathable to keep you just warm enough without you feeling stuffy.
Best Fleece Blanktets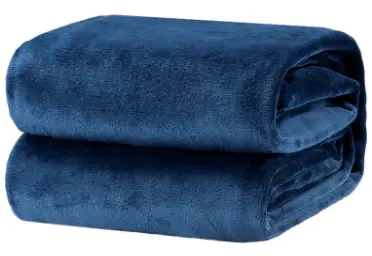 Bedsure has the best selection of luxury fleece blankets. With over six thousand positive customer feedback, there is no doubt that this is a premium blanket.
Read more
Size:
The blanket is 50inches by 60inches in size. It is the best way to add some hint of sophistication to your bedroom.
Ease of use:
You will be pleased with the fact that the blanket doesn't stain at all. So even if you were to spill something accidentally, it would come right out. The blanket will last you for a number of years. To top it off, it is not prone to fading. You get to enjoy this magnificent fleece blanket over time, while it still looks brand new. The fleece blanket purely consists of microfiber. The benefits of the microfiber also include resistance to wrinkling. You will also like the fact that the blanket dries up quickly. Due to this, cleaning it even during colder temperatures will not put you at a significant disadvantage.
Features:
The blanket is durable thanks to layers of pure microfiber. The stitches are impeccable and neatly done, resulting in a sturdy structure. It comes in a design, which is double-sided. Thanks to this, you will be able to change up the sides whenever you want. Each side of the blanket has a unique feel and softness. You will be warm and comfortable all night regardless of the side you decide to choose.
Versatility:
The blanket is suitable for different occasions. It's not the type that is limited to the bedroom. The blanket is also great for outdoor use. You can decide to take it with you for an overnight camping trip or even for a relaxing picnic. This Bedsure fleece blanket is available in twelve different colors. It is available in navy, brown, white, teal, pink, washed blue, camel, grey, dark grey, yellow, burgundy, and purple.
Comfort:
When compared to cotton, this fleece blanket takes the win. You will love how light it feels on your body. Don't mistake its lightweight nature as a reflection of the warmth of the blanket. It's not only warm but smooth and comfy too. You will also love how breathable it is unlike other fabrics.
Overall:
The blanket is also available in King, Queen, and Twin sizes.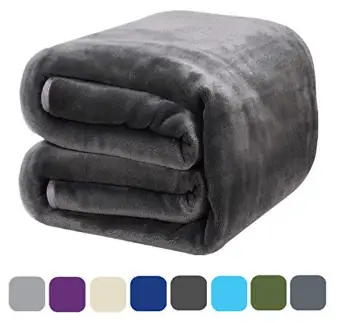 Replacing blankets every now and then is tasking and disappointing. DREAMFLYLIFE's fleece blanket is one that will outlast most of the blankets in your possession. The best thing about it is that the fleece retains its softness as you wash it. In fact, sometimes the blanket will feel even softer than it did before.
Read more
Size:
If you are looking for queen-sized options, you definitely have a match.
Ease of use:
When washed, the blanket will still retain its original size. The fabric used to make the blanket is resistant to shrinking. For proper care of the blanket, the company advises, that you put the wash settings on cold. Then, let it dry up naturally. You are also not supposed to bleach the blanket.
Features:
One of the selling points of this blanket is that; users are 90% less likely to experience static when using it. If you've had to deal with cases of shedding blankets, this fleece blanket will not disappoint you. It doesn't shed at all. Other features include excellent trim work and workmanship, no lint, and strength testing.
Versatility:
You are probably going to make this your go-to blanket. It's great for road trips; you can use it when flying and anywhere else for that matter. The fleece blanket is available in ten different colors. You can choose one that works best with your bedroom or house setting.
Comfort:
The fleece blanket material is superior. It will feel so soft when it brushes against your skin, that you'll wonder what stopped you from buying it before. The blanket is so warm but just warms you enough, so that you don't find it stuffy. You'll be able to use it throughout the year.
Overall:
The blanket is bacteria-resistant as well, making it a very healthy option for your home.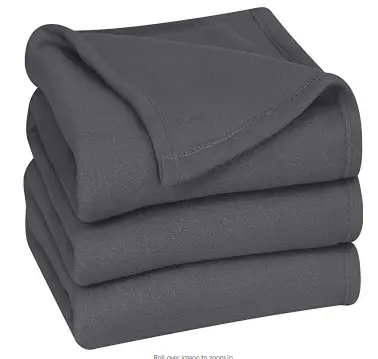 As the name implies, this blanket consists of polar fleece. Polar fleece is the same kind of fabric you find in outdoor wear, warm clothing, and hat making as well. Such information should give you a clue about how user-friendly the material is.
Read more
Size:
This particular blanket is queen sized. However, you can still get the blanket in Twin and King sizes.
Ease of use:
You can quickly clean up this blanket with your machine. Just make sure the setting is on cold and dry on low. The blanket will not change sizes even after multiple washes.
Features:
The fleece blanket is brushed on both sides. It's going to impress you once you see how durable it is. The blanket hem is needle stitched and is about an inch in size. You can rest assured that it's up to the task for as many snuggles as you need.
Versatility:
It's light enough to travel with especially for night-long use. The blanket is warm enough for winter use and additional warmth when hanging out in the house.
Comfort:
The fleece blanket offers a premium two-sided cuddle experience. The company describes it as a deluxe blanket since it's purpose is to provide the user with optimal satisfaction for their warmth needs.
Overall:
The tailoring work done on the blanket is expertly done and will capture your attention.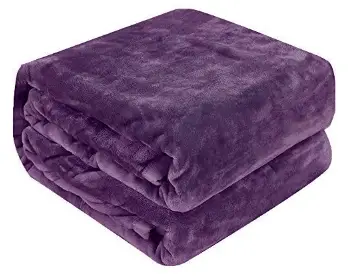 Fleece blankets make excellent gifts. This Qbedding alternative is a good option for such an occasion. If the person you are buying it for has pets, then that's even better. Reason being, the blanket has no static and can't pick up fur accidentally.
Read more
Size:
This Luxury blanket is Twin sized, but you can also get it in three other sizes.
Ease of use:
You can use this blanket straight out of its packaging.
Features:
The fleece blanket consists of high-grade microfiber. It has premium polyester from Germany and is completely static free.
Versatility:
Aside from gift-giving, the blanket still has other uses. It's suitable for outdoor usage and would serve you well in an A/C room. You can get this blanket in Navy Blue, Pink, Orange-leopard, Ivory, Chocolate, Chestnut, Burgundy, Turquoise and a few other colors.
Comfort:
It's a very lush blanket that is likely to meet your expectations.
Overall:
Just remember to wash the fleece blanket on its own. You can also wash it with other clothing if they are of the same texture. Doing this helps avoid any abrasion.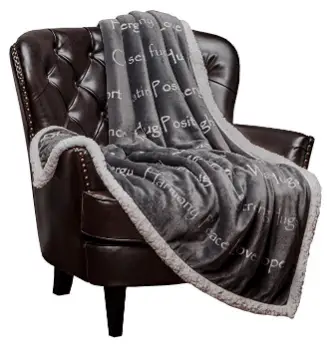 Chanasya Fleece blankets have two things that make them stand out; their incredible warmth and the thoughtfulness of their design. As such this is another gift option, you could get an ailing friend. It's an excellent way to uplift someone's spirit and let them know you care.
Read more
Size:
The blanket isn't very big. You can't effectively use it to shield you from excessively cold temperatures.
Ease of use:
The blanket is easy to care for. One of the blanket's main benefits is its hypoallergenic nature. Being hypoallergenic makes it usable by everyone since it doesn't cause allergic reactions.
Features:
You will fall in love with the messages written on the blanket. The words are a great way to express how you feel. It also helps re-assure the person you are giving the gift to. If you want a gift with a personal touch, this is definitely it.
Versatility:
The blanket isn't only good for gifting people with. It's also the kind of fleece blanket you would use on your couch or for covering your toddler with.
Comfort:
The blanket's ultra-plush appearance is not misleading. It's as snugly as it looks. This blanket will make you or your loved one get that much-deserved nap they have been longing for.
Overall:
The design concept behind this blanket is interesting. You can also get it in over ten color options.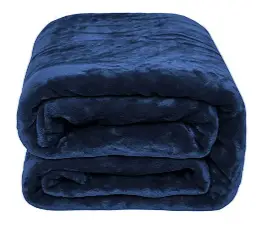 You wouldn't believe what adding a simple fleece blanket does for your space. The difference is notable as the blanket ends up looking like a decorative piece, depending on where you place it. This Flannel blanket will help you boost the aesthetics in your room.
Read more
Size:
The blanket is 50 by 60 inches in size.
Ease of use:
In case you find any difficulty in using the blanket, you could always contact support. You won't be charged for any replacement.
Features:
The company is confident that the blanket will satisfy you. That is why it has a full refund guarantee.
Versatility:
You can get this blanket in Teal, Navy Blue, purple and red. All you need to do is pick one, which will pair perfectly with your décor.
Comfort:
The blanket feels almost weightless, but it's really warm at the same time.
Overall:
It's a good option for anyone looking to buy a comfortable, lightweight blanket.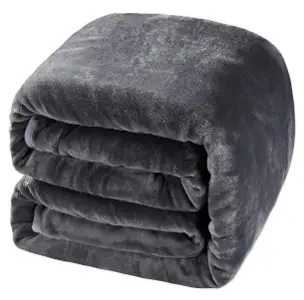 Don't you find it annoying when you have a blanket that doesn't fit your bed like it's supposed to? You end up spending a lot of time trying to tuck it in instead of enjoying the blanket. Balichun fleece blankets have an allowance that makes them the perfect fit for your bed. You won't have to cut your snuggle sessions short to warm yourself up all over again.
Read more
Size:
Balichun offers a queen sized fleece blanket.
Ease of use:
You will be able to machine wash the blanket, but it has to dry up naturally.
Features:
You can use the blanket for both winter and summer. The nature of its design makes it a proper choice for different occasions.
Versatility:
The blanket is also available in Throw, King, Queen, and Twin sizes. You will be able to choose from about eight different blanket colors.
Comfort:
The blanket is 330GSM. You will be getting good and reliable quality all in one purchase. An ultra-soft sleeping experience awaits you when you buy this blanket.
Overall:
As long as you follow the instructions on how to care for the blanket, it will serve you well. No abrasion will occur as well.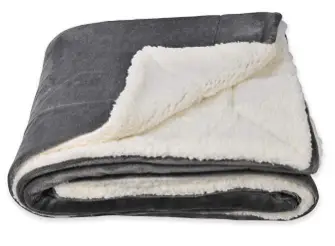 For over ten years, SOCHOW has continuously offered practical fleece blankets. The blankets look simple yet have an attractive design. One side of the blankets is always thicker than the other, but that's what makes them so user-friendly.
Read more
Size:
This SOCHOW fleece blanket comes in a throw blanket size.
Ease of use:
What makes this blanket a healthy option, is the fact that it will not get mildew. It dries up well when washed, thus not putting you or your family at risk. You can also wash it using any water temperature. It's not restricted to cold or warm temperature settings.
Features:
SOCHOW offers another excellent two-sided fleece blanket. You will feel as if you are using cashmere, mink, and flannel all in one blanket. You could say that it's a three-layered fleece blanket.
Versatility:
There are eight color options you can get from this brand. They range from Sapphire to mocha. What makes it a good travel blanket is the fact that you can fold it down to a minimal size. Not only is it light but it takes up the least space when packing.
Comfort:
The blanket's design comprises of a heavy side and a lighter one. You will always be comfortable because you will be able to switch up the blanket warmth freely. On warmer days you can use the light side and on colder days the heavy one.
Overall:
You can get other forms of the blanket in different series. The company offers one-sided blankets, blankets with patterns, and some designs for children as well.
Also read about youth hiking boots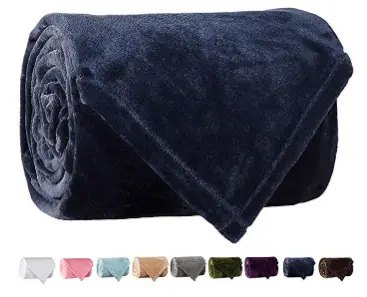 If you are looking for hypoallergenic options, the LBRO2M fleece blanket is another good alternative. You'll get to be warm without worrying about the kind of reactions you'll get from the blanket. This blanket is one of the safest options for highly sensitive people as well.
Read more
Size:
LBRO2M blankets are available in all sizes. This particular blanket is queen sized.
Ease of use:
You can either chose to wash the blanket by hand or by machine. This gives you alternatives in case there's no machine, and you still want to clean it up. You can also dry the blanket using two methods. If you're going to machine dry it, make sure the temperature setting is low. It also dries up really well in the sun.
Features:
LBRO2M fleece blankets don't stain easily. They are more like protective layers for beds and sofas. This blanket will be a beautiful addition that keeps your space dirt-free.
Versatility:
This is an all-around blanket. It's suitable for almost every use you could think of for a queen sized blanket. You can choose from 9 different colors ranging from pink to ivory.
Comfort:
The blanket feels silky to the skin. It has a reversible, two-sided design. You will love the different kinds of softness both sides offer.
Overall:
Blankets for all types of seasons are the best. You never regret buying such fleece blankets.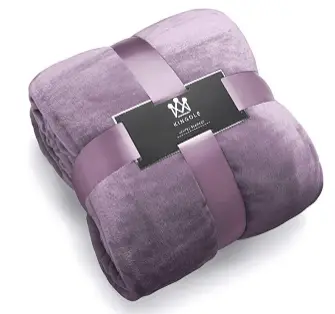 When you buy this fleece blanket, you'll get a combination of stylishness and unimaginable comfort. If you are looking for a high-end kind of gift, this is one option that you must look in to.
Read more
Size:
The blanket is Twin size. However, you can still get it in all sizes.
Ease of use:
Caring for this blanket will be simple. Just use cold water and use low heat settings when drying it. It will look elegant wherever you place it and won't have any wrinkles at all.
Features:
The blanket consists of microfiber, which is not only plush but of premium quality. That is why it's durable and worth every penny.
Versatility:
The blanket comes in a block color; however, the company offers several design options as well. You can choose the blanket you want from thirteen color variations.
Comfort:
You'll find the blanket incredibly fluffy, that you'll want to stay in it all the time. It's tremendously soft and indeed something to look forward to.
Overall:
There's no risk you're taking when buying this blanket. If you don't like it, just reach out to the company. The blanket also doesn't wear out quickly, which is a huge bonus.

Subscribe to our Newsletter