Best Fleece Blankets
In a
Hurry? Editors choice: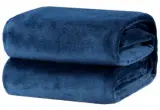 Test Winner: Bedsure

Contrary to what some people believe, not all blankets are the same. Haven't you ever noticed that you sleep better when you use some blankets? The best blankets will make you so comfortable that you'll fall asleep before you even know it. Fleece blankets flawlessly fit the description. The blankets are perfect for almost every occasion, and you can also get some for your pets. They come in different varieties, so you are guaranteed to find one that you'll like.
The best thing about them is that you can use them regardless of the weather. No season will come between you and your favorite fleece
blanket
because of their breathable nature. Every home needs a fleece blanket, and everyone should have at least one on standby.
Standout Picks
Criteria Used for Evaluation
Size
A well-sized blanket is a comfortable blanket
The number one thing you need to look at when buying a fleece blanket is size. Ask yourself what size would be the best fit for your home before everything else. If you plan to use the blanket specifically in the bedroom, you should get one that's the same size as your bed. You don't want to end up with a blanket which is smaller than your bed. You won't be able to use it as you initially intended. On the other hand, if you wanted one you could easily travel with, it wouldn't make sense to buy a big blanket. You should also consider how many people will be using the blanket. If it's for two or more, you'd definitely need a bigger and more comfortable size. Checking and confirming the appropriate blanket size saves you so much hassle.
Ease of Use
No one wants to spend too much on blanket maintenance.
Blankets can be a nightmare. If you haven't had a terrible experience with some blanket fabrics, then you are in luck. Some blankets don't even make the bed look neat, and that's one of the most basic functions of a blanket. If you find it difficult to get your bed straightened then you know, you got a raw deal. Those are just a few examples of how some blankets can make everyday tasks more complicated than they should be.
Sometimes we are tempted to eat or have a drink in bed. Unfortunately, your fleece blanket may end up stained because of this. The same can happen, while you are comfortably seated and having a snack on the couch. When you have a good blanket, you should be able to wash it up easily. That's why you need to know how simple maintaining the blanket will be. It's also important to know if the blanket is machine washable, and if it is, what settings should you use. Check how it should be dried and if possible, how long it would take to dry up.
Other important things to look at are things like wrinkling. Once it's washed, will the blanket wrinkle up or not? When you have such information at hand, you will be able to pick a blanket that's easy to use and care for.
Features
Features make great blankets stand out against more mediocre options.
Some blankets have more to their design than others. One example is the Chanasya Fleece blanket. The blankets come customized with a variety of words written on them. The agenda behind the blanket design is to share and express positivity with the receiver. Other blankets have patterns and prints while some are just plain. Settling on which visual features to get depends on whether you are buying the blanket for someone else or yourself.
If you are buying the blanket for someone, you need to consider their interests. First, choose a blanket, which is of their favorite color. Second, be careful not to get them prints that they do not like. The same applies to patterns and drawings of any kind. If you are buying yourself a blanket, following these pointers will be easier. The only catch is to make sure that both options go hand in hand with the décor. You don't want the blanket clashing with everything else in the room.
Other features to look at are things like softness and quality. Is the fleece blanket's quality up to your standards? Is it worth buying at the stated price? You should not overpay for substandard blankets. You should also find out if the blanket fades whenever it's cleaned. Check if users have said something concerning the blanket's rate of shedding. You want to avoid dealing with fluff all the time. If you are careful, you can end up with one that doesn't shed at all. You also want to buy a static-free fleece blanket if possible.
Aside from all that, you should look into how well the stitching on the blanket is. Excellent stitch work is part of what makes a durable blanket. Some blankets also have designs, which let you switch up the sides. They make it possible to use whatever side you want while retaining the warmth and feel of the blanket.
Versatility
The more the blanket has to offer the better.
As we have already established, the best fleece blankets should be versatile. So, when making a purchase, you should know what uses the blanket is good for. You should also ask yourself how you plan to use the blanket. If you want one that you can carry overnight in your backpack, it doesn't make sense to buy one that's restricted to the bedroom. Likewise, if you want one for your bed, buying a small light blanket won't do you any good. Also, make sure that the fleece blanket can withstand outdoor usage if you plan to use it for such activities. If you want, you could list down all the things you'd want to do with your fleece blanket and run by it as you go through the list.
Some fleece blankets also have different sizes you can choose from. Having a selection of sizes at your disposal gives you more options on how you can use the blanket. You could even buy more than one if your budget allows you to. Apart from sizes, there are fleece blankets, which come in many color varieties — the more colors you have to choose from the better.
Comfort
A comfortable blanket is the best blanket
It goes without saying that good blankets are comfortable blankets. For instance; would you be able to use a blanket that felt prickly? How much sleep would you really get if the blanket made you feel like continually scratching yourself? There's no way you'd even be able to relax or get some rest with such a blanket. You can't compromise on the comfort of the blanket you buy. Even though fleece blankets don't have such issues, there are still some that stand out more than others.
A higher quality fleece blanket is definitely going to be more comfortable than one with a low GSM. Some have more plush and consist of the finest microfiber. Such fleece blankets will make you feel as if your skin is brushing up against the clouds. That's precisely what you need when you want something to snuggle up in. Do not compromise on comfort when buying a fleece blanket.
Other things that can disrupt your comfort include the weight of the blanket. Ensure the blanket is not too heavy if you want to use it in the summer. Always get one that's breathable to keep you just warm enough without you feeling stuffy.
Subscribe to our Newsletter